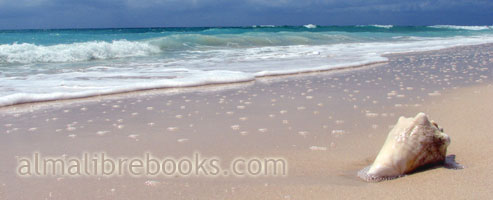 News from Alma Libre Bookstore - Puerto Morelos, Mexico

Year 05 Issue #4 - February 2007

Click here to go to our website: www.almalibrebooks.com
In this issue:
---
Best of Puerto Morelos Survey!
For the third year in a row, we surveyed the readers of Beach Reads to find out what they like best about Puerto Morelos. To those who answered the call, we thank you.
This year's "Best Restaurant" category saw some real action this year as Bodo's and Marlin Bleu both made great gains, but the champ remains the champ. We asked a couple of new questions too.
Here are the results from this year's survey.
Question: What is your favourite thing to do in Puerto Morelos? What a list of things to do in Puerto Morelos! The responses were wrapped up best by this answer: "Nothing and Everything." Here's a partial list in alphabetical order: be on the water, beach, bicycle, browse the bookstore, chat, chill, daytrip, dive, drink, eat, fish, hammock, hang out, nothing, people watch, read a book, relax, shop, snorkel, stroll, swim, veg, walk.
Question: What is your favourite restaurant? This is our most popular and most contentious question. Here are the results...
1. Hola Asia - Has topped the survey every year. People mentioned Valorie as often as the food.

2. Bodo's - Now in its new oceanfront location, up from #3 last year.

3. Pelicanos - Now open in its new (old) location, down from #2 last year.

4. Le Marlin Bleu - A big leap for our neighbour Eric, from #6 to #4.

5. John Gray's Kitchen - People come from all over the Mayan Riviera to dine at John's.

6. El Pirata - People love the Pirate.

7. Viejo Pescador - A lot of people like the Old Fisherman, and the view. First appearance on our list.
Bubbling under our list were Portabello, Dona Triny, Spaghettino, El Tio, Posada Amor and Tuna. A total of 23 restaurants were mentioned on the survey. This is a high compliment to the quality and variety of restaurants we have in Puerto Morelos.
What is your favourite place to have a drink? Now as we explained, this does not have to be an alcoholic drink. It can be a smoothie, a coffee or a refreshing fruit juice. It could also be a cold cervesa or a margarita as big as your head. Here are the results...
1. Pelicanos

2. Ojo de Agua

3. Cafe de Amancia
Also mentioned were "home" or a "friend's house" as well as such watering holes as Giaconda, El Pirata and Tuna.
What is your favourite shop? Let's put it this way. It was our idea to do the survey, we write the survey, we pay a company to allow us to send the survey to more than 1200 mailboxes...what answer do you think we are looking for?? Overwhelmingly, people wrote Alma Libre as their favourite shop. Muchos Gracias! Those unclear enough to miss our veiled threats mentioned the Jungle Market, the Mayan Handicraft Centre and the Ice Cream Shop. Our favourite answer was "Alma Libre...unless I need beer." Fair enough.
What is your favourite place to stay in Puerto Morelos? A wide variety of places were mentioned including hotels like Ojo de Agua and Hacienda Morelos. Many people wrote that they liked to rent a house or condo for their stay in Puerto Morelos. We have a list of some of those places on our website here. Of course a good portion of people still responded "my place".
Favourite Book to Read in Puerto Morelos: Most answers said "something about Mexico". We have a few suggestions in that vein. We have local stories like "Embarking on the Mariposa Trail" or "Where the Sky is Born" or stories from other areas of Mexico like "On Mexican Time".
Many noted that any book was better when read in Puerto Morelos (and found at Alma Libre)!
What is your favourite Daytrip from Puerto Morelos: This was the first time we asked this question. We thought it might be valuable for visitors to share their favourite spots and give us some ideas of what to do on our day off. Lots of suggestions here. Many mentioned places like Akumal, Playa del Carmen, Tulum, Cancun, Valladolid or Isla Mujeres. They also mentioned ruins like Coba and Chichen Itza. Many noted that they found no reason to leave Puerto Morelos. One person suggested a daytrip could be had by just drinking a bottle of tequila in 30 minutes. Quite a trip indeed! Our daytrip suggestions can be found here.
How Many Times Have You Visited Puerto Morelos? Once again we proved that it is difficult to visit Puerto Morelos just once. 37% of our readers had visited more than they could count! 19% have visited three times and 12% have visited twice. 6% have visited once. 23% of our readers live here or own a home here. 4% have never visited.
Thank you for participating in our survey. Look for it in your mailbox next January.
Quick Quiz: Which picture would you rather be in?
Home and Condo Rentals
Lots of visitors are discovering the comfort and convenience of staying in a private home or condo during their Mexican vacation. Many ex-pats have built their dream homes here in PM and are willing to rent it (or a part of it) to you! Renting a place makes you feel more like a local right away and offers the convenience of cooking for yourself and much more privacy.
Regular Beach Readers know that we feature some of these properties on our website. There are a zillion property rental sites out there, but our site is unique because these are properties we know, owned and run by people we know and trust. We like to think we take the guesswork and risk out of renting.
We've just added some new properties to the site, including this spacious two bedroom condo with pool and ocean view. The owner has just started renting it out, so there are lots of dates available right now. Check it out here.
We're always adding new places. Check out our new, easier to navigate rentals page here.
Owners! Contact us to get your FREE listing on our website.
Free Gift From Alma Libre Updated for February & March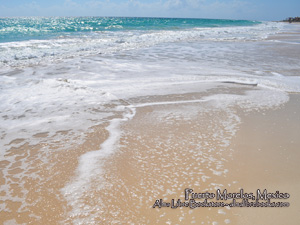 For those of you still stuck up North, bring a small piece of Puerto Morelos to your home or office with our new Puerto Morelos Wallpaper. Beautiful of course, and practical too with a February and March calendar built right in. This month's wallpaper is a retro shot of the beach and lighthouse.
We'll have new pictures available for download every month! Wallpaper is also available on our website at www.almalibrebooks.com.
Pick your wallpaper size:
1024 x 768 800 x 600 1280x800 CLICK HERE FOR WALLPAPER INSTALLATION INSTRUCTIONS
---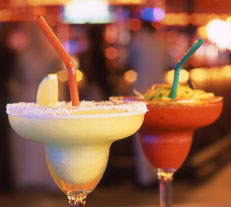 Restaurant News: Another new two restaurants to tell you about this month. Taninos has opened on the ocean-side street south of the square on the road that leads to Bodo's and Baraka. This is a very nice looking place, very contemporary design. They advertise deli-style baguettes and salads, with a good selection of wine. The other restaurant is in the newly renamed Hotel Caracol (where Bodo's used to be) The owners are from Switzerland and have brought their cuisine with them...so if you are fond of fondue, this is your place. They are also open for breakfast. The Old Fisherman (Viejo Pescador) has moved again from it's perch atop the grocery store. It's now on the ocean south of the square where Las Palmeras used to be.
OJ - If I Drank It: Happy to report that the little juice bar on the main road (Rojo Gomez) has re-opened. What a healthy way to start your day!
Boston "ME" Party: The Boston Channel WCBV-TV's Chronicle visited Puerto Morelos this week. Host Mary Richardson, Producer Clint Conley and Videographer Bob Oliver were in town to find out "the secret" of Puerto Morelos, mainly how our town was able to escape the mega-development north and south and remain a charming Mexican fishing village. In addition to talking to the folks at the bookstore, they also visited Sandra Dayton's Jungle Spa and chatted with ex-pat Valorie Gallagher of Hola Asia and Diving Dog Tours. Not sure when the segment will air, but you can monitor upcoming shows here. Chronicle can be seen wherever WCBV is seen, including on cable in Atlantic Canada. Watch for us!
The local media has had stories this month of grand new development plans for the other side of the highway in Puerto Morelos. They include a golf course, resorts, shopping centres and lots of houses.
The US media noticed Puerto Morelos this month too, in this article in USA Today. I don't think the reporter got the town exactly right (and ignored the bookstore!) but she certainly loved a few of the places in town, especially our next door neighbour, Le Marlin Bleu.
Market Report: The Sunday Jungle Market is back again this season and has become very popular. Go to the Market for genuine Mayan art, crafts and lots of tasty food. On Wednesday on the same site is the Wednesday Jungle SPA DAY. The well-trained Mayan ladies offer massages, facials or manies and pedies at very reasonable prices. Proceeds of the Market and the Spa go directly to the Mayan families of the area. Stop by the bookstore for your map to the jungle.
This month marks the ninth anniversary of our reef being declared a national park. In celebration of this event the reef people built a new Visitor's Centre to educate the public about the reef and staged a big celebration. The Centre is on the main road (Rojo Gomez) near PlayaSol.
The Dancers for Universal Peace are back again this year. They will dance on the beach near Villas Latinas every morning and evening until February 15. All are welcome to participate.
New Light: Repairs to the "new" lighthouse are finally getting going again. The lighthouse had it's top removed by Wilma last year and repairs have been stop and go since then. Perhaps the crew working on the lighthouse are the same guys who were repairing the potholed roads...because they seem to have disappeared again!
Learning Espanol may be more valuable than you think. Canadian scientists have found that using two languages can delay the symptoms of dementia by several years. The study is published in this month's edition of Neuropsychologia. Might be a good idea to visit our "Improve Your Spanish" section of our bookstore.
<![if !supportLineBreakNewLine]>
<![endif]>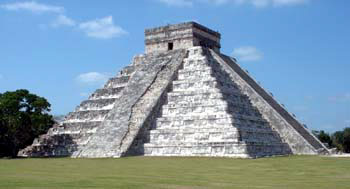 New 7 Wonders: A group of international nerds is attempting to choose the new Seven Wonders of the World. They have it narrowed down to 21 sites around the world including our own Chichen Itza. Now they are staging what they call "the largest global vote" in world history to get the list down to the top seven. You can vote too, all you need to do is register (and pick Chichen Itza) Vote Here
Convenience Stores are booming in Mexico. You may have noticed we now have a 7-11 store on the highway. It's part of a massive expansion that 7-11 and other chains are embarking on right now. Chain convenience store expansion has been slow in Mexico, partly because they can't sell gasoline. An interesting fact about the big two Mexican convenience store chains, OXXO and Extra (location in the Colonia) is that they are owned by the big two cervesa companies in Mexico, so their main reason for their existence is to sell their parent company's beer. OXXO is owned by the company that owns Sol and Dos Equis (and also owns the Coca-Cola rights for Mexico). Extra is owned by Modelo which brews Corona and many other brands. There are 7,600 chain convenience stores in Mexico which is nothing compared to the Big Gulp lovin' USA which has more than 140,000!
Radio via Satellite: I've seen this question asked on a few of the message boards lately, namely, will my Sirius or XM satellite radio work in Puerto Morelos? The answer is...si. In fact, we have one that we use in our truck and it works pretty much all the long, long drive down as well as at our house. For some reason, on a long drive we like to hear talk, so we mainly listen to our beloved homeland's CBC radio or the US's NPR. They have lots of channels including (believe it or not) live NASCAR races on radio. Can you imagine listening to a car race on radio?
A memorial for Gail Drauden will be held upstairs at Hola Asia on Tuesday, February 13 between 2:00 and 5:00.
Current Exchange Rates (In Puerto Morelos)
USA Dollar 10.65
CDN Dollar 8.70
---
Real Estate in Puerto Morelos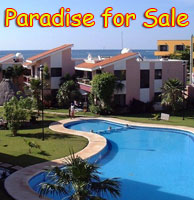 Beachfront condo for sale! Two Bedroom Condo For Sale: Here's a new opportunity to own a piece of paradise! A two bedroom condo is now available in the best located condominium project in Puerto Morelos. It is a 2 bedroom, 1.5 bath condo with living room, dining area and kitchen. Condo is furnished and ready to rent and use. Excellent for investment & rental income. These condos have a proven track record of appreciating and generating rental income for their owners.

The owner of this unit is selling because he is buying one of the villas in the same complex.

For more information on this property click here... Brand New Beachfront condo for sale!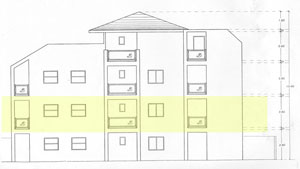 Pick your own colours with this brand new condominium on the beach. This two bedroom, two bath condo has been designed to take advantage of the best beach views and breezes. Complete with full size living room, dining room, kitchen and terraces.
Condo is located on a quiet beach just north of Puerto Morelos, about a 25 minute walk on the beach.
Construction of this condominium will begin in May 2007. Only this unit on the first floor will be sold. Special pre-construction price available now. See the floor plan and get more details here.
Beachfront condos for sale!

Two Bedroom Condos For Sale: Here's an opportunity to own a piece of paradise. Two 2 bedroom condos are available on the beach in a small locally-run complex. Each condo has an ocean and beach view. They are 2 bedroom, 2 bath with living room, dining area and kitchen. Front patio overlooks pool, beach and ocean. 25 minute walk to "downtown" Puerto Morelos. Condos are furnished and ready to rent and use. Excellent for investment & rental income. More details here...
---
This Just In! Books & Products at Alma Libre
Read all about it!
We love to keep you up to date with the town, but it's books that pay the bills. Have a look at some of the titles we're most excited about...
On Mexican Time
If you are even considering making Mexico your home in the future, you need to read this book. Author Tony Cohan captures the spirit and imagery of Mexico perfectly in this memoir. Read a sentence, close your eyes and you can almost taste the flavour of Mexico. This book led us to visit Central Mexico, which is completely different than the coast (and well worth a visit yourself someday) Cohan and his wife come to San Miguel and eventually buy a home and become a part of this quirky community.
Stories from Mexico / Historias de Mexico
This book has two titles, and for very good reason. It's written in two languages, English and Espanol. Each page of this book, which tells stories of Mexico, is presented side by side in the two languages. An excellent and fun way to improve your Spanish reading skills, with the safety net of having the English translation handy to make sure you are understanding everything. We sell out of this book every year, so don't miss it.
Mexico Style
Designed to inspire, this book is packed cover to cover with pictures of Mexican decor from coast to coast. Exploding with colour, textures, styles and ideas from a diverse selection of villas, casitas, haciendas, cabanas and palapas, this volume paints a multihued picture of Mexican style. We sold out of these instantly last year. With the number of homes and condos being sold in town, we expect the same to happen this year.
Spanish Language Learning Software-Since moving to Mexico, Joanne and I have struggled with our Spanish, especially those nasty verbs. Now our friend Jacky has invented a fun way to learn your verbs. Her Amigos Spanish program has full conjugation for 700 verbs and helps you learn with tests and puzzles. The program is totally customizable, allowing you to focus on the verbs you need to know. Plus it's fun, so you will stick with it and learn those verbs. To expand your vocabulary, try Amigos Spanish Puzzles a program featuring word games with English clues and Spanish answers (or vice versa). The program comes loaded with 2500 words, and you can even add your own words if you like! Both programs are available on CD exclusively at Alma Libre Bookstore.
We like the program so much, we're featuring free monthly Amigos Spanish crossword puzzles in Beach Reads. Click here to see and solve this month's puzzle.
Other books...

Secrets of the Talking Jaguar is the story of the author's physical and spiritual journey from the Southwestern US to the highlands of central America. There he becomes apprenticed to a local shaman who teaches Pretchel much about indigenous Mayan life, and about life in general. We sold out of these last year in hardcover, this year we were lucky enough to get some soft cover editions. If you missed this book last year, don't miss it this time.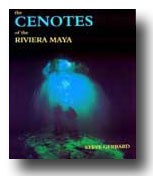 SPECIAL OFFER for Alma Libre Bookstore Customers
Cenotes of the Riviera Maya is the best book ever written about the cenotes in our area. Beautifully photographed, it could easily be called a coffee table book, but it is also has all the practical information you need to explore the cenotes whether you are swimming or diving. Many have drooled over this book, but the hefty (500 peso) price tag kept some people away. Now author Steve Gerrard has authorized us to lower the price. At 300 pesos, this book is an incredible bargain and it has been flying off our shelves. Supplies are limited. Don't miss this opportunity.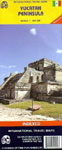 Maps!
If you drive in our area, you need a map! We have excellent and detailed maps of the Yucatan, the country of Mexico, Cancun city, Merida as well as Belize, Guatamala, Cuba and Central America. We also have souvenir-quality maps you can hang on the wall. Maps are usually difficult to find in Mexico, but only if you are looking in the wrong place!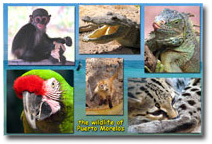 Postcards! We've added a few new photos to our postcard collection. We have the largest selection of Puerto Morelos postcards, and they are all exclusive to Alma Libre. We know because we make 'em! We also have blank greeting cards to cover any occasion you may wish to celebrate while you are in paradise.
---
Here is another Amigo Spanish Puzzle. To solve the puzzle, click the picture to the left and a new window will open with the puzzle full screen. Then you must print it out and solve it. Do not attempt to solve the puzzle by writing on your computer screen with a felt pen.
Please note, this is the easy version of the puzzle, they are available on the program larger and harder. Email us if you like the puzzle as is, or if you want us to publish a more difficult version.
When you finish, click here to view the answers.
You can make your own puzzles to help you learn Spanish click here to learn more!
---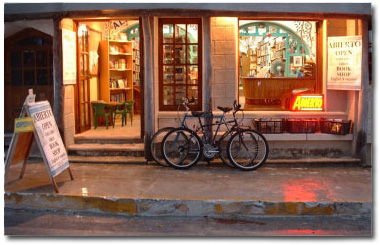 Just a reminder that we are open our regular season hours now. That is Tuesday through Saturday, 10:00 am until 3:00 pm and 6:00 pm to 9:00 pm. On Sunday we are open 4:00pm to 9:00pm. We are sometimes open on Monday, call ahead to find out if we are open!
Our hours are always posted on the front page of our website at www.almalibrebooks.com.
We take trades every day, so our selection is constantly changing. If you are planning a trip down, why not bring some recent bestsellers to trade and check out our store.
If you live here, we can special order books for you. It is not a quick process, it usually takes a month, but our prices are much better than Amazon's. Let us know what title you would like and we'll provide a quote.
We look forward to seeing you in Puerto Morelos!
---
Beach Reads is the official newsletter of Alma Libre Bookstore in Puerto Morelos Mexico. It is mailed directly to your mailbox if you request it. Beach Reads is published on a sporadic, seemingly random basis...but it is supposed to be approximately monthly during the season at Puerto Morelos. The season is November until after Easter. We do our best to publish it regularly...but we are easily distracted...

Our website is located at www.almalibrebooks.com Our store hours are always on the home page.

If you do not wish to receive this newsletter, please Click Here To Unsubscribe
This is Year #5, Issue #3. February 2007.
To subscribe or make comments or suggestions, please Contact Us
Retransmission & Redistribution of this newsletter without express written consent is just fine by us! Send this newsletter to a friend! (or get them to sign up for their own copy) If you like the newsletter, please support it by buying a book at Alma Libre Bookstore.
Text & Photos ©2007 Alma Libre Bookstore