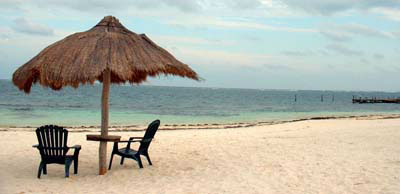 News from Alma Libre Bookstore - Puerto Morelos, Mexico

Year 04 Issue #6 - April 2006

Click here to go to our website: www.almalibrebooks.com
In this issue:
---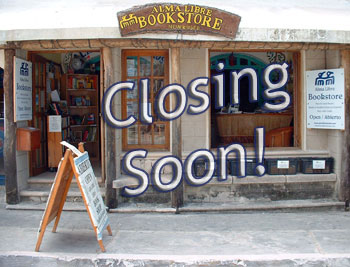 Hasta Pronto!
We're closing the doors for the season a little earlier than usual this year. We'll close around the end of April or early in May, we'll be back in October. This has definitely been our most challenging year. While the town recovered and rebuilt quickly from Hurricane Wilma, the town had fewer visitors than last year. In the days following Wilma we sent hundreds of emails all over the world reassuring worried travelers and homeowners that everything was going to be okay and we even managed to get a newsletter out even before we had electricity in the town. Many readers heeded our plea to visit and throw some pesos into the local economy. We hope many more are planning a trip for the summer or next year.
The town has completely recovered, the beach is better than ever, we are only waiting for some hotel rooms to open. While this was a very tough year for all in Puerto Morelos, we were very impressed with the attitude and spirit of the town. There was no "why me?" or waiting to see who was going to clean up the mess. They simply dug in, cleaned up and rebuilt. Everyone has worked very hard to get the town back for you, and they will assure you have a good time and are welcomed. If you have a trip planned for the summer, you are in for a treat!
Please remember that if we help you with your trip planning via email, web forums, this newsletter or our website to come into the shop and buy a book. We accept no advertising on our website or in our newsletter so we rely solely on your support in our bookstore. So, if you enjoy the newsletter, please support us by buying a book. Gracias! This will be our last newsletter of the season. Look for a new issue polluting your mailbox in November.
We'll be back in October with fresh new books. Locals, if you want to special order something, or have us look for a title up North, contact us. We check our mail, even on the road!
Gracias & Hasta Luego!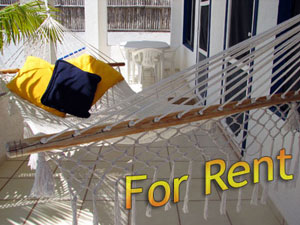 Room for You
If you are considering a spring break, we have good news. Most of the places we feature on our website have lots of time available in May & June and beyond. This, combined with some of the least expensive airline fares we've seen combine for some pretty good reasons to fly South. Have a look at some of the places that are available for rent on our rentals page. We have a place for everyone, including studios, one, two and three bedrooms, places on the beach, places with swimming pools, places in all price ranges. Some have other goodies like wireless internet.
Our web page has lots of pictures, good descriptions and rates. We know all the owners and the places. Easy living in P.M. just got easier! We've just added more pictures and more places too!
Big Three Visit
The "Three Amigos Summit" last month brought the leaders of Mexico, the United States and Canada together in our corner of the world. The leaders visited Chichen Itza and Cancun, but skipped Puerto Morelos. (and these guys are supposed to be smart?)
They discussed big issues like immigration and border security and they participated in a Cancun Spring Break Beer Chugging Contest. (We may have made up parts of this story to make it more interesting)
The Summit accomplished little, as expected, but did expose the fact that new Canadian Prime Minister Stephen Harper needs someone to advise him on what to pack on a trip to Mexico. At least he should do what teenage girls do and phone ahead to find out what everyone else will be wearing to the big photo-op.
Free Gift From Alma Libre Updated for April-May!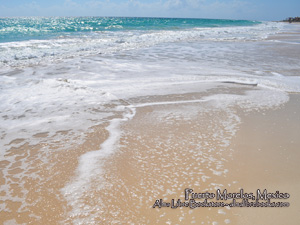 For those of you still stuck up North, bring a small piece of Puerto Morelos to your home or office with our new Puerto Morelos Wallpaper. Beautiful of course, and practical too with an April and May calendar built right in. This month's wallpaper is a sand castle tribute to El Castillo at Chichen Itza. We'll have new pictures available for download every month! Wallpaper is also available on our website at www.almalibrebooks.com. Look for new wallpaper there in the off season when we don't publish Beach Reads.
Pick your wallpaper size:
1024 x 768 800 x 600 New! 1280x800
CLICK HERE FOR WALLPAPER INSTALLATION INSTRUCTIONS
---
Hotel Hacienda Morelos has re-opened, they did it just in time for Easter. The hotel is still going under renovations as they add new rooms, but the old rooms are open along with a new pool area, a stunning new bar and a very serious sea wall. Owner Emilio Munoz decorated the bar with antiques found in central Mexico. The giant bar took 20 men to move, and they were only able to move it because it came in two pieces.
The last major reminders of Wilma all disappeared this month as La Sirena condominiums and the damaged parts of Casita del Mar Hotel and Playasol Condominiums were removed. Playasol has started building a new sea wall. Repairs are underway or completed on most of the private homes along the beach. Pelicanos is also completing their new palapa, held up by an impressive concrete column. (Can you believe they moved all that cement by hand? Passed up to the top in 5 gallon buckets!)
According to their website, Ceiba del Mar will reopen on August 1, 2006. We will be glad to have them and their guests back.
We dropped into El Cid's new all inclusive the other day. I must admit, it's an impressive site (and sight). The property is built around a large pool with waterfall and a colonial-style restaurant. You can buy your way in for a visit with a day pass. $100 US will buy you an all-inclusive day pass or there are cheaper alternatives if you just go for the morning or afternoon.
We sometimes like to buy a day pass to an all-inclusive and pretend we are tourists for the day. Most resorts offer day passes, prices vary greatly from the $20 one we have gone to in Cancun to well over $100 for a few hours. This is just phase one of the El Cid project, which is going to include at least two hotels, condominiums and villas. Work has already begun on the next hotel which our sources say is going to be a Krystal. Our sources are right about as often as the TV weatherman is.
The arrival of El Cid has also brought timeshare hawkers into our town. If someone offers you a free breakfast, chances are they are one of them.
Cafe Finca has moved into the building that used to be occupied by Habaneros (and Locos before that). They have also expanded their menu and are serving cervesa as well as coffee. There is a new cafe in their old location, beside the new art gallery.
Our business neighbour Eric from Marlin Bleu has a new website, www.elmarlinbleu.com. Like Eric, the website is available in English, Spanish or French. The site features mouth-watering pictures of Eric's specialties, like crepes and shrimp. Do not attempt to have a taste by licking your computer screen. It doesn't work...trust me. The website and photos are the work of our friend Adair from www.a2arts.com
Happy Hour at Hotel Ojo de Agua is a popular place to be between 2 and 4 each afternoon. Sit by the pool or with your toes in the sand and enjoy live music, as well as two for one drinks.
A couple of new retail shops have opened along the main road. One is in the small building that Goyo used to occupy and the other is in the Posada El Moro building. Both feature clothing and other things not found at the other shops in town. On the same road is Pixan, which always has interesting and unique things.
Yet another internet cafe is coming soon. It's right across from the new Pelicanos, but is still under construction. I think that makes six internet cafes in town now.
Took a couple of days off recently in Merida. We are so lucky to have such a big, sophisticated city so close to us. We always like to include a Sunday in our visits. Traffic is lighter and the town square is turned into a giant market. You are guaranteed to hear music everywhere on any visit to Merida, whatever day you choose to come. Accommodations are available on any budget. You can drive there on the expensive but quick toll road (we have paid more for the toll road than we have for a night's accommodation!), the free road or you can do what we did recently and take the bus. The bus only makes one stop (in Valladolid) and they even run movies. (We saw last year's Oscar winner "Million Dollar Baby" and another more-forgettable title. Best to bring a book!)
No more Wilma - We can now guarantee that Hurricane Wilma will never bother us again. That's because the World Meteorological Organization has retired the name "Wilma" from its list of possible hurricane names. Also retired were other nasty storm names Katrina, Dennis, Rita and Stan. Since 1965, 67 names have been retired, but 5 in one season is a record number.
See some cool video of the restored beach in Cancun by going to CancunAssist.com and clicking on "special reports". The beach restoration has been nothing short of miraculous. Cancun Assist is an excellent web site for anyone thinking of living in this area. The website and the people behind it were a tremendous help to us when we were moving down here.
Powerful Tips for Locals - A couple of electrical tips for locals. Did you know you can check your electric bill online at CFE's website? You need to register, but it's easy to do. Usually by the time we get our electric bill, it's almost due. We like to monitor our electricity to see how much juice we are getting. We have discovered a couple of times that our current has dropped very low, which is tough on our appliances, especially the fridge and the water pressure pump. Joanne picked up this little device in Canada that allows us to monitor our current, plus you can plug an appliance into it and see exactly how much power it is using (and how much it is costing you). It's built by UPM (website here). We bought ours at Canadian Tire for about $25 CDN. In the States, it's available at Ace. To learn more about your power bill, charge on back to the Cancun Assist website for an explanation here.
Sac-Be Newspaper: While in Alma Libre, pick up your free copy of Sac-Be Newspaper. It's the only print publication along the Riviera Maya that really covers Puerto Morelos well, and they even include a detailed map. They also cover Akumal, Tulum, Playa and the rest of the Riviera Maya.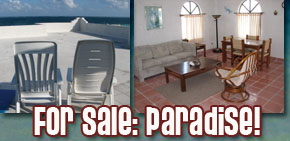 New Lower Price! Beachfront condo for under 200k!
Two Bedroom Condos For Sale: Here's an opportunity to own a piece of paradise. Two 2 bedroom condos are available on the beach in a small locally-run complex. Each condo has an ocean and beach view. They are 2 bedroom, 2 bath with living room, dining area and kitchen. Front patio overlooks pool, beach and ocean. 25 minute walk to "downtown" Puerto Morelos. Condos are furnished and ready to rent and use. Excellent for investment & rental income. Contact us for details. We've just added a web page with pictures here.
Current Exchange Rates (In Puerto Morelos)
USA Dollar 10.80
CDN Dollar 9.00
---
This Just In! Books & Products at Alma Libre
Books & Stuff!
Here's a look at some new products at Alma Libre...
Spanish Language Learning Software-Since moving to Mexico, Joanne and I have struggled with our Spanish, especially those nasty verbs. Now our friend Jacky has invented a fun way to learn your verbs. Her Amigos Spanish program has full conjugation for 700 verbs and helps you learn with tests and puzzles. The program is totally customizable, allowing you to focus on the verbs you need to know. Plus it's fun, so you will stick with it and learn those verbs. To expand your vocabulary, try Amigos Spanish Puzzles a program featuring word games with English clues and Spanish answers (or vice versa). The program comes loaded with 2500 words, and you can even add your own words if you like! Both programs are available on CD exclusively at Alma Libre Bookstore.
We like the program so much, we're featuring free monthly Amigos Spanish crossword puzzles in Beach Reads. Click here to see and solve this month's puzzle.
Maya for Travelers and Students
This unique book not only gives the reader the ability to communicate with the Maya in their own language, it also offers invaluable tips on learning the language "in the field". Most helpful is the author's discussion of the cultural and material worlds of the Maya, accompanied by the most essential words and expressions for the most common objects and experiences.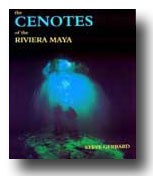 SPECIAL OFFER for Alma Libre Bookstore Customers
Cenotes of the Riviera Maya is the best book ever written about the cenotes in our area. Beautifully photographed, it could easily be called a coffee table book, but it is also has all the practical information you need to explore the cenotes whether you are swimming or diving. Many have drooled over this book, but the hefty (500 peso) price tag kept some people away. Now author Steve Gerrard has authorized us to lower the price. At 300 pesos, this book is an incredible bargain and it has been flying off our shelves. Supplies are limited. Don't miss this opportunity.
Cheap Reads: We are still holding our Hardcover Book Sale. Buy any hardcover priced at 99 pesos or less and get another free!
Postcards! We've added a few new photos to our postcard collection. We have the largest selection of postcards of Puerto Morelos, and they are all exclusive to Alma Libre. We know because we make 'em! We also have blank greeting cards to cover any occasion you may wish to celebrate while you are in paradise.
---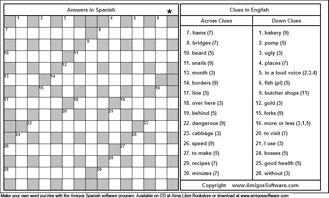 Here is another Amigo Spanish Puzzle. To solve the puzzle, click the picture to the left and a new window will open with the puzzle full screen. Then you must print it out and solve it. Do not attempt to solve the puzzle by writing on your computer screen with a felt pen.
Please note, this is the easy version of the puzzle, they are available on the program larger and harder. Email us if you like the puzzle as is, or if you want us to publish a more difficult version.
When you finish, click here to view the answers.
You can make your own puzzles to help you learn Spanish click here to learn more!
---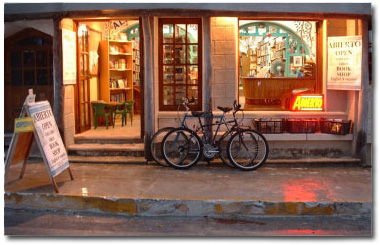 Just a reminder that we are open our regular season hours now. That is Tuesday through Saturday, 10:00 am until 3:00 pm and 6:00 pm to 9:00 pm. On Sunday we are open 4:00pm to 9:00pm. We are closed on Monday. We will close for the season around the end of April and reopen in October. Watch our front page for our exact opening date.
Our hours are always posted on the front page of our website at www.almalibrebooks.com.
We take trades every day, so our selection is constantly changing. If you are planning a trip down, why not bring some recent bestsellers to trade and check out our store.
If you live here, we can special order books for you. It is not a quick process, it usually takes a month, but our prices are much better than Amazon's. Let us know what title you would like and we'll provide a quote.
We look forward to seeing you in Puerto Morelos!
---
Beach Reads is the official newsletter of Alma Libre Bookstore in Puerto Morelos Mexico. It is mailed directly to your mailbox if you request it. Beach Reads is published on a sporadic, seemingly random basis...but it is supposed to be approximately monthly during the season at Puerto Morelos. The season is November until after Easter. We do our best to publish it regularly...but the beach is so pretty...

Our website is located at www.almalibrebooks.com Our store hours are always on the home page.

If you do not wish to receive this newsletter, please Click Here To Unsubscribe
This is Year #4, Issue #6. April 2006.
We love to hear your comments or suggestions, please Contact Us
Retransmission & Redistribution of this newsletter without express written consent is just fine by us! Send this newsletter to a friend! (or get them to sign up for their own copy)
Text & Photos ©2006 Alma Libre Bookstore