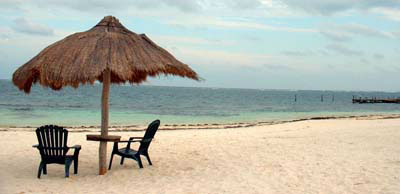 News from Alma Libre Bookstore - Puerto Morelos, Mexico

Year 04 Issue #5 - March 2006

Click here to go to our website: www.almalibrebooks.com
In this issue:
---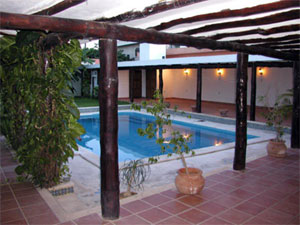 Room for You
If you are considering a late winter break or Easter vacation, we have good news. Most of the places we feature on our website have lots of time available in April. This, combined with some of the inexpensive airline fares we've seen combine for some pretty good reasons to fly South. Have a look at some of the places that are available for rent on our rentals page. We have a place for everyone, including studios, one, two and three bedrooms, places on the beach, places with swimming pools, places in all price ranges. Some have other goodies like wireless internet or jacuzzi tubs.
Whatever you need. Our web page has lots of pictures, good descriptions and rates. We know all the owners and the places. Easy living in P.M. just got easier! We've just added more pictures and more places too!
Local Shopping Secrets
Many visitors to our area assume that living in Mexico is difficult, involving a lot of red tape. It can be that way, but we also have an incredible variety of conveniences available to us. For example, we can do a major amount of shopping from our homes...at least from in front of our homes. Most obvious are the produce guys who drive around hawking their wares over their crackly roof-mounted loudspeaker. Oranges and mangos usually. Sometimes bananas, onions, pineapples and fruit you can't identify. All fresh and inexpensive. Baked goods can also be bought from a loudspeaker. A blue van snakes slowly through town every night at dusk. Other things sold off trucks are fresh shrimp and plastic goods. They usually roll into town on Saturdays.
Some sales people prefer to walk around the neighbourhood. We get a daily visit from the strawberry guy who yells "Fresas, fresas, fresas!" Also on-foot are guys selling wooden tables, steel shelves, and the guys who sells sweets with an overloaded tray balanced on his head. (How does he do that?)
Then there is our version of fast food. The "chicken ladies" cook up fresh chicken every day and sell it with a few side dishes for about $50 pesos. On the weekends they sometimes cook up fresh fish. To cook your own fish, visit the fishing co-operative. Selection varies depending on what was caught that day, but it is always fresh and inexpensive. For an extra few pesos, they will filet the fish for you.
An inexpensive luxury for ladies is getting a manicure and pedicure. Either of the beauty shops on Ninos Heroes will treat you for under $200 pesos.
Big Visitors Coming
Cancun will host some unusual spring breakers at the end of this month. President Vicente Fox, President George Bush and newly elected Canadian Prime Minister Stephen Harper will meet in Cancun. Our sources say the leaders will discuss trade, security and immigration issues as well as which one of them has the best tan.
Harper is actually the Member of Parliament for where we used to live in Calgary, so we have decided to extend to him a special invitation to visit the bookstore. The other leaders are welcome too of course, but no discounts for heads of state.
This might be Fox's last summit. Mexico votes on July 2nd and Vicente can't run again. In his six year term Fox did manage some pretty heady accomplishments. Mexico's credit rating has improved, it has a balanced budget and interest rates fell more than 52% in his first four years in office. Inflation for 2005 was 3.3% compared to 3.4% in the United States. Source: Knight Ridder News Service
Sunday Market
The new Mayan Sunday Market is easier to reach now. A collectivo will leave PlayaSol at 11:00 in the morning every Sunday. Cost: 10 pesos. It returns from the market in about 45 minutes.
If you drive, note that the main road into the Colonia is now one-way the wrong way. You will have to turn left at the gas station and work your way toward the jungle through town.
The Market has been a big success. It's a chance for you to meet some local Mayan artisans and acquire unique handicrafts directly from the women who created them. Delicious homemade foods are also available like tacos, empanadas, flan and natural drinks. Proceeds from the sale directly help the families who live in our area.
The sale runs every Sunday from 10:30 until 2:00pm in the jungle on the west side of the highway on Calle 2. You can get there by car, taxi or collectivo. Ask at the bookstore for more specific directions.
This is a fantastic idea, allowing visitors to meet and directly benefit the people of our area who have suffered because of the hurricanes this year. Plus, you get a unique gift, made locally from local materials. Don't miss it!
Carnaval!
Carnaval was celebrated in Puerto Morelos a few days late as usual. There are only so many rides and games in the area so not all the towns can celebrate at once. Most of the celebration was staged in the Colonia, on the other side of the highway. There was music, dancing, games, rides and so much food. As usual, there were many parades through town, including this one that rolled right past our house. Unfortunately, this oversized Sol float was too tall for the power lines on our street. Float revelers became electricians briefly, holding the lines up with wood so that the float could make its way under. The float then got stuck at the end of our street for about 15 minutes because of the sharp turn onto Rojo Gomez. The dancers kept dancing and the music kept blaring as the float driver eventually managed to free himself. I'm thinking we won't see too many more parades on our street anytime soon.
Free Gift From Alma Libre Updated for March!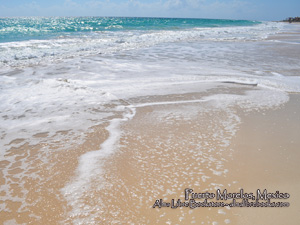 For those of you still stuck up North, bring a small piece of Puerto Morelos to your home or office with our new Puerto Morelos Wallpaper. Beautiful of course, and practical too with a March and April calendar built right in. This month's wallpaper features a gorgeous view of the "post-Wilma" beach. We'll have new pictures available for download every month! Wallpaper is also available on our website at www.almalibrebooks.com
Pick your wallpaper size:
1024 x 768 800 x 600 New! 1280x800
CLICK HERE FOR WALLPAPER INSTALLATION INSTRUCTIONS
---
Tuna is back! The Tuna restaurant in Casita Blanca was literally flattened by Wilma, but it's back and celebrating its return with a daily happy hour. By the way, the name "Tuna" refers to a part of a cactus, not the fish. (Sorry Charlie)
As we mentioned in the market story above, the main road going into the Colonia is now one-way...the other way. If you want to go into the Colonia now, you will have to turn left at the Pemex station and make a right into town.
Bus fare between Puerto Morelos and Cancun or Playa del Carmen has increased one peso to $17 pesos. Still a bargain of course, but worth being aware of.
The last two news items were given to us by local Frank Reams who has started his own website to spread information about Puerto Morelos. Check it out: Viva Puerto Morelos.
In the News: Rob, or at least his voice, made an appearance on Canada's national television news network CBC Newsworld recently. Interviewed over the telephone by CBC's Kathleen Petty, Rob talked about the recent coverage Mexico has been receiving in Canada.
Music in the Square: Musicians from Puerto Morelos and around the Riviera Maya are gathering in the square at Puerto Morelos every second Saturday throughout the season. Musical offerings vary from solitary performers with a guitar to full blown bands. A recent performance featured a drumming band from Cancun that had the town rocking! Performances are free, but donations are accepted for the Casa Cultural in Puerto Morelos, which is building a big new space.
The International Women's Club of Cancun or IWC now has their own website: Check it out: IWC
Cancun continues to pour money into Wilma recovery and pour sand onto their beach. The results of their beach restoration has been stunning. See pictures at Steve Bridger's AfterWilma.info website. According to the site, Cancun now has 110 hotels at least partially operating for a total of 17,328 rooms. That is about 63% of their total capacity before the hurricane.
Our beach in Puerto Morelos has never been better. It continues to widen, naturally mind you, and the beach cleaner is working daily, making it positively pristine. The new palms are popular for persons to park under. (That's a lot of alliteration from an awful author!)
Animal House: We did a lot of research about Mexico before we moved here, but sometimes situations come up that you just can't prepare for. The other day we heard the sound of something falling into our sink. A closer look revealed it was a frog! All of us agreed that the frog should not be in the house. Our feelings were obvious, and we could tell the frog wanted out by the way he was leaping at all our screened windows. Leaping was one of his strongest skills actually, he jumped over six feet seemingly effortlessly. After a few minutes he took a breather by resting ironically on a frog shaped soap dish! While he was resting we were able to remove one of our screens and the frog leapt to freedom. It's not our only animal encounter. After the hurricane we had to shoo a possum out of our bodega.
PGA Tour in Mexico: The brand new Fairmont Mayakoba Resort will host Mexico's first official PGA Tour event next February. The tournament will be contested on the 7,067-yard El Camaleon course at the Mayakoba Resort, the first Greg Norman designed golf course in Mexico. The Fairmont Mayakoba is not open yet, but will begin welcoming guests on April 16th. Fairmont Mayakoba is the first hotel to open on the new Mayakoba development which will eventually host six hotels designed to be eco friendly. The entire development is estimated to cost a staggering 1.5 billion dollars. The PGA Tournament will be called the Mayakoba Classic.
Low-cost libations: Saw this deal in a recent Soriana flyer (Soriana is a grocery store chain here, they have two locations in Cancun and they are building one in Playa)
This is a 950ml (32 oz) bottle of decent tequila and a six pack of imported Canadian Moosehead beer for $125 pesos. That is about $11.68 US or $13.36 Canadian.
A similar deal in the US would be at least $35US and (gasp) $52CDN in Canada.
Now you know why we all smile so much down here!
Sac-Be Newspaper: While in Alma Libre, pick up your free copy of Sac-Be Newspaper. It's the only print publication along the Riviera Maya that really covers Puerto Morelos well, and they even include a detailed map. They also cover Akumal, Tulum, Playa and the rest of the Riviera Maya. We've always had great response to our ad in Sac-Be. Your business should advertise there too! In this month's Sac-Be column, Joanne writes about incredible array of things you can buy at your door or on the street in Puerto Morelos.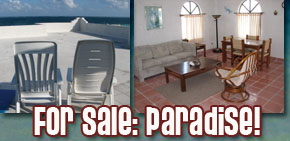 Two Bedroom Condos For Sale: Here's an opportunity to own a piece of paradise. Two 2 bedroom condos are available on the beach in a small locally-run complex. Each condo has an ocean and beach view. They are 2 bedroom, 2 bath with living room, dining area and kitchen. Front patio overlooks pool, beach and ocean. 25 minute walk to "downtown" Puerto Morelos. Condos are furnished and ready to rent and use. Excellent for investment & rental income. Contact us for details. We've just added a web page with pictures here.
Current Exchange Rates (In Puerto Morelos)
USA Dollar 10.35
CDN Dollar 8.50
---
This Just In! Books & Products at Alma Libre
Books & Stuff!
Here's a look at some new products at Alma Libre...
Spanish Language Learning Software-Since moving to Mexico, Joanne and I have struggled with our Spanish, especially those nasty verbs. Now our friend Jacky has invented a fun way to learn your verbs. Her Amigos Spanish program has full conjugation for 700 verbs and helps you learn with tests and puzzles. The program is totally customizable, allowing you to focus on the verbs you need to know. Plus it's fun, so you will stick with it and learn those verbs. To expand your vocabulary, try Amigos Spanish Puzzles a program featuring word games with English clues and Spanish answers (or vice versa). The program comes loaded with 2500 words, and you can even add your own words if you like! Both programs are available on CD exclusively at Alma Libre Bookstore.
We like the program so much, we're featuring monthly Amigos Spanish crossword puzzles in Beach Reads. Click here to see and solve this month's puzzle.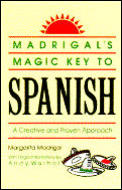 Madrigal's Magic Key to Spanish by Margarita Madrigal
Anyone can read, write, and speak Spanish in only a few short weeks with this unique and proven method, which completely eliminates rote memorization and boring drills. Features cool illustrations by Andy Warhol. We know a lot of people who learned to speak Spanish "muy bien" using this book. "The drills Ms. Madrigal presents are easy to remember and fun to do, not like those tedious translations and verb conjugations that college texts are so fond of."
The Friends of Pancho Villa: The story of Mexico's most famous and colourful Revolutionary hero. Pancho Villa rose from being a sharecropper peasant on a hacienda to the revolutionary hero of millions. "This is a tremendous book, replete with wonderful characters, an interesting plot, and wonderful atmosphere. The author has recreated the time of the Mexican revolution wonderfully, and the main character, and narrator, is someone you'd like to sit and have a conversation with...though not in a dark alley."

Mexican Handmade Style: Make your own memories of Mexico. This book features twenty easy to make projects to brighten your home and garden. This beautiful book features more than 150 colour photographs. Perfect gift or souvenir. "Each project is a twist on a traditional method. They are easy to read and follow and offer a bit of history about where they came from."

A Taste of Mexico: The best place to recreate a little of your trip to Mexico when you are back home is in the kitchen. "A Taste of Mexico" features 70 exotic recipes packed with the colour and flavour of Mexico. Recipes range from soup to desserts to drinks. Step by step colour photographs illustrate each recipe.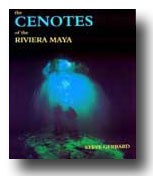 SPECIAL OFFER for Alma Libre Bookstore Customers
Cenotes of the Riviera Maya is the best book ever written about the cenotes in our area. Beautifully photographed, it could easily be called a coffee table book, but it is also has all the practical information you need to explore the cenotes whether you are swimming or diving. Many have drooled over this book, but the hefty (500 peso) price tag kept some people away. Now author Steve Gerrard has authorized us to lower the price. At 300 pesos, this book is an incredible bargain and it has been flying off our shelves. Supplies are limited. Don't miss this opportunity.
Postcards! We've added a few new photos to our postcard collection. We have the largest selection of postcards of Puerto Morelos, and they are all exclusive to Alma Libre. We know because we make 'em! We also have blank greeting cards to cover any occasion you may wish to celebrate while you are in paradise.
---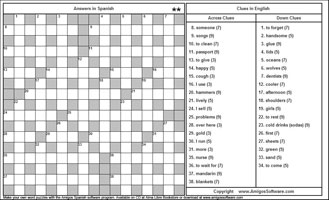 Here is another Amigo Spanish Puzzle. To solve the puzzle, click the picture to the left and a new window will open with the puzzle full screen. Then you must print it out and solve it. Do not attempt to solve the puzzle by writing on your computer screen with a felt pen.
Please note, this is the easy version of the puzzle, they are available on the program larger and harder. Email us if you like the puzzle as is, or if you want us to publish a more difficult version.
When you finish, click here to view the answers.
You can make your own puzzles to help you learn Spanish click here to learn more!
---
In Memory
It is with great sadness that we must report the death of Greg Brown. Greg was a friend of the bookstore, a great reader, an excellent photographer and diver. He touched many people in his short life, particularly in Akumal.
Some of his friends held a ceremony for him on the beach at sunset there.
Greg was just 41 years old. We will miss him.
His friends in Akumal are trying to raise money to help his family and pay for a small plaque on a cave that Greg helped discover and explore. If you would like to help, drop us an email.
---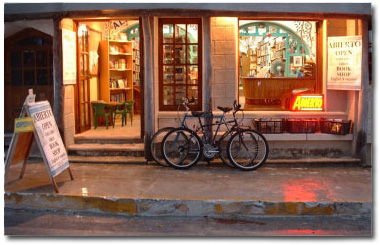 Just a reminder that we are open our regular season hours now. That is Tuesday through Saturday, 10:00 am until 3:00 pm and 6:00 pm to 9:00 pm. On Sunday we are open 4:00pm to 9:00pm. We are closed on Monday.
Our hours are always posted on the front page of our website at www.almalibrebooks.com.
We take trades every day, so our selection is constantly changing. If you are planning a trip down, why not bring some recent bestsellers to trade and check out our store.
If you live here, we can special order books for you. It is not a quick process, it usually takes a month, but our prices are much better than Amazon's. Let us know what title you would like and we'll provide a quote.
We look forward to seeing you in Puerto Morelos!
---
Beach Reads is the official newsletter of Alma Libre Bookstore in Puerto Morelos Mexico. It is mailed directly to your mailbox if you request it. Beach Reads is published on a sporadic, seemingly random basis...but it is supposed to be approximately monthly during the season at Puerto Morelos. The season is November until after Easter. We do our best to publish it regularly...but the beach is so pretty...

Our website is located at www.almalibrebooks.com Our store hours are always on the home page.

If you do not wish to receive this newsletter, please Click Here To Unsubscribe
This is Year #4, Issue #5. March 2006.
We love to hear your comments or suggestions, please Contact Us
Retransmission & Redistribution of this newsletter without express written consent is just fine by us! Send this newsletter to a friend! (or get them to sign up for their own copy)
Text & Photos ©2006 Alma Libre Bookstore