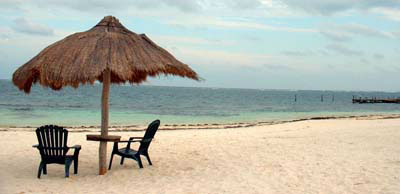 News from Alma Libre Bookstore - Puerto Morelos, Mexico

Year 04 Issue #3 - February 2006

Click here to go to our website: www.almalibrebooks.com
In this issue:
---
Best of Puerto Morelos Survey!
For the second year in a row, we surveyed the readers of Beach Reads to find out what they like best about Puerto Morelos. This year we had about 20% more readers answer our survey. To those who answered the call, we thank you.
Here are the results from our 2006 survey.
Favourite Thing to do in Puerto Morelos: Surprise, surprise. Most answers involved very low impact activities involving the beach. By far the number one answer was "walking the beach." Also high on the agenda was snorkeling, visiting with friends, people watching in the square or one of the cafes and dining in one of our excellent restaurants. Some also liked to browse the bookstore (one respondent said he liked to "hassle the owners"...we can't recommend that). Our favourite answers were "lie on the beach with a book and a cool drink in the afternoon" and "nothing."
Favourite Restaurant: A lot of "new faces" in the top restaurants this year, but the winner was the same as last year. Hola Asia topped the list once again by a respectable margin. Pelicanos was second as it was in 2005. After that, it gets interesting. Here's the whole list.
1. Hola Asia - Still PM's favourite restaurant.

2. Pelicanos - Now open in a new location.

3. Bodo's - A new entry on our list, many people mentioned the excellent service.

4. John Gray's Kitchen - People come from all over the Mayan Riviera to dine at John's.

5. Caffe del Puerto - The fact that they are closed did not prevent their appearance on our list!

5. El Pirata - Another new entry to our list, Pirata has been packed this season.

6. Le Marlin Bleu - Our next door neighbour won the award for the best civiche in town, and we love the shrimp tacos too.


Also mentioned many times were "The Old Fisherman", Portabello, Spaghettino, Tuna, Mama's Bakery, Caffetto, and El Tio.
Favourite Place to Have a Drink: We asked this question for the first time this year. It could be a margarita on the beach, a cappuchino at a cafe or a glass of Jamaica at a restaurant. The most popular place for a drink was Pelicanos. After that was a long list including Don Pepe's, Portabello, the bar at Hola Asia, Posada Amor, Ojo de Agua, Cafe de Amancia or the little juice bar on Rojo Gomez. People also mentioned their own place. Our favourite answer was "on my deck at night, swinging in a hammock watching the palm trees sway. Sigh....
Favourite Shop: Some people felt "pressured" to say the Bookstore was their favourite shop. This was not accidental. How would it look if we lost on our own survey? Luckily most people picked Alma Libre Bookstore as their favourite shop, saving us from stuffing the ballot box. Also mentioned by people who didn't respond to our pressure were The Mayan Handicraft Centre, Thomas's many shops, and Pixan. One person even said the Ice Cream shop!
Favourite Place to Stay: Last year we felt that everyone who answered the survey lived here as most of our answers were "my place" or some such thing. This time we got a long list of places people like to stay. The list was wide and varied, but a few places came up very often. Ojo de Agua, PlayaSol, Amar Inn, Casita del Mar and Ceiba were all mentioned. Many people wrote that they liked to rent a house or condo for their stay in Puerto Morelos. We have a list of some of those places on our website here. Of course a good portion of people still responded "my place".
Favourite Book to Read in Puerto Morelos: Most answers were similar to last year. "Something about Mexico" was popular, as was "something light". Many mentioned their favourite mystery or romance author. Something "Deep and Meaningless" was our favourite answer. A few people responded that they didn't read, which brought up a few questions about our marketing.
Outside of Puerto Morelos, where is your favourite place to visit on the Mayan Riviera: This was the first time we asked this question. We thought it might be valuable for visitors to share their favourite spots, and give us some ideas of what to do on our day off. Popular places were Tulum, Playa del Carmen, Akumal and Lake Bacalar. Several people responded that they couldn't think of a good reason to leave Puerto Morelos.
How Many Times Have You Visited Puerto Morelos? Once again we proved that it is difficult to visit Puerto Morelos just once. 68% of our readers had visited more than three times! 13% had visited once and 15% had visited twice. The most popular answer was too many to count, leading to us to believe that either Puerto Morelos is a place that you must visit over and over again...or most of our readers simply are not that good at math.
Where Are You From? A long and varied list here but basically half of respondents were from the US, 27% from Canada and about 6% are from Mexico. The rest hail from all over the world including one from Finland.
Sunday Market
A new Mayan Sunday Market has started in Puerto Morelos. This is a chance for you to meet some local Mayan artisans and acquire unique handicrafts directly from the women who created them. Delicious homemade foods are also available like tacos, empanadas, flan and natural drinks. Proceeds from the sale help the families who live in our area.
The sale runs every Sunday from 10:30 until 2:00pm in the jungle on the west side of the highway on Calle 2. You can get there by car, taxi or collectivo. Ask at the bookstore for more specific directions.
This is a fantastic idea, allowing visitors to meet and directly benefit the people of our area who have suffered because of the hurricanes this year. Plus, you get a unique gift, made locally from local materials. Don't miss it!
Sleeping Around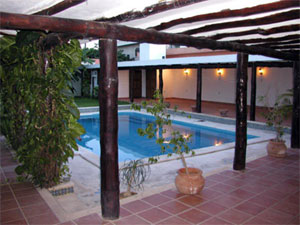 Rent this place and this pool is all yours!
If your hotel or all-inclusive is not going to be able to accommodate you, there are lots of options and places to lay your head in and around Puerto Morelos.
Our smaller hotels, located off the beach, were unaffected by Wilma. Some on the beach have already been restored.
Or for a new level of relaxation and convenience, why not rent a condo or house in Puerto Morelos? All the properties listed on our website are open and ready to rent. It's a chance to stay in somebody's dream house! Many of our places have swimming pools, jacuzzis', wireless internet and other luxurious appointments.
We have everything from studios to three bedroom houses listed on our website. Click Here for listings and pictures.
Owners: Contact us to get listed on our website FREE.
Free Gift From Alma Libre Updated for February!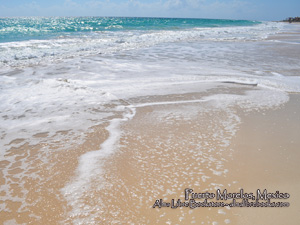 For those of you still stuck up North, bring a small piece of Puerto Morelos to your home or office with our new Puerto Morelos Wallpaper. Beautiful of course, and practical too with a December and January calendar built right in. This month's wallpaper features a gorgeous view of the "post-Wilma" beach. We'll have new pictures available for download every month! Wallpaper is also available on our website at www.almalibrebooks.com
Pick your wallpaper size:
1024 x 768 800 x 600 New! 1280x800
CLICK HERE FOR WALLPAPER INSTALLATION INSTRUCTIONS
---
Welcome back to The Old Fisherman restaurant which reopened in its old location over the supermarket. They have completely remodelled the place and it looks great, plus it has that ocean view.
Also with a great view, the bar at Hola Asia has reopened. The good news is that you can order off the menu upstairs or downstairs. This should ease some of the line-ups that we have seen at Hola Asia in past years.
La Marina restaurant has opened at the Marina El Cid. We haven't been yet, but local man-about-town Steve went and said while the location is high end, the menu was surprisingly affordable.
Caffetto which just moved into our plaza from their old location is now open for dinner on Friday & Saturday nights. Other days they are open for breakfast and lunch only.
Two other new places to have a drink opened recently. Gioconda (which is another name for the Mona Lisa) opened behind Spaghettino restaurant. They have pizza and drinks. The other place is Blue Moon, owned by Ed who used to own Habaneros. It's just down the street from Habaneros, in the space that used to be occupied by Ikarus Kiteboarding.
You can save pesos at some local restaurants with your computer and a printer. Go to PuertoMorelosRestaurants.com and find coupons for La Marina, Le Marlin Bleu, Gioconda, Ojo de Agua and Spaghettino.
Gone Fishin': Friends from the Old Country came to visit us recently in Puerto Morelos. Not only do we enjoy seeing our friends, their visit gives us an excuse to live like a tourist for a few days. One recent Sunday Chris and Rob had a chance to go fishing with Kathy Loretta of Diving Dog Tours. Kathy's new boat is the nicest in town and our mission was a success as Chris caught this fish, which likely says more about the skill of Kathy and the crew than the skill of the fishermen. We even caught a bunch more tasty fish bottom fishing.
Gone Divin': Also got a chance to go diving with Brett of Dive Puerto Morelos. We dove Taj Mahal Cenote. If you have never dove in a cenote, you have never dove! Taj Mahal is named because of its stunning beauty. The water is so clear you would swear you are floating in the air. If you don't dive, you can snorkel in a cenote too.
Music in the Square: Musicians from Puerto Morelos and around the Riviera Maya are gathering in the square at Puerto Morelos every second Saturday throughout the season. Musical offerings vary from solitary performers with a guitar to full blown bands. The last performance featured a drumming band from Cancun that had the town rocking! Performances are free, but donations are accepted for the Casa Cultural in Puerto Morelos, which is building a big new space.
Tough Sale: We spotted these guys trying to sell heavy concrete sinks to people on the beach. Oddly enough, there were no takers. I guess it beats an office job...
The local Police are showing off their new cruiser and motorcycles. While they are pretty cool to look at, you don't want to see one of them in your rear view mirror. To avoid this, drive the speed limit (the taxis may try to drive over you, but just let them) and make sure you are wearing your seatbelt. They have been really cracking down on seatbelt infractions lately. Please note that the cruiser often drives around town at night with his lights running even though there is no emergency. We assume he thinks it looks cool, and we agree!
The Police have also been busy painting curbs so some parking spots have changed again. You can now park in front of the church, but you can't park on the road in front of the army base. Basically you don't want to park by a yellow curb. Look for a white one. While parking infractions are no fun, you have to love the fact that the police paint their own curbs!
It appears that the Bomberos have moved out of town. Luckily the town is mostly concrete and resists burning.
Cancun continues to bounce back from Wilma. Now the beaches are being restored. Sand is being dredged from a submerged sandbank and piped onto the shoreline. From there it is redistributed along the beach. The beach is being restored rapidly and will be completely finished by April 30. More about this story and hotel updates are available on Steve Bridger's AfterWilma website.
Sac-Be Newspaper: While in Alma Libre, pick up your free copy of Sac-Be Newspaper. It's the only print publication along the Riviera Maya that really covers Puerto Morelos well, and they even include a detailed map. They also cover Akumal, Tulum, Playa and the rest of the Riviera Maya. Now due to popular demand, Sac-Be is available by subscription outside of Mexico. We've always had great response to our ad in Sac-Be. Your business should advertise there too! In this month's Sac-Be column, Joanne writes about incredible array of things you can buy at your door or on the street in Puerto Morelos.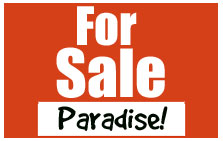 Two Bedroom Condos For Sale: Here's an opportunity to own a piece of paradise. Two 2 bedroom condos are available on the beach in a small locally-run complex. Each condo has an ocean and beach view. They are 2 bedroom, 2 bath with living room, dining area and kitchen. Front patio overlooks pool, beach and ocean. 25 minute walk to "downtown" Puerto Morelos. Condos are furnished and ready to rent and use. Excellent for investment & rental income. Contact us for details.
Current Exchange Rates (In Puerto Morelos)
USA Dollar 10.25
CDN Dollar 8.45
---
This Just In! Books & Products at Alma Libre
Books & Stuff!
Here's a look at some new products at Alma Libre...
Spanish Language Learning Software-Since moving to Mexico, Joanne and I have struggled with our Spanish, especially those nasty verbs. Now our friend Jacky has invented a fun way to learn your verbs. Her Amigos Spanish program has full conjugation for 700 verbs and helps you learn with tests and puzzles. The program is totally customizable, allowing you to focus on the verbs you need to know. Plus it's fun, so you will stick with it and learn those verbs. To expand your vocabulary, try Amigos Spanish Puzzles a program featuring word games with English clues and Spanish answers (or vice versa). The program comes loaded with 2500 words, and you can even add your own words if you like! Both programs are available on CD exclusively at Alma Libre Bookstore.
We like the program so much, we're featuring monthly Amigos Spanish crossword puzzles in Beach Reads. Click here to see and solve this month's puzzle.
Maya for Travelers and Students
We like this book because it not only gives the reader the ability to communicate with the Maya in their own language, it also offers invaluable tips on learning the language "in the field". Most helpful is the author's discussion of the cultural and material worlds of the Maya, accompanied by the most essential words and expressions for the most common objects and experiences.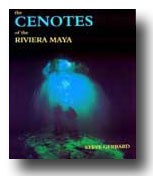 SPECIAL OFFER for Alma Libre Bookstore Customers
Cenotes of the Riviera Maya is the best book ever written about the cenotes in our area. Beautifully photographed, it could easily be called a coffee table book, but it is also has all the practical information you need to explore the cenotes whether you are swimming or diving. Many have drooled over this book, but the hefty (500 peso) price tag kept some people away. Now author Steve Gerrard has authorized us to lower the price. At 300 pesos, this book is an incredible bargain and it has been flying off our shelves. Supplies are limited. Don't miss this opportunity.
Postcards! We've added a few new photos to our postcard collection. We have the largest selection of postcards of Puerto Morelos, and they are all exclusive to Alma Libre. We know because we make 'em! We also have blank greeting cards to cover any occasion you may wish to celebrate while you are in paradise.
---
Here is our first Amigo Spanish Puzzle. To solve the puzzle, click the picture to the left and a new window will open with the puzzle full screen. Then you must print it out and solve it. Do not attempt to solve the puzzle by writing on your computer screen with a felt pen.
Please note, this is the easy version of the puzzle, they are available on the program larger and harder. Email us if you like the puzzle as is, or if you want us to publish a more difficult version.
When you finish, click here to view the answers.
You can make your own puzzles to help you learn Spanish click here to learn more!
---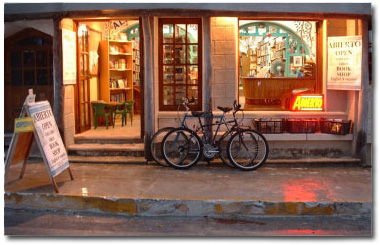 Just a reminder that we are open our regular season hours now. That is Tuesday through Saturday, 10:00 am until 3:00 pm and 6:00 pm to 9:00 pm. On Sunday we are open 4:00pm to 9:00pm. We are closed on Monday.
Our hours are always posted on the front page of our website at www.almalibrebooks.com.
We take trades every day, so our selection is constantly changing. If you are planning a trip down, why not bring some recent bestsellers to trade and check out our store.
If you live here, we can special order books for you. It is not a quick process, it usually takes a month, but our prices are much better than Amazon's. Let us know what title you would like and we'll provide a quote.
We look forward to seeing you in Puerto Morelos!
---
Beach Reads is the official newsletter of Alma Libre Bookstore in Puerto Morelos Mexico. It is mailed directly to your mailbox if you request it. Beach Reads is published on a sporadic, seemingly random basis...but it is supposed to be approximately monthly during the season at Puerto Morelos. The season is November until after Easter. We do our best to publish it regularly...but the beach is so pretty...

Our website is located at www.almalibrebooks.com Our store hours are always on the home page.

If you do not wish to receive this newsletter, please Click Here To Unsubscribe
This is Year #4, Issue #4. January 2006.
We love to hear your comments or suggestions, please Contact Us
Retransmission & Redistribution of this newsletter without express written consent is just fine by us! Send this newsletter to a friend! (or get them to sign up for their own copy)
Text & Photos ©2006 Alma Libre Bookstore