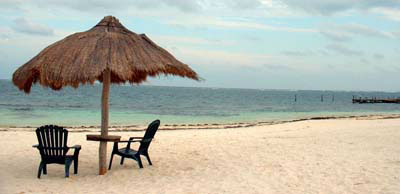 News from Alma Libre Bookstore - Puerto Morelos, Mexico

Year 04 Issue #3 - January 2006

Click here to go to our website: www.almalibrebooks.com
In this issue:
---
Happy New Year!
New Year...New Lights!
Most of us here in Puerto Morelos are quite glad to see 2005 over, especially the hurricane season! We're looking forward to much better things in 2006.
The town continues it's rapid recovery from Wilma. Now that the clean up is over, the focus has shifted to making the town better. A staggering number of new palm trees are being planted all along the median on Rojo Gomez, the Malecon and on the square. Right now a highly motivated crew is replacing all the streetlights on the town square (never mind the fact that another crew just changed all the streetlight heads just the other day)
Our award for quickest recovery has to go to Hotel Ojo de Agua, which was open and running (even the restaurant) before Christmas.
The town toasted the new year with a party in the square and a ceremonial burning of Wilma in effigy.
We were delighted to see so many people here over the Christmas break. Hope to see you soon in Puerto Morelos!
Best of Puerto Morelos Survey!
January means it's time to pick our favourite things about Puerto Morelos. Your "Best of Puerto Morelos Survey" will arrive in your mailbox sometime after this newsletter arrives. Follow the instructions and answer the survey questions.
Here are the results from last year's survey.
Favourite Thing to do in Puerto Morelos: Most answers were related to relaxing. Relaxing on the beach, in a hammock, at a restaurant or wandering about the town were most popular.
Favourite Restaurant: Hola Asia and Pelicano's topped our list last year. Third place went to Caffe del Puerto, which now "sleeps with the fishes" so there is room for change here.
Favourite Shop: Most people felt obligated to write Alma Libre Bookstore, which was just the answer we were looking for. Anyone who voted for anyone else suddenly had "problems" submitting their survey or using their credit cards.
Favourite Place to Stay: This was a surprise, we expected a long list of hotels and B&B's, but instead we received answers like "my place" indicating a lot of Puerto Morelos residents really like filling in surveys. With twice the subscribers this year, we're expecting some more varied answers.
Favourite Book to Read in Puerto Morelos: Most answers said "something about Mexico" or on the other end of the scale "something trashy". (We have both types available at Alma Libre.)
How Many Times Have You Visited Puerto Morelos? Apparently it is difficult to visit Puerto Morelos just once. 60% of our readers had visited more than four times! 17% had visited once and 7% were looking forward to their first visit.
Where Are You From? A long and varied list here but basically half of respondents were from the US, 20% from Canada and about 6% are from Mexico. The rest hail from all over the world. As we all expected an unusually large number of respondents are from Minnesota.
Sleeping Around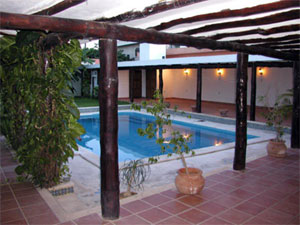 Rent this place and this pool is all yours!
If your hotel or all-inclusive is not going to be able to accommodate you, there are lots of options and places to lay your head in and around Puerto Morelos.
Our smaller hotels, located off the beach, were unaffected by Wilma. Some on the beach have already been restored.
Or for a new level of relaxation and convenience, why not rent a condo or house in Puerto Morelos? All the properties listed on our website are open and ready to rent. It's a chance to stay in somebody's dream house! Many of our places have swimming pools, jacuzzis', wireless internet and other luxurious appointments.
We have everything from studios to three bedroom houses listed on our website. Click Here for listings and pictures.
Owners: Contact us to get listed on our website FREE.
Free Gift From Alma Libre Updated for 2006!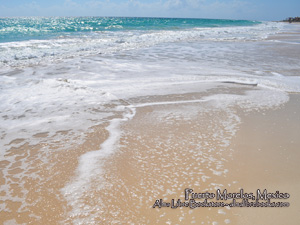 For those of you still stuck up North, bring a small piece of Puerto Morelos to your home or office with our new Puerto Morelos Wallpaper. Beautiful of course, and practical too with a December and January calendar built right in. This month's wallpaper features a gorgeous view of the "post-Wilma" beach. We'll have new pictures available for download every month! Wallpaper is also available on our website at www.almalibrebooks.com
Pick your wallpaper size:
1024 x 768 800 x 600 New! 1280x800
CLICK HERE FOR WALLPAPER INSTALLATION INSTRUCTIONS
---
They say beauty is in the eye of the beholder. To me, there is no more of a beautiful sight than that of our beach cleaner, finally back in operation again and doing a great job.
Hotel Hacienda Morelos will reopen as a hotel and is now being rapidly restored. Should be open by the end of February.
Now that we're past the hurricane, Puerto Morelos can get back to what it does best...namely open new restaurants. We have two to tell you about this month. One is on the square in Goyo's place. It's called Nisha's and has Mexican food. The other is just south of the square on Rojo Gomez. It's called "2T" and features grilled Argentinean specialties. We've had no time to review either place, but our friend Ray, who has loads of time and limited cooking-for-himself-skills, has visited both places and gave them both the thumbs up.
Pelicano's is open, but not in it's usual location. It has opened in its former location which is next door (south) of where you would expect to find it. The plan is to rebuild the main restaurant over the next few months and then have both places open. The smaller location will be more of a steak place while the main location will still serve up seafood. It's also worth noting they have a new chef at Pelicanos and reviews are good.
Hola Asia is open (and Val is back!) but they are still working on the rooftop bar/restaurant area up top.
Spaghettino's restaurant has re-opened for the season.
An art gallery has opened beside the cafe behind the bookstore beside Cafe Finca. It's called Galeria Encuentro's (encounters). Lot's of paintings, Tiffany glass and objects d' art.
The Fishing Co-op is renovating and will be a two story building. In the meantime, they have temporary digs conveniently located right on the dock. The easiest way to tell if the catch of the day is in yet is to look to the skies. If you see a lot of those big, black frigate birds hovering over the dock, the fishermen are in!
Lots of new storefronts going up between the fishing co-op and the grocery store. No word on what is moving in. We'll keep watching.
Puerto Morelos is mentioned in a widely distributed article by Alan Solomon of the Chicago Tribune. Not sure of the accuracy of his reporting though as he mentions the restaurants are "all but gone" and "the old lighthouse may be beyond repair". Were we really trying to repair it? Read the whole story here
Cancun continues to bounce back from the hurricane. According to tourism officials, 14,000 of Cancun's 25,000 rooms are now open. A 17 million dollar project to restore the Hotel Zone beaches is about to start. One of the big bars "Daddy O" has opened, giving young wannabe drinkers a place to go at last. Playa Del Carmen is pretty much back to normal.
Star sighting: We hear actor Sir Ben Kingsley was recently staying in our area. He must have been busy reading scripts, because we never saw him in the bookstore.
Streetlights: Wilma did a number on the few working streetlights in Puerto Morelos. Now, the main road, Rojo Gomez has brand new ones and the road is so bright, you could read a book all the way home at midnight. The other road, Ninos Heroes remains muy romantica....we're still waiting for our lights.
Mike at Pixan let me try his VOIP long-distance telephone service on Christmas Day. The service works great, and at 3 pesos a minute is 40% cheaper than Telmex...and no cards to buy.
Brother can you spare a...One year ago I put out an anxious call for change. It was answered by a friend of ours who became an excellent pipeline for change. We never had to worry about small change again. Then he moved to Florida. Not only did we lose a friend, we lost our pipeline, so once again we are issuing the call for cambio. We are okay for small stuff, but we always need 5 or 10 peso coins or 20 peso bills. If you ever have too many of these in your possession, turn them in at Alma Libre for more sensible bills. Gracias!
New Year...New Signs!
Canadian snowbirds CAN vote in the Federal Election January 23. Go to their website at www.elections.ca There is a form to fill out which you must return to Elections Canada. Then they will send you a ballot which you must return by 6pm EST on January 23. The Canadian Government is spending 10 million dollars to inform you of this, and I just did it for free!
Sac-Be Newspaper
We've always been fans of the Sac-Be Newspaper. It's the only publication along the Riviera Maya that really covers Puerto Morelos well, they even include a detailed map. They also cover Akumal, Tulum, Playa and the rest of the Riviera Maya. Now due to popular demand, Sac-Be is available by subscription outside of Mexico. We've always had great response to our ad in Sac-Be. Your business should advertise there too! In this month's Sac-Be column, Joanne writes about the attractions of the town.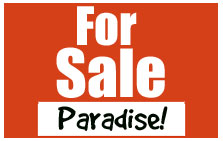 Two Bedroom Condos For Sale: Here's an opportunity to own a piece of paradise. Two 2 bedroom condos are available on the beach in a small locally-run complex. Each condo has an ocean and beach view. They are 2 bedroom, 2 bath with living room, dining area and kitchen. Front patio overlooks pool, beach and ocean. 25 minute walk to "downtown" Puerto Morelos. Condos are furnished and ready to rent and use. Excellent for investment & rental income. Contact us for details.
Current Exchange Rates (In Puerto Morelos)
USA Dollar 10.35
CDN Dollar 8.50
---
This Just In! Books & Products at Alma Libre
Book Sale!
We finally got our books out of customs! Some we damaged because of the delays and the fact they were stored on a hurricane ravaged port, but most of them are fine and we got 'em! Here's a couple of titles we'd like you to know about.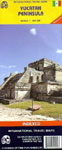 ITMB Yucatan Map
Freshly updated and easier to read and use, this is the map for the serious explorer of the Yucatan. Now printed on special paper that resist water damage and tearing. We also carry ITMB's maps of Mexico, Central America, Guatemala and Belize.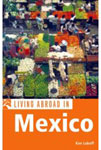 Living Abroad in Mexico - Ken Luboff
When people ask how to move to Mexico, our first three answers are research, research, research. This book will help you with the "nuts & bolts" of how to live in Mexico. It even mentions two Canadians that live in Puerto Morelos and own a bookstore. Sadly, Ken passed away shortly after publishing this book.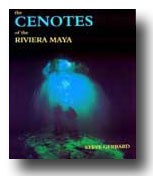 SPECIAL OFFER for Alma Libre Bookstore Customers
Cenotes of the Riviera Maya is the best book ever written about the cenotes in our area. Beautifully photographed, it could easily be called a coffee table book, but it is also has all the practical information you need to explore the cenotes whether you are swimming or diving. Many have drooled over this book, but the hefty (500 peso) price tag kept some people away. Now author Steve Gerrard has authorized us to lower the price. At 300 pesos, this book is an incredible bargain and it will literally fly off our shelves. Supplies are limited. Don't miss this opportunity.
Postcards! We've added a few new photos to our postcard collection. We have the largest selection of postcards of Puerto Morelos, and they are all exclusive to Alma Libre. We know because we make 'em! We also have blank greeting cards to cover any occasion you may wish to celebrate while you are in paradise.
---
Mel still has a sense of humour apparently
Maya According to Mel: You've probably already heard about Mel Gibson's new movie Apocalypto which was filmed in Mexico. According to the press release, it's a "heart stopping mythic action adventure" set at the end times of the Mayan civilization. Mel says there is very little dialogue in the movie, but what is said will be said in Mayan. Read the subtitles or bring a Mayan friend to the cinema this summer.
Click Here to View the Movie Trailer. Mel actually makes a one-frame cameo in the trailer. Being as that's only 1/30th of a second we've blown up the frame here for you.
Yuc Bucks: The Yucatan Peninsula accounts for about 36% of Mexico's 11 billion dollar tourism industry. (Most of that is NOT spent at the bookstore...but we're working on it) There are basically 25,000 hotel rooms in Cancun and 25,000 more in the rest of the Mayan Riviera. (For comparison, Las Vegas has 124,270.)
---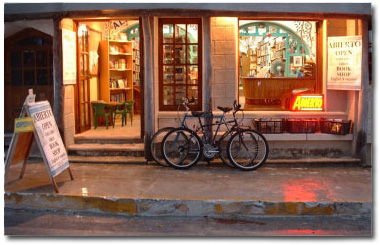 Just a reminder that we are open our regular season hours now. That is Tuesday through Saturday, 10:00 am until 3:00 pm and 6:00 pm to 9:00 pm. On Sunday we are open 4:00pm to 9:00pm. We are now closed on Monday.
Our hours are always posted on the front page of our website at www.almalibrebooks.com.
We take trades every day, so our selection is constantly changing. If you are planning a trip down, why not bring some recent bestsellers to trade and check out our store.
If you live here, we can special order books for you. It is not a quick process, it usually takes a month, but our prices are much better than Amazon's. Let us know what title you would like and we'll provide a quote.
We look forward to seeing you in Puerto Morelos!
---
Beach Reads is the official newsletter of Alma Libre Bookstore in Puerto Morelos Mexico. It is mailed directly to your mailbox if you request it. Beach Reads is published on a sporadic, seemingly random basis...but it is supposed to be approximately monthly during the season at Puerto Morelos. The season is November until after Easter. We do our best to publish it regularly...but the beach is so pretty...

Our website is located at www.almalibrebooks.com Our store hours are always on the home page.

If you do not wish to receive this newsletter, please Click Here To Unsubscribe
This is Year #4, Issue #3. January 2006.
We love to hear your comments or suggestions, please Contact Us
Retransmission & Redistribution of this newsletter without express written consent is just fine by us! Send this newsletter to a friend! (or get them to sign up for their own copy)
Text & Photos ©2006 Alma Libre Bookstore