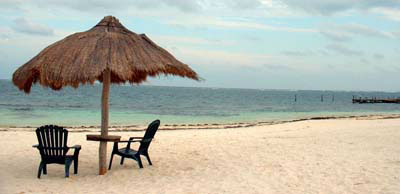 News from Alma Libre Bookstore - Puerto Morelos, Mexico

Year 04 Issue #2 - December 2005

Click here to go to our website: www.almalibrebooks.com
In this issue:
---
We're Back...and so is Puerto Morelos!
Hurricane Wilma did her best to rub Puerto Morelos off the map. She rolled slowly (very slowly) through the Mayan Riviera leaving destruction in her wake. Buildings were flattened, roofs removed, power polls toppled and every single leaf was torn off every single tree. Properties on the beach suffered the most as foundations, pools and walls were undermined and in some cases toppled.
As soon as Wilma rode off for the Sunshine State, the people of the Yucatan started putting it all back together. We were amazed at the amount of people and resources aimed at the rebuilding process. The Mexican army was picking up debris and passing out food packages. The electrical commission had an even bigger army of technicians restoring power. There seemed to be a repairman on every power pole between Tulum and Cancun. Our local Pemex was pumping gas for generators and the supermarket opened quickly so people could get supplies. They even extended credit to local residents.
All this effort was expended so that Puerto Morelos would be quickly ready to welcome visitors from all over the world.
Now a month later it is kind of like Wilma hit us twice. Once she attacked the town with wind and waves, then she kept the visitors away.
We hope you'll come down and visit! (As we said in our previous newsletter, a visit is the best thing you can do to support your town.)
We've heard of some great seat sales in cities like Calgary and Minneapolis. Watch for deals in your local newspaper.
Condition of Your Town
Your town stood up to Wilma very well. While properties on the beach suffered damage, most are repairable and are being restored already. Many will be open by Christmas. Others may take up to six months. Most buildings and businesses off the beach required little repair and are already in operation again.
Wilma left us a beautiful beach!
Our biggest relief is that our reef is okay. Officials spent days removing debris from the reef (all sorts of stuff like beach chairs and trees) and now the reef is open to snorkelers. Fish are plentiful and ready to be gawked at. Diving is good too.
Most restaurants and stores located off the beach are already open. Our electricity problems are behind us and phone service is being restored.
If you come to town you can have pretty much the same vacation experience you have had in past years. The beach is ready to be walked, explored and can host a million sandcastles. The reef can be snorkeled and fish are ready for visitors. Hammocks are still comfortable and can be snoozed in. Our best restaurants are open and serving tremendous food. Nobody has forgotten how to make a margarita or serve a cold beer.
Our residents are still friendly and will be very glad to see you. We've had a very quiet autumn and we're anxious to see some visitors in our town.
The Bookstore
We were relieved that we had a bookstore to come back to. Amazingly our windows and doors stood up to Wilma. We did not lose even a single pane of glass and our sign stayed on our roof. Unfortunately rain driven by 140 mile per hour winds gets everywhere. It leaked in through the roof and all our light fixtures. From there it got onto the books and ruined some of them. In all we lost about 850 books. Luckily we still have about 19,000 books and thousands more coming in, so we still don't have an empty shelf in the place. We've had to leave a lot of books in boxes waiting for shelf space.
We took advantage of the quiet time (and provided some local employment) by cleaning every single book and shelf in the shop. We're amazed at how nice the shop looks now. The shelves are full and we have still more books coming.
Now we are trying to get the rest of our books into the country. The bureaucracy and our inadequate customs broker may end up hurting us more than Wilma did. We'll keep trying!
Sleeping Around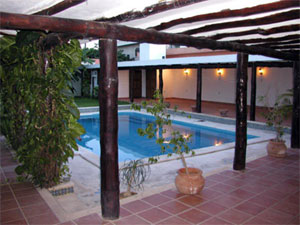 Rent this place and this pool is all yours!
If your hotel or all-inclusive is not going to be able to accommodate you, there are lots of options and places to lay your head in and around Puerto Morelos.
Our smaller hotels, located off the beach, were unaffected by Wilma.
Or for a new level of relaxation and convenience, why not rent a condo or house in Puerto Morelos? All the properties listed on our website are open and ready to rent. It's a chance to stay in somebody's dream house! Many of our places have swimming pools, jacuzzis' and other luxurious appointments.
We have everything from studios to three bedroom houses listed on our website. Click Here for listings and pictures.
Owners: Contact us to get listed on our website FREE.
Staying Connected
We were actually still on our drive down from Canada when Wilma hit. Suddenly we were in no big hurry to get home so we huddled in Merida until the storm passed. Amazingly some news was able to make it to the web from the hurricane zone. Some guys in Cancun using a generator and a bullet-proof phone line were even able to put photos online. We watched their view gradually change as Wilma ravaged the hotel zone. The Hensley family (Wet Set & Scuba Gecko) were able to stay online and get email reports out. They were even able to take phone calls and assure us our store survived.
Highly unlikely that this Telmex phone was going to operate...though we're not sure it worked before Wilma!
The thirst for information was unquenchable though. We received hundreds of emails from all over the world. Most emails asked how their friends in Puerto Morelos had fared, but also asked about their favourite hotels, houses and beaches. We broke all our records for hits to the website and a record number of people subscribed to our newsletter.
We felt responsible to answer as many emails as possible, but it was not easy. We would take our computer to a friend's place and charge the battery on his generator. Then we would go to another friend's place and wait in line to hook up to their telephone line which somehow survived the hurricane. We'd download the hundreds of emails, then take the computer back to our trailer and write replies in the dark, typing quickly before the battery ran out. Then it was back to the generator and the telephone line to upload our replies and download still more email. We even managed to get a "Wilma" newsletter out this way, communicating with more than 1000 subscribers. We repeated this process every day we could while we assessed our damage and started our own cleanup and rebuilding.
We loved getting the emails. It told us our town was not forgotten. Your kind words made us feel better and distracted us from the monumental tasks ahead and the tough living conditions.
I admit though, we were completely overwhelmed with the volume of email and despite our best efforts, we did not reply to everything that we should have. If you sent us an email and we did not respond, please send again. We're in much better shape since we got power and our internet connection back.
If we helped you, please help us and support Alma Libre Bookstore!
Media
Many of the emails we received were very critical of the media coverage of Hurricane Wilma. Many found the networks were obsessed with how the storm would affect Florida, and ignored Mexico.
Some of the reporters stationed in Mexico that we listened to were unprepared. I assume that when news management types are looking for volunteers to go into a hurricane zone, they don't necessarily come up with the best and the brightest. Who really wants to stand in the path of a hurricane with a microphone? The best and the brightest wisely stay home and cover the state fair that weekend.
The reporter we were listening to on one of the national cable news networks constantly mispronounced "Yucatan" and referred to palapa roofed buildings as "Tiki Tiki Huts." Many reporters showed little grasp of the area's geography, referring to Tulum, Cozumel or Cancun as if they were all right beside each other. A customer told me of the ultimate gaffe as one reporter referred to the storm getting caught up in the "mountainous areas" around Cancun. (The only mountains are the hotels!)
The future of "news" in events like this may be in websites like Bruce and June Conord's, who printed accounts from witnesses and those looking for information. Their website quickly became a place to seek and distribute information for us, as well as a place to commiserate with fellow PM'ers.
We received a ton of feedback for our frontline accounts and we "virtually" met a lot of our neighbours through their site, people we have somehow missed in the last few years.
Free Gift From Alma Libre Updated for 2006!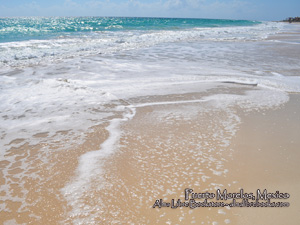 For those of you still stuck up North, bring a small piece of Puerto Morelos to your home or office with our new Puerto Morelos Wallpaper. Beautiful of course, and practical too with a December and January calendar built right in. This month's wallpaper features a gorgeous view of the "post-Wilma" beach. We'll have new pictures available for download every month! Wallpaper is also available on our website at www.almalibrebooks.com
Pick your wallpaper size:
1024 x 768 800 x 600 New! 1280x800
CLICK HERE FOR WALLPAPER INSTALLATION INSTRUCTIONS
---
Ch-ch-ch-Changes
The hardest part of the first newsletter of the season is informing you of all that changed in our town over the summer. We're only gone a few months, but it always seems that there are so many changes in our quiet little town. One year we swear we'll come back and they'll have changed the name of the place or have straightened up the old leaning lighthouse.
This year it may be easier to simply tell you what has remained the same, but here's a capsule of what has changed since you were last in your town.
Restaurants
If it hadn't been for the hurricanes, the following would have surely been the most tragic news of the summer. Caffe del Puerto has closed. We considered this little restaurant to represent all that was good about Puerto Morelos. It was small, unassuming, inexpensive, fun and the food was simply the finest you could ever wish for. We can only hope that Chef Yayo gets back behind the grill again...and soon.
Another favourite, Juantanamara closed in the spring. Juan is doing other things.
El Nopal (The Cactus) which was two doors down from the bookstore closed and Caffetto, which used to be down by the Mayan Handicraft Centre, moved into it's place. El Nopal's owner (Beto) is opening a mini-super in the Colonia.
Tuna restaurant at Casitas Blanca on the beach was literally flattened by Wilma. They are already rebuilding.
A restaurant actually came and went while we were away. It opened on the beach near Pelicanos, but was prematurely closed by Wilma. Locals report it was beautifully built and made for a romantic dining experience. We hear it will appear again.
Wilma also closed the restaurants in Ceiba del Mar, Casita del Mar, Ojo de Agua and Hacienda Morelos. Watch this space for updates.
Pelicanos will be up and running again soon. (This time they are reinforcing that palapa with concrete poles)
A lot of restaurants have changed their schedules. Portabello is open early for breakfast and closes at 8. Their dark night is now Sunday.
Hola Asia now opens at 1:00, in time for lunch.
La Marlin Bleu literally had its doors blown off by Wilma, but Chef Eric put them back up and then opened them to a grateful town, hungry for those Shrimp Tacos (and more). He's changed his menu too and he is now closed on Sunday.
Cafe de Amancia was only lightly damaged and opened again quickly. Amancia`s "Cafe Americana" kept us going during the clean up!
Mama`s Bakery is up and baking again, much to the delight of regular visitors.
Habaneros bar has moved, but only a few doors down (North) on Rojo Gomez
Shops
Dive Puerto Morelos changed hands and now is under Texan rule. New owners Scott, Sonvia and Joe promise to continue the high level of service provided by former owner Catriona.
The womenís clothing shop beside Caffe del Puerto has closed. Thomas, the Mayan "Donald Trump" opened shops in both of the empty spaces. He now has five shops in Puerto Morelos and will likely be mayor of the town soon!
A whole lot of retail space is about to be added to Puerto Morelos as a new "strip mall" is being built beside the Fish Co-op.
The Mayan Handicraft Centre lost part of it's big roof in the storm, but most of the stores are open, including Mauricio's Hammock Shop.
Hotels
Wilma wreaked havoc on our hotels. Ceiba del Mar probably took the worst punishment. At least one of its structures was undermined and nearly toppled. It will take a while for it to reopen. Casita del Mar and Ojo de Agua both took big hits, but will rebuild. Ojo wants to be open before Christmas. The owner of Hacienda Morelos is looking at other options before deciding whether to open as a hotel again.
Hotels off the beach such as Inglaterra, Posada Amor, Posada El Moro, Cabanas Puerto Morelos and Eden all continued to operate immediately after Wilma.
Condos and Houses
All the houses and condos we highlight on our website at http://www.almalibrebooks.com/rentals.htm survived Wilma and are ready for booking. Places are booking very quickly, so donít delay your plans.
Most homes and condos on the beach are structurally sound, but will require major work on their seawalls and pool areas. PlayaSol lost one villa completely, but the rest of the complex was spared and will be ready for rentals in December.
You should contact your hotel directly to get the best information (which is difficult because many of our phones are still down and very few of us have internet access.)
Genesis Ek Balam took a big hit from Emily and then Wilma, but is back in operation. This Eco-Cultural retreat located in the tiny pueblo of Ek Balam is one of our favourite places to catch our breath. Owner Lee Christie has carefully crafted her place to enhance the area instead of take away from it. Bicycle, swim, bird-watch, hike, explore cenotes, or just lounge in a hammock and read a book. Of course her place is only steps away from the Ek Balam archaeological site, one of the most impressive and under-visited sites in the Mayan World. Genesis is located 25 minutes north of the town of Valladolid and is very to reach from Puerto Morelos.
Sac-Be Newspaper
Happy to report that Sac-Be Newspaper survived Wilma and can be found at Alma Libre and all over the Mayan Riviera. This month Joanne writes about cool things to do in Puerto Morelos. Sac-Be is now a husband and wife team as Scott and Dani were married over the summer. (How about that for a busy summer? Two hurricanes and planning a wedding. How did they find time to publish the paper?)
Doctor Carlos has moved into new offices in the big new building beside the church. Local lawyer Jan Folsom is in the same building.
New Tourist Attraction - This car ferry could rival the leaning lighthouse as most photographed object in Puerto Morelos. Stories vary, but obviously she parked where she wasn't supposed to. If you haven't seen her yet, don't worry. She's not going anywhere!
Canadian snowbirds CAN vote in the Federal Election January 23. Go to their website at www.elections.ca There is a form to fill out which you must return to Elections Canada. Then they will send you a ballot which you must return by 6pm EST on January 23. The Canadian Government is spending 10 million dollars to inform you of this, and I just did it for free!
Current Exchange Rates (In Puerto Morelos)
USA Dollar 10.
25
CDN Dollar 8.40
---
This Just In! Books & Products at Alma Libre
Book Sale!
Hardcovers: Purchase any hardcover fiction priced at 99 pesos or less and take another hardcover fiction (99 pesos or less) FREE! (Rebuild that library quickly for less pesos)
Some of our news books are still stuck at customs, delayed by the hurricane and bureaucracy, but here's a look at some of the books we're most excited about this season.

The Rough Guides' Cancun & Cozumel Directions - Zora O'Neill - NEW BOOK
Intelligent, well-researched and hip, this book is hot off the presses and covers our area well. Includes a mini CD with an ebook version of the guide and links to check out.

Yucatan-Pocket Adventures - Bruce & June Conord - NEW BOOK
These authors toured all over Mexico and Costa Rica and picked Puerto Morelos as the place they HAD to own a home. This new and updated pocket guide is a more portable version of their popular Adventure Guide to the Yucatan.

Traveler's Guide to Mexican Camping - NEW EDITION
This is the book you must have if you are bringing your RV to Mexico. Teaches you everything you need to know about camping in Mexico, from crossing the border to where to sleep. The new edition adds lots of new places to camp and updated information you need to know. We're even listed in the acknowledgements!

The Maya - Michael Coe - NEW EDITION
This is THE book for those who want to learn about the Maya. A perennial bestseller in the bookstore, the new edition covers the new discoveries made in the last few years.

Choose Mexico - John Howells & Don Merwin - NEW EDITION
After visiting Mexico over and over, we realized we needed to live here. This book was invaluable, and now it's been freshly updated. This book will help you make the leap into Mexico, cut through the red tape, and enjoy a better lifestyle.

Where the Sky is Born - Jeanine Kitchel
The story of a couple of people who found paradise in Puerto Morelos and made it their home. A great read for anyone who has ever thought about living in Mexico, or just wants to read about Puerto Morelos while in Puerto Morelos.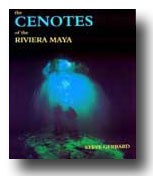 SPECIAL OFFER for Alma Libre Bookstore Customers
Cenotes of the Riviera Maya is the best book ever written about the cenotes in our area. Beautifully photographed, it could easily be called a coffee table book, but it is also has all the practical information you need to explore the cenotes whether you are swimming or diving. Many have drooled over this book, but the hefty (500 peso) price tag kept some people away. Now author Steve Gerrard has authorized us to lower the price. At 300 pesos, this book is an incredible bargain and it will literally fly off our shelves. Supplies are limited. Don't miss this opportunity.
Postcards! We've added a few new photos to our postcard collection. We have the largest selection of postcards of Puerto Morelos, and they are all exclusive to Alma Libre. We know because we make 'em! We also have blank greeting cards to cover any occasion you may wish to celebrate while you are in paradise.
---
We had another very busy summer of travel and work. Our plan was to spend some extra time in Central Mexico this year. We followed our plan, but not quite in the way we expected. We traveled by truck and trailer as usual.
Our first stop was Puebla, a big city very close to Mexico City, but much more approachable. Here the highlight was touring the Volkswagen Plant. Puebla is the only place on earth that the new Beetle is made. There is lots of history here too.
On our way to San Miguel de Allende, we had some truck problems (fuel pump) and had to wait for parts. If we had to pick a place to get "stuck" in Mexico, it would likely be lovely San Miguel. We really got to know the town and got to see the annual "Loco's" parade.
After spending so much time in San Miguel, we had to rush a little back to Calgary via Zacatecus, Albequerque, Santa Fe, and Denver.
After a couple of months working in Calgary, we flew to New York City once again to pick up where we left off last year. Once again the Big Apple blew us away. Highlights are hard to pick out, but we enjoyed watching a taping of "The Daily Show with Jon Stewart", the Museum of Modern Art and just wandering around the City that Never Sleeps.
To give our excellent hosts in New York a break, and get to know the area better, we spent a week in Newport, Rhode Island. We enjoyed the Mansions at Newport and used the city as a base to explore Cape Cod and Boston. (Our best idea in Boston was NOT driving there. We got lost walking around downtown, but we were able to find those famous baked beans and chowdah.)
Then we were back on the road, driving to Puerto Morelos from Calgary. This is our annual 5000 mile trek. Right away, weather wreaked havoc on us as we were caught in a blizzard in Colorado. (So much for my record of three years without seeing snow!) Weather continued to affect us in Mexico as we dealt with the after affects of Rita and Stan (some roads were closed or flooded) and then of course, Wilma.
We saw her coming and we wisely felt that our trailer would be no asset in a hurricane. We used the time to finally explore beautiful Veracruz, a city we had passed by three times, but never visited. We altered our route so we could wait out the storm in Merida, where we got some nasty wind and rain courtesy of Wilma. (Our host in Merida is the founder of Merida Insider, an excellent site for those interested in Merida or living in Mexico. Check it out at www.meridainsider.com ) Merida is a great city if you haven't been, well worth a visit, and very easy to reach by car or bus.
---
In Memory
Sadly, we will be missing a couple of our favourite residents this season in Puerto Morelos.
Dale Reams
Dale and husband Frank moved to Puerto Morelos about the same time we did. Dale immediately fell in love with PM and embraced their new lifestyle. Wherever there was fun, you could count on Dale being front and centre. We will miss her joy and laughter.
Ken Moore
Ken, a fellow Canadian and member of the Burns Lake Gang passed away suddenly in November. A voracious reader, Ken was a frequent visitor to Alma Libre.
We'll remember the great stories he told in the bookstore, his constant attempts to get a discount, and his incredible ability to hoard cambio. We knew we had won Ken's friendship when he started sharing his precious change with us. We'll miss our friend.
---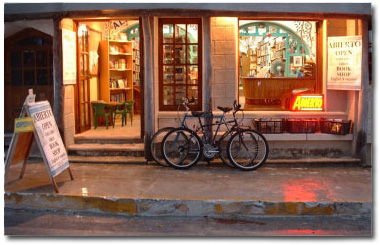 Just a reminder that we are open our regular season hours now. That is Tuesday through Saturday, 10:00 am until 3:00 pm and 6:00 pm to 9:00 pm. On Sunday we are open 4:00pm to 9:00pm. We are now closed on Monday.
Our hours are always posted on the front page of our website at www.almalibrebooks.com.
We take trades every day, so our selection is constantly changing. If you are planning a trip down, why not bring some recent bestsellers to trade and check out our store.
If you live here, we can special order books for you. It is not a quick process, it usually takes a month, but our prices are much better than Amazon's. Let us know what title you would like and we'll provide a quote.
We look forward to seeing you in Puerto Morelos!
---
Beach Reads is the official newsletter of Alma Libre Bookstore in Puerto Morelos Mexico. It is mailed directly to your mailbox if you request it. Beach Reads is published on a sporadic, seemingly random basis...but it is supposed to be approximately monthly during the season at Puerto Morelos. The season is November until after Easter. We do our best to publish it regularly...but the beach is so pretty...

Our website is located at www.almalibrebooks.com Our store hours are always on the home page.

If you do not wish to receive this newsletter, please Click Here To Unsubscribe
This is Year #4, Issue #2. December 2005.
We love to hear your comments or suggestions, please Contact Us
Retransmission & Redistribution of this newsletter without express written consent is just fine by us! Send this newsletter to a friend! (or get them to sign up for their own copy)
Text & Photos ©2005 Alma Libre Bookstore