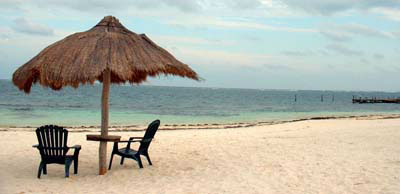 News from Alma Libre Bookstore - Puerto Morelos, Mexico

Year 04 Issue #1 - Wilma Edition - November 2005

Click here to go to our website: www.almalibrebooks.com
Hurricane Wilma
Hola friends,
This is a very special edition of Beach Reads, the official newsletter of the Alma Libre Bookstore in Puerto Morelos, Mexico.
Normally this whole newsletter is just a thinly-veiled attempt to attract you to our town and sell you some books. This one will be no different! :)
Alma Libre News:
OKAY WE ADMIT IT! We hated WILMA. But we're shaking her off already.
Good News!
Nobody was hurt and your town is okay. We are frankly amazed at how quickly the town is bouncing back. The citizens and the government of Mexico are working together to get us back quickly. We already have electricity, all roads are open and many businesses are up and running.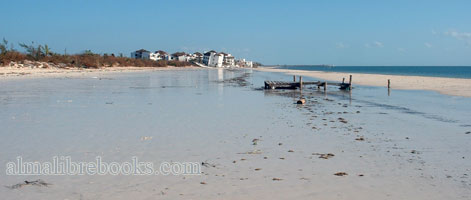 The beach is wider now. This dock used to start right at the beach edge. Cieba del Mar (which suffered greatly) is in the background.
Frequently Asked Questions:
How is the town? Will I recognize it?
YES. Most of the businesses on the town square are up and running. The beach is wider and more pristine than ever in most areas. The square is as it was, but the boardwalk was wrecked. Our leaning lighthouse continues to lean (we were actually worried it might straighten up!) A lot of greenery is missing off the trees (makes for better ocean views) but that will come back quickly. Some properties on the beach were badly damaged. Others are being repaired and others are okay.
I heard the town was flattened!
You heard wrong! There were some dire reports on the internet and the news, but they were incorrect. Most of the properties on the beach suffered some damage. Most are structurally sound, but their walls and pools are damaged. Most places off the beach, even 1/2 block off, are fine.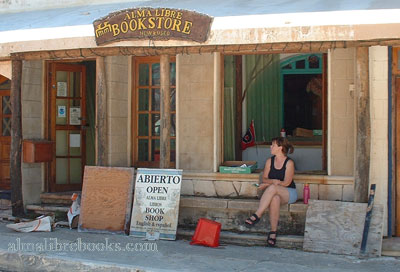 The bookstore came through quite well. Can you believe the sign stayed attached? Unfortunately, water did find it's way inside.
How is the bookstore?
IT'S OKAY. We took some water damage (rain being driven by 150 an hour winds gets everywhere) We lost about 800 books. LUCKY WE HAVE ABOUT 19,200 LEFT TO CHOOSE FROM.
How can I help?
This has been our most frequently asked question. This shows us how great our regular visitors are and how much you love the town. Truthfully, the best thing you can do to help is BOOK A TRIP TO PUERTO MORELOS! How's that for an easy thing to do? No telethon, no pledge breaks, no Bono, no sweat. Come to Puerto Morelos, buy a taco, buy a margarita, buy a book, go to the beach and stretch out in a hammock and you will help more than you can imagine.
No really, how can I help?
Seriously. We're a one-industry town. We need visitors and we will MAKE SURE YOU HAVE A GREAT TIME. The people of our town live hand-to-mouth on the tourism industry. They can't afford to miss too many pay days.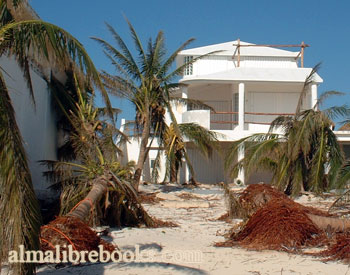 This three-unit condo on the beach (which you can rent) was untouched by Wilma
Where can I stay?
It's true that some of our beachfront hotels suffered some damage. All the owners that we have talked to are going to rebuild as quickly as possible. There are other options for you. Smaller boutique hotels off the beach are open and ready for you, OR HOW ABOUT RENTING A CONDO OR HOUSE? For a similar price to a hotel room, you can enjoy the comfort, convenience, luxury and privacy of renting a condo, apartment or house. WE CAN HELP YOU find a cool place, on or off the beach. CHECK 'EM OUT HERE
Isn't everything closed?
No! We are ready for you! The beach has never looked better. Longer, wider and with more white sand than you have ever seen. Most restaurants and shops, including your bookstore, are already open. Playa del Carmen and Tulum are already up and running. Cancun is being rapidly restored (by Presidential order) and the airport is open.
All the charm of your town is still here. We're still peaceful and laid-back. Our food is still tasty and a bargain. (We went out for pizza and drinks the other night and our bill was less than 8 dollars US...for both of us!!)
How are you guys?
We're fine. We've had better months let me tell ya, but we're okay. Our trip south was a real challenge. We got SNOW in Colorado, dealt with the remnants of two other hurricanes (other than Wilma) on the way down, got three flat tires and one broken spring on the trailer. And we thought our worst problem was going to be paying those high prices for gasoline! We've had to throw away a lot of books after the storm (which hurts us deeply, but we have lots more) and some of our new books are still cruising around on a freighter, unable to unload at our dock which is still under repair. We are glad to be open again and look forward to seeing you in Puerto Morelos.
Thanks to everyone who wrote to us during the hurricane. It was difficult to answer email as we had very limited access to the Internet (and limited power too). We really appreciated all the kind words and good thoughts we received from all over the world. We have attempted to answer each email, but if we didn't get to yours, please re-send.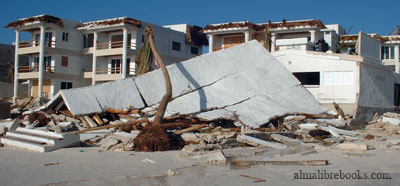 Tuna restaurant collapsed completely. We hope they can rebuild soon.
How's everyone else in town?
The town is in good spirits and is anxious to get back to normal. Everyone looks a little tired and we are really relieved to have power again (and have a shower again).
This is a very special community. Remember too, that the previously worst recorded hurricane (Gilbert) hit this place dead-on in 1988. Puerto Morelos came back better than ever. We intend on doing the exact same thing this time.
So, what's it like going through a hurricane?
Luckily we saw this thing coming as we were driving down (with our trailer) from Canada. We hunkered down three hours away in Merida. Even there, we got some vicious wind and rain.
Those that went through it say it was 60 hours of unrelenting storm. They couldn't believe how big and powerful she was.
She was very selective, tearing plywood off our place, but leaving the glass intact. Some palapa (grass) roofs were destroyed, but many survived the storm with no damage.
The worst damage was caused by the ocean, not the wind. The waves removed tons of sand from around foundations and redistributed it along the beach. The exposed foundations could then be undermined and the entire structure damaged. Some houses, condos and hotels suffered serious damage this way.
The worst part was not knowing about our friends, our town and our bookstore. We feel so lucky that nobody was hurt and our damage was less than we expected.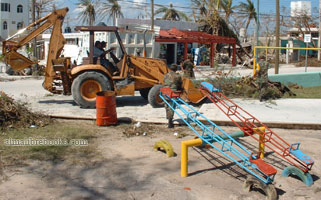 The Mexican army was great, cleaning up, handing out food and keeping things safe.
How is the Mexican Government handling things?
We are very impressed. We rolled into town on Tuesday, only 48 hours after the hurricane stopped. Already the army was on site and cleaning up along with residents. Truckloads of debris had already been removed from the streets.
The power company had an even bigger army restoring power. Cancun and Playa were up almost immediately and some parts of PM were restored in less than a week. The privately-owned phone company Telmex has been slower to restore phones here, but they are offering free local and national calls to residents in the hurricane zone.
Food and water have been delivered to residents and many who stayed through the storm report that the army came and checked on them during the hurricane. President Fox was seen in Cancun, just hours after Wilma, canoeing up the Hotel Zone. He promised to get the Riviera Maya back in business immediately.
Perhaps FEMA could learn a thing or two from Mexico!
So now that the hurricane has hit, are you packing up and leaving?
Ha! Not on your life. We have worked very hard to get here and Wilma doesn't change our love for this place. Wilma created a lot more work for all of us, but we're already on it.
Will I still get this cheesy newsletter?
I'm afraid so. Even Wilma is not strong enough to end this thing!
We thank you for your support. Please look for a new edition of Beach Reads in your mailbox coming soon.
---
Beach Reads is the official newsletter of Alma Libre Bookstore in Puerto Morelos Mexico. It is mailed directly to your mailbox if you request it. Beach Reads is published on a sporadic, seemingly random basis...but it is supposed to be approximately monthly during the season at Puerto Morelos. The season is November until after Easter. We do our best to publish it regularly...but the beach is so pretty...

Our website is located at www.almalibrebooks.com Our store hours are always on the home page.

If you do not wish to receive this newsletter, please Click Here To Unsubscribe
This is Year #4, Issue #1. Wilma Edition, November 2006.
We love to hear your comments or suggestions, please Contact Us
Retransmission & Redistribution of this newsletter without express written consent is just fine by us! Send this newsletter to a friend!
©2005 Alma Libre Bookstore