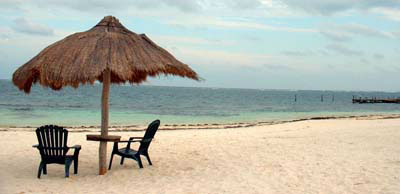 News from Alma Libre Bookstore - Puerto Morelos, Mexico

Year 03 Issue #7 - May 2005

Click here to go to our website: www.almalibrebooks.com
In this issue:
---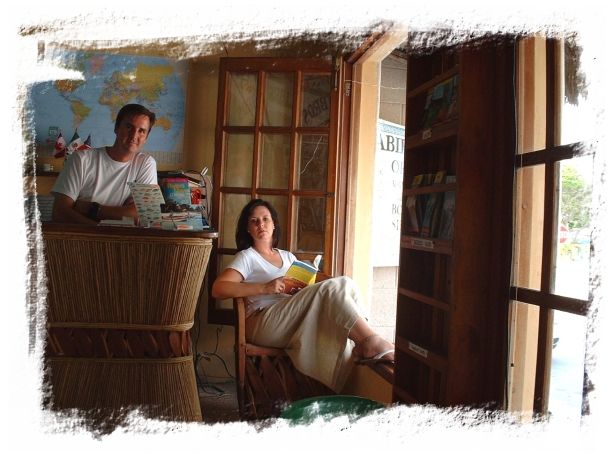 Hasta Pronto!
It may have been a long, cold & snowy winter where you were, but in Puerto Morelos the season just flew by! More people than ever before discovered Puerto Morelos and we were happy to see a lot of new faces in the bookstore, as well as familiar faces from years past.
We'll be closing the store on May 28 and driving North. This enables us to go back to Calgary and visit family & friends, and most importantly, collect some more books for the 2005/06 season! (Well re-open around mid-October)
This is a good opportunity for area residents to make any special orders that we can bring back from Canada & the US. You can also request that we look out for certain books for you, no deposit or obligation required. Now is a good time as well to stock up on books for those long, hot, lazy days of summer. Books seem to read quicker in a hammock!
Our hours are now Tuesday through Saturday, 10:00 am - 3:00 pm and 6:00 pm to 9:00 pm. Sunday 4:00 to 9:00.
Joanne & I would like to thank you for a fun third year. We can't wait to come back for another busy winter.
Special thanks to those of you who have written to us with compliments and suggestions for this newsletter. We have doubled our circulation this year and are now sending this rag to more than 900 email addresses around the world. From there it gets forwarded to hundreds more mailboxes. It got so big we had to start using a professional mailing service to get the newsletter out. Please let us know if you are experiencing any problems with it. Our newsletter is free and accepts no advertising (except for us occasionally flogging our books of course) This will be the last newsletter until November. Have a good summer!
Quiet!
If you've been reading the newsletter, you may have got the impression that your town has changed, that all the new construction and activity has made the town lose its laid-back feel. Fear not! As soon as Easter week ended, the town shifted back into lower gear.
It's a great time to visit, (just not a great time to sell books) You'll find all the fish are still at the reef, but there will be less snorkelers looking at them. You'll see more birds and animals at the Botanical Centre and less tourists. Best of all, that long stretch of beach will be all yours.
Most businesses in Puerto Morelos remain open year round (they have much better work ethics than us apparently) so your favourite restaurants and shops (minus the bookstore of course) will be open and ready to serve you.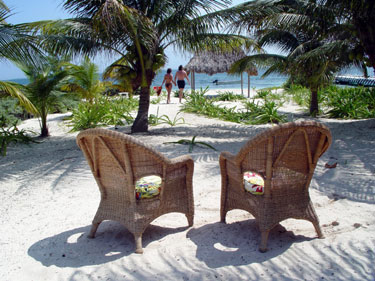 Rent a piece of paradise
Last season we started putting a few rental properties we liked on our website and tried to match travellers with good places to stay in Puerto Morelos. Renting a condo, apartment or house gives visitors more flexibility and a chance to live more like a local. It's a chance to stay at someone's dream home!
We made many successful matches this year so we are expanding next season. Check out our website for more rentals in a variety of price ranges.
Owners: Contact us to get listed on our website FREE.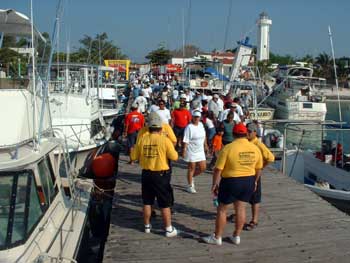 Fishing Tournament
The last big event of the season will take place May 27, 28 & 29 in Puerto Morelos. That is the annual fishing tournament or "Torneo de Pesca Deportiva".
Competitors vie for cash and trophies while trying to catch Blue Marlin, White Marlin, Pez Vela, Dorado, Wahoo, Tuna, Carito, Sierra and Barracuda. After the fish are caught they are weighed back at the dock and awarded points based on the type of fish and its weight. Totals are then given to each boat. The boat with the most points after two days of competition wins. The event is definitely a competition, but it is also the town's big social event.
Golf of Mexico
While we would recommend leaving the sticks at home and spending your time in our area exploring the beaches, ruins, cenotes and towns, some people cannot imagine a vacation without a little golf. For those who must "play a round", there is good news. Three new courses are opening this year and there are more on the way.
• Golf Club at Iberostar, near Playa del Secreto. A P.B. Dye-designed 18-hole course will open sometime in May across from the Iberostar Paraiso Maya resort. www.iberostar.com.

• Golf Club At Mayakoba, Riviera Maya, about five miles north of Playa del Carmen. First nine holes set to open in June; designed by Greg Norman. www.fairmont.com.

• Playa Mujeres, in Costa Mujeres area five miles north of Cancun. First 18 holes set to open in October. Designed by Greg Norman. www.playa mujeres.com.mx.

• Others coming soon: A Tom Weiskopf 18-hole course at the Puerto Cancun project just northwest of the Cancun hotel zone. Two Jack Nicklaus-designed courses at the Costa Cancun project at the south end of the hotel zone. A possible PGA tournament players course designed by Tom Fazio and Nick Price at a development called La Roca. The course at Mayan Palace will also expand.

Free Newspapers to Look For
Watch for the current edition of Sac-Be Newspaper at Alma Libre and all over the Mayan Riviera. This month Joanne writes about Cenotes and a couple of books we have featuring them. Sac-Be is now printed every two months and has doubled its distribution. 30,000 copies!
Free Gift From Alma Libre Updated for May!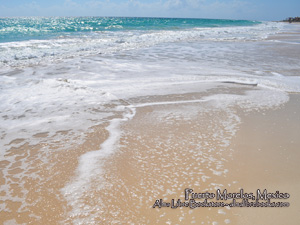 For those of you still stuck up North, bring a small piece of Puerto Morelos to your home or office with our new Puerto Morelos Wallpaper. Beautiful of course, and practical too with a May and June calendar built right in. This month's wallpaper features the leaning lighthouse and beach. We'll have new pictures available for download every month! There will be no newsletter, but new wallpaper will be on our website at www.almalibrebooks.com
Pick your wallpaper size:
CLICK HERE FOR WALLPAPER INSTALLATION INSTRUCTIONS
---
The restaurant next door to the bookstore "El Picudo Azul" (name changing to "Le Marlin Bleu) finally got their liquor license so you can enjoy a cold cervesa or nice glass of wine with your dinner.
A new shop has opened on the square. "Henequen" features some unusual folk art and fashions as well as hammocks and pottery. They are located between Computips and the Morex Money Exchange.
Locals are going crazy for the restaurant at the Caribbean Reef Club which is open again. Great for dinner or their Sunday afternoon barbeques.
One of our favourite places for fish, Juantanamara has unfortunately closed. The rumour mill tells us than another restaurant will move into the space.
Construction has started at El Cid. This is one big project. See details at their website: http://www.elcid.com/. They have a massive (32MB) presentation you can download to have a look at their plans.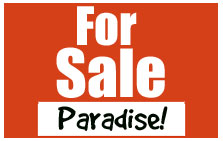 Paradise for sale. It seems like every second person that comes to Puerto Morelos likes the place so much they need to buy a piece of it. We've heard of a couple of lots for sale.
Beachfront: Not many of these left these days. This one is just south of the Federal Dock. Lot is 15x43 mts, utilities are in, lot is fenced and cleaned, features a secluded beach and is walking distance to town. Price is $219,000 USD.
One Block Off Beach:
1 kilometre north of town. 12x30 mts, fenced and ready to build. Easy access to beach. Price is $125,000 USD.
All above information was supplied by the seller. Contact us by email for further details
The stray cat that hangs around our bookstore has been bringing some guests to the food bowl lately. Her kittens! There are three of them. One has been claimed but the others, a male and a female, are available for adoption. They are cute as heck and ready for a good home.
The garbage guys in town have a new truck and a whole new attitude. They picked up my trash five times last week! Incredible!
Cheap thrill for homesick ex-pats who are staying in Mexico for the summer: Go to the restroom at Costco and flush the paper. Ahhhhhh, just like being at home!
AA meets every Tuesday and Friday at Mama's Bakery at 6:00 pm. It's an open meeting in Engli
sh.
Current Exchange Rates (In Puerto Morelos)
USA Dollar 10.
65
CDN Dollar 8.50
---
This Just In! Books & Products at Alma Libre
Book Sale!
Hardcovers: Purchase any hardcover fiction priced at 99 pesos or less and take another hardcover fiction (99 pesos or less) FREE!
Check out our website at www.almalibrebooks.com/amazon1.htm to see some of the books we'll be looking for this summer.
Postcards! We've added a few new photos to our postcard collection. We have the largest selection of postcards of Puerto Morelos, and they are all exclusive to Alma Libre. We know because we make 'em! We also have blank greeting cards to cover any occasion you may wish to celebrate while you are in paradise.
---
As we suspected, Mexico is enjoying its best tourist season ever. In our state, Quintana Roo, tourism is up by more than 15%. Hotel occupancy hovered around 78% all year, well up from 69% in 2003.
Traffic at the Cancun and Cozumel airports grew substantially as well. (Not everyone is crazy enough to drive to Mexico like we do!)
---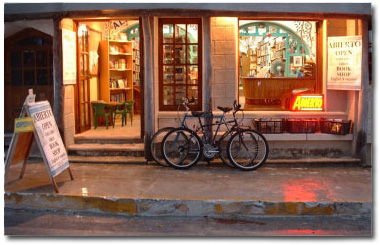 Just a reminder that we are open our low season hours now. That is Tuesday through Saturday, 10:00 am until 3:00 pm and 6:00 pm to 9:00 pm. On Sunday we are open 4:00pm to 9:00pm. We are now closed on Monday. We will close for the season on May 28 and reopen sometime in mid October.
Our hours are always posted on the front page of our website at http://www.almalibrebooks.com/.
We take trades every day, so our selection is constantly changing. If you are planning a trip down, why not bring some recent bestsellers to trade and check out our store.
If you live here, we can special order books for you. It is not a quick process, it usually takes a month, but our prices are much better than Amazon's. Let us know what title you would like and we'll provide a quote.
We look forward to seeing you in Puerto Morelos!
---
Beach Reads is the official newsletter of Alma Libre Bookstore in Puerto Morelos Mexico. It is mailed directly to your mailbox if you request it. Beach Reads is published on a sporadic, seemingly random basis...but it is supposed to be approximately monthly during the season at Puerto Morelos. The season is November until after Easter. We do our best to publish it regularly...but the beach is so pretty...

Our website is located at http://www.almalibrebooks.com/ Our store hours are always on the home page.

If you do not wish to receive this newsletter, please Click Here To Unsubscribe
This is Year #3, Issue #7. May 2006.
We love to hear your comments or suggestions, please Contact Us
Retransmission & Redistribution of this newsletter without express written consent is just fine by us! Send this newsletter to a friend!
©2005 Alma Libre Bookstore