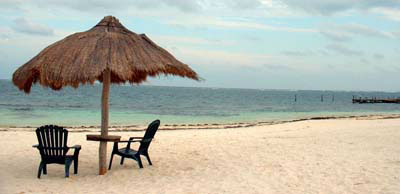 News from Alma Libre Bookstore - Puerto Morelos, Mexico

Year 03 Issue #6 - April 2005

Click here to go to our website: www.almalibrebooks.com
In this issue:
---
Signs of the Times
Suddenly signs have popped up like weeds along Puerto Morelos' roadsides.
Some are a welcome addition to the town, like these street signs, something we've never had before. (In fact, nobody ever refers to street names here because none of us know them.) The sign outside Paradises Resort is also welcome, telling its all-inclusive patrons that a real taste of Mexico is only a few kilometres away down the beach.
Some are not really necessary, like this sign pointing out the beach...within sight of it.
Some are a little silly, like these signs warning that you are entering the Puerto Morelos Hotel Zone. Move over Cancun!
Reunited
We have a happy ending to a story that Alma Libre was unwittingly part of. Earlier in the season someone left a cap in our store. Not just any cap, this was a Red Sox cap. We felt it was so sad. Some fan who waited for a lifetime for his beloved team to win the World Series had now left his precious souvenir behind in a bookstore in a small town in Mexico. We knew the hat was special because the owner had written his first name in it, Noah. He'd also written his phone number, though not with an area code. He also wrote "Reward!"
We put the cap on display in the front of our store, hoping the owner would return and collect it. The days went by and the cap was noticed and asked about by many, especially by Sox fans.
Finally the Plunkett family from Marblehead, Massachusetts promised to take up the challenge. They took the cap home and began calling the cap's number with various area codes. They connected with some interesting people including a professor at Harvard who was travelling in China. Eventually they found Noah who is just 5 years old and lives in Vermont. Needless to say he was very glad to hear his beloved cap was on its way home from faraway Mexico. The reward was just received by the Plunketts' this week. A great letter and a handsome homemade Red Sox cap to replace the one they sent along.
Golf balls from Heaven
Puerto Morelos has given us so much, but the other Thursday it gave us something we didn't expect. Frankly, something I didn't even figure was possible. After a warm day, some black clouds rolled in. Really black. "Wrath of God" black. Then came the lightning, quickly followed by the thunder. In fact the thunder came really quickly. You know how you start to count after you see the lightning to see how far away it is? We didn't even get to "one steamboat". This was a heck of a storm.
After we sought shelter, a little too late to call ourselves dry, we heard it. It sounded like the house was being pelted with rocks. What could make such a sound? Unbelievably, it was hail, something we thought we'd left behind up North. Big, frozen golf balls from the sky. Now before you call your travel agent and tell them you need to go further south, please know that it doesn't happen often, and that it didn't last long. In fact by the time I found my camera, swore over its dead batteries and replaced them with new ones, the hail was over and the pellets had already melted. Thanks to Harvey Wilson, who always keeps his batteries fresh, we have this picture. We'll get a picture next time...see you in eighteen years (the last time it hailed here.) (Keep in mind too when you look at the picture that Harvey has really big hands!)
Bicycle built for tu
We like to walk everywhere in Puerto Morelos, but to really explore the outer reaches of the town, two wheels work better than two feet. Hard to come by a few years ago, it now seems like everyone is renting bikes. Here's a short list of places you can get yourself some wheels.
Free Newspapers to Look For
Watch for the current edition of Sac-Be Newspaper at Alma Libre and all over the Mayan Riviera. This month Joanne writes about Cenotes and a couple of books we have featuring them. Sac-Be is now printed every two months and has doubled its distribution. 30,000 copies!
We also have copies of the Playa-Maya News in the store. This free paper just celebrated their first anniversary with a big party at the Blue Parrot in Playa. The current issue features an article Joanne wrote about books that will help you live in Mexico.
We have another new paper to tell you about. The Riviera News published its first issue in March and features news from all over the Riviera Maya.
Free Gift From Alma Libre Updated for April!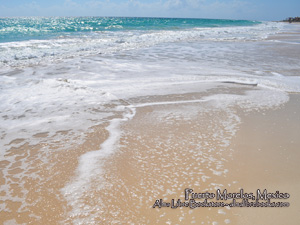 For those of you still stuck up North, bring a small piece of Puerto Morelos to your home or office with our new Puerto Morelos Wallpaper. Beautiful of course, and practical too with a April and May calendar built right in. This month's wallpaper is the view in front of PlayaSol.
We'll have new pictures available for download every month!
Pick your wallpaper size:
CLICK HERE FOR WALLPAPER INSTALLATION INSTRUCTIONS
---
Change in Hours: Alma Libre will now be closed Mondays until the end of the season. We'll close for the summer at the end of May. (May 28 will be our last open day) Watch for our big book sale in May!
From the rumour mill to the coffee mill, as we reported last month, a new cafe has opened behind Alma Libre. La Chiquilla not only roasts and grinds their own beans, they grow them too! Have your java prepared or take away a bag of beans or grind. This shop is just one of several spots available in a new "mall" behind us.
Restaurant Shuffle:
The folks behind Talis, the restaurant in Hacienda Morelos are moving out of Hacienda back to the square. They are moving into the spot that the DVD rental place used to be, right beside where they were before. This is great news for locals because we all got hooked on their empanadas back in the fall. Their new space is far bigger than their old one, so they will also have pasta and pizza and room to sit. The name of the place has changed too, it's now Los Gauchos. The Old Fisherman Restaurant, which has always been located on the second story above the supermarket has moved into Hacienda Morelos. Right now they are in both locations, but we're told they will eventually close the second-story location.
Sacre Bleu! The restaurant next door to the bookstore "El Picudo Azul" is changing too. Owner Eric is going back to his roots and will feature a French menu and a French name, "Le Marlin Bleu." New hours too, 11:00-3:00 and 6:30-10:00. The new menu will still have those wonderful shrimp tacos as well as fish and steak prepared with a French flair.
As we foreshadowed in our newsletter, CFE (the electric company) took our power down on March 14. It was down for most of the day until about 5:00 in the afternoon.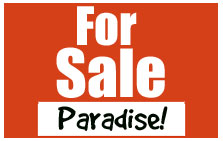 Paradise for sale. It seems like every second person that comes to Puerto Morelos likes the place so much they need to buy a piece of it. We've heard of a couple of lots for sale.
Beachfront: Not many of these left these days. This one is just south of the Federal Dock. Lot is 15x43 mts, utilities are in, lot is fenced and cleaned, features a secluded beach and is walking distance to town. Price is $219,000 USD.
One Block Off Beach:
1 kilometre north of town. 12x30 mts, fenced and ready to build. Easy access to beach. Price is $125,000 USD.
All above information was supplied by the seller. Contact us by email for further details
The laid-back beauty of our town was featured in a recent photo shoot produced by FilmCancun.com for New York-based Jim Franco Photography. Many locations were used including Villas Shanti's doorway and the palapa bar at Pelicanos. Caffe del Puerto was the producerís office while Picudo Azul fed the crew (three times). The production office has been informed that the crew and photographer may very well be back at the end of April for another go at Puerto Morelos!
Carrefour, a big grocery store in Cancun has been swallowed up by Chedraui. Crews were in the process of changing all the signs when we dropped by this week.
Yoga: Jean Loew's
classes are on again on Tuesdays and Thursdays at 7 a.m. at Casayuya, in front of Villas Shanti. Classes are in English and are open to the public. Cost 60 pesos.
AA meets every Tuesday and Friday at Mama's Bakery at 6:00 pm. It's an open meeting in English.
The stray cat that hangs around our bookstore has been bringing some guests to the food bowl lately. Her kittens! There are three of them. One has been claimed but the others, a male and a female, are available for adoption. They are cute as heck and ready for a good home.
We're happy to see Eddie Corralez back in town. Eddie, who makes beautiful stained glass creations for many of the houses and hotels in our area says he wants to thank everyone in town for their help and support while he was away taking care of his health.
We're also happy to see Frank back in town and to hear that Dale will be coming back soon. The town isn't the same without you girl! Hurry back, we miss you!
Current Exchange Rates (In Puerto Morelos)
USA Dollar 10.
75
CDN Dollar 8.50
---
This Just In! Books & Products at Alma Libre
Books!
Secrets of the Talking Jaguar is the story of the author's physical and spiritual journey from the southwestern US to the highlands of central America. There he becomes apprenticed to a local shaman who teaches Pretchel much about indigenous Mayan life, and about life in general.

Snorkeling Guide to Marine Life by Paul Humann & Ned DeLoach
The best guide to identify what lives in the Caribbean Sea. Features 280 colour photographs of everything you might see on your next snorkeling trip including fish, coral and plants. Also includes valuable tips about which plants and animals should be approached with caution, how to treat stings, and other interesting facts.

The Birds of Mexico and Adjacent Areas by Ernest Preston Edwards
Okay, we admit it is not a very catchy title for a book, but it is the best book to identify all the birds in the Yucatan.

Features more than 850 species in a convenient, easy to carry guide.

Mexican Handmade Style: Make your own memories of Mexico. This book features twenty easy to make projects to brighten your home and garden. This beautiful book features more than 150 colour photographs. "Each project is a twist on a traditional method. They are easy to read and follow and offer a bit of history about where they came from." - Amazon.com reader
Postcards! We've added a few new photos to our postcard collection. We have the largest selection of postcards of Puerto Morelos, and they are all exclusive to Alma Libre. We know because we make 'em! We also have blank greeting cards to cover any occasion you may wish to celebrate while you are in paradise.
---
Chicxulub on the Yucatan peninsula, is the centre of a huge gravity anomaly, believed by many scientists to be the impact site of a comet which struck the earth sixty five million years ago, causing dramatic changes to the climate which led to the extinction of the dinosaurs.

In 1551 the first university in America was founded in Mexico City.
Western Mexico's "Volcano of Fire", otherwise known as the Colima Volcano, has shown an increase in seismic activity lately. The 3,820-metre peak sprang back to life last September, unleashing a towering column of smoke and ash and sending lava down its slopes. The volcano straddles the border of Colima and Jalisco states, 480 kilometres west of Mexico City. It has erupted violently dozens of times since its first recorded eruption in 1560.
Pictured here is another area volcano, Popocatepetl belching out a plume of smoke earlier this month. The city you can see below it is Puebla, a city best known for making Volkswagen Beetles.
---
In Memory
The bookstore, our town and Playa del Secreto lost a good friend recently when Paul Breau passed away in Toronto.
Paul was one of those nice guys who knew how to fix anything and he seemed to possess unlimited energy. We will miss our friend and our thoughts are with his family, Anne, Karen & Greg
---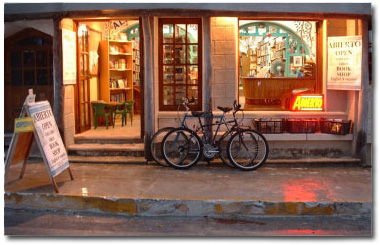 Just a reminder that we are open our low season hours now. That is Tuesday through Saturday, 10:00 am until 3:00 pm and 6:00 pm to 9:00 pm. On Sunday we are open 4:00pm to 9:00pm. We are now closed on Monday.
Our hours are always posted on the front page of our website at www.almalibrebooks.com.
We take trades every day, so our selection is constantly changing. If you are planning a trip down, why not bring some recent bestsellers to trade and check out our store.
If you live here, we can special order books for you. It is not a quick process, it usually takes a month, but our prices are much better than Amazon's. Let us know what title you would like and we'll provide a quote.
We look forward to seeing you in Puerto Morelos!
---
Beach Reads is the official newsletter of Alma Libre Bookstore in Puerto Morelos Mexico. It is mailed directly to your mailbox if you request it. Beach Reads is published on a sporadic, seemingly random basis...but it is supposed to be approximately monthly during the season at Puerto Morelos. The season is November until after Easter. We do our best to publish it regularly...but the beach is so pretty...

Our website is located at www.almalibrebooks.com Our store hours are always on the home page.

If you do not wish to receive this newsletter, please Click Here To Unsubscribe
This is Year #3, Issue #6. April 2006.
We love to hear your comments or suggestions, please Contact Us
Retransmission & Redistribution of this newsletter without express written consent is just fine by us! Send this newsletter to a friend!
©2005 Alma Libre Bookstore