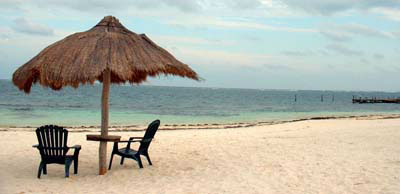 News from Alma Libre Bookstore - Puerto Morelos, Mexico

Year 03 Issue #5 - March 2005

Click here to go to our website: www.almalibrebooks.com
In this issue:
---
The Sweet Sound of Success
Tap, tap, tap. It's just after 7 am in Puerto Morelos. Tap, tap, tap. That's the sound of success in Puerto Morelos. Tap, tap, tap. Another construction site in PM. A new house, a duplex, a condo, a set of condos. Real estate has exploded in Puerto Morelos and now it seems like everyone is building. The tapping noise is made when hammer meets chisel. A Mayan "Black & Decker" as some locals call it.
We have a construction site across the street. A new one behind us is about to begin. We pass four major ones on our short walk to the bookstore. We pass a dozen when we walk the beach. There are more sites to the south of us. The Caribbean Reef Club has tossed out the nudies and gone condo. They are expanding to add a whole lot more along the beach. El Cid's giant project has yet to begin. Even in the jungle west of town, houses are springing up.
Will all this new construction change the town? We doubt it. Since the town can only be four blocks wide there are limited places to build. Tight restrictions on height and density mean we can't grow like Playa or Cancun.
Since NAFTA, owning property in Mexico is much easier and safer than it used to be. You still need to do your homework, get lots of advice and surround yourself with professionals. A good place to start your research is with a good book. We have a few on our website you can check out. It could be the first step to owning your own piece of paradise!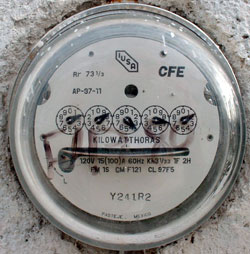 Powerless Monday, March 14
We planned and promised to be open Mondays in the month of March, but it looks like we will be forced to close on Monday, March 14th. CFE, the electric utility in Mexico, is killing the power to all the businesses on the square to replace some transformers. They have chose to do the work during regular business hours, 8am until 2. That will force every business on the square that relies on power to close. We think this will include the supermarket and the bank machine.
We're hoping the businesses will protest and encourage them to do the work during the night, but most of them are just tickled that CFE informed them ahead of time, rather than just yanking the plug without notice.
News from the Road
Good news and bad news about the road into town from the highway. The good news is they've built a couple of boardwalks so you can get a better look at the mangrove and the wildlife within it. There is a lot of life there, so you could see plenty.
The bad news is that the police are enforcing the new speed limit. Signs posting a 60 km/h limit went up and radar went up soon after. Slowing down is a good idea, particularly for the taxis who usually attempt to break the sound barrier on the 2km straightaway.
Dark Nights
Visiting Puerto Morelos can involve a complex series of decisions. To snorkel or lie on the beach? Hammock or lounger? Dickens or Evanovich? Or most important, where to eat dinner? This tough decision can get even tougher when you toss in the fact that most of our restaurants are closed one day a week. Clip out this handy guide and you'll never pull up to Hola Asia on a Tuesday again...
Monday
Tuesday
Wednesday

Caffe del Puerto

Portabello

Mama's Bakery

Hola Asia

Cafe de Amancia

Bodo's

El Picudo Azul

Caffetto

Thursday
Sunday
No Dark Night

John Gray's Kitchen
El Nopal

Pelicanos

Don Pepe Ole

El Pirata

Old Fisherman

El Tio

Posada Amor
Let us know if we missed your favourite place...
Free Newspapers to Look For
Watch for the current edition of Sac-Be Newspaper at Alma Libre and all over the Mayan Riviera. This month Joanne writes about the Puerto Morelos Reef. Sac-Be is now printed every two months and has doubled its distribution. 30,000 copies!
We also have copies of the Playa-Maya News in the store. This free paper is under leadership and features an article Joanne wrote about books that will help you live in Mexico.
Free Gift From Alma Libre Updated for March!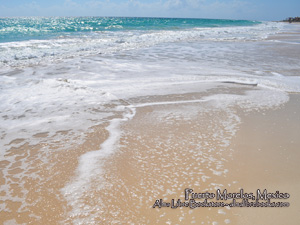 For those of you still stuck up North, bring a small piece of Puerto Morelos to your home or office with our new Puerto Morelos Wallpaper. Beautiful of course, and practical too with a March and April calendar built right in. This month's wallpaper is a dock at PM that was slightly rearranged by Hurricane Ivan.
We'll have new pictures available for download every month!
Pick your wallpaper size:
CLICK HERE FOR WALLPAPER INSTALLATION INSTRUCTIONS
---
New Resident: Puerto Morelos' most anticipated new resident arrived on February 22nd. Isabel Cecilia is the daughter of Cece and Yayo of Caffe del Puerto. Everybody is doing just fine.
Hola Asia has finally re-opened their big bar upstairs. Eventually you will be able to enjoy your dinner up there, but right now it's bar service only. The winner of last month's "favourite restaurant" survey also has a new menu.
El Nopal is now open in the evenings with a Mexican menu.
A new "strip mall" is just being finished around the corner from the bookstore, across from Posada Amor. There is room for several businesses. The rumour mill tells us that one of them will be a cafe that roasts and grinds their own beans. (If we didn't report rumours we'd be emailing you a blank sheet every month)
Everybody is going crazy over our new bakery guys. For a long time we've had a white Volkswagen van rolling around town selling baked goods, but this year the stuff is outstanding. To taste what we mean, watch for the white van and listen for its anaemic-sounding horn around dusk. Val from Hola Asia recommends the "Yo-Yo's", which are two cookies stuck together with jam.
The boom has also gripped the Colonia on the other side of the highway. We took a walk around and found a key cutting place, a bakery outlet (they get bread at 7pm), a bunch of little stores and (gasp) a post office! We also noticed the building boom has reached the jungle, with some spectacular homes under construction.
Yoga: Jean Loew's
classes are on again on Tuesdays and Thursdays at 7 a.m. at Casayuya, in front of Villas Shanti. Classes are in English and are open to the public. Cost 60 pesos.
The DVD rental place has closed.
Current Exchange Rates (In Puerto Morelos)
USA Dollar 10.75
CDN Dollar 8.60
---
This Just In! New Books & Products at Alma Libre
Books! New Stuff!
There are many excellent souvenirs you can take home from our area. Hammocks, Mayan art and tequila spring to mind, but to truly recreate your visit to Mexico when you're far away you need to think with your mouth. A good recipe book will bring a little piece of paradise to your kitchen.

A Taste of Mexico: Features 70 exotic recipes packed with the colour and flavour of Mexico. Recipes range from soup to desserts to drinks. Step by step colour photographs illustrate each recipe.
Yucatecan Cuisine: The cuisine of the Yucatan is a fusion of the ancient foods of the indigenous Maya and European culinary tradition. Now the chef of the elegant Hacienda Teya restaurant in Merida shares his secrets in this book. Recipes include lime soup, poc-chuc and panuchos. Also includes desserts (flan and more) and sauces & relishes. A great value and excellent gift or keepsake.
Postcards! We've added a few new photos to our postcard collection. We have the largest selection of postcards of Puerto Morelos, and they are all exclusive to Alma Libre. We know because we make 'em! We also have blank greeting cards.
---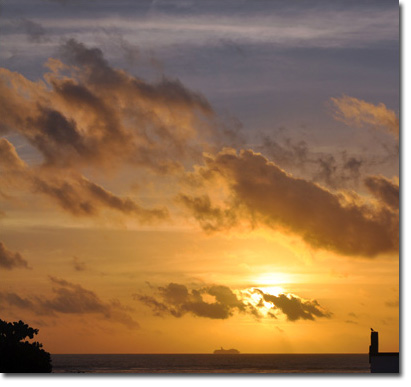 Our almalibrebooks.com website is getting more hits than ever. We keep track of where in the world the visitors to our website come from.
Here's a look at the people that stop by:
59% are from the United States
29% are from Canada
7% are from Mexico
the rest of the countries making up our top 10 are (in order) The United Kingdom, Finland, Uruguay, Germany, Spain, Italy, Netherlands and Norway.
We've had hits from at least 40 countries. I know we have a small fan club in Finland (a group that visited us a couple of years ago), but I am at a loss to explain why we are so darn popular in Uruguay.
---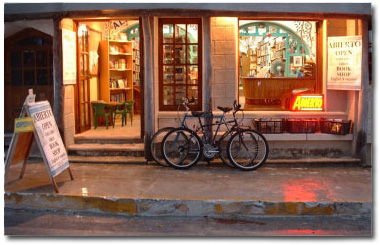 Just a reminder that we are open our regular hours now. That is Monday through Saturday, 10:00 am until 3:00 pm and 6:00 pm to 9:00 pm. On Sunday we are open 4:00pm to 9:00pm. We are open on Monday for at least the month of March.
Our hours are always posted on the front page of our website at www.almalibrebooks.com.
We take trades every day, so our selection is constantly changing. If you are planning a trip down, why not bring some recent bestsellers to trade and check out our store.
If you live here, we can special order books for you. It is not a quick process, it usually takes a month, but our prices are much better than Amazon's. Let us know what title you would like and we'll provide a quote.
We look forward to seeing you in Puerto Morelos!
---
Beach Reads is the official newsletter of Alma Libre Bookstore in Puerto Morelos Mexico. It is mailed directly to your mailbox if you request it. Beach Reads is published on a sporadic, seemingly random basis...but it is supposed to be approximately monthly during the season at Puerto Morelos. The season is November until after Easter. We do our best to publish it regularly...but the beach is so pretty...

Our website is located at www.almalibrebooks.com Our store hours are always on the home page.

If you do not wish to receive this newsletter, please Click Here To Unsubscribe
This is Year #3, Issue #5. March 2005.
If you have any comments or suggestions, please Contact Us
Retransmission & Redistribution of this newsletter without express written consent is just fine by us! Send this newsletter to a friend!
©2005 Alma Libre Bookstore