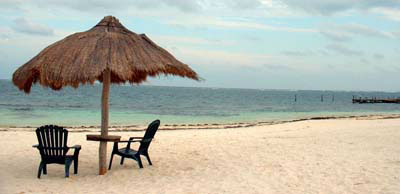 News from Alma Libre Bookstore - Puerto Morelos, Mexico

Year 03 Issue #4 - February 2005

Click here to go to our website: www.almalibrebooks.com
In this issue:
---
Best of Puerto Morelos Survey
We had a great response to our first Best of Puerto Morelos Survey. Here's what you like best about our town:
Favourite Thing To Do in Puerto Morelos
Visitors to Puerto Morelos have one priority in mind. Relaxation, usually involving the ocean and a good book. Favourite things to do included relaxing on the beach, relaxing in a hammock, wandering the beach and wandering around the town. Other pastimes were snorkelling on the reef and meeting new friends at their best loved restaurants.
Favourite Restaurant
There are a lot of choices for a great meal in Puerto Morelos and we received a wide variety of responses. Overall though Hola Asia was the number one choice. Second was Pelicano's (often referred to as "The Pelican"). Third was Caffe del Puerto, (who many refer to as Cece & Yayo's or Eduardo's. Most of us also miss that extra "f" in caffe. Close behind on the list was John Gray's Kitchen.
Also mentioned often were El Tio, Juantanamara, Portabello, El Muelle, El Pirata, Mama's Bakery, Posada Amor and Bodo's. One (former) friend wrote "Casa de Rob & Joanne".
Favourite Shop
A lot of respondents thought we were looking for a specific answer here, that we had a secret agenda to stuff the ballot box with the name of our own bookstore. Of course we did. Luckily most of you "played ball" and chose Alma Libre Bookstore as your favourite tienda in Puerto Morelos.
Also mentioned were The Mayan Handicraft Centre and Sorpresas.
Favourite Place to Stay
This was a bit of a surprise, we were expecting a long list of hotels and B&B's, but the answer we received most often was "my place", meaning that most of our respondents love Puerto Morelos so much, they bought a home here. Many of those folks rent out their places when they are away. You can check some of them out on our website.
Also mentioned were Ojo de Agua, Casita del Mar and Amar Inn. One (former) friend wrote "Casa de Rob & Joanne".
Favourite Book to Read in Puerto Morelos
A lot of interesting books were mentioned but basically the most popular choice was "something about Mexico". Also getting a lot of mentions was "something trashy". Many pointed out that any book is better when read in Puerto Morelos. We agree.
How Many Times Have You Visited Puerto Morelos?
Apparently it is difficult to visit Puerto Morelos just once. 60% of our readers have visited more than four times! 17% have visited once and 7% are looking forward to their first visit.
Where Are You From?
A long and varied list here but basically half of respondents were from the US, 20% from Canada and about 6% are from Mexico. The rest hail from all over the world.
As we all expected an unusually large number of respondents are from Minnesota.
Our favourite answer to "Where Are You From?" "Far worse!"
Open Monday
For at least the month of February, Alma Libre Bookstore will be open on Mondays! Hours will be the regular 10-3 and 6-9.
Dark Nights
Visiting Puerto Morelos can involve a complex series of decisions. To snorkel or lie on the beach? Hammock or lounger? Dickens or Evanovich? Or most important, where to eat dinner? This tough decision can get even tougher when you toss in the fact that most of our restaurants are closed one day a week. Clip out this handy guide and you'll never pull up to Hola Asia on a Tuesday again...
Monday
Tuesday
Wednesday

Caffe del Puerto

Portabello

Mama's Bakery

Hola Asia

Cafe de Amancia

Bodo's

El Picudo Azul

Caffetto

Thursday
Sunday
No Dark Night

John Gray's Kitchen
El Nopal

Pelicanos

Don Pepe Ole

El Pirata

Tali's

Old Fisherman

El Tio

Posada Amor
Let us know if we missed your favourite place...
Free Newspapers to Look For
Watch for this month's edition of Sac-Be Newspaper at Alma Libre and all over the Mayan Riviera. This month Joanne writes about the Puerto Morelos Reef. Sac-Be is now printed every two months and has doubled its distribution. 30,000 copies!
We also have copies of the Playa-Maya News in the store. This free paper from Playa del Carmen features an article about our little bookstore and the "brains" behind it.
Free Gift From Alma Libre Updated for February!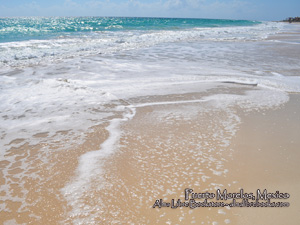 For those of you still stuck up North, bring a small piece of Puerto Morelos to your home or office with our new Puerto Morelos Wallpaper. Beautiful of course, and practical too with a February and March calendar built right in. This month's wallpaper is a closer view of the Bomberos new boat on the Playa Sol beach.
We'll have new pictures available for download every month!
Pick your wallpaper size:
CLICK HERE FOR WALLPAPER INSTALLATION INSTRUCTIONS
---
Lighthouse: The famous familiar leaning lighthouse has had a makeover and is now green & white. Not sure what the reason was for the colour change from blue & white.
Yoga: Jean Loew's
classes are on again on Tuesdays and Thursdays at 7 a.m. at Casayuya, in front of Villas Shanti. Classes are in English and are open to the public. Cost 60 pesos.
Caffetto, the new breakfast place we mentioned last month is now open for dinner. Hours 7-1 and 5:30-11:30. They are on the main road just south of the Mayan Handicrafts Centre.
Carnival celebrations got kind of messed up this year because of the elections in the state of Quintana Roo. Election day was February 6th, right in the middle of Carnival. Election laws state that no alcohol can be sold on election day or the day before the election. Rather than face a "dry" Carnival, organizers moved it. Now the party is right in the middle of Lent which does not amuse the Church.
Puerto Morelos hosts a smaller Carnival celebration with games, music and several parades starring the children of the town in colourful and elaborate costumes. They suddenly moved it again since this newsletter was released. It is now February 25 to March 1st. There will be costumes, music and dancing every night!
Cancun's Carnival celebration will be February 17 to the 27th. If you've never been to a big Mexican fair, this is an experience you won't want to miss. Here are a few of my favourite things about Mexican fairs.
Instead of winning a stuffed animal from the games you can win beer (or even cigarettes!)

Scheduled events start as late as 5:00 AM!

The "hard sell" rug & dish salesmen (you have never seen or heard anything like these guys)

If you want a beer, it's one litre. They don't sell it smaller.

The parade (loaded with beautiful women in skimpy outfits) is so short they run it twice, once in each direction. Pretend not to notice.

The food. Greasy, cheap and soooo delicious. (Churros, churros, churros)
Watch out for the new TOPES on the highway. In all lanes approaching and leaving Puerto Morelos you will now have to deal with some new and rather bulky speed bumps. We're no fan of topes on the highway in any case, one need only to look at how the addition of two new ones in Playa del Carmen have really messed up traffic there, but why have speed bumps as you leave town? Perhaps we'll start trying to sell books to the slow moving lines of traffic...
Jumped at the chance to go fishing recently with Diving Dog Tours. Owner Kathy Loretta and her crew are so experienced they were able to put us in places where even this reporter could catch fish...a lot of fish. What a great way to spend a day in Puerto Morelos.
The building boom in Puerto Morelos is now officially out of control! Even the Army Base is renovating and sprucing up.
Spare Change? Mexico is chronically short of small change. Our theory is that it all ends up in dresser drawers in the United States and Canada. It's time to repatriate that cambio! Collect it up and bring it with you on your next trip, then spend it freely! If you ever end up with too many coins in your pockets, bring it to Alma Libre and we'll lighten your load by buying it from you, exchanging it for crisp (and lighter) bills.
Current Exchange Rates (In Puerto Morelos)
USA Dollar 10.85
CDN Dollar 8.50
---
This Just In! New Books & Products at Alma Libre
Books! New Stuff!
Mexico Health and Safety Travel Guide
This brand new, one of a kind volume is a directory of recommended doctors and hospitals in more than 40 of Mexico's most popular destinations, including Cancun, Playa del Carmen, Merida and Cozumel. Each hospital was inspected and each doctor was interviewed by the authors, who are physicians in Arizona. The book also includes a large symptom and disease guide plus tips on how to prepare for your healthy vacation. Includes a pharmaceutical guide and maps. A must for residents and frequent visitors.
The Toltec Way
Like Don Miquel Ruiz, author of the bestselling book The Four Agreements, author Susan Gregg teaches readers how the ancient Toltec tradition can apply to life in the 21st century. For those who haven't watched Oprah lately, the Toltecs were an ancient race of people who flourished in Southern Mexico around 800 AD. "They were also a secret society dedicated to preserving the knowledge of the 'ancient ones,' who were great spiritual masters," according to Gregg. Gregg explains that the Toltec tradition is a way of seeing beyond our perceived sense of reality and into an unlimited world of possibility. This is the kind of book that you will return to again and again. Amazon.com reader
Hidden Splendours of the Yucatan - Author / Photographer Lalo Fiorelli
Our friend Steve Gerrard who is the author of the incredible book "Cenotes of the Riviera Maya" showed us a new picture book of cenotes in our area. These photos were taken when the underwater caves were first explored in the 1980's, the first people to visit in at least 10,000 years. The photographs and stories of what they found are stunning. Naturally we wouldn't let Steve go until he left us a good supply of books, available in soft or hardcover.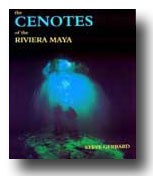 Cenotes of the Riviera Maya - Author / Photographer Steve Gerrard
Steve also left us a good supply of his own book, which is not only a breathtaking picture book of the cenotes in our area, but also the only good guide to how to explore the cenotes safely. Includes all the practical information you need as well, like how to get there, what to bring and what to expect. Steve includes lots of information on cave diving techniques and safety and where the sport is going. This book was a labour of love by a diver who just wanted to share his knowledge and stunning photographs with the rest of us.
Postcards! We've added a few new photos to our postcard collection. We have the largest selection of postcards of Puerto Morelos, and they are all exclusive to Alma Libre. We know because we make 'em! We also have blank greeting cards.
---
Election Facts
The recent election in Quintana Roo gives us a new governor, Felix Gonzalez, who used to be the mayor of Cozumel. He will serve a six year term.
The next Presidential elections will be held in 2006. Presidents are elected to a one-time six year term. Current President Vicente Fox used to be the Governor of the state of Guanajuato.
Vicente Fox represents the "National Action Party" (PAN). Felix Gonzalez represents the Institutional Revolutionary Party (PRI). The other major party in Mexico is the PRD. (Party of the Democratic Revolution)
Bars and liquor stores must close for election day and the day before, which caused some tense moments for Superbowl fans. Bars in all-inclusives and the big hotels in Cancun's hotel zone were given a pass and never missed a pour.
---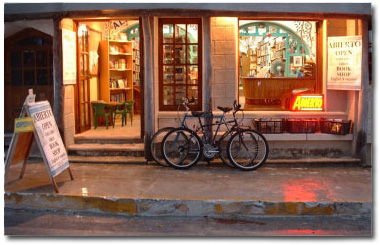 Just a reminder that we are open our regular hours now. That is Monday through Saturday, 10:00 am until 3:00 pm and 6:00 pm to 9:00 pm. On Sunday we are open 4:00pm to 9:00pm. We are open on Monday for at least the month of February.
Our hours are always posted on the front page of our website at www.almalibrebooks.com.
We take trades every day, so our selection is constantly changing. If you are planning a trip down, why not bring some recent bestsellers to trade and check out our store.
If you live here, we can special order books for you. It is not a quick process, it usually takes a month, but our prices are much better than Amazon's. Let us know what title you would like and we'll provide a quote.
We look forward to seeing you in Puerto Morelos!
---
Beach Reads is the official newsletter of Alma Libre Bookstore in Puerto Morelos Mexico. It is mailed directly to your mailbox if you request it. Beach Reads is published on a sporadic, seemingly random basis...but it is supposed to be approximately monthly during the season at Puerto Morelos. The season is November until after Easter. We do our best to publish it regularly...but the beach is so pretty...

Our website is located at www.almalibrebooks.com Our store hours are always on the home page.

If you do not wish to receive this newsletter, please Click Here To Unsubscribe
This is Year #3, Issue #4. February 2005.
If you have any comments or suggestions, please Contact Us
Retransmission & Redistribution of this newsletter without express written consent is just fine by us! Send this newsletter to a friend!
©2005 Alma Libre Bookstore