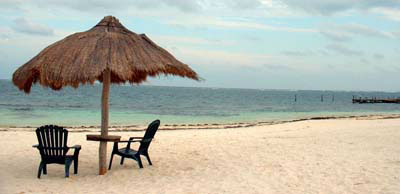 News from Alma Libre Bookstore - Puerto Morelos, Mexico

Year 03 Issue #3 - January 2005

Click here to go to our website: www.almalibrebooks.com
In this issue:
---
Feliz Ano Nuevo / Happy New Year
This newsletter is late getting to you this month. I would like to have you believe that it's because we spent too much time at the beach or too much time celebrating 2005, but the truth is we've just been busy. The days between Christmas and New Year's are the busiest in our town. The hotels were booked for months, the restaurants lined up, the snorkel and dive boats full, and the bookstore lively with lovers of libros.
Even with all this activity and business, the town still remained laid-back and peaceful. There was plenty of room in the square to sit and watch the world go by. The streets remained quiet and there was lots of room on the beach to wander or swim.
I guess the tranquility of Puerto Morelos is so ingrained, it can't be lost just because of the busy season. It means we can pretty much guarantee Puerto Morelos will be the laid-back and peaceful place you are expecting it to be, no matter what time of year you visit. Perhaps that is what makes it such a special place.
Election 2005
If you come to our area in the next month you will notice a lot of signs all over the place for candidates in the upcoming election. We're not allowed to vote of course, so our only role in the vote is to critique the signs and billboards. Our personal favourite is a series of billboards put up by the outgoing governor of Quintana Roo congratulating himself for his accomplishments. The vote takes place on February 6, which happens to be Super Bowl Sunday, so it could be difficult to find a place to get a drink and watch the game.
Free Newspapers to Look For
Watch for this month's edition of Sac-Be Newspaper at Alma Libre and all over the Mayan Riviera. This month Joanne writes about the best things to do in Puerto Morelos. January also marks the premiere of the Puerto Morelos section and map. Next month in Sac-be, all about the Puerto Morelos Reef.
We also have copies of the Playa-Maya News in the store. This free paper from Playa del Carmen features an article about our little bookstore and the "brains" behind it.
Free Gift From Alma Libre Updated for January!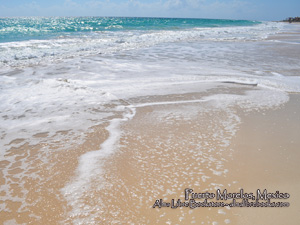 For those of you still stuck up North, bring a small piece of Puerto Morelos to your home or office with our new Puerto Morelos Wallpaper. Beautiful of course, and practical too with a January and February calendar built right in. This month's wallpaper is a view of the beach near Villas Playasol. The red boat belongs to the Bomberos (Fire Department)
We'll have new pictures available for download every month!
Pick your wallpaper size:
CLICK HERE FOR WALLPAPER INSTALLATION INSTRUCTIONS
---
Beracuda's Bar and Grill, a local favourite, has closed in the Hacienda Morelos Hotel. The talent behind our new favourite empanada place, "Talis" has moved into the restaurant space. This is a great spot with an ocean view, yet it is missed by most tourists. (Long-time visitors will remember it as Johnny Cairo's space) They still have their empanadas and pizza, plus they make their own pasta. Check it out.
As mentioned last month Juan, the man behind Tito's restaurant last year has opened a new place on Rojo Gomez. It now has a name. Juantanamara. Get it?
New Restaurants!
I think we people of PM have more restaurants per capita than any town on earth. Add a couple more to your list to try:
Tuna Restaurant Bar & Beach Club
is a new place on the beach at Casita Blanca. That's on the main road (Rojo Gomez), but much further down, close to the end of the road. The name "Tuna" refers to a part of a cactus, not the fish. (Sorry Charlie)
Caffetto
is a new place to get breakfast, located on the main road just past the Handicraft Centre. We haven't tried it yet but long-time visitor Steve from New York State gives it the thumbs up. Steve also recommends the Breakfast Buffet at Hotel Ojo de Agua.
El Picudo Azul (right next door to Alma Libre) is now open at night with a special menu and those famous crepes.
El Nopal (between Picudo Azul and Cafe de Amancia) is now open for breakfast.
There's a new little fresh juice stand on Rojo Gomez right near the square.
People rave about the food at Dona Triny's. A little stand just south of Habanaros.
Yoga: Jean Loew's
classes are on again on Tuesday and Thursdays at 7 a.m. at Casayuya, in front of Villas Shanti. Classes are in English and are open to the public. Cost 60 pesos.
Note for Locals (and the visitors who love them) The Cancun Tips magazine that each visitor is handed and they arrive at the airport contains a coupon book with a very generous offer from Sorianna Grocery Store. Coupon #116 is for a free six-pack of good old Canadian Moosehead beer when you buy a dozen. Many visitors won't make it to Sorianna (in Cancun), so we suggest you donate it to your nearest and dearest beer-loving local.
Also for locals, it's come to our attention that many of you have brought DVD players to Mexico from up north and are now concerned because they won't play the Region 4 DVDs they feature in Mexico. Before you buy a new multi-region machine here in Mexico, check to see if your machine can be "hacked". Most manufacturers provide a code that when punched into the remote control will allow you to play DVDs from any region. Manufacturers build this code into the machine, but don't publicize it. (Hollywood doesn't like multi-region.) Google "DVD hacks" and find your make and model.
Current Exchange Rates (In Puerto Morelos)
USA Dollar 10.9
5 (This rate is bouncing up & down every day!)
CDN Dollar 8.65
(One year ago today the US dollar was 10.75, the Canadian dollar was 8.00)
---
This Just In! New Books & Products at Alma Libre
Books! New Stuff!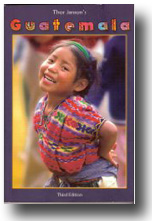 Thor Jansen, author of one of our favourite books "Maya Nature" dropped into our shop recently to show us another book. "Mundo Maya" is jam-packed with photographs of the people of the Mayan world. This unusual book features photos of the people, the festivals and the land of the Mayan world. You can't get this book on Amazon or at bookstores in Canada or the USA. Book your ticket, because it's only available at Alma Libre!
Another author found our shop this December, and this writer is also a publisher! Sandro Cohen is the owner of Colibri Books, a publisher of high quality books in Espanol. Naturally we wouldn't let him leave the shop until he promised to give us some of his books. As a result, we now have the best selection of books written in Spanish that we have ever had. All the books are brand new and we have choices for children and adults. 56 new titles in all!
Yucatan Before & After the Conquest - It is more than ironic that the best source of information we have about how the ancient Maya lived is given to us by the man who tried wipe their culture off the face of the earth. Friar Diego de Landa destroyed the idols and hieroglyphic rolls of the Maya, but also wrote about what he ruined. From this text comes ninety-nine percent of what we know of the Maya today. The book he wrote has now been translated into English, unabridged and complete with illustrations and maps.
Postcards! We've added a few new photos to our postcard collection. We have the largest selection of postcards of Puerto Morelos, and they are all exclusive to Alma Libre. We know because we make 'em! We also have blank greeting cards.
---
Houses are springing up like weeds this year. Puerto Morelos is in a building boom! Here's a look at a few of the structures still being completed...
This huge new building is behind the church. It features office space and apartments.

A luxurious new house on Ninos Heroes.

The Cultural Centre is sporting a new look.

A new house on the beach built by Edwin Munoz is almost done. (One of several Edwin is currently building)

A new beach house is taking shape.
---
Random Facts
Mexico is home to more than 50 varieties of hummingbirds.

Scientists claim Mexico City is slowly sinking due to the depletion of the water level beneath the city. Giant aquifers that serve as water reservoirs are being emptied faster than they can be refilled, causing the earth to sink.

We think our area is perfect for lovers, but Katherine Hepburn was divorced from her first husband, "Luddy" Smith in Merida in 1934. Not a big fan of marriage, she later said "I don't believe in marriage. It's bloody impractical to love, honour, and obey."
Tourism is Mexico's third biggest source of foreign income (10 billion annually). #1 is oil exports (16b) and #2 is money sent home by Mexicans living in the United States (15b)
---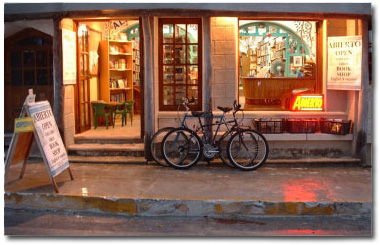 Just a reminder that we are open our regular hours now. That is Tuesday through Saturday, 10:00 am until 3:00 pm and 6:00 pm to 9:00 pm. On Sunday we are open 4:00pm to 9:00pm. We are closed on Monday.
Our hours are always posted on the front page of our website at www.almalibrebooks.com.
We take trades every day, so our selection is constantly changing. If you are planning a trip down, why not bring some recent bestsellers to trade and check out our store.
If you live here, we can special order books for you. It is not a quick process, it usually takes a month, but our prices are much better than Amazon's. Let us know what title you would like and we'll provide a quote.
We look forward to seeing you in Puerto Morelos!
---
Beach Reads is the official newsletter of Alma Libre Bookstore in Puerto Morelos Mexico. It is mailed directly to your mailbox if you request it. Beach Reads is published on a sporadic, seemingly random basis...but it is supposed to be approximately monthly during the season at Puerto Morelos. The season is November until after Easter. We do our best to publish it regularly...but the beach is so pretty...

Our website is located at www.almalibrebooks.com Our store hours are always on the home page.

If you do not wish to receive this newsletter, please Click Here To Unsubscribe
This is Year #3, Issue #3. January 2005.
If you have any comments or suggestions, please Contact Us
Retransmission & Redistribution of this newsletter without express written consent is just fine by us! Send this newsletter to a friend!
©2005 Alma Libre Bookstore