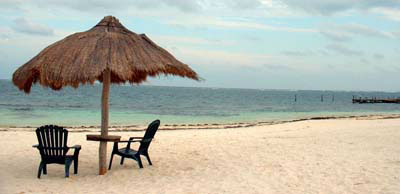 News from Alma Libre Bookstore - Puerto Morelos, Mexico

Year 03 Issue #2 - December 2004

Click here to go to our website: www.almalibrebooks.com
In this issue:
---
One Way...for today....
One recent sunny day in Puerto Morelos there was a lot of activity on the streets. Police and work crews were all over the square causing traffic snarls and making a mess. Turns out they were putting up signs. Signs that turned our square into a one-way zone. The Transitos (traffic police) set up on every corner, lights blazing, warning motorists of the new rules.
The move wasn't a total surprise. We'd often seen cars having to back up to yield to oncoming traffic, especially on Sundays, when cars park on both sides of our street.
The next move was a total surprise though. The very next week the Transitos and the work crews were back, making messes and creating traffic troubles. When the dust finally settled we were stunned to see that we still had one way roads...only now they were the other way! The Police and crews had turned the signs around and changed the direction of the traffic.
Now the confusion was complete. Traffic rolled in all directions unsure which way was the "one" way. Motorists that were informed of the law last week were suddenly in the wrong again. How could this be?
At the time we published this newsletter, traffic was moving (legally) one way clockwise around the square and traffic on the road between Pelicanos and Caffe del Puerto was southbound only. There are also new parking restrictions, such as you can't park in front of the church anymore.
Please watch this space and watch the signs, we know of at least one unlucky driver who has been ticketed. We'll watch for those crews and let you know when and if they turn those signs around again!
At the Bookstore...
Believe it or not, we're still unpacking books at Alma Libre. We have so many, there is not enough room on the shelves for all of them. Under each of our shelves you'll find boxes, each full of books that we have no home for yet. We know that as the season progresses and more books walk out the door in the hands of beach readers from around the world, we'll start emptying those boxes. The good news is that our selection is changing every day as we add and subtract books from the store.
In September we were featured in "Coastal Living" magazine. This month we're mentioned in "Endless Vacation", the official magazine of RCI, the magazine for time-share owners.
Watch for this month's edition of Sac-Be newspaper at Alma Libre and all over the Mayan Riviera. This fast-growing publication is now in colour! This month Joanne highlights books about the Maya. Next month Sac-Be will begin featuring a map of Puerto Morelos.
Special thanks to the many people who have written to us complimenting our newsletter. This rag now clogs more than 700 email boxes around the world. Thanks for reading it!
Hopefully you have a December vacation planned and we'll see you in Puerto Morelos soon, but in case you don't, we'd like to wish you and your family a hearty Feliz Navidad and all the best in 2005.
Free Gift From Alma Libre Updated for December!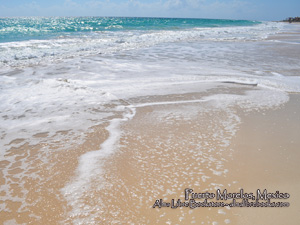 For those of you still stuck up North, bring a small piece of Puerto Morelos to your home or office with our new Puerto Morelos Wallpaper. Beautiful of course, and practical too with a December and January Calendar built right in. This month's wallpaper is a view of the pool at the new Secrets Excellence resort.
We'll have new pictures available for download every month!
Pick your wallpaper size:
CLICK HERE FOR WALLPAPER INSTALLATION INSTRUCTIONS
---
Laundry Wars: When we moved here just two years ago there was not a decent laundry to be found in PM. Last year a new place opened up on Rojo Gomez near the square and there was much joy in the town. Recently another laundry opened across the highway and this month, in a move that can't be good for neighbourhood harmony, two new Laundromats opened up side by side. Fans of the free market will be happy to know the competition has improved service and lowered prices in our town. Now all four (at last count) Laundromats will be happy to serve you on your next visit. (The two new places are on Rojo Gomez, the main road, just one long block north of the square)
Good news for fans of Tito's restaurant. Juan, the man behind that popular fish & shrimp place has opened a new restaurant. It's on Rojo Gomez, just a little north of Don Pepe's.
Can a monorail be far behind? Puerto Morelos now offers a choice in town travel. Taxis no longer exclusively rule the road. Two collectivos now offer service around the town and up to the Colonia on the other side of the highway and we also have (gasp) a bus. We're still trying to figure out the bus' actual route, where the stops are and why they feel they need to honk the horn so often. With all this fresh competition to contend with, our beloved taxis quickly increased their rates to 20 pesos for a ride to the highway from 16 pesos.
Town fixture Goyo is moving his operation to the square. He's building a new place right on top of Enrique's "Almost Heaven" dive shop. A gift shop has moved into Goyo's old space owned by our friend Thomas. He's the gift shop king in Puerto Morelos with four stores in town!
Mama's Bakery is open again after a renovation and has a brand new menu.
Spaghettino's is open again for another season.
Artisolo is open again with lots of new stock.
Pixan
is also open and features unique hand-made gifts and keepsakes.
Celebrity Sighting: Raquel Welch was spotted recently at John Gray's Kitchen. Reports are she loved the food (naturally) and she looked fabulous (of course). Earlier this year Dustin Hoffman also enjoyed dinner there. Speaking of John Gray, he's opened a new location in Playa del Carmen called John Gray's Place.
The Government of Mexico has introduced a brand new 1000 peso bill (about $92 US dollars). Previously our biggest bill was 500 pesos. The purple and green bill features a likeness of Miguel Hidalgo y Costilla, the Father of Mexican Independence. Waving one of these new bills at a small tienda will cause the cause the owner's eyes to bulge and he will keel over just thinking about how much change he'd have to provide. Use with caution!
Current Exchange Rates (In Puerto Morelos)
USA Dollar 10.
85
CDN Dollar 8.80
(One year ago today the US dollar was 10.95, the Canadian dollar was 8.10)
---
This Just In! New Books & Products at Alma Libre
Books! New Stuff!
The Toltec Way
Like Don Miquel Ruiz, author of the bestselling book The Four Agreements, author Susan Gregg teaches readers how the ancient Toltec tradition can apply to life in the 21st century. For those who haven't watched Oprah lately, the Toltecs were an ancient race of people who flourished in Southern Mexico around 800 AD. "They were also a secret society dedicated to preserving the knowledge of the 'ancient ones,' who were great spiritual masters," according to Gregg. Gregg explains that the Toltec tradition is a way of seeing beyond our perceived sense of reality and into an unlimited world of possibility. This is the kind of book that you will return to again and again. Amazon.com reader
Secrets of the Talking Jaguar - Martin Prechtel
This is the story of the author's physical and spiritual journey from the southwestern US to the highlands of Central America. There he becomes apprenticed to a local shaman who teaches Pretchel much about indigenous Mayan life, and about life in general.

Mexican Handmade Style: Make your own memories of Mexico. This book features twenty easy to make projects to brighten your home and garden. This beautiful book features more than 150 colour photographs. "Each project is a twist on a traditional method. They are easy to read and follow and offer a bit of history about where they came from." - Amazon.com reader

A Taste of Mexico: The best place to recreate a little of your trip to Mexico when you are back home is in the kitchen. "A Taste of Mexico" features 70 exotic recipes packed with the colour and flavour of Mexico. Recipes range from soup to desserts to drinks. Step by step colour photographs illustrate each recipe.
2005 Calendars
For the first time ever we are proud to offer 2005 Mayan Riviera calendars at Alma Libre. These beautiful calendars will remind you of the beauty of our area throughout the year and make a terrific gift. These glossy, beautifully photographed calendars have been put together by the same people who bring you the popular Can-Do guide/maps that we also sell in our shop, Laura "the Map Chick" and Perry McFarlin.
Postcards! We have the largest selection of postcards of Puerto Morelos, and they are all exclusive to Alma Libre. We know because we make 'em!
---
Surprises at Sorpresas
One of Puerto Morelos' real surprises is "Sorpresas" (Surprises in Spanish), a wonderful little sea side art gallery filled with treasures created or collected by local artist/owner Marguerite Broyles. Her unique pieces, many made with natural materials touched by the ocean, are whimsical and inspiring.
Using wood, shells, sea glass, wire, metal and more she has created wonderful window and wall hangings. Her small framed original artworks carry words of wisdom and beauty (We have two of these in our shop). Marguerite's jewellery are one of kind pieces that are a delight to admire and to wear. Living on the ocean she is constantly inspired to create more unique works of art so you never know what you will find in her shop.
Marguerite was recently featured on the front page of her hometown newspaper "The Lamar Daily News", which is kind of like the New York Times, but with much more stuff about cattle.
Sorpresas is on the first road along the beach, just north of the town square and lighthouse.. Sorpresas is open Wednesday to Saturday, 10:00am to 2:00pm and 4:00pm to 7:00pm. Sunday 11:00am to 6:00pm.
---
Mexican Revolution Day
A major holiday in all over Mexico and here in Puerto Morelos is Mexican Revolution Day celebrated on November 20th.

The Mexican Revolution took place from 1910 to 1920. It was a "constitutionalist war", basically a fight between the have's and the have not's. Pretty much everyone has heard of its most famous hero, Pancho Villa.

On November 20, 1910, the war to overthrow General Porfioio Díaz officially began when Francisco Madero escaped from prison in San Luis Potosí and declared the electoral process in Mexico invalid. General Díaz had been in power since 1876. During those 34 years, Mexico's political stability had improved. Its economy had grown. New industries were established, railroads were built and foreign investment increased. Yet, none of this made any difference in the lives of the vast majority of Mexicans. Peasants and laborers, they were poorer than ever.


Pancho Villa captured Ciudad Juárez in the north and a new government was set up there. Eventually Diaz was forced to resign and flee. New national elections took place in 1911. Unfortunately, peace was not to come to this country for a while. Several Revolutionary leaders couldn't settle their differences.

In 1917 the Constitution was reformed but fighting among revolutionary groups did not end until 1920. At last the Revolution had triumphed!
Now every year the people parade, many dressed like Pancho Villa, with big moustaches, sombreros and toy guns.
---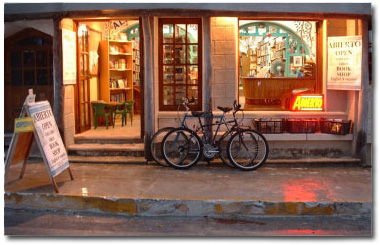 Just a reminder that we are open our regular hours now. That is Tuesday through Saturday, 10:00 am until 3:00 pm and 6:00 pm to 9:00 pm. On Sunday we are open 4:00pm to 9:00pm. We are closed on Monday.
Our hours are always posted on the front page of our website at www.almalibrebooks.com.
We take trades every day, so our selection is constantly changing. If you are planning a trip down, why not bring some recent bestsellers to trade and check out our store.
If you live here, we can special order books for you. It is not a quick process, it usually takes a month, but our prices are much better than Amazon's. Let us know what title you would like and we'll provide a quote.
We look forward to seeing you in Puerto Morelos!
---
Beach Reads is the official newsletter of Alma Libre Bookstore in Puerto Morelos Mexico. It is mailed directly to your mailbox if you request it. Beach Reads is published on a sporadic, seemingly random basis...but it is supposed to be approximately monthly during the season at Puerto Morelos. The season is November until after Easter. We do our best to publish it regularly...but the beach is so pretty...

Our website is located at www.almalibrebooks.com Our store hours are always on the home page.

If you do not wish to receive this newsletter, please Click Here To Unsubscribe
This is Year #3, Issue #2. December 2004.
If you have any comments or suggestions, please Contact Us
Retransmission & Redistribution of this newsletter without express written consent is just fine by us! Send this newsletter to a friend!
©2004 Alma Libre Bookstore