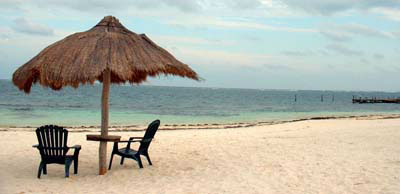 News from Alma Libre Bookstore - Puerto Morelos, Mexico

Year 03 Issue #1 - November 2004

Click here to go to our website: www.almalibrebooks.com
In this issue:
---
We're back and we're open!
How did you spend your summer? We spent ours travelling more than 24,000 kilometres through three countries and countless cities, towns, & villages.
As we look back on it now it seems staggering! We've spent more than 10 weeks this summer travelling, rarely in the same place more than a night or two.
We've seen some of the grand old cities of Central Mexico, like Queretero, Guanajuato and San Miguel de Allende. We touched the Pacific at Mazatlan, after seeing the great city of Guadalajara. Then to some great towns in the United States. The desert cities of Phoenix, Tucson, and the always entertaining Las Vegas, where we piloted our trailer down the famous "Strip". We also spent time in Salt Lake City and the State of Montana.
After spending some time working in Calgary, our old home town, we left the driving to others and flew to New York City, Washington, DC and Toronto, Ontario. We loved New York even more than we expected and we finally understand the allure of "The City".
After that, we piled back in our truck and trailer and drove more than 7,000 kilometres through Montana, Wyoming, Colorado, and Texas (where we spent a little time in our favourite Texas town, Austin) before crossing the border and travelling our usual route through Tampico, Monte Gordo, Veracruz, Villahermosa, Chetumal and home to Puerto Morelos.
After all that travel, you might think we're ready to put our feet up and head to the beach...heck no! We're open and looking forward to another busy year at our little bookstore in paradise, Puerto Morelos!
For those who are interested in more details of our trip, you'll find them later in this newsletter.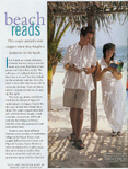 Coastal Living Magazine says we live "The Good Life"
Coastal Living Magazine, a Time-Life publication read by a million beach-lovers every month profiled a couple of bookstore owners from Puerto Morelos in their September edition. The article generated a lot of enquiries about Puerto Morelos and some "fan mail" from across the US and Canada. If you missed the article, we have a copy of it on our website. Click Here
Hurricane Season
Hurricane Ivan certainly threw a scare into Puerto Morelos, the town was even evacuated briefly.
Locals report it was a very unusual storm, a hurricane with no wind. The surge caused little damage except to some of the docks, like this one at Playasol. (The top picture was taken before Ivan, the lower one is now)
Some homes at Playa Secreto suffered damage, but it will all be repaired soon.
F1 Auto Racing coming to Puerto Morelos
Media around the world are reporting that Formula One Racing will be returning to Mexico in 2006. A track is to be built south of the Cancun Airport, meaning the racing will likely be closer to Puerto Morelos than Cancun. This is a very big deal, with promoters estimating the race could bring $200 million to the Mayan Riviera. No word on how much of that will be spent in the bookstore.
Officials say they hope to begin track construction in January. The track could only be the first step in an ambitious project that could include an amusement park and a golf course. Tickets for the event will range from $150US to (gasp) $5000.
Mexico City hosted Formula One racing for many years from the 1960's to 1992 when the increasingly bumpy track was dropped from the circuit. Locals are excited about the prospect of F1 racing, but will believe it more when they actually start building the track.
More info on F1 in our "Mexico Facts" section, later in this newsletter...
Airlines to Merge
Mexico will merge the country's two biggest airlines, Mexicana and AeroMexico, as part of a plan to sell a stake to investors by the middle of next year. The government also plans to combine two state-owned regional airlines, Aerolitoral and Aerocaribe, into one company and sell it next year.
Free Gift From Alma Libre Updated for November!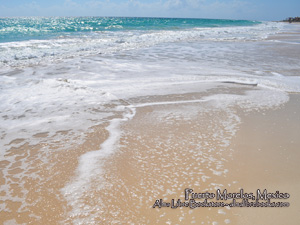 For those of you still stuck up North, bring a small piece of Puerto Morelos to your home or office with our new Puerto Morelos Wallpaper. Beautiful of course, and practical too with a November and December Calendar built right in. This month's wallpaper is a view of the beautiful beach with a sandcastle.
We'll have new pictures available for download every month! (Sorry I neglected to provide any over the summer. We'll do better this year!)
Pick your wallpaper size:
CLICK HERE FOR WALLPAPER INSTALLATION INSTRUCTIONS
---
We can't believe how much has changed in your town while we were gone. Catch up with us!
El Nopal (The Cactus) opened just two doors down from the bookstore (where Nito's Dive Shop used to be) This is Puerto Morelos' version of "fast food". You can get you choice of a meat dish, a vegetarian dish, a variety of veggies, salads and dessert for only 50 pesos. The dishes are already hot and ready to go, so no waiting.
"Tali", a new pizza and empanada restaurant, has opened beside the church. Early reviews, especially for the empanadas, are outstanding and the prices are very reasonable.
Locos bar is now Cantina Habernero, it has quickly become a favourite for locals.
El Picudo Azul is undergoing a major renovation and a new menu that will have a French flair.
As we reported in the spring, Fungo Noire is now called Portabello. Chef Andre will have a new menu in November.
Caffe del Puerto is popular as ever with Chef Eduardo at the grill and Cece managing the tables. Go early if you want to get in, especially on nights when they have live music. Last year they were lined up (and dancing) in the streets!
Hola Asia is preparing to open with an expanded restaurant and kitchen. You will be able to order your dinner upstairs so you can enjoy the breeze and ocean view.
Long-time PM resident Fernando has a new shop called "Tesores Mayas" (Mayan Treasures). He's located next to Marand Travel beside the church. Good selection of Puerto Morelos T-shirts and Objects D'art from all over Mexico.
Also beside the Church is a DVD rental place, a first for Puerto Morelos.
The giant new all inclusive resort "Secrets" has opened. It's quite spectacular.
Current Exchange Rates (In Puerto Morelos)
USA Dollar 11.20
CDN Dollar 8.
75
Hey Canadians! Time to hit the beach, the Loonie has never looked better!
---
This Just In! New Books & Products at Alma Libre
Books! New Stuff!
First Reports: The Maya (for kids)
This small but comprehensive book takes kids back in time to the great cities of the Maya. The book also talks about the Maya today and offers ideas on how they can learn more. For ages 4-8. SPECIAL: Thanks to our distributor, we are able to offer this book at 100 pesos, which is less expensive than Amazon, Wal-Mart, Overstock or any others in the US or Canada
Maya for Travelers and Students
This unique book not only gives the reader the ability to communicate with the Maya in their own language, it also offers invaluable tips on learning the language "in the field". Most helpful is the author's discussion of the cultural and material worlds of the Maya, accompanied by the most essential words and expressions for the most common objects and experiences.
Ancient Mexico
The fascinating history of Mexico the early civilizations before the Europeans arrived in the 16th century. Lots of photos of ruins and art.
Postcards! We have the largest selection of postcards of Puerto Morelos, and they are all exclusive to Alma Libre. We know because we make 'em!
---
Our Driving trip through Mexico
Every year in the early fall, we drive down to Puerto Morelos, Mexico from our old home town, Calgary, Alberta, Canada. After the season in Puerto Morelos from October through May, we pack up and drive up again, taking our time and seeing some of the fabulous scenery and cities of Mexico.
In all it's a 15,000 kilometre round-trip through mountains, valleys, desert, cities and villages. Some people think we're cool to drive this long trip every year. Most people think we're nuts.
For those who might consider such a trip, or those who just want to see how "nuts" we are, I present some more details of our trip North. To see where we went last year, check out last November's newsletter.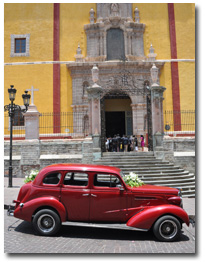 This year we decided to go back to some of our favourite places and also go to the West coast. We started our usual route, through Chetumal and headed directly for San Miguel de Allende, where we're lucky enough to have some friends with a fabulous home. (They moved to Mexico from Calgary around the same time as we did and are very happy!) San Miguel has always been a favourite of ours, and it was San Miguel author Tony Cohen who helped inspire us to move to Mexico. (His book "On Mexican Time" is available in our store and on our website.)
From there we went to Guanajuato, a fabulous "university town" where all the traffic in the downtown rolls in tunnels underground, leaving the Centro to the pedestrians.
Our next base was Patzcuero, a beautiful small town on a lake. In the middle of the lake is an island where the inhabitants still fish with butterfly nets. The scene is depicted on the back of the 50 peso bill. Patzcuero is also the home of Tortilla Soup and is best know for its spectacular celebration of the Day of the Dead.

Around Patzcuero are a sprinkling of towns, that all specialize in a different craft. Copper, wood carvings, Day of the Dead figurines, stone carvings and intricate straw weavings. It would be easy to fill a truck with beautiful things and the prices are very low. Another day trip from Patzcuero is historic Morelia, where all buildings in the Centro by law, must be made of a delicate pink stone. Stunning!
Yet another daytrip was to the former San Juan, an entire town that was covered with lava from a volcano that sprung out of a farmer's field in 1943. Today only the church steeple is visible in a sea of black rock. An eerie and breathtaking sight. From there it's an easy drive to Paracho, where every resident seems to be involved in the art of guitar making. You can buy a handmade guitar, a work of art in it's own right, for very little money.
Guadalajara is Mexico's second largest city and home to the market at Tonola, which after all our travels, is still the largest, best and most tiring Mexican market of them all. You could fill another truck here! Among the bargains are furniture. You can literally fill a home with custom creations for less than one thousand dollars.
From there we drove to the coast, Mazatlan, a city we had never been to, preferring it's southern rival Puerto Vallarta. We were more impressed than we expected. There is a real town here, you just have to look past the "Hard Rocks" and "Senor Frogs" to find it.
From there we rolled north to the border, enjoying Tucson, Phoenix, Las Vegas and Salt Lake City on our way back to Calgary.
We drove more than 8000 kilometres with very few problems. Our springs on our trailer disintegrated near Puebla after a few too many speed bumps. As is typical in our experience in Mexico, a man immediately stopped to help and stayed with us, including showing up the next morning to make sure our problem was fixed before seeing us off. He accepted only gas money in return.
It should be noted too that we drove all these kilometres WITHOUT being pulled over by the police or waylaid by banditos. The scary stories you hear about driving in Mexico are mostly overblown or a thing of the past. We drive carefully and (mostly) follow the speed limit. We never drive too many hours in a day and never at night. We take the toll roads where we can, they are expensive but usually well worth the price.
---
More Formula One Fast Facts
Cost of Track: 70 million (The new track in China cost 320 million)
Length of Track: 5 km
Speeds: Track is designed to handle speeds up to 300 km/h (186 mph)
Competition: Mexico beat out at least five other countries to host the races, including Russia.
Government Involvement: Quintana Roo is providing 380 hectares (940 acres) of land south of Cancun Airport.
First Race: Slated for October 2006
---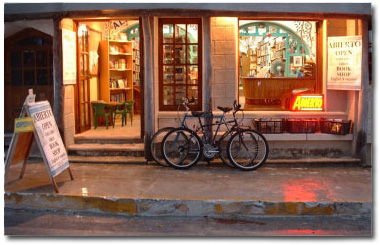 Just a reminder that we are open our regular hours now. That is Tuesday through Saturday, 10:00 am until 3:00 pm and 6:00 pm to 9:00 pm. On Sunday we are open 4:00pm to 9:00pm. We are closed on Monday.
Our hours are always posted on the front page of our website at www.almalibrebooks.com.
We take trades every day, so our selection is constantly changing. If you are planning a trip down, why not bring some recent bestsellers to trade and check out our store.
If you live here, we can special order books for you. It is not a quick process, it usually takes a month, but our prices are much better than Amazon's. Let us know what title you would like and we'll provide a quote.
We look forward to seeing you in Puerto Morelos!
---
Beach Reads is the official newsletter of Alma Libre Bookstore in Puerto Morelos Mexico. It is mailed directly to your mailbox if you request it. Beach Reads is published on a sporadic, seemingly random basis...but it is supposed to be approximately monthly during the season at Puerto Morelos. The season is November until after Easter. We do our best to publish it regularly...but the beach is so pretty...

Our website is located at www.almalibrebooks.com Our store hours are always on the home page.

If you do not wish to receive this newsletter, please Click Here To Unsubscribe
This is Year #3, Issue #1. November 2004.
If you have any comments or suggestions, please Contact Us
Retransmission & Redistribution of this newsletter without express written consent is just fine by us! Send this newsletter to a friend!
©2004 Alma Libre Bookstore