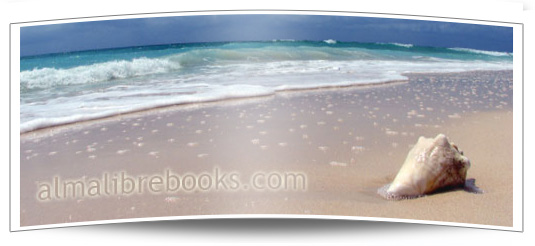 News from Alma Libre Books & Gifts - Puerto Morelos, Mexico
Year 13 Issue #03 - April/May 2015

Click here to go to our website: www.almalibrebooks.com (Puerto Morelos Information/Rentals/Real Estate & More!)
Click Here for Back Issues of Beach Reads
---
Alma Libre Books & Gifts Closing (for the season) April 30!
Hours Tue-Sat 10-6 & Sun 12-6 (no siesta!) Closed Monday
---
Closing Soon!
Our last day of business for this season will be April 30, 2015.
It's been a great season, and we have enjoyed seeing all our old friends and customers, and a lot of new faces too.
Apologies for the tardiness of this issue, this is always a busy time of year with taxes due in two countries and a lot of other paperwork too.
We thank you for your support this season and hope to see you soon.
Special thanks to Laurie, Marina and "the girls", Daphne & Miki. We really appreciate you!
I hope you find this issue informative and amusing. You will find this edition overflowing with news, gossip, rumours and the usual filler. Please enjoy the issue and forward it to anyone you think needs a little PoMo in their lives. If you enjoy the newsletter, and we hear all the time that you do - please support it by making a purchase Alma Libre Bookstore and Gifts. Gracias! Rob & Joanne
---
11th Annual "Best of Puerto Morelos" Survey 2015
Many thanks to those who took part in our annual "Best Of Puerto Morelos" survey, which ran for most of the month of February. A record number of participants shared their opinions this year. We started the survey years ago so that visitors could share their favourite things about Puerto Morelos with other visitors. As residents, we also wanted to make sure we weren't missing out on anything.
Over the years, our most popular category has been favourite restaurant. This year we changed the point system so that the race would be a bit tighter. It was, but in the end, the perennial favourite still reigns.
Without further ado, here is the list:
2015 "Best of Puerto Morelos" survey winners
1. Al Chimichurri
2. La Sirena
3. El Pesquero
4. El Nicho
5. Cantina Habanero
6. Los Gauchos
7. Spaghettino
8. Tacos.com
9. La Playita
10. El Sabor de Mexico
11. Merkadito del Mar
12. La Duna
13. Fonda Americana Grill
14. La Panza es Primero
15. El Bistro
16. El Pirata / Caribelos
Congratulations to all the restaurants in town, and especially Al Chimichurri which has been chosen as best restaurant for three years running. La Sirena, which was barely open in February 2014 debuted at #2. El Pesquero leapt from #6 last year to #3 this year. La Duna, El Bistro, El Sabor de Mexico and Caribelos are making their first appearance on our list as well.
The restaurants were chosen by our readers who were asked to rank their three favourite restaurants. Their first pick was awarded three points, instead of five in previous editions. Their second choice was given two points, instead of three in previous surveys and their third choice was awarded one point, the same as previous years. The result was a much tighter race. In all, more than 28 restaurants were chosen as readers' favourites. Very impressive for a town our size.
When we asked, "Where is your favourite place to have a drink?", there was little contest. Cantina Habanero won again, as they have every year since we started asking. Merkadito, La Sirena and Pelicanos also made the list. Cafe de Amancia was mentioned by many for a non-drink drink.
We asked more restaurant questions this year, specifically about food.
Best Pizza: My Little Italy ran away with this one. I Wanna Pizza and Spaghettino also were mentioned often.
Best Burger: A close contest on this one, but Cantina Habanero took it. La Sirena was very close.
Best Vegetarian: Siempre Sano aka Coco Cocina took this title, with La Duna and La Sirena close behind.
We also asked for a "local favourite" food item, something that is best enjoyed in Puerto Morelos. Most of the answers not surprisingly revolved around fish. Fried whole fish, grilled fish, fish tacos, ceviche and seafood in general topped the list. Also mentioned, huevos rancheros and anything at the Sunday Jungle Market.
When we asked what Puerto Morelos lacked that readers wish we had, there were few responses. Some mentioned fresh lemons, Indian food and fresh flowers. Most said they wanted for nothing.
What is your favourite inexpensive or free thing to do in Puerto Morelos? Most of the answers here were pretty expected. Many mentioned walking the beach, watching the sunrise, riding the collectivo, renting a beach bed, snorkeling the Ojo de Agua or just watching the action on the square or at the dock.
Our very first question was, "Whatever you do, do not miss (blank) in Puerto Morelos." A sampling of answers included the beach, the church, the square, the sunrise, the Colonia, The Jungle Spa, Crococun, Alma Libre Books & Gifts (thank you), Art Tour and meeting Charlie Brown. Yeah, yeah, yeah!
---
Sand in the Form of Art in Puerto Morelos
by Joanne Miller Birce (This article originally appeared in the USA Today Cancun Edition newspaper)

Sculpturer José Luis González's art is beautiful, powerful and stunning. It is also temporary. González's chosen medium is sand, and after days of work, it takes only hours for his art to return to the beach from which it was created. Originally from Venezuela, he has spent his last six months creating amazing works of art out of sand on the beach in front of the Malecon in Puerto Morelos. This is the first year that the town has been fortunate enough to have this talented artist visit.


Sand sculpting as an art form has been around for centuries. No one knows exactly how long, but it is thought that the ancient Egyptians made sand models of the pyramids. González began sculpting over 25 years ago in Barquisimeto,Venezuela. He learned to sculpt using stone, marble, granite, bronze and other materials. Due to cost and his love of the ocean, he soon found sand to be his medium of choice. Since then he has created sculptures on many beaches throughout South and Central America plus other parts of Mexico.


To create a sculpture, González begins by filling wooden molds with mounds of sand and a little sea water which he and his four helpers compact with a tamper to form a working base. Using more molds, stacked on top of one another, he slowly forms a rough outline in the shape of the art he is creating. When the sand is compacted to a hard surface, he removes the wood to reveal a blank "canvas" on which he begins to carve. He uses a variety of hand tools to cut, sculpt and shape the sand. He then finishes off the fine details by using a straw to blow the last of the excess grains away.

González finds joy in replicating the great works of art created by the Renaissance masters. When asked if he uses a photo to copy them as he sculpts, he said that only sometimes for the robes, but when it comes to the faces, his hands are guided by the Father. A deeply spiritual man, he prefers to replicate the works of his favourite artists, Leonardo da Vinci and Michelangelo, over modern artists. Evidence of his passion was obvious at Christmas when he created a beautiful nativity scene. González really outdid himself at Easter (Semana Santa) by sculpting a larger-than-life-size version of Leonardo da Vinci's "The Last Supper" and Michelangelo's "Pietà", a famous Renaissance sculpture depicting the body of Jesus in his mother Mary's arms after the Crucifixion. His "Pietà" took González 9 days to complete after taking a week to build the base. Finished, it stands 3.4 meters high.


It is small in comparison to his version of "The Last Supper" a three-dimensional rendition of the painting. The original painting is a scene of Jesus with the Twelve Disciples, as it is told in the Gospel of John, 13:21. Da Vinci, and in turn González depicts the shock that occurred among the Twelve Disciples when Jesus announced that one of them would betray him. González's sand sculpture is 17 meters long and 2.20 meters tall. It took 20 days to complete with González and his four helpers working twelve to fourteen hours a day. The artist has gone into great detail with this fleeting piece of sculpture, even carving out the loaves and wine on the table.

Once the sculptures are complete, they must be sprayed with sea water every 40 minutes to keep the sand from blowing away. A sudden rainstorm and all could be lost as is with "Pietà", which is now starting to return to its original state. I asked González if he found it sad that his art was not permanent and he told me that his art was just like the cycles of life, one must be swept away for the next one to be begin.

As for the future, González plans to stay in Puerto Morelos for a while. He will continue to sculpt in sand until the rainy season comes, working only for tips that are given by the many people that come from near and far to see his work. He says he enjoys being in Puerto Morelos and that the mayor, the Casa de Cultura and the people have been very welcoming to him. Over the summer he will be teaching local children how to sculpt through the Cultural Centre. Right now he is currently completing a life size replica of Michelangelo's "Moses". Once completed, he will begin work on a very special piece for Mother's Day on May 10th. If you have not had a chance to see his amazing work, it is another good reason to visit the village of Puerto Morelos.

You can follow González on Twitter @JosseArenarte or on FaceBook as Josse Arenarte.
---
Summer in Puerto Morelos
Once Semana Santa (Easter) is over, Puerto Morelos slips into a lower gear. After May 1, the price of accommodations in Puerto Morelos drops significantly.
Summer is a great time to do anything on or in the sea here. Fishing is the best of the year. Snorkelers and divers will enjoy calm, warm water teeming with a wide array of aquatic wonders. Underwater visibility is spectacular. Whale sharks will make their annual appearance nearby. The town is less busy, the beach is quiet. Days are sunny and breezy. It's a nice time to be here.
The bookstore is closed in summer, but everything else in town is up and running.
Our rental places have good availability in the summer and our prices drop to as low as $399/week. We have other places to stay on our rentals web page. You can be on the beach or off...you will always be close to the water.
Low prices, no crowds and the beautiful Caribbean: Why not make the trip?
Please send our newsletter and the bookstore website to your friends and family. PoMo can use some more friends!
---
Timely Reminder
Our state of Quintana Roo has effectively confused just about everyone with the time change they instituted on February 1 of this year. We have had more posts asking "what time is it right now?" than ever before on our Facebook page.
Here is the scoop: we are now on permanent Eastern Standard Time. Most of our readers are currently on "something" Daylight Time, meaning you are currently on Daylight Saving Time. We do not switch anymore, so we are always on Eastern Standard.
So because the change was made at the last minute, even large web organizations like Google and Apple did not get the news, so people's devices and Google search were giving people the wrong local time. They have since figured it out.
If you are still lost, you can always visit our Puerto Morelos Practical Information page, which always features the current time near the bottom of the page.
---
Persistent
Peso Plunge
Your visit to Puerto Morelos just got a whole lot cheaper. As the price of oil has fallen and growth in Europe and China continues to slow, the Mexican peso has fallen. Last year at this time it was hovering around 12.5 to 13 pesos to the US dollar. Now it has fallen below 15 pesos.
With any currency devaluation, there are always winners and losers. Losers tend to be anyone who wants to buy imported goods, as they are now more expensive. Winners are visitors and residents with US dollars to spend.
Here is an example. That $400 peso meal you had last December would have cost you $31.00 US. This year the same $400 peso meal is just over $26.00 US. Many visitors still think of the peso/dollar exchange as 10 to 1, making the meal $40 US in their mind, $14.00 more than it really cost. You can see the "10-1 rule" is way out of date.
If you think every $100 pesos is about $6.50 or $7.00 US, you will be in the ballpark. If you go to the Oanda website you can print off a traveler's cheat sheet that will help you convert pesos to any currency.
The peso has also fallen compared to the Canadian dollar and other currencies, though not as dramatically. The Canadian dollar has done some recent plunging of its own, but you will still find it goes much further here than in the great white north. Canadians, be sure to spend pesos, not US dollars or you will be nailed for exchange twice.
---
Salsa And Sun
Joanne has started a blog that celebrates the special Mexico that we have discovered while living, working and traveling here.
Lots of photos of course, and the fact that Joanne shares her coveted, deceptively simple salsa recipe is worth the trip alone! Also check out the route we take each year to get to and from Mexico, with costs. Recently she wrote about how the town celebrated Easter and
Chef Anthony Chalas
of La Sirena restaurant shared his Lion Fish recipe. Find it at SalsaAndSun.com
---
Puerto Morelos Interactive Map
We've improved the interactive map on our Alma Libre Bookstore website with the addition of dozens of new places and by making the map easier to use. Select the location you want on the right side and the map will show you where it is. There is also a search box. I've included locations in Cancun too, like Costco and Walmart.
To see the map, go to our Puerto Morelos page. The map is at the bottom of the page.
Here is a smaller version, without all the features.
---
Taxi Rates
Taxi rates have changed a little. Basic fare is now 25 pesos, up from 20. Know your taxi fare before you get in the cab. See the new taxi fares on the big sign at the square or see them here. Make sure to agree with the driver on the fare before you go. You don't have to tip, but we always do if they get us to our destination alive and well.
The taxi union has also started doing tours to popular sites for a flat rate.
---
Jungle Market / Jungle Spa
The Jungle Market has played their last show and sold their last flan for the season.
Sandra and the girls are always able to come up with an entertaining and unique show to entertain visitors who would likely never make it into the jungle otherwise. This year it was a completely new dance show, which celebrated Mayan culture and other cultures across North America. Sandra says she wanted to bring all the cultures together.
They stop when April comes because it is just too warm for all that dancing!
The Jungle Market will be back next December. Knowing Sandra and the girls, there will be new surprises in store for us.
The Jungle Spa is a real Puerto Morelos success story. Visitors to PM and the giant, nearby all-inclusive hotels get a taste of real Mexico while getting the best massage of their life.
The spa is so popular, they have expanded the days that it is open and are requesting that people make appointments either by telephone or email. This will ensure you don't waste any time waiting for your treatment.
To make an appointment, contact Sandra at (998) 208 9148 or Cell 044 (998) 180-5424 or by email through her website. Appointments are available Tuesday-Saturday and limited appointments may be available on Sunday. The spa is closed on Monday.
Many treatments are available, including a luxurious aloe vera and banana leaf wrap and massage! (Or a chocolate massage ... does it get any better??) For men, there is the "Mayan Macho" massage. You've never had a massage like this! They even have special massages for young adults. How about a 60 minute four hand massage? You will leave a different person!
Spa prices are much lower than you will find at your resort and proceeds go directly to the Mayan families that work at the spa and Jungle Market.
It's easy and quick to get out to the jungle by car, taxi or collectivo. It's on Calle Dos (kie-yay dose) in the Zona Urbana, which is right behind the Colonia. Here's a map you can print out. Taxi to the jungle from the town square costs $50 pesos. A taxi from nearby hotels is $150 pesos or $12 US each way. Tell driver you want to go to: Jungle Spa - Sandra (important to mention her name) Zona Urbana.
Remember, when you pamper yourself at the Jungle Spa or buy a unique gift at the Jungle Market, you are directly supporting Mayan families! This is a very worthwhile venture and we hope you will support it.
---
Home and Condo Rentals
Think Spring & Summer
If you have not booked a home, condo or apartment in Puerto Morelos yet, you had best get on it!
Prime time in nice places books early! We are getting lots of bookings for 2016 and even 2017 already. April is looking good. Availability is excellent in the summer.
If you have never stayed in a private home or condo, you are in for a wonderful experience. You have all the comforts of home on your vacation. Just bring your clothes and toothbrush! Everything else is included, from towels and linens to hammocks and blenders.
Many ex-pats have built their dream homes here in PM and are willing to rent to you! Renting a place makes you feel more like a local and offers the convenience of cooking for yourself and gives you much more privacy.
Regular Beach Readers know that we feature some of these properties on our website. There are a gazillion property rental sites out there, but our site is unique because these are properties we know, owned and run by people we know and trust.
We like to think we take the guesswork and risk out of renting.
We're always adding new properties to the site and new photos too!
One bedroom or two? Your choice!

This large suite can be rented as a one bedroom, one bath with a fold out couch, or as a two bedroom, two bath. Each bedroom has its own outside door to allow entry or exit without disturbing others.
It has a full kitchen with pots and pans, dishes and cutlery, plus appliances including a coffee maker, toaster and juicer. Drinking water is included as well as cable TV with Blu-ray and high-speed wireless internet. The suite features a huge terrace with table and chairs and comfy hammocks. All this from $750 a week in season, $500 starting in May!
Click here for more information and pictures!

Bright, Breezy One Bedroom

A big one bedroom, two bath with a loft. The loft has a fold out couch and curtains for privacy. The couch in the living room also folds out into a bed.
The bedroom and living room share a HUGE balcony with table and chairs for four and a comfy hammock.
Of course there is a full kitchen with pots and pans, dishes and cutlery, plus appliances including a coffee maker, toaster and juicer. Drinking water is included as well as cable TV with Blu-ray and wireless internet. $750 a week in season, $500 starting in May!

Click here for more information and pictures!

Your place, steps from the best beach in town!

Economical one bedroom one bath on two levels from $399 a week

Comes with a full kitchen, full bath, enormous bedroom and balcony. We've just upgraded the couch, TV and Internet access in this suite.
Click here to download a printable info sheet on the above three apartments
*By the way, it is not too early to start thinking about 2016/17. I have been handling emails every day from people who waited too long to book.*
Check out our new, easier-to-navigate rentals page here.
Owners! Contact us to get your FREE listing on our website.
---
Ads by Google:
---
Restaurant News:
Los Chefs is a new restaurant with an old favourite chef. When we first moved to Puerto Morelos, one of our favourite places to go eat was *anywhere* Carlos Barrera was cooking. He had a restaurant across from the police station, we used to take guests there and they were always amazed by the quality (and quantity) of the food. Now after a few years of selling real estate, he has donned his chef hat once again. Early reviews are excellent. He also makes his own root beer! You can find the restaurant in the Colonia right across the street from the 7-11 by the Pemex. See our map for details.
La Duna is going to move to a new location, so Chef Richard has closed for the summer while he scouts a new spot. Those of us hooked on his grilled chicken and ribs would not let him take too much time off, so he is working out a way we can order those goodies while he is closed. Layla Guesthouse where La Duna was located is going to undertake some extensive renovations in the summer.
Gusanito (or Gusano) de Maguey taco place that was at Hotel Posada Amor, across from Chimichurri has closed. (Before that it was La Terazza) It has now reopened as a gift shop.
I Wanna Pizza is up for sale if you wanna restaurant in Puerto Morelos. They are still serving up pies though.
The restaurant spaces formerly occupied by Salon de Fama and Hola Asia have undergone extensive renovations, but nothing has opened up yet.
Our favourite waiter from way back in the Don Pepe's Ole Restaurant days, Roy is selling tacos out of his van every morning near the Mayan Handicraft Centre. Judging by the ubiquitous line of people you see there, the tacos are good.
We've updated our Puerto Morelos restaurant guide. Read it and print it on our website under the Puerto Morelos section.
There is an enormous building boom going on in the Colonia.
Workers have cleared a large area of land near the
highway, leading to speculation that we are getting another supermarket. Some people say it is a Soriana, a WalMart, a Sam's Club, a Bodega Aurrerá or an adult version of Disneyland. (That last one was mine) Nobody seems to know.
What is for sure is that they are building houses as quickly as they can. Not just houses either, entire apartment complexes are going up. They are affordable; we checked out a basic two bedroom, one bath apartment which worked out to about $22,000 US, with maintenance fees of about $5 US a month.
There are also a couple more districts going in on the other side of the highway.
After I wrote this, our friend Emilio told me that I was not that far off, that Dreamworks Studios wants to build a theme park just south of Puerto Morelos in Maroma. Shut my mouth.
- - - - - - - - - -
I mentioned the long-promised Yucatan-Florida ferry service in our last newsletter. I noted that it was almost time to hear from them again, and here they are; but with a twist. They are now promising ferry service between Florida and Cuba, adding the Yucatan later.
The website promises service to Cuba by the fall of this year, a bit of a lofty goal considering they have no approvals or permits from the US or Cuban governments. Last time I checked them, they did not even have a boat.
I notice the picture of the glorious ship's theatre on their website is actually the land-locked Jackie Gleason/Fillmore Theatre in Miami. The photo of the woman holding up her thumb in front of an impressive ship is a stock photo from Deposit Photos. Bruce Nierenberg, CEO of United Caribbean Lines is also General Manager of Machine Gun America in Orlando, which is an "entertainment" facility that allows adults and children as young as 13 to fire real machine guns. We'll keep watching, but I would not pack my bags just yet. Here is their website.
- - - - - - - - - -
The Rivera Maya Film Festival has been a success in Puerto Morelos and all up and down the coast for a couple of years now. In fact two years ago, the special guest in Puerto Morelos was Patricia Arquette. She has since gone on to win an Oscar. Coincidence? I think not.
| | |
| --- | --- |
| | Patricia Arquette personally introduced Roman Coppola's "A Glimpse Inside the Mind of Charles Swan III" which she starred in with Charlie Sheen and Bill Murray in April of 2013. |
In any case, the Festival will be a little different this year. It will kick off in Playa del Carmen April 23-29. Then it will be staged in Puerto Morelos from May 13-17, in Cancun May 20-24, Isla Mujeres May 28-30 and Tulum from June 4-6. Movies will be screened on the beach at Unico in Puerto Morelos.
- - - - - - - - - -
If you want to plan your life around fishing, the sport fishing tournament calendar has been released. The big events in Puerto Morelos will be the "Cesar Martín Rosado" May 1-3 and the "Don Andres García Lavín", May 8-10. For more information and more tournaments, check out this website. Thanks to Diving Dog's Kathy Loretta for the tip.
We've heard good things about the Colonia Walking Tour. You will get to know our town like a local in just a couple of hours. Wish it was around when we moved here! More info from Ana. Click here for her email address.
Events Calendar: There is a lot going on in Puerto Morelos, and trust me, it is impossible to keep track of all the events. (Didn't we used to be called Muerto Morelos?) The uber-organized Amber from Mayan Riviera Properties has created an "all in one" events calendar for the town, and she has allowed us to share it with you from our Alma Libre website. Have a look at all that is going on, and add your own event!
A little espanol goes a long way in PoMo and locals Marilu and Victor can help you discover the language of Mexico. They will come to you and will work with students at any level. They are currently even trying to teach a couple of dim bulbs who work at the bookstore. Buena suerte to them with that! Please contact us and we will pass on their contact info.
In Memory: Sad to report that well-known local man Roberto Zuniga passed away on March 8 after emergency surgery. A memorial was held in Puerto Morelos in March.
- - - - - - - - - -
Money Matters: We have been advised many times that the cambio (exchange place) on the square is notorious for short changing. Figure out how much you should be getting before you approach the stand and then carefully count your cash in front of the attendant. This has happened too often to be a coincidence, and the error has never been in the customer's favour that we have heard of.
There is a new exchange place at the Chedraui shopping plaza, and the CI Banco Bank has opened there too. They will exchange money as well. Remember, you need your passport to exchange US cash.
Bank Machines: In the past we have had problems in town with bank machines being compromised with "skimmers" being attached to the card reader. We have had fewer problems recently.
Before using a machine, have a good look at it to make sure nothing is unusual. Especially check the card slot and the key pad. Is anything loose? Has anything been added to the machine, like a camera? If it all checks out, cover your PIN carefully. Thieves need the card info and your PIN to compromise your card. The HSBC machine outside the grocery store on the square seems particularly easy to compromise, so I would avoid it.
The Banco Norte machine in the OXXO on the square is good, but may not work with Canadian cards. The Santander machine by the police station has been compromised a few times, but not in recent months. I do not know anything about the bank machine in the other OXXO. It does not seem to be affiliated with a large bank, so I assume its fees are higher.
There are a couple of bank machines in the new Chedraui supermarket. They are near the checkout lanes as far from the entrance as possible. Local Frank advises that the machine on the left has much higher fees than the one on the right. They are both affiliated with banks.
We recommend that, as soon as you get home, you should change your PIN to be extra safe.
You will pay a fee to use the bank machine, likely from your bank and the Mexican bank, but you will get a much better exchange rate from the machine than you would at a cambio house, so that compensates for the fee.
Remember when using the machine to "think in pesos". Don't withdraw $200 pesos thinking you are taking out $200 dollars. There are limits on the machines but you should be able to withdraw $5000 to $6000 pesos at a time.
In an emergency, you can use the other machines by the mall, but the fees will be much higher and the withdrawal limits much lower. One of the machines dispenses US dollars, but I cannot imagine why anyone would use $USD as you will get nailed twice on exchange. There are also some bank-affiliated machines in the Colonia.
What news did I miss? Please drop me a line and let me know.
If you understood anything we wrote in this issue so far, credit is due to our editor Susan Lawson of Calgary. Susan is way over-qualified as an editor for this rag, we're just lucky she loves the town so much. She is responsible for any proper spelling or good grammar that somehow got into this newsletter. She is not responsible for the bad jokes. That is my fault alone.
Current Exchange Rates (At the exchange in Puerto Morelos - April 2015)


USA Dollar 14.30


CDN Dollar 11.10
This Just In! Books & Products at Alma Libre
We love keeping you up to date with our town, but it's the books & gifts that keep us going. We're finding all sorts of new stuff this year; these are a few of our favourites...
Vanilla: Mexico is famous for vanilla, and for good reason. It is very strong and flavourful. In most of the world it is pretty expensive as well, second only to saffron in price, but here in Mexico it is inexpensive and a great and tasty souvenir to bring home.
We have it in natural, gourmet, clear or bean form. Collect them all!

Stick With PM: Just in, these great Puerto Morelos artsy magnets. Several designs ranging from famous Mexican artworks to animals to a nice pair of flip flops.

Made by artists in nearby Cozumel, Mexico.

The Essential Cuisines of Mexico: If there is one authority on Mexican cooking it has to be Diana Kennedy. She first published her classic "The Cuisines of Mexico" more than 25 years ago. Now she has combined her best recipes in one volume, "The Essential Cuisines of Mexico".

The book features some classics as well as some new discoveries. Among these discoveries are the very popular arroz a la tumbada (rice with seafood) from Veracruz, a pico de gallo with peaches from the state of Mexico, and tasty snacks from the cantinas of Mérida.

Re-create the taste of Mexico wherever you are!

Yucatecan Cuisine from Hacienda Teya: Taste the Yucatan! The cuisine of the Yucatan is a fusion of the ancient foods of the indigenous Maya and European culinary tradition.

Now the chef of the elegant Hacienda Teya restaurant in Merida shares his secrets in this book. Recipes include lime soup, poc-chuc and panuchos. Also includes desserts (flan and more) and sauces & relishes.

This book is well-priced and easy to pack.

Mexican Hot Chocolate: A taste of Mexico for those chilly winter nights up north.

Mexican hot chocolate is unique with a strong chocolate flavour and a hint of cinnamon.

These are solid chocolate discs that you crush and add to one cup of hot milk.

Made with all-natural ingredients in the Yucatan by a family that has been making hot chocolate for 57 years.

Available in single or six disc packs. Not available in grocery stores.

The Painted Fish and other Mayan Feasts

This book written by Sonja Lillvik, who founded the Cuzan Guest House in Punta Allen is memoir of life in the land of the Maya, told with food! This is a gorgeous book with more than 100 recipes (perfected in the Mayan Riviera and tested up north) and lots of glossy pictures of food and fun.

Secrets of the Talking Jaguar is the story of Martin Prechtel's physical and spiritual journey from the Southwestern US to the highlands of central America. There he becomes apprenticed to a local shaman who teaches Pretchel much about indigenous Mayan life, and about life in general.

We sold out of these last year in hardcover. This year we were lucky enough to get some soft cover editions. If you missed this book last year, don't miss it this time.

Reader's Review: "Reading this book is a fascinating and up to now unavailable look at a culture that sees itself as an integral, inseparable part of nature and the universe."

Notebooks, camera bags, glasses cases: We are delighted to have these special goods which are handmade in Chaipas, Mexico. So colourful! Very good quality at a very low price.

SPECIAL OFFER for Alma Libre Bookstore Customers

Cenotes of the Riviera Maya is the best book ever written about the cenotes in our area. Beautifully photographed, it could easily be called a coffee table book, but it is also has all the practical information you need to explore the cenotes whether you are swimming or diving.

Many have drooled over this book, but the hefty (500 peso) price tag kept some people away. Now author Steve Gerrard has authorized us to lower the price. At 300 pesos, this book is an incredible bargain and it has been flying off our shelves.

Maps!

If you drive in our area, you need a map! We have excellent and detailed maps of the Yucatan, the country of Mexico, Cancun city, Merida, as well as Belize, Guatemala, Cuba and Central America. We also have souvenir-quality maps you can hang on the wall.

We also carry the famous "Map Chick" Riviera Maya, Puerto Morelos and new Mayan Adventure maps.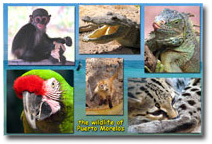 Postcards! We've added a lot of new postcards to our collection, including more underwater shots by "Dive Diva." We have the largest selection of Puerto Morelos postcards, and they are all exclusive to Alma Libre. We know because we make 'em! We also have blank greeting cards to cover any occasion you may wish to celebrate while you are in paradise.
Gift Certificates! A nice gift idea for someone who lives here is an Alma Libre Gift certificate. Available in any amount and can be used for new or used merchandise. We can accept payments from up north via Paypal.
---
Facebook & Twitter
Are you on Facebook? If so, look for our Facebook groups. Friends of Puerto Morelos & Alma Libre Bookstore. Facebook killed our Alma Libre alter ego, but you can still fatten up your friends list by making Don Roberto of the bookstore, your friend.
You can also like Alma Libre Bookstore. We just past 1260 likes, but we are quite needy.
The groups have grown very quickly! Friends of Puerto Morelos is around 3900 members! If you are on Facebook, please join our groups. We'll use them to keep you up to date with town news between newsletters. Check out the group for new photos of Puerto Morelos, taken by fellow visitors!
And if that is not enough for you ... you can also follow us on Twitter. This is our twitter home page. You can follow us throughout the day.
---
Big Bird - The town was struck with "Osprey fever" for a few days as this young family was seen all over town, flying very low and raising quite a ruckus. We were a little nervous they were thinking of leaving their usual happy home, the top of the Telmex tower, for other digs. (Perhaps Carlos Slim raised the rent on them?) At one point they were looking pretty comfortable on our roof. On further review, it looks like they were just teaching their young one the finer points of flying and fishing. They have since lowered their profile a bit.
We've Only Just Begun - Starting off married life in style, a wedding at the church this weekend featured a full mariachi band, two buses full of guests, and this classic Rolls Royce for their getaway. Nice!
Isla on the Rocks - Isla Mujeres makes a great day trip from Puerto Morelos. It is very close, but very different from Puerto Morelos or the rest of the Mayan Riviera. At the north end, Isla has lovely beaches, at the other end it looks like this. A very different landscape than ours. Check out our Daytrips section for more information.
Barking Lot - These laid-back pooches were parked temporarily on Avenue Ninos Heroes as they waited to continue their morning walk. Photo by the multi-talented Bill Cottman.
---
---
Google Ads:
---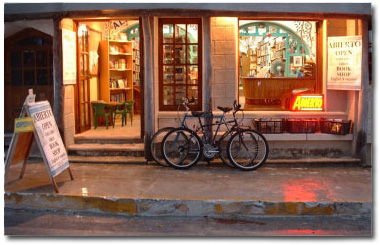 Just a reminder that we are open 6 days a week for the rest of the season. Our hours are 10:00am to 6:00pm Tuesday through Saturday and 12:00-6:00 on Sunday. We are closed Monday. We will close for the season on April 30.
Our hours are always posted on the front page of our website at www.almalibrebooks.com.
We take trades every day, so our selection is constantly changing. If you are planning a trip down, please leave your e-reader at home and plan to buy all your reading material at Alma Libre. We've got you covered!
We look forward to seeing you in Puerto Morelos!
---
Beach Reads is the official newsletter of Alma Libre Bookstore in Puerto Morelos Mexico. It is mailed directly to your mailbox if you request it. Beach Reads is published on a sporadic, seemingly random basis...but it is supposed to be approximately monthly during the season at Puerto Morelos. The season is November until after Easter. We do our best to publish it regularly...but we are easily distracted...
Our website is located at www.almalibrebooks.com Our store hours are always on the home page.
If you do not wish to receive this newsletter, please Click Here To Unsubscribe
This is Year #13, Issue #3. April/May 2015.
To subscribe or make comments or suggestions or advertise your local event, please Contact Us
Retransmission & Redistribution of this newsletter without express written consent is just fine by us! Send this newsletter to a friend! (or get them to sign up for their own copy) If you like the newsletter, please support it by buying a book at Alma Libre Bookstore. Please do not copy our content for your site without our permission.