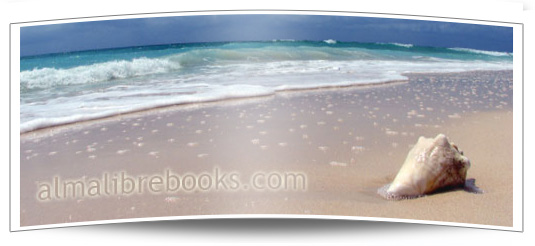 News from Alma Libre Bookstore - Puerto Morelos, Mexico
Year 12 Issue #03 - April / May 2014

Click here to go to our website: www.almalibrebooks.com (Puerto Morelos Information/Rentals/Real Estate & More!)
Click Here for Back Issues of Beach Reads
---
Alma Libre Books & Gifts Closing (for the season) April 30!
New Hours 11:00 - 7:00 (no siesta!) 7 days a week
---
Closing for the season soon!
I say this every year, but wow, did the season ever go quickly this year! It was a busy time for everyone in town I think and I think we can say that more people discovered our town this year and have vowed to return.
Despite our growing popularity, the town remains laid-back and peaceful. It's very rare you need to wait at your favourite restaurant and you can always find a quiet spot on the beach to relax.
In any case, you will find this edition of Beach Reads overflowing with news, gossip, rumours and the usual filler. Please enjoy the issue and forward it to anyone you think needs a little PoMo in their lives.
Our last day at the bookstore for 2014 will be April 30.
Sincere thanks to all of you who supported our little bookstore this year. You may have noticed that we have expanded our offerings somewhat and in the future we will be known as Alma Libre Bookstore & Gifts. We are big fans of Mexican art and cuisine, and we travel the whole country each year, so it just makes sense to incorporate some of our finds into our selection here in Puerto Morelos.
For a few years we have been stocking coffee from different regions of the country, along with a very good vanilla, chocolate, hot sauces and locally-grown honey.
We have also started to carry textile items such as pashminas, hand-made notebooks and camera cases, plus wonderful gift items including Mayan astrological magnets, matchboxes, hand-made bookmarks and more.
We will continue to stock these products next year but you can also look for us to carry locally-made soaps, lotions, bio-degradable sunscreens and bug repellent. We will continue to expand our unique gifts and gourmet food selections as we find items that are original and tailored to our customers' needs.
If there is something you would like to see us stock, please drop us a note. We look forward to expanding our selection so that we'll have something for everyone.
Of course we will still have maps, fish cards, playing cards, reading glasses and BOOKS! We won't quit stocking your favourite books. In fact, as soon as we close the doors for the summer, we'll be driving back to find more loads of literature for the shop. Look for us to open again in November.
Special thanks to Marina, Sandy, Miki and Daphne. We could not do what we do without you!
Remember that while your favourite bookstore will be shuttered, the rest of the town will be ready to welcome you. Crowds are smaller and prices are lower in the spring, summer and fall. Fishing, diving and snorkeling are all better in the summer and you will have the whole beach to yourself. Check out our accommodations and c'mon down.
---
10th Annual "Best of Puerto Morelos" Survey (BoPoMo 2014?)
The results are in! Thanks to all who took the time to answer our annual Best of Puerto Morelos survey.
Each year we ask what you like best about Puerto Morelos. We hope to learn what you like and perhaps discover some new attractions in and around our town.
Our most popular question every year is "What is your favourite restaurant?". The list got a bit of a shake up this time, but your very favourites last year are topped the list again year.
Top 10 (actually 11) restaurants in Puerto Morelos chosen by Beach Reads readers:
1. Al Chimichurri
2. El Nicho
3. Cantina Habanero
4. Merkadito del Mar
5. Spaghettino
6. El Pesquero
7. Los Gauchos
8. Playita
9. El Pirata
10. Tacos.com
11. Fonda Americana Grill
I expanded the list to 11 because Fonda Americana Grill was so close (2 points!) to cracking the top ten. It is definitely the best showing ever by a restaurant in the Colonia.
Al Chimichurri was the clear winner of the restaurant category. Our survey scores your first choice five points, three points for your second pick and one point for third. Al Chimichurri was picked #1 the most times, so had by far the most points. El Nicho held its second place spot for the second straight year and Cantina Habanero kept its number three spot.
After that the list changes a bit. It seems people were voting with fish on their minds this year as Merkadito del Mar, El Pesquero and La Playita all made big gains over last year. Spaghettino, Los Gauchos and Tacos.com remain perennial favourites, and El Pirata, in its big new location returned to the Top 10.
Just bubbling under the Top 11 were John Gray's Kitchen, Terrazza, Pelicanos, Las Palmeras, Al Chile, Sabor de Mexico, I Wanna Pizza, Casa del Pescador and La Casa del Farito.
Congratulations to Eduardo and Anahi of Al Chimichurri and to all our restaurants in town. You are definitely a big, big part of what makes our town special. Please support your local dining establishments!
Here's a look back at all our previous surveys:
| | | | | | | | | | |
| --- | --- | --- | --- | --- | --- | --- | --- | --- | --- |
| 2014 | 2013 | 2012 | 2011 | 2010 | 2009 | 2008 | 2007 | 2006 | 2005 |
| Al Chimichurri | Al Chimichurri | David Lau's (RIP) | David Lau's | Hola Asia (RIP) | Hola Asia | Hola Asia | Hola Asia | Hola Asia | Hola Asia |
| El Nicho | El Nicho | Cantina Habanero | Cantina Habanero | Pelicanos | Bodo's (RIP) | Bodo's | Bodo's | Pelicanos | Pelicanos |
| Cantina Habanero | Cantina Habanero | Al Chimichurri | Pelicanos | David Lau's | Pelicanos | Pelicanos | Pelicanos | Bodo's | Caffe del Puerto |
| Merkadito del Mar | Spaghettino | Spaghettino | L'Oazis | Cantina Habanero/El Pirata (TIE) | David Lau's | El Pirata | El Marlin Bleu | John Gray's Kitchen | John Gray's Kitchen |
| Spaghettino | Los Gauchos | L'Oazis (RIP) | Hola Asia | L'Oazis | El Pirata | David Lau's | John Gray's Kitchen | Caffe del Puerto (RIP) | |
| El Pesquero | Pelicanos | Los Gauchos | Al Chimichurri | Posada Amor | Cantina Habanero | El Marlin Bleu (RIP) | El Pirata | El Pirata | |
| Los Gauchos | Merkadito del Mar | El Pirata | Spaghettino | Las Palmeras/Old Fisherman | John Gray's Kitchen | John Gray's Kitchen | Old Fisherman | El Marlin Bleu | |
| La Playita | T@cos.com | La Playita | La Suegra (RIP) | Terazza | L'Oazis | Dona Triny's | | | |
| El Pirata | Las Palmeras | Terrazza | El Tio | Spaghettino | La Suegra | Los Gauchos | | | |
| T@cos.com | La Terazza/ I Wanna Pizza | T@cos.com | El Pirata | John Gray's Kitchen/Al Chimichurri (tie) | Posada Amor | L'Oazis | | | |
Other Questions:
Favourite place to have a drink was won by Cantina Habanero again, though Unico made a close second.
Cantina Habanero also won the Best Burger category with Fonda Americana Grill coming in second. John Gray's Kitchen and El Pirata also made the list.
PoMo's Best Pizza title was claimed by I Wanna Pizza, though My Little Italy also made a very good showing. Cantina Habanero and Spaghettino made the list too.
We mixed things up a bit this year and asked about some of your favourite foods. We asked what your favourite "local dish" is and we got a wide variety of answers. Some folks mentioned dishes like fried plantains, tamales, fish, fish tacos, chia juice and anything off the bakery truck. Other answers were more specific; Waffles at El Nicho, spaghetti at Luna Llena, pozole at Pirata, steak and empanadas at Al Chimichurri, ceviche at El Pesquero and tres leches cake at Shanghai Pizza.
Other Questions:
We asked what you should not miss while in PoMo. The answers were pretty obvious. The beach, snorkeling, the people of PoMo and the square all have a lot of fans. Some folks also mentioned the Jungle Market and Spa, an Ecab tour and the bookstore.
We asked what you can't find in Puerto Morelos that you wish you could. The list was topped by a larger grocery store and a bank.
Your favourite inexpensive or free things were mostly free. Walking the beach, taking in the sunrise, hanging out in the square or reading a good book on the beach were all mentioned.
Where are you from? Our readers, or at least those that filled in the survey, are mostly from just north of us. 50% are from the US and 35% are from Canada. 7% said they live here in PoMo, 2.5% are from elsewhere in Mexico and 1.2% are from other points on the planet.
Thanks to all that took the time to fill in the survey. We'll take your temperature again in January.
---
Puerto Morelos Art Tour
There are now more than 55 artists living in our little village. Most are tucked away in places you would never think of looking, like the Zona Urbana. But now Nadja Billard has made it possible for you to take a private tour of these artists' studios and homes.


We recently went on the tour and were shocked by the amazing talent of artists living in our town. We have painters, sculptors, wood workers and more. Nadja has organized a tour that lasts 2-3 hours and takes you to 4-5 locations.
In most cases the trip is worth it alone just to see the homes that these talented people have built. We were astounded at the quality of workmanship that is going on right under our noses.
We really enjoyed talking to the artists about their work and their process, plus spending time in the Zona Urbana is a bonus. Even though the Zona is so close to Puerto Morelos, the bird, animal and plant life is completely different than in town. You are bound to spot something special.

Next time you are in town, be sure to contact Nadja at nadjabvd@gmail.com to book a tour. The cost is $35usd for up to 3 people or the driver can save 50% if you use your own vehicle. Many artists have their
works available to purchase, some even have prints starting at very reasonable prices. Don't miss the Art Tour of Puerto Morelos, it is truly a special experience. Note: No tours from the end of April to the end of July.
---
Salsa And Sun
Joanne has started a blog that celebrates the special Mexico that we have discovered living, working and traveling here.
Lots of photos, and the fact that Joanne shares her coveted, deceptively simple salsa recipe is worth the trip alone! Check it out at SalsaAndSun.com
---
Puerto Morelos Interactive Map
We've improved the interactive map on our Alma Libre Bookstore website with the addition of dozens of new places and by making the map easier to use. Select the location you want on the right side and the map will show you where it is. There is also a search box. I've included locations in Cancun too, like Costco and Walmart.
To see the map, go to our Puerto Morelos page. The map is at the bottom of the page.
Here is a smaller version, without all the features.
---
Taxi Rates - Updated for 2014
Taxi rates have changed a little. Basic fare is now 25 pesos, up from 20. Know your taxi fare before you get in the cab. See the new taxi fares on the big sign at the square or see them here. Make sure to agree with the driver on the fare before you go. You don't have to tip, but we always do if they get us to our destination alive and well.
---
Daytrip to Isla
Once you arrive in Puerto Morelos, you may be tempted to never leave until it is time to board your plane. We understand that, but there are some easy daytrips you can make using PoMo as a base.
We recently took a day off on Isla Mujeres. This is an easy daytrip that can be accomplished with or without a car.
Isla Mujeres is a laid-back island off the coast of Cancun. It hosts a lot of tourists, so you will not have the island to yourself.
There is a "town" portion of the island with many shops and restaurants, the bulk of them on a pedestrian walkway called Hidalgo. It will remind you of 5th in Playa del Carmen.
A fun thing to do is rent a golf cart and explore the whole island. I like visiting the turtle sanctuary, where turtles are bred and fed before they are released into the ocean. You will see a lot of turtles from tiny babies to very large adults. 30 pesos to gets you in, another few pesos will get you some turtle food.
Wandering around the town is the main activity. Isla has wooden buildings, which are very rare on the mainland. There is also an opportunity to swim with dolphins or visit Garrafón Natural Reef Park which has good snorkeling and ziplines.
Getting there:
To reach the island you have a few choices.
Catch the ferry at Puerto Juarez. The ferry is modern and fast and the trip takes less than half an hour. You can sit inside or outside on the ferry. Avoid the "rush hour" times for the easiest trip.
Our method to get to Isla from PoMo will take about 90 minutes or less. It sounds very complex, but it is usually a very easy trip. Our last trip in March, we waited almost no time at any of these steps. The collectivo at PoMo was waiting for us, we easily caught a cab to Juarez and we waited less than 10 minutes for a ferry.
1. Catch a taxi (25 pesos) to the PoMo ADO north-bound bus station - or take the local collectivo for 5 pesos.
2. Grab a bus or a collectivo, whichever is there first. Collectivo is 20 peos, the bus is 22. Get off at the last stop, the Cancun bus station. (30 minutes)
3. Leave the bus station, walk a few blocks then catch a taxi to the Puerto Juarez ferry terminal for 35 pesos. You can catch a cab at the station, but it will cost more. (10 minutes)
4. Buy a return ticket for the next ferry. They leave every half hour and are very efficient. Your return ticket is good any time. (78 pesos one way, 146 return) (20 minute trip) Sit up top with the tourists, or down below with the locals.
5. Arrive at Isla Mujeres. Walk through the terminal without stopping, you will be inundated with offers of tours, carts, cars and everything else you can imagine. Keep walking until you work out what you want to do, but get away from the gauntlet.
Other options: You can take a taxi all the way from Puerto Morelos to Puerto Juarez for about 500 pesos. You can take a city bus from the bus station to Juarez, but it really doesn't save that much money and will take a lot more time.
To return, our only misstep was to grab a taxi right at the ferry terminal. Across the street from the terminal is a taxi stand, and I bet they were cheaper than the 70 pesos we paid to get back to the ADO station. (Getting there was just 35 pesos) The whole return trip took us just 80 minutes door to door.
Tips:
-UltraMar ferries run every half hour from 5:00 am until 8:30 pm and then every hour from 9:30 pm to 12:00 am. Grab a schedule to ensure you don't miss the boat.
-Magaña Express also runs ferries at 10 minutes after the hour returning 40 minutes after the hour. They are slightly cheaper, 65 pesos.
-The UltraMar ferry has an open deck on the top and usually some musical entertainment.
-If you are going to rent a golf cart and are planning to stay the day, rent your cart right away from one of the established cart rental companies, not from one of the dudes on the street. The day rate is around 500 pesos, from 9:00 - 5:00 pm. Hourly rates are around 180 pesos an hour.
-Playa Norte (North Beach) is a lovely beach. Keep working your way north to avoid the worst of the crowds.
| | |
| --- | --- |
| | |
| The land is completely different on Isla | This church has the best view ever! |
| | |
| This was the slowest moving cart on Isla. | Taking selfies while driving...not a good idea. |
---
Bookstore Hours - We're open 7 days a week: NEW hours!
We're not quite open 24 hours, but we are open 7 days a week with new hours: 11:00 - 7:00 every day, even Sunday! Come see us before the end of the month!
Special Book Orders
We can order pretty much any book for you. Our next special order will be when we open up again in November. Our prices are low, usually two dollars over the cover charge to cover all the duties, taxes and shipping.
---
Jungle Market / Jungle Spa
The Jungle Market was a big success again.
As usual, Sandra and the girls had a lot of fun with their music and dance show, and visitors were treated to an experience like no other on the Mayan Riviera.
There is plenty to see and do and some unique shopping, but everyone loves the food too.
The Jungle Spa is a real PoMo success story as visitors to Puerto Morelos and the giant nearby all inclusives get a taste of real Mexico while getting the best massage of their life.
The spa is so popular, they have expanded the days that it is open and are requesting that people make appointments either by telephone or email. This will ensure you don't waste any time waiting for your treatment.
To make an appointment, contact Sandra at (998) 208 9148 or Cell 044 998 180-5424 or by email through her website. Appointments are available Tuesday-Saturday and limited appointments may be available on Sunday. The spa is closed on Monday.
Many treatments are available, including a luxurious aloe vera and banana leaf wrap and massage! (Or a chocolate massage...does it get any better??) For men, there is the "Mayan Macho" massage. You've never had a massage like this! They even have special massages for young adults. How about a 60 minute four hand massage? You will leave a different person!
Spa prices are much lower than you will find at your resort and proceeds go directly to the Mayan families that work at the spa and Jungle Market.
It's easy and quick to get out to the jungle by car, taxi or collectivo. It's on Calle Dos (kie-yay dose) in the Zona Urbana, which is right behind the Colonia. Here's a map you can print out. Taxi to the jungle from the town square costs 50 pesos. A taxi from nearby hotels is 150 pesos or $12 US each way. Tell driver you want to go to: Jungle Spa - Sandra (important to mention her name) Zona Urbana.
Remember, when you pamper yourself at the Jungle Spa or buy a unique gift at the Jungle Market, you are directly supporting Mayan families! This is a very worthwhile venture and we hope you will support it.
---
Home and Condo Rentals
Summertime (and the living is easy)
We here in PoMo know that you always think of us when the snow flies back up north...then you stop as soon as the leaves come out and the grass gets green. Just because the weather is pleasant where you are is no reason NOT to come see us in paradise.
In the summer, the crowds are down, accommodation prices are way down, the ocean is warm, calm and has amazing visibility...and the whale sharks come to visit. Sure it is warm, but it does not get oppressively hot like it does in the southern US. If you are too warm, it just means you are working too hard. Take a break and a slow swing in a hammock.

If you have never stayed in a private home or condo, you are in for a wonderful experience. You have all the comforts of home on your vacation. Just bring your clothes and toothbrush! Everything else is included from towels and linens to hammocks and blenders.
Many ex-pats have built their dream homes here in PM and are willing to rent to you! Renting a place makes you feel more like a local and offers the convenience of cooking for yourself and gives you much more privacy.
Regular Beach Readers know that we feature some of these properties on our website. There are a gazillion property rental sites out there, but our site is unique because these are properties we know, owned and run by people we know and trust.
We like to think we take the guesswork and risk out of renting.
We're always adding new properties to the site and new photos too!
One bedroom or two? Your choice!

This large suite can be rented as a one bedroom/one bath with a fold out couch, or as a two bedroom two bath. Each bedroom has its own outside door to allow entry or exit without disturbing others.
It has a full kitchen with pots and pans, dishes and cutlery, plus appliances including a coffee maker, toaster and juicer. Drinking water is included as well as cable TV and high-speed wireless internet. The suite features a huge terrace with table and chairs and comfy hammocks. All this from $750 a week in season, $450 starting in May!
Click here for more information and pictures!

Bright, Breezy One Bedroom

A big one bedroom, two bath with a loft. The loft has a fold out couch and curtains for privacy. The couch in the living room also folds out into a bed.
Off the bedroom and the living room is a HUGE balcony with table and chairs for four and a comfy hammock.
Of course there is a full kitchen with pots and pans, dishes and cutlery, plus appliances including a coffee maker, toaster and juicer. Drinking water is included as well as cable TV and wireless internet. $750 a week in season, $499 starting in May!

Click here for more information and pictures!

Your place, steps from the best beach in town!

Economical one bedroom one bath on two levels from $399 a week

Comes with a full kitchen, full bath, enormous bedroom and balcony
Click here to download a printable info sheet on the above three apartments
*By the way, it is not too early to start thinking about 2014. I have been handling emails every day from people who waited too long to book February this year!*
Check out our new, easier to navigate rentals page here.
Owners! Contact us to get your FREE listing on our website.
---
Ads by Google:
---
Restaurant News:
La Sirena restaurant, which was just opening in our last issue, is now fully open. The menu is Mediterranean with Greek salads, gyros, souvlaki and more. They are also hosting a lot of music nights and have a very good happy hour from 2-5pm weekdays. 2 beers for 30 pesos? Pour favor!
There are actually a whole lot of good happy hours around town right now. El Sabor de Mexico, Cantina Habanero and Ojo de Agua just to mention a few.
Sad to report a couple of closings. Chianti Allegro closed at the end of March. A good place run by some nice people.
Other Openings /Closings:
The other closing is the gallery La Tuna Roja, which just opened in the fall on Ninos Heroes.
A big opening on Ninos Heroes recently. Chulim produce stores, which has two locations in the Colonia, finally opened a location on the port side. The store stocks fresh fruit and vegetables and a few other grocery items and they squeeze juice right on the premises. You'll find it at the far south end of Ninos Heroes, across from the tejones park. If you can't find it, it's on our map.
A new mini super opened where Piccolina's restaurant was. It has mostly what you expect in a mini super, plus some sandals and souvenir items.
It appears that PoMo is getting closer to getting a real supermarket. We've seen detailed plans of a proposed Chedraui supermarket on the highway just north of the bridge on the southbound lateral. You can see the proposal (all 174 pages of it) for yourself on the Friends of Puerto Morelos Facebook page under "files". According to local media, the store is just waiting for local approvals.
A new vivero has opened up by the car wash at top of the road to the highway. I assume it is the same folks who were made homeless by the new property development on the highway, but I have no proof of that. A vivero is a place to buy plants.
Update: Help Needed - Many of you know Mauricio, the hammock maker, from the Mayan Handicraft centre. Mauricio's 16-year-old son Oscar suddenly needed to be rushed to hospital with kidney failure. He needs dialysis to keep him alive, but ultimately needs a transplant. They are now trying to find a donor match for him, beginning with Mauricio. While the family was still reeling from this, it was discovered that 14 year old Jeremy has the same disease.
Some progress has been made. Both sons are now able to do dialysis at home and they will be testing Mauricio in early May to see if he can be a donor.
All this is very expensive and beyond the means of the family. They are asking for financial support. Donations can be made to Martin (Mauricio's brother) at the Mayan Handicraft centre or you may continue to support the family business by buying a hammock. If you have a PayPal account, you can send money directly to Mauricio's account by using this email address: mauricio.hamacas@gmail.com. If you use your PayPal balance, the fee is negligible. There is a Facebook page with more information here.
The Annual Puerto Morelos Music Festival was a big success by all accounts. After a soggy beginning, the festival rocked the town with a huge number of artists playing a variety of musical styles. We can't wait for next year! Here is their offical website.
The third annual Riviera Maya Film Festival was a success as well. Films were screened nighly on the beach at Unico and other locations in the Riviera Maya for a week. It all started with the wild "Dom Hemmingway" featuring Jude Law in a very different role for him. That evening there was a big party at Unico featuring food creations from Marcos Walfisch of "I Wanna Pizza" fame. He had some of the most creative finger foods I have ever seen. Party-goers were practically mugging the waiters to get the next round. This guy is going to be a star! We are looking forward to next year's festival. Keep an eye on their website.
Yet another festival to tell you about, the first ever Food, Wine and Music Festival took over the square at the end of March. Local restaurants were invited to share their specialties with the town, along with some fine Mexican wines. A small admission price allowed you to nibble your way through the best places our town has to offer. The music part of the equation was provided by some very good bands who played for free to the delight of the crowd. Looking forward to seeing this again next year.
The Easter Bunny made an appearance in Puerto Morelos on Easter weekend. PoMo's kids were delighted to search for Easter eggs all over the town square, under the watchful eye of the big bunny himself. The event was put together by Frank and Anna and a whole bunch of volunteers. In past years the Jungle Market has hosted an Easter Egg hunt, but it was too late in the season this year. The event was put together by Frank & Anna and a whole basket of volunteers.
There is a lot going on in Puerto Morelos, and trust me, it is impossible to keep track of all the events. (Didn't we used to be called Muerto Morelos?) The uber-organized Amber from Mayan Riviera Properties has created an "all in one" events calendar for the town, and she has allowed us to share it with you from our Alma Libre website. Have a look at all that is going on, and add your own event!

A little espanol goes a long way in PoMo and locals Marilu and Victor can help you discover the language of Mexico. They will come to you and will work with students at any level. They are currently even trying to teach a couple of dim bulbs that work at the bookstore. Buena suerte to them with that! Please contact us and we will pass on their contact info.
Bank Machines: During the summer and again in the season, some of the bank machines were compromised and customers got their cards skimmed.
Before using a machine, have a good look at it to make sure nothing is unusual. Especially check the card slot and the key pad. Is anything loose? Has anything been added to the machine, like a camera? If it all checks out, cover your PIN carefully. Thieves need the card info and your PIN to compromise your card. The HSBC machine outside the grocery store seems particularly easy to compromise, so try the other machines first.
The Banco Norte machine in the OXXO on the square is good, but may not work with Canadian cards. The Santander machine by the police station has been compromised a few times.
If you are particularly concerned about your card being skimmed, there is a new private machine in the Aquanauts tour boutique on the square just east of the bookstore. The fee will be a little higher, but the machine is carefully watched by staff.
As soon as you get home, change your PIN.
You will get a much better exchange rate from the machine than you would at a cambio house, so that compensates for the fee. Remember when using the machine to "think in pesos". Don't withdraw $200 pesos thinking you are taking out $200 dollars. There are limits on the machines but you should be able to withdraw $5000 to $6000 pesos at a time.
In an emergency, you can use the other machines by the mall, but the fees will be much higher and the withdrawal limits much lower. One of the machines dispenses US dollars, but I cannot imagine why anyone would use $USD as you will get nailed twice on exchange. There are also some bank affiliated machines in the Colonia, at the 7-11 and Super Willy's Supermarket.
Bikes: We have a new bike shop in town. Hippixi bike shop opened at the south end of Ninos Heroes. They sell, service, and rent bikes. We had a bike repaired there and found them to be conscientious and fair.
There are several other places to rent a bike including the Puerto Morelos Travel Agency around the corner from Cafe de Amancia, Diverspoint next to Posada El Moro & Cantina Habanero is renting bikes from their new store just north of the restaurant. Puerto Morelos Green Bikes is renting stylish "Panama Jack" bikes. (Ask to see the hidden bottle opener) Find them on Facebook or call 998-734-8132 to book your bike.
There is also a good looking bike shop near the square in the Colonia.
Ask any of these bike places about weekly rates. Riding a bike is a great way to see town, just be careful of the taxis, buses and the many potholes. We advise riding OR looking around, never both at once. I took the photo above on a short bike ride south of town.
Road Warriors: The road between PoMo and Dreams resort has finally been repaired. Roads remain in generally poor shape all over town and are especially bad in the Colonia, mostly thanks to excessive summer rains and poor drainage.
Sad to report that Dave Mulder passed away April 15. He had just turned 71. Dave owns Casa Mulder on Ninos Heroes.
What news did I miss? Please drop me a line.
If you understood anything we wrote in this issue so far, credit is due to our editor Susan Lawson of Calgary. Susan is way over-qualified as an editor for this rag, we're just lucky she loves the town so much. She is responsible for any proper spelling or good grammar that somehow got into this newsletter. She is not responsible for the bad jokes. That is my fault alone.
Current Exchange Rates (At the exchange in Puerto Morelos - April 22,2014)


USA Dollar 12.10


CDN Dollar 10.50
This Just In! Books & Products at Alma Libre
We love keeping you up to date with our town, but it's the books that keep us going. We're finding all sorts of new stuff this year; these are a few of our favourites...
Secrets In Stone: This book takes young readers into the world of the ancient Maya code and explains how it was deciphered and what it all means.

Not only is this the first book on the subject for children, this book also comes with its very own UV-raised "Glyphmaster," which allows budding archaeologists to create glyph Brubbings, just like real archaeologists.

Mexico - Michael Coe: Michael D. Coe's Mexico has long been recognized as the most readable and authoritative introduction to the region's ancient civilizations. This book covers the entire history of Mexico before the Spanish arrived, from the Olmecs to the Aztecs.

This is a fascinating read with lots of photos and illustrations. We have this book at a special low price.

Coe also wrote The Maya and Breaking the Maya Code which we also have in stock at the bookstore.

The Painted Fish and other Mayan Feasts

This book written by Sonja Lillvik, who founded the Cuzan Guest House in Punta Allen is memoir of life in the land of the Maya told with food! This is a gorgeous book with more than 100 recipes (perfected in the Mayan Riviera and tested up north) and lots of glossy pictures of food and fun.

Secrets of the Talking Jaguar is the story of Martin Prechtel's physical and spiritual journey from the Southwestern US to the highlands of central America. There he becomes apprenticed to a local shaman who teaches Pretchel much about indigenous Mayan life, and about life in general.

We sold out of these last year in hardcover. This year we were lucky enough to get some soft cover editions. If you missed this book last year, don't miss it this time.

Reader's Review: "Reading this book is a fascinating and up to now unavailable look at a culture that sees itself as an integral, unseparable part of nature and the universe."

Crocodile Goes Out

A wonderful way to introduce children to the facinating world of the Maya. This book is tri-lingual, with English, Spanish and Maya glyphs.

The book tells the story of the Maya calendar.

SPECIAL OFFER for Alma Libre Bookstore Customers

Cenotes of the Riviera Maya is the best book ever written about the cenotes in our area. Beautifully photographed, it could easily be called a coffee table book, but it is also has all the practical information you need to explore the cenotes whether you are swimming or diving. Many have drooled over this book, but the hefty (500 peso) price tag kept some people away. Now author Steve Gerrard has authorized us to lower the price. At 300 pesos, this book is an incredible bargain and it has been flying off our shelves.

Maps!

If you drive in our area, you need a map! We have excellent and detailed maps of the Yucatan, the country of Mexico, Cancun city, Merida as well as Belize, Guatemala, Cuba and Central America. We also have souvenir-quality maps you can hang on the wall.

We also carry the famous "Map Chick" Riviera Maya, Puerto Morelos and new Mayan Adventure maps.

Gourmet Sea Salt: Made in central Mexico, these gourmet sea salts are available in four very Mexican flavours: Cilantro, Vanilla, Chipotle and Habanero.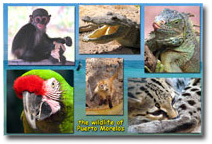 Postcards! We've added a lot of new postcards to our collection, including more underwater shots by "Dive Diva." We have the largest selection of Puerto Morelos postcards, and they are all exclusive to Alma Libre. We know because we make 'em! We also have blank greeting cards to cover any occasion you may wish to celebrate while you are in paradise.
Gift Certificates! A nice gift idea for someone who lives here is an Alma Libre Gift certificate. Available in any amount and can be used for new or used merchandise. We can accept payments from up north via Paypal.
---
Facebook & Twitter
Are you on Facebook? If so, look for our Facebook groups. Friends of Puerto Morelos &Alma Libre Bookstore. You can also buck up your friends list by making Alma Libre Bookstore your friend.
You can also like Alma Libre Bookstore.
The groups have grown very quickly! Friends of Puerto Morelos just passed 2500 members! If you are on Facebook, please join our groups. We'll use them to keep you up to date with town news between newsletters. Check out the group for new photos of Puerto Morelos, taken by fellow visitors!
And if that is not enough for you...you can also follow us on Twitter. This is our twitter home page. You can follow us throughout the day.
---
Beach View - This was the beach on the Saturday of the Semana Santa weekend. More crowded than usual, but still lots of space for your beach blanket. It was much harder to park your car on the street than your butt on the beach!
Money Shot - The water was a heavenly colour on a recent Sunday afternoon when I took this shot.
Beauty Shot - Lived here 12 years and I am still stunned by the beauty of our town. This "straight out of paradise" pic was taken just south of town.
Morning has broken - Early risers in PoMo are rewarded by spectacular sunrises most mornings...and the sunsets are not bad either!
---
Google Ads:
---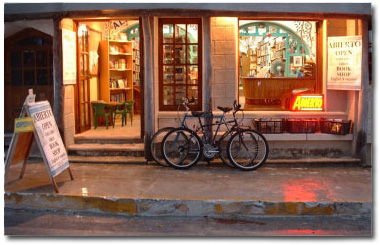 Just a reminder that we are open 7 days a week for the season. Our hours are 11:00am to 7:00pm EVERY DAY of the week. (Including Sunday)
Our hours are always posted on the front page of our website at www.almalibrebooks.com.
We take trades every day, so our selection is constantly changing. If you are planning a trip down, please leave your e-reader at home and plan to buy all your reading material at Alma Libre. We've got you covered!
We look forward to seeing you in Puerto Morelos!
---
Beach Reads is the official newsletter of Alma Libre Bookstore in Puerto Morelos Mexico. It is mailed directly to your mailbox if you request it. Beach Reads is published on a sporadic, seemingly random basis...but it is supposed to be approximately monthly during the season at Puerto Morelos. The season is November until after Easter. We do our best to publish it regularly...but we are easily distracted...
Our website is located at www.almalibrebooks.com Our store hours are always on the home page.
If you do not wish to receive this newsletter, please Click Here To Unsubscribe
This is Year #12, Issue #3. April / May 2014.
To subscribe or make comments or suggestions or advertise your local event, please Contact Us
Retransmission & Redistribution of this newsletter without express written consent is just fine by us! Send this newsletter to a friend! (or get them to sign up for their own copy) If you like the newsletter, please support it by buying a book at Alma Libre Bookstore.