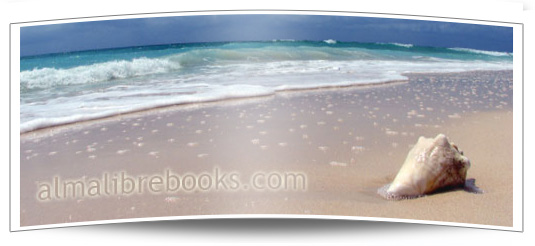 News from Alma Libre Bookstore - Puerto Morelos, Mexico
Year 12 Issue #02 - February 2014

Click here to go to our website: www.almalibrebooks.com (Puerto Morelos Information/Rentals/Real Estate & More!)
Click Here for Back Issues of Beach Reads
---
Alma Libre Books & Gifts Open!
New Hours 11:00 - 7:00 (no siesta!) 7 days a week
---
Hola 2014!
Let us be the last to wish you a Happy New Year. Yes, the newsletter is late again, but we hope you will find the issue worth the wait.
We found quite a bit of news in your town, and this issue marks the return of our annual "Best of Puerto Morelos" survey. This is your chance to share what you love most about our special town.
For the last 12 years we've been writing this newsletter, passing on the news from our town with accuracy, reasonably good spelling and a little humour. We do pretty much everything we can to promote our little town and we encourage you to send this newsletter, and our informative website, AlmaLibreBooks.com to others.
Of course we enjoy keeping you up to date with the newsletter and our frequent Facebook and Twitter updates, but it is the store that keeps the lights on. Please support all this by supporting the bookstore. Even if you get your literature electronically these days, we have lots of other products and gifts in the shop. Check us out!
New at Alma Libre Bookstore & Gifts
We continue to expand our offerings beyond books at Alma Libre bringing you Mexican art and cuisine from all over the country. We are big fans of all things Mexican, and we travel the whole country each year, so it just makes sense to incorporate some of our finds into our selection here in Puerto Morelos.
We just found a supplier for reef-friendly sunscreen and organic mosquito repellent, something we have been looking for a long time. We found a company in Merida that only makes organic products in small, custom batches. It took a long time, but their latest batch was all for us!
We sell the sunscreen and mosquito repellent individually, or you can get the Beach Kit or Spa Kit.
The Spa Kit contains; Aloe Vera after-sun gel, foot lotion, bath salts and natural massage oil, all in a lovely sisal bag. The bottles are airline carry-on size.
The Beach Kit has Natural mosquito repellent, eco-friendly sunscreen (SPF30), and aloe vera after-sun care, all contained in a real sisal bag.
We also have textile items such as pashminas, hand-made notebooks and camera cases, plus wonderful gift items including Day of the Dead figurines and dioramas, Mayan Astrological magnets, matchboxes, hand-made bookmarks, bags and more.
From time to time we have local paintings and frame-able photographs of our area.
We will continue to expand our unique gifts and gourmet food selections as we find items that are unusual and tailored to your needs.
If there is something you would like to see us stock, please drop us a note. We look forward to expanding our selection so that we'll have something for everyone.
Of course we will still have maps, fish cards, playing cards, reading glasses and BOOKS! We won't quit stocking your favourite books. As usual we have boxes and boxes of new and used books that we are shelving every day.
---
10th Annual "Best of Puerto Morelos" Survey 2014
Time again for our annual Best of Puerto Morelos survey, where we ask you what you like best about Puerto Morelos. What are your favourite places to eat, hang out or have fun?
The purpose of the survey is to share what your fellow newsletter readers love most about Puerto Morelos. Perhaps you have been missing something, and you can use the survey results to plan your next trip. The most popular question we ask is for your favourite restaurant. We're expecting this one to be extra popular this year. For a reminder of all the restaurants in Puerto Morelos, see our complete restaurant list. (Link opens in a new window)
Survey closes February 28, 2014. One entry per person. Stuffing the ballot box will not be permitted!
Our survey is easier to fill out this year; it appears in a separate box below. Use the scroll bar on the right to see all the questions. Click finished when you are done, then you can go on with the newsletter...we'll wait for you.
Mozilla Firefox users, your browser may not allow you to see the scroll bar, if so please click here and your browser will take you to the survey full screen.
---
More Daytrips from PoMo
You may get to Puerto Morelos and just want to stay in town until it is time to get back on the plane. We understand and support that idea, but there are a lot of amazing things to do close to town.
Recently we made a quick weekend getaway to Valladolid and points north of there.
Using the Ruta de Cenotes shortcut to Leona Vicario, the trip has never been easier by car. Taking this route is quick, direct and avoids all those nasty charges on the overpriced toll road. We have maps of the Peninsula in the bookstore.
Valladolid
itself is a gem. It's a colonial city with beautiful architecture and an incredible and important history. The Caste War began here in 1847, and early seeds of the 1910 Mexican Revolution sprouted here.
Today it is a busy, but very accessible town. Most of the attractions are an easy walk from the town square, including the impressive San Bernadino Convent, the fun San Roque Museum, the stoic Cathedral of Valladolid and the Government Palace, which features large dramatic murals depicting the history of the city.
One of the newest attractions is Casa del los Venados which features the most impressive collection of Mexican folk art we have ever seen, all in a uniquely restored, privately owned colonial mansion. We have travelled all over Mexico and know that each region has its own distinct art. Often two towns next door to each other will have completely different art, so a chance to see such a fine selection in one place is rare. Admission is by donation (of at least 60 pesos) making it a bargain too. Just to see the impressive casa is worth the price of admission alone. The house is just off the square. Proceeds from your admission, and special events held throughout the year go to support medical personnel in
Valladolid.
While in town, check out restaurant
Conato 1910
which is near the square on Calle 40 at number 226. The building was once a meeting spot for revolutionaries in the early 20th century. Now it is an excellent restaurant with a very wide and varied menu. Highly recommended.
From Valladolid it is an easy trip to Ek Balam, one of the most impressive Mayan ruins in our area. Highlights are the intricate stucco frescos that have been lovingly restored, but you will also love the view from the top of the pyramid, which is one of the few you can still climb to the top of.
You can stay right at the town of Ek Balam at the Genesis Retreat. Genesis has been created as a place to relax and reflect, but also to experience life in a tiny Mayan pueblo. Retreat owner Lee Christie has done an amazing job creating this beautiful and comfortable place to stay in harmony with the local community and nature. The gardens are stunning!
From Ek Balam, you can drive straight north – through the town of Tizimin, which has a restaurant that dubiously boasts it has "the best food in the world" – to Rio Lagartos. This rustic town has many brightly painted wooden buildings and makes a great base to explore the 150,000 acre nature reserve on its doorstep.
We took two boat tours. The first one in the dark of night was a crocodile tour. Our experienced guide and captain guided our boat through the mangrove searching for crocs! It is quite a thrill to see these prehistoric looking reptiles in their natural environment in the dark. As you see by the picture, the guides really get into their work! It is a great trip for star gazing too as it is really, really dark.
The next morning the same guide took us through the reserve again to bird watch. We saw pelicans, herons, egrets, spoonbills, frigates, cormorants, parrots, woodpeckers, hawks and those fabulous flamingos.
We actually stayed in nearby San Filipe, a very, very peaceful community on the water. Makes PoMo look like Manhattan!
You can do these tours on your own, or hook up with Eric of Ecab Explorer who has designed tours of the area.
We have other daytrip ideas on our webpage here.
---
Puerto Morelos Interactive Map
We've improved the interactive map on our Alma Libre Bookstore website with the addition of dozens of new places and by making the map easier to use. Select the location you want on the right side and the map will show you where it is. There is also a search box. I've included locations in Cancun too, like Costco and Walmart.
To see the map, go to our Puerto Morelos page. The map is at the bottom of the page.
Here is a smaller version, without all the features.
---
Taxi Rates - Updated for 2014
Taxi rates have changed a little. Basic fare is now 25 pesos, up from 20. Know your taxi fare before you get in the cab. See the new taxi fares on the big sign at the square or see them here. Make sure to agree with the driver on the fare before you go. You don't have to tip, but we always do if they get us to our destination alive and well.
---
New Products
After a whole lot of research we decided to carry some special gourmet and food items in the store. You'll find Mexican-grown organic coffee, vanilla, honey, gourmet products and a selection of locally-made hot sauces and chili-lime seasoning.
Our latest find comes from nearby Cozumel where a family has been making chocolate in the Mayan tradition since 2007. They make delicious natural chocolate bars, available in three flavours including dark, chili and coconut. They now also make a Mayan honey infused with chocolate. Not only delicious, but a superfood with all the benefits of honey and real chocolate. They also make a very Mexican honey and vanilla bean flavour. All delicious, all local.
We now also stock the popular Chimay hot sauces. Chimay makes the hottest habanero known to taste buds, and they also make flavourful sauces for more sensitive palates. Folks north of the border clamour for this stuff. (We have people begging us by email to ship this sauce to them!) Chimay Salsa Habanera comes in four flavours, colors and levels of spiciness to suit your palate: Negra la menos picante (black, the least spicy), verde la poco picante (green, a little spicy), roja la muy picante (red, very spicy), amarilla la extra picante (yellow, extra spicy).


Our most popular sauce is a mini four-pack in a woven basket for just 85 pesos. It makes a perfect gift for the food lover in your life, or a great souvenir of your Mexican vacation. (You can re-create that Mexican flavour at home.)
We have now found a new supplier for gourmet vanilla products. We will be selling a higher-end gourmet vanilla, a high-quality regular vanilla and real vanilla beans. All are grown and made in Mexico.
Yucatan honey is some of the sweetest you will ever taste and we get ours from a small operation in nearby Valladolid.
The coffee we are stocking is Mexican grown and high in quality. We have rich organic coffee, smooth Oaxaca coffee, and robust Chiapas coffee.
---
Bookstore Hours - We're open 7 days a week: NEW hours!
We're not quite open 24 hours, but we are open 7 days a week with new hours: 11:00 - 7:00 every day, even Sunday! Come see us!
Special Book Orders
We have finally found a supplier who can do the impossible and at a surprisingly low cost: get books to us reliably in Puerto Morelos. We can now order most any title and receive it at the bookstore in about a week.
We are ordering new books for the store about once a month and we can bring in books for you too! Depending on the number of books you order, shipping and duty will be between $2 and $3 US per book. There is no sales tax or any other fees. This is much quicker and cheaper than any other source we have found, including Amazon.
Our next order will be in March.
To order, just contact us to make sure we are able to get the book you want.
---
Jungle Market / Jungle Spa
The Jungle Market had a difficult start this season, but it is now in full swing.
Recent flooding in the market forced them to postpone the opening into January.
As usual, Sandra and the girls have some new surprises and a whole new music and dance show. One of the biggest attractions of the Jungle Market experience is the fresh food and unique shopping offered only at the Jungle Market. The Market will continue to run for the season.
The Jungle Spa is going strong! In fact it has been so popular, they have expanded the days that it is open and are requesting that people make appointments either by telephone or email. This will ensure you don't waste any time waiting for your treatment.
To make an appointment, contact Sandra at (998) 208 9148 or Cell 044 998 180-5424 or by email through her website. Appointments are available Tuesday-Saturday and limited appointments may be available on Sunday. The spa is closed on Monday.
Many treatments are available, including a luxurious aloe vera and banana leaf wrap and massage! (Or a chocolate massage...does it get any better??) For men, there is the "Mayan Macho" massage. You've never had a massage like this! They even have special massages for young adults. How about a 60 minute four hand massage? You will leave a different person!
Spa prices are much lower than you will find at your resort and proceeds go directly to the Mayan families that work at the spa and Jungle Market.
It's easy and quick to get out to the jungle by car, taxi or collectivo. It's on Calle Dos (kie-yay dose) in the Zona Urbana, which is right behind the Colonia. Here's a map you can print out. Taxi to the jungle from the town square costs 50 pesos. A taxi from nearby hotels is 150 pesos or $12 US each way. Tell driver you want to go to: Jungle Spa - Sandra (important to mention her name) Zona Urbana.
Remember, when you pamper yourself at the Jungle Spa or buy a unique gift at the Jungle Market, you are directly supporting Mayan families! This is a very worthwhile venture and we hope you will support it.
---
Home and Condo Rentals
Give yourself a Spring Break!
The best way to handle winter is to run away, and we've got your hideout...a house, condo or apartment in PoMo.
If you have never stayed in a private home or condo, you are in for a wonderful experience. You have all the comforts of home on your vacation. Just bring your clothes and toothbrush! Everything else is included from towels and linens to hammocks and blenders.
Many ex-pats have built their dream homes here in PM and are willing to rent to you! Renting a place makes you feel more like a local and offers the convenience of cooking for yourself and gives you much more privacy.
Regular Beach Readers know that we feature some of these properties on our website. There are a gazillion property rental sites out there, but our site is unique because these are properties we know, owned and run by people we know and trust.
We like to think we take the guesswork and risk out of renting.
We're always adding new properties to the site and new photos too!
One bedroom or two? Your choice!

This large suite can be rented as a one bedroom/one bath with a fold out couch, or as a two bedroom two bath. Each bedroom has its own outside door to allow entry or exit without disturbing others.
It has a full kitchen with pots and pans, dishes and cutlery, plus appliances including a coffee maker, toaster and juicer. Drinking water is included as well as cable TV and high-speed wireless internet. The suite features a huge terrace with table and chairs and comfy hammocks. All this from $750 a week in season, $450 starting in May!
Click here for more information and pictures!

Bright, Breezy One Bedroom

A big one bedroom, two bath with a loft. The loft has a fold out couch and curtains for privacy. The couch in the living room also folds out into a bed.
Off the bedroom and the living room is a HUGE balcony with table and chairs for four and a comfy hammock.
Of course there is a full kitchen with pots and pans, dishes and cutlery, plus appliances including a coffee maker, toaster and juicer. Drinking water is included as well as cable TV and wireless internet. $750 a week in season, $499 starting in May!

Click here for more information and pictures!

Your place, steps from the best beach in town!

Economical one bedroom one bath on two levels from $399 a week

Comes with a full kitchen, full bath, enormous bedroom and balcony
Click here to download a printable info sheet on the above three apartments
*By the way, it is not too early to start thinking about 2014. I have been handling emails every day from people who waited too long to book February this year!*
Check out our new, easier to navigate rentals page here.
Owners! Contact us to get your FREE listing on our website.
---
Ads by Google:
---
Restaurant News:
A new restaurant is opening above Casa Martin grocery store. It will feature Greek & Mediterranean cuisine! The name will be La Sirena. Yiamas! (That apparently is "cheers" in Greek) Update: This restaurant is now open with a limited menu and drinks. Early reviews are very good. They have had live music already too!
A new restaurant has sprung up again in Hotel Posada el Moro. They seem to open one each season, I have not heard any reviews yet.
Update: Unico has always been a favourite for the beach-going crowd. It features a lively bar with swings and good beach food. New to me is that at night the party moves off the beach closer to the road where they have a gourmet grill going. The menu was designed by Marco from I Wanna Pizza and catering fame.
Lots of music around town again. Cantina Habanero, El Sabor de Mexico, Los Gauchos, Posada Amor and Taninos, among others have all hosted music so far this year.
Was able to confirm that Fonda Americana in the Colonia lets you bring your own wine for an 85 peso corkage charge. Not a bad deal as their entrees are well priced.
Update: Also in the Colonia and not new is Ole, which is run by our old friend Manuel who used to manage Don Pepe's Ole (now Salon de Fama). Ole features good service, tasty & very inexpensive food and best of all, cold draft beer in large mugs.
Update: Help Needed - Many of you know Mauricio, the hammock maker, from the Mayan Handicraft centre. Mauricio's 16-year-old son Oscar is in the hospital with kidney failure. He needs dialysis everyday to keep him alive, but ultimately needs a transplant. They are now trying to find a donor match for him, beginning with Mauricio. All this is very expensive and beyond the means of the family. They are asking for financial support. Donations can be made to Martin (Mauricio's brother) at the Mayan Handicraft centre or you may continue to support the family business by buying a hammock. People are working on getting away for those of you stuck up north to make donations too.
Update: Flamboyanes is a mini-super with more. They have other necessary kitchen essentials and owner Ricardo promises to have better-priced wine than is currently available in PoMo. Find it just north of El Pirata restaurant.
Update: It is so tiny I almost missed it, but we have a little juice stand right on the main road north of the square. It appears to be called "I Love Juicy" and promises healthy juices and bad puns.
Culture:
The Annual Puerto Morelos Music Festival has announced its dates for 2014. It will be later this year, February 27/28 and March 1. Alma Libre Bookstore is proud to be a sponsor once again. This year's festival will be bigger than ever, with two stages. Here is their offical website.
The third annual Riviera Maya Film Festival is set to run in in Puerto Morelos, Playa del Carmen, Cancun and Tulum from March 9-15. Alma Libre was involved in the promotion of the event last year, which by all accounts was very successful and well-run. This year, 82 films from 18 countries have been submitted to the Co-production Forum and 71 films from 20 countries to the Work-in-Progress section. Films will be screened again on the beach at Unico. For more information, please see the festival's website.
A big swimming meet will be held in Puerto Morelos on February 22. Ruta del Arrecife is a big event with hundreds of participants of all ages swimming distances as long as 10km. You can find more info on their Facebook page. You can cheer them on, or participate. Here's a video from 2012 to get you in the mood.
I totally missed it at the time, but apparently Miss Universe was in Puerto Morelos in January. Gabriela Isler from Venezuela was chairing an economic summit on the future of the Americas. Ha ha, just kidding, she was doing a swimsuit shoot. Local media reports (yes, the newspapers covered the visit) say that she "loved" Puerto Morelos. I realize there is little news value in this story, but it allows me to publish the accompanying photo.
Cirque du Soleil has announced that they are coming to the Riviera Maya, very close to Puerto Morelos. A new 600 seat theatre is being built for them at the Mayan Palace, just down the road from us. Performances are supposed to begin in November.
Free English Lessons: If you are reading this, you do not need this information, but maybe you know someone who does. Town visitors Steve & Jacqueline (Steve is a former University professor) are offering free English classes for adults at the Library each Friday at 5:00 until the end of March. Kids can come an hour earlier at 4:00. What a nice gift for the community! (Updated: Times changed to 4/5PM)

For those who need to learn Spanish, we have a couple of options for you. Our friends Shawn and Suzanne from Puerto Adventuras are teaching "Learn Spanish in Three Days" classes. They promise a fun and easy three days using frequency modulation rapid learning techniques. This course is based on the teachings of Dr. Georgi Lozanov and is not about memorization. They have staged classes in Mexico and Canada and have many happy students. Next classes are March 20, 21 and 22 in Puerto Aventuras. For more information, check out their website: spanishin3days.weebly.com
Another out-of-town option is the Na'atik Language and Cultural Institute in Felipe Carrillo Puerto. They offer classes in Maya or Spanish. You will live with a local family and experience the culture of our area as well as the language. By the way, Na'atik means, "We're understanding each other". Check out their website to understand more.


Here in Puerto Morelos, Marilu and Victor are teaching Spanish. They will come to you and will work with students at any level. They are currently even trying to teach a couple of dim bulbs that work at the bookstore. Buena suerte to them with that! Please contact us and we will pass on their contact info.
Of course we have lots of books to help you learn Spanish in the bookstore.
Other News:
As you walk through town we hope you will notice the lack of graffiti. A squad of local visitor and resident volunteers, armed with buckets of white paint supplied by the municipal government recently converged on the town and cleaned house. A blitz in the Colonia followed a few days later. Gracias to all who painted the walls, their hands, pants etc.
For the Birds, and those that love them: A guided bird walk will take place Friday February 21 at 7:00 AM on the NW corner of the federal lot on Av Ninos Heroes. Your 20 peso donation will be given to the Casa Cultura.
Cantina Habanero has opened a small storefront just north of their restaurant. They rent bikes out of this new space along and selling unique PoMo souvenirs.
Google Streetview sent their car through town last fall, and the updated pictures they took are now online. Take a virtual spin through your favourite town, click this link and you can start your journey at the bookstore.
Looks like we are stuck with the fideicomiso for now. The federal lower house approved a plan last year to eliminate the need to own property in a trust that is close to the ocean or the border and we all got excited. Last week the upper house voted down the proposal, so the fideicomiso (and its associated fees) stays put. To learn more about trusts and general property ownership issues in Mexico, why not attend one of the weekly Wednesday workshops at Mayan Riviera Properties. They run all season, December to April.
ASUR, the company that operates many airports in Mexico including Cancun's announced that traffic was up almost 8% in January compared to last year. Traffic at Merida's airport was up just under 20%. Overall air traffic to Asur's airports in Mexico was up 9.1%
The giant Dragon Mart received their building permits, and construction, which was delayed by rain has reportedly begun. Some groups have filed injunctions trying to get the project stopped or delayed. The project has Federal and State backing though, so it seems inevitable. I still do not think it will have much impact on our town as long as they do not use our port.
Art Mart: A new cooperative gallery has opened in town. La Tuna Roja is a gallery featuring the works of several artists, all local. The gallery is located just north of the square on Ninos Heroes, near John Gray's Kitchen.
(Photo by La Tuna Roja)
Art Tour: Another local person is offering art tours so that you can meet local artists in their studios. Contact Nadja though our Friends of Puerto Morelos Facebook page or call her at 998-245-9308.
The public bathrooms on the square are suddenly open daily, though they are often closed for a time in the afternoon. They charge 5 pesos, a bargain if you are in need. There is a person on duty at all times to clean.
Bank Machines: To get your spending pesos we recommend our friends and customers use the local bank machines (ATMs), but it makes a big difference which ones you use. The easy way to find the good machines is to always use a machine behind glass. That means the HSBC machine outside the grocery store, Santander outside the police station and the Banorte machine in the OXXO on the square. These machines are bank-affiliated and the fees are lower. Normally there will be a charge from the Mexican bank and another from your bank. Our bank in Canada combines the fees and nails us for about $5 Canadian for each withdrawal. Your charge should be around the same or less.
During the summer and again in December, some of these machines were compromised and customers got their cards skimmed. Before using a machine, have a good look at it to make sure nothing is unusual. Especially check the card slot and the key pad. Is anything loose? Has anything been added to the machine, like a camera? If it all checks out, cover your PIN carefully. Thieves need the card info and your PIN to compromise your card. The HSBC machine outside the grocery store seems particularly easy to compromise, so try the other machines first.
If you are particularly concerned about your card being skimmed, there is a new private machine in the Aquanauts tour boutique on the square just east of the bookstore. The fee will be a little higher, but the machine is carefully watched by staff.
You will get a much better exchange rate from the machine than you would at a cambio house, so that compensates for the fee. Remember when using the machine to "think in pesos". Don't withdraw $200 pesos thinking you are taking out $200 dollars. There are limits on the machines but you should be able to withdraw $5000 to $6000 pesos at a time.
In an emergency, you can use the other machines by the mall, but the fees will be much higher and the withdrawal limits much lower. One of the machines dispenses US dollars, but I cannot imagine why anyone would use $USD as you will get nailed twice on exchange. There are also some bank affiliated machines in the Colonia, at the 7-11 and Super Willy's Supermarket.
Bikes: There are now at least four places to rent a bike in Puerto Morelos. The Puerto Morelos Travel Agency around the corner from Cafe de Amancia has always had bikes. Diverspoint is renting them again from their location next to Posada El Moro. Now Cantina Habanero is also renting bikes from 100 pesos a day, pick them up at the new store just north of the restaurant. Puerto Morelos Green Bikes is renting stylish "Panama Jack" bikes. (Ask to see the hidden bottle opener) Find them on Facebook or call 998-734-8132 to book your bike. Ask any of these bike places about weekly rates. Riding a bike is a great way to see town, just be careful of the taxis, buses and the many potholes. We advise riding OR looking around, never both at once.
Road Warriors: Roads are slowly being patched in town. The quagmire behind the church has been fixed. Roads going into Cancun are being repaved. Good news all around, though I saw some survey crews making measurements on Ninos Heroes just north of the big federal lot. Are more pipes to nowhere in our future?
What news did I miss? Please drop me a line.
If you understood anything we wrote in this issue so far, credit is due to our editor Susan Lawson of Calgary. Susan is way over-qualified as an editor for this rag, we're just lucky she loves the town so much. She is responsible for any proper spelling or good grammar that somehow got into this newsletter. She is not responsible for the bad jokes. That is my fault alone.
Current Exchange Rates (At the exchange in Puerto Morelos)


USA Dollar 12.20


CDN Dollar 11.10
This Just In! Books & Products at Alma Libre
We love keeping you up to date with our town, but it's the books that keep us going. We're finding all sorts of new stuff this year; these are a few of our favourites...
Secrets In Stone: This book takes young readers into the world of the ancient Maya code and explains how it was deciphered and what it all means.

Not only is this the first book on the subject for children, this book also comes with its very own UV-raised "Glyphmaster," which allows budding archaeologists to create glyph Brubbings, just like real archaeologists.

Mexico - Michael Coe: Michael D. Coe's Mexico has long been recognized as the most readable and authoritative introduction to the region's ancient civilizations. This book covers the entire history of Mexico before the Spanish arrived, from the Olmecs to the Aztecs.

This is a fascinating read with lots of photos and illustrations. We have this book at a special low price.

Coe also wrote The Maya and Breaking the Maya Code which we also have in stock at the bookstore.

The Painted Fish and other Mayan Feasts

This book written by Sonja Lillvik, who founded the Cuzan Guest House in Punta Allen is memoir of life in the land of the Maya told with food! This is a gorgeous book with more than 100 recipes (perfected in the Mayan Riviera and tested up north) and lots of glossy pictures of food and fun.

Secrets of the Talking Jaguar is the story of Martin Prechtel's physical and spiritual journey from the Southwestern US to the highlands of central America. There he becomes apprenticed to a local shaman who teaches Pretchel much about indigenous Mayan life, and about life in general.

We sold out of these last year in hardcover. This year we were lucky enough to get some soft cover editions. If you missed this book last year, don't miss it this time.

Reader's Review: "Reading this book is a fascinating and up to now unavailable look at a culture that sees itself as an integral, unseparable part of nature and the universe."

Casa Yucatan

A beautiful book showcasing the unique architectural style of the Yucatan...or to put it in another way, "A dazzling photographic journey, Casa Yucatan focuses on architectural elements, water spaces, and open-air living in houses both colonial and contemporary, including haciendas and coastal retreats. The Yucatan has undergone a remarkable restoration renaissance of late: ancient pyramids now share the dense jungle landscape with revived haciendas, and colonial homes boasting high-beamed ceilings and cool tile floors posture amidst elegant plazas and renovated nineteenth-century mansions."

SPECIAL OFFER for Alma Libre Bookstore Customers

Cenotes of the Riviera Maya is the best book ever written about the cenotes in our area. Beautifully photographed, it could easily be called a coffee table book, but it is also has all the practical information you need to explore the cenotes whether you are swimming or diving. Many have drooled over this book, but the hefty (500 peso) price tag kept some people away. Now author Steve Gerrard has authorized us to lower the price. At 300 pesos, this book is an incredible bargain and it has been flying off our shelves.

Maps!

If you drive in our area, you need a map! We have excellent and detailed maps of the Yucatan, the country of Mexico, Cancun city, Merida as well as Belize, Guatemala, Cuba and Central America. We also have souvenir-quality maps you can hang on the wall.

We also carry the famous "Map Chick" Riviera Maya, Puerto Morelos and new Mayan Adventure maps.

Gourmet Sea Salt: Made in central Mexico, these gourmet sea salts are available in four very Mexican flavours. Cilantro, Vanilla, Chipotle and Habanero.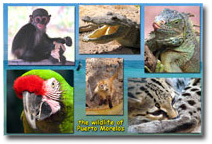 Postcards! We've added a lot of new postcards to our collection, including more underwater shots by "Dive Diva." We have the largest selection of Puerto Morelos postcards, and they are all exclusive to Alma Libre. We know because we make 'em! We also have blank greeting cards to cover any occasion you may wish to celebrate while you are in paradise.
Gift Certificates! A nice gift idea for someone who lives here is an Alma Libre Gift certificate. Available in any amount and can be used for new or used merchandise. We can accept payments from up north via Paypal.
---
Facebook & Twitter
Are you on Facebook? If so, look for our Facebook groups. Friends of Puerto Morelos &Alma Libre Bookstore. You can also buck up your friends list by making Alma Libre Bookstore your friend.
You can also like Alma Libre Bookstore.
The groups have grown very quickly! Friends of Puerto Morelos just passed 2100 members! If you are on Facebook, please join our groups. We'll use them to keep you up to date with town news between newsletters. Check out the group for new photos of Puerto Morelos, taken by fellow visitors!
And if that is not enough for you...you can also follow us on Twitter. This is our twitter home page. You can follow us throughout the day.
---
Beach View - Boats in after a long day fishing, snorkeling, diving and sightseeing!
Big Leagues - We have an ADO bus station now for southbound buses. It is in the parking lot of the Pemex on the north side. Check out my cameo in the motorcycle mirror.
Scrambled Eggs - You may think your job is tough, but imagine this poor guy having to pilot this precious cargo through the potholes and over the big speedbumps of our area!
Girls Just Wanna Have Fun: I have never been to this pub in the Colonia, but I just love their name and logo. It is called, "The Daughter of Morelos" and features a young lady in Morelos garb. Nice!
---
In Memory
Randy Moore - Everybody in town knew Randy and Randy knew everyone, though you may have known him as "Gringo Loco" or just knew him by his iconic bicycle he was often seen peddling through town. Randy passed away in his beloved Puerto Morelos on January 15. He liked to have a good time of course, but was also well known for helping people in and around town.
His big red bike (with horn) is now permanently displayed on top of Bara Bara, and his pith helmet hat has already found a home on the wall of Cantina Habanero.
Randy often spoke of holding a kite festival in Puerto Morelos, which I always thought was a very good idea. We have the breeze, and a great beach to fly a kite.
(Photo by Cat Brown)
Douglas Ford - Doug passed away on January 27 at the age of 61. Doug lived in Puerto Morelos for ten years before moving back to the States. He was a frequent visitor and was well known in the community. (Photo courtesy Ford family)
---
Google Ads:
---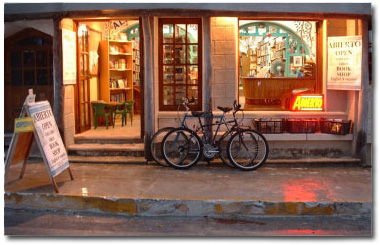 Just a reminder that we are open 7 days a week for the season. Our hours are 11:00am to 7:00pm EVERY DAY of the week. (Including Sunday)
Our hours are always posted on the front page of our website at www.almalibrebooks.com.
We take trades every day, so our selection is constantly changing. If you are planning a trip down, please leave your e-reader at home and plan to buy all your reading material at Alma Libre. We've got you covered!
We look forward to seeing you in Puerto Morelos!
---
Beach Reads is the official newsletter of Alma Libre Bookstore in Puerto Morelos Mexico. It is mailed directly to your mailbox if you request it. Beach Reads is published on a sporadic, seemingly random basis...but it is supposed to be approximately monthly during the season at Puerto Morelos. The season is November until after Easter. We do our best to publish it regularly...but we are easily distracted...
Our website is located at www.almalibrebooks.com Our store hours are always on the home page.
If you do not wish to receive this newsletter, please Click Here To Unsubscribe
This is Year #12, Issue #2. February 2014.
To subscribe or make comments or suggestions or advertise your local event, please Contact Us
Retransmission & Redistribution of this newsletter without express written consent is just fine by us! Send this newsletter to a friend! (or get them to sign up for their own copy) If you like the newsletter, please support it by buying a book at Alma Libre Bookstore.