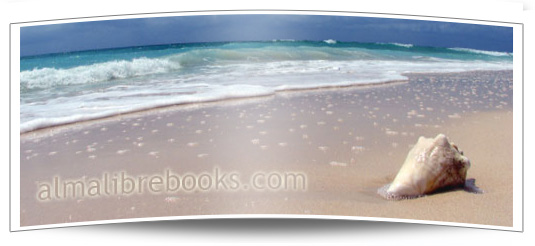 News from Alma Libre Bookstore - Puerto Morelos, Mexico
Year 12 Issue #01 - December 2013

Click here to go to our website: www.almalibrebooks.com (Puerto Morelos Information/Rentals/Real Estate & More!)
Click Here for Back Issues of Beach Reads
---
Alma Libre Books & Gifts Open!
New Hours 11:00 - 7:00 (no siesta!) 7 days a week
---
Hola Again! We're Back!
Here we are, a virtual tropical breeze in your freezing-cold inbox. Beach Reads, now in its 12th (somewhat) proud year, is back with all the news from Puerto Morelos, (PoMo to its friends) and the infamous Alma Libre Bookstore.
We just got back to town after a long summer up north. We drove a good portion of the continent heading north back in the spring, then retraced most of the same route coming south in the fall, interrupted only by a cruise around said continent through the Panama Canal.
More about our travels later, but let's get on with what you really care about, your town. Puerto Morelos had a long, fairly quiet summer. There were no serious storms, but the town took an unusual amount rain. As a result, some of the roads were damaged or remain damaged.
The road from the highway by Crococun for example is pretty much impassible for any vehicle that doesn't float.
In town, our roads just took more of a beating than usual. When you drive, walk, cycle or stagger the roads of PoMo...be careful as always.
Lots of changes in town. As usual new places opened, some places closed and a few moved.
In any case, you will find this edition overflowing with news, gossip, rumours and the usual filler. Please enjoy the issue and forward it to anyone you think needs a little PoMo in their lives.
New at Alma Libre Bookstore & Gifts
We continue to expand our offerings beyond books at Alma Libre bringing you Mexican art and cuisine from all over the country. We are big fans of all things Mexican, and we travel the whole country each year, so it just makes sense to incorporate some of our finds into our selection here in Puerto Morelos.
We have been stocking coffee from different regions of the country, along with very good vanilla & vanilla beans, hot sauces and locally-grown honey.
We also have textile items such as pashminas, hand-made notebooks and camera cases, plus wonderful gift items including Day of the Dead figurines and dioramas, Mayan Astrological magnets, matchboxes, hand-made bookmarks, bags and more.
We will continue to expand our unique gifts and gourmet food selections as we find items that are unusual and tailored to our customers' needs.
If there is something you would like to see us stock, please drop us a note. We look forward to expanding our selection so that we'll have something for everyone.
Of course we will still have maps, fish cards, playing cards, reading glasses and BOOKS! We won't quit stocking your favourite books. As usual we have boxes and boxes of new and used books that we are shelving every day.
---
Best of Puerto Morelos 2013
Just a reminder of the top restaurants in town as chosen by our readers. Each year in January we ask our readers to choose their favourite restaurants. Here are the places they chose for this year.
1. Al Chimichurri

2. El Nicho

3. Cantina Habanero

4. Spaghettino's

5. Los Gauchos

6. Pelicanos

7. Merkadito del Mar

8. Tacos.com

9. Las Palmeras

10. La Terazza / I Wanna Pizza (tie)
Bubbling under the top ten were John Gray's Kitchen, El Pirata and La Playita. The restaurant in the Colonia to receive the most votes was La Luna LLena.
We ask some other questions in our annual survey too. Watch for our survey coming in our next newsletter in January.
Photo courtesy Al Chimichurri
---
X-Citing News
There are a couple of new big attractions in our area. The folks who brought you Xcaret and Xel-Ha (Xperiences Xcaret) have opened two new parks, both very close to Puerto Morelos.
Just opening is Xochimilco, pronounced sō-chē-mēl-kō or So-Chee-Meal-Ko (or let this guy say it to you), is based on a real place in Mexico City with a network of water channels which boats float around on.
At the site in Mexico City, large boats, piloted by hand carry tourists or bands or restaurants or even entire fiestas around the canals. Xperiences Xcaret promises to recreate that here. There will also be kayaking, raft sailing and snorkeling. In addition, vistors will have the opportunity to go fishing in artificial ponds to catch their own food and have it cooked at one of the restaurants onsite.
The park is located right on the west side of the highway towards Cancun at the site of an old cement plant near Moon Palace.
Even closer to home is Xenotes, which features a variety of cenote attractions, like ziplining, snorkeling, swimming or kayaking in the unique cool cenote waters found in our area. (A cenote is a fresh water river or lake which flows underground in our area)
For more information on this or their many other parks, check out their website.
---
Puerto Morelos Interactive Map
We've improved the interactive map on our Alma Libre Bookstore website with the addition of dozens of new places and by making the map easier to use. Select the location you want on the right side and the map will show you where it is. There is also a search box. I've included locations in Cancun too, like Costco and Walmart.
To see the map, go to our Puerto Morelos page. The map is at the bottom of the page.
Here is a smaller version, without all the features.
---
Taxi Rates
Know your taxi fare before you get in the cab. See the new taxi fares on the big sign at the square or see them here. Make sure to agree with the driver on the fare before you go. You don't have to tip, but we always do if they get us to our destination alive and well.
---
New Products
After a whole lot of research we decided to carry some special gourmet and food items in the store. You'll find Mexican-grown organic coffee, vanilla, and a selection of locally-made hot sauces and chili-lime seasoning.
We now also stock the popular Chimay hot sauces. Chimay makes the hottest habanero known to taste buds, and they also make flavourful sauces for more sensitive palates. Folks north of the border clamour for this stuff. (We have people begging us by email to ship this sauce to them!) Chimay Salsa Habanera comes in four flavours, colors and levels of spiciness to suit your palate: Negra la menos picante (black, the least spicy), verde la poco picante (green, a little spicy), roja la muy picante (red, very spicy), amarilla la extra picante (yellow, extra spicy).


Our most popular sauce is a mini four-pack in a woven basket for just 85 pesos. It makes a perfect gift for the food lover in your life, or a great souvenir of your Mexican vacation. (You can re-create that Mexican flavour at home.)
We have also found a new supplier for gourmet vanilla products. We will be selling a higher-end gourmet vanilla, a high-quality regular vanilla and real vanilla beans. All are grown and made in Mexico.
Yucatan honey is some of the sweetest you will ever taste and we get ours from a small operation in nearby Valladolid.
The coffee we are stocking is Mexican grown and high in quality. We have rich organic coffee, smooth Oaxaca coffee, and robust Chiapas coffee.
We also have some gift items available: hand-painted wooden boxes with Mexican designs, pashmina scarves for those long lingering Puerto Morelos evenings, bags and more.
---
Bookstore Hours - We're open 7 days a week: NEW hours!
We're not quite open 24 hours, but we are open 7 days a week with new hours: 11:00 - 7:00 every day, even Sunday! Come see us!
Special Book Orders
We have finally found a supplier who can do the impossible and at a surprisingly low cost: get books to us reliably in Puerto Morelos. We can now order most any title and receive it at the bookstore in about a week.
We are ordering new books for the store about once a month and we can bring in books for you too! Depending on the number of books you order, shipping and duty will be between $2 and $3 US per book. There is no sales tax or any other fees. This is much quicker and cheaper than any other source we have found, including Amazon.
Our next order will be in January.
To order, just contact us to make sure we are able to get the book you want.
---
Jungle Market / Jungle Spa
UPDATE: THE JUNGLE MARKET FOR DECEMBER 29 HAS BEEN CANCELLED. IT WILL GO THE FIRST SUNDAY IN JANUARY.
The Jungle Market will be back on December 29.
As usual, Sandra and the girls have been working on some new surprises and a whole new music and dance show. One of the biggest attractions is the fresh food and unique shopping offered only at the Jungle Market. The Market will continue to run for the season.
The Jungle Spa is going strong! In fact it has been so popular, they have expanded the days that it is open and are requesting that people make appointments either by telephone or email. This will ensure you don't waste any time waiting for your treatment.
To make an appointment, contact Sandra at (998) 208 9148 or Cell 044 998 180-5424 or by email through her website. Appointments are available Tuesday-Saturday and limited appointments may be available on Sunday. The spa is closed on Monday.
Many treatments are available, including a luxurious aloe vera and banana leaf wrap and massage! (Or a chocolate massage...does it get any better??) For men, there is the "Mayan Macho" massage. You've never had a massage like this! They even have special massages for young adults. How about a 60 minute four hand massage? You will leave a different person!
Spa prices are much lower than you will find at your resort and proceeds go directly to the Mayan families that work at the spa and Jungle Market.
It's easy and quick to get out to the jungle by car, taxi or collectivo. It's on Calle Dos (kie-yay dose) in the Zona Urbana, which is right behind the Colonia. Here's a map you can print out. Taxi to the jungle from the town square costs 50 pesos. A taxi from nearby hotels is 150 pesos or $12 US each way. Tell driver you want to go to: Jungle Spa - Sandra (important to mention her name) Zona Urbana.
Remember, when you pamper yourself at the Jungle Spa or buy a unique gift at the Jungle Market, you are directly supporting Mayan families! This is a very worthwhile venture and we hope you will support it.
---
Home and Condo Rentals
Give yourself a Spring Break!
The best way to handle winter is to run away, and we've got your hideout...a house, condo or apartment in PoMo.
If you have never stayed in a private home or condo, you are in for a wonderful experience. You have all the comforts of home on your vacation. Just bring your clothes and toothbrush! Everything else is included from towels and linens to hammocks and blenders.
Many ex-pats have built their dream homes here in PM and are willing to rent to you! Renting a place makes you feel more like a local and offers the convenience of cooking for yourself and gives you much more privacy.
Regular Beach Readers know that we feature some of these properties on our website. There are a gazillion property rental sites out there, but our site is unique because these are properties we know, owned and run by people we know and trust.
We like to think we take the guesswork and risk out of renting.
We're always adding new properties to the site and new photos too!
One bedroom or two? Your choice!

This large suite can be rented as a one bedroom/one bath with a fold out couch, or as a two bedroom two bath. Each bedroom has its own outside door to allow entry or exit without disturbing others.
It has a full kitchen with pots and pans, dishes and cutlery, plus appliances including a coffee maker, toaster and juicer. Drinking water is included as well as cable TV and high-speed wireless internet. The suite features a huge terrace with table and chairs and comfy hammocks. All this from $695 a week in season, $450 starting in May!
Click here for more information and pictures!

Bright, Breezy One Bedroom

A big one bedroom, two bath with a loft. The loft has a fold out couch and curtains for privacy. The couch in the living room also folds out into a bed.
Off the bedroom and the living room is a HUGE balcony with table and chairs for four and a comfy hammock.
Of course there is a full kitchen with pots and pans, dishes and cutlery, plus appliances including a coffee maker, toaster and juicer. Drinking water is included as well as cable TV and wireless internet. $695 a week in season, $499 starting in May!

Click here for more information and pictures!

Your place, steps from the best beach in town!

Economical one bedroom one bath on two levels from $399 a week

Comes with a full kitchen, full bath, enormous bedroom and balcony
Click here to download a printable info sheet on the above three apartments
*By the way, it is not too early to start thinking about 2014. I am handling emails every day from people who waited too long to book February this year!*
Check out our new, easier to navigate rentals page here.
Owners! Contact us to get your FREE listing on our website.
---
Ads by Google:
---
Restaurant News:
So many changes to tell you about! (It might just be easier to cover the places that have not changed)
A new restaurant has opened in the old Sativa/Spaghettino location on Rojo Gomez. It is called El Sabor de Mexico (The flavour of Mexico). The brains behind this are three brothers, Jin, Freddy and Andres. Jin & Freddy may be familiar to you from Abbey del Sol. The menu is Mexican and the hermanos have done a great job with the restaurant and a lovely garden area out back.
(Photo by El Sabor de Mexico)
A new restaurant has opened in a new guesthouse in Puerto Morelos. La Cocina de la Duna is serving breakfast and lunch right now in Layla Guesthouse. Their menu is unusual and seems to be at the whim of Chef Ricardo. He describes it as, "world inspired and market fresh. Tastes from Asia, Mexico, the Mediterranean and the Americas." A recent menu included spicy tuna maki rolls, Indonesian beef redang, ribs and chicken fried rice. Well worth a visit. To get there; take the beach road south of Pelicanos all the way down towards the dock. Layla is across from the school.
(Photo by Layla Guesthouse)
A new cafe is open on Rojo Gomez in the old location of Mama's Bakery. Coffee & Cream features coffee naturally, but also a wide selection of bread and desserts along with breakfast and lunch. The brownies are apparently outstanding.
The bakery/cafe that was in the Coffee & Cream space last year, Panna e Cioccolato has moved into the spot on the square that was occupied by Salchicha, the sausage place which was a victim of the quiet summer. Panna e Cioccolato is actually a small chain with locations in Tulum, Isla and Veracruz. They have gelato, smoothies and other treats.
The long running El Tio closed over the summer, but they have relocated to the highway. They are in the northbound lateral, but south of the intersection at the overpass. To reach it from town you would cut through the pescadores neighbourhood and turn right at the furniture store. It is just north of there. El Tio fan Jon says the new location has the same name, the same staff, but lower prices. For example, the famous chicken soup which was 60 pesos is now just 40.
A new taco shop has moved into the old El Tio space. Caribelos has a wide array of tacos including shrimp and fish tacos. It is owned by Carlos who you may have dived with at Dive In Puerto Morelos. I've only heard one review so far, but taco connoisseur Ray from Manitoba gave it an enthusiastic thumbs up.
A new restaurant called Mexico de mis Recuerdos has opened just south of Al Chile. Menu is Mexican naturally.
Spaghettino has re-opened after an autumnal break.
As we reported in the spring, Luna Llena in the Colonia has moved. It is north and west of its old location on Joaquin Hendricks. That is the wide road that goes east/west and has the older OXXO on it. I have it on my map here. He has added sushi to the menu too.
Siempre Sano has not been around long, but they sure get around. They have just moved to their third location, now they are on Ninos Heroes near to, but across from John Gray's.
Speaking of John Gray's Kitchen, they have taken one notable thing off the menu this season, namely Mr. Gray! John has moved to Panama leaving the restaurant in the very capable hands of Dora and Valorie.
Restaurante David Lau's closed. The space has been converted into a couple of gift shops. The restaurant above Casa Martin market has closed too, looks like they are renovating the space. The space that was Hola Asia is also empty.
The Annual Puerto Morelos Music Festival has announced its dates for 2014. It will be later this year, February 27/28 and March 1. We'll have more info in the next issue.
Google Streetview sent their car through town last fall, and the updated pictures they took are now online. Take a virtual spin through your favourite town, click this link and you can start your journey at the bookstore.
Layla Guesthouse promises to be an important new hub in the community. Owned by Steve and Robin, Layla is a guest house, a salon (with hair services and massage), a restaurant (La Duna mentioned above) and a learning centre that offers classes on everything from speaking Spanish, to reducing stress, to the ecology of our area to Buddhism & meditation. Layla is not hard to find, it is south on the beach road by Pelicanos toward the federal dock. Robin has repurposed our "PoMo" and is calling it "SoMo" for southern Morelos.
Art Mart: A new cooperative gallery has opened in town. La Tuna Roja is a gallery featuring the works of several artists, all local. The gallery is located just north of the square on Ninos Heroes, near John Gray's Kitchen.
(Photo by La Tuna Roja)
Art Tour: Another local person is offering art tours so that you can meet local artists in their studios. Contact Nadja though our Friends of Puerto Morelos Facebook page or call her at 998-245-9308.
A new OXXO store has opened beside city hall right at the entrance to town. The other OXXO near the square a stone's throw away is still open and there are no plans to close it. A new OXXO also opened on the square in the Colonia. I know some people are upset about all the OXXOs and I am not sure we need so many, but in general they are well lit, well run, air conditioned, friendly and prices are clearly marked. There are far better places to get coffee or food to go in our town, but for cold beer or soda, it is a good choice. OXXO is a chain with more than 11,000 locations across Mexico. It is wholly owned by FEMSA, a beverage company that bottles among other things, Coca-Cola.
A new Pemex has opened at the highway entrance to town, only a few metres from the existing location. Many local people are upset by the location of the new gas station, which is very close to the mangrove and a cenote. There was some protest when construction began, but the permits were in place. Many locals are not using the new Pemex and are electing to use the other location. An easy thing to do.
The public bathrooms on the square are suddenly open daily, though they are often closed for a time in the afternoon. They charge 5 pesos, a bargain if you are in need. There is a person on duty at all times to clean.
Please Police Me: We've noticed that the local police are finding other ways to pound the beat than roll around town in the back of a truck. We've seen cops on foot and even on bicycles. Well done!
Rumour Mill: We have many reports that a real supermarket will be built on the highway just north of the overpass. It is supposed to be a Chedraui similar to the one they built in Puerto Adventuras. I have yet to see a spade hit the earth. We'll keep you posted.
Taxing Times: The government of Mexico is starting the new year by taking a little more money from our state. Our national sales tax, called IVA is 16% in Mexico, but frontier states, including ours, pay 11%. The government has decided we should all pay the same, so beginning January 1, IVA will increase to 16% in Quintana Roo. This increase also drives our gasoline price up, it was lower than our neighbouring states. IVA will also be charged on more items such as pet food, which was never subject to sales tax before.
Not Alberta Bound...yet: The government of Alberta has followed the lead of British Columbia, Manitoba, Ontario and Newfoundland in allowing snowbirds to be out of the country longer without affecting their health care. Albertans can now be away 7 months instead of 6. Alberta also has special programs allowing you to be out of the country longer for employment purposes. Check with Alberta Health for more info. All travellers should still purchase travel insurance.
Dragon Mart: The Yucatan Times has published a report saying that construction on the Dragon Mart began at the end of November and will be completed in 2015. We've seen no evidence of it yet. Here is a link to the article.
Bank Machines: To get your spending pesos we recommend our friends and customers use the local bank machines (ATMs), but it makes a big difference which ones you use. The easy way to find the good machines is to always use a machine in a glass booth. That means the HSBC machine outside the grocery store and Santander outside the police station. These machines are bank-affiliated and the fees are lower. Normally there will be a charge from the Mexican bank and another from your bank. Our bank in Canada combines the fees and nails us for about $5 Canadian for each withdrawal. Your charge should be around the same or less.
You will get a much better exchange rate from the machine than you would at a cambio house, so that compensates for the fee. Remember when using the machine to "think in pesos". Don't withdraw $200 pesos thinking you are taking out $200 dollars. There are limits on the machines but you should be able to withdraw $5000 to $6000 pesos at a time.
In an emergency, you can use the other machines by the mall or at OXXO, but the fees will be much higher and the withdrawal limits much lower. One of the machines dispenses US dollars, but I cannot imagine why anyone would use $USD as you will get nailed twice on exchange. There are also some bank affiliated machines in the Colonia.
During the summer and again in December, some of these machines were compromised and customers got their cards skimmed. Before using a machine, have a good look at it to make sure nothing is unusual. Especially check the card slot and the key pad. Is anything loose? Has anything been added to the machine, like a camera? If it all checks out, cover your PIN carefully. Thieves need the card info and your PIN to compromise your card.
Bikes: There are now at least four places to rent a bike in Puerto Morelos. The Puerto Morelos Travel Agency around the corner from Cafe de Amancia has always had bikes. Diver's Point is renting them again from their new location next to Posada El Moro. Now Cantina Habanero is also renting bikes from 100 pesos a day, just pick them up at the restaurant. Puerto Morelos Green Bikes is renting stylish "Panama Jack" bikes. (Ask to see the hidden bottle opener) Find them on Facebook or call 998-734-8132 to book your bike. Ask any of these bike places about weekly rates. Riding a bike is a great way to see town, just be careful of the taxis, buses and the many potholes. We advise riding OR looking around, never both at once.
Road Warriors: Just once I wish I would not have to write about street construction, but alas, here we are. Our area received a lot of rain in the summer this year, much more than usual and some roads flooded out completely, notably the road that goes towards the ocean beside Crococun. It is basically impassible by a car. Taxis at first were charging more for the trip because of the damage to their vehicles, then were refusing the trip all together.
The pavement at the south end of Avenue Ninos Heroes is in terrible shape, so the big speed bump there is completely redundant. Keep a firm grip on the handlebars when you ride through there and watch for any loose fillings!
*Please let me know if you see any typos or spelling errors. My electronic spell checker died of exhaustion.
Current Exchange Rates (At the exchange in Puerto Morelos)


USA Dollar 12.30


CDN Dollar 11.35
This Just In! Books & Products at Alma Libre
We love keeping you up to date with our town, but it's the books that keep us going. We're finding all sorts of new stuff this year; these are a few of our favourites...
Secrets In Stone: This book takes young readers into the world of the ancient Maya code and explains how it was deciphered and what it all means.

Not only is this the first book on the subject for children, this book also comes with its very own UV-raised "Glyphmaster," which allows budding archaeologists to create glyph Brubbings, just like real archaeologists.

Mexico - Michael Coe: Michael D. Coeís Mexico has long been recognized as the most readable and authoritative introduction to the regionís ancient civilizations. This book covers the entire history of Mexico before the Spanish arrived, from the Olmecs to the Aztecs.

This is a fascinating read with lots of photos and illustrations. We have this book at a special low price.

Coe also wrote The Maya and Breaking the Maya Code which we also have in stock at the bookstore.

The Painted Fish and other Mayan Feasts

This book written by Sonja Lillvik, who founded the Cuzan Guest House in Punta Allen is memoir of life in the land of the Maya told with food! This is a gorgeous book with more than 100 recipes (perfected in the Mayan Riviera and tested up north) and lots of glossy pictures of food and fun.

Secrets of the Talking Jaguar is the story of Martin Prechtel's physical and spiritual journey from the Southwestern US to the highlands of central America. There he becomes apprenticed to a local shaman who teaches Pretchel much about indigenous Mayan life, and about life in general.

We sold out of these last year in hardcover. This year we were lucky enough to get some soft cover editions. If you missed this book last year, donít miss it this time.

Reader's Review: "Reading this book is a fascinating and up to now unavailable look at a culture that sees itself as an integral, unseparable part of nature and the universe."

Casa Yucatan

A beautiful book showcasing the unique architectural style of the Yucatan...or to put it in another way, "A dazzling photographic journey, Casa Yucatan focuses on architectural elements, water spaces, and open-air living in houses both colonial and contemporary, including haciendas and coastal retreats. The Yucatan has undergone a remarkable restoration renaissance of late: ancient pyramids now share the dense jungle landscape with revived haciendas, and colonial homes boasting high-beamed ceilings and cool tile floors posture amidst elegant plazas and renovated nineteenth-century mansions."

SPECIAL OFFER for Alma Libre Bookstore Customers

Cenotes of the Riviera Maya is the best book ever written about the cenotes in our area. Beautifully photographed, it could easily be called a coffee table book, but it is also has all the practical information you need to explore the cenotes whether you are swimming or diving. Many have drooled over this book, but the hefty (500 peso) price tag kept some people away. Now author Steve Gerrard has authorized us to lower the price. At 300 pesos, this book is an incredible bargain and it has been flying off our shelves.

Maps!

If you drive in our area, you need a map! We have excellent and detailed maps of the Yucatan, the country of Mexico, Cancun city, Merida as well as Belize, Guatemala, Cuba and Central America. We also have souvenir-quality maps you can hang on the wall.

We also carry the famous "Map Chick" Riviera Maya, Puerto Morelos and new Mayan Adventure maps.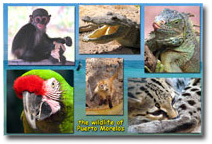 Postcards! We've added a lot of new postcards to our collection, including more underwater shots by "Dive Diva." We have the largest selection of Puerto Morelos postcards, and they are all exclusive to Alma Libre. We know because we make 'em! We also have blank greeting cards to cover any occasion you may wish to celebrate while you are in paradise.
Gift Certificates! A nice gift idea for someone who lives here is an Alma Libre Gift certificate. Available in any amount and can be used for new or used merchandise. We can accept payments from up north via Paypal.
---
Facebook & Twitter
Are you on Facebook? If so, look for our Facebook groups. Friends of Puerto Morelos &Alma Libre Bookstore. You can also buck up your friends list by making Alma Libre Bookstore your friend.
You can also like Alma Libre Bookstore.
The groups have grown very quickly! Friends of Puerto Morelos just passed 1455 members! If you are on Facebook, please join our groups. We'll use them to keep you up to date with town news between newsletters. Check out the group for new photos of Puerto Morelos, taken by fellow visitors!
And if that is not enough for you...you can also follow us on Twitter. This is our twitter home page. You can follow us throughout the day.
---
Flying Low - When you see the enormous Frigate birds flying low around the dock, you know the catch is in!
Sunset at the Dock - When you see this, it's time for dinner!
Towel Sculpture- Lili, our housekeeper at Casa de los Viajeros, has graduated to a new level of towel art with the premiere of this elephant with mint eyes. www.casadelosviajeros.com
Hats Sale - Our travels south led us through the centre of the continent again. We spent a little time in Dallas, Austin, San Miguel de Allende and Puebla. We interrupted our drive for a cruise through the Panama Canal from Miami to Los Angeles via Colombia, Costa Rica and the "other" coast of Mexico. We saw this salesman with sombreros to spare in San Miguel.
---
Note from us: Apologies for the tardy newsletter. Please let me know if I missed something or if you have reviews of some of the new places we have not had a chance to visit yet.
If you understood anything we wrote in this issue so far, credit is due to our editor Susan Lawson of Calgary. Susan is way over-qualified as an editor for this rag, we're just lucky she loves the town so much. She is responsible for any proper spelling or good grammar that somehow got into this newsletter. She is not responsible for the bad jokes. That is my fault alone.
If you need a good editor, please contact us and we'll pass your contact information on to her. She is sharp-eyed and easy to work with.
Our next issue will feature our annual survey. If you have a question you would like us to ask, send it along
We hope you had a Merry Christmas and we wish you all the best in 2014. Hope to see you in PoMo.
-Gracias, Rob & Joanne - Alma Libre Bookstore and Gifts - Casa de los Viajeros
---
Google Ads:
---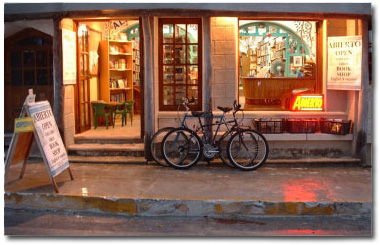 Just a reminder that we are open 7 days a week for the season. Our hours are 11:00am to 7:00pm EVERY DAY of the week. (Including Sunday)
Our hours are always posted on the front page of our website at www.almalibrebooks.com.
We take trades every day, so our selection is constantly changing. If you are planning a trip down, please leave your e-reader at home and plan to buy all your reading material at Alma Libre. We've got you covered!
We look forward to seeing you in Puerto Morelos!
---
Beach Reads is the official newsletter of Alma Libre Bookstore in Puerto Morelos Mexico. It is mailed directly to your mailbox if you request it. Beach Reads is published on a sporadic, seemingly random basis...but it is supposed to be approximately monthly during the season at Puerto Morelos. The season is November until after Easter. We do our best to publish it regularly...but we are easily distracted...
Our website is located at www.almalibrebooks.com Our store hours are always on the home page.
If you do not wish to receive this newsletter, please Click Here To Unsubscribe
This is Year #12, Issue #1. December 2013.
To subscribe or make comments or suggestions or advertise your local event, please Contact Us
Retransmission & Redistribution of this newsletter without express written consent is just fine by us! Send this newsletter to a friend! (or get them to sign up for their own copy) If you like the newsletter, please support it by buying a book at Alma Libre Bookstore.