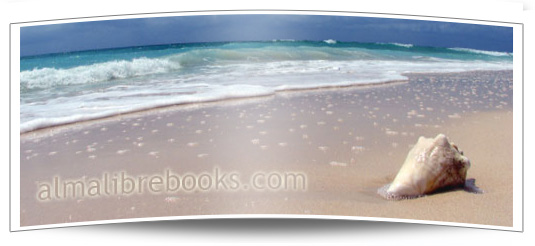 News from Alma Libre Bookstore - Puerto Morelos, Mexico
Year 11 Issue #3 - March/April/May 2013

Click here to go to our website: www.almalibrebooks.com (Puerto Morelos Information/Rentals/Real Estate & More!)
Click Here for Back Issues of Beach Reads
---
Bookstore Closing for the season April 30!
New Hours 10:30-1:30 & 3:00-8:00pm 7 days a week
---
Adios!
Julie & Tyler from Manitoba chose our bookstore as a backdrop for one of their wedding photos! Alas, they found us closed for lunch, but the lovebirds found a way to pass the time until we opened again!
Adios already? How is this possible? This is only our third newsletter of the year and the winter season is over. In normal years we manage to crank out 5 or 6 of these at least. In 2007, we wrote a record 7, but they were a lot smaller in those days and we seemed to have less projects on the go! We were also younger. That might have something to do with it.
In any case, you will find this edition overflowing with news, gossip, rumours and the usual filler. Please enjoy the issue and forward it to anyone you think needs a little PoMo in their lives.
Our last day at the bookstore for 2013 will be April 30.
Sincere thanks to all of you that supported our little bookstore this year. You may have noticed that we have expanded our offerings somewhat and in the future we will be know as Alma Libre Bookstore & Gifts. We are big fans of Mexican art and cuisine, and we travel the whole country each year, so it just makes sense to incorporate some of our finds into our selection here in Puerto Morelos.
This year we have been stocking coffee from different regions of the country, along with a very good vanilla, chocolate, hot sauces and locally-grown honey.
We have also started to carry textile items such as pashminas, hand-made notebooks and camera cases, plus wonderful gift items including Mayan Astrological magnets, matchboxes, hand-made bookmarks and more.
We will continue to stock these products next year but you can also look for us to carry locally made soaps, lotions, bio-degradable sunscreens and bug repellent. We will continue to expand our unique gifts and gourmet food selections as we find items that are unique and tailored to our customers needs.
If there is something you would like to see us stock, please drop us a note. We look forward to expanding our selection so that we'll have something for everyone.
Of course we will still have maps, fish cards, playing cards, reading glasses and BOOKS! We won't quit stocking your favourite books. In fact, as soon as we close the doors for the summer, we'll be driving back to find more loads of literature for the shop. Look for us to open again in November.
Special thanks to Miki and Daphne. We could not do what we do without you two!
Remember that while your favourite bookstore will be shuttered, the rest of the town will be ready to welcome you. Crowds are smaller and prices are lower in the spring, summer and fall. Fishing, diving and snorkeling are all better in the summer and you will have the whole beach to yourself. Check out our accommodations and c'mon down.
---
9th Annual "Best of Puerto Morelos" Survey (2013 Edition)
The results are in! Thanks to all who took the time to answer our annual Best of Puerto Morelos survey.
Each year we ask what you like best about Puerto Morelos. We hope to learn what you like and perhaps discover some new attractions in and around our town.
Our most popular question every year is "What is your favourite restaurant?". The list got a bit of a shake up this year, we have a new favourite and a new second favourite too. Here is the top ten.
Top 10 (actually 11) restaurants in Puerto Morelos chosen by Beach Reads readers:
1. Al Chimichurri
2. El Nicho
3. Cantina Habanero
4. Spaghettino's
5. Los Gauchos
6. Pelicanos
7. Merkadito del Mar
8. Tacos.com
9. Las Palmeras
10. La Terazza / I Wanna Pizza (tie)
Bubbling under the top ten were David Lau's, John Gray's Kitchen, El Pirata and La Playita. The restaurant in the Colonia to receive the most votes was La Luna LLena.
Photo courtesy Al Chimichurri
Congratulations to all the restaurants. Al Chimichurri becomes the first non-Asian restaurant to be PoMo's favourite and was the clear winner this year. El Nicho got the number two spot in only its first months of existence. David Lau's dropped from first place the last two years to #11 this year. I Wanna Pizza and Merkadito make the list for the first time.
Here is the top restaurant list from each year back to our first survey in 2005.
| | | | | | | | | |
| --- | --- | --- | --- | --- | --- | --- | --- | --- |
| 2013 | 2012 | 2011 | 2010 | 2009 | 2008 | 2007 | 2006 | 2005 |
| Al Chimichurri | David Lau's | David Lau's | Hola Asia (RIP) | Hola Asia | Hola Asia | Hola Asia | Hola Asia | Hola Asia |
| El Nicho | Cantina Habanero | Cantina Habanero | Pelicanos | Bodo's (RIP) | Bodo's | Bodo's | Pelicanos | Pelicanos |
| Cantina Habanero | Al Chimichurri | Pelicanos | David Lau's | Pelicanos | Pelicanos | Pelicanos | Bodo's | Caffe del Puerto |
| Spaghettino's | Spaghettino's | L'Oazis | Cantina Habanero/El Pirata (TIE) | David Lau's | El Pirata | El Marlin Bleu | John Gray's Kitchen | John Gray's Kitchen |
| Los Gauchos | L'Oazis | Hola Asia | L'Oazis | El Pirata | David Lau's | John Gray's Kitchen | Caffe del Puerto (RIP) | |
| Pelicanos | Los Gauchos | Al Chimichurri | Posada Amor | Cantina Habanero | El Marlin Bleu (RIP) | El Pirata | El Pirata | |
| Merkadito del Mar | El Pirata | Spaghettino's | Las Palmeras/Old Fisherman | John Gray's Kitchen | John Gray's Kitchen | Old Fisherman | El Marlin Bleu | |
| T@cos.com | La Playita | La Suegra (RIP) | Terazza | L'Oazis | Dona Triny's | | | |
| Las Palmeras | Terrazza | El Tio | Spaghettino's | La Suegra | Los Gauchos | | | |
| La Terazza / I Wanna Pizza | T@cos.com | El Pirata | John Gray's Kitchen/Al Chimichurri (tie) | Posada Amor | L'Oazis | | | |
More Questions:
Most popular place to have a drink. (Does not have to be alcoholic)

As usual, Cantina Habanero led this one, followed by Pelicanos, Cafe de Amancia and Unico.

Complete this sentence: Whatever you do, do not miss (BLANK) in Puerto Morelos!

The answers to this one were as varied as our readers. We had everything from the obvious, like strolling the beach, snorkeling the reef or sitting in the square to exploring cenotes and just watching the fishermen come into town with their catch.

What is missing from Puerto Morelos that the town should add?

The number one answer to this was, "nothing, leave it as it is." Many of the answers reflected a fear that the town would change and lost its small town feel. I don't think there is much fear in that. We've been here 11 years now and it is amazing how little it has really changed.

Most people asked for practical things, a better grocery store, a bank, pothole repair, recycling depot. Nobody asked for any big chains to move in, except for a couple of Canadians who wish there was a Tim Horton's.

The best answer to "what is missing from Puerto Morelos" was the simple answer..."Me!"


We would like to serve you better at the bookstore. What goods did you not find in Puerto Morelos that we could have in our shop? (For example we stock hot sauces, coffee and some gift items)
Thanks to everyone that answered this question. The most popular answer was "Don't change, you are great the way you are", which is very kind, but unrealistic in this day and age of electronic books. Many people suggested items that we already carry, such as reading glasses and playing cards. Many responders said they were glad we were selling good-quality Mexican coffee. We will continue to scour the country for items to bring you.

What is your favourite shop in Puerto Morelos?

We don't force anyone, but we expect everyone to pick Alma Libre Bookstore as their favourite shop. Luckily for us, we were picked #1 for the ninth year in a row. A few unclear thinkers chose other shops like the Mayan Handicraft Shop or Sofia's. We got a few of cryptic answers too like, "that silver shop near the beach with the thing out front."

What is your best find in the Colonia?

The best news on this answer was that we got very few "I've never been to the Colonia" responses. Most people knew the other part of Puerto Morelos and had their favourite finds. Many were delighted with the fresh juices available there or the produce selection. A few mentioned restaurants like My Little Italy, Fondo Americana or La Luna LLenya.

Where are you from?

Most of our readers are from all over North America. Most of the states and provinces represented as far north as Alaska and the Yukon to Florida and California. We have a few European fans too from France, UK and Germany.


What is your favourite inexpensive or free thing to do in Puerto Morelos?

Some say the best things in life are free and luckily there are a bunch of them in your favourite town. Most answers mentioned strolling the beach, sitting on the beach, swimming the beach or snorkeling the beach. Many also mentioned strolling or sitting in the square, chewing a churro, licking an ice cream or just listening to music and the sound of the surf.
One reader suggested a tour of the town on the collectivo.

What is your favourite big splurge while on vacation in Puerto Morelos?

The good news about splurging in Puerto Morelos is it is not going to cost you too much! Most people said they like to splurge on a special tour, a trip to Xcaret, a massage or two or just the freedom to dine out every single night or "buying whatever I like from the fruit truck."

If you had only one day in Puerto Morelos...what would you do?
A pile of answers for this question, but they could mostly be summed up by this one: "Snorkel, eat, walk the beach." Sounds pretty good to me!
---
Popular Restaurant Burns Down
| | |
| --- | --- |
| | |
| | |
| | |
A PoMo favourite La Panza Es Primero has closed after a huge palapa fire on April 13. The fire was traced to an electrical fault, but a local newspaper reported that the restaurant's fire equipment was sadly lacking. Palapa fires rarely have a happy ending, and this one was no different. The restaurant and palapa was completely destroyed. The only good news is that the fire department got reinforcements from Cancun in time to save the palapa restaurant next door, Las Palmeras. Their palapa roof caught fire, but damage was light. The restaurant reopened the following Wednesday.
La Panza is rebuilding. Also they are just putting the finishing touches on a brand new location on the highway between Puerto Morelos and Playa del Carmen. (They are a chain from Spain)
---
PoMoWood?
A touch of Tinsel-Town in our village this week as the Riviera Maya Film Festival turned our beach into a giant, open air screening room. The highlight was on April 24 when Patricia Arquette personally introduced Roman Coppola's "A Glimpse Inside the Mind of Charles Swan III" which she starred in with Charlie Sheen and Bill Murray.
Movies were screened all up and down the coast from Isla Holbox to Tulum. In many cases the filmmakers were on hand to answer questions from the audience after their film was screened.
This is the second annual festival and it is the first time that Puerto Morelos has been included. Alma Libre Bookstore was asked by the Festival to help with promoting the event. We hope to be more involved next year.
---
Puerto Morelos Interactive Map
We've improved the interactive map on our Alma Libre Bookstore website with the addition of dozens of new places and by making the map easier to use. Select the location you want on the right side and the map will show you where it is. There is also a search box. I've included locations in Cancun too, like Costco and Walmart.
To see the map, go to our Puerto Morelos page. The map is at the bottom of the page.
Here is a smaller version, without all the features.
---
Taxi Rates
Know your taxi fare before you get in the cab. See the new taxi fares on the big sign at the square or see them here. Make sure to agree with the driver on the fare before you go. You don't have to tip, but we always do if they get us to our destination alive and well.
And while we are discussing taxis, it looks like Cancun's taxis are going to get meters.
---
New Products
After a whole lot of research we decided to carry some special gourmet and food items in the store. You'll find Mexican-grown organic coffee, vanilla, and a selection of locally-made hot sauces and chili-lime seasoning.
We now also stock the popular Chimay hot sauces. Chimay makes the hottest habanero known to the tongue, and they also make flavourful sauces for more sensitive palates. Folks north of the border clamour for this stuff. (We have people begging us by email to ship this sauce to them!) Chimay Salsa Habanera comes in four flavours, colors and levels of spiciness to suit your palate: Negra la menos picante (black, the least spicy), verde la poco picante (green, a little spicy), roja la muy picante (red, very spicy), amarilla la extra picante (yellow, extra spicy).


Our most popular sauce is a mini four-pack in a woven basket for just 85 pesos. It makes a perfect gift for the food lover in your life, or a great souvenir of your Mexican vacation. (You can re-create that Mexican flavour at home.)
We have also found a new supplier for gourmet vanilla products. We will be selling a higher-end gourmet vanilla, a high-quality regular vanilla and real vanilla beans. All are grown and made in Mexico.
The coffee we are stocking is Mexican grown and high in quality. We have rich organic coffee, smooth Oaxaca coffee, and robust Chiapas coffee.
We also have some gift items available: hand-painted wooden boxes with Mexican designs, pashmina scarves for those long lingering Puerto Morelos evenings and more.
---
Bookstore Hours - We're open 7 days a week: NEW hours!
We're not quite open 24 hours, but we are open 7 days a week with new hours: 10:30am-1:30pm and 3:00pm to 8:00pm every day, even Sunday! Please note that we are closed daily between 1:30 & 3:00. We are hoping that by closing for fewer hours in the afternoon we won't miss as many day trippers from Cancun and Playa. Come see us!
Special Book Orders
We have finally found a supplier who can do the impossible and at a surprisingly low cost: get books to us reliably in Puerto Morelos. We can now order most any title and receive it at the bookstore in about a week.
We are ordering new books for the store about once a month and we can bring in books for you too! Depending on the number of books you order, shipping and duty will be between $3 and $4 US per book. There is no sales tax or any other fees. This is much quicker and cheaper than any other source we have found, including Amazon.
Our next order will be in November. To order, just contact us to make sure we are able to get the book you want.
---
Jungle Market / Jungle Spa
The Jungle Market is on its annual holiday right now. Rest assured the women are working on new surprises for next year.
The Jungle Spa is going strong! In fact it has been so popular, they have expanded the days that it is open and are requesting that people make appointments either by telephone or email. This will ensure you don't waste any time waiting for your treatment.
To make an appointment, contact Sandra at (998) 208 9148 or Cell 044 998 180-5424 or by email through her website. Appointments are available Tuesday-Saturday and limited appointments may be available on Sunday. The spa is closed on Monday.
Many treatments are available, from manicures and pedicures to a luxurious aloe vera and banana leaf wrap and massage! (Or a chocolate massage...does it get any better??) For men, there is the "Mayan Macho" massage. You've never had a massage like this! They even have special massages for young adults. How about a 60 minute four hand massage? You will leave a different person!
Spa prices are much lower than you will find at your resort and proceeds go directly to the Mayan families that work at the spa and Jungle Market.
It's easy and quick to get out to the jungle by car, taxi or collectivo. It's on Calle Dos (kie-yay dose) in the Zona Urbana, which is right behind the Colonia. Here's a map you can print out. Taxi to the jungle from the town square costs 50 pesos. A taxi from nearby hotels is 150 pesos or $12 US each way. Tell driver you want to go to: Jungle Spa - Sandra (important to mention her name) Zona Urbana.
Remember, when you pamper yourself at the Jungle Spa or buy a unique gift at the Mayan Market, you are directly supporting Mayan families! This is a very worthwhile venture and we hope you will support it.
---
Home and Condo Rentals
Give yourself a Spring Break!
Many of you only think of Puerto Morelos in the winter when the snow up north gets you thinking of us down south. The bookstore may be closed, but everything else in town is open and ready to welcome you!
In the spring and summer accommodation prices drop drastically and crowds disappear. The ocean gets calmer, the visibility gets better and the giant whale sharks get closer.
If you have never stayed in a private home or condo, you are in for a wonderful experience. You have all the comforts of home on your vacation. All you have to do is bring your clothes and toothbrush! Everything else is included from towels and linens to hammocks and blenders.
Many ex-pats have built their dream homes here in PM and are willing to rent to you! Renting a place makes you feel more like a local and offers the convenience of cooking for yourself and gives you much more privacy.
Regular Beach Readers know that we feature some of these properties on our website. There are a gazillion property rental sites out there, but our site is unique because these are properties we know, owned and run by people we know and trust.
We like to think we take the guesswork and risk out of renting.
We're always adding new properties to the site and new photos too!
One bedroom or two? Your choice!

This large suite can be rented as a one bedroom/one bath with a fold out couch, or as a two bedroom two bath. Each bedroom has its own outside door to allow entry or exit without disturbing others.
It has a full kitchen with pots and pans, dishes and cutlery, plus appliances including a coffee maker, toaster and juicer. Drinking water is included as well as cable TV and high-speed wireless internet. The suite features a huge terrace with table and chairs and comfy hammocks. All this from $695 a week in season, $450 starting in May!
Click here for more information and pictures!

Bright, Breezy One Bedroom

A big one bedroom, two bath with a loft. The loft has a fold out couch and curtains for privacy. The couch in the living room also folds out into a bed.
Off the bedroom and the living room is a HUGE balcony with table and chairs for four and a comfy hammock.
Of course there is a full kitchen with pots and pans, dishes and cutlery, plus appliances including a coffee maker, toaster and juicer. Drinking water is included as well as cable TV and wireless internet. $695 a week in season, $499 starting in May!

Click here for more information and pictures!

Your place, steps from the best beach in town!

Economical one bedroom one bath on two levels from $399 a week

Comes with a full kitchen, full bath, enormous bedroom and balcony
Click here to download a printable info sheet on the above three apartments
*By the way, it is not too early to start thinking about 2014. I am handling emails every day from people who waited too long to book February this year!*
Check out our new, easier to navigate rentals page here.
Owners! Contact us to get your FREE listing on our website.
---
Ads by Google:
---
Dragon Mart, the massive Mexican project that would be an enormous showroom for products from China has been turned down for its building permits. The Mexican owners (90% MX vs 10% China ownership) will likely appeal, but for now, the Dragon has been slain. The giant project was to be built near Moon Palace, but was often referred to being built in Puerto Morelos. Because of the project's massive scale, there were many concerns relating to the environment, Mexican manufacturing and transport of goods.
Restaurant News:
A new restaurant near the lighthouse is getting rave reviews. La Casa del Farito has a wide menu and a great view of the ocean. Chef Andrea Charles trained in Mexico and the US. Watch for their frequent drink special alerts on Alma Libre's Friends of Puerto Morelos Facebook page.
A sushi place has opened in the Colonia inside one of our favourite restaurants. Lluna LLena is now sharing their space with Hoshi Hoshi which has a large menu and prices are good. Early reviews are also good. I think it is an excellent idea for restaurants to share spaces (and rent) which will help ride out the slower summer season. (Wouldn't it have been great if Hoshi Hoshi had shared space with Barra Barra? Repetetive Repetitive!) Lluna Llena is easy to find in the Colonia just a couple of doors north of the Extra store at the entrance to Villas Morelos I. (Consult our handy online map for details. Scroll up or go to our Puerto Morelos information page.) **Late Update: This may all be changing. This summer Lluna Llena will move to a new location a few blocks away. The menu will be the same. We will follow wherever they go! We'll keep you posted**
In the same "restaurant within a restaurant" vein, you can find everybody's favourite server extraordinaire Valorie serving up breakfast & lunch at John Gray's Kitchen Monday through Saturday at 8:00. Menu includes a French toast croissant and baked Huevos Rancheros. With Val running things, you know the service will be excellent. Welcome back to the "working world" Valorie! We knew you couldn't stay "retired" and check out "Breakfast with Valorie".

Speaking of John Gray, he's getting the group back together by opening a new restaurant in Merida. John Gray's Merida opened in early April. It is located on Paseo de Montejo just north of the big monument.


As we reported last month, our favourite sausage shop Salchicha has made its move into the "big time" with a great location on the square right across the square from the bookstore. They will do baguettes or wraps or you can buy fresh or frozen sausage to cook at your vacation rental. We are particular to the German sausage, but I have heard very good things about the Yucatecan and we know the chicken sausage is good too.

Also as we reported last month, Carbonero restaurant opened on Ninos Heroes close to John Grey's Kitchen. We've heard good reports ranging from chicken wings to fajitas. Apparently they bake their own bread and buns on-site. Love that!
Chianti Allegro finally opened its doors. Their space is next to Cantina Habanero. Menu is Italian.
Speaking of Cantina Habanero, they completed what must have been the fastest renovation in history and now have a lot more covered space for seating.
I Wanna Pizza has added a bar to its restaurant. (possible name: I Wanna Drink?)
A new restaurant with Oaxacan food has moved into the space formerly occupied by El Faro restaurant above the supermarket. It is called Maria Bonita.


The public bathrooms on the square are suddenly open most evenings. They charge 5 pesos, a bargain if you are in need. They have a person on at all times to clean.
Rumour Mill: As we have already reported, some of the new spaces at the entrance to Puerto Morelos are already filled. A couple of shops and Salchicha are already in place. The entire upstairs area is still waiting to be finished. The spots up there will be rented as office space. We have heard from a source in the know that one of the spaces will be rented by INM...the immigration people. Will this mean we won't have to go into Cancun anymore for immigration matters? Seems almost too good to be true. Stay tuned.
Also in the rumour department, we have heard from a couple of sources that the big building next to the church in the Colonia is going to be a bank. We heard HSBC. We contacted the bank to try to get confirmation, but we got nada.
We have also heard from a couple of sources that they are building a new Pemex at the top of the highway just before the bridge on the Puerto side. Why we need another Pemex so close to the existing one (and so close to a cenote) is beyond me. A skilled soccer player could boot a ball from the new location into the old one it is so close. **Update: In fact there will be a protest against the Pemex Sunday April 28. Meet at 10am at Aguakan at the top of the highway.**
Don't Pay the Ferryman: The company that has been promising ferry service from Florida to Mexico has issued another statement saying that the service is coming, but not anytime soon. Bruce Nierenberg, CEO of United Caribbean Lines issued his annual statement saying it is not happening for at least a year. He has issued similar statements since the idea was first floated a few years ago. Now he is staying it will start in February 2014.
There are absolutely no signs that this service is any closer now than it was several years ago. You may recall there was a ferry service called the Yucatan Express which sailed back in 2003. People loved it, but not enough people, as the ferry ran almost empty when it came calling in Puerto Morelos. I would love to see a service like this, but cannot see how it would be viable. I see that he is trying to raise cash on the internet now, not a good sign. Link
The good news is that the highways in Mexico have improved greatly, so you can still get a vehicle and you down here the long way. We do it every year!
Something unusual opened near Puerto Morelos, but I only have limited information. A new hotel called "Sensation" opened on the highway between Puerto Morelos and Cancun. Normally I like to research things for you "first hand", but this will be a little more difficult. This hotel specializes in...now how can I put this...? This hotel specializes in providing for hotel patrons who are not planning to sleep. Does that clear it up? You can rent a regular room, or a theme room, with lots of kinky accoutrement. I spoke to the man who built it, and you would not believe the technology that goes into building such a hotel and the thought that goes in to protecting the privacy of their patrons. I notice they are running a special right now with rooms around the 200 peso level. (They had a sign people, I did not stop in)
I see that the very popular Mayan Holidaze is coming back to Puerto Morelos. This is a big annual concert held each year featuring popular alternative bands like Disco Biscuits, Umphrey's McGee and STS9. This past year they moved to Tulum, but word is they missed Puerto Morelos and are coming back to us this year. The concert goers come for the music, but they are also very careful to leave a legacy behind, supporting the kids and elderly in our town. In 2011 for example they donated school supplies, a couple of computers, first aid kits, walking canes and more. This concert always sells out. The general public will get their chance to book packages beginning April 25. The event will be just before Christmas, December 16-20. More info here.
The 7th Annual Copa del Rey International Polo Tournament takes place April 25 - 28, 2013 at El Rey Polo Country Club just a few minutes west of town on the Ruta de Cenotes. This is the only regulation size polo field in the Mexican Caribbean. If you have not been, it is quite a sight!
There is another proposal to have our state of Quintana Roo in the Eastern Time Zone instead of the Central Time Zone. They floated this balloon last year too, but we remain on the same time zone as Mexico City, like most of the country. Details here.
The federal government is also entertaining the idea of dropping the fideicomiso. This is the trust that is required for a foreigner to own property close to the coast or a border. The main reason for the fideicomiso is to allow the Mexican government to control the amount of the country owned by foreigners. Foreigners mainly see it as a cash grab for the government and a payday for the banks. The government partially agrees with us, in that they think the fideicomiso is a payday for the banks and they would rather grab more of that money for themselves! In other words, we would still be paying, though apparently not as much and the banks would have to go back to grabbing money from their depositors...something they are quite skilled at! We'll keep you posted. **Update: The measure to drop the fedeicomiso passed in the lower House of Congress. It still needs approval from the Senate and a majority of the country's 32 state legislatures to become law. Here is a story in English.**
Little Puerto Morelos made national news a couple of weeks ago thanks to some pretty amazing video. Right around Easter, our town (and apparently the entire coast) started getting buzzed by a big blue Blackhawk helicopter with a giant "Polica Federal" logo on the side. Apparently the boys in blue decided the best way to protect us was to fly very low over our beach and scare the living heck out of any living being on or about the beach. We all thought they were flying pretty low, but we didn't realize how low until we saw a YouTube video showing the helicopter flying so low over a family beach outing that they flipped over the family's inflatable climbing wall, sending a small child into the drink. The video quickly went viral (as we are so apt to say these days) and the national media ran the video over and over. This incident, and a story from Cancun that the helicopter made an unexpected landing in the Home Depot parking lot, distracting a driver so badly that he drove over two pedestrians caused the flights to suddenly stop. I have not seen, heard or ducked since that day! I am assuming these boys are grounded. You can see the video, shot just north of town here.
Bank Machines: To get your spending pesos we recommend our friends and customers use the local bank machines (ATMs), but it makes a big difference which ones you use. The easy way to find the good machines is to always use a machine in a glass booth. That means the HSBC machine outside the grocery store and Santander outside the police station. These machines are affiliated with real banks and the fees are lower. Normally there will be a charge from the Mexican bank and another from your bank. Our bank in Canada combines the fees and nails us for about $5 Canadian for each withdrawal. Your charge should be around the same or less.
You will get a much better exchange rate from the machine than you would at a cambio house, so that compensates for the fee. Remember when using the machine to "think in pesos". Don't withdraw $200 pesos thinking you are taking out $200 dollars. There are limits on the machines but you should be able to withdraw $5000 to $6000 pesos at a time.
In an emergency, you can use the other machines by the mall or at OXXO, but the fees will be much higher and the withdrawal limits much lower. One of the machines dispenses US dollars, but I cannot imagine why anyone would use $USD as you will get nailed twice on exchange. There are also some bank affiliated machines in the Colonia.
Bikes: There are now at least four places to rent a bike in Puerto Morelos. The Puerto Morelos Travel Agency around the corner from Cafe de Amancia has always had bikes. Diver's Point is renting them again from their new location next to Posada El Moro. Now Cantina Habanero is also renting bikes from 100 pesos a day, just pick them up at the restaurant. As we reported last issue, Puerto Morelos Green Bikes is renting stylish "Panama Jack" bikes. (Ask to see the hidden bottle opener) Find them on Facebook or call 998-734-8132 to book your bike. Ask any of these bike places about weekly rates. Riding a bike is a great way to see town, just be careful of the taxis, buses and the occasional pothole. We advise riding OR looking around. Not both at once.
The great white elephant, "CancunMesse" which was hurriedly constructed for the climate conference a few years ago and has pretty much sat empty since, has been re-branded by the Cancun Convention and Visitors bureau as the Lakam Centre. The facility is huge, it has a 242,000 square foot facility and has parking for 500 cars and 50 buses. The only thing it has been lacking is business. (Feel free to make your own "Lack 'Em Centre Joke. I have.) Hopefully the big building will be put to some use under its new designation.
Road Warriors: Just once I wish I would not have to write about street construction, but alas, here we are. Lots of digging going on in the Colonia. Our sources tell us that a new electricity substation is being built there to handle the new hotel opening south of the Now Jade. New lines have been run down the median of the wide road in the Colonia and trenches are being dug at the top of the highway too.
The pavement at the south end of Avenue Ninos Heroes is in terrible shape, so the big speed bump there is completely redundant. Keep a firm grip on the handlebars when you ride through there and watch for any loose fillings!
Police Presence: You may notice a lot more police in town these days. The residents of PoMo asked for more protection from the police and they have delivered. Policing in Mexico is done differently than up north. Police here like to show a very intimidating face and like to roll around with their lights blazing. Soldiers can be seen as well, often carrying guns larger than themselves. Remember they are here to prevent crime, not to scare you. Smile nicely at the big man with the big gun and you will get a big smile back.
Free Wi-Fi: It's getting even easier to stay connected in Puerto Morelos. Many of the restaurants and our bookstore will give you free access with a purchase, and Cablemas is now offering a free signal. Look for it around the town square.
Bunch O' Booths: A lot of booths have sprung up around the square. Most of these booths are selling snorkel and fishing trips. Some are selling tours. Some are selling time-share or vacation clubs. Make sure you know the difference when you are talking to the person at these booths. If the price of a tour or trip seems too good to be true, there may be strings attached. Check out our Puerto Morelos Services page for good local businesses that will show you the sights right!
As we reported before, The Miami Herald Cancun Edition is no more. Look for a copy of the USA Today Cancun Edition at your hotel or convenience store. It's being put together by the same local staff. Check out the weekend edition for "Footprints" a special section devoted to the best in our area. (You can read Footprints online here.)
*Please let me know if you see any typos or spelling errors. My electronic spell checker is dead and my live spell-checker went to Vegas! Seriously*
What did I miss? Let me know!
This Newsletter is being sent to you on a new server. It charges us for each individual email that it sends out, so if you are receiving this email more than once, please unsubscribe the extra addresses. Because it charges us for each email, it is very careful to ensure all the addresses are valid. If it has trouble getting the email to you, it will delete your name and never send you another email. If you were receiving our email, but now you are not, try signing up again using the form on our web page. This "double-opt-in" system is much more accurate and should ensure you continue to receive this newsletter. You can try adding our email address to your contact list too, so that your spam blocker doesn't delete us. Gracias!
Don't hate us, we've added Google Ads to the newsletter in an attempt to cover some of its costs. We have no control over the ads that pop up, Google decides that, and we are in no position to tell them what to do! Please let us know though if anything odd shows up. Please note, these ads don't begin to cover our costs for this newsletter. If you like this newsletter, please support it by buying books at Alma Libre. Gracias!
Current Exchange Rates (At the exchange in Puerto Morelos)


USA Dollar 11.40


CDN Dollar 11.20

This Just In! Books & Products at Alma Libre

We love keeping you up to date with our town, but it's the books that keep us going. We're finding all sorts of new stuff this year; these are a few of our favourites...
Secrets In Stone:

This book takes young readers into the world of the ancient Maya code and explains how it was deciphered and what it all means.

Not only is this the first book on the subject for children, this book also comes with its very own UV-raised "Glyphmaster," which allows budding archaeologists to create glyph Brubbings, just like real archaeologists.

Mexico - Michael Coe: Michael D. Coe's Mexico has long been recognized as the most readable and authoritative introduction to the region's ancient civilizations. This book covers the entire history of Mexico before the Spanish arrived, from the Olmecs to the Aztecs.

This is a fascinating read with lots of photos and illustrations. We have this book at a special low price.

Coe also wrote The Maya and Breaking the Maya Code which we also have in stock at the bookstore.

The Painted Fish and other Mayan Feasts

This book written by Sonja Lillvik, who founded the Cuzan Guest House in Punta Allen is memoir of a life in the land of the Maya told with food! This is a gorgeous book with more than 100 recipes (perfected in the Mayan Riviera and tested up north) and lots of glossy pictures of food and fun.

Secrets of the Talking Jaguar is the story of Martin Prechtel's physical and spiritual journey from the Southwestern US to the highlands of central America. There he becomes apprenticed to a local shaman who teaches Pretchel much about indigenous Mayan life, and about life in general.

We sold out of these last year in hardcover. This year we were lucky enough to get some soft cover editions. If you missed this book last year, don't miss it this time.

Reader's Review: "Reading this book is a fascinating and up to now unavailable look at a culture that sees itself as an integral, unseparable part of nature and the universe."

Casa Yucatan

A beautiful book showcasing the unique architectural style of the Yucatan...or to put it in another way, "A dazzling photographic journey, Casa Yucatan focuses on architectural elements, water spaces, and open-air living in houses both colonial and contemporary, including haciendas and coastal retreats. The Yucatan has undergone a remarkable restoration renaissance of late: ancient pyramids now share the dense jungle landscape with revived haciendas, and colonial homes boasting high-beamed ceilings and cool tile floors posture amidst elegant plazas and renovated nineteenth-century mansions."

SPECIAL OFFER for Alma Libre Bookstore Customers

Cenotes of the Riviera Maya is the best book ever written about the cenotes in our area. Beautifully photographed, it could easily be called a coffee table book, but it is also has all the practical information you need to explore the cenotes whether you are swimming or diving. Many have drooled over this book, but the hefty (500 peso) price tag kept some people away. Now author Steve Gerrard has authorized us to lower the price. At 300 pesos, this book is an incredible bargain and it has been flying off our shelves.

Maps!

If you drive in our area, you need a map! We have excellent and detailed maps of the Yucatan, the country of Mexico, Cancun city, Merida as well as Belize, Guatemala, Cuba and Central America. We also have souvenir-quality maps you can hang on the wall.

We also carry the famous "Map Chick" Riviera Maya, Puerto Morelos and new Mayan Adventure maps.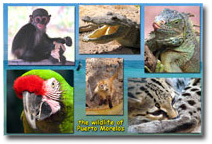 Postcards! We've added a lot of new postcards to our collection, including more underwater shots by "Dive Diva." We have the largest selection of Puerto Morelos postcards, and they are all exclusive to Alma Libre. We know because we make 'em! We also have blank greeting cards to cover any occasion you may wish to celebrate while you are in paradise.
Gift Certificates! A nice gift idea for someone who lives here is an Alma Libre Gift certificate. Available in any amount and can be used for new or used merchandise. We can accept payments from up north via Paypal.
---
Facebook & Twitter
Are you on Facebook? If so, look for our Facebook groups. Friends of Puerto Morelos &Alma Libre Bookstore. You can also buck up your friends list by making Alma Libre Bookstore your friend.
You can also like Alma Libre Bookstore.
The groups have grown very quickly! Friends of Puerto Morelos just passed 1455 members! If you are on Facebook, please join our groups. We'll use them to keep you up to date with town news between newsletters. Check out the group for new photos of Puerto Morelos, taken by fellow visitors!
And if that is not enough for you...you can also follow us on Twitter. This is our twitter home page. You can follow us throughout the day.
---
Your Carriage Awaits - This well-dressed steed can be found on the square in Valladolid.
Theatre Under the Stars - If you attended the Riviera Maya Film Festival, this was your screening room. Probably the prettiest theatre I have been in, and no sticky floors!
Yeah, yeah, yeah- Charlie Brown, snorkel guide extraordinaire looks remarkably coordinated here with his red and white attire and Coca-Cola accessories!
Jungle Beauty - Sometimes you just need to get back to nature, and there is no better place to do that than the tiny village of Ek Balam, just outside the archeological site. This is the pool and some of the gardens at Genesis Retreat, run by our friend Lee Christie from Calgary. A great place to stay while exploring the ruin or Valladolid. Website here.
---
In Memory
Long-time part time resident, Julieta Riley passed away in March after a courageous battle with cancer. Julie owned Casa Tykel on Calle de los Palapas with her former husband Glen Nyman. She managed one last visit to Puerto Morelos earlier this year, where she displayed her usual wit and candour. She will be missed.


Very sad to pass along the news of the death of former Puerto Morelos resident Joyous Heart. Joyous lived and worked here when we first moved to Puerto Morelos in 2002. She moved to San Miguel de Allende several years ago. She opened a guesthouse and adopted a teenage daughter. The daughter is now in custody as the only suspect in the death of Joyous. More information here.
---
Google Ads:
---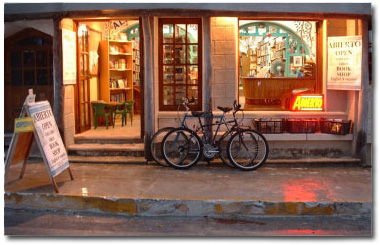 Just a reminder that we are open 7 days a week for the season. Our hours are 10:30am to 1:30pm & 3:00pm to 8:00pm EVERY DAY of the week. (Including Sunday) We are closed between 1:30pm and 3:00 for siesta, though sometimes you may find us open.
Our hours are always posted on the front page of our website at www.almalibrebooks.com.
We take trades every day, so our selection is constantly changing. If you are planning a trip down, please leave your e-reader at home and plan to buy all your reading material at Alma Libre. We got you covered!
We look forward to seeing you in Puerto Morelos!
---
Beach Reads is the official newsletter of Alma Libre Bookstore in Puerto Morelos Mexico. It is mailed directly to your mailbox if you request it. Beach Reads is published on a sporadic, seemingly random basis...but it is supposed to be approximately monthly during the season at Puerto Morelos. The season is November until after Easter. We do our best to publish it regularly...but we are easily distracted...
Our website is located at www.almalibrebooks.com Our store hours are always on the home page.
If you do not wish to receive this newsletter, please Click Here To Unsubscribe
This is Year #11, Issue #3. March/April/May 2013.
To subscribe or make comments or suggestions or advertise your local event, please Contact Us
Retransmission & Redistribution of this newsletter without express written consent is just fine by us! Send this newsletter to a friend! (or get them to sign up for their own copy) If you like the newsletter, please support it by buying a book at Alma Libre Bookstore.