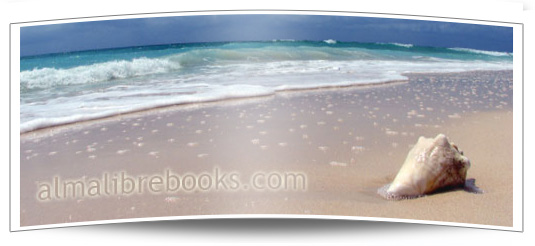 News from Alma Libre Bookstore - Puerto Morelos, Mexico
Year 11 Issue #2 - February 2013
Click here to go to our website: www.almalibrebooks.com (Puerto Morelos Information/Rentals/Real Estate & More!)
Click Here for Back Issues of Beach Reads
---
Bookstore Open!
New Hours 10:30-1:30 & 3:00-8:00pm 7 days a week
---
The Season is Here!
Let us be the last to wish you a Happy New Year.
As we at the bookstore so boldly predicted, the world did not end on December 21. If you waited until after that date to book your accommodations in PoMo though, you may just have a problem. Popular properties are now booking a year in advance, so it's not too early to start thinking about 2014. We still have good availability in April of this year, so maybe think about a spring fling.
It is so good to see people here in town again. A lot of familiar faces are back and we're also seeing a lot of newcomers. We have lots of guests who were coaxed out of their all-inclusive hotels and are now enjoying "la vida local" in our town.
This issue marks the return of our annual "Best of Puerto Morelos" survey. This is your chance to share what you love most about our special town. I'm thinking the top restaurant title will be up for grabs again after being held for so long by the late Hola Asia and the last two years by David Lau's. I'm also hoping a restaurant from the Colonia might crack the top ten as there are a lot of popular choices over there.
For the last 11 years we've been making this newsletter, passing on the news from our town with accuracy, reasonably good spelling and a little humour. We do pretty much everything we can to promote our little town and we encourage you to send this newsletter, and our somewhat informative website, AlmaLibreBooks.com to others.
We do not allow other sites or newsletters to lift our content and publish it as their own. We devote a lot of time and energy to this publication and will vigorously defend our copyright. Please let us know if you see our content on someone else's web page or newsletter.
*Please let me know about any typos. My spell-check quit me (in disgust) so I am operating without a net here. Gracias!*
---
9th Annual "Best of Puerto Morelos" Survey (2013 Edition)
Time again for our annual Best of Puerto Morelos survey, where we ask you what you like best about Puerto Morelos. What are your favourite places to eat, hang out or have fun?

The purpose of the survey is to share what your fellow newsletter readers love most about Puerto Morelos. Perhaps you have been missing something, and you can use the survey results to plan your next trip. The most popular question we ask is for your favourite restaurant. We're expecting this one to be extra popular this year. For a reminder of all the restaurants in Puerto Morelos, see our complete restaurant list. (link opens in a new window)
Survey closes February 24. One entry per person. Stuffing the ballot box will not be permitted!

Our survey is easier to fill out our this year; it appears in a separate box below. Use the scroll bar on the right to see all the questions. Click finished when you are done, then you can go on with the newsletter...we'll wait for you. Firefox users, please use this link to the survey if you do not see the scroll bar on the right..
---
Dragon Mart
I have resisted commenting on the Dragon Mart as there seems to be so much conflicting information about the project. The truth is, I do not know and the more I read, the less I seem to know.
Here's what we do know:
The Dragon Mart already has one location in Dubai. In Dubai it is essentially a really big mall showcasing products made in China. It is so big, 1.2 kilometres long, that they offer transport services within the mall to get from one end to the other. The mall is located close to Dubai's airport and Jeleb Ali, a giant port city with tax-free status.
I think it is safe to assume that a Dragon Mart here would be a similar project, though on a smaller scale. It would be a big mall showcasing
made in China
products. Some local media refers to manufacturing plants on site, which does not seem to make much sense.
The photo to the right
shows the project; a big mall, housing and a few warehouses.
We also know this: the site of the mall is NOT in Puerto Morelos. It is closer to Moon Palace, out towards the airport. The Chinese people involved in the project would live onsite, not in Puerto Morelos. They will have their own restaurants and shops in their own community. The Mexican government estimates there will be 1000-2000 people from around the world, not just China at the site. Some other sources have been saying 5000 people.
A genuine concern is how they are getting the product to the mall. Some newspaper articles have cautioned that container traffic through our small port will skyrocket. For our port to handle much more traffic and larger ships than it does now, it would have to be dredged and that would damage our precious reef. I do not think that anyone anywhere has given permission to dredge the port.
I have to wonder though, if the mall is just a showcase for products, why would they need to ship so many containers here? Surely it would make more sense to ship to other points in Mexico and Latin America directly from China. Why offload everything in Quintana Roo if the stuff is destined for Brazil? There are large ports in Mexico, but PoMo is not one of them.
It is also unclear if Dragon Mart even has the permission to build on the site. Some reports say they are destroying too much green space to build, but other sources say the site is an old rock quarry with no green space to protect. Some sources say the permits are all in place and some sources say they do not have the correct permits to proceed.
I also know this: for some reason, a lot of people have a lot of bad ideas about how to develop Puerto Morelos. That terrible plan for a Pemex fuel storage facility was just killed by outgoing President Felipe Calderon. There seems to be a new bad idea come up every year.
I do not think Puerto Morelos will benefit at all from this project. I don't think the town will get anything out of it, property values will not go up (or down) because of it and we won't even get a Chinese restaurant out of the deal. I also don't think it will have much negative effect on the town if it goes ahead unless they radically enlarge the federal dock and dredge the port.
The latest news says the entire project is on hold right now.
We will continue to monitor all this closely and try to separate fact from fiction. Below are a few links to some more reading. These articles are all in Spanish, but can easily be translated into almost English with Google Translate
This is the most recent article I have found. It says stuff will not be shipped through Mexico
This recent article says it is a go.
This article has more backgound information.
This article says that the Dragon Mart is 90% Mexican owned. Just 10% Chinese.
This local group has led a vocal opposition against the Dragon Mart (Facebook Page)
---
Celebrate the Reef!
Here is an anniversary worth celebrating. On the second day of February of this year, the National Marine Park will be 15 years old.
It was on Feb 2, 1998 that by Presidential Decree the area was designated the National Marine Park of the Puerto Morelos Reef. So on Saturday there will be all day celebrations in the square, the malecon and the dock.
There will be lots of activities, from ceremonies recognizing the people who protect the reef to volleyball, soccer, sand sculptures, a greased pole competition (fun) and ballet folklore in the evening.
I assume these celebrations will run right into the Music Festival, so it will be a day and night to remember!
---
Puerto Morelos Interactive Map
We've improved the interactive map on our Alma Libre Bookstore website with the addition of dozens of new places and by making the map easier to use. Select the location you want on the right side and the map will show you where it is. There is also a search box. I've included locations in Cancun too, like Costco and Walmart.
To see the map, go to our Puerto Morelos page. The map is at the bottom of the page.
Here is a smaller version, without all the features.
---
Taxi Rates
Know your taxi fare before you get in the cab. See the new taxi fares on the big sign at the square or see them here. Make sure to agree with the driver on the fare before you go. You don't have to tip, but we always do if they get us to our destination alive and well.
And while we are discussing taxis, it looks like Cancun's taxis are going to get meters.
---
New Products
After a whole lot of research we decided to carry some special gourmet and food items in the store. You'll find Mexican-grown organic coffee, vanilla, and a selection of locally-made hot sauces and chili-lime seasoning.
We now also stock the popular Chimay hot sauces. Chimay makes the hottest habanero known to the tongue, and they also make flavourful sauces for more sensitive palates. Folks north of the border clamour for this stuff. (We have people begging us by email to ship this sauce to them!) Chimay Salsa Habanera comes in four flavours, colors and levels of spiciness to suit your palate: Negra la menos picante (black, the least spicy), verde la poco picante (green, a little spicy), roja la muy picante (red, very spicy), amarilla la extra picante (yellow, extra spicy).


Our most popular sauce is a mini four-pack in a woven basket for just 85 pesos. It makes a perfect gift for the food lover in your life, or a great souvenir of your Mexican vacation. (You can re-create that Mexican flavour at home.)
We have also found a new supplier for gourmet vanilla products. We will be selling a higher-end gourmet vanilla, a high-quality regular vanilla and real vanilla beans. All are grown and made in Mexico.
The coffee we are stocking is Mexican grown and high in quality. We have rich organic coffee, smooth Oaxaca coffee, and robust Chiapas coffee.
We also have some gift items available: hand-painted wooden boxes with Mexican designs, pashmina scarves for those long lingering Puerto Morelos evenings and more.
---
Bookstore Hours - We're open 7 days a week: NEW hours!
We're not quite open 24 hours, but we are open 7 days a week with new hours: 10:30am-1:30pm and 3:00pm to 8:00pm every day, even Sunday! Please note that we are closed daily between 1:30 & 3:00. We are hoping that by closing for fewer hours in the afternoon we won't miss as many day trippers from Cancun and Playa. Come see us!
Special Book Orders
We have finally found a supplier who can do the impossible and at a suprisingly low cost: get books to us reliably in Puerto Morelos. We can now order most any title and receive it at the bookstore in about a week.
We are ordering new books for the store about once a month and we can bring in books for you too! Depending on the number of books you order, shipping and duty will be between $3 and $4 US per book. There is no sales tax or any other fees. This is much quicker and cheaper than any other source we have found, including Amazon.
Our next order will be in February. To order, just contact us to make sure we are able to get the book you want.
---
Jungle Market / Jungle Spa
The Jungle Market has returned. The market runs Sundays 10:00am to 1:00pm.
Here is what to do: Show up early and eat breakfast there. The food is fantastic, and it is very popular. After that, do a little shopping for hand-made handicrafts, unique to the market. Then take in the show at 11:30. This is a pre-Hispanic Jarana dance with the women wearing their colourful dresses. Then...shop again.
The Jungle Spa has been so popular, they have expanded the days that it is open and are requesting that people make appointments either by telephone or email. This will ensure you don't waste any time waiting for your treatment.
To make an appointment, contact Sandra at (998) 208 9148 or Cell 044 998 180-5424 or by email through her website. Appointments are available Tuesday-Saturday and limited appointments may be available on Sunday. The spa is closed on Monday.
Many treatments are available, from manicures and pedicures to a luxurious aloe vera and banana leaf wrap and massage! (Or a chocolate massage...does it get any better??) For men, there is the "Mayan Macho" massage. You've never had a massage like this! They even have special massages for young adults. How about a 60 minute four hand massage? You will leave a different person!
Spa prices are much lower than you will find at your resort and proceeds go directly to the Mayan families that work at the spa and Jungle Market.
It's easy and quick to get out to the jungle by car, taxi or collectivo. It's on Calle Dos (kie-yay dose) in the Zona Urbana, which is right behind the Colonia. Here's a map you can print out. Taxi to the jungle from the town square costs 50 pesos. A taxi from nearby hotels is 150 pesos or $12 US each way. Tell driver you want to go to: Jungle Spa - Sandra (important to mention her name) Zona Urbana.
Remember, when you pamper yourself at the Jungle Spa or buy a unique gift at the Mayan Market, you are directly supporting Mayan families! This is a very worthwhile venture and we hope you will support it.
---
Home and Condo Rentals
'Tis the season in PoMo!
We still have some home and condo rentals available for the season and the spring. If you have never stayed in a private home or condo, you are in for a wonderful experience. You have all the comforts of home on your vacation. All you have to do is bring your clothes and toothbrush! Everything else is included from towels and linens to hammocks and blenders.

Many ex-pats have built their dream homes here in PM and are willing to rent to you! Renting a place makes you feel more like a local and offers the convenience of cooking for yourself and gives you much more privacy.

Regular Beach Readers know that we feature some of these properties on our website. There are a gazillion property rental sites out there, but our site is unique because these are properties we know, owned and run by people we know and trust.
We like to think we take the guesswork and risk out of renting.
We're always adding new properties to the site and new photos too!
One bedroom or two? Your choice!

This large suite can be rented as a one bedroom/one bath with a fold out couch, or as a two bedroom two bath. Each bedroom has its own outside door to allow entry or exit without disturbing others.
It has a full kitchen with pots and pans, dishes and cutlery, plus appliances including a coffee maker, toaster and juicer. Drinking water is included as well as cable TV and high-speed wireless internet. The suite features a huge terrace with table and chairs and comfy hammocks. All this from $695 a week in season, $450 starting in May!
Click here for more information and pictures!

Bright, Breezy One Bedroom

A big one bedroom, two bath with a loft. The loft has a fold out couch and curtains for privacy. The couch in the living room also folds out into a bed.
Off the bedroom and the living room is a HUGE balcony with table and chairs for four and a comfy hammock.
Of course there is a full kitchen with pots and pans, dishes and cutlery, plus appliances including a coffee maker, toaster and juicer. Drinking water is included as well as cable TV and wireless internet. $695 a week in season, $499 starting in May!

Click here for more information and pictures!

Your place, steps from the best beach in town!

Economical one bedroom one bath on two levels from $399 a week

Comes with a full kitchen, full bath, enormous bedroom and balcony
Click here to download a printable info sheet on the above three apartments
*By the way, it is not too early to start thinking about 2014. I am handling emails every day from people who waited too long to book February this year!*
Check out our new, easier to navigate rentals page here.
Owners! Contact us to get your FREE listing on our website.
---
Ads by Google:
---
Restaurant News: We heard some great news this week. Our "go-to" lunch place is going to get a whole lot more convenient. Salchicha serves excellent sausage baguettes or wraps for just 25 pesos. The place is fast, efficient and unbelievably clean. The only knock was the not-so-romantic location at the Pemex at the top of the highway. Now we have received word that they are moving to one of the new spaces on the square, right across from the bookstore. I see some lovely lunches on the beach in my future! The move should happen in early February.
The boys at I Wanna Pizza have opened their new taco place. As I reported last issue, they cheerfully rejected my suggested name "I Wanna Taco" for the less catchy "Camaron Chelero". They serve fish and shrimp tacos & more.
Happy to report that Casa de Pescador has suddenly re-opened in their usual location above the fish co-op. Welcome back!
Vegan paradise Siempre Sano has moved their restaurant a little further south down Avenue Rojo Gomez. Their new location is much bigger and brighter than their old location. It is easy to find them, just walk a little south of the Mayan Handicraft centre and you will find it on your right.
After a very busy Christmas season, Al Chimichurri has found time to revamp their menu a little. Worry not, all your favourites are still there, but they have added a few new entrees and appetizers. We ditched our usual choices the other night and had a delicious sirloin appetizer and a new stuffed chicken dish. Delish!
A couple of new restaurants are coming soon. A message on our Facebook page says a new Italian place called Chianti Allegro will be opening in the space beside Cantina Habanero. A restaurant/bar is also taking shape beside the Cheers bar/restaurant. It is called Carbonero.
Not new, but a new location for My Little Italy in the Colonia. They are now in the space formerly occupied Papas Y Cafe, which has closed. Homemade pastas and pizzas.
The wonderful Valorie is no longer at David Lau's restaurant. She is still in PoMo enjoying a bit of a break and no doubt mourning her beloved Patriots. Sorry Val! Go 49'ers? She will be missed for her wonderful service, her amazing memory for what you ordered two years ago and that laugh of hers. (We could hear it clearly in the bookstore every night!)
A new Argentine steak house has opened in the Colonia, it is kitty corner from the Extra and Lluna Llena at Villas Morelos I. No reviews yet.
Lluna Llena, always a favourite of ours, has expanded their menu and is now offering pizza in addition to their baguettes, salads, enchiladas and pasta.
The new retail spaces on the north corner of the square are starting to fill up. As we said Salchicha is moving into one of them. The other two are occupied by a big t-shirt shop and a souvenir store. The souvenir store did not get their sign spell checked, so it says they are selling "dreeses". (We think they mean dresses). The T-shirt place sells such clever designs as a "One tequila, two tequila, three tequila, floor" shirt. Yeah...never saw that one before.
Puerto Morelos, Alma Libre Bookstore and a couple of plucky young bookstore owners will be featured in an upcoming issue of an international magazine. Details to follow.
Free English Lessons: If you are reading this, you do not need this information, but maybe you know someone who does. Town visitors Steve & Jacqueline (Steve is a former University professor) are offering free English classes for adults at the Library each Wednesday at 5:00pm until the end of March. Kids can come Friday at 5:00. What a nice gift for the community.
For those who need to learn Spanish, we have a couple of options for you. Our friends Shawn and Suzanne from Puerto Adventuras are teaching "Learn Spanish in Three Days" classes. They promise a fun and easy three days using frequency modulation rapid learning techniques. This course is based on the teachings of Dr. Georgi Lozanov and is not about memorization. They have staged classes in Mexico and Canada and have many happy students. Next classes are February 21, 22 & 23. For more information, check out their website: spanishin3days.weebly.com
Here in Puerto Morelos, Marilu and Victor are teaching Spanish. They will come to you and will work with students at any level. They are currently even trying to teach a couple of dim bulbs that work at the bookstore. Buena suerte to them with that! Please contact us and we will pass on their contact info.
Bank Machines: To get your spending pesos we recommend our friends and customers use the local bank machines (ATMs), but it makes a big difference which ones you use. The easy way to find the good machines is to always use a machine in a glass booth. That means the HSBC machine outside the grocery store and Santander outside the police station. These machines are affiliated with real banks and the fees are lower. Normally there will be a charge from the Mexican bank and another from your bank. Our bank in Canada combines the fees and nails us for about $5 Canadian for each withdrawal. Your charge should be around the same or less.
You will get a much better exchange rate from the machine than you would at a cambio house, so that compensates for the fee. Remember when using the machine to "think in pesos". Don't withdraw $200 pesos thinking you are taking out $200 dollars. There are limits on the machines but you should be able to withdraw $5000 to $6000 pesos at a time.
In an emergency, you can use the other machines by the mall or at OXXO, but the fees will be much higher and the withdrawal limits much lower. One of the machines dispenses US dollars, but I cannot imagine why anyone would use $USD as you will get nailed twice on exchange. There are also some bank affiliated machines in the Colonia.
Bikes: There are now at least three places to rent a bike in Puerto Morelos. The Puerto Morelos Travel Agency around the corner from Cafe de Amancia has always had bikes. Now Cantina Habanero is also renting bikes from 100 pesos a day, just pick them up at the restaurant. As we reported last issue, Puerto Morelos Green Bikes is renting stylish "Panama Jack" bikes. (Ask to see the hidden bottle opener) Find them on Facebook or call 998-734-8132 to book your bike. Ask any of these bike places about weekly rates.
Road Warriors: Good timing to rent a bike. Crews FINALLY finished that little stretch of Ninos Heroes that has been out of commission for months. Now all the roads are patched after the disastrous pipe construction last season. There are still rough spots, potholes and speed bumps though, so remember the PoMo bike safety rules:
You can ride your bike or you can look at the pretty scenery...but you cannot do both at the same time!
If you thought drivers treated pedestrians with contempt, wait until you see how they treat cyclists! Drive defensively and watch those cars, especially the taxis and buses. (If a taxi cuts you off, please yell at them. I am on a one person campaign to make them fear and respect cyclists)
Break-ins: There have been a number of break-ins at various properties around Puerto Morelos. In some cases the thieves came through unlocked doors or windows, in some they forced entry. Most incidents occurred in the early evening but some were later and earlier. Popular targets included phones, computers, cameras and good old cash. Please take common-sense precautions, always lock up and hide your stuff. Property owners, please remind your clients to use the same precautions they would take at home. Paradise unfortunately has crime too.
Ask A Realtor: Mayan Riviera Properties are again offering their weekly workshop outlining how to buy property in our area. This is a great chance to learn and ask your questions about living here full or part time. Workshops run each Tuesday at 5:00.
Shout Out to our friends Art & Marie in Toronto. Art and Marie have been the well-tanned unofficial PoMo hospitality & tourism crew since they first came here in 2002. This year they have to stay closer to home. We miss you guys!
Free Wi-Fi: It's getting even easier to stay connected in Puerto Morelos. Many of the restaurants and our bookstore will give you free access with a purchase, and Cablemas is now offering a free signal. Look for it around the town square.
Bunch O' Booths: A lot of booths have sprung up around the square. Most of these booths are selling snorkel and fishing trips. Some are selling tours. Some are selling time-share or vacation clubs. Make sure you know the difference when you are talking to the person at these booths. If the price of a tour or trip seems too good to be true, there may be strings attached. Check out our Puerto Morelos Services page for good local businesses that will show you the sights right!
As we reported before, The Miami Herald Cancun Edition is no more. Look for a copy of the USA Today Cancun Edition at your hotel or convenience store. It's being put together by the same local staff. Check out the weekend edition for "Footprints" a special section devoted to the best in our area. (You can read Footprints online here.)
*Special thanks to frequent visitor and eagle-eyed proof reader Sue from Calgary. She proof read good. (I did this sentence on my own)*
What did I miss? Let me know!
This Newsletter is being sent to you on a new server. It charges us for each individual email that it sends out, so if you are receiving this email more than once, please unsubscribe the extra addresses. Because it charges us for each email, it is very careful to ensure all the addresses are valid. If it has trouble getting the email to you, it will delete your name and never send you another email. If you were receiving our email, but now you are not, try signing up again using the form on our web page. This "double-opt-in" system is much more accurate and should ensure you continue to receive this newsletter. You can try adding our email address to your contact list too, so that your spam blocker doesn't delete us. Gracias!
Don't hate us, we've added Google Ads to the newsletter in an attempt to cover some of its costs. We have no control over the ads that pop up, Google decides that, and we are in no position to tell them what to do! Please let us know though if anything odd shows up. Please note, these ads don't begin to cover our costs for this newsletter. If you like this newsletter, please support it by buying books at Alma Libre. Gracias!
Current Exchange Rates (At the exchange in Puerto Morelos)


USA Dollar 11.95


CDN Dollar 11.90

The real rate is closer to 12.70. You will get a better rate from the ATM.

This Just In! Books & Products at Alma Libre

We love keeping you up to date with our town, but it's the books that keep us going. We're finding all sorts of new stuff this year; these are a few of our favourites...
Secrets In Stone:

This book takes young readers into the world of the ancient Maya code and explains how it was deciphered and what it all means.

Not only is this the first book on the subject for children, this book also comes with its very own UV-raised "Glyphmaster," which allows budding archaeologists to create glyph Brubbings, just like real archaeologists.

Mexico - Michael Coe: Michael D. Coeís Mexico has long been recognized as the most readable and authoritative introduction to the regionís ancient civilizations. This book covers the entire history of Mexico before the Spanish arrived, from the Olmecs to the Aztecs.

This is a fascinating read with lots of photos and illustrations. We have this book at a special low price.

Coe also wrote The Maya and Breaking the Maya Code which we also have in stock at the bookstore.

The Cat in the Hat came to play one rainy, nothing-to-do-afternoon. His hilarious antics are presented here in Spanish and English.

This has become our most popular kid's book, but our supplier has announced it is going out of print, so we ordered a bunch...but you should not, could not, delay!

The Painted Fish and other Mayan Feasts

This book written by Sonja Lillvik, who founded the Cuzan Guest House in Punta Allen is memoir of a life in the land of the Maya told with food! This is a gorgeous book with more than 100 recipes (perfected in the Mayan Riviera and tested up north) and lots of glossy pictures of food and fun.

Curious George

- is up to his old tricks, but now he's getting into mischief in two languages! And you know he's driving the man in the "amarillo sombrero" crazy! These books are great for kids and for anyone who is learning espanol. We have several "Jorge el curiosa

" titles to choose from.

Secrets of the Talking Jaguar is the story of Martin Prechtel's physical and spiritual journey from the Southwestern US to the highlands of central America. There he becomes apprenticed to a local shaman who teaches Pretchel much about indigenous Mayan life, and about life in general.

We sold out of these last year in hardcover. This year we were lucky enough to get some soft cover editions. If you missed this book last year, donít miss it this time.

Reader's Review: "Reading this book is a fascinating and up to now unavailable look at a culture that sees itself as an integral, unseparable part of nature and the universe."

Casa Yucatan

A beautiful book showcasing the unique architectural style of the Yucatan...or to put it in another way, "A dazzling photographic journey, Casa Yucatan focuses on architectural elements, water spaces, and open-air living in houses both colonial and contemporary, including haciendas and coastal retreats. The Yucatan has undergone a remarkable restoration renaissance of late: ancient pyramids now share the dense jungle landscape with revived haciendas, and colonial homes boasting high-beamed ceilings and cool tile floors posture amidst elegant plazas and renovated nineteenth-century mansions."

SPECIAL OFFER for Alma Libre Bookstore Customers

Cenotes of the Riviera Maya is the best book ever written about the cenotes in our area. Beautifully photographed, it could easily be called a coffee table book, but it is also has all the practical information you need to explore the cenotes whether you are swimming or diving. Many have drooled over this book, but the hefty (500 peso) price tag kept some people away. Now author Steve Gerrard has authorized us to lower the price. At 300 pesos, this book is an incredible bargain and it has been flying off our shelves.

Playing Cards: We have high-quality playing cards at the bookstore. We also sell Sudoku and crossword puzzle books.

Maps!

If you drive in our area, you need a map! We have excellent and detailed maps of the Yucatan, the country of Mexico, Cancun city, Merida as well as Belize, Guatemala, Cuba and Central America. We also have souvenir-quality maps you can hang on the wall.

We also carry the famous "Map Chick" Riviera Maya, Puerto Morelos and new Mayan Adventure maps.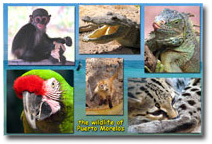 Postcards! We've added a lot of new postcards to our collection, including more underwater shots by "Dive Diva." We have the largest selection of Puerto Morelos postcards, and they are all exclusive to Alma Libre. We know because we make 'em! We also have blank greeting cards to cover any occasion you may wish to celebrate while you are in paradise.
Gift Certificates! A nice gift idea for someone who lives here is an Alma Libre Gift certificate. Available in any amount and can be used for new or used merchandise. We can accept payments from up north via Paypal.
---
Facebook & Twitter
Are you on Facebook? If so, look for our Facebook groups. Friends of Puerto Morelos &Alma Libre Bookstore. You can also buck up your friends list by making Alma Libre Bookstore your friend.
You can also like Alma Libre Bookstore.
The groups have grown very quickly! Friends of Puerto Morelos just passed 1330 members! If you are on Facebook, please join our groups. We'll use them to keep you up to date with town news between newsletters. Check out the group for new photos of Puerto Morelos, taken by fellow visitors!
And if that is not enough for you...you can also follow us on Twitter. This is our twitter home page. You can follow us throughout the day.
---
Still Magic - There may be a couple of hotels added in the last few years, but a short walk south lets you find the magic in Magic Beach.
Waves - If you walk south of the hotels and the new construction, you will quickly find yourself alone with the waves. These folks are enjoying the waves hitting the rocks on the shore. Walking a little north, you will find pristine sand with big waves to play in.
Fixer Upper- This little shack just south of Magic Beach may lack windows or doors...but you have to love the view.
Yacht Set - This yacht was parked at the El Cid Marina. While thinking about whether or not I could afford the dingy on the thing, I found this guy catching some rays.
---
Google Ads:
---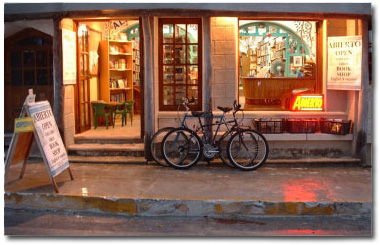 Just a reminder that we are open 7 days a week for the season. Our hours are 10:30am to 1:30pm & 3:00pm to 8:00pm EVERY DAY of the week. (Including Sunday) We are closed between 1:30pm and 3:00 for siesta, though sometimes you may find us open.
Our hours are always posted on the front page of our website at www.almalibrebooks.com.
We take trades every day, so our selection is constantly changing. If you are planning a trip down, please leave your e-reader at home and plan to buy all your reading material at Alma Libre. We got you covered!
We look forward to seeing you in Puerto Morelos!
---
Beach Reads is the official newsletter of Alma Libre Bookstore in Puerto Morelos Mexico. It is mailed directly to your mailbox if you request it. Beach Reads is published on a sporadic, seemingly random basis...but it is supposed to be approximately monthly during the season at Puerto Morelos. The season is November until after Easter. We do our best to publish it regularly...but we are easily distracted...
Our website is located at www.almalibrebooks.com Our store hours are always on the home page.
If you do not wish to receive this newsletter, please Click Here To Unsubscribe
This is Year #11, Issue #2. February 2013.
To subscribe or make comments or suggestions or advertise your local event, please Contact Us
Retransmission & Redistribution of this newsletter without express written consent is just fine by us! Send this newsletter to a friend! (or get them to sign up for their own copy) If you like the newsletter, please support it by buying a book at Alma Libre Bookstore.