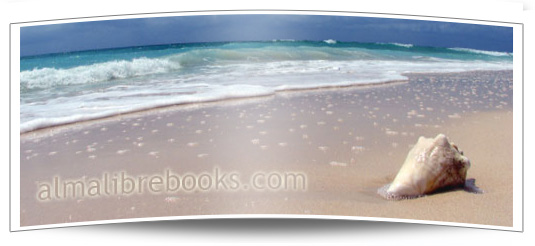 News from Alma Libre Bookstore - Puerto Morelos, Mexico
Year 11 Issue #1 - December 2012
Click here to go to our website: www.almalibrebooks.com (Puerto Morelos Information/Rentals/Real Estate & More!)
Click Here for Back Issues of Beach Reads
---
Bookstore Open!
New Hours 10:30-1:30 & 3:00-8:00pm 7 days a week
---
We're Back!
Here we are, a virtual tropical breeze in your freezing-cold inbox. Beach Reads, now in its 11th (somewhat) proud year, is back with all the news from Puerto Morelos, (PoMo to its friends) and the infamous Alma Libre Bookstore.
I find it hard to believe it has been eleven years. Our first newsletter went out to less than 50 people. You can still see it, and every other issue we've ever written, on our web page here. When we started we probably knew less about Puerto Morelos than the people we were sending it to.
Since then hundreds of webpages have sprung up about Puerto Morelos and even a couple of wanna-be newsletters come out now and then, but we hope you agree that this is THE newsletter of Puerto Morelos, and we hope you agree it is worth waiting for.
We had a busy summer, driving north to Calgary once again and working in our old TV jobs. Once Labour Day rolled around though, we hit the road for points south. We spent two months on the road meandering through the centre of the US and Mexico. We rolled through Wyoming, South Dakota, Arkansas, Louisiana, Texas and more. In Mexico, we spent some time around San Miguel, Patzcuaro, Puebla and the big city, Mexico. (No we did not drive there!)
More about our travels later, but let's get to the part YOU care about. Your town! After a long and quiet summer, the town is ready for another winter season.
There are a bunch of new restaurants for you to try, a lot of places moved around and there are some new things to do. What has not changed is the peaceful, laid-back hospitality and beauty of our town.
A few things have changed at the bookstore; we've changed our hours a little so that we are closed for less time in the afternoon. We are now open 10:30am to 1:30 and 3:00 to 8:00pm. Of course we brought several thousand books with us and more are on the way. We added some new products and gourmet items.
We are overstocked with books right now. We're still taking trades, but we'll have to be fairly picky until we can clear out some of the backstock.
We missed our town so much when we were away. We're betting you miss it too, so get yourself down here! ¡Vamanos!
Please send our newsletter and the bookstore website to your friends and family. PoMo can use some more friends and we can use some more visitors to los bookstore!
*Please let me know about any typos. My spell-check quit me (in disgust) so I am operating without a net here. Gracias!*
---
2012
Humans like to come up with excuses, sometimes, just to freak out. - Maya expert David Stewart
Many thought we were holding off releasing our newsletter until we knew for sure the world was not going to end on December 21. Not so. We knew it wasn't going to end because we talked to the best source in the world. The Mayans!
"The Maya never, ever, said anything about the world ending at any time — much less this year," says David Stuart, a professor at the University of Texas at Austin. "So, it's sort of bizarre to be living through this time right now, when so many people seem to be worked up."
And worked up they are, all around the world. In an international poll of more than 16,000 people, Reuter's news service found that 10% worried that the Mayan calendar could signal the end of the world. 15% of these folks thought the world would end during their lifetime.
(This may say a lot about why people are running up their credit cards with such relish. Why pay when the world is going to end anyway. I wonder how many of these people are running banks in the USA?)
All the fuss stems from "an important cycle of the Maya calendar which is turning over," Stuart says, "called a baktun."

Each baktun represents 144,000 days — or nearly 400 years. The 13th (and, some say, final) baktun of the Mayan calendar is slated to come to an end on the solstice marked on Dec. 21, 2012.

"It's a big deal — if you're an ancient Maya astronomer priest," Stuart says. "But apart from that, they didn't say anything about ... what will be happening."
So whatever foofarah you wish to attach to December 21, please leave the Mayans out of it and party like it is 2011.
For more information about 2012 and the lore behind it, please visit our bookstore.
-Compiled with info from NPR.org
Here is what the end of the world might look like in Puerto Morelos
---
Exchange Rates
You may have heard that the world economy ain't what is used to be. Neither is the peso/dollar/dollar exchange rate. Many years ago when we started visiting Mexico, the exchange rate to the Canadian dollar was around 6 to 1, or 6 pesos to every dollar. The US rate was better, around 10 to 1. The rate was fairly stable. Now, currency markets fluctuate wildly, and it can have a big effect on your vacation.
A lot of us still think of the US dollar as being worth about ten pesos. The real rate is closer to 13. This means that great meal you had in Puerto Morelos, with lots of wine and two big steaks which cost about 400 pesos, really only cost you less than $32. Keep these rates in mind when you pay in pesos. Your dollars (converted to pesos) will go a long way here.
Figure that 100 pesos is around $8.00 US and you will be close. This website lets you print out a handy currency "cheat sheet" that you can carry around with you to figure out just how much that adorable ceramic frog with the umbrella is going to cost you. (Priceless!)
---
Puerto Morelos Interactive Map
We've improved the interactive map on our Alma Libre Bookstore website. We've added dozens of new places and the map is easier to use. Select the location you want on the right side and the map will show you where it is. There is also a search box. I've included locations in Cancun too, like Costco and Walmart.
To see the map, go to our Puerto Morelos page. The map is at the bottom.
Here is a smaller version, without all the features.
---
Taxi Rates
Know your taxi fare before you get in the cab. See the new taxi fares on the big sign at the square or see it here. Make sure to agree with the driver on the fare before you go. You don't have to tip, but we always do if they get us to our destination alive and well.
---
New Products
After a whole lot of research we decided to carry some special gourmet and food items in the store. You'll find Mexican grown organic coffee, vanilla, and a selection of locally made hot sauces and chili-lime seasoning.
We now also stock the popular Chimay hot sauces. Folks north of the border clamour for this stuff. (We have people begging us by email to ship this sauce to them!) Chimay makes the hottest habanero known to the tongue, and they also make flavourful sauces for more sensitive palates. Chimay Salsa Habanera comes in four flavours, colors and levels of spiciness to suit your palate: Negra la menos picante (black, the least spicy), verde la poco picante (green, a little spicy), roja la muy picante (red, very spicy), amarilla la extra picante (yellow, extra spicy).


Our most popular sauce is a mini four-pack in a woven basket for just 75 pesos. A perfect gift for the food lover in your life, or a great souvenir of your Mexican vacation. (Re-create that Mexican flavour at home.)
We have also found a new supplier for gourmet vanilla products. We will be selling a higher-end gourmet vanilla, a high-quality regular vanilla and real vanilla beans. All are grown and made in Mexico.
The coffee we are stocking is Mexican grown and high in quality. We have rich organic coffee, smooth Oaxaca coffee, and robust Chiapas coffee.
We also have some gift items available. Hand-painted wooden boxes with Mexican designs, pashmina scarves for those long lingering Puerto Morelos evenings and more.
---
Bookstore Hours - We're open 7 days a week: NEW hours!
We're not quite open 24 hours, but we are open 7 days a week with new hours: 10:30am-1:30pm and 3:00pm to 8:00pm every day, even Sunday! Please note that we are closed daily between 1:30 & 3:00. We are hoping that by closing for fewer hours in the afternoon we won't miss as many day trippers from Cancun and Playa. Come see us!
Special Book Orders
We have finally found a supplier who can do the impossible and at a suprisingly low cost: get books to us reliably in Puerto Morelos. We can now order most any title and receive it at the bookstore in about a week.
We are ordering new books for the store about once a month and we can bring in books for you too! Depending on the number of books you order, shipping and duty will be between $3 and $4 US per book. There is no sales tax or any other fees. This is much quicker and cheaper than any other source we have found, including Amazon.
Our next order will be in January. To order, just contact us to make sure we are able to get the book you want.
---
Jungle Market / Jungle Spa
The Jungle Market has returned. The market runs Sundays 10:00am to 1:00pm.
Here is how you do it: Show up early and eat breakfast there. The food is fantastic, and it is very popular. After that, do a little shopping for hand-made handicrafts, unique to the market. Then take in the show at 11:30. This is a pre-Hispanic Jarana dance with the women wearing their colourful dresses. Then...shop again.
Sunday, December 23rd is the annual Jungle Market Posada. There will be a procession with Baby Jesus, Mary and Joseph, shepherds, angels and a real burro! After the show there will be a piñata for the kids. Fun!
The Jungle Spa has been so popular, they have expanded the days that it is open and are requesting that people make appointments either by telephone or email. This will ensure you don't waste any time waiting for your treatment.
To make an appointment, contact Sandra at (998) 208 9148 or Cell 044 998 180-5424 or by email through her website. Appointments are available Tuesday-Saturday and limited appointments may be available on Sunday. The spa is closed on Monday.
Many treatments are available, from manicures and pedicures to a luxurious aloe vera and banana leaf wrap and massage! (or a chocolate massage...does it get any better??) For men, there is the "Mayan Macho" massage. You've never had a massage like this! They even have special massages for young adults. How about a 60 minute four hand massage? You will leave a different person!
Spa prices are much lower than you will find at your resort and proceeds go directly to the Mayan families that work at the spa and Jungle Market.
It's easy to get out to the jungle by car, taxi or collectivo. It's on Calle Dos (kie-yay dose) in the Zona Urbana, which is right behind the Colonia. Here's a map you can print out. Taxi to the jungle from the town square is 50 pesos. A taxi from nearby hotels is 150 pesos or $12 US each way. Tell driver you want to go to: Jungle Spa - Sandra (important to mention her name) Zona Urbana.
Remember, when you pamper yourself at the Jungle Spa or buy a unique gift at the Mayan Market, you are directly supporting Mayan families! This is a very worthwhile venture and we hope you will support it.
---
Home and Condo Rentals
'Tis the season in PoMo!
We still have some home and condo rentals available for the season and the spring. If you have never stayed in a private home or condo, you are in for a wonderful experience. You have all the comforts of home on your vacation. All you have to do is bring your clothes and toothbrush! Everything else is included from towels and linens to hammocks and blenders.

Many ex-pats have built their dream homes here in PM and are willing to rent to you! Renting a place makes you feel more like a local and offers the convenience of cooking for yourself and
much more privacy
.

Regular Beach Readers know that we feature some of these properties on our website. There are a gazillion property rental sites out there, but our site is unique because these are properties we know, owned and run by people we know and trust. We like to think we take the guesswork and risk out of renting.

We're always adding new properties to the site and new photos too!
One bedroom or two? Your choice!

This large suite can be rented as a one bedroom/one bath with a fold out couch, or as a two bedroom two bath. Each bedroom has its own outside door to allow entry or exit without disturbing others.
It has a full kitchen with pots and pans, dishes and cutlery, plus appliances like coffee maker, toaster and juicer. Drinking water is included as well as cable TV and high-speed wireless internet. The suite features a huge terrace with table and chairs and comfy hammocks. All this from $695 a week in season, $450 starting in May!
Click here for more information and pictures!

Bright, Breezy One Bedroom

A big one bedroom, two bath with a loft. The loft has a fold out couch and curtains for privacy. The couch in the living room also folds out into a bed.
Off the bedroom and the living room is a HUGE balcony with table and chairs for four and a comfy hammock.
Of course there is a full kitchen with pots and pans, dishes and cutlery, plus appliances like coffee maker, toaster and juicer. Drinking water is included as well as cable TV and wireless internet. $695 a week in season, $499 starting in May!

Click here for more information and pictures!

Your place, steps from the best beach in town!

Economical one bedroom one bath on two levels from $399 a week

Comes with a full kitchen, full bath, enormous bedroom and balcony
Click here to download a printable info sheet on the above three apartments
*By the way, it is not too early to start thinking about 2014. I am handling emails every day from people who waited too long to book Christmas and February!*
Check out our new, easier to navigate rentals page here.
Owners! Contact us to get your FREE listing on our website.
---
Ads by Google:
---
Restaurant News: The first days when we return to town are spent checking out all the new places. It may take a few weeks to check them all out this time.
The new restaurant on the square is El Nicho. It takes over the space formerly occupied by L' Oazis which closed. El Nicho is new, but the chef is not. You'll recognize Chef Pablo from his time at the Little Mexican Cooking School. The menu at El Nicho features those famous Eggs Benedict and other breakfast and lunch favourites. They are not open for dinner.
The food wizards at Al Chimichurri have expanded again. They opened Al Chile around the corner from the bookstore just past Barra Barra in the space formerly occupied by the Village Cafe. The extensive menu is Mexican and features familiar favourites like nachos and quesadillas as well as fajitas and burritos. You can also find Mexican classics like chicken in mole, pozole, tacos and arrachera steak. You can even get a good old burger. They are open for breakfast too. A big plus is that you have the option of dining indoors with air conditioning or outdoors on their big terrace. Prices are very good.
The boys at I Wanna Pizza are expanding too. They are taking over the space at the end of the long block on Ninos Heroes formerly occupied by Cruzita. The new place will sell tacos including shrimp tacos. My suggested name "I Wanna Taco" was quickly rejected. They will continue to crank out pizza and reggae tunes at their current location and they are still baking that wonderful bread daily.
We are hearing good things about Fonda Americana Grill, a new restaurant that has opened in the Colonia. It is a little more high-end. Well known food lovers, but strict non-cooks Tiff and Abby filed this review recently, "Delicious spinach-artichoke-poblano pepper dip. Unusual items on the menu that change often since the chef, Roberto, loves to cook." I am particularly intrigued by the "Hamburguesa para 2" on his menu. We have not been yet, so I am reluctant to describe how to get there, but we have maps in the bookstore.
A new torta place has opened on Rojo Gomez close to the square. It is called Las Tortas de Chito. Tortas are sandwiches made with a roll. They are usually inexpensive and tasty. I have not tried these ones yet.
A new place has opened in the old Hola Asia space. All I have learned about it is from reading their sign. It is called Azucar, which is espanol for sugar, and it bills itself as a Salsa Bar, a place to get spaghetti and an academy of Latin dance. Someone else is going to have to check this one out and get back to me.
Some popular restaurants are not where you left them last. A big construction project on the north corner of the square forced El Pirata and La Terazza restaurant to find new homes. Luckily they both moved into better locations. El Pirata is just a block north of the square on the main road, approximately across from Cantina Habanero. Pirata now has much more space and a beautiful wooden bar that resembles a ship. The bar and furniture were made by Miguel Angel Gil from Temozon, who has also made lovely furniture for us. Staff at Pirata are sporting snappy red & black swashbuckling uniforms. Arrrrr.
La Terazza has taken over most of the restaurant space at Posada Amor. This is a nice big airy spot for them, and will no doubt make them even more popular with locals and tourists alike. No more stairs!
Puerto Morelos now has a European style bakery. It's on the main road just north of the square next to the new El Pirata. Panaderia Estilo Europeo has a wide variety of bread and you can order your favourite if they don't have it on the shelves. I saw some pretty good looking cinnamon rolls the other day, and they have lots of breads. They are offering Christmas baking too.
Across from the bakery is another place offering baked goods as well as smoothies and gelato. Panna e Cioccolato advertises juice, coffee, breads and sandwiches. We haven't checked it out yet.
Of course Chef Dieter is still making his bread, available at Casa Martin or through their website. In addition to bread you can now get special Christmas bread and cookies.
In the same area is a new place to get a drink. La Zandundga del Puerto sells drinks and will provide free snacks for you to enjoy with your drink. These "botana bars" are very common in other areas of Mexico.
Taco Avenue has been replaced with Blackout. We haven't checked it out yet, but it's definitely a bar. The menu posted on the wall lists only drinks.
Dive In Puerto Morelos moved across the street to a new space. Owner Brett Nielsen has done a good job customizing his new digs. We had a chance to dive with Dive In PM's Carlos who is safe and fun to dive with.
The two side by side jewellery stores near Posada El Moro have closed.
There is a mysterious poutine stand called JJ's beside the Salon de Fama restaurant and bar. Poutine for the uninitiated is a plate of fries covered in cheese curds and smothered in gravy. It's very popular in Quebec. The stand is not related to the JJ who lives above Cafe de Amancia.
The Michoacana ice cream store that was in the little mall across the square from the bookstore has moved to the vacant lot beside city hall.
Spaghettino has re-opened after an autumnal break.
John Gray is now offering a catering service. John Gray In The House will cater your dinner or party.
If you hear a man calling "Tamales", wave him down. He makes real tamales in banana leaves. He has vegetarian and other choices. He doesn't speak English, but everyone speaks the language of fresh tamales! (His business must be going well, he now has a bike to sell his wares from)

The Casa de la Cultura will be holding their 8th annual Festival of Music on January 24, 25 & 26, one weekend only. Once again we at Alma Libre are a proud sponsor.
La Casitas, the new development on the site of the old Casita del Mar hotel is now complete! The development features nine oceanfront condos and villas, including a spectacular penthouse on the top floor (pictured above). They are beautifully furnished and available for sale or rent.
Jin of Abbey Del Sol has started his own transportation company. He is offering lower rates than we've seen before. Airport pickups are just $50, and you can add a quick grocery trip for an extra $15. Quite a deal and Jin lives here, so the driver will know Puerto Morelos well, unlike most of the Cancun-based drivers who get hopelessly lost in our tiny town! You can book online here.
A new service renting bicycles has started in town. Puerto Morelos Green Bikes is owned by a woman who knows a lot about green things. Pily Rodriguez Rascon also is the brains behind our monthly recycling program in Puerto Morelos and Cancun. She does good work, so we know her bike biz will be a success. (and now that the roads are pretty much fixed, riding a bike in Puerto Morelos is a good idea again.) Find Puerto Morelos Green Bikes on Facebook or call 998-734-8132 to book your bike.
Road Warriors: Road news has improved some since we got back to town. After suffering with giant holes in the road for months, a crew is now madly patching. The patched road surface is still a far cry from the pristine pavement we had before but it is at least passable for cyclists, drivers and walkers.
Homeowners: Pay your property taxes this month and save 15%. That is down from the 25% incentive we used to enjoy, but hey, a tax discount is a tax discount. You can pay right at the town hall.
Say Hello to the New Boss: Enrique Peña Nieto was sworn in as Mexico's new president for the next six years. (Mexican presidents serve just one six-year term. After that, they can never be president again.) Nieto is a member of the Institutional Revolutionary Party (PRI) and the former governor of the State of Mexico from 2005 to 2011. He is very young, just 46. He replaces Felipe Calderón of the PAN party. PRI ruled Mexico for 71 straight years before being ousted by Vincente Fox in 2000.
Ask A Reator: Mayan Riviera Properties will again be offering their weekly workshop outlining how to buy property in our area. Great chance to learn and ask your questions about living here full or part time. Workshops run each Tuesday at 5:00.
Free WiFi: It's getting even easier to stay connected in Puerto Morelos. Many of the restaurants and our bookstore will give you free access with a purchase, and Cablemas is now offering a free signal. Look for it around the town square.
Don't Fear The Dark: A tasty Christmas tradition here in Mexico is Noche Buena, a delicious bock beer only available around the holidays. Look for it in 12 bottle boxes until early January. Then it will disappear like a snowman in Cancun.

Bunch O' Booths: A lot of booths have sprung up around the square. Most of these booths are selling snorkel and fishing trips. Some are selling tours. Some are selling time-share or vacation clubs. Make sure you know the difference when you are talking to the person at these booths. If the price of a tour or trip seems too good to be true, there may be strings attached. Check out our Puerto Morelos Services page for good local businesses that will show you the sights right!
As we reported before, The Miami Herald Cancun Edition is no more. Look for a copy of the USA Today Cancun Edition at your hotel or convenience store. It's being put together by the same local staff. Check out the weekend edition for "Footprints" a special section devoted to the best in our area.
*Special thanks to frequent visitor and eagle-eyed proof reader Sue from Calgary. She proof read good. (I did this sentence on my own)*
What did I miss? Let me know!
This Newsletter is being sent to you on a new server. It charges us for each individual email that it sends out, so if you are receiving this email more than once, please unsubscribe the extra addresses. Because it charges us for each email, it is very careful to ensure all the addresses are valid. If it has trouble getting the email to you, it will delete your name and never send you another email. If you were receiving our email, but now you are not, try signing up again using the form on our web page. This "double-opt-in" system is much more accurate and should ensure you continue to receive this newsletter. You can try adding our email address to your contact list too, so that your spam blocker doesn't delete us. Gracias!
Don't hate us, we've added Google Ads to the newsletter in an attempt to cover some of its costs. We have no control over the ads that pop up, Google decides that, and we are in no position to tell them what to do! Please let us know though if anything odd shows up. Please note, these ads don't begin to cover our costs for this newsletter. If you like this newsletter, please support it by buying books at Alma Libre. Gracias!
Current Exchange Rates (At the exchange in Puerto Morelos)


USA Dollar 12.20


CDN Dollar 12.10

The real rate is closer to 13.00. You will get a better rate from the ATM.

This Just In! Books & Products at Alma Libre

We love keeping you up to date with our town, but it's the books that keep us going. We're finding all sorts of new stuff this year; these are a few of our favourites...
Just arrived! Unique Expressions of Mexico, a beautiful book commissioned by Xcaret to capture the colours, traditions and celebrations of Mexico. Great book at a great price, just 200 pesos.

Plants In The Mayan Culture, this gorgeous book features traditional remedies, food and art of our area. The book is locally produced, well researched and packed with photographs. We've been looking for a book like this for years, and we're delighted to have it now. Don't miss it, you will not find it any place else!

The Cat in the Hat came to play one rainy, nothing-to-do-afternoon. His hilarious antics are presented here in Spanish and English. This has become our most popular kid's book, but our supplier has announced it is going out of print, so we ordered a bunch...but you should not, could not, delay!

The Maya - Michael Coe

Updated! A perennial bestseller in the bookstore, this reader-friendly book is an excellent choice for those who want to learn about the Maya. Written by Michael Coe, recognized the world over as THE expert on the Maya, this book answers all your questions and then some. The best part about this book is that it is constantly updated, this volume is the eighth edition.

We also have Coe's "Mexico from the Olmecs to the Aztecs" in the store right now.

-A clear and intelligent description of the development and organization of Maya civilization. -- Natural History
-[Coe] has shown an outstanding ability in selecting and organizing his material. A pleasure to read. -- Antiquity

The Painted Fish and other Mayan Feasts

This book written by Sonja Lillvik, who founded the Cuzan Guest House in Punta Allen is memoir of a life in the land of the Maya told with food! This is a gorgeous book with more than 100 recipes (perfected in the Mayan Riviera and tested up north) and lots of glossy pictures of food and fun.

Curious George

- is up to his old tricks, but now he's getting into mischief in two languages! And you know he's driving the man in the "amarillo sombrero" crazy! These books are great for kids and for anyone who is learning espanol. We have several "Jorge el curiosa

" titles to choose from.

Secrets of the Talking Jaguar is the story of the author's physical and spiritual journey from the Southwestern US to the highlands of central America. There he becomes apprenticed to a local shaman who teaches Pretchel much about indigenous Mayan life, and about life in general.

We sold out of these last year in hardcover. This year we were lucky enough to get some soft cover editions. If you missed this book last year, don't miss it this time.

Reader's Review: "Reading this book is a fascinating and up to now unavailable look at a culture that sees itself as an integral, unseparable part of nature and the universe."

Casa Yucatan

A beautiful book showcasing the unique architectural style of the Yucatan...or to put it in another way, "A dazzling photographic journey, Casa Yucatan focuses on architectural elements, water spaces, and open-air living in houses both colonial and contemporary, including haciendas and coastal retreats. The Yucatan has undergone a remarkable restoration renaissance of late: ancient pyramids now share the dense jungle landscape with revived haciendas, and colonial homes boasting high-beamed ceilings and cool tile floors posture amidst elegant plazas and renovated nineteenth-century mansions."

SPECIAL OFFER for Alma Libre Bookstore Customers

Cenotes of the Riviera Maya is the best book ever written about the cenotes in our area. Beautifully photographed, it could easily be called a coffee table book, but it is also has all the practical information you need to explore the cenotes whether you are swimming or diving. Many have drooled over this book, but the hefty (500 peso) price tag kept some people away. Now author Steve Gerrard has authorized us to lower the price. At 300 pesos, this book is an incredible bargain and it has been flying off our shelves.

Tropical Greeting Cards -

Wish them a Happy Holiday and rub it in just a little with our selection of tropical greeting cards. We also have Puerto Morelos Christmas cards! (we have blank all-occasion cards too)

Maps!

If you drive in our area, you need a map! We have excellent and detailed maps of the Yucatan, the country of Mexico, Cancun city, Merida as well as Belize, Guatemala, Cuba and Central America. We also have souvenir-quality maps you can hang on the wall.

We also carry the famous "Map Chick" Riviera Maya, Puerto Morelos and new Mayan Adventure maps.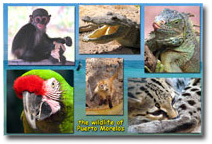 Postcards! We've added a lot of new postcards to our collection, including more underwater shots by "Dive Diva." We have the largest selection of Puerto Morelos postcards, and they are all exclusive to Alma Libre. We know because we make 'em! We also have blank greeting cards to cover any occasion you may wish to celebrate while you are in paradise.
Gift Certificates! A nice gift idea for someone who lives here is an Alma Libre Gift certificate. Available in any amount and can be used for new or used merchandise. We can accept payments from up north via Paypal.
---
Facebook & Twitter
Are you on Facebook? If so, look for our Facebook groups. Friends of Puerto Morelos &Alma Libre Bookstore. You can also buck up your friends list by making Alma Libre Bookstore your friend.
You can also like Alma Libre Bookstore.
The groups have grown very quickly! Friends of Puerto Morelos just passed 950 members! If you are on Facebook, please join our groups. We'll use them to keep you up to date with town news between newsletters. Check out the group for new photos of Puerto Morelos, taken by fellow visitors!
And if that is not enough for you...you can also follow us on Twitter. This is our twitter home page. You can follow us throughout the day.
---
PoMo Sunset - One of my favourite things to do is go down to the water's edge at sunset and watch the boats. Stress? What stress?
Lighthouse Colour - I like the lean, not so crazy about the green. Our lighthouse should be blue and white, but every now and then it turns up green. I assume it is because someone ran out of blue...but had plenty of green paint left, and so green it became. Next thing someone will come and try to straighten the thing...and then I will have to mark down all our postcards!
Busy Beach - People's exhibit #1 on why you should visit Puerto Morelos in early December. This is how busy the beach was one recent weekday morning at 10:00. Think you can find some room to spread out your beach blanket? Come on down. I think we can squeeze you in.
Art Walk - Some new art suddenly appeared on our malecon. A dedication cemerony was held a few days later.
---
Our Travels
This was our eleventh drive down from Calgary to Puerto Morelos and one of our slowest. There is no point in being in a hurry on this drive, and we were not.
We decided to meander a bit in the northern states, taking in sights in Wyoming and South Dakota that we have missed before. We also hit our barbecue Mecca, Kansas City where we loaded up on Arthur Bryant's sauce. (Love that Sweet Heat)
After that we continued south through Arkansas, which is a beautiful state with very friendly folks. We even stopped at Walmart's home town of Bentonville to see the new Crystal Bridges art museum (stunning) and the kitschy Walmart museum downtown.
We visited Louisiana which was just recovering from terrible flooding following hurricane Isaac. We spent a week in New Orleans and literally ran into PoMo's own Sarah Miller on the street. (She is doing great and gave us some great tips on seeing music in the Big Easy.)
Next it was back to our usual time in Austin, Texas and then into Mexico.
We changed our route slightly and entered Mexico and the Columbia Bridge near Laredo, which is a nice town. Most border cities are not.
By taking this route we were able to get to Saltillo much faster than usual and actually had some time to explore the Centro.
Next was San Miguel de Allende, a favourite of ours, which we also used as a base to explore Mexico City.
We have never been to the big city, mostly because I do not want to drive there. The old expression "you don't have to be crazy to drive there, but it helps" definitely applies in DF.
A car is the last thing you want there as it is a good walking city and the subway is fast, efficient and cheap as heck.
Highlights included the Anthropology Museum, the Museum of Modern Art, the National Palace, the pyramids at Teotihuacan, the canals of Xochimilco and so much more. We saw murals by Diego and lots of art by Frida.
Mexico City in general was much more accessible, cleaner, safer and less expensive than we expected. We will definitely return as we only scratched the surface of what is there.
Next on our list was Patzcuaro, which is the centre of Day of the Dead celebrations in Mexico. The art and crafts did not disappoint. The celebrations were actually better outside the city, but I would go back again just to see the square, which they had turned into a giant craft market. We could have decorated one hundred casas in just a few hours!
Puebla was next, followed by Palenque and PoMo.
In all we drove 10,663 kilometres or 6626 miles in about 60 days.
It was fun, but it is good to be home!
---
In Memory
Sad to report we lost a few good men this summer and fall.
Jean "Bluesman" Prévost - We lost our friend Jean in the fall after a long battle with cancer.

Jean was probably best known in town as one of the founders of the popular "Men In Blues" band who played a lot of nights in and around Puerto Morelos.

We knew him as a great guy who liked to read, especially mysteries.

We had the honour of attending his wedding to Sonia Morin this spring. A lovely ceremony and Jean gave perhaps the best and most genuine speech I have ever heard at a wedding.

We will miss our friend and the town will miss his music.

Ron Martin - Ron was a fixture in Puerto Morelos and could often be seen riding his bike around town or at his favourite haunt, Cantina Habanero.

Ron hailed from our hometown of Calgary. He spent many years working at Greyhound Lines of Canada and then purchased Danatec Educational Services Ltd in the 90's. He retired about 5 years ago and spent winters in Puerto Morelos and summers up north with wife Sue.

Ron passed away in Calgary on November 24 after a battle with cancer. He was a very youthful 65.

Richard Kimmel - Richard was probably best known to tourists in town as the face of the Puerto Morelos Travel Agency, the very small but very helpful travel agency around the corner from the square.

With his wife Claudia he helped visitors get the most out of their vacations. He also played a lot of chess in the travel agency!

Richard was also a very talented artist, like his mother Rosario.

We'll miss Richard, who was a kind and helpful man to all. Claudia continues to run the travel agency.

Ivo Ibarra Fernandez - We just received word as we were finishing the newsletter that Ivo passed away on December 19.

Ivo had been living in Canada the last few years, but long time visitors to PoMo will remember his gift shop at the first corner of the square and jewellery store just south of square.

We'll remember him for his endless help when we first arrived in Puerto Morelos and took over the bookstore. He answered all our silly business questions with patience and good humour. We'll also remember his boundless energy.

Ivo was just 36 years old. Our thoughts are with his family, particularly his mother Azucena sister Pamela from El Pirata restaurant and grandmother Dona Socco from Posada Amor.
---
Google Ads:
---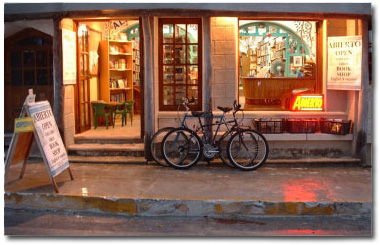 Just a reminder that we are open 7 days a week for the season. Our hours are 10:30am to 1:30pm & 3:00pm to 8:00pm EVERY DAY of the week. (Including Sunday) We are closed between 1:30pm and 3:00 for siesta, though sometimes you may find us open.
Our hours are always posted on the front page of our website at www.almalibrebooks.com.
We take trades every day, so our selection is constantly changing. If you are planning a trip down, please leave your e-reader at home and plan to buy all your reading material at Alma Libre. We got you covered!
We look forward to seeing you in Puerto Morelos!
---
Beach Reads is the official newsletter of Alma Libre Bookstore in Puerto Morelos Mexico. It is mailed directly to your mailbox if you request it. Beach Reads is published on a sporadic, seemingly random basis...but it is supposed to be approximately monthly during the season at Puerto Morelos. The season is November until after Easter. We do our best to publish it regularly...but we are easily distracted...
Our website is located at www.almalibrebooks.com Our store hours are always on the home page.
If you do not wish to receive this newsletter, please Click Here To Unsubscribe
This is Year #11, Issue #1. December 2012.
To subscribe or make comments or suggestions or advertise your local event, please Contact Us
Retransmission & Redistribution of this newsletter without express written consent is just fine by us! Send this newsletter to a friend! (or get them to sign up for their own copy) If you like the newsletter, please support it by buying a book at Alma Libre Bookstore.