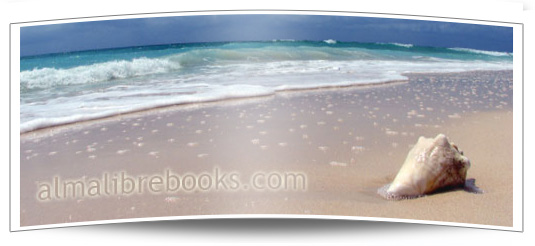 News from Alma Libre Bookstore - Puerto Morelos, Mexico
Year 10 Issue #4 - April/May 2012
Click here to go to our website: www.almalibrebooks.com (Puerto Morelos Information/Rentals/Real Estate & More!)
Click Here for Back Issues of Beach Reads
Bookstore Closing for the Season Soon!
The season has whipped by again this year and soon we will be putting the bookstore away for another summer. Our final day will be Monday April 30.
We plan to travel back to Calgary (via Central Mexico), do some work in our old business (television production) and buy as many books as we can for next season.
We will open with fresh stock in November and do it all again next winter.
It's been a challenging season here in PoMo. Most businesses we surveyed, including our own, suffered some loss of business due to the world economy and some people's misplaced fear of travelling to Mexico. (Puerto Morelos and the Riviera Maya remains a safe place to be.)
Our bookstore is also
affected by the rise of usage of electronic books. To that end, we are expanding our selection beyond books. Be sure to check us out even if you have a Kindle. We also have many books that are only available in Mexico and will never be available electronically.

Many thanks to our clients and friends for your support this year. We receive a pile of compliments every day for our website, the questions we answer daily in the store and our cheesy newsletter, but it is the sale of the books that actually keeps the whole thing running. We thank you for your support and patronage. We will miss our bookstore every day we're away and we look forward to seeing you next season. Gracias!!

Special thanks to "The Girls", Daphne & Miki whose friendship, kindness and expertise we could simply not do without. Mil Gracias amigas!
---
Summer in PoMo
Once Semana Santa (Easter) is over, Puerto Morelos slips into a lower gear. After May 1, the price of accommodations in Puerto Morelos drops significantly.
Summer is a great time to do anything on or in the sea here. Fishing is the best of the year. Snorkelers and divers will enjoy calm, warm water teeming with a wide array of aquatic wonders. Underwater visibility is spectacular. Whale sharks will make their annual appearance nearby. The town is less busy, the beach is quiet. Days are sunny and breezy. It's a nice time to be here.
Our rental places have good availability in the summer and our prices drop as low as $399/week. We have other places to stay on our rentals web page. You can be on the beach or off...you will always be close to the water.
Low prices, no crowds and the beautiful Caribbean: Why not make the trip?

Please send our newsletter and the bookstore website to your friends and family. PoMo can use some more friends!
---
10 Years
Back in 2001 a plucky young couple from Calgary decided they would like to change their lives and live in Mexico. They had done about five years of research before making their decision and in March of 2002 they bought a bookstore in Puerto Morelos.
Flash ahead 10 years and we're still here. We've seen a lot in a decade and have faced some serious challenges, especially a lady named Wilma.
When I look back though, I am amazed at how little has changed. Our town has grown some, but has still kept its laid back rustic charm.
When we moved here there was one big resort within walking distance of the square. Now there are at least nine and yet the town remains mostly undiscovered. We've got a lot more good restaurants and some new attractions, but the spirit of PoMo lives on. Our lighthouse still leans, our people are still kind and friendly and our roads are still in desperate need of repair.
We've aged a bit I guess, but we still enjoy the bookstore and our town. We still close the shop each summer and go back to Calgary and work in our old jobs and our Spanish is still painful to listen to.
As we look ahead to the next ten years, I think it will be more of the same. We can't imagine living anywhere else and we're confident that Puerto Morleos will remain the same charming, friendly village it is today. Maybe our Spanish will get better. I hope it will...that would be bueno. (is that right?)
---
Bookstore closes for the season April 30
---
Road Warriors
Construction continues in Puerto Morelos. All the roads in town are being torn up to bury sewer pipe. All homes in the main part of town will be connected to the new service and a plant will be built near the Federal dock to handle the stuff.
It will be mandatory to connect to the new service. There is a fund to help families pay for the necessary construction/destruction to connect to the pipe. It will not be cheap or easy for people to connect in many cases.
The picture to the right is Avenue Niños Héroes beside the Federal land. A moment of silence please for the asphalt we were so excited about just one year ago when it was brand new. (sigh)
The bike path into town is now pretty much complete, though crews have found it irresistible to tear it up a few times in a few locations. The path is made of concrete that does not retain water, so it will remain dry even after a big rain.
Construction also continues on the square. A new information centre will be going in which will be staffed by people trying to help visitors, not sell them something. New bathrooms are going in too, though construction on them seems to have stalled.
The raised wooden walkways leading to the beach on the north end of town are done and look very nice.
---
UnDESIREable
If you want to get international news coverage, just involve naked people in the story. Little PoMo got mentioned by Fox News in the United States because of the local community reaction to the Desire hotel taking over Ceiba del Mar. Other news outlets around the world quickly picked up the story.
The takeover occurred at the end of March. The Ceiba signs came down and the pants quickly followed. Our own weekly stroll down the beach definitely took a different turn, walking within a few feet of people wearing the complete Desire "uniform" from head to toe. It was a little shocking to say the least.
Desire also put up giant signs on each end of their property, warning beach walkers of the nudity ahead and advising them to not wander past the hotel if they didn't want to see it.
This effectively shut off the beach and our town to people from the north end of town. Not fair!
The law of the land clearly states that nudity on the beach is not legal and there were reports of people doing more on the beach than just catching some rays. That too is illegal.
For these reasons a petition was presented to the local government asking them to require Desire to follow the law. The Mayor has had a couple of meetings with Desire management. If he is unable to persuade Desire to require their guests to abide by the law, local community protests will follow.
We are all hopeful a compromise can be reached. Most PoMo residents are very welcoming and inclusive of all visitors to our area, and that includes guests of Desire. We hope that all visitors will leave their hotel for a while and come see a little of Mexico. We really don't care how people chose to vacation, or what they do behind closed doors, but we want everyone to feel comfortable walking our beach. The beaches in Mexico belong to all people, and we want to keep it that way.
---
Puerto Morelos Interactive Map
We've improved the interactive map on our Alma Libre Bookstore website. We've added dozens of new places and the map is easier to use. Select the location you want on the right side and the map will show you where it is. There is also a search box. I've included locations in Cancun too, like Costco and Walmart.
To see the map, go to our Puerto Morelos page. The map is at the bottom.
Here is a smaller version, without all the features.
---
Taxi Rates
Some taxi rates have gone up. See the new taxi fares on the big sign at the square or see it here. Make sure to agree with the driver on the fare before you go. You don't have to tip, but we always do if they get us to our destination alive and well.
---
New Products
After a whole lot of research we decided to carry some special gourmet and food items in the store. You'll find Mexican grown organic coffee, hot chocolate, vanilla, Mayan honey, and a selection of locally made hot sauces and chili-lime seasoning.
We also now stock the popular Chimay hot sauces. Folks north of the border clamour for this stuff. Chimay makes the hottest habanero known to man, and they also make flavourful sauces for more sensitive palates. Chimay Salsa Habanera comes in four flavours, colors and levels of spiciness to suit your palate: Negra la menos picante (black, the least spicy), verde la poco picante (green, a little spicy), roja la muy picante (red, very spicy), amarilla la extra picante (yellow, extra spicy).

Our most popular sauce is a mini four-pack in a woven basket for just 75 pesos. A perfect gift for the foodie in your life, or a great souvenir of your Mexican vacation.
Coffee Sale!
We need to clear out our stock of organic Blason Mexican-grown coffee. Available while supplies last for 75 pesos per 340g bag. (Regular 90 pesos)
We sold loads of this coffee over the season, it was very popular, but it appears we over-ordered a little this last time.
Whatever we don't sell, we'll have to drink ourselves and too much caffeine is not good for a bookstore owner from Puerto Morelos. (Really takes away that whole "laid-back" thing.

---
New Bookstore Hours - We're not quite open 24 hours, but we are open 7 days a week with new hours. 11:00am to 8:00pm every day. Even Sunday!
Please note that we are scheduled to be closed daily between 2:30 & 3:30, though will often find us in.
We are hoping that by closing for fewer hours in the afternoon we won't miss as many day trippers into PoMo from Cancun and Playa. Come see us!

Special Book Orders
We have finally found a supplier who can do the impossible. That is get books to us reliably in Puerto Morelos. We can now order almost any title and receive it at the bookstore in about a week at a surprisingly low cost.
We are ordering new books for the store about once a month and we can bring in books for you too! Depending on the number of books you order, shipping and duty will be between $3 and $5 US per book. There is no sales tax or any other fees. This is much quicker and cheaper than any other source we have found, including Amazon.
Our next order will be November. To order, just contact us to make sure we are able to get the book you want.
---
Jungle Market / Jungle Spa
It was another successful season in the jungle and the weekly Jungle Market has now is closed for the summer, The market will return in December.
The Jungle Spa has been so popular, they have expanded their open days and are requesting that people make appointments either by telephone or email. This will ensure you don't waste any time waiting for your treatment.
To make an appointment, contact Sandra at (998) 208 9148 or Cell 044 998 180-5424 or by email through her website. Appointments are available Tuesday-Saturday and limited appointments may be available on Sunday. The spa is closed on Monday.
Many treatments are available, from manicures and pedicures to a luxurious aloe vera and banana leaf wrap and massage! (or a chocolate massage...does it get any better??) For men, there is the "Mayan Macho" massage. You've never had a massage like this! They even offer special massages for young adults.
Spa prices are much lower than you will find at your resort and proceeds go directly to the Mayan families that work at the spa and Jungle Market.
It's easy to get out to the jungle by car, taxi or collectivo. It's on Calle Dos (kie-yay dose) in the Zona Urbana, which is right behind the Colonia. Here's a map you can print out. Taxi to the jungle from the town square is still 50 pesos. Tell driver you want to go to: Jungle Spa - Sandra (important to mention her name) Zona Urbana.
Remember, when you pamper yourself at the Jungle Spa or buy a unique gift at the Mayan Market, you are directly supporting Mayan families! This is a very worthwhile venture and we hope you will support it.

Money Matters
New anti-money laundering laws here in Mexico require exchange houses to record your passport number to exchange US cash for pesos. You will need a copy of your passport to exchange cash at any exchange place in Mexico.
Just a reminder to visitors that there is no place to cash traveler's cheques in Puerto Morelos. The easiest way to get pesos is at the Santander ATM in front of the police station or the HSBC ATM beside the supermarket on the square. If they are out of money, there is another machine in the 7-11 by the gas station. There are also three ATMs in town that are not affiliated with banks. Two are at the mall across the square from the bookstore and another is at OXXO. Since these are not affiliated with a bank, the fees are much higher than the Santander and HSBC machines.
---
Home and Condo Rentals
lf you are stuck up north, why not give yourself a spring fling? We still have openings in April and our prices drop dramatically in May.
Many ex-pats have built their dream homes here in PM and are willing to rent it to you! Renting a place makes you feel more like a local and offers the convenience of cooking for yourself (if you wish) and
much more privacy
.

Regular Beach Readers know that we feature some of these properties on our website. There are a gazillion property rental sites out there, but our site is unique because these are properties we know, owned and run by people we know and trust. We like to think we take the guesswork and risk out of renting.

We're always adding new properties to the site and new photos too!
One bedroom or two? Your choice!

This large suite can be rented as a one bedroom/one bath with a fold out couch, or as a two bedroom two bath. Each bedroom has its own outside door to allow entry or exit without disturbing others.
It has a full kitchen with pots and pans, dishes and cutlery, plus appliances like coffee maker, toaster and juicer. Drinking water is included as well as cable TV and high-speed wireless internet. The suite features a huge terrace with table and chairs and comfy hammocks. All this from $695 a week in season, $450 starting in May!
Click here for more information and pictures!

Bright, Breezy One Bedroom

A big one bedroom, two bath with a loft. The loft has a fold out couch and curtains for privacy. The couch in the living room also folds out into a bed.
Off the bedroom and the living room is a HUGE balcony with table and chairs for four and a comfy hammock.
Of course there is a full kitchen with pots and pans, dishes and cutlery, plus appliances like coffee maker, toaster and juicer. Drinking water is included as well as cable TV and wireless internet. $695 a week in season, $499 starting in May!

Click here for more information and pictures!

Your place, steps from the best beach in town!

Economical one bedroom one bath on two levels from $399 a week

Comes with a full kitchen, full bath, enormous bedroom and balcony
Click here to download a printable info sheet on the above three apartments
*By the way, it is not too early to start thinking about 2013. I am handling emails every day from people who waited too long to book Christmas and February!*
Check out our new, easier to navigate rentals page here.
Owners! Contact us to get your FREE listing on our website.
---
Ads by Google:
---
Restaurant News: Al Chimichurri is now open for breakfast!
Locals are loving I Wanna Pizza. The owner's cheery attitude and good pizza are a hit with patrons. We like the takeaway fresh bread. 20 pesos for a big round fresh loaf.
We have once again updated our PoMo restaurant guide, check it out on our website.
Bookstore Cameo - Alma Libre Bookstore became a little more famous this month. Our bookstore was briefly (and I mean briefly) featured in a music video by La Oreja de Van Gogh (The ear of Van Gogh). They are a popular band from Spain who chose to shoot their latest video in and around Puerto Morelos. The video shows the band having fun in PoMo, visiting the beach, some cenotes and chilling at a nice house in town. It also shows them parading past our bookstore (above). They shot some scenes inside the bookstore, but those pics apparently ended up on the cutting room floor. After the shooting was over, the band returned to the bookstore on their own and checked out the stacks. Here is a link to the video. We appear at the 1:44 mark. Don't blink or you will miss it!
Puerto Morelos will also be heavily featured in the popular HGTV show "House Hunters International". Crews were here in mid April and shot three episodes showcasing local properties. It also used local people including "realtor to the stars" Amber Pierce-Schulz. Local Steve Lew took care of the TV stars hair. No word on the air dates yet, but we'll keep you posted. If you haven't seen the show, here is a link to an episode they did in Merida a while back.
Amber will put her "star status" aside to host a FREE workshop on Tuesday April 24 about tax Obligations for U.S. Citizens who live, work, and/or bank in Mexico. The workshop will be given by a CPA who specializes in international clients. The seminar will begin at 5:00 and will cover a variety of tax related issues for Americans. You must RSVP to attend, please see this web page.
A new citizens group is starting up in Puerto Morelos. The Puerto Morelos CCC (Comite de Communication Civil/Civic Communication Committee)
promises to keep PoMo residents and visitors updated and informed about our town. The group is made up of local residents and visitors, Mexican and foreign who share a vision of a better Puerto Morelos, preserving our unique charm and laid-back style. The group has a website and a Facebook page. You can keep up to date and ask questions on either site.
Learn Spanish in Three Days - That's the promise of a new company in our area. They say that by using a unique learning method that does not require memorization you will quickly pick up the language. They say the course will teach you to easily understand the parallels in the English and Spanish languages. Once you unlock these simple rules you will find you already know over 4000 Spanish words! To learn more, visit their website.

It took a while, but we successfully obtained our FM3 visas so we can stay another year in Mexico. We tried the Playa office this year. It is easier to park there and they have a nice big waiting room, which came in handy, because we waited a lot. There is also a lawyer's office right outside the door and a man who can help with photocopies and photographs. The process is supposed to change again next year. It is supposed to be easier. We will wait and see.
Home Manager - If you need someone to take care of your house, pay bills, organize work or meet your renters, we know just the person. Our manager has been working with us for a year now and we are delighted with her. She can handle a few more clients. Email us and we will put you in contact with her.
Fishing Tournament - At the end of the day, we are a fishing town. Fishers like to tell stories, but they really like to fish competitively. Our town has at least two fishing tournaments annually and they are a big deal. The "Don Andres Garcia Lavin" tournament will be held during May 25-27. Cost to enter a boat is $2000 pesos, and there is more than $500,000 pesos in prizes up for grabs. There are loads of activities for landlubbers too. While the fishers are fishing, kids can play beach volleyball, football, swim or enter a bikini contest! More details can be found on this webpage.
Today is World Book Day! Now how to celebrate..?

For those who like to work out on vacation there is a good option here in town. El Gym Del Puerto is the new name for the gym in the Pescadors, just east of the highway. The gym is under new management too and is offering a good deal for visitors, a one week membership for $100 pesos. If you are here for longer you can buy a month for $300 pesos.
Play Ball! - Los boys of Summer are back! Los Tigres de Quintana Roo will be playing again in Cancun. It's pretty good quality ball, the seats are inexpensive and the food is fantastic. Seats start at just 20 pesos, the best seats in the house are only around 100. They have a website, click "calendario" to see their dates.
Congratulations to our friend Jean Prévost who got married to Sonia Morin here in Puerto Morelos on April 16. You may know Jean as the keyboardist for the Men In Blues. They had a ceremony in Canada back in February, but wanted to have another celebration in Jean's second home. The ceremony was held in the lovely backyard of Kimberly Fleitz, who also officiated. The ceremony featured the golden voice of Jean's brother Charles Prévost, who sings the national anthems at Montreal Canadien's home games! The speeches at the reception were some of the best and most moving I have ever heard. Félicitations to the happy couple! (By the way, the bride fell in love with PoMo too, so Jean will have no problem persuading her to come back to town again)
Free WiFi: It's getting even easier to stay connected in Puerto Morelos. Many of the restaurants and our bookstore will give you free access with a purchase, and Cablemas is now offering a free signal. Look for it around the town square. Planet Cafe beside OXXO has computers with high-speed connections.
Bunch O' Booths: A lot of booths have sprung up around the square. Most of these booths are selling snorkel and fishing trips. Some are selling tours. Some are selling time-share or vacation clubs. Make sure you know the difference when you are talking to the person at these booths. If the price of a tour or trip seems too good to be true, there may be strings attached. Check out our Puerto Morelos Services page for good local businesses that will show you the sights right!
As we reported before, The Miami Herald Cancun Edition is no more. Look for a copy of the USA Today Cancun Edition at your hotel or convenience store. It's being put together by the same local staff. Check out the weekend edition for "Footprints" a special section devoted to the best in our area.
What did I miss? Let me know!
This Newsletter is being sent to you on a new server. It charges us for each individual email that it sends out, so if you are receiving this email more than once, please unsubscribe the extra addresses. Because it charges us for each email, it is very careful to ensure all the addresses are valid. If it has trouble getting the email to you, it will delete your name and never send you another email. If you were receiving our email, but now you are not, try signing up again using the form on our web page. This "double-opt-in" system is much more accurate and should ensure you continue to receive this newsletter. You can try adding our email address to your contact list too, so that your spam blocker doesn't delete us. Gracias!
Don't hate us, we've added Google Ads to the newsletter in an attempt to cover some of its costs. We have no control over the ads that pop up, Google decides that, and we are in no position to tell them what to do! Please let us know though if anything odd shows up. Please note, these ads don't begin to cover our costs for this newsletter. If you like this newsletter, please support it by buying books at Alma Libre. Gracias!
Current Exchange Rates (At the exchange in Puerto Morelos)


USA Dollar 12.15


CDN Dollar 12.20
The real rate is closer to 13.00. You will get a better rate from the ATM.
This Just In! Books & Products at Alma Libre
We love keeping you up to date with our town, but it's the books that keep us going. We're finding all sorts of new stuff this year; these are a few of our favourites...
Just arrived! Unique Expressions of Mexico, a beautiful booked commissioned by Xcaret to capture the colours, traditions and celebrations of Mexico. Great book at a great price, just 200 pesos.

Plants In The Mayan Culture, this gorgeous book features traditional remedies, food and art of our area. The book is locally produced, well researched and packed with photographs. We've been looking for a book like this for years, and we're delighted to have it now. Don't miss it, you will not find it any place else!

The Maya - Michael Coe

Updated! A perennial bestseller in the bookstore, this reader-friendly book is an excellent choice for those who want to learn about the Maya. Written by Michael Coe, recognized the world over as THE expert on the Maya, this book answers all your questions and then some. The best part about this book is that it is constantly updated, this volume is the eighth edition.

We also have Coe's "Mexico from the Olmecs to the Aztecs" in the store right now.

-A clear and intelligent description of the development and organization of Maya civilization. -- Natural History
-[Coe] has shown an outstanding ability in selecting and organizing his material. A pleasure to read. -- Antiquity

The Painted Fish and other Mayan Feasts

This book written by Sonja Lillvik, who founded the Cuzan Guest House in Punta Allen is memoir of a life in the land of the Maya told with food! This is a gorgeous book with more than 100 recipes (perfected in the Mayan Riviera and tested up north) and lots of glossy pictures of food and fun.

Amphibians and Reptiles - We share our beautiful

peninsula

with many creatures. We've always had good books on the mammals, birds and fish of our area and now we have a good one on the Amphibians and Reptiles.

This one volume is in both English and Spanish and features photos and descriptions of everything that crawls, slithers and hops in our town.

Locally published - Only available at Alma Libre Bookstore

Secrets of the Talking Jaguar is the story of the author's physical and spiritual journey from the Southwestern US to the highlands of central America. There he becomes apprenticed to a local shaman who teaches Pretchel much about indigenous Mayan life, and about life in general.

We sold out of these last year in hardcover, this year we were lucky enough to get some soft cover editions. If you missed this book last year, don't miss it this time.

Reader's Review: "Reading this book is a fascinating and up to now unavailable look at a culture that sees itself as an integral, unseparable part of nature and the universe."

Frida and Diego - These two iconic Mexican artists had a tumultuous relationship played out in front of the world. This book captures their story and best of all, it is stuffed with their art.

This is a very special book, and a must for anyone who loves Mexican art.

SPECIAL OFFER for Alma Libre Bookstore Customers

Cenotes of the Riviera Maya is the best book ever written about the cenotes in our area. Beautifully photographed, it could easily be called a coffee table book, but it is also has all the practical information you need to explore the cenotes whether you are swimming or diving. Many have drooled over this book, but the hefty (500 peso) price tag kept some people away. Now author Steve Gerrard has authorized us to lower the price. At 300 pesos, this book is an incredible bargain and it has been flying off our shelves.

Maps!

If you drive in our area, you need a map! We have excellent and detailed maps of the Yucatan, the country of Mexico, Cancun city, Merida as well as Belize, Guatemala, Cuba and Central America. We also have souvenir-quality maps you can hang on the wall.

We also carry the famous "Map Chick" Riviera Maya maps, which answer the question, "where does that road off the main highway go?"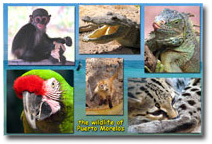 Postcards! We've added a lot of new postcards to our collection, including more underwater shots by "Dive Diva." We have the largest selection of Puerto Morelos postcards, and they are all exclusive to Alma Libre. We know because we make 'em! We also have blank greeting cards to cover any occasion you may wish to celebrate while you are in paradise.
Gift Certificates! A nice gift idea for someone who lives here is an Alma Libre Gift certificate. Available in any amount and can be used for new or used merchandise. We can accept payments from up north via Paypal.
---
Facebook & Twitter
Are you on Facebook? If so, look for our Facebook groups. Friends of Puerto Morelos &Alma Libre Bookstore. You can also buck up your friends list by making Alma Libre Bookstore your friend.
You can also like Alma Libre Bookstore.
The groups have grown very quickly! Friends of Puerto Morelos just passed 950 members! If you are on Facebook, please join our groups. We'll use them to keep you up to date with town news between newsletters. Check out the group for new photos of Puerto Morelos, taken by fellow visitors!
And if that is not enough for you...you can also follow us on Twitter. This is our twitter home page. You can follow us throughout the day.
---
I'm On A Boat - Caught these little guys sunning themselves on a lazy Sunday afternoon in PoMo. Do you think they are discussing where to fly next?
Middle of the Road - I like that the road engineers who built this new road near the old Ceiba del Mar preserved these trees and made the road go around them, instead of over them.
Big Catch - Just to get you geared up for the fishing season, check out this enormous swordfish caught off Puerto Morelos by a fisherman using a hand line! Wow! (Ask Joanne to tell you about the Tiger Shark she caught on her first fishing trip...with a hand line...and a little help) Photo by Jorge Leal.
Game Over - We saw a picture of the happy couple earlier in this newsletter, but I wanted to share this one too. This was the t-shirt Jean changed into after the reception. Classic Jean wit!
---
Google Ads:
---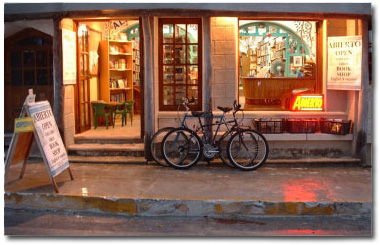 Just a reminder that we are open 7 days a week for the season. Our hours are 11:00am to 2:30pm & 3:30pm to 8:00pm EVERY DAY of the week. (Including Sunday) We are closed between 2:30pm and 3:30 for siesta, though sometimes you may find us open.
Our hours are always posted on the front page of our website at www.almalibrebooks.com.
We take trades every day, so our selection is constantly changing. If you are planning a trip down, why not bring some recent bestsellers to trade and check out our store, or plan to buy all your reading material at Alma Libre. We got you covered!
We look forward to seeing you in Puerto Morelos!
---
Beach Reads is the official newsletter of Alma Libre Bookstore in Puerto Morelos Mexico. It is mailed directly to your mailbox if you request it. Beach Reads is published on a sporadic, seemingly random basis...but it is supposed to be approximately monthly during the season at Puerto Morelos. The season is November until after Easter. We do our best to publish it regularly...but we are easily distracted...
Our website is located at www.almalibrebooks.com Our store hours are always on the home page.
If you do not wish to receive this newsletter, please Click Here To Unsubscribe
This is Year #10, Issue #4. April/May 2012.
To subscribe or make comments or suggestions or advertise your local event, please Contact Us
Retransmission & Redistribution of this newsletter without express written consent is just fine by us! Send this newsletter to a friend! (or get them to sign up for their own copy) If you like the newsletter, please support it by buying a book at Alma Libre Bookstore.