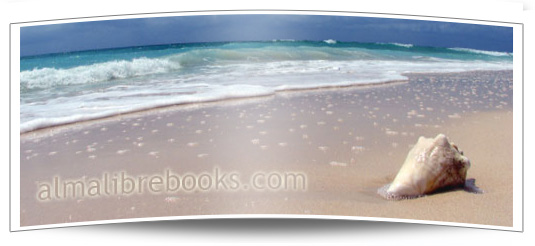 News from Alma Libre Bookstore - Puerto Morelos, Mexico
Year 10 Issue #3 - February/March 2012
Click here to go to our website: www.almalibrebooks.com (Puerto Morelos Information/Rentals/Real Estate & More!)
Click Here for Back Issues of Beach Reads
High Season
This newsletter is definitely late arriving in your inbox this month, or really early depending on how you look at it...but we admit it is late. The reason is that at long last, it is high season in PoMo and we have been busy!
Just like it handles everything else, Puerto Morelos handles the surge in a laid back sort of way. You may notice more live music, it might be a little tougher to get a parking spot on the square, or you may have to line up a bit at one of our more popular restaurants, but in general, high season just means seeing some more familiar faces of folks who escape winter with us year after year.
This newsletter is a special one, as we have the results of our 2012 Best of Puerto Morelos Survey. We ask lots of simple questions about what you love about PoMo and share it with everybody, in case you have been missing something.
We've been making this newsletter for 10 years now. We've been passing on the news from the town with accuracy, reasonably good spelling and a little humour for all that time. We do pretty much everything we can to promote our little town and we encourage you to send this newsletter, and our somewhat informative website, AlmaLibreBooks.com to others.
We do not allow other sites or newsletters to lift our content and publish it as their own. We devote a lot of time and energy to this publication and will vigorously defend our copyright. Please let us know if you see our content on someone else's web page or newsletter.
By the way, our spell-check has broken down...probably due to exhaustion, so please let us know if you see a typo.
Enjoy the issue!
---
2012 Annual "Best of Puerto Morelos" Survey (8th Annual!)
For the last eight years we have polled our readers and friends to learn what we like best about our town. We are always interested to read the replies and learn what we are doing right or wrong.
The most popular question we ask each year is "What is your favourite restaurant?" Without further ado, I give you the list.
1. David Lau's
2. Cantina Habanero
3. Al Chimichurri
4. Spaghettino's
5. L'Oazis
6.
Los Gauchos

7.
El Pirata

8.
La Playita

9.
Terazza

10.
T@cos.com
Bubbling under...Pelicanos, El Panza es Primera, El Tio and La Casa del Pescador
Congratulations to all our fabulous restaurants, especially Chimichurri, Spaghettino's, Los Gauchos, Terazza and El Pirata who made significant gains this year. Congrats too to La Playita and T@cos.com who made their first appearance on our list this year.
David Lau's must be congratulated as well for being the top of the survey for two years in a row. Many people singled out the wonderful Valorie as the reason they love the place. Who can argue that? And of course Cantina Habanero has a very faithful fan base with the place now being run by Naty in the same spirit of fun as her late husband Ed.
Here is a list of the top restaurants each year from our first survey in 2005.
| | | | | | | | |
| --- | --- | --- | --- | --- | --- | --- | --- |
| 2012 | 2011 | 2010 | 2009 | 2008 | 2007 | 2006 | 2005 |
| David Lau's | David Lau's | Hola Asia | Hola Asia | Hola Asia | Hola Asia | Hola Asia | Hola Asia |
| Cantina Habanero | Cantina Habanero | Pelicanos | Bodo's (RIP) | Bodo's | Bodo's | Pelicanos | Pelicanos |
| Al Chimichurri | Pelicanos | David Lau's | Pelicanos | Pelicanos | Pelicanos | Bodo's | Caffe del Puerto |
| Spaghettino's | L'Oazis | Cantina Habanero/El Pirata (TIE) | David Lau's | El Pirata | El Marlin Bleu | John Gray's Kitchen | John Gray's Kitchen |
| L'Oazis | Hola Asia | L'Oazis | El Pirata | David Lau's | John Gray's Kitchen | Caffe del Puerto (RIP) | |
| Los Gauchos | Al Chimichurri | Posada Amor | Cantina Habanero | El Marlin Bleu (RIP) | El Pirata | El Pirata | |
| El Pirata | Spaghettino's | Las Palmeras/Old Fisherman | John Gray's Kitchen | John Gray's Kitchen | Old Fisherman | El Marlin Bleu | |
| La Playita | La Suegra (RIP) | Terazza | L'Oazis | Dona Triny's | | | |
| Terrazza | El Tio | Spaghettino's | La Suegra | Los Gauchos | | | |
| T@cos.com | El Pirata | John Gray's Kitchen/Al Chimichurri (tie) | Posada Amor | L'Oazis | | | |
Honourable mention goes to La Papa y Cafe and La Luna Llena (both in the Colonia) who won a lot of fans this year.
Favourite place to have a drink: Cantina Habanero ran away with this one, followed by Pelicanos, Cafe de Amancia and David Lau's.
The beach at Puerto Morelos - What's not to like?
What is the best thing about Puerto Morelos: No big surprise, the #1 answer is the beach, followed by the reef, the small town atmosphere and the relaxed pace of life. Many respondents mentioned the kind people. I like that, because you can find sun and sand in other places, but I like to think PoMo offers more.
Here are a couple of answers we liked: You have the best of both worlds; serenity or live music with dancing. PO MO is a truly remarkable place.

Saying Buenas Tardes to strangers and receiving a smile back, saying hello to strangers and not being strangers anymore.
What is the worst thing about Puerto Morelos (aside from having to leave): The most popular answer was not a dang thing, which is very kind. The second most popular answer was the condition of the streets and the sidewalks. Some mentioned the lack of a public baño. (keep reading for good news on the baño beat.)
We'd like to diversify our offerings at Alma Libre. What did you find lacking in PoMo that we could carry in our shop? With the ebook revolution at our doorstep, we know we will have to diversify our store from just books to survive and thrive. Many people said that we should carry things that we already have in the store, like maps and local postcards, so we know we have to do a better job of marketing. Many mentioned they were glad we were now offering some food items like hot sauces, local honey and Mexican coffee. We will follow up on all viable suggestions. (Many said they thought our shop was perfect as-is. We appreciate that, but we know we need to be proactive) Gracias!
Alma Libre Bookstore - Vote us for best shop in Puerto Morelos and nobody gets hurt.
What is your favourite shop in Puerto Morelos? We don't state it out loud, but we expect everyone to pick Alma Libre Bookstore as their favourite shop. Luckily for us, we were picked #1 for the eighth year in a row. A few unclear thinkers chose other shops like the Mayan Handicraft Shop or Sofia's. A couple of people said OXXO was their favourite shop. Really?
Where do you stay in Puerto Morelos? Most people tend to stay in a house or condo, which warms our hearts as we like to help people rent those and try to coax them out of the big all-inclusives. Check out our listings. A few stay in local hotels or the big resorts on our doorstep.
What is your favourite cheap or free thing to do in Puerto Morelos? We got a lot of answers to this one. Most had to do with hanging out on, or walking the beach, which is always free. Some said they like to people-watch or perhaps even iguana-watch. One suggested seeing the visitor's centre on the main road. Many like to read a book. We salute you!
What is your favourite big splurge while on vacation in Puerto Morelos? The most popular answer by far was dining out every night. Many said they got massages at the Jungle Spa or enjoyed one of Eric's tours (Ecab Explorer).
A big gracias to all who answered our survey. We'll do it all again next year.
---
Road Warriors
As we mentioned above, one of the few things people fault about our little town by the sea is the condition of the roads. If they could see them now! PoMo is going through an infrastructure building boom right now, and almost no pavement has been spared.
The main road into town has been blocked with workers building a new sidewalk for bikes and pedestrians. They are also burying some high tension electric wire. The pathway is very special and is designed to drain instantly, so no puddles on the bike path (and no wet spots on your pants!) The project manager warned us that some topes (speed bumps) will be added. We hate topes, but unfortunately, some guys try to hit light speed on that road and other local roads. Maybe if we all agreed to slow down?
All the roads near the square (many of which were freshly paved LAST year) have been torn up as the town adds our first sanitary sewer system. First they cut trenches from the centre of the road up to individual houses. After that is done, a really big trench is dug down the centre of the road where the main pipe is buried. Up to now we have all just had individual septic systems, which are fine until the town gets more built up like it is now.
Now, I am a fan of sewers...you might even call me a connoisseur (sorry) but the timing of the work could scarcely be worse as we are in the absolute height of our brief tourist season. Driving down our streets now is pretty much like hitting a tope every seven feet or so. It's not so bad in our big truck, but a ride in a taxi the other day rearranged all my fillings and a cyclist is forced to do a sort of slalom route. I pray that there are pesos in the budget to resurface all our streets!
Not just the roads are being hit. Two large beach accesses are also being added on the north end of town. The town square is getting several new structures, including a long-needed public baño.
Like all construction, it will be nice when it is finished. We hope that day is coming soon! In the meantime...watch your step and walk the beach when possible.
Please support your local businesses! All this construction has been tough on the restaurants and stores in town.
---
Puerto Morelos Interactive Map
We've improved our interactive map on our Alma Libre Bookstore website. We've added dozens of new places and the map is easier to use. Look for the location you want on the right side and the map will take you there. There is also a search box. I've included locations in Cancun too, like Costco and Walmart.
To see the map, go to our Puerto Morelos page. The map is at the bottom.
Here is a smaller version, without all the features.
---
Taxi Rates
Some taxi rates have gone up. See the new taxi fares on the big sign at the square or see it here. Make sure to agree on the fare before you get in. You don't have to tip, but we always do if they get us to our destination alive and well.
---
More Daytrips from PoMo
You may get to Puerto Morelos and never want to leave until it is time to get back on the plane. We understand and support that idea, but there are a lot of amazing things to do close to town.
Recently we made a quick weekend getaway to Valladolid and points north of there.
Using the Ruta de Cenotes shortcut to Leona Vicario, the trip has never been easier by car. Taking this route is quick, direct and avoids all those nasty charges on the overpriced toll road. (We have maps of the Peninsula in the bookstore)
Valladolid itself is a gem. It's a colonial city with beautiful architecture and an incredible and important history. The Caste War began here in 1847, and early seeds of the 1910 Mexican Revolution sprouted here.
Today it is a busy, but very accessible town. Most of the attractions are an easy walk from the town square including the impressive San Bernadino Convent, the fun San Roque Museum, the stoic Cathedral of Valladolid and the Government Palace, which features large dramatic murals depicting the history of the city.
One of the newest attractions is Casa del los Venados which features the most impressive collection of Mexican folk art we have ever seen, all in a uniquely restored, privately owned colonial mansion. We have travelled all over Mexico and know that each region has its own distinct art. Often two towns next door to each other will have completely different art, so a chance to see such a fine selection in one place is rare. Admission is by donation (of at least 60 pesos) making it a bargain too. Just to see the impressive casa is worth the price of admission alone. The house is just off the square. Proceeds from your admission, and special events held throughout the year go to support medical personnel in Valladolid.
From Valladolid it is an easy trip to Ek Balam, one of the most impressive Mayan ruins in our area. The highlight are the intricate stucco frescos that have been lovingly restored, but you will also love the view from the top of the pyramid, which is one of the few you can still climb to the top of.
You can stay right at the town of Ek Balam at the Genesis Retreat. Genesis has been created as a place to relax and reflect, but also to experience life in a tiny Mayan pueblo. Retreat owner Lee Christie has done an amazing job creating this beautiful and comfortable place to stay in harmony with the local community and nature. The gardens are stunning!
From there you can drive straight north, through the town of Tizimin, which has a restaurant that dubiously boasts it has "the best food in the world" to Rio Lagartos. This rustic town has many brightly painted wooden buildings and makes a great base to explore the 150,000 acre nature reserve on its doorstep.
We took two boat tours. The first one in the dark of night was a crocodile tour. Our experienced guide and captain guided our boat through the mangrove searching for crocs! It is quite a thrill to see these prehistoric looking reptiles in their natural environment in the dark. As you see by the picture, they really get into their work! It is a great trip for star gazing too as it is really, really dark.
The next morning the same guide took us through the Reserve again to bird watch. We saw pelicans, herons, egrets, spoonbills, frigates, cormorants, parrots, woodpeckers, hawks and those fabulous flamingos.
We actually stayed in nearby San Filipe, a very, very peaceful community on the water. Makes PoMo look like Manhattan!
You can do these tours on your own, or hook up with Eric of Ecab Explorer who has designed tours of the area.
We have other daytrip ideas on our webpage here.
---
New Products
After a whole lot of researching, we have started carrying some special gourmet and food items in the store. You'll find Mexican grown organic coffee, hot chocolate, vanilla, Mayan honey, and a selection of locally made hot sauces and chili-lime seasoning.
We are also now carrying the popular Chimay hot sauces. Folks north of the border clamour for this stuff. Chimay makes the hottest habanero known to man, and they also make flavourful sauces for more sensitive palates. Chimay Salsa Habanera comes in four flavours, colors and levels of spiciness to suit your palate: Negra la menos picante (black, the least spicy), verde la poco picante (green, a little spicy), roja la muy picante (red, very spicy), amarilla la extra picante (yellow, extra spicy).

Our most popular sauce is a mini four-pack in a woven basket for just 75 pesos. A perfect gift for the foodie in your life, or a great souvenir of your Mexican vacation.

---
Bookstore Hours - We're open 7 days a week and different hours!
We're not quite open 24 hours, but we are 7 days a week with the new hours. 11:00am to 8:00pm every day. Even Sunday!
Please note that we are often closed daily between 2:30 & 3:30, though you may find us in.
We are hoping that by closing for fewer hours in the afternoon we won't miss as many day trippers into PoMo from Cancun and Playa. Come see us!

Special Book Orders
We have finally found a supplier who can do the impossible. That is get books to us reliably in Puerto Morelos. We can now order most any title and receive it at the bookstore in about a week at a surprisingly low cost.
We are ordering new books for the store about once a month and we can bring in books for you too! Depending on the number of books you order, shipping and duty will be between $3 and $5 US per book. There is no sales tax or any other fees. This is much quicker and cheaper than any other source we have found, including Amazon.
Our next order will be soon. To order, just contact us to make sure we are able to get the book you want.
---
Jungle Market / Jungle Spa
The weekly Jungle Market is in full swing for the season. The ladies have cooked up more surprises and recently had a special Valentine's Day market. The last market this season will be April 8, Easter Sunday. You know they will do something special for Easter!
Don't miss this unique local event, and come hungry, as the authentic Mayan & Mexican food is a highlight of any visit. The market opens at 10 am and the popular dance show is at 11:00 am
The Jungle Spa has been so popular, they have expanded the days that it is open and are requesting that people make appointments either by telephone or email. This will ensure you don't waste any time waiting for your treatment.
To make an appointment, contact Sandra at (998) 208 9148 or Cell 044 998 180-5424 or by email through her website. Appointments are available Tuesday-Saturday and limited appointments may be available on Sunday. The spa is closed on Monday.
Many treatments are available, from manicures and pedicures to a luxurious aloe vera and banana leaf wrap and massage! (or a chocolate massage...does it get any better??) For men, there is the "Mayan Macho" massage. You've never had a massage like this! They even have special massages for young adults.
Spa prices are much lower than you will find at your resort and proceeds go directly to the Mayan families that work at the spa and Jungle Market.
It's easy to get out to the jungle by car, taxi or collectivo. It's on Calle Dos (kie-yay dose) in the Zona Urbana, which is right behind the Colonia. Here's a map you can print out. Taxi to the jungle from the town square is still 50 pesos. Tell driver you want to go to: Jungle Spa - Sandra (important to mention her name) Zona Urbana.
Remember, when you pamper yourself at the Jungle Spa or buy a unique gift at the Mayan Market, you are directly supporting Mayan families! This is a very worthwhile venture and we hope you will support it.

Money Matters
New anti-money laundering laws here in Mexico require exchange houses to record your passport number to exchange US cash for pesos. You will need a copy of your passport to exchange cash at any exchange place in Mexico.
Just a reminder to visitors that there is no place to cash traveler's cheques in Puerto Morelos. The easiest way to get pesos is at the Santander ATM in front of the police station or the HSBC ATM beside the supermarket on the square. If they are out of money, there is another machine in the 7-11 by the gas station. There are also three ATMs in town that are not affiliated with banks. Two are at the mall across the square from the bookstore and another is at OXXO. Since these are not affiliated with a bank, the fees are much higher than the Santander and HSBC machines.
---
Home and Condo Rentals
lf you are stuck up north, why not give yourself a spring fling? We still have openings in April and our prices drop dramatically in May.
Many ex-pats have built their dream homes here in PM and are willing to rent it to you! Renting a place makes you feel more like a local and offers the convenience of cooking for yourself (if you wish) and
much more privacy
.

Regular Beach Readers know that we feature some of these properties on our website. There are a gazillion property rental sites out there, but our site is unique because these are properties we know, owned and run by people we know and trust. We like to think we take the guesswork and risk out of renting.

We're always adding new properties to the site and new photos too!
One bedroom or two? Your choice!

This large suite can be rented as a one bedroom/one bath with a fold out couch, or as a two bedroom two bath. Each bedroom has its own outside door to allow entry or exit without disturbing others.
It has a full kitchen with pots and pans, dishes and cutlery, plus appliances like coffee maker, toaster and juicer. Drinking water is included as well as cable TV and high-speed wireless internet. The suite features a huge terrace with table and chairs and comfy hammocks. All this from $695 a week in season, $450 starting in May!
Click here for more information and pictures!

Bright, Breezy One Bedroom

A big one bedroom, two bath with a loft. The loft has a fold out couch and curtains for privacy. The couch in the living room also folds out into a bed.
Off the bedroom and the living room is a HUGE balcony with table and chairs for four and a comfy hammock.
Of course there is a full kitchen with pots and pans, dishes and cutlery, plus appliances like coffee maker, toaster and juicer. Drinking water is included as well as cable TV and wireless internet. $695 a week in season, $499 starting in May!

Click here for more information and pictures!

Your place, steps from the best beach in town!

Economical one bedroom one bath on two levels from $399 a week

Comes with a full kitchen, full bath, enormous bedroom and balcony
Click here to download a printable info sheet on the above three apartments
*By the way, it is not too early to start thinking about 2013. I am handling emails every day from people who waited too long to book Christmas and February!*
Check out our new, easier to navigate rentals page here.
Owners! Contact us to get your FREE listing on our website.
---
Ads by Google:
---
Restaurant News: Big news this issue as the beach bar re-opened! The beach bar, located on the northern end of town has been called Bar Ixchel and Manta Beach Club...recently it has been called closed! Now the bar has been renovated, enlarged and upgraded. The bar is now made of beautifully finished wood and has swings as well as stools. It also has a new name, Unico and a new logo designed by Franziska Schuett of Galeria Artezissimo. (Photo by Mary Jordan)
I love a place with a good name, so I think I will like I Wanna Pizza. It's a new pizza place open on Avenue Niños Héroes just north of Lety's. Early reviews have all been positive.
A place from the past is back in Puerto Morelos. Taninos was a wine bar across from Pelicanos that closed in February 2009. Now it is back, in the old la Cantine Bistro spot beside Al Chimichurri. They have PoMo's most extensive wine list with 80 choices. It is a good space for them with lots more room than their previous location.
Speaking of Al Chimichurri, their new pizza oven is in operation. It was fun watching it go together. It features a very heavily fortified cement base with a layer of salt and broken glass below a solid brick base and dome. Chef Eduardo told me the salt and broken glass is very important to dissipate the great heat that will be generated by the burning hardwood coals that will cook your pizza. The restaurant also got new comfy chairs!
Locals are loving Salciccia which opened recently at the Pemex at PoMo. Salciccia, which means "sausage" in Italian, is the retail outlet of the Embutidos del Camino sausage factory, and sells freshly made sausages to local restaurants and the general public. The sell by the kilo, prices seem good starting at 65 pesos a kilo, and sell pork, beef or chicken sausage. They also have Argentine chorizo, American breakfast sausage and German sausage. You can also buy a sausage baguette or tortilla starting at 20 pesos.
A new bar/restaurant is planned for Hotel Mexiplus on Niños Héroes. It will be called "Cheers", like the much more famous one in Boston. So far there is just a sign.
Rustika restaurant is closed, in fact it is now for sale.
Live music is easy to find in Puerto Morelos. Cantina Habanero has music most nights, especially on the weekends. Newcomer Pangea has music or a flamenco show Thursday-Sunday. El Faro often has music, Sativa has live music on the weekends, and the newly opened beach bar Unico will also have live music. Posada Amor has also had music recently.
The Men in Blues have announced they will no longer be playing at David Lau's. It is expected they will find a new venue soon, we'll keep you posted. David Lau's is now featuring Randall & Lewis Rocket Project, blues and rock.
We have once again updated our PoMo restaurant guide, check it out on our website.
Home Manager - If you need someone to take care of your house, pay bills, organize work or meet your renters, we know just the person. Our manager has been working with us for a year now and we are delighted with her. She can handle a few more clients. Email us and we will put you in contact with her.
Fishing Tournament - At the end of the day, we are a fishing town. Fishers like to tell stories, but they really like to fish competitively. Our town has at least two fishing tournaments annually and they are a big deal. The "Don Andres Garcia Lavin" tournament will be held during May 25-27. Cost to enter a boat is $2000 pesos, and there is more than $500,000 pesos in prizes up for grabs. There are loads of activities for landlubbers too. While the fishers are fishing, kids can play beach volleyball, football, swim or enter a bikini contest! More details can be found on this webpage.

The 7th annual Festival of Music was a big success. Artists and groups from all over took part. We were proud to be a sponsor of this event, which will no doubt be even bigger and better next year. The Casa de la Cultura offers many other learning opportunities. Here is their complete schedule.
A big welcome to Tadd and Lindsay, the new owners of Wet Set Dive Shop. Tadd and Lindsay are both dive instructors and are offering diving and instruction at all levels. Their headquarters are in the Ojo de Agua hotel. Lindsay is originally from Edinburgh and Tadd is from Indiana. (Photo of an enthusiastic Tadd from WetSet's Facebook Page)
Cameras have advanced greatly in the past few years, but the most integral part of a good photo is the big thing attached to the eyepiece, namely the photographer. How are your skills? Have they kept up with the camera? Now you can improve your camera skills while on vacation. Pro photographer Michael Maurus (who shot the Puerto Morelos calendar this year) is offering weekly workshops on how to take a better picture. Classes are small, and participants are reporting drastic improvements in their photos after taking the course. Details and contact info can be found on his website here.
Welcome too to Robin and Steve who are in PoMo via Paris. They have lofty ambitions of a guest house, cafe and salon. We can't wait! Read more about their plans and adventures on their website. Layla Guesthouse.
Lety, famous around town for her salon has hung up her scissors so that she can focus on her food business. She plans to expand her business to include meats, pastas and sauces. Robin & Steve ended up with her iconic chair, so the hair cutting and styling will go on with Steve driving the scissors.
Flowers are now available in Puerto Morelos. A flower shop has opened on Rojo Gomez in the first block, just south of the laundromat.
For those who like to work out on vacation there is a good option here in town. El Gym Del Puerto is the new name for the gym in the Pescadors, just east of the highway. The gym is under new management too and is offering a good deal for visitors, a one week membership for $100 pesos. If you are here for longer you can buy a month for $300 pesos.
A unique fundraiser is going on for the rest of March. On Tuesday and Thursday nights you can order authentic Pollo Pibil (a Mayan chicken stew) for takeout between 5:00 and 7:00. You can get it right from the kitchen of the chef at 5A Rojo Gomez, right across from the Mayan Handicraft Market. Funds are being raised for a young man who was injured while working at a zip-line.
Congratulations to our friend Jean Prévost who got married on February 22 to Sonia Morin. You may know Jean as the keyboardist for the Men In Blues. They plan to honeymoon in April here in PoMo. Félicitations!
Told ya so: In the "easy to predict" news department, the company planning a ferry from Florida to the Yucatan announced that plans are delayed until (at least) 2013. As much as we would love to see this service, I just don't see how it would be economically viable. The former ferry, The Yucatan Express, which ran in 2003 was running almost empty. We'll continue to hold out hope, but don't build your plans around this one.
Ask A Realtor: Mayan Riviera Properties will again be offering their weekly workshop outlining how to buy property in our area. Great chance to learn and ask your questions about living here full or part time. Workshops run each Tuesday at 5:00.
Cambi-Oh!: Once again we are short of change in the bookstore. We simply can't get enough 5 & 10 pesos coins and 20 peso bills. We do not need 1 or 2 peso coins. We really did try to get some small change from our bank but the first time we went, they had run out of coins themselves. (Really?) The second time we went, he would not give me coins because it was after 12:00 noon. (Whaaa?) I try to explain to people how bad the banks are here, but I think those stories illustrate my point better than I could ever explain. If your pockets are laden with change, bring 'em by the bookstore and we will exchange your 5s/10s and 20's for crisp bills. Gracias!
Free WiFi: It's getting even easier to stay connected in Puerto Morelos. Many of the restaurants and our bookstore will give you free access with a purchase, and Cablemas is now offering a free signal. Look for it around the town square. Planet Cafe beside OXXO has computers with high-speed connections.
Bunch O' Booths: A lot of booths have sprung up around the square. Most of these booths are selling snorkel and fishing trips. Some are selling tours. Some are selling time-share or vacation clubs. Make sure you know the difference when you are talking to the person at these booths. If the price of a tour or trip seems too good to be true, there may be strings attached. Check out our Puerto Morelos Services page for good local businesses that will show you the sights right!
As we reported before, The Miami Herald Cancun Edition is no more. Look for a copy of the USA Today Cancun Edition at your hotel or convenience store. It's being put together by the same local staff. Check out the weekend edition for "Footprints" a special section devoted to the best in our area.
What did I miss? Let me know!
This Newsletter is being sent to you on a new server. It charges us for each individual email that it sends out, so if you are receiving this email more than once, please unsubscribe the extra addresses. Because it charges us for each email, it is very careful to ensure all the addresses are valid. If it has trouble getting the email to you, it will delete your name and never send you another email. If you were receiving our email, but now you are not, try signing up again using the form on our web page. This "double-opt-in" system is much more accurate and should ensure you continue to receive this newsletter. You can try adding our email address to your contact list too, so that your spam blocker doesn't delete us. Gracias!
Don't hate us, we've added Google Ads to the newsletter in an attempt to cover some of its costs. We have no control over the ads that pop up, Google decides that, and we are in no position to tell them what to do! Please let us know though if anything odd shows up. Please note, these ads don't begin to cover our costs for this newsletter. If you like this newsletter, please support it by buying books at Alma Libre. Gracias!
Current Exchange Rates (At the exchange in Puerto Morelos)


USA Dollar 12.00


CDN Dollar 11.80
The real rate is closer to 13.00. You will get a better rate from the ATM.
This Just In! Books & Products at Alma Libre
We love keeping you up to date with our town, but it's the books that keep us going. We're finding all sorts of new stuff this year; these are a few of our favourites...
Just arrived! Unique Expressions of Mexico, a beautiful booked commissioned by Xcaret to capture the colours, traditions and celebrations of Mexico. Great book at a great price, just 200 pesos.

Plants In The Mayan Culture, this gorgeous book features traditional remedies, food and art of our area. The book is locally produced, well researched and packed with photographs. We've been looking for a book like this for years, and we're delighted to have it now. Don't miss it, you will not find it any place else!

The Maya - Michael Coe

Updated! A perennial bestseller in the bookstore, this reader-friendly book is an excellent choice for those who want to learn about the Maya. Written by Michael Coe, recognized the world over at THE expert on the Maya, this book answers all your questions and then some. The best part about this book is that it is constantly updated, this volume is the eighth edition.

We also have Coe's "Mexico from the Olmecs to the Aztecs" in the store right now.

-A clear and intelligent description of the development and organization of Maya civilization. -- Natural History
-[Coe] has shown an outstanding ability in selecting and organizing his material. A pleasure to read. -- Antiquity

The Painted Fish and other Mayan Feasts

This book written by Sonja Lillvik, who founded the Cuzan Guest House in Punta Allen is memoir of a life in the land of the Maya told with food! This is a gorgeous book with more than 100 recipes (perfected in the Mayan Riviera and tested up north) and lots of glossy pictures of food and fun.

Amphibians and Reptiles - We share our beautiful

peninsula

with many creatures. We've always had good books on the mammals, birds and fish of our area and now we have a good one on the Amphibians and Reptiles.

This one volume is in both English and Spanish and features photos and descriptions of everything that crawls, slithers and hops in our town.

Locally published - Only available at Alma Libre Bookstore

Frida and Diego - These two iconic Mexican artists had a tumultuous relationship played out in front of the world. This book captures their story and best of all, it is stuffed with their art.

This is a very special book, and a must for anyone who loves Mexican art.

SPECIAL OFFER for Alma Libre Bookstore Customers

Cenotes of the Riviera Maya is the best book ever written about the cenotes in our area. Beautifully photographed, it could easily be called a coffee table book, but it is also has all the practical information you need to explore the cenotes whether you are swimming or diving. Many have drooled over this book, but the hefty (500 peso) price tag kept some people away. Now author Steve Gerrard has authorized us to lower the price. At 300 pesos, this book is an incredible bargain and it has been flying off our shelves.

Maps!

If you drive in our area, you need a map! We have excellent and detailed maps of the Yucatan, the country of Mexico, Cancun city, Merida as well as Belize, Guatemala, Cuba and Central America. We also have souvenir-quality maps you can hang on the wall.

We also carry the famous "Map Chick" Riviera Maya maps, which answer the question, "where does that road off the main highway go?"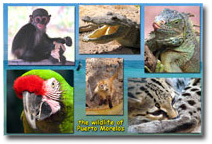 Postcards! We've added a lot of new postcards to our collection, including more underwater shots by "Dive Diva." We have the largest selection of Puerto Morelos postcards, and they are all exclusive to Alma Libre. We know because we make 'em! We also have blank greeting cards to cover any occasion you may wish to celebrate while you are in paradise.
Gift Certificates! A nice gift idea for someone who lives here is an Alma Libre Gift certificate. Available in any amount and can be used for new or used merchandise. We can accept payments from up north via Paypal.
---
Facebook & Twitter
Are you on Facebook? If so, look for our Facebook groups. Friends of Puerto Morelos &Alma Libre Bookstore. You can also buck up your friends list by making Alma Libre Bookstore your friend.
You can also like Alma Libre Bookstore.
The groups have grown very quickly! Friends of Puerto Morelos just passed 950 members! If you are on Facebook, please join our groups. We'll use them to keep you up to date with town news between newsletters. Check out the group for new photos of Puerto Morelos, taken by fellow visitors!
And if that is not enough for you...you can also follow us on Twitter. This is our twitter home page. You can follow us throughout the day.
---
Coati X'ing - This great new sign on the new road by Ceiba del Mar warns drivers to watch for Coatimundis on the road. The best place to see Coatis up close is still the Coatimundi park near the Cultural Centre.
Portable Produce - We have always loved it that sooner or later, anything you could possibly want or need will come to you in Puerto Morelos. Here some local fruit lovers are getting their fix from the "Orange Guy" who blares his wares through a loudspeaker and sells direct. You will also hear the Tamale guy, the knife sharpening guy, the bakery car/truck, the gas guys, water guys, metal recycling guy and occasional pot & pan, furniture or Crucifix salesmen. We also have announcement guy, who tells us what is going on and other advertising vehicles. Keep an ear open!
Carnival - As has often happened in Puerto Morelos, we celebrated Carnival late. There are not enough rides and attractions for everyone to have Carnival at the same time, so ours was a couple of weeks late. There were costumes and dancing and rides and games...but I am all about the food! Churros become a necessary part of the diet for a short while. The fair also hosted this attraction, a throwback to old fairs and carnivals with such attractions as a five-legged goat and a rooster with horns.
Roadside Attraction - The Carnival also had a snake house, and featured this patron who is in a most difficult situation!
---
Google Ads:
---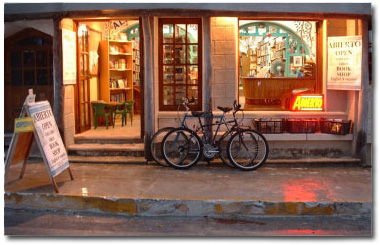 Just a reminder that we are open 7 days a week for the season. Our hours are 11:00am to 2:30pm & 3:30pm to 8:00pm EVERY DAY of the week. (Including Sunday) We are closed between 2:30pm and 3:30 for siesta, though sometimes you may find us open.
Our hours are always posted on the front page of our website at www.almalibrebooks.com.
We take trades every day, so our selection is constantly changing. If you are planning a trip down, why not bring some recent bestsellers to trade and check out our store, or plan to buy all your reading material at Alma Libre. We got you covered!
We look forward to seeing you in Puerto Morelos!
---
Beach Reads is the official newsletter of Alma Libre Bookstore in Puerto Morelos Mexico. It is mailed directly to your mailbox if you request it. Beach Reads is published on a sporadic, seemingly random basis...but it is supposed to be approximately monthly during the season at Puerto Morelos. The season is November until after Easter. We do our best to publish it regularly...but we are easily distracted...
Our website is located at www.almalibrebooks.com Our store hours are always on the home page.
If you do not wish to receive this newsletter, please Click Here To Unsubscribe
This is Year #10, Issue #3. February/March 2012.
To subscribe or make comments or suggestions or advertise your local event, please Contact Us
Retransmission & Redistribution of this newsletter without express written consent is just fine by us! Send this newsletter to a friend! (or get them to sign up for their own copy) If you like the newsletter, please support it by buying a book at Alma Libre Bookstore.