---
Advertising:
---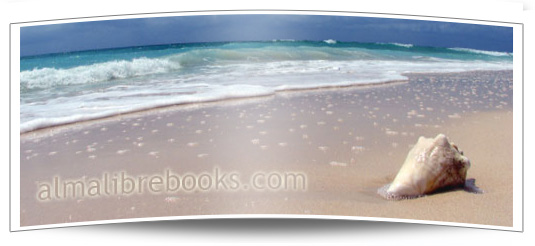 News from Alma Libre Bookstore - Puerto Morelos, Mexico
In this issue:
---
Bookstore Open! New Hours 11am-2:30 & 3:30-8:00pm
7 days a week
---
We're Back!
Here we are, a virtual tropical breeze in your freezing-cold inbox. Beach Reads, now in its 10th (somewhat) proud year, is back with all the news from Puerto Morelos, PoMo to its friends, and the infamous Alma Libre Bookstore.
How was your summer? We spent ours in Calgary and lots of points in-between. This fall we took the ultimate road trip down the west (and sometimes wet) coast of Canada and the United States. We saw the Golden Gate and the Golden Nugget. Giant redwoods and dead desert. We saw snow, real @#$% snow in New Mexico. The only regret is that we needed more time! We will return.
More about our travels later, but let's get to the part YOU care about. Your town! After a long and quiet summer, the town is ready for another winter season.
There are a bunch of new restaurants for you to try, a few things moved around and there are some new things to do. What has not changed is the peaceful, laid-back hospitality and beauty of our town.
A few things have changed at the bookstore; we've changed our hours a little so that we are closed for less time in the afternoon. We are now open 11:00am to 2:30 and 3:30 to 8:00pm. Of course we brought several thousand books with us and more are on the way. We added some new lighting to the store so that it is easier to see our titles (and shows that we need to paint too).
We missed our town so much when we were away. We're betting you miss it too, so get yourself down here! ¡Vamanos!
Please send our newsletter and the bookstore website to your friends and family. PoMo can use some more friends!
---
Keeping Secrets
Puerto Morelos is such a special place it is tempting to try to keep it all a secret, so it won't get ruined by too many people discovering it. I've seen that sentiment posted a few times on our Facebook group, Friends of Puerto Morelos. While I understand this feeling, it is not the way to go. A lot of people in Puerto Morelos rely on visitors for their livelihood. The fishermen, snorkel guys, the restaurants, the stores, the handymen, maids, waiters, dishwashers, everyone relies on visitors to keep the town going. When people don't come, they hurt.
This past summer was very slow for the people of Puerto Morelos. Last season was also tough. The town lost a couple of landmark restaurants that closed due to dwindling business. The international economic downturn has affected tourism and before that was the H1N1 Swine Flu over-reaction, crime fears and the hurricane back in 2005.
While we don't want PoMo to become Cancun or Playa del Carmen or Miami Beach, we do want to have the ability to support the people we have now, and have room for new small independent businesses and services that will keep us all busy.
So please, don't keep us a secret. Tell your friends. Tell the nice people in your life about Puerto Morelos. (Tell the grumpy ones about Cancun) There is room for more hammocks here!
---
Yoga
PoMo has always been a yoga town, but this year your options are outstanding.
Sivanda Hall has opened on Avenue Ninos Heroes. Several local yoga experts have teamed up to make this happen. This facility will offer daily yoga classes, plus special teaching events and retreats. Website Here. Look for the English button to translate the page.
Mina Wigueras teaches classes at above facility and is offering yoga on the beach. Her classes welcome beginners, even if you have never done yoga before. The beach location can't be beat and the cost is just 50 pesos. You'll see her in front of the PlayaSol condos on Saturdays at 8:45 and Sundays at 8:30. At 10:00 am she is holding a class for kids on the beach starting in January. Bring a mat and a towel.
Villas Shanti, a fixture in Puerto Morelos for decades, has classes Tuesday and Thursday mornings at 7:30am led by Jean & Jack Loew. Cost is 100 pesos per class, or 150 for both weekly classes. Website Here.
One Breath Of Yoga will hold their classes in the gazebo in the main town square once the Christmas nativity scene moves on. In the meantime they are at Casa Lalita. Classes are Monday, Wednesday and Friday at 7:00 am. Cost is 100 pesos. They also offer a Yoga and Raw Food in the jungle day monthly. The next one is December 18. Website Here.
Casa de la Cultura has classes Tuesday, Thursday and Saturday. After a 100 peso registration fee, cost is just 40 pesos a class or 300 pesos a month.
---
Exchange Rates
You may have heard that the world economy ain't what is used to be and neither is the peso/dollar/dollar exchange rate. Many years ago when we started visiting Mexico, the exchange rate to the Canadian dollar was around 6 to 1, or 6 pesos to every dollar. The US rate was better, around 10 to 1. The rate was fairly stable. Now, currency markets fluctuate wildly, and it can have a big effect on your vacation.
A lot of us still think of the US dollar as being worth about ten pesos. Recently it hit 14 pesos, and it is just below that today at about 13.85. This means that great meal you had in Puerto Morelos, with lots of wine and two big steaks which cost about 400 pesos, really only cost you less than $29 US/30 CDN. Keep these rates in mind when you pay in pesos. Your dollars (converted to pesos) will go a long way here.
Figure that 100 pesos is around $7.50 US and you will be close. This website lets you print out a handy currency "cheat sheet" that you can carry around with you to figure out just how much that adorable ceramic frog with the umbrella is going to cost you.
---
2012
The 2012 phenomenon comprises a range of "end of the world" beliefs according to which cataclysmic or transformative events will occur on December 21, 2012.

This date is regarded as the end-date of a 5,125-year-long cycle in the Mesoamerican Long Count calendar. Various astronomical alignments and numerological formulas related to this date have been proposed.

A New Age interpretation of this transition is that this date marks the start of time in which Earth and its inhabitants may undergo a positive physical or spiritual transformation, and that 2012 may mark the beginning of a new era.

Others suggest that the 2012 date marks the end of the world or a similar catastrophe. Scenarios suggested for the end of the world include the arrival of the next solar maximum, or Earth's collision with a black hole, passing asteroid or a planet called "Nibiru".

Scholars from various disciplines have dismissed the idea of such cataclysmic events occurring in 2012. Professional Mayanist scholars state that predictions of impending doom are not found in any of the extant classic Maya accounts, and that the idea that the Long Count calendar "ends" in 2012 misrepresents Maya history and culture. Astronomers and other scientists have rejected the proposed events as pseudoscience, stating that they are contradicted by simple astronomical observations.

For my scientific study of 2012, I have been simply asking Mayans I meet what they think. All the people I have spoken to plan to live their normal life on December 21 and beyond.

The good news is that all this will focus some positive attention on the Maya and their incredible history. I imagine there will be more interest in Chichen Itza, Ek Balam, Tulum and other ruin sites in our area. The 2012 phenomenon promises to sell some books too. We're ready for that! Come check our selection of 2012 books and make up your own mind.
-Compiled with lots of help from Wikipedia
---
New Products
After a whole lot of researching, we have started carrying some special gourmet and food items in the store. You'll find Mexican grown coffee, hot chocolate, vanilla (clear vanilla coming soon), Mayan honey, and a selection of locally made hot sauces, including the popular Chimay line.
Folks north of the border clamour for this stuff. Chimay makes the hottest habanero known to man, and they also make flavourful sauces for more sensitive palates. Chimay Salsa Habanera comes in four flavours, colors and levels of spiciness to suit your palate: Negra la menos picante (black, the least spicy), verde la poco picante (green, a little spicy), roja la muy picante (red, very spicy), amarilla la extra picante (yellow, extra spicy).


Our most popular sauce is a mini four-pack in a woven basket for just 100 pesos. Great gift for the foodie in your life, or a great souvenir of your Mexican vacation.
Bookstore Hours - We're open 7 days a week and different hours!
We're not quite open 24 hours, but we are 7 days a week with the new hours. 11:00am to 2:30pm and 3:30pm to 8:00pm every day. Even Sunday! Please note that we are closed daily between 2:30 & 3:30, though you may find us in. We are hoping that by closing for less hours in the afternoon we won't miss as many day trippers into PoMo from Cancun and Playa. Come see us!
Special Book Orders
We have finally found a supplier who can do the impossible, get books to us reliably in Puerto Morelos.
We can now order most any title and receive it at the bookstore in about a week
at a surprisingly low cost.
We are ordering new books for the store about once a month and we can bring in books for you too! Depending on the number of books you order, shipping and duty will be between $3 and $5 US per book. There is no sales tax or any other fees. This is much quicker and cheaper than any other source we have found, including Amazon.
Our next order will be in December. To order, just contact us to make sure we are able to get the book you want.
Taxi Rates-Updated for 2012
The taxistas have done a nice service for the town. They have posted all their rates on a great big sign beside the taxi stand in the square. This is a great move and should help to eliminate any misunderstandings. Check the sign, confirm the rate with the driver and there will be no surprises. Here are some highlights (fares from the square).

20 pesos - The highway, Villas Morelos, Amar Inn, PlayaSol, Casa de los Viajeros, Villa Shanti
40 pesos - Ceiba, Rancho Sak-Ol
45 pesos - UNAM
50 pesos - Jungle Market/Spa, Villas Morelos II, Crococun, Botanical Garden
130 pesos - Playa Secreto
150 pesos - Central Vallarta
300 pesos - Airport
600 pesos - Xel-Ha
2000 pesos - Merida/Chetumal
Plug the Bookstore on Trip Advisor

Our town and bookstore have been discovered by a lot of visitors to TripAdvisor.com. We lurk at the site ourselves and try to help visitors discover Puerto Morelos and correct some of the crazy misinformation that often comes up on the site. If you like Alma Libre Bookstore, please write a review for us on Trip Advisor. Any review will move us up in the "Puerto Morelos Things To Do" list, and a positive review might help bring more folks into the bookstore!

Visit our profile and give us your honest review here or use the box to the left. We appreciate your support!

Many thanks to those of you that have already wrote us glowing reviews. Thanks to you our stock has risen!
Jungle Market / Jungle Spa
The Jungle Market will make its return in December. The first market and show will be December 18. The following week they will have a special Christmas market and show on December 25. The show will feature a real live burro plus Mary, Joseph the Three Kings and a baby boy. After the show there will be a piñata for the kids. What a special way to spend Christmas day!
The Jungle Spa has been so popular, they have expanded the days that it is open and are requesting that people make appointments either by telephone or email. This will ensure you don't waste any time waiting for your treatment.
To make an appointment, contact Sandra at (998) 208 9148 or Cell 044 998 180-5424 or by email through her website. Appointments are available Tuesday-Saturday and limited appointments may be available on Sunday. The spa is closed on Monday.
Many treatments are available, from manicures and pedicures to a luxurious aloe vera and banana leaf wrap and massage! (or a chocolate massage...does it get any better??) For men, there is the "Mayan Macho" massage. You've never had a massage like this! They even have special massages for young adults.
Spa prices are much lower than you will find at your resort and proceeds go directly to the Mayan families that work at the spa and Jungle Market.
It's easy to get out to the jungle by car, taxi or collectivo. It's on Calle Dos (kie-yay dose) in the Zona Urbana, which is right behind the Colonia. Here's a map you can print out. Taxi to the jungle from the town square is 50 pesos. A taxi from nearby hotels is 150 pesos or $12 US each way. Tell driver you want to go to: Jungle Spa - Sandra (important to mention her name) Zona Urbana.
Remember, when you pamper yourself at the Jungle Spa or buy a unique gift at the Mayan Market, you are directly supporting Mayan families! This is a very worthwhile venture and we hope you will support it.

Money Matters
New anti-money laundering laws here in Mexico require exchange houses to record your passport number to exchange US cash for pesos. You will need a copy of your passport to exchange cash at any exchange place in Mexico.
Just a reminder to visitors that there is no place to cash traveler's cheques in Puerto Morelos. The easiest way to get pesos is at the Santander ATM in front of the police station or the HSBC ATM beside the supermarket on the square. If they are out of money, there is another machine in the 7-11 by the gas station. There are also three ATMs in town that are not affiliated with banks. Two are at the mall across the square from the bookstore and another is at OXXO. Since these are not affiliated with a bank, the fees are much higher than the Santander and HSBC machines.
If you wish to cash a traveler's cheque, you can do it at the airport or in Cancun or Playa del Carmen. You will need your passport to cash a cheque.
---
Home and Condo Rentals
'Tis the season in PoMo!
We still have some homes and condo rentals available for the season and the spring. If you have never stayed in a private home or condo, you are in for a wonderful experience. You have all the comforts of home on your vacation. All you have to do is bring your clothes and toothbrush! Everything else is included from towels and linens to hammocks and blenders.

Many ex-pats have built their dream homes here in PM and are willing to rent it to you! Renting a place makes you feel more like a local and offers the convenience of cooking for yourself and
much more privacy
.

Regular Beach Readers know that we feature some of these properties on our website. There are a gazillion property rental sites out there, but our site is unique because these are properties we know, owned and run by people we know and trust. We like to think we take the guesswork and risk out of renting.

We're always adding new properties to the site and new photos too!
One bedroom or two? Your choice!

This giant suite can be rented as a one bedroom/one bath with a fold out couch, or as a two bedroom two bath. Each bedroom has its own outside door to allow entry or exit without disturbing others.
It has a full kitchen with pots and pans, dishes and cutlery, plus appliances like coffee maker, toaster and juicer. Drinking water is included as well as cable TV and high-speed wireless internet. The suite features a huge terrace with table and chairs and comfy hammocks. All this from $695 a week in season, $450 starting in May!
Click here for more information and pictures!
Huge, Bright, Breezy One Bedroom

A big one bedroom, two bath with a loft. The loft has a fold out couch and curtains for privacy. The couch in the living room also folds out into a bed.
Off the bedroom and the living room is a HUGE balcony with table and chairs for four and a comfy hammock.
Of course there is a full kitchen with pots and pans, dishes and cutlery, plus appliances like coffee maker, toaster and juicer. Drinking water is included as well as cable TV and wireless internet. $695 a week in season, $499 starting in May!
Click here for more information and pictures!

Watch a short HD video about this apartment
Click here to download a printable info sheet on the above three apartments
*By the way, it is not too early to start thinking about 2013. I am handling emails every day from people who waited too long to book Christmas and February!*
Check out our new, easier to navigate rentals page here.
Owners! Contact us to get your FREE listing on our website.
---
Home and Condo Sales
If you have ever thought about owning a piece of paradise, this may be your opportunity. Some prices have actually come down, something we have not seen in ten years of living here. Properties are starting to sell now, several have moved in the last few months, so don't miss out.
Here are a few places we are featuring:
New Listing!

2 bedroom / 2.5 bath condo with spectacular view

Just on the market, this condo is just a year old and features a spectacular, third floor view of the ocean and beach.

Small condo complex (10 units) features swimming pool, elevator, security guard & parking.

3 bedroom / 2.5 bath beach home!

A stand-alone single family residence, on the ocean fronting a small quiet cove. This is a recently built (2007) two story home with 2200 square feet of living area and in addition, a walled in private rooftop sundeck.

The house has 3 bedrooms, 2-1/2 baths, living, dining, kitchen, and laundry room, an outside storage room, and a downstairs oceanfront sitting porch and patio.

Included on the property is a complete separate suite that can be used as servant's quarters, or a guest house.

Separately titled adjoining lot is also for sale, walled and ready to build on.

3 bedroom / 3.5 bath - 3 story townhome

Now fully furnished & price reduced

Fully detached home is part of an established, well managed townhome community. (total 12 units) with swimming pool.

The pictures don't show it, but this place is fully furnished with everything including appliances and pots and pans. Bring your toothbrush, everything else is included.

This well-built 270 m2 = 2,700 square feet home has three stories and a large sundeck
Find more places on the PoMo real estate section of our website: http://www.almalibrebooks.com/realestate.htm
---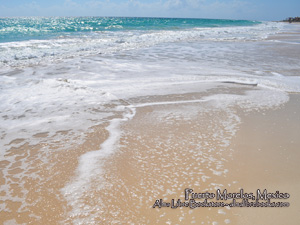 Free Gift From Alma Libre - New Size! 1680x1050
For those of you still stuck up North, bring a small piece of Puerto Morelos to your home or office with our new Puerto Morelos Wallpaper.
We've dropped the calendars off of them, so they are now timeless. We'll have a large selection available soon. This month is a view of the beach just south of town.
Wallpaper is also available on our website at www.almalibrebooks.com.
Pick your wallpaper size:
1680 x 1050 1280 x 1024 1024 x 768 800 x 600 1600 x 900 CLICK HERE FOR WALLPAPER INSTALLATION INSTRUCTIONS
---
Restaurant News: The hardest job in the world is not the President of the United States or a high school principal...it is trying to keep track of the restaurants in Puerto Morelos! Luckily we have a pile of new ones to discuss.
Rustika is a lovely looking restaurant located south of the square on the main road in Puerto Morelos. They are quite a way south of the square, beyond the Handicraft Market, so it is going to be a challenge for them to get any walk-by traffic. It is not a long walk though, and they are easy to find on the west side of the street. Their menu has mostly Italian food, pastas and grilled meat. They also have an art gallery and are promising live music on weekends.
Tulipanes will be of interest to guests at our place, Casa de los Viajeros as it is the closest place to get coffee. It is located on Rojo Gomez just north of the big vacant federal lot behind PlayaSol. It's a good looking place offering a variety of coffees, teas, matte and lots of baked goods. Wifi too! Looks like a good place to relax, get some caffeine and plan your day. It's open 7-1 & 4-10, closed Wednesday.
Tejones Locos (crazy Coatimundis) takes its name from the racoon relative that can be spotted in Puerto Morelos. The menu features pizza, Italian sandwiches, fish and pasta. The dessert menu features Tiramisu. They have a lovely open air brick kitchen and plenty of seating. Check out the Venetian mural, complete with Coatis in gondollas! The restaurant is located in the big building on the south side of the church. We had a chance to try their Italian-style pizza recently, and it was excellent.
Restaurant/Bar El Paraiso has opened on Avenue Ninos Heroes just north of John Gray's Kitchen. The menu is all about fish and shrimp.
PlayNet Cafe is the new name and business of the stationary store and internet cafe beside OXXO. It still has stationary and internet, but they have added coffee and snacks. They also have movies on the weekends. If you have a group of 10 or more, you can choose the movie from their library. Movies are free, but you must buy a beverage. It's like our own PoMo VIP Theatre!
Another cafe has opened nearby, just south of the square is the new Village Cafe. It has coffee and snacks and the owner obviously loves the Beatles, as their art leans on the fab four.
Siempre Sano is a new vegetarian place just south of the square where the hardware store was. Their menu offers vegan tacos for the low, low price of 10 pesos. (that is about 77 cents!)
Tuch-tlan is a small restaurant that has been open off and on in its small space across from the handicraft market. This year, it is on! Open 7 days a week for breakfast, lunch and early dinner, the restaurant offers real local food. Empanadas, sopes, salbutes, tostadas, tortas and comida corrida. Inexpensive.
The quesadilla place beside the church appears to have changed its name to Ke-kekas they are advertising the low price of 15 pesos.
La Quinta de Morelos aka Cruzitas has yet another new name. It is now called Doña Cruzita. They have fish on the menu and they are on Avenue Ninos Heroes near the tortilla factory.
There are more food choices on the other side of the highway. We've long trumpeted the wonderful La Papa y Cafe and Pizza del Carmen among others...now there are more places. One we were really impressed with was La Luna LLena. It has baguettes, hamburgers, pasta, enchiladas, lasagne and more. Prices are very reasonable.
A new Michoacana ice cream store and cafe has opened on Avenue Rojo Gomez, just north of Tacos.com. That means you now have at least three choices for ice cream in Puerto Morelos! (Michoacán is a state in Mexico and their ice cream is different and delicious. Try it!)
Al Chimmichurri which is the local favourite for grilled meat and empanadas has added some tasty desserts to their menu.
Spaghettino has re-opened after an autumnal break.
John Gray's in Playa del Carmen has closed. Gray has just opened up a new restaurant in Cancun in Plaza Peninsula on Avenue Bonampak, a few blocks north of the intersection with Kabah (the Costco road). John Gray's Kitchen in Puerto Morelos is open daily. Gray's former Cancun restaurant Downtown continues to operate with other local owners on Avenida Xpuhil, near Plaza Los Americas mall.
If you hear a man calling "Tamales", wave him down. He makes real tamales in banana leaves. He has vegetarian and other choices. He doesn't speak English, but everyone speaks the language of fresh tamales!

The Little Mexican Cooking School is not so little anymore. It has moved to the expansive Casa Caribe on Avenue Rojo Gomez, just north of the big vacant federal lot. The classes continue two or three days a week and you can try their fare at breakfast, served to all on Sundays. Book your class online here.
The Casa de la Cultura will be holding their 7th annual Festival of Music on January 26, 27, 28 and February 2, 3 & 4. We're a proud sponsor of this event and they are looking for more sponsors. Please contact them through their website for details. This is a well organized and well received event for our town. The Casa de la Cultura offers many other learning opportunities. Here is their complete schedule.
The Men In Blues will be back in PoMo for another season. Catch them at David Lau's Wednesday, Thursday and Saturday from 7:00-10:00 starting in the new year. You are advised to make reservations with Valorie to guarantee a seat. They fill up fast. Sad to report that Jean "Bluesman" Prévost is not coming down this year, he's back in Quebec taking care of his health. He's promised to be back next year. We wish him a speedy recovery. We miss you Jean!
Jin of Abbey Del Sol has started his own transportation company. He is offering lower rates than we've seen before. Airport pickups are just $40, and you can add a quick grocery trip for an extra $15. Quite a deal and Jin lives here, so the driver will know Puerto Morelos well, unlike most of the Cancun-based drivers who get hopelessly lost in our tiny town! You can book online here.
They are doing some work on the road into town from the highway. Looks like they are widening it, which would be welcome news. Even better news would be a bike lane and a walking path! They are also doing some long-needed road repairs south of the square on the main road. Some of those potholes have been in town as long as we have! Meanwhile, the back road to Ceiba del Mar is starting to resemble Swiss cheese, making the speed bumps quite redundant!
There is a new ATM (aka ABM) in town, located conveniently right in front of the police station. Locals are loving it because they say the fees are lower than the HSBC one by the market. We recommend using your ATM card as the best way to get pesos in PoMo. Your exchange rate will make up for the fee the bank machine and your bank will charge.
They are some changes for shoppers too. There is a new "flea market" across from the Mayan Handicraft Centre. It has mostly the same stuff you will find all over Mexico, and the products are not locally made. The dress/silver and cigar store that used to be just south of the square is now just north of the square beside Dive In Puerto Morelos. You will find the A'ak store just south of there which has unusual items. The jewellery store right across from the dock is now a clothing store. Tesoros Mayas remains open close to the OXXO and has a wide selection. The gift shop on the corner beside El Pirata restaurant has closed.
A new shop has opened just down the road from the bookstore. Aquanauts Tour Boutique will sell dive equipment sales and handle tour bookings for just about any tour in the Riviera Maya. Eric of Ecab Explorer will be at the shop in the evenings talking about his popular tours. They are in the space that used to be the lower dining area of Hola Asia.
As we reported in April, Costco in Cancun has finally started charging for parking. Keep your parking stub and give it to your cashier at Costco and you will get free parking. A lot of restaurants have opened recently near Costco and were using their lot for their clients. The upside is that there are a lot more spots now!
Puerto Morelos Calendar: A group of local folks are putting together a PoMo calendar just in time for Christmas. It will feature pictures of Puerto Morelos women. Proceeds go to community projects. Calendars should be available as of today.
Tink "Tinkerbell" Serval is back! Tinkerbell was a fixture here in Puerto Morelos when we moved here, but moved back the Nether-Netherlands several years ago. Now she is back and she is offering her full body osteopathic-medical massage treatments. Contact her at 998-244-9321.
Homeowners: Pay your property taxes this month and save 15%. That is down from last year's 25% incentive, but hey, a tax discount is a tax discount. You can pay right at the town hall.
Ask A Reator: Mayan Riviera Properties will again be offering their weekly workshop outlining how to buy property in our area. Great chance to learn and ask your questions about living here full or part time. Workshops run each Tuesday at 5:00.
Free WiFi: It's getting even easier to stay connected in Puerto Morelos. Many of the restaurants and our bookstore will give you free access with a purchase, and Cablemas is now offering a free signal. Look for it around the town square.
Don't Fear The Dark: A tasty Christmas tradition here in Mexico is Noche Buena, a delicious bock beer only available around the holidays. Look for it in 12 bottle boxes until early January. Then it will disappear like a snowman Cancun.

Yucatan Ferry: I get asked about this several times a week, the dream of a ferry running from the US to the Yucatan. Not much progress to report on this however. The CEO of the company, United Caribbean Lines says the service will start in the latter part of 2012. Speculative price is $200 round trip. No word on how much it would cost to bring your car. I hope this happens, but there is no sign of the ferry starting yet that I have seen.
The Catholic Church on the square has a new priest. Padre Juan takes over from our friend Father Mario, who is now based at his large church in Cancun. Father Juan is from Spain, but has spent time in Mexico.
Bunch O' Booths: A lot of booths have sprung up around the square. Most of these booths are selling snorkel and fishing trips. Some are selling tours. Some are selling time-share or vacation clubs. Make sure you know the difference when you are talking to the person at these booths. If the price of a tour or trip seems too good to be true, there may be strings attached. Check out our Puerto Morelos Services page for good local businesses that will show you the sights right!
As we reported before, The Miami Herald Cancun Edition is no more. Look for a copy of the USA Today Cancun Edition at your hotel or convenience store. It's being put together by the same local staff. Check out the weekend edition for "Footprints" a special section devoted to the best in our area.
What did I miss? Let me know!
This Newsletter is being sent to you on a new server. It charges us for each individual email that it sends out, so if you are receiving this email more than once, please unsubscribe the extra addresses. Because it charges us for each email, it is very careful to ensure all the addresses are valid. If it has trouble getting the email to you, it will delete your name and never send you another email. If you were receiving our email, but now you are not, try signing up again using the form on our web page. This "double-opt-in" system is much more accurate and should ensure you continue to receive this newsletter. You can try adding our email address to your contact list too, so that your spam blocker doesn't delete us. Gracias!
Don't hate us, we've added Google Ads to the newsletter in an attempt to cover some of its costs. We have no control over the ads that pop up, Google decides that, and we are in no position to tell them what to do! Please let us know though if anything odd shows up. Please note, these ads don't begin to cover our costs for this newsletter. If you like this newsletter, please support it by buying books at Alma Libre. Gracias!
Current Exchange Rates (At the exchange in Puerto Morelos)


USA Dollar 13.00


CDN Dollar 12.30
The real rate is closer to 14.00. You will get a better rate from the ATM.
---
This Just In! Books & Products at Alma Libre
Read all about it!
We love to keep you up to date with the town, but it's books that pay the bills. Have a look at some titles at Alma Libre bookstore...
The Painted Fish and other Mayan Feasts

This book written by Sonja Lillvik, who founded the Cuzan Guest House in Punta Allen is memoir of a life in the land of the Maya told with food! This is a gorgeous book with more than 100 recipes (perfected in the Mayan Riviera and tested up north) and lots of glossy pictures of food and fun.

Curious George - is up to his old tricks, but now he's getting into mischief in two languages! And you know he's driving the man in the "amarillo sombrero" crazy! These books are great for kids and for anyone who is learning espanol. We have several "Jorge el curiosa" titles to choose from.

Casa Yucatan

A beautiful book showcasing the unique architectural style of the Yucatan...or to put it in another way, "A dazzling photographic journey, Casa Yucatan focuses on architectural elements, water spaces, and open-air living in houses both colonial and contemporary, including haciendas and coastal retreats. The Yucatan has undergone a remarkable restoration renaissance of late: ancient pyramids now share the dense jungle landscape with revived haciendas, and colonial homes boasting high-beamed ceilings and cool tile floors posture amidst elegant plazas and renovated nineteenth-century mansions."

Mexican Slang 101 - This book is the phrase book for those who want to really "talk the talk" and speak the way the locals speak. You'll find hip expressions like the proper way to say "cool" or "bummer", right down to the nastiest insults you can imagine. There is enough information in this book to be the life of the party, or get beaten up. Be careful how you use this book! Locally produced and available only at Alma Libre. Makes a great gift or gives you some training that Berlitz just is not going to give you! This book has quickly become a bestseller. Makes a great souvenir or gift.

A bargain at 65 pesos.

Tropical Greeting Cards - Wish them a Merry Christmas and rub it in just a little with our selection of tropical greeting cards. We also have Puerto Morelos Christmas cards! (we have blank all-occasion cards too)

Puzzle books for the Beach - We have a great selection of puzzle books, especially made for the beach. We have New York Times crosswords especially made for a sunny day and a hammock. We also have a great selection of Sudoku books for the sand and surf. We also always have a deck of cards available at Alma Libre.

Latin Style - We are very excited to have this new decorating book in our shop. It's big and glossy and features lots of pictures to inspire you to bring Latin style into your home. Juan Carlos Arcila-Duque is a Columbian born interior designer with notable clients throughout the world. He has designed everything from private residences to trendsetting restaurants. This book also includes a Latin music CD! "This is a charming book full of color, and the quirky style of what the author calls "Latin Style". This is much more than just a decorating book. The author chooses pictures that give you a sense of what it would be like to experience Latin style." - Amazon Reviewer

Secrets of the Talking Jaguar is the story of the author's physical and spiritual journey from the south-western US to the highlands of Central America. There he becomes apprenticed to a local shaman who teaches Pretchel much about indigenous Mayan life and about life in general.

"This eloquent and expressive work. . .is highly recommended."—Library Journal

"Told with great honesty, insight, and generosity, Prechtel's chronicle offers modern readers a privileged and rare glimpse into the complex and spiritually rich life of a contemporary Mayan village."
—Rocky Mountain News

Spanish Language Learning Software- Now available for the Mac! - Since moving to Mexico, Joanne and I have struggled with our Spanish, especially those nasty verbs. Now our friend Jacky has invented a fun way to learn your verbs. Her Amigos Spanish program has full conjugation for 700 verbs and helps you learn with tests and puzzles. The program is totally customizable, allowing you to focus on the verbs you need to know. Plus it's fun, so you will stick with it and learn those verbs. To expand your vocabulary, try Amigos Spanish Puzzles a program featuring word games with English clues and Spanish answers (or vice versa). The program comes loaded with 2500 words, and you can even add your own words if you like! Both programs are available on CD at Alma Libre Bookstore or download it at Amigos Spanish.

SPECIAL OFFER for Alma Libre Bookstore Customers

Cenotes of the Riviera Maya is the best book ever written about the cenotes in our area. Beautifully photographed, it could easily be called a coffee table book, but it is also has all the practical information you need to explore the cenotes whether you are swimming or diving. Many have drooled over this book, but the hefty (500 peso) price tag kept some people away. Now author Steve Gerrard has authorized us to lower the price. At 300 pesos, this book is an incredible bargain and it has been flying off our shelves.

Maps!

If you drive in our area, you need a map! We have excellent and detailed maps of the Yucatan, the country of Mexico, Cancun city, Merida as well as Belize, Guatemala, Cuba and Central America. We also have souvenir-quality maps you can hang on the wall.

We also carry the famous "Map Chick" Riviera Maya maps, which answer the question, "where does that road off the main highway go?"

Maps are usually difficult to find in Mexico, but only if you are looking in the wrong place! Plot a course to the bookstore...if you get lost...ask for directions...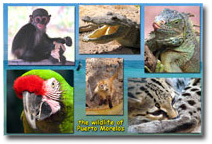 Postcards! We've added a lot of new postcards to our collection, including more underwater shots by "Dive Diva." We have the largest selection of Puerto Morelos postcards, and they are all exclusive to Alma Libre. We know because we make 'em! We also have blank greeting cards to cover any occasion you may wish to celebrate while you are in paradise.
Gift Certificates! A nice gift idea for someone who lives here is an Alma Libre Gift certificate. Available in any amount and can be used for new or used merchandise. We can accept payments from up north via Paypal.
---
Photos of the Month
| | |
| --- | --- |
| | |
| The Colonia was the site of a bullfight recently. We showed up way too early as usual and caught this fellow napping under the bleachers. | Also at the bullfight was this shooting game. You could win whatever you shot; money, candy or (gasp) a pack of smokes. We figured we were a shoe-in to win with our friend Stewie here, a former Calgary police officer, but let's just say the gun sights favoured the house! |
| | |
| Curb Appeal - Spotted on a quiet Saturday morning in PoMo, this fellow had the fun job of lying across the back of a truck and spray painting the curbs yellow as the truck rolled slowly ahead. I kept my distance as I am quite sure I would have been yellowed had I been standing at the curb. | House of Blues - Love the paint job on this house near the federal dock. |
---
Our Travels
We love the open road and this year we took it to the extreme, covering more than 12,000 kilometres on our trip south alone!
From Calgary we drove straight west, eventually ending up in beautiful Victoria, BC. After that we rolled south in Washington state, stopping in Seattle and catching a Mariner game.
From there we spent some time in Portland and on the Oregon coast where we tried to set a personal record for most sampling at the Tillamook Cheese factory. We were stunned by the rugged beauty of the Oregon coast, around every corner was a postcard view.
Northern California was also beautiful and we got lost in the giant redwoods. Such a sight.
We spent a lot of time in San Francisco, wandering the hills and having as much sourdough as possible.
You may have heard they have a lot of wine in Napa Valley, California. Well...they used to have a lot more! The area is so beautiful, you could lose a lot of days here without wine tours. Highlight for us was visiting the famous Coppola winery and seeing some memorabilia from some of our favourite movies.
From there we figured we had better start heading east, as we were a long way from home! We spent a few days (but very few coins) in Las Vegas before heading for Austin, Texas.
Altering our route, we crossed the border at Eagle Pass/Piedras Negras and drove straight south on the good-quality Highway 57. We stayed in Saltillo the first night, then spent some time in Querétaro. We spent another night near Cordoba and then made the long run over some poor roads to Palenque. From there it was a day and a half to get home.
Pulling the trailer, we broke three springs and replaced two tires...all in the US!
---
In Memory
We lost three special PoMo'ers since our last newsletter.
Marguerite Broyles - It is with deepest regret that we announce the passing of our dear friend Marguerite. Marguerite passed away after a long illness on December 6, 2011. Her kindness and generosity knew no bounds. A gifted artist who saw art and colour everywhere she looked. I have met many artistic people before, but I don't think I met a real artist before Marguerite. For her, creating her art was like breathing. It was a natural extension of her. She saw it not as a commercial venture or a hobby...it was in her and it needed to come out!

She was a frequent winter refugee in Puerto Morelos. Always seen in her flowing dresses at the park or restaurants in town. Such a stylish sight!

Marguerite had a gallery in Puerto Morelos called Sorpresas for many years and you will find her art all over town.

She was in PoMo at her home only a few weeks ago, but had to go back to Florida. She passed away shortly after. The family is considering a memorial celebration in Puerto Morelos, we will keep you posted.

Joan Keenan - A long time visitor to Puerto Morelos, Joan was a friend of the bookstore and the town. Joan spent most of the winter in Puerto Morelos every year at her place in Villas Sylvia. Joan was a frequent visitor to the bookstore, and would always take time to chat. She was often spotted elegantly gliding her bicycle on the potholed streets of town, or sampling the wares at the ice cream shop!

A good reader, a good traveller and so very smart, we will miss her friendship and chats at the shop.

Michael O'Brien was a well known figure in town as the owner of the Hotel Inglaterra. Michael cared deeply about the town, his inn and his guests. He lived in England and ran a school he founded, teaching languages and computer skills to young people to help them get employment. He was in town frequently to make improvements to his hotel. Michael started his career as a school master teaching French, Philosophy and Athletics and took a keen interest in social work. Later he taught himself Italian, Spanish and German. He passed away at his hotel in September. We will miss him and his perpetual grin in our town.
---
Advertising:
---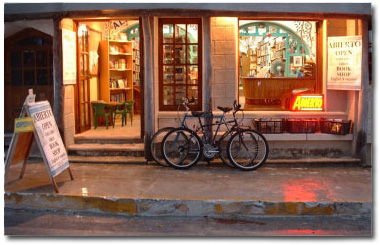 Just a reminder that we are open 7 days a week for the season. Our hours are 11:00am to 2:30pm & 3:30pm to 8:00pm EVERY DAY of the week. (Including Sunday) We are closed between 2:30pm and 3:30 for siesta.
Our hours are always posted on the front page of our website at www.almalibrebooks.com.
We take trades every day, so our selection is constantly changing. If you are planning a trip down, why not bring some recent bestsellers to trade and check out our store, or plan to buy all your reading material at Alma Libre. We got you covered!
We look forward to seeing you in Puerto Morelos!
---
Beach Reads is the official newsletter of Alma Libre Bookstore in Puerto Morelos Mexico. It is mailed directly to your mailbox if you request it. Beach Reads is published on a sporadic, seemingly random basis...but it is supposed to be approximately monthly during the season at Puerto Morelos. The season is November until after Easter. We do our best to publish it regularly...but we are easily distracted...
Our website is located at www.almalibrebooks.com Our store hours are always on the home page.
If you do not wish to receive this newsletter, please Click Here To Unsubscribe
This is Year #10, Issue #1. December 2011
To subscribe or make comments or suggestions or advertise your local event, please Contact Us
Retransmission & Redistribution of this newsletter without express written consent is just fine by us! Send this newsletter to a friend! (or get them to sign up for their own copy) If you like the newsletter, please support it by buying a book at Alma Libre Bookstore.
Text & Photos ©2002-2011 Alma Libre Bookstore. Please do not use our content on your website without our specific permission.