---
Advertising:
---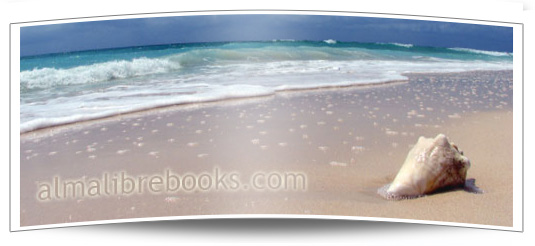 News from Alma Libre Bookstore - Puerto Morelos, Mexico
In this issue:
---
News From Puerto Morelos
"Best of Puerto Morelos" Survey Results
The voting is complete and the results are in. For seven years now we have been asking our readers what they like best about Puerto Morelos. We ask this because we are curious of course, but we also like to compare notes with our visitors to see what they have discovered in our town in case we're missing something! As always, we were delighted to get a lot of responses and we thank you for taking the time. Now, without further ado, here are the results of our 2011 survey.

Favourite Restaurant

This PoMo restaurant race saw some major shaking up this year with David Lau's unseating Hola Asia for the top spot for the first time ever. Here is the top ten.
1. David Lau's
2. Cantina Habanero
3. Pelicanos
4. L'Oazis
5. Hola Asia
6. Al Chimichurri
7. Spaghettino's
8. La Suegra
9. El Tio
10. El Pirata

Bubbling under were Dona Triny's, Los Gauchos, La Panza es Primera, La Petita, John Gray's Kitchen and Tacos.com. Honourable mention goes to La Papa y Cafe, which won a lot of fans this year. Unfortunately, your #8 choice, La Suegra just closed at the end of January.

Congratulations to all these restaurants. With at least 40 restaurants to choose from in our little town competition is keen. Add to this our very short tourist season and you know that any of these restaurants do a very good job pleasing their patrons. More than 25 places received votes in the survey...meaning nearly every place was somebody's favourite. Drop by the bookstore and we'll tell you ours. Drop by our website to see our constantly updated list: www.almalibrebooks.com/restaurants.htm

Here's a look at all the restaurant lists since we began this survey in 2005.
| | | | | | | |
| --- | --- | --- | --- | --- | --- | --- |
| 2011 | 2010 | 2009 | 2008 | 2007 | 2006 | 2005 |
| David Lau's | Hola Asia | Hola Asia | Hola Asia | Hola Asia | Hola Asia | Hola Asia |
| Cantina Habanero | Pelicanos | Bodo's (RIP) | Bodo's | Bodo's | Pelicanos | Pelicanos |
| Pelicanos | David Lau's | Pelicanos | Pelicanos | Pelicanos | Bodo's | Caffe del Puerto |
| L'Oazis | Cantina Habanero/El Pirata (TIE) | David Lau's | El Pirata | El Marlin Bleu | John Gray's Kitchen | John Gray's Kitchen |
| Hola Asia | L'Oazis | El Pirata | David Lau's | John Gray's Kitchen | Caffe del Puerto (RIP) | |
| Al Chimichurri | Posada Amor | Cantina Habanero | El Marlin Bleu (RIP) | El Pirata | El Pirata | |
| Spaghettino's | Las Palmeras/Old Fisherman | John Gray's Kitchen | John Gray's Kitchen | Old Fisherman | El Marlin Bleu | |
| La Suegra (RIP) | Terazza | L'Oazis | Dona Triny's | | | |
| El Tio | Spaghettino's | La Suegra | Los Gauchos | | | |
| El Pirata | John Gray's Kitchen/Al Chimichurri (tie) | Posada Amor | L'Oazis | | | |
Favourite
Place to get a Drink
This could be an alcoholic drink or not. Here are the top five choices.
1. Cantina Habanero
2. Pelicanos
3. Ojo de Agua
4. Cafe de Amancia
5. Bar Ixchel
Cantina Habanero led the pack on this one for the second straight year, which is pretty good considering they do not have an ocean view. There is always lots to entertain you at Habanero's though and you'll always find a local or two here. Most of the other top choices feature ocean views, happy hours or both. Honourable mention to the sangria at El Pirata which several people mentioned.
Biggest Attraction of Puerto Morelos

This one was pretty easy to answer. Most people mentioned the beach, the ocean and the reef. They also like the laid-back feel of the town and the people. Here's a sample of what we got:
"The people make the town. Although the reef, beach, sand, and ocean are the original drawing cards, without the warm hospitality, and genuine kindness of the people, the rest would just make it another spot in the sun." (*well summed up*)
"No traffic lights?"
"Small size, fewer giant hotels. I love that the schools are there, so that the locals are a real part of everyday life there rather than just employees of resorts and restaurants."
"The friendly people and laid back atmosphere! And the weather! And the beach! And the great restaurants! (ok that was probably too many right?) It's difficult to narrow it down to one thing =)"
"Version #1 (What Rob wants to hear) The Alma Libre Bookstore, of course. Version #2 (The objective truth of the matter) The azure, crystal clear waters." (we can't handle the truth)
Favourite Shop
We put out the newsletter, we put out the survey, it would be pretty embarrassing if we didn't win the favourite shop category. Luckily most of our clever readers realized this and voted Alma Libre Bookstore as their favourite shop for the seventh straight year. Some unclear people said that they didn't shop, or worse voted for some other store. Don't worry, we'll take care of them. Also mentioned were the Jungle Market, the Mayan Handicraft centre, Sofia's and a few places that people didn't have names for, just loose descriptions of where they were. (near Pelicanos etc)
Preferred Accommodation in Puerto Morelos

This was pretty clear. 67% prefer to stay in a house or condo. 23% like to stay in a small hotel. Just 2% of our readers like a big all-inclusive. We rent houses and condos. See them here.

Favourite Book to Read in Puerto Morelos

We ask this question every year to make sure we are bringing in the correct books and to get ideas of what we should read next. As usual we had a wide variety including: mysteries, Mayan history books and trashy holiday books. Several people mentioned the wonderful "Lost World of Quintana Roo". One very literal reader said this: "this (question) is dumb; do I read same book every visit! of course not!" Hmm...we'll re-word it for next year.


Favourite Place to visit in the Yucatan other than Puerto Morelos

Hate to encourage anyone to leave, but we like to explore too. Top answers were Playa del Carmen, Tulum, Ek Balam, Lake Bacalar, Akumal, Merida, Izamal, Xel-Ha, Playa Secreto, Isla Mujeres, Valladolid and Punta Allen.

How many times have you visited Puerto Morelos?

Be careful if you visit us, seems to be very difficult to come here just once! Exactly 50% of our responders have been here five times or more. 16% live here. 16% have been here one or two times.

Where Are You From?

We may be in a tiny town, but our newsletter gets around! Most of our responders were from directly north of us. 56% are from the US and 35% are from Canada. We had more respondents from Mexico this year because we put the survey on Facebook too. They made up 8% of respondents. The other 1% are from Europe or South America.

Favourite Cheap or Free Thing to do?

Some of the best things you can do in Puerto Morelos are absolutely free (or cheap). Our readers like to walk on the beach, or around the town. A lot like to watch the fishermen or sit in the square and watch people and some like the simple thrill of a book and a hammock. Some like to go to one of the local churches. For cheap thrills, many mentioned getting a book at the bookstore, or pursuing the thrill of happy hour. Our favourite answer was: "Read, Soak, Sun, Repeat."

Favourite splurge?

Overwhelmingly the big splurge was "trying all the restaurants/eating out every night." Not a big splurge of course in Puerto Morelos. Also mentioned were massages, golf, a tour with Eric or our favourite: "As much alcohol as we care to drink."
*Thank you for taking our survey again this year and congratulations to all those places you picked as your favourites.
Bookstore Hours - We're open 7 days a week and longer hours!
We're not quite open 24 hours, but we are 7 days a week with the same hours. 10:00am to 3:00pm and 6:00pm to 9:00pm every day. Even Sunday! Please note, we are closed daily between 3 & 6. Even we need a siesta!
Special Book Orders
We have finally found a supplier who can do the impossible, get books to us reliably in Puerto Morelos.
We can now order most any title and receive it at the bookstore in about a week
at a surprisingly low cost.
We are ordering new books for the store about once a month and we can bring in books for you too! Depending on the number of books you order, shipping and duty will be between $3 and $5 US per book. This is much quicker and cheaper than any other source we have found, including Amazon.
Our next order will be in early March. To order, just contact us to make sure we are able to get the book. We require a deposit on all orders. Easy! March may be our final order for the season, so if you want to special order something, please let us know.
New Things to Try in PoMo
Shrimp Tacos at Peskayitos in Puerto Morelos
Vacations are all about relaxing, but it is also a time to try some new experiences. Here's a few we encourage you to try, most are unique to our area.
Shrimp Tacos -
If you love shrimp, you will wonder where these have been all your life. Lightly battered and deep fried shrimp are presented on a tortilla, usually with salsa, avocado and a variety of sauces. There are several places in town that make them and one or two in Playa del Carmen too. Don't think, just order three and enjoy. Ask us for our favourite shrimp taco locations.


Ceviche -
Standard local fare quite often served as an appetizer or lunch. It is raw fish, seafood or both marinated in lime. The lime actually "cooks" the fish or seafood while giving it a wonderful zing. The key to ceviche is freshness, so look for a place that is busy for your fix.


Empanadas
- Definition: A stuffed baked pastry. The stuffing can be meat, vegetables or cheese...or all of the above. Several places in town make them. Most say Al Chimichurri or Los Gauchos make the best. Try them both and report back to us.
Buy Food in a Different Way - Puerto Morelos offers unique ways to buy food. Our theory is that if you stay in one spot long enough, eventually anything you could want to buy will pass by. In PoMo you can buy produce from a truck, baked goods from a van, sweets from a man with a giant tray on his head or tamales from a man selling them from a plastic bucket. Fear not...indulge!
Jungle Spa & Market - Lu'um K'aa Nab, a non profit group runs the famous Jungle Spa, which has been very popular with visitors from all over the world. I can not tell you how many people have told us they gave the best massage of their life. During the season, the Sunday Jungle Market features food, crafts and a unique dance show. Do not miss it.
Casa de la Cultura
- A little house in Puerto Morelos that provides an opportunity to learn amazing new things. Classes are for children and adults and range from yoga to dance to tae kwon do. Throughout the year there are also lectures and films. Check their complete schedule at the casa or on their website.
Zip Lines - a unique way to experience the jungle close up. Selvatica is just up the road from Puerto Morelos and has two miles of zip lines waiting to be...zipped on? There are other places too. Xcaret has one called Xplore.
Cenotes - Unique to our area, these underground rivers, lakes and caverns are waiting to be explored. You can swim in them, dive in them or snorkel in them. The water is so cool and clear, people appear to be floating in air.
Reef
- Our reef rocks! Access to the reef is carefully controlled and it has been a protected national park since 1998. As a result the reef is in good shape and is popular with fish, who don't mind if you hang out with them for a while.
When you go, make sure you are given a park wristband.
Proceeds from the band goes to help protect the reef. We strongly urge you to snorkel with the cooperative on the dock, one of the local dive shops or tour companies for the best experience. Guys on the beach may offer a cheaper trip, but may not care about the reef as much.
(See our
Services page for good local operators)
Fresh Produce and Juice - If you live in certain areas up north, you may never have tasted a "real" banana, pineapple, avocado or mango. Try them and be ready for a new taste experience! Picked fresh, you will find fruit juicier, sweeter and inexpensive! Try squeezing your own orange juice, or buy it squeezed and cold at the Chulim market in the Colonia. Yum! (The eggs are better here too)

Ice Cream - The ice cream is definitely different in Mexico. There are two places on the square to try. We like the coco and the vanilla.

Eat a Fish - You cannot get fish fresher than in our town. The fishermen go out every morning and sell their catch to the co-op and the restaurants. Even if you think you don't like fish, you should try it in Puerto Morelos. Buy a filet from the fish co-op or have one of the restaurants make one for you (they know how to cook a fish). We were never big fish fans before we moved here. Now we can't get enough!
Get to know the Colonia
We got a great response to our "get to know the Colonia" article last month. (Check it out here if you missed it) Many have stopped in to tell us of great food and personal experiences on the other side of PoMo. We especially recommended a place called La Papa y Cafe that we like. Be sure to read the instructions on how to get there. It's easy to get there, but difficult to find. We rode right past it on our bicycles twice before we found it, and many of the taxi drivers don't know it either. Watch for the big Telcel logo on the building across the street and if you get to the second produce market or Villas Latinas, you have gone too far. Click here for a google map of the location. Note that the "street view" does not show the restaurant.

Taxi Rates
The taxistas have done a nice service for the town. They have posted all their rates on a great big sign beside the taxi stand in the square. This is a great move and should help to eliminate any misunderstandings. Check the sign, confirm the rate with the driver and there will be no surprises. Here are some highlights (fares from the square).
20 pesos - The highway, Villas Morelos, Amar Inn, PlayaSol, Casa de los Viajeros, Villa Shanti
40 pesos - Ceiba, Rancho Sak-Ol
45 pesos - UNAM
50 pesos - Jungle Market/Spa, Villas Morelos II, Crococun, Botanical Garden
130 pesos - Playa Secreto
150 pesos - Cental Vallarta
300 pesos - Airport
600 pesos - Xel-Ha
2000 pesos - Merdia/Chetumal
Click here to see all the rates.
Seeing Spots?
We've changed our pricing system on used books at Alma Libre Bookstore. Instead of penciling in the price on the first page of the book, we've switched to a "dot system". Each used book will have a brightly coloured dot on the spine. The dot represents the price of the book, we have price guides all over the store. The dot system allows us to keep up with the fluctuating peso. We used the opportunity to lower our prices on hundreds of books all over the store. Check us out!
Plug the Bookstore on Trip Advisor

Our town and bookstore have been discovered by a lot of visitors to TripAdvisor.com. We lurk at the site ourselves and try to help visitors discover Puerto Morelos and correct some of the crazy misinformation that often comes up on the site. If you like Alma Libre Bookstore, please write a review for us on Trip Advisor. Any review will move us up in the "Puerto Morelos Things To Do" list, and a positive review might help bring more folks into the bookstore!

Visit our profile and give us your honest review here or use the box to the left. We appreciate your support!

Many thanks to those of you that have already wrote us glowing reviews. Thanks to you our stock has risen!
Jungle Market / Jungle Spa
Big things are happening in the Jungle again this year. Sandra and the Jungle Spa women have been rubbing visitors the right way all season long. They are coaxing all-inclusive visitors out of their plush prisons to enjoy a taste of Mexico and life in the jungle.
The new palapa they have been saving money for all year is now completed, so they can handle more guests in more comfort. The palapa is in a peaceful spot surrounded by nature.
The famous Jungle Market is on again. There is a new show with lots of dancers and costumes. Show begins at 11:30. The market features items that are specially made by local families. You can't get these things anywhere else! Be sure to come to the market hungry, because the food is always the highlight. New! You can take a special taxi to the Jungle Market on Sunday at 10:00 am from the Hotel Posada Amor just south of the square. There will be a collection of taxis to take you to the Jungle Market at the special rate of 10 pesos per person.
The Jungle Spa has been so popular, they have expanded the days that it is open and are requesting that people make appointments either by telephone or email. This will ensure you don't waste any time waiting for your treatment.
To make an appointment, contact Sandra at (998) 208 9148 or Cell 044 998 180-5424 or by email through her website. Appointments are available Tuesday-Saturday and limited appointments may be available on Sunday. The spa is closed on Monday.
Many treatments are available, from manicures and pedicures to a luxurious aloe vera and banana leaf wrap and massage! (or a chocolate massage...does it get any better??) For men, there is the "Mayan Macho" massage. You've never had a massage like this! They even have special massages for young adults.
Spa prices are much lower than you will find at your resort and proceeds go directly to the Mayan families that work at the spa and Jungle Market.
It's easy to get out to the jungle by car, taxi or collectivo. It's on Calle Dos (kie-yay dose) in the Zona Urbana, which is right behind the Colonia. Here's a map you can print out. Taxi to the jungle from the town square is 50 pesos. A taxi from nearby hotels is 150 pesos or $12 US each way. Tell driver you want to go to: Jungle Spa - Sandra (important to mention her name) Zona Urbana.
Remember, when you pamper yourself at the Jungle Spa or buy a unique gift at the Mayan Market, you are directly supporting Mayan families! This is a very worthwhile venture and we hope you will support it.
Money Matters
New anti-money laundering laws here in Mexico require exchange houses to record your passport number to exchange US cash for pesos. You will need a copy of your passport to exchange cash at any exchange place in Mexico.
Also large businesses like Walmart and Costco are unable to accept more than $100 US in cash per transaction.
Just a reminder to visitors that there is no place to cash traveler's cheques in Puerto Morelos. The easiest way to get pesos is at the HSBC ATM (ABM) beside the supermarket on the square. If it is out of money, there is another machine in the 7-11 by the gas station. There are also three ATMs in town that are not affiliated with banks. Two are at the mall across the square from the bookstore and another is at OXXO. Since these are not affiliated with a bank, the fees are much higher than the HSBC machine.
If you wish to cash a traveler's cheque, you can do it at the airport or in Cancun or Playa del Carmen. You will need your passport to cash a cheque.
---
Home and Condo Rentals
It's not too late to make plans for this winter! We still have some homes and condo rentals available for winter. It you have never stayed in a private home or condo, you are in for a wonderful experience. You have all the comforts of home on your vacation. All you have to do is bring your clothes and toothbrush! Everything else is included from towels and linens to hammocks and blenders.
Many ex-pats have built their dream homes here in PM and are willing to rent it to you! Renting a place makes you feel more like a local and offers the convenience of cooking for yourself and
much more privacy
.

Regular Beach Readers know that we feature some of these properties on our website. There are a gazillion property rental sites out there, but our site is unique because these are properties we know, owned and run by people we know and trust. We like to think we take the guesswork and risk out of renting.

We're always adding new properties to the site and new photos too!
One bedroom or two? Your choice!

This giant suite can be rented as a one bedroom/one bath with a fold out couch, or as a two bedroom two bath. Each bedroom has it's own outside door to allow entry or exit without disturbing others.
It has a full kitchen with pots and pans, dishes and cutlery, plus appliances like coffee maker, toaster and juicer. Dinking water is included as well as cable TV and wireless internet. The suite features a huge terrace with table and chairs and comfy hammocks. All this from $650 a week in season, $450 starting in May!
Click here for more information and pictures!
Huge, Bright, Breezy One Bedroom

A big one bedroom, two bath with a loft. The loft has a fold out couch and curtains for privacy. The couch in the living room also folds out into a bed.
Off the bedroom and the living room is a HUGE balcony with table and chairs for four and a comfy hammock.
Of course there is a full kitchen with pots and pans, dishes and cutlery, plus appliances like coffee maker, toaster and juicer. Dinking water is included as well as cable TV and wireless internet. $675 a week in season, $499 starting in May!
Click here for more information and pictures!

Watch a short HD video on this apartment
Click here to download a printable info sheet on the above three apartments
*By the way, it is not too early to start thinking about 2011. We are already booking next Christmas and February, March 2012. Don't miss out!
Check out our new, easier to navigate rentals page here.
Owners! Contact us to get your FREE listing on our website.
---
Home and Condo Sales
If you have ever thought about owning a piece of paradise, this may be your opportunity. Some prices have actually come down, something we have not seen in nine years of living here.
Here are a few places we are featuring:
Price Reduced! Now $240,000

2 bedroom / 2bath oceanfront condo on quiet beach

This one has just come onto the market. It's on the beach and is being sold fully furnished, ready for your next vacation or to generate rental income. The ground floor suite is steps away from the ocean or the condo's swimming pool.

It features all the comforts, including high-speed internet, cable TV and a fully equipped kitchen.

3 bedroom / 3.5 bath - 3 story townhome

Now fully furnished & price reduced

Fully detached home is part of an established, well managed townhome community. (total 12 units) with swimming pool.

The pictures don't show it, but this place is fully furnished with everything including appliances and pots and pans. Bring your toothbrush, everything else is included.

This well-built 270 m2 = 2,700 square feet home has three stories and a large sundeck
Find more places on the PoMo real estate section of our website: http://www.almalibrebooks.com/realestate.htm
---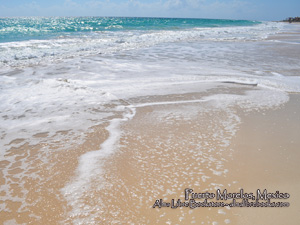 Free Gift From Alma Libre Updated for February & March
For those of you still stuck up North, bring a small piece of Puerto Morelos to your home or office with our new Puerto Morelos Wallpaper. Beautiful of course, and practical too with February & March calendars built right in. This month's wallpaper is a view of the beach just south of town. We'll have new wallpaper at the end of the month.
We'll have new pictures available for download every month! Wallpaper is also available on our website at www.almalibrebooks.com.
Pick your wallpaper size:
1280 x 1024 1024 x 768 800 x 600 1600 x 900 CLICK HERE FOR WALLPAPER INSTALLATION INSTRUCTIONS
---
Restaurant News: As always lots to report in PoMo's ever-changing restaurant scene.
The popular "La Suegra" restaurant on the beach has closed. For fans of La Suegra, John Grey's Kitchen on Avenue Ninos Heroes is now open longer hours. They are open 8:00am to 10:00pm and have some new outdoor tables.
JJ's Kitchen on Rojo Gomez has closed. This restaurant was owned by Ed Hoffman, who passed away suddenly last month. His flagship Cantina Habanero is open and is being run successfully by his widow Naty.
As we reported last month, two new places were opening in the former space known as Don Pepe's Ole. La Fuente del Sabor opened last month and now El Salón de La Fama, the Hall of Fame is open. It's a big space featuring big screens for sports and smaller ones for karaoke.
As we reported last month, Pizza and Love has closed. it has been replaced by an artisans shop called Hunab Ku. My Mayan is pretty rough, but according to the Internet (which knows all) the name Hunab means "one state of being" and Ku means "God." Another translation of the name Hunab Ku is "The Only God."
The little fish place called Cruzita we mentioned two months ago has expanded their size and their hours. Menu is all about fish. We haven't been, but it's looking good with outdoor tables, umbrellas and checkered tablecloths. Might have to do a research mission. It's on Avenue Ninos Heroes across from the Ministerio Publico, just south of the tortilla factory.
We've updated our voluminous restaurant guide on our website. We now have 39 places on it and we'll add more as we check out more places in the Colonia. Check out our restaurant list, and download yourself a printable copy.
Good Ink: Pretty rare that Mexico gets positive press these days, that's why we were excited to see this article about Puerto Morelos in the San Francisco Chronicle. The author "gets" Puerto Morelos and obviously loves the place. Not sure about her line that the bookstore is "a reliable source of local gossip", but the rest of the article is right on. The Chronicle actually printed a large special section on Mexico with some lovely colour pictures of Puerto Morelos. It's definitely one of the most complimentary articles our little town has ever received. The story has since been picked up by many major papers in the US. Please send the article on to your friends (why not send the whole newsletter!)
Walk for Peace/Night of Peace - Goyo is staging another walk for peace this Friday, February 18. Walk begins at the dock at 8:30am. In the evening there will be a Night of Peace beginning at 6:00pm in the square.
India For A Night - The Casa de la Cultura invites you to tales, pictures and music of India. Author Susan Klauber will take you on a journey to the spiritual heart of India Friday. February 25 at 6:30pm. Her book is "Sound of the Sacred Beads."
Music - If you miss the Men in Blues at one of their many gigs around town, you can buy their CD at Alma Libre Bookstore. It was recorded live in Puerto Morelos. We also have Mark Mulligan CD's, and for a limited time, we have cards for a free Mark Mulligan song download. Ask us!
Perito Traductora - The Mexican government may require you to have officially translated documents if you are applying for visas etc. You can't just have anyone translate the documents for you, they must be approved by the state. Catherine Gray from Felipe Carrillo Puerto is now an official translator for English/Spanish or Spanish/English. Costs for this service depend on the work, but her rates are lower than can be found in Cancun or Playa del Carmen. Contact us for her contact information.
Shout Out! - To a couple of special women who were in PoMo this season, stayed too short of a time and now we want 'em back. Joan and Marguerite. We know you read the newsletter (even though it is beneath you both) so please come back as soon as you can.
Chef Dieter is busy baking bread for you this season. Look for his fresh Lye Pastry products at the Supermarket Casa Martin. You can also try the Pretzel Sandwich at the "NY- Kitchen Express" Deli at Bonampak at the Plaza Peninsula in Cancun. Check out his website for more products. You can always get fresh bread at Mama's Bakery too...as well as other delicious treats.
Catch it, Cook it, Eat it! - Local author Sonja Lillvik is offering a unique opportunity to learn Mayan cooking in one of the most beautiful places in Mexico. She is holding a unique workshop/retreat in the Sian Ka'an and Punta Allen. During the week you will become familiar with the lobster fishing of Punta Allen, and prepare and develop recipes for lobster, fish, and meat caught locally. The next opportunity to attend this season is February 26-March 5. Check out this web page for more info, and check out Sonja's excellent book at our bookstore.
Ask a Realtor: Owning a property in Mexico is not difficult, but it is likely a different process than in your home country. Amber at Mayan Riviera Properties is hosting her "Ask a Realtor" workshops again this year, every Tuesday at 5:00 PM. She has a short, informal presentation and then will answer your questions at the Mayan Riviera Properties office on the east side of the square.
The World's Largest Golf Lesson at Mayakoba. Impressive, but wouldn't it have been cooler if they had spelled something out? ("buy books" for example)
The Mayakoba Golf Classic will be held February 23-27 at the El Camaleón Golf Club at Mayakoba. This is the only PGA Tour event to be held outside of the US and Canada and is the only PGA Tour event held in Mexico. The purse will be 3.7 million dollars and the event can be seen on the Golf Channel. As we told you last month, to celebrate the 5th anniversary of the tournament, they staged the World's Largest Golf Lesson in an attempt to break the Guinness World Record. They did break the record attracting 1,073 golfers. The old record was 1,032 held by a golf club in China. You can learn more about the tournament by visiting their website here.
SwimFans: The fifth annual swimming tournament "Ruta de los Arrecifes" will be held in Puerto Morelos on February 26. Swimmers will swim a 2.5 or 5 kilometre route from the main pier north. Swimmers of all ages compete in this event. Come cheer them on starting at 8:00 am.

Diving Dog Tours has grown again. Owner Kathy now has a fleet available for all your fishing needs, everything from high-end yachts to professional fishing boats to pangas. Parties of up to 8 fishers can be accommodated. Check out her fleet and new website.
Bunch O' Booths: A lot of booths have sprung up around the square. Most of these booths are selling snorkel and fishing trips. Some are selling tours. Some are selling time-share or vacation clubs. Make sure you know the difference when you are talking to the person at these booths. If the price of a tour or trip seems too good to be true, there may be strings attached. Check out our Puerto Morelos Services page for good local businesses that will show you the sights right!
As we reported before, The Miami Herald Cancun Edition is no more. Look for a copy of the USA Today Cancun Edition at your hotel or convenience store. It's being put together by the same local staff. Check out the weekend edition for "Footprints" a special section devoted to the best in our area.
Did I miss any local news? Let me know!
This Newsletter is being sent to you on a new server. It charges us for each individual email that it sends out, so if you are receiving this email more than once, please unsubscribe the extra addresses. Because it charges us for each email, it is very careful to ensure all the addresses are valid. If it has trouble getting the email to you, it will delete your name and never send you another email. If you were receiving our email, but now you are not, try signing up again using the form on our web page. This "double-opt-in" system is much more accurate and should ensure you continue to receive this newsletter. You can try adding our email address to your contact list too, so that your spam blocker doesn't delete us. Gracias!
Don't hate us, we've added Google Ads to the newsletter in an attempt to cover some of its costs. We have no control over the ads that pop up, Google decides that, and we are in no position to tell them what to do! Please let us know though if anything odd shows up. Please note, these ads don't begin to cover our costs for this newsletter. If you like this newsletter, please support it by buying books at Alma Libre. Gracias!
Current Exchange Rates (At the exchange in Puerto Morelos)


USA Dollar 11.10


CDN Dollar 11.10 (I have never seen these currencies at the same rate in town before)
---
This Just In! Books & Products at Alma Libre
Read all about it!
We love to keep you up to date with the town, but it's books that pay the bills. Have a look at some titles at Alma Libre bookstore...
The Painted Fish and other Mayan Feasts

This book written by Sonja Lillvik, who founded the Cuzan Guest House in Punta Allen is memoir of a life in the land of the Maya told with food! This is a gorgeous book with more than 100 recipes (perfected in the Mayan Riviera and tested up north) and lots of glossy pictures of food and fun.

This book has rapidly become our bestselling local book. Every time we have brought copies in, they have gone out just as fast! We are happy to have some in stock now, but don't wait!

Yucatecan Cuisine from Hacienda Teya

The cuisine of the Yucatan is a fusion of the ancient foods of the indigenous Maya and European culinary tradition. Now the chef of the elegant Hacienda Teya restaurant in Merida shares his secrets in this book. Recipes include lime soup, poc-chuc and panuchos. Also includes desserts (flan and more) and sauces & relishes. An excellent gift or keepsake. Only available in Mexico, and at a very low price!

Casa Yucatan

A beautiful book showcasing the unique architectural style of the Yucatan...or to put it in another way, "A dazzling photographic journey, Casa Yucatan focuses on architectural elements, water spaces, and open-air living in houses both colonial and contemporary, including haciendas and coastal retreats. The Yucatan has undergone a remarkable restoration renaissance of late: ancient pyramids now share the dense jungle landscape with revived haciendas, and colonial homes boasting high-beamed ceilings and cool tile floors posture amidst elegant plazas and renovated nineteenth-century mansions."

Mexican Slang 101 - This book is the phrase book for those who want to really "talk the talk" and speak the way the locals speak. You'll find hip expressions like the proper way to say "cool" or "bummer", right down to the nastiest insults you can imagine. There is enough information in this book to be the life of the party, or get beaten up. Be careful how you use this book! Locally produced and available only at Alma Libre. Makes a great gift or gives you some training that Berlitz just is not going to give you! This book has quickly become a bestseller. Makes a great souvenir or gift.

A bargain at 65 pesos.

Cashing In on A Second Home in Mexico - Tom Kelly

Perhaps you would like to adopt Mexico as your second home. There are many advantages, but of course there are many rules and pitfalls too. This book explains the process of finding and buying a home in Mexico. It covers important topics like how your Mexican investment property will affect your taxes in your home country and other issues you should be aware of. This book could save you loads of money and worry. I wish they had this book available when I bought here!

Puzzle books for the Beach - We have a great selection of puzzle books, especially made for the beach. We have New York Times crosswords especially made for a sunny day and a hammock. We also have a great selection of Sudoku books for the sand and surf. We also always have a deck of cards available at Alma Libre.

Latin Style - We are very excited to have this new decorating book in our shop. It's big and glossy and features lots of pictures to inspire you to bring Latin style into your home. Juan Carlos Arcila-Duque is a Columbian born interior designer with notable clients throughout the world. He has designed everything from private residences to trendsetting restaurants. This book also includes a Latin music CD! "This is a charming book full of color, and the quirky style of what the author calls "Latin Style". This is much more than just a decorating book. The author chooses pictures that give you a sense of what it would be like to experience Latin style." - Amazon Reviewer

Secrets of the Talking Jaguar is the story of the author's physical and spiritual journey from the south-western US to the highlands of Central America. There he becomes apprenticed to a local shaman who teaches Pretchel much about indigenous Mayan life and about life in general.

"This eloquent and expressive work. . .is highly recommended."—Library Journal

"Told with great honesty, insight, and generosity, Prechtel's chronicle offers modern readers a privileged and rare glimpse into the complex and spiritually rich life of a contemporary Mayan village."
—Rocky Mountain News

Spanish Language Learning Software- Now available for the Mac! - Since moving to Mexico, Joanne and I have struggled with our Spanish, especially those nasty verbs. Now our friend Jacky has invented a fun way to learn your verbs. Her Amigos Spanish program has full conjugation for 700 verbs and helps you learn with tests and puzzles. The program is totally customizable, allowing you to focus on the verbs you need to know. Plus it's fun, so you will stick with it and learn those verbs. To expand your vocabulary, try Amigos Spanish Puzzles a program featuring word games with English clues and Spanish answers (or vice versa). The program comes loaded with 2500 words, and you can even add your own words if you like! Both programs are available on CD at Alma Libre Bookstore or download it at Amigos Spanish.

SPECIAL OFFER for Alma Libre Bookstore Customers

Cenotes of the Riviera Maya is the best book ever written about the cenotes in our area. Beautifully photographed, it could easily be called a coffee table book, but it is also has all the practical information you need to explore the cenotes whether you are swimming or diving. Many have drooled over this book, but the hefty (500 peso) price tag kept some people away. Now author Steve Gerrard has authorized us to lower the price. At 300 pesos, this book is an incredible bargain and it has been flying off our shelves.

Maps!

If you drive in our area, you need a map! We have excellent and detailed maps of the Yucatan, the country of Mexico, Cancun city, Merida as well as Belize, Guatemala, Cuba and Central America. We also have souvenir-quality maps you can hang on the wall.

Maps are usually difficult to find in Mexico, but only if you are looking in the wrong place! Plot a course to the bookstore...if you get lost...ask for directions...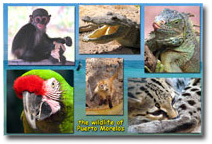 Postcards! We've added a lot of new postcards to our collection, including more underwater shots by "Dive Diva." We have the largest selection of Puerto Morelos postcards, and they are all exclusive to Alma Libre. We know because we make 'em! We also have blank greeting cards to cover any occasion you may wish to celebrate while you are in paradise.
Gift Certificates! A nice gift idea for someone who lives here is an Alma Libre Gift certificate. Available in any amount and can be used for new or used merchandise. We can accept payments from up north via Paypal.
---
Photos of the Month
| | |
| --- | --- |
| | |
| Know your Audience: In a clear case of not knowing who they are talking to, the "county" of Benito Juarez erected this giant billboard in PoMo's charming town square. It tells you that by paying your property taxes, you will help keep Cancun illuminated. How exciting...but how about filling some potholes here at home? | Sweet Smell: One of the most frequently asked questions in the old bookstore is "what is that heavenly smell?". They could be speaking about my aftershave (a bargain at $10 a gallon) but it is more likely they are referring to the ice cream shop next door to us who make their own waffle cones daily. Here we see Pablo mixing up a big batch of batter that will make some cones for you. Our favourite flavour: Coconut. |
| | |
| Bug Me: Mexico has a love affair with the Beetle, in fact the last Beetle ever made was built in Mexico at the Volkswagen plant in Puebla. I love how the basic bug design has been altered by many backyard auto engineers. This former ice cream car is often spotted in PoMo. The big dollar sign on the side means this ride is for sale and could be yours if the price is right! Great for picnics?! | Life's a.... - Here's a look at the waves just south of town, the area locals used to call Magic Beach. It's still pretty magical, just get past the big hotels and you'll find deep white sand and maybe some shells. |
---
In Memory
Justin Carder: We've just learned of the death of Justin Carder. Justin passed away in Flagstaff July 30, 2010 from a pulmonary embolism, the result of a mountain bike tumble he took while enjoying a ride several days before.

We met Justin and his wife Elaine Loven several years ago in the bookstore. They had a dream of moving to Mexico and moving their high-tech jobs down with them, but not the high stress they felt at home. They had just started putting their plans in motion when Elaine got sick.

They made several more trips down to Puerto Morelos but Elaine passed away last July. One year and ten days later Justin died.

We are so sad that this wonderful young couple is no longer with us. If you needed to describe them in one word, it would probably be "nice". Smart, kind and friendly would also apply. They both laughed easily and smiled often. We will miss these two special people, we're grateful for the brief time we got to spend with them.
---
Advertising:
---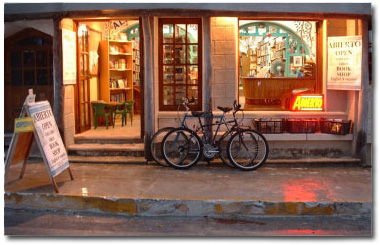 Just a reminder that we are open 7 days a week for the season. Our hours are 10:00am to 3:00pm and 6:00pm to 9:00pm EVERY DAY of the week. (Including Sunday) We are closed between 3:00pm and 6:00pm for siesta.
Our hours are always posted on the front page of our website at www.almalibrebooks.com.
We take trades every day, so our selection is constantly changing. If you are planning a trip down, why not bring some recent bestsellers to trade and check out our store, or plan to buy all your reading material at Alma Libre. We got you covered!
We look forward to seeing you in Puerto Morelos!
---
Beach Reads is the official newsletter of Alma Libre Bookstore in Puerto Morelos Mexico. It is mailed directly to your mailbox if you request it. Beach Reads is published on a sporadic, seemingly random basis...but it is supposed to be approximately monthly during the season at Puerto Morelos. The season is November until after Easter. We do our best to publish it regularly...but we are easily distracted...
Our website is located at www.almalibrebooks.com Our store hours are always on the home page.
If you do not wish to receive this newsletter, please Click Here To Unsubscribe
This is Year #9, Issue #3. February 2011
To subscribe or make comments or suggestions or advertise your local event, please Contact Us
Retransmission & Redistribution of this newsletter without express written consent is just fine by us! Send this newsletter to a friend! (or get them to sign up for their own copy) If you like the newsletter, please support it by buying a book at Alma Libre Bookstore.
Text & Photos ©2002-2011 Alma Libre Bookstore. Please do not use our content on your website without our specific permission.