---
Advertising:
---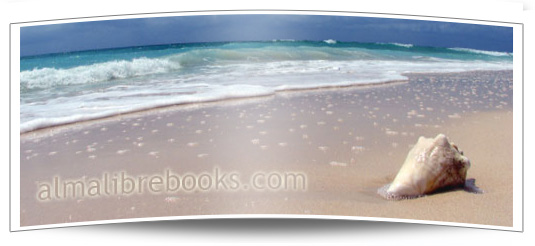 News from Alma Libre Bookstore - Puerto Morelos, Mexico
In this issue:
---
Hola! We're Back!
At long last we are back in Puerto Morelos and the Bookstore is open! We had quite a summer with a month of driving to Canada through the historic centre of Mexico, a few months of work there and then a long drive back, with a thirty day break in Argentina and Chile. We spent many days on the road and we're delighted to be back in our town. More details on our travels later in this newsletter.
It was a quiet summer in PoMo. There were no major storms. People that visited our town in the summer found quiet beaches, excellent diving and snorkeling and low prices. (Summer is a great time to visit Puerto Morelos)
At the bookstore we have thousands of new books on the shelf hundreds more waiting in boxes. We will be ordering books throughout the year, so we can do special orders for locals and keep our shelves fresh all season.
Everyone in your town is excited about the upcoming season and we are looking forward to seeing you here!
Check out our accommodations on our rental page. We are taking bookings for next winter already! (February and Christmas always book early)
As always, there have been a few changes in town, places open and close, see NEWS BRIEFS later in this newsletter.
Good news is that "The Girls", Daphne & Miki are back too. They had a busy summer up in Canada but are now enjoying life in Puerto Morelos.
To all, Feliz Navidad and we hope to see you in 2011...if not sooner!
This Newsletter
This is newsletter is number 9-01, which means this newsletter is in its ninth year! For nine long years we have been giving you all the news and views of Puerto Morelos with a bit of humour and reasonably good spelling. We archive our old newsletters right back to issue one, so take a stroll through our past on our newsletter web page.
If you enjoy the newsletter, and according to the emails we get, many of you do, all we ask is that you support the town by buying a meal, a drink, a hammock or some other treasure and a book or two at Alma Libre Bookstore.
Our mail distribution list grows every year and you can also keep up with us on Facebook and Twitter. So much technology for such a little town!
When we started all this back in 2002, there was very little information available on the town of Puerto Morelos, and what was available was out of date and sometimes insulting! We thought such a special spot on the Mayan Riviera deserved a little more attention, and if more travelers knew about it, they would include the PoMo in their vacations.
People are coming and more websites have sprung up with information about Puerto Morelos. Guide books like Lonely Planet, Frommer's, Rough Guide, Moon and Fodor's all sing the praises of our little town by the sea.
I know there is a temptation to try to keep Puerto Morelos a secret, but doing that will not help all the people in the town who rely on tourism to feed their families! So please tell everyone you know about Puerto Morelos and send them a copy of this newsletter...okay just tell the nice people you know!
Gracias!
Cancun Climate Conference
Our area was the focus of international attention in December as the COP 16 Climate Change Conference was held nearby. Staged by the United Nations, it brought delegates from all over the world to discuss climate change. It was called the Cancun conference, but the bulk of the conference was closer to Puerto Morelos. Most of it was at the Moon Palace and the brand new Cancun Messe Conference Centre just north of PoMo.
While a few delegates and media discovered the town, the majority stayed away. Even worse, the government shut down the town dock to fishermen, snorkelers and dive shops in the name of security. These restrictions were lifted somewhat as the conference went on, but the local people who make their livings off the dock were hurt badly. If you are a regular visitor to Puerto Morelos or you live here, why not take a snorkel trip soon to support our local snorkel guides or buy some fresh fish at the local cooperative. (Can you imagine losing two week's pay just before Christmas?!)
The good news is the conference went smoothly, and some progress was made on global reductions of emissions.
Tours
Our friend Eric "The Retired Shrimp-Taco King of Puerto Morelos" closed his restaurant a few years back in order to go back to his first love, providing tours for visitors. He has started his own tour company called Ecab Explorer. His company is an excellent alternative to the large tour companies with their big buses and predictable tours...which always seem to end up in a bad souvenir store. Ecab Explorer works only with small groups. These are special tours with unusual itineraries created by Eric himself, inspired by many years of exploring our area. Tours are available to Coba, Ek Balam and Chichen Itza. He also has adventure tours with snorkeling, cenotes, ATV jungle tours and zip-lines. Tours are available in English, French and Spanish. No shrimp taco tours yet, but we're working on it. Check out Ecab Explorer online here.
Taxi!
The taxistas have done a nice service for the town. They have posted all their rates on a great big sign beside the taxi stand in the square. This is a great move and should help to eliminate any misunderstandings. Check the sign, confirm the rate with the driver and there will be no surprises. Here are some highlights (fares from the square).
20 pesos - The highway, Villas Morelos, Amar Inn, PlayaSol, Casa de los Viajeros, Villa Shanti
40 pesos - Ceiba, Rancho Sak-Ol
45 pesos - UNAM
50 pesos - Jungle Market/Spa, Villas Morelos II, Crococun, Botanical Garden
130 pesos - Playa Secreto
150 pesos - Cental Vallarta
300 pesos - Airport
600 pesos - Xel-Ha
2000 pesos - Merdia/Chetumal
Seeing Spots?
We've changed our pricing system on used books at Alma Libre Bookstore. Instead of penciling in the price on the first page of the book, we've switched to a "dot system". Each used book will have a brightly coloured dot on the spine. The dot represents the price of the book, we have price guides all over the store. The dot system allows us to keep up with the fluctuating peso. We used the opportunity to lower our prices on hundreds of books all over the store. Check us out!
Bookstore Hours - We're open 7 days a week!
Once again Alma Libre Bookstore is open seven days a week. Monday through Saturday we are open 10am to 3pm and 6pm to 9pm. Sunday we are open 4pm-9pm. Hope to see you at the bookstore this season!
Plug the Bookstore on Trip Advisor

Our town and bookstore have been discovered by a lot of visitors to TripAdvisor.com. We lurk at the site ourselves and try to help visitors discover Puerto Morelos and correct some of the crazy misinformation that often comes up on the site. If you like Alma Libre Bookstore, please write a review for us on Trip Advisor. Any review will move us up in the "Puerto Morelos Things To Do" list, and a positive review might help bring more folks into the bookstore!

Visit our profile and give us your honest review here or use the box to the left. We appreciate your support!

Many thanks to those of you that have already wrote us glowing reviews. Thanks to you our stock has risen!
Jungle Market / Jungle Spa
Big things are happening in the Jungle again this year. Sandra and the Jungle Spa women have been rubbing visitors the right way all summer long. They are coaxing all-inclusive visitors out of their plush prisons to enjoy a taste of Mexico and life in the jungle.
The new palapa they have been saving money for all year is now completed, so they can handle more guests in more comfort. The palapa is in a peaceful spot surrounded by nature.
The famous Jungle Market will begin again December 26 at 10:00 am. There is a new show with lots of dancers and costumes. Show begins at 11:30. The market features items that are specially made by local families. You can't get these things anywhere else! Be sure to come to the market hungry, because the food is always the highlight.
The Jungle Spa has been so popular, they have expanded the days that it is open and are requesting that people make appointments either by telephone or email. This will ensure you don't waste any time waiting for your treatment.
To make an appointment, contact Sandra at (998) 208 9148 or Cell 044 998 180-5424 or by email through her website. Appointments are available Tuesday-Saturday and limited appointments may be available on Sunday. The spa is closed on Monday.
Many treatments are available, from manicures and pedicures to a luxurious aloe vera and banana leaf wrap and massage! (or a chocolate massage...does it get any better??) For men, there is the "Mayan Macho" massage. You've never had a massage like this!
Spa prices are much lower than you will find at your resort and proceeds go directly to the Mayan families that work at the spa and Jungle Market.
It's easy to get out to the jungle by car, taxi or collectivo. It's on Calle Dos (kie-yay dose) in the Zona Urbana, which is right behind the Colonia. Here's a map you can print out. Taxi to the jungle from the town square is 50 pesos. A taxi from nearby hotels is 150 pesos or $12 US each way. Tell driver you want to go to: Jungle Spa - Sandra (important to mention her name) Zona Urbana.
Remember, when you pamper yourself at the Jungle Spa or buy a unique gift at the Mayan Market, you are directly supporting Mayan families! This is a very worthwhile venture and we hope you will support it.

Money Matters
Just a reminder to visitors that there is no place to cash traveler's cheques in Puerto Morelos. The easiest way to get pesos is at the HSBC ATM (ABM) beside the supermarket on the square. If it is out of money, there is another machine at the intersection of the road to Puerto Morelos and the federal highway and another HSBC machine in the 7-11 by the gas station. There are also two ATMs in town that are not affiliated with banks. Two are at the mall across the square from the bookstore and another is at OXXO. Since these are not affiliated with a bank, the fees are much higher than the HSBC machine.
If you wish to cash a traveler's cheque, you can do it at the airport or in Cancun or Playa del Carmen. You will need your passport to cash a cheque.
---
Home and Condo Rentals
It's not too late to make plans for this winter! We still have some homes and condo rentals available for winter. It you have never stayed in a private home or condo, you are in for a wonderful experience. You have all the comforts of home on your vacation. All you have to do is bring your clothes and toothbrush! Everything else is included from towels and linens to hammocks and blenders.
Many ex-pats have built their dream homes here in PM and are willing to rent it to you! Renting a place makes you feel more like a local and offers the convenience of cooking for yourself and
much more privacy
.

Regular Beach Readers know that we feature some of these properties on our website. There are a gazillion property rental sites out there, but our site is unique because these are properties we know, owned and run by people we know and trust. We like to think we take the guesswork and risk out of renting.

We're always adding new properties to the site and new photos too!
One bedroom or two? Your choice!

This giant suite can be rented as a one bedroom/one bath with a fold out couch, or as a two bedroom two bath. Each bedroom has it's own outside door to allow entry or exit without disturbing others.
It has a full kitchen with pots and pans, dishes and cutlery, plus appliances like coffee maker, toaster and juicer. Dinking water is included as well as cable TV and wireless internet. The suite features a huge terrace with table and chairs and comfy hammocks. All this from $650 a week in season, $450 starting in May!
Click here for more information and pictures!
Huge, Bright, Breezy One Bedroom

A big one bedroom, two bath with a loft. The loft has a fold out couch and curtains for privacy. The couch in the living room also folds out into a bed.
Off the bedroom and the living room is a HUGE balcony with table and chairs for four and a comfy hammock.
Of course there is a full kitchen with pots and pans, dishes and cutlery, plus appliances like coffee maker, toaster and juicer. Dinking water is included as well as cable TV and wireless internet. $675 a week in season, $499 starting in May!
Click here for more information and pictures!
Click here to download a printable info sheet on the above three apartments
*By the way, it is not too early to start thinking about 2011. We are already booking next Christmas and February, March 2012. Don't miss out!
Check out our new, easier to navigate rentals page here.
Owners! Contact us to get your FREE listing on our website.
---
Home and Condo Sales
If you have ever thought about owning a piece of paradise, this may be your opportunity. Some prices have actually come down, something we have not seen in eight years of living here.
Here are a few places we are featuring:
Price Reduced! Now $240,000

2 bedroom / 2bath oceanfront condo on quiet beach

This one has just come onto the market. It's on the beach and is being sold fully furnished, ready for your next vacation or to generate rental income. The ground floor suite is steps away from the ocean or the condo's swimming pool.

It features all the comforts, including high-speed internet, cable TV and a fully equipped kitchen.

3 bedroom / 3.5 bath - 3 story townhome

Now fully furnished & price reduced

Fully detached home is part of an established, well managed townhome community. (total 12 units) with swimming pool.

The pictures don't show it, but this place is fully furnished with everything including appliances and pots and pans. Bring your toothbrush, everything else is included.

This well-built 270 m2 = 2,700 square feet home has three stories and a large sundeck
Find more places on the PoMo real estate section of our website: http://www.almalibrebooks.com/realestate.htm
---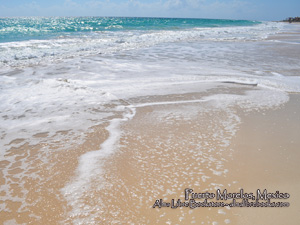 Free Gift From Alma Libre Updated for December & January
For those of you still stuck up North, bring a small piece of Puerto Morelos to your home or office with our new Puerto Morelos Wallpaper. Beautiful of course, and practical too with December & January calendars built right in. This month's wallpaper is a view of a sailboat just off our beach.
We'll have new pictures available for download every month! Wallpaper is also available on our website at www.almalibrebooks.com.
Pick your wallpaper size:
1280 x 1024 1024 x 768 800 x 600 1600 x 900 CLICK HERE FOR WALLPAPER INSTALLATION INSTRUCTIONS
---
Restaurant News: JJ's Kitchen has opened on Avenue Rojo Gomez. It has mostly Mexican fare and is owned by the same people who brought you Cantina Habanero. Specialties include hard shell tacos, burritos and burgers.
A new place La Choza del Chaman has opened where Juicy Rosie's was located on Rojo Gomez just north of the square. The new place is open for breakfast, lunch and dinner and has a wide menu. It also has a gallery.
The internet cafe on Rojo Gomez (that used to be the French Kiss) is now a Cockteleria called Cockteleria El Marino. I haven't seen the menu, but let's assume it's seafood.

A new vegetarian restaurant has opened on Avenue Ninos Hereos. It's called El Verde Green and has take out as well. They have a big menu with lots of choices for under 60 pesos.
This is not the world's largest snorkel boat! This was one of several ships patrolling our coastline during the Cancun conference. We also had a helicopter doing fly-bys at treetop height.
A new fish restaurant has opened on Ninos Heroes, across from the new Ministerio Publico. It's called Cruzita. I have not been able to figure out their hours.

Two restaurants have opened on Ninos Heroes right beside City Hall. They are getting good reviews and are very inexpensive. Open during the day.

Live music will be featured at several places this season. The garden at David Lau's, Cantina Habanero, Sativa, La Cantine Bistro, Taco Avenue, Los Gaucho's and Peskayitos have already hosted music this fall. The popular Men In Blues will be back this season, playing four days a week in and around Puerto Morelos.

La Petita is moving to a new location on the beach. The new location is just down the same road across from the school. The other location just started serving fish this past weekend.

A Puerto Morelos institution, Don Pepe's Ole closed permanently in the summer. The Pepe's space has undergone some renovation so hopefully something new will move in soon.
It appears that Casa Del Sol (on the beach) we told you about in our last edition has closed.

John Gray's Downtown (Cancun) restaurant is now serving breakfast, which has been very popular.
We've updated our voluminous restaurant guide on our website. We now have 39 places on it and we'll add more as we check out more places in the Colonia. Check out our restaurant list, and download yourself a printable copy.
A new fashion boutique has opened just south of the square on Rojo Gomez. They sell jewellery too. It's owned by the same woman who owned the big jewellery store in a similar location several years ago. They also sell cigars!
Chef Dieter is getting ready for Christmas. As usual, he has prepared German Christmas Stollen and German Christmas Cookies. He's also baking fresh made Pretzels and Baguettes. In January you will be able to find his fresh Lye Pastry products at the Supermarket Casa Martin. You can also try the Pretzel Sandwich at the "NY- Kitchen Express" Deli at Bonampak at the Plaza Peninsula in Cancun. Check out his website for more products. We're big fans of Dieter's baking!
Hotel Inglaterra has undergone yet another major renovation. It appears like the work is almost done and now the hotel looks like a castle!
The Little Mexican Cooking School is offering classes once again this season. Classes run Tuesdays & Thursdays in Puerto Morelos. You should book ahead as class sizes are limited. Contact them through their website. Classes will run until the end of July 2012.
Catch it, Cook it, Eat it! - Local author Sonja Lillvik is offering a unique opportunity to learn Mayan cooking in one of the most beautiful places in Mexico. She is holding a unique workshop/retreat in the Sian Ka'an and Punta Allen. During the week you will become familiar with the lobster fishing of Punta Allen, and prepare and develop recipes for lobster, fish, and meat caught locally. There are two opportunities this season to attend, January 15-22 and February 26-March 5. Check out this web page for more info, and check out Sonja's excellent book at our bookstore.

The Center for Corrective Myotherapy now has a storefront in Puerto Morelos. It's on Avenue Rojo Gomez across from Cantina Habanero. Local legend Ricardo Santana, who trained last winter in chilly Santa Fe is running the place. Mauro will be back later in December. The Center for Corrective Myotherapy offers "professional touch healing therapies grounded in massage theory and the science of therapeutic bodywork...where knowledge meets intuition in the healing quality of touch."

Cleaning Up: Staying clean should be easy this year as we suddenly find ourselves with three laudromats in town (and several more in the Colonia). Two more places opened up on Avenue Ninos Heroes, including one that will also handle dry cleaning.

A new overpass sprung up by the Moon Palace, eliminating an annoying speed bump on the way to Cancun. The overpass went up fast and was completed in time for the Climate Conference. Not going as quickly is the massive overpass project in Playa del Carmen. Traffic through town does flow with some delays. There is a new bypass (called Arco Vial) around the whole town which is well marked. A new Walmart has also just opened in Playa south of Plaza Las Americas.
This is my favourite time of year. Not for all that Christmas nonsense, but because Noche Buena beer is only available this time of year. Noche Buena (good night) is a dark, flavourful cervesa (a bock) made especially for the Christmas season. Run out and buy it now before they take it away again in January.
The Bank of Mexico continues to make over their cash. The 500 peso bill has been redesigned and now features famous Mexican artist Diego Rivera on the face and Frida Kahlo on the back. Examples of their works are featured as well. The bill previously featured Ignacio Zaragoza, hero of the Battle of Puebla. It is a beautiful bill and will spend just as easily as the previous version.

Dive In: The underwater sculpture garden we first told you about last year is now complete. Four hundred life size figures are now underwater for divers and snorkelers to check out. The works by artist Jason deCaires Taylor's are called "The Silent Evolution" and the exhibition is now the world's largest underwater museum. The works will not only attract human visitors, they create a natural ecosystem for fish and help preserve the coral reefs in the area. Fish are already being attracted to the area. To visit, you need to go to Cancun or arrange a tour with one of the dive shops in town. Have a virtual visit on the artist's website.
A new Playboy Club opened in Cancun last week. It's located at the north end of the hotel zone at kilometre 3.5. It has slots, blackjack, roulette and craps. You have to buy a "membership" to enter and gamble, it's a one time fee. Drinks are not free and are pricey. The grand opening was very flashy and included a litter of bunnies and Carmen Electra. No Hef. No bunnies were have believed to have made it to the bookstore. I'm not a gambler and I don't really care about any of this, but it gave me an excuse to put this photo in the newsletter. Hooray!
Gone Fishin': Diving Dog Tours has grown again. Owner Kathy now has a fleet available for all your fishing needs, everything from high-end yachts to professional fishing boats to pangas. Parties of up to 8 fishers can be accommodated. Check out her fleet and new website.
Local Homeowners are reminded that you can save big if you pay your property taxes early. You can save 25% if you pay in December. After that, the discount is reduced. I paid mine recently and was also given a raffle ticket to win...something. The real thing I won was not having to stand in line with the last-minute crowd.
Bunch O' Booths: A lot of booths have sprung up around the square. Most of these booths are selling snorkel and fishing trips. Some are selling tours. Some are selling time-share or vacation clubs. Make sure you know the difference when you are talking to the person at these booths. If the price seems too good to be true, there may be strings attached. Check out our Puerto Morelos Services page for good local businesses that will show you the sights right!
As we reported before, The Miami Herald Cancun Edition is no more. Look for a copy of the USA Today Cancun Edition at your hotel or convenience store. It's being put together by the same local staff. Check out the weekend edition for "Footprints" a special section devoted to the best in our area.
Did I miss any local news? Let me know!
This Newsletter is being sent to you on a new server. It charges us for each individual email that it sends out, so if you are receiving this email more than once, please unsubscribe the extra addresses. Because it charges us for each email, it is very careful to ensure all the addresses are valid. If it has trouble getting the email to you, it will delete your name and never send you another email. If you were receiving our email, but now you are not, try signing up again using the form on our web page. This "double-opt-in" system is much more accurate and should ensure you continue to receive this newsletter. You can try adding our email address to your contact list too, so that your spam blocker doesn't delete us. Gracias!
Don't hate us, we've added Google Ads to the newsletter in an attempt to cover some of its costs. We have no control over the ads that pop up, Google decides that, and we are in no position to tell them what to do! Please let us know though if anything odd shows up. Please note, these ads don't begin to cover our costs for this newsletter. If you like this newsletter, please support it by buying books at Alma Libre. Gracias!
Current Exchange Rates (At the exchange in Puerto Morelos)


USA Dollar 11.70


CDN Dollar 11.10 (this is a very poor exchange for the Loon. Best to use the ATM to get closer to the real rate, which is around 12.25)
---
This Just In! Books & Products at Alma Libre
Read all about it!
We love to keep you up to date with the town, but it's books that pay the bills. Have a look at some titles at Alma Libre bookstore...
The Painted Fish and other Mayan Feasts

This book written by Sonja Lillvik, who founded the Cuzan Guest House in Punta Allen is memoir of a life in the land of the Maya told with food! This is a gorgeous book with more than 100 recipes (perfected in the Mayan Riviera and tested up north) and lots of glossy pictures of food and fun.

This book has rapidly become our bestselling local book. Every time we have brought copies in, they have gone out just as fast! We are happy to have some in stock now, but don't wait!

Yucatecan Cuisine from Hacienda Teya

The cuisine of the Yucatan is a fusion of the ancient foods of the indigenous Maya and European culinary tradition. Now the chef of the elegant Hacienda Teya restaurant in Merida shares his secrets in this book. Recipes include lime soup, poc-chuc and panuchos. Also includes desserts (flan and more) and sauces & relishes. An excellent gift or keepsake. Only available in Mexico, and at a very low price!

Conquistador: Hernan Cortes, King Montezuma, and the Last Stand of the Aztecs

A very readable account of the conquest of Mexico. The books covers not only the battles, but the complex politics and alliances that allowed Cortes to defeat Montezuma and the Aztecs.

Review: In this astonishing work of scholarship that reads like an edge-of-your-seat adventure thriller, acclaimed historian Buddy Levy records the last days of the Aztec empire and the two men at the center of an epic clash of cultures perhaps unequaled to this day.

Crosswords & Sudoku Puzzles

For some, there is nothing better than sitting under a lovely palm tree and fracturing their brain over a puzzle. For those of you who like to solve, we have a great selection of crossword puzzle and Sudoku puzzle books. Some are tough (like the game show Jeopardy) and some are easy (like celebrity Jeopardy) and some are made specifically for the beach. Many of our selection of puzzle books are from the New York Times.

Madrigal's Magic Key to Spanish by Margarita Madrigal

The truth is, there is no easy way to learn Spanish or any other language. It takes study and practice. There are ways to make learning Spanish more pleasant however, and this is the best book we've found. The Madrigal's method allows the reader to learn Spanish through this unique and proven method, which completely eliminates rote memorization and boring drills. Features illustrations by Andy Warhol. We know a lot of people who learned to speak Spanish well using this book.

Lonely Planet Mexican Spanish Phrasebook - a little espanol goes a long way in Mexico, and this simple phrasebook will help you get more out of your vacation. This pocket size guide contains useful and practical phrases as well as a two-way dictionary and food glossary. (What did we just eat?)

The "dating" section is particularly funny!


Thor Janson

Wildlife photographer Thor Janson dropped by the bookstore the other day and brought some of newest books. Thor is the author of our popular "Maya Nature" book, which has been an Alma Libre bestseller since we opened. Thor's new titles include "Mundo Maya" an excellent book of photographs that Thor has allowed us to sell at a lower price, "Guatemala" which features some of Thor's favourite photographs of Guatemala and "In the Land of Green Lightning: The World of the Maya" a gorgeous, full size picture book exploring the people, places and flora and fauna of the land of the Maya.

Latin Style - We are very excited to have this new decorating book in our shop. It's big and glossy and features lots of pictures to inspire you to bring Latin style into your home. Juan Carlos Arcila-Duque is a Columbian born interior designer with notable clients throughout the world. He has designed everything from private residences to trendsetting restaurants. This book also includes a Latin music CD! "This is a charming book full of color, and the quirky style of what the author calls "Latin Style". This is much more than just a decorating book. The author chooses pictures that give you a sense of what it would be like to experience Latin style." - Amazon Reviewer

Secrets of the Talking Jaguar is the story of the author's physical and spiritual journey from the Southwestern US to the highlands of Central America. There he becomes apprenticed to a local shaman who teaches Pretchel much about indigenous Mayan life and about life in general.

"This eloquent and expressive work. . .is highly recommended."—Library Journal

"Told with great honesty, insight, and generosity, Prechtel's chronicle offers modern readers a privileged and rare glimpse into the complex and spiritually rich life of a contemporary Mayan village."
—Rocky Mountain News

Spanish Language Learning Software- Now available for the Mac! - Since moving to Mexico, Joanne and I have struggled with our Spanish, especially those nasty verbs. Now our friend Jacky has invented a fun way to learn your verbs. Her Amigos Spanish program has full conjugation for 700 verbs and helps you learn with tests and puzzles. The program is totally customizable, allowing you to focus on the verbs you need to know. Plus it's fun, so you will stick with it and learn those verbs. To expand your vocabulary, try Amigos Spanish Puzzles a program featuring word games with English clues and Spanish answers (or vice versa). The program comes loaded with 2500 words, and you can even add your own words if you like! Both programs are available on CD at Alma Libre Bookstore or download it at Amigos Spanish.

SPECIAL OFFER for Alma Libre Bookstore Customers

Cenotes of the Riviera Maya is the best book ever written about the cenotes in our area. Beautifully photographed, it could easily be called a coffee table book, but it is also has all the practical information you need to explore the cenotes whether you are swimming or diving. Many have drooled over this book, but the hefty (500 peso) price tag kept some people away. Now author Steve Gerrard has authorized us to lower the price. At 300 pesos, this book is an incredible bargain and it has been flying off our shelves...in fact we ran out for a while around Christmas, but we're stocked again.

Maps!

If you drive in our area, you need a map! We have excellent and detailed maps of the Yucatan, the country of Mexico, Cancun city, Merida as well as Belize, Guatemala, Cuba and Central America. We also have souvenir-quality maps you can hang on the wall.

Maps are usually difficult to find in Mexico, but only if you are looking in the wrong place! Plot a course to the bookstore...if you get lost...ask for directions...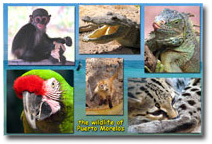 Postcards! We've added a lot of new postcards to our collection, including more underwater shots by "Dive Diva." We have the largest selection of Puerto Morelos postcards, and they are all exclusive to Alma Libre. We know because we make 'em! We also have blank greeting cards to cover any occasion you may wish to celebrate while you are in paradise.
Gift Certificates! A nice gift idea for someone who lives here is an Alma Libre Gift certificate. Available in any amount and can be used for new or used merchandise. We can accept payments from up north via Paypal.
---
Photos of the Month
| | |
| --- | --- |
| | |
| Christmas time in the city: Workers spent two days assembling and decorating this giant tree. They decorated it while it was on its side, then raised it "Flag of Iwo Jima" style and roped it up for safety. Next they built the elaborate, if not scale accurate nativity scene. (Photo by Daphne Armstrong) | The end result was a very beautiful tree! This year they even decorated the lighthouse with Christmas lights. You can see it on the right side of the picture. |
| | |
| Ho Ho Po Mo: Santa himself visited the annual Puerto Morelos Christmas Posada much to the delight of these kids. | Cutest reindeer ever! |
Our Travels
As usual, we put the miles on this summer. After we closed the bookstore in early May, we started the long drive back to Calgary. There is no point in trying to hurry a drive across the continent, so we took our time and drove through Central Mexico. Our trip started in one of our favourite places on earth, Palenque, Chiapas. This is a marvelous ruin located in the REAL jungle. We're talking monkeys in the trees, parrots and toucans flying overhead and vines that Tarzan could swing on. From there we drove to Puebla, Queretaro, San Miguel de Allende, Guanajuato and Dolores Hidalgo. These are all beautiful Colonial cities, and very important in the Mexican Revolution 200 years ago. If you have never been to Central Mexico, you really have not been. The history, architecture, culture, art and the food will astound you.
From there we drove straight north through San Luis Potosi and Saltillo before crossing the border at Eagles Pass, Texas. We left old Mexico for New Mexico, travelling through Carlsbad (amazing), Roswell, Albuquerque and Santa Fe. After that we were in familiar territory, Denver, Billings, Great Falls and back to Calgary.
Our stay in Calgary always starts with a couple of weeks in Banff working the Banff World Television Festival. If you have not been, Banff is a postcard community nestled in the Rocky Mountains. We spend our time working and gaping at the incredible beauty of the area.
After a few months working in Calgary, we were ready to hit the road, and hit it we did. After driving to Houston, we flew to Buenos Aires, Argentina. What an incredible city! Museums, architecture, history, art, beautiful people and beef...lots and lots of beef. We heard tales of Argentine beef and we were not disappointed (and we grew up in Alberta and spend lots of time in Texas. This is amazing beef). Add some of the finest and least expensive wine in the world and you have Argentina. We spent many hours just wandering the streets of Buenos Aires, stopping on occasion for Cafe con Leche at one of the many elegant cafes.
From there we took a luxury bus (sleepers, hot meal, wifi and champagne) to Mendoza, which is the capital of the Argentine wine industry and their famous Malbec grapes.
Another bus took us over the Andes to Santiago, Chile. A big city with grand old buildings surrounded by the snow-capped Andes Mountains, Santiago has history, art and a proud friendly population. Santiago is made up of neighbourhoods, each with its own style and cuisine. They also have some of the finest wine in the world.
We spent another week in Buenos Aires and then it was back to Houston and behind the wheel for the long drive to Puerto Morelos. We are delighted to be back in PoMo, but South America has definitely not seen the last of us!
Just a note that our drive out and into Mexico was uneventful, even by the infamous border towns. Despite what you hear, thousands and thousands of people cross that border every day and have no problems. We used our usual strategy of driving on or about the speed limit, keeping our distance expectations realistic and driving only during daylight hours. A minor problem we did have, a broken spring part on the trailer, was solved with the kindness and unique creative ingenuity of Mexican craftsmen.
---
In Memory of our friend and first Spanish teacher, Rosario. Rosario passed away earlier this month at the age of 85. She taught most every foreigner in town how to speak the language with her skill, wit and incredible patience. She was also a gifted artist and taught many how to paint. We will miss her and our thoughts are with her family.
---
Advertising:
---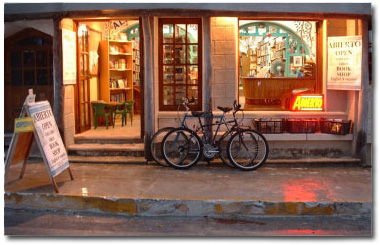 Just a reminder that we are open 7 days a week for the season. Our hours are Monday through Saturday from 10:00am to 3:00pm and 6:00pm to 9:00pm. We are closed between 3:00pm and 6:00pm for siesta. Sunday we are open 4:00pm to 9:00pm.
Our hours are always posted on the front page of our website at www.almalibrebooks.com.
We take trades every day, so our selection is constantly changing. If you are planning a trip down, why not bring some recent bestsellers to trade and check out our store, or plan to buy all your reading material at Alma Libre. We got you covered!
We look forward to seeing you in Puerto Morelos!
---
Beach Reads is the official newsletter of Alma Libre Bookstore in Puerto Morelos Mexico. It is mailed directly to your mailbox if you request it. Beach Reads is published on a sporadic, seemingly random basis...but it is supposed to be approximately monthly during the season at Puerto Morelos. The season is November until after Easter. We do our best to publish it regularly...but we are easily distracted...
Our website is located at www.almalibrebooks.com Our store hours are always on the home page.
If you do not wish to receive this newsletter, please Click Here To Unsubscribe
This is Year #9, Issue #1. December 2010
To subscribe or make comments or suggestions or advertise your local event, please Contact Us
Retransmission & Redistribution of this newsletter without express written consent is just fine by us! Send this newsletter to a friend! (or get them to sign up for their own copy) If you like the newsletter, please support it by buying a book at Alma Libre Bookstore.
Text & Photos ©2002-2010 Alma Libre Bookstore. Please do not use our content on your website without our specific permission.