---
Advertising:
---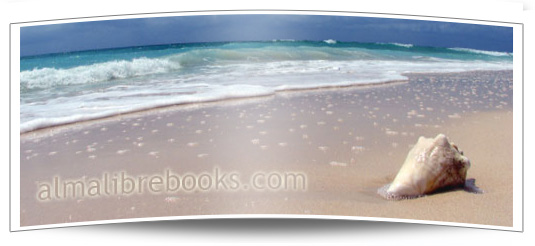 News from Alma Libre Bookstore - Puerto Morelos, Mexico
In this issue:
---
Spring to Mexico!
We know that you think of us every day when winter strikes your home town. You stare at the beautiful water on your Alma Libre computer desktop wallpaper and you drool a little...then cry a little. As the cold winter wind blows outside, you scour the internet for flight deals and imagine how you can make another visit to your adopted southern home of Puerto Morelos.
Then spring comes. The big snowpile in the parking lot finally starts to melt, bits of grass start to peek out of the mostly white blanket in your yard and young girls lose a layer or two of clothing. You've got spring fever! Now you might think you don't need us anymore, but you still need a vacation! Spring cleaning and spring yard work might make you hanker for the cold dark days of winter.
That is why you need a Mayo Mexicano Migration! May is a great time to visit PoMo. Prices of accommodations are much lower and the town is much less crowded. You'll have the beach, attractions and restaurants all to yourself! Most everything is still open, but it's all quiet!
Check out our accommodations on our rental page. Availability for May and beyond is very good, though we are taking bookings for next winter already!
The End is Near
The season has whipped by us again this year and soon we will be putting the bookstore away for another summer. Our final day will be Saturday May 1.
We plan to travel back to Calgary (via some route...still undecided), do some work in our old business (television production) and buy as many books as we can for next season.
We will open with all fresh stock in November and do it all again.
Many thanks for your support this year. We receive a pile of compliments every day for our website, the questions we answer daily in the store and our cheesy newsletter, but it is the selling of the books that actually keeps the whole thing running. We thank you for your support and patronage. We will miss our bookstore every day that we're away and we look forward to seeing you next season. Gracias!!
Special thanks to "The Girls", Daphne & Miki whose friendship, kindness and expertise we could simply not do without. Mil Gracias Amigas!
Looking for Books
When we are back in Canada and on the road we are always looking for books. It takes thousands of books each year just to maintain our stock and keep our shelves full. To that end, we are always looking for new sources for books.
If you know of a good place in your city to get quality used books, we'd like to hear from you. It could be a good "Friends of the Library" type store or an annual rummage sale or anywhere we might get books for the shop. We buy the vast majority of our books each summer in Calgary and then wherever we can find them on our long annual drive to Puerto Morelos. We'd like to "expand our horizons" a bit and get some more from different sources. If you think you know a place we should check out, please let us know. Gracias!
Seeing Spots?
We've changed our pricing system on used books at Alma Libre Bookstore. Instead of penciling in the price on the first page of the book, we've switched to a "dot system". Each used book will have a brightly coloured dot on the spine. The dot represents the price of the book, we have price guides all over the store. The dot system allows us to keep up with the fluctuating peso. We used the opportunity to lower our prices on hundreds of books all over the store. Check us out!
Bookstore Hours - We're open 7 days a week!
Once again Alma Libre Bookstore is open seven days a week. Monday through Saturday we are open 10am to 3pm and 6pm to 9pm. Sunday we are open 4pm-9pm. Hope to see you at the bookstore this season! (We close May 1 for the season)
Plug the Bookstore on Trip Advisor

Our town and bookstore have been discovered by a lot of visitors to TripAdvisor.com. We lurk at the site ourselves and try to help visitors discover Puerto Morelos and correct some of the crazy misinformation that often comes up on the site. If you like Alma Libre Bookstore, please write a review for us on Trip Advisor. Any review will move us up in the "Puerto Morelos Things To Do" list, and a positive review might help bring more folks into the bookstore!

Visit our profile and give us your honest review here or use the box to the left. We appreciate your support!

Many thanks to those of you that have already wrote us glowing reviews. Thanks to you our stock has risen from 16th to 7th!
Barter Business
Barter is a system of business as old as humanity. It involves trading goods or services for anything other than money. Its brilliance is that it allows one person to trade what he has plenty of for something he needs. Another reason to like it is that the process completely avoids the taxman!
Now a few locals are working to make barter easier in Puerto Morelos. They are using their local publication "Somos" to bring barterers together and now are hosting a fair in the Colonia to make the process easier. It should be an interesting process. A glance at Somos shows some of the trading that could take place. A dentist is looking for a bicycle, a mechanic wants some fresh food. All kinds of trades are possible!
You are invited to bring your goods or skills to the Sports Dome in the Colonia on Saturday April 24 from 4:00-7:00pm. Selling good for cash is prohibited, so be ready to barter! No dealin' in dinero!
Goin' Fishin'
Regardless of our many attractions, at the end of the day, Puerto Morelos is a fishing town, and the coming of summer means fishing tournaments. There are many up and down the coast from Cancun to Chetumal, and Puerto Morelos is hosting two of them.
As part of the "Gran Slam Del Caribe" the Annual "Cesar Martin Rosado" Tournament will be held May 7 - 9. Lots of prizes including cars and cash. More info here.
The "Torneo de Pesca Deportiva de Puerto Morelos" will be held May 28-30. Lots of prizes including cash and hotel stays. More info here.
If you want to join in the tournaments, better book a boat fast. These tournaments are extremely popular!
Jungle Market Wraps but the Jungle Spa is Open!
The popular Jungle Market has wrapped for another year, but the Jungle Spa rolls on.
The Market was more popular than ever this year, and the show has grown into a real event with lots of dancers and costumes. Sandra, the Market Mistress is no doubt already planning an even bigger and better show for next season and dreaming up new things to sell. The food was a popular item this year, so make sure you come hungry next year, as well as the Mayan handicrafts which you can only get at the Jungle Market. (You can actually even buy "snake oil" from Sandra herself!!)
The spa has been so popular, they have expanded the days that it is open and are requesting that people make appointments either by telephone or email. This will ensure you don't waste any time waiting for your treatment.
To make an appointment, contact Sandra at (998) 208 9148 or Cell 044 998 180-5424 or by email through her website. Appointments are available Tuesday-Saturday and limited appointments may be available on Sunday. The spa is closed on Monday.
Many treatments are available, from manicures and pedicures to a luxurious aloe vera and banana leaf wrap and massage! (or a chocolate massage...does it get any better??) For men, there is the "Mayan Macho" massage. You've never had a massage like this!
Spa prices are much lower than you will find at your resort or in town and proceeds go directly to the Mayan families that work at the spa and Jungle Market. (Donations received this year are enabling the spa to build another palapa so the spa will be bigger and better next year)
It's easy to get out to the jungle by car, taxi or collectivo. It's on Calle Dos (kie-yay dose) in the Zona Urbana, which is right behind the Colonia. Here's a map you can print out. Taxi to the jungle from the town square is 50 pesos. A taxi from nearby hotels is 150 pesos or $12 US each way. Tell driver you want to go to: Jungle Spa - Sandra (important to mention her name) Zona Urbana.
Remember, when you pamper yourself at the Jungle Spa or buy a unique gift at the Mayan Market, you are directly supporting Mayan families! This is a very worthwhile venture and we hope you will support it.

Money Matters
Just a reminder to visitors that there is no place to cash traveler's cheques in Puerto Morelos. The easiest way to get pesos is at the HSBC ATM (ABM) beside the supermarket on the square. If it is out of money, there is another machine at the intersection of the road to Puerto Morelos and the federal highway and another HSBC machine in the 7-11 by the gas station. There are also two ATMs in town that are not affiliated with banks. One is at the mall across the square from the bookstore and another is at OXXO. Since these are not affiliated with a bank, the fees are much higher than the HSBC machine.
If you wish to cash a traveler's cheque, you can do it at the airport or in Cancun or Playa del Carmen.
---
Home and Condo Rentals
How about a spring fling? We still have some homes and condo rentals available for the season. If you have never stayed in a private home or condo, you are in for a wonderful experience. You have all the comforts of home on your vacation. All you have to do is bring your clothes and toothbrush. Everything else is included from towels and linens to hammocks and blenders.
Many ex-pats have built their dream homes here in PM and are willing to rent it to you! Renting a place makes you feel more like a local and offers the convenience of cooking for yourself and much more privacy.
Regular Beach Readers know that we feature some of these properties on our website. There are a gazillion property rental sites out there, but our site is unique because these are properties we know, owned and run by people we know and trust. We like to think we take the guesswork and risk out of renting.
We're always adding new properties to the site. Here are some examples...
One bedroom or two? Your choice!

Here's one we've just renovated, this can be rented as a one bedroom/one bath with a fold out couch, or as a two bedroom two bath. Each bedroom has it's own outside door to allow entry or exit without disturbing others.
It has a full kitchen with pots and pans, dishes and cutlery, plus appliances like coffee maker, toaster and juicer. Dinking water is included as well as cable TV and wireless internet in season. The suite features a huge terrace with table and chairs and two comfy hammocks. All this from $600 a week in season, $450 starting in May!
Click here for more information and pictures!
Huge, Bright, Breezy One Bedroom

A big one bedroom, two bath with a loft. The loft has a fold out couch and curtains for privacy. The couch in the living room also folds out into a bed.
Off the bedroom and the living room is a HUGE balcony with table and chairs for four and a comfy hammock.
Of course there is a full kitchen with pots and pans, dishes and cutlery, plus appliances like coffee maker, toaster and juicer. Dinking water is included as well as cable TV and wireless internet in season. $650 a week in season, $499 starting in May!
Click here for more information and pictures!
Click here to download a printable info sheet on the above three apartments
*By the way, it is not too early to start thinking about 2011. We are already booking February, March & Christmas 2011. Don't miss out!
Check out our new, easier to navigate rentals page here.
Owners! Contact us to get your FREE listing on our website.
---
Home and Condo Sales
If you have ever thought about owning a piece of paradise, this may be your opportunity. Some prices have actually come down, something we have not seen in eight years of living here.
Here are a few places we are featuring:
Good Price!

Large Serviced Lot For Sale in Puerto Morelos

14.5 x 23 metres

Walled on three sides, has electricity and water, papers are in order

$150,000 or best offer

Price Reduced!

2 bedroom / 2bath oceanfront condo on quiet beach

This one has just come onto the market. It's on the beach and is being sold fully furnished, ready for your next vacation or to generate rental income. The ground floor suite is steps away from the ocean or the condo's swimming pool.

It features all the comforts, including high-speed internet, cable TV and a fully equipped kitchen.

3 bedroom / 3.5 bath - 3 story townhome

Now furnished & price reduced

Fully detached home is part of an established, well managed townhome community. (total 12 units) with swimming pool.

This well-built 270 m2 = 2,700 square feet home has three stories and a large sundeck
Find more places on the PoMo real estate section of our website: http://www.almalibrebooks.com/realestate.htm
---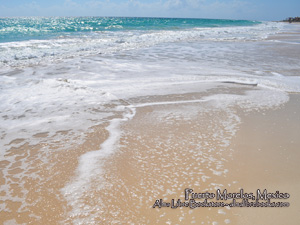 Free Gift From Alma Libre Updated for April & May
For those of you still stuck up North, bring a small piece of Puerto Morelos to your home or office with our new Puerto Morelos Wallpaper. Beautiful of course, and practical too with April & May calendars built right in. This month's wallpaper is a new view of the lighthouses and beach off our town square.
We'll have new pictures available for download every month! Wallpaper is also available on our website at www.almalibrebooks.com.
Pick your wallpaper size:
1280 x 1024 1024 x 768 800 x 600 1600 x 900 CLICK HERE FOR WALLPAPER INSTALLATION INSTRUCTIONS
---
Restaurant News: Even though we are heading into our quiet season, restaurants continue to open in Puerto Morelos!
A new restaurant has opened in the old Spaghettino location on Rojo Gomez. It's called "Sativa" (named after a certain popular herb). It has a full bar and will have reggae music. It also has a small store and sells hotdogs and hamburgers out front.
La Plage offers elegant dining on the beach
Another new place has opened on the beach. Owned by the ever growing Dona Triny empire, Casa del Sol (House of the Sun) is now open on the beach. Their menu features seafood and snacks and of course, a nice beach view.
Just north of town on the Petempich road a new French restaurant has opened. La Plage offers true casual elegance and a beautiful ocean view. Their menu is wide featuring seafood, steaks and pastas. Service and surroundings are all top notch. Prices range from moderate to expensive. To get there you need to take the Petempich road, just north of Puerto Morelos, to the right after the new gas station. From there follow the signs to Azul Sensatori and La Plage. The road is a little bumpy, but better than the old Ninos Heroes road in town. There is a huge parking lot.
Peskayitos has expanded their menu to include more than tacos. It will be difficult to order anything other than shrimp tacos though...they are delicious! The new menu has salads, tostados, empanadas, quesadillas, guacamole and more.
We recently visited John Gray's Kitchen in Puerto Morelos and tried his private reserve red wine. It's called "El Corazon" (the heart) and it was made in Mexico to John's standards. We like robust red wines and were not disappointed by this one. Definitely the best Mexican red we have tried. John hopes to have a white version next year. Salud!
We've been spending more time in the Colonia lately, so many places to try there! Las Micheladas del Semaforo is a nice place to grab a drink right on the highway. They have a full bar menu and good looking burgers and nachos. If you're driving, try the non-alcoholic limonada. A litre will conquer any thirst and it's a bargain at 35 pesos. On the non-food side, a clock and jewellery repair guy has opened in the Colonia, just to the north of the library. He replaced my dive watch battery for just 40 pesos. I have never paid less for a battery anywhere.
Chef Dieter has expanded his business and now is offering more high-quality food to residents and visitors to Puerto Morelos. We've reported before that Dieter is baking two kinds of European-style breads daily (available direct from Dieter or at Casa Martin supermarket). Now he is offering all kinds of European specialties including sourdough bread, German sausages, fresh Italian pasta, organic teas, Champagne-Pineapple-Sauerkraut, as well as Red Cabbage, Spaetzle and Semmelknoedel (bread dumplings) He offers free delivery in Puerto Morelos. Check out his website.
Bus Blues - The ADO bus station on the west side of the highway (for points south) suddenly closed last month, surprising everyone. Tickets and buses are now available at Farmacia Paris. The move made a little more sense when a big banner appeared a little north of town on the highway announcing a new bus station will be built soon at that location. We think it would have made a little more sense to keep the old station open until the new one was completed...but hey, what can you do? Tickets to Playa del Carmen sneaked up in price a little as well, they are now 20 pesos. Still a bargain!
Ricardo Returns - We reported before that Ricardo Santana, who used to own the Internet cafe on Rojo Gomez, was up in Santa Fe studying at the Scherer Institute of Natural Healing, sponsored by Ginny & Mauro from the Center for Corrective Myotherapy in Puerto Morelos. Now Ricardo is back in town! After a long winter of study and learning what "snow" was, he graduated and is now taking appointments in Puerto Morelos. Call 998 103 8791 or look for the big blue "Aqui" sign near La Suegra restaurant. The Center for Corrective Myotherapy offers "professional touch healing therapies grounded in massage theory and the science of therapeutic bodywork...where knowledge meets intuition in the healing quality of touch."
Ecab Explorer, the local tour company owned and operated by Eric (the former owner of Marlin Bleu) is offering some new and exciting tour ideas. His tour of Tulum for example includes a boat ride, so that you can see this amazing site from the sea, as it was meant to be, and understand how the Maya used the site for navigation. He is also offering tours to Ek Balam/Rio Lagartos, Sian Ka'an, the jungle, cenotes and a nice looking sunset cruise & snorkel trip. Check out his website for more information. We have sent many people on Eric's tours and they all come back delighted.
Gone Fishin': We hadn't made it out fishing in quite a while so we didn't realize how much Kathy's Diving Dog Tours have grown. She now has a fleet available for all your fishing needs, everything from high-end yachts to professional fishing boats to pangas. Parties of up to 8 fishers can be accommodated. Check out her fleet and new website.
The 5th Annual Festival of Music in Puerto Morelos was a great success again. Every second Friday night the plaza was packed with patrons partaking in a plethora of performers. (a lot of alliteration from an anxious author) It is all brought to you by the Casa de la Cultura of Puerto Morelos, which is a fantastic local resource for citizens and visitors to Puerto Morelos. They hold classes of all kinds for all ages and sponsor cultural events like films and lectures. Well worth checking out and very worthy of your support. Check out their brand new website at: http://www.casaculturapuertomorelos.com/
Photo Contest - Frank is running his Photo Contest again. Check out the entries and enter yours here. He'll pick the winners and put them in a 2011 Puerto Morelos calendar.
Walk For Peace - Local legend Goyo Morgan is going on a long walk in May for peace. Goyo is walking the coast of Quintana Roo, which is 300kms/180 miles. He calls it a spiritual adventure and says he was inspired by the book "The Lost World of Quintana Roo". He'll be walking for 30 days starting May 15. A video on his website explains it all. See it here.
Cancun - Is celebrating a birthday. The party city on the Caribbean is just 40 years old. The city was formally founded on April 20, 1970. The city now has 29,000 hotel rooms and more than 500 restaurants. Cancun, which in the Maya language apparently means "nest of snakes," had its origin in 1968 when Mexico's central bank set out to find an ideal spot to build a new tourist destination to mimic the success of Acapulco. Cancun has been an unqualified success, attracting millions of visitors every year and has become the top vacation destination in the Caribbean.
Tulum Airport - An airport at Tulum has been talked about and breathlessly promised by over-excited real estate developers for years. Now the first step has been taken to make it a reality. President Calderon has opened bidding for an airport near Tulum, expected to cost $255 million dollars. The new airport will have the capacity to handle three million passengers a year. Cancun's airport, with its shiny new runway and super-sized control tower can currently handle 28 million passengers a year, but usually handles less than half that. (just under 12 million pax last year) Cancun can handle 80 takeoffs or landings per hour and it is the first airport in Mexico with two runways that can be used at the same time.
The plan is that the new airport will be built entirely with private money. I would think it will be very difficult to find that kind of funding for an airport so close to Cancun, when Cancun's airport can handle so much more traffic than it is. We'll keep watching.
No more Fideicomiso? - Also on my list of "things not to get too excited about yet" is a proposal to drop the requirement for a Fideicomiso for foreign buyers of land within the restricted zones (close to the ocean or borders). As you may know, non-Mexicans are currently required to buy properties within a trust called a Fideicomiso. It gives all rights of ownership, but does cost an annual fee to maintain. There is a proposed bill in Mexico City that would give foreign individuals or corporations full ownership rights, including mineral rights without the trust. The move would save foreigners the trust fees, which are based on the value of the property. The proposal has support from three of the four political parties, but I can't see too much political will for the abolishment of Fideicomisos...and the big banks will likely be very reluctant to give up the fat fees they collect just to hold the paperwork. Stay tuned!
Changes to the Tourist Card - As we reported before, big changes are coming to FM3 and FM2 holders. Changes are also in store for the FMT tourist card that most visitors to Mexico get. This is the slip of paper you fill out on the plane when arriving in Cancun. Starting May 1, the FMT will be replaced by the FMM (Forma Migratoria Multiple). I've heard a lot of conflicting information on what the changes will really mean to the average traveler. Unfortunately it appears we will have to wait until system is implemented to see what changes. Here is some more detailed information, with pictures of what the new FM2/3 cards will look like.
Hurricane Season - Predictions are out again for hurricane season. Of course they are predicting a busier one than usual as they most always do. They are basing this prediction on the temperature of the Atlantic Ocean. Surface temperatures for March were the highest ever recorded. There was also news that global climate change has led to more wind shear, which tends to tear hurricanes apart. We won't worry too much about hurricane season. They have predicted "over average" hurricane seasons almost every year we've been here, and almost every year they were wrong...with 2005 being the exception.
Elections will be held in our area on July 4. Voters will elect a new governor, candidates for the state legislature and nine municipal presidents (mayors). The candidate for governor with the highest profile out of the gate, is Greg Sanchez who is currently Cancun's (and our) mayor. He took a leave of absence to run for governor. He recently visited Puerto Morelos in his big bus and handed our goodies to potential voters. (Gracias to Daphne for the photo)
Canadians! Have your say on our new passports! - Passport Canada will soon be issuing electronic "ePassports" to citizens. They are asking for your opinion on new fees and a 10 year option on passports. Let them know what you think by filling in this small survey.
Cecilia León of "Pizza and Love" was severely burned in a palapa fire back in February. She finally made it out of hospital on March 7th and is now recovering in Puerto Morelos. For more information, you can visit this blog which was set up for her by friends.
Bunch O' Booths: A lot of booths have sprung up around the square and even in restaurants. Most of these booths are selling snorkel and fishing trips. Some are selling tours. Some are selling time-share or vacation clubs. Make sure you know the difference when you are talking to the person at these booths. If the price seems too good to be true, there may be strings attached. Check out our Puerto Morelos Services page for good local businesses who will show you the sights right!
As we reported before, The Miami Herald Cancun Edition is no more. Look for a copy of the USA Today Cancun Edition at your hotel or convenience store. It's being put together by the same local staff.
Did I miss any local news? Let me know!
This Newsletter is being sent to you on a new server. It charges us for each individual email that it sends out, so if you are receiving this email more than once, please unsubscribe the extra addresses. Because it charges us for each email, it is very careful to ensure all the addresses are valid. If it has trouble getting the email to you, it will delete your name and never send you another email. If you were receiving our email, but now you are not, try signing up again using the form on our web page. This "double-opt-in" system is much more accurate and should ensure you continue to receive this newsletter. You can try adding our email address to your contact list too, so that your spam blocker doesn't delete us. Gracias!
Don't hate us, we've added Google Ads to the newsletter in an attempt to cover some of its costs. We have no control over the ads that pop up, Google decides that, and we are in no position to tell them what to do! Please let us know though if anything odd shows up. Please note, these ads don't begin to cover our costs for this newsletter. If you like this newsletter, please support it by buying books at Alma Libre. Gracias!
Current Exchange Rates (At the exchange in Puerto Morelos)


USA Dollar 11.75


CDN Dollar 10.95 (this is a very poor exchange for the Loon. Best to use the ATM to get closer to the real rate, which is just under 12)
---
This Just In! Books & Products at Alma Libre
Read all about it!
We love to keep you up to date with the town, but it's books that pay the bills. Have a look at what's cooking at Alma Libre...
The Painted Fish and other Mayan Feasts

This book written by Sonja Lillvik, who founded the Cuzan Guest House in Punta Allen is memoir of a life in the land of the Maya told with food! This is a gorgeous book with more than 100 recipes (perfected in the Mayan Riviera and tested up north) and lots of glossy pictures of food and fun.

This book has rapidly become our bestselling local book. Every time we have brought copies in, they have gone out just as fast! We are happy to have some in stock now, but don't wait!

Yucatecan Cuisine from Hacienda Teya

The cuisine of the Yucatan is a fusion of the ancient foods of the indigenous Maya and European culinary tradition. Now the chef of the elegant Hacienda Teya restaurant in Merida shares his secrets in this book. Recipes include lime soup, poc-chuc and panuchos. Also includes desserts (flan and more) and sauces & relishes. An excellent gift or keepsake. Only available in Mexico, and at a very low price!

Forking Fantastic - This is not your standard title for a cookbook, which is good because this is not your standard cookbook, it is in fact a "kick-ass guide to entertaining".

Friend of the bookstore and Rough Guide author Zora O'Neill and her kitchen partner Tamara Reynolds have created a one stop guide to holding a fun dinner party in your home. While the "Martha Stewarts" of the world would have you spending hours making little doily favours for your guests, these chefs offer practical advice and recipes on making your next dinner party fun, fab & facil. Isn't that what food with friends is supposed to be?

Learn from the best (and learn from their mistakes) and make your next dinner party Forking Fantastic!

Crosswords & Sudoku Puzzles

For some, there is nothing better than sitting under a lovely palm tree and fracturing their brain over a puzzle. For those of you who like to solve, we have a great selection of crossword puzzle and Sudoku puzzle books. Some are tough (like the game show Jeopardy) and some are easy (like celebrity Jeopardy) and some are made specifically for the beach. Many of our selection of puzzle books are from the New York Times.

Madrigal's Magic Key to Spanish by Margarita Madrigal

The truth is, there is no easy way to learn Spanish or any other language. It takes study and practice. There are ways to make learning Spanish more pleasant however, and this is the best book we've found. The Madrigal's method allows the reader to learn Spanish through this unique and proven method, which completely eliminates rote memorization and boring drills. Features illustrations by Andy Warhol. We know a lot of people who learned to speak Spanish well using this book.

Thor Janson

Wildlife photographer Thor Janson dropped by the bookstore the other day and brought some of newest books. Thor is the author of our popular "Maya Nature" book, which has been an Alma Libre bestseller since we opened. Thor's new titles include "Mundo Maya" an excellent book of photographs that Thor has allowed us to sell at a lower price, "Guatemala" which features some of Thor's favourite photographs of Guatemala and "In the Land of Green Lightning: The World of the Maya" a gorgeous, full size picture book exploring the people, places and flora and fauna of the land of the Maya.

Latin Style - We are very excited to have this new decorating book in our shop. It's big and glossy and features lots of pictures to inspire you to bring Latin style into your home. Juan Carlos Arcila-Duque is a Columbian born interior designer with notable clients throughout the world. He has designed everything from private residences to trendsetting restaurants. This book also includes a Latin music CD! "This is a charming book full of color, and the quirky style of what the author calls "Latin Style". This is much more than just a decorating book. The author chooses pictures that give you a sense of what it would be like to experience Latin style." - Amazon Reviewer

Birds & Fish - We share our beautiful area with some of the world's most interesting creatures. Every day we see wildlife in and around the town, from big birds to slithering reptiles and everything in between. To help you get to know your neighbours better, we offer several guides. For an overall view, you can't beat this book, the Traveller's Wildlife Guide to Southern Mexico by Les Beletsky. A gorgeous book packed with information and pictures. Covers fish, mammals, reptiles, birds and a little about the plant life here.

For more detail, we offer a choice of bird guides and our popular snorkel guide.


Spanish Language Learning Software- Now available for the Mac! - Since moving to Mexico, Joanne and I have struggled with our Spanish, especially those nasty verbs. Now our friend Jacky has invented a fun way to learn your verbs. Her Amigos Spanish program has full conjugation for 700 verbs and helps you learn with tests and puzzles. The program is totally customizable, allowing you to focus on the verbs you need to know. Plus it's fun, so you will stick with it and learn those verbs. To expand your vocabulary, try Amigos Spanish Puzzles a program featuring word games with English clues and Spanish answers (or vice versa). The program comes loaded with 2500 words, and you can even add your own words if you like! Both programs are available on CD at Alma Libre Bookstore or download it at Amigos Spanish.

Secrets of the Talking Jaguar is the story of the author's physical and spiritual journey from the Southwestern US to the highlands of central America. There he becomes apprenticed to a local shaman who teaches Pretchel much about indigenous Mayan life, and about life in general. We sold out of these last year in hardcover, this year we were lucky enough to get some soft cover editions. If you missed this book last year, don't miss it this time.

SPECIAL OFFER for Alma Libre Bookstore Customers

Cenotes of the Riviera Maya is the best book ever written about the cenotes in our area. Beautifully photographed, it could easily be called a coffee table book, but it is also has all the practical information you need to explore the cenotes whether you are swimming or diving. Many have drooled over this book, but the hefty (500 peso) price tag kept some people away. Now author Steve Gerrard has authorized us to lower the price. At 300 pesos, this book is an incredible bargain and it has been flying off our shelves...in fact we ran out for a while around Christmas, but we're stocked again.

Maps!

If you drive in our area, you need a map! We have excellent and detailed maps of the Yucatan, the country of Mexico, Cancun city, Merida as well as Belize, Guatemala, Cuba and Central America. We also have souvenir-quality maps you can hang on the wall.

Maps are usually difficult to find in Mexico, but only if you are looking in the wrong place! Plot a course to the bookstore...if you get lost...ask for directions...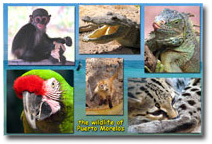 Postcards! We've added a lot of new postcards to our collection, including more underwater shots by "Dive Diva." We have the largest selection of Puerto Morelos postcards, and they are all exclusive to Alma Libre. We know because we make 'em! We also have blank greeting cards to cover any occasion you may wish to celebrate while you are in paradise.
Gift Certificates! A nice gift idea for someone who lives here is an Alma Libre Gift certificate. Available in any amount and can be used for new or used merchandise. We can accept payments from up north via Paypal.
---
Photos of the Month
| | |
| --- | --- |
| | |
| Nice View: This sailboat just happened to float through our table view at La Plage restaurant just around sunset. Nice. | Vanload O' Chicks: We've always maintained that you can buy anything off a truck or out of a van in Puerto Morelos. Here's more proof. A van loaded with baby chicks and rabbits, ironically spotted on Easter Sunday. |
| | |
| Tejone Garden: It used to be a rare sight to see a Coatimundi around town. The little mammals are related to racoons and are usually pretty sneaky and hard to spot in the wild, but some people have taken to feeding them on a vacant lot near the Casa de la Cultura on Avenue Ninos Heroes. You can watch them as they snack on the fruit left for them. | Pot O' Gold: April showers bring May flowers and also this cool rainbow spotted in Puerto Morelos this week. |
---
Advertising:
---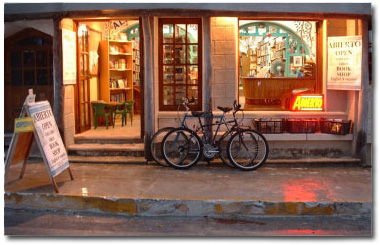 Just a reminder that we are open 7 days a week for the season. Our hours are Monday through Saturday from 10:00am to 3:00pm and 6:00pm to 9:00pm. We are closed between 3:00pm and 6:00pm for siesta. Sunday we are open 4:00pm to 9:00pm.
Our hours are always posted on the front page of our website at www.almalibrebooks.com.
We take trades every day, so our selection is constantly changing. If you are planning a trip down, why not bring some recent bestsellers to trade and check out our store, or plan to buy all your reading material at Alma Libre. We got you covered!
We look forward to seeing you in Puerto Morelos!
---
Beach Reads is the official newsletter of Alma Libre Bookstore in Puerto Morelos Mexico. It is mailed directly to your mailbox if you request it. Beach Reads is published on a sporadic, seemingly random basis...but it is supposed to be approximately monthly during the season at Puerto Morelos. The season is November until after Easter. We do our best to publish it regularly...but we are easily distracted...
Our website is located at www.almalibrebooks.com Our store hours are always on the home page.
If you do not wish to receive this newsletter, please Click Here To Unsubscribe
This is Year #8, Issue #5. April 2010
To subscribe or make comments or suggestions or advertise your local event, please Contact Us
Retransmission & Redistribution of this newsletter without express written consent is just fine by us! Send this newsletter to a friend! (or get them to sign up for their own copy) If you like the newsletter, please support it by buying a book at Alma Libre Bookstore.
Text & Photos ©2002-2010 Alma Libre Bookstore. Please do not use our content on your website without our specific permission.