---
Advertising:
---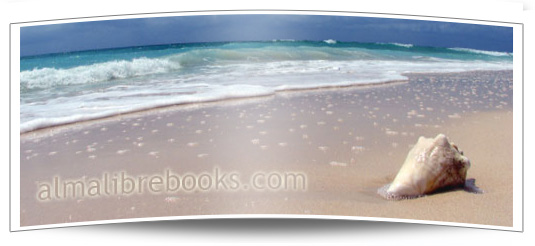 News from Alma Libre Bookstore - Puerto Morelos, Mexico
In this issue:
---
Spring Break in Mexico:

Those words probably conjure up some strong imagery of college kids blowing off steam and trying to consume as much alcohol as possible before hitting the books again up north. Spring Break in Puerto Morelos looks a lot different.

Like everything else we touch, Spring Break in Puerto Morelos is a laid-back, relaxed experience. It involves the beach, a hammock, a great meal and perhaps a book or two to read!

The good news is that even if your college days are way behind you, you can give yourself a Spring Break. You need one too! Winter has been long, traffic has been lousy, stress has been high, and governments have been acting silly. Can you think of other reasons?
To add fuel to the fire, we've seen some really great airfare deals to Puerto Morelos lately. We can help you find a place to stay on our rentals web page. Lots of availability, especially in April and beyond.

Everyone needs a Spring Break!
Mexico Travel Rebounding
Reports tell us that travel to Mexico is up sharply this season. Last year the world economic crisis, drug violence near the US border and the H1N1 flu combined to practically stop tourism last spring. Our area was caught up in the hysteria, which was completely unfair as neither the violence or the flu was an issue here.
Our area has been getting some positive press too. US Airways picked Puerto Morelos as one of its top destinations in the world! Lonely Planet picked Mexico as one of its top places for 2010 and Travelocity says that its bookings to Mexico are up 25% this year. Cancun is expecting 25,000 spring breakers this year, up from 20,000 last year.
The Mexican government, bloggers and citizens are taking to the airwaves and the web, trumpeting Mexico's virtues and safety.
Vive Mexico! Hope to see you here soon!
Frequently Asked Questions
Spend a little time with us in the bookstore and you will quickly realize what we do all day, every day. Answer questions. We don't mind of course, we're proud of our town and like to steer people in the right direction. If you buy enough books, we'll answer your questions all day.
Leaning Light
During Hurricane Wilma, we were worried it would straighten up!
Here are some of the ones we get asked most often:
Is there a public bathroom/restroom/washroom? To a desperate visitor, all other questions seem unimportant compared to this one. There is a public bathroom on the dock. Aside from that we suggest patronizing one of the town's many cafes, bars or restaurants and using theirs.
What happened to the lighthouse? Did that just happen? Our famous lighthouse got its lean from Hurricane Beulah back in 1967. Legend has it that officials attempted to remove the old leaner after the storm but the stubborn lighthouse would not budge, so they just left it alone. It has now become our symbol. Since '67, the lighthouse has survived at least two major hurricanes, but it leans no more or less than it did 43 years ago. (We were actually kind of worried it would straighten up and make all our postcards moot.)
Army Strong:
Always smile at the nice man with the big gun.
What's with the army guys? Is there a revolution going on? Wherever there is a port in Mexico, you will find a military presence. Since we are a port (it's even in our name) we have the military. They may look kind of intimidating when you see them walking the beach in full uniform with guns nearly as big as they are, but have a peek into their barracks sometime. When they are walking around in their t-shirts and hanging their freshly hand-washed socks out to dry, they don't seem so scary. Smile and say "buenos dias" and they will do the same back to you.
What's with the checkpoint on the highway? Is there a revolution going on? The army and police love to set out pylons and block traffic. You'll find army roadblocks at any state border and other locations. Police have a checkpoint just south of the airport, going in Playa del Carmen and other places. Usually the roadblocks are to catch drug smugglers, sometimes they are investigating a recent crime, sometimes they are there because there are dignitaries in town and sometimes I think they are just there 'cause it's fun. Usually you will just get waved through these things. Sometimes they may ask simple questions like "where are you going?" and "where are you coming from?". Sometimes they will want to search your vehicle. Again, these guys can appear intimidating because they are well armed. Stay cool, cooperate with them and smile. They will smile back. We go through dozens of these on our long trips north and south and have never had a problem.
Announcement Guy
Motto: If you can't be clear…be loud.
What's with the little car with the loudspeaker driving through town? Is there a revolution going on? The little car with the loud, loudspeaker on its roof is part of the town. He's paid a fee to drive around with town news and advertising from local businesses. We find him very hard to understand. At first we blamed our poor Spanish, then we realized our Mexican friends couldn't understand him either. Lately we notice his speakers have been getting larger, so he's louder, but just as hard to understand. Other loudspeaker vehicles drive through town too. Some are making announcements, and some are selling fresh produce, shrimp, or even mattresses. Other trucks play a little jingle (usually the gas guy) or music (usually the bakery guy). If you see a guy walking around town playing a shrill flute...get your knives out...he will sharpen them. If you see one of us walking around shouting "libros, libros..." you know it's a quiet day at the bookstore.
Where's the Post Office? I love answering this one. There isn't one. Next! Okay, we don't have a post office, but you can still mail your Puerto Morelos postcards (available at Alma Libre Bookstore...everyone else has Cancun ones) in Puerto Morelos. First, get yourself the proper stamp at Casa Martin Supermarket and then post it in the mailbox located on the wall between El Pirata restaurant and the gift shop on the corner. I have no idea when they pick up. If you are going to Cancun or Playa del Carmen or Cancun, post them there, it speeds up the process. MexPost mailboxes are there big and red.
How do I catch a bus to Playa or Cancun: This one is easy. You need to get to the highway by cab or collectivo bus. There are two bus stations, one on either side of the highway. The far bus station is for routes south like Playa or Tulum. The close one is for Cancun. The bus is a big luxury liner operated by ADO. The bus comes every ten minutes and costs just 20 pesos. They even show a movie on the bus. Don't get too absorbed in it though, it's only a thirty minute trip.
Meet Me in the Sea:
Do not miss a visit to the reef. He's waiting for you! (photo by DiveDiva.Ca)
Can I ride the Collectivo? Where does it go? If you've got five pesos, you can ride the collectivo. If you catch it heading north or west, it will eventually take you to the Colonia and get you close to the ADO bus stations. On occasion it goes out to El Cid and sometimes to points north. The routes are a bit of a mystery to me. Ask the driver if you are in doubt, or take a nice tour of the town. Eventually you'll get where you want to go. The driver can make change for you if you don't have the exact dough...but don't be paying with anything larger than a 50 or you'll ruin his day.
Can I rent a bike? It used to be difficult to ride a bike in PoMo, but with the freshly-paved roads, the world has improved for two-wheelers. Ride nicely and watch for the speeding cabs and buses. Don't ride on the highway unless your nerves are far better than mine. Watch for speed bumps and potholes. There are several places to rent bikes from. The travel agency around the corner from us has them and Posada El Moro has some too.
How do I get to the reef to snorkel? Our reef is amazing. It's our pride and joy and we protect it like our child. Therefore, you can't go out to the Reef without a guide. You must also wear a life vest. These precautions protect you and the Reef. Our over-protectiveness means the Reef is very healthy and you will see a good variety of sea life. We can't recommend a trip out to the Reef enough (picture jumping into an aquarium.) You can go with one of the dive shops in town, or to go in a hurry, go out with the next boat going out from the dock. The price will be around $230 pesos plus a $20 peso park admission fee. (The admission fee goes directly to Reef protection) They will take you to two different locations for about two hours. The guides are trained and certified. Go and say "Hola" to the fish for me.
These are our most asked questions. There are hundreds of others. Our website almalibrebooks.com can answer many of them. Click the "Puerto Morelos" tab for lots of practical, accurate and up to date info.
Help the Bookstore on Trip Advisor

Our town and bookstore have been discovered by a lot of visitors to TripAdvisor.com. We lurk at the site ourselves and try to help visitors discover Puerto Morelos and correct some of the crazy misinformation that often comes up on the site. If you like Alma Libre Bookstore, please write a review for us on Trip Advisor. Any review will move us up in the "Puerto Morelos Things To Do" list, and a positive review might help bring more folks into the bookstore!

Visit our profile and give us your honest review here or use the box to the left. We appreciate your support!
Seeing Spots?
We've changed our pricing system on used books at Alma Libre Bookstore. Instead of penciling in the price on the first page of the book, we've switched to a "dot system". Each used book will have a brightly coloured dot on the spine. The dot represents the price of the book, we have price guides all over the store. The dot system allows us to keep up with the fluctuating peso. We used the opportunity to lower our prices on hundreds of books all over the store. Check us out!
Bookstore Hours - We're open 7 days a week!
Once again Alma Libre Bookstore is open seven days a week. Monday through Saturday we are open 10am to 3pm and 6pm to 9pm. Sunday we are open 4pm-9pm. Hope to see you at the bookstore this season!
Jungle Market and Spa
The beach is big, but the jungle is the place to be again this season. The popular spa is in full swing and has been running all summer. Curious clients from the big all-inclusives are being lured out of their overpriced spas and into the jungle. A much more genuine experience and much better prices!
The spa has been so popular, they have expanded the days that it is open and are requesting that people make appointments, either by telephone or email. This will ensure you don't waste any time waiting for your treatment.
To make an appointment, contact Sandra at (998) 208 9148 or Cell 044 998 180-5424 or by email through her website. Appointments are available Tuesday-Saturday and limited appointments are available on Sunday. The spa is closed on Monday.
Many treatments are available, from manicures and pedicures to a luxurious aloe vera and banana leaf wrap and massage! (or a chocolate massage...does it get any better??) For men, there is the "Mayan Macho" massage. You've never had a massage like this!
Spa prices are much lower than you will find at your resort or in town and proceeds go directly to the Mayan families that work at the spa and Jungle Market.
The Jungle Market has also begun. Sandra and the Mayan ladies spent the whole summer working on a new show with new dances, including the intricate "Ribbon Dance" which you can participate in! The show begins at 11:30, but get there earlier so that you can sample some of the food and check out their unique souvenirs and gifts at the market.
It's easy to get out to the jungle by car, taxi or collectivo. It's on Calle Dos (kie-yay dose) in the Zona Urbana, which is right behind the Colonia. Here's a map you can print out. Taxi to the jungle from the town square is 50 pesos. A taxi from nearby hotels is 150 pesos or $12 US each way. Tell driver you want to go to: Jungle Spa - Sandra (important to mention her name) Zona Urbana. The easiest way to get to the Jungle Market is catch the bus at the Mayan Handicraft Centre at 10:00 Sunday morning. Cost is just 5 pesos.
Remember, when you pamper yourself at the Jungle Spa or buy a unique gift at the Mayan Market, you are directly supporting Mayan families! This is a very worthwhile venture and we hope you will support it.

Money Matters
Just a reminder to visitors that there is no place to cash traveler's cheques in Puerto Morelos. The easiest way to get pesos is at the HSBC ATM (ABM) beside the supermarket on the square. If it is out of money, there is another machine at the intersection of the road to Puerto Morelos and the federal highway. There are also two ATMs in town that are not affiliated with banks. One is at the mall across the square from the bookstore and another is at OXXO. Since these are not affiliated with a bank, the fees are much higher than the HSBC machine.
If you wish to cash a traveler's cheque, you can do it at the airport or in Cancun or Playa del Carmen.
---
Home and Condo Rentals
How about a spring fling? We still have some homes and condo rentals available for the season. If you have never stayed in a private home or condo, you are in for a wonderful experience. You have all the comforts of home on your vacation. All you have to do is bring your clothes and toothbrush. Everything else is included from towels and linens to hammocks and blenders.
Many ex-pats have built their dream homes here in PM and are willing to rent it to you! Renting a place makes you feel more like a local and offers the convenience of cooking for yourself and much more privacy.
Regular Beach Readers know that we feature some of these properties on our website. There are a gazillion property rental sites out there, but our site is unique because these are properties we know, owned and run by people we know and trust. We like to think we take the guesswork and risk out of renting.
We're always adding new properties to the site. Here are some examples...
One bedroom or two? Your choice!

Here's one we've just renovated, this can be rented as a one bedroom/one bath with a fold out couch, or as a two bedroom two bath. Each bedroom has it's own outside door to allow entry or exit without disturbing others.
It has a full kitchen with pots and pans, dishes and cutlery, plus appliances like coffee maker, toaster and juicer. Dinking water is included as well as cable TV and wireless internet in season. The suite features a huge terrace with table and chairs and two comfy hammocks. All this from $600 a week in season, $450 starting in May!
Click here for more information and pictures!
Huge, Bright, Breezy One Bedroom

A big one bedroom, two bath with a loft. The loft has a fold out couch and curtains for privacy. The couch in the living room also folds out into a bed.
Off the bedroom and the living room is a HUGE balcony with table and chairs for four and a comfy hammock.
Of course there is a full kitchen with pots and pans, dishes and cutlery, plus appliances like coffee maker, toaster and juicer. Dinking water is included as well as cable TV and wireless internet in season. $650 a week in season, $499 starting in May!
Click here for more information and pictures!
Click here to download a printable info sheet on the above three apartments
*By the way, it is not too early to start thinking about 2011. We are already booking February & Christmas 2011. Don't miss out!
Check out our new, easier to navigate rentals page here.
Owners! Contact us to get your FREE listing on our website.
---
Home and Condo Sales
If you have ever thought about owning a piece of paradise, this may be your opportunity. Some prices have actually come down, something we have not seen in eight years of living here.
Here are a couple of places we are featuring:
Good Price!

Large Serviced Lot For Sale in Puerto Morelos

14.5 x 23 metres

Walled on three sides, has electricity and water, papers are in order

$150,000 or best offer

Price Reduced!

2 bedroom / 2bath oceanfront condo on quiet beach

This one has just come onto the market. It's on the beach and is being sold fully furnished, ready for your next vacation or to generate rental income. The ground floor suite is steps away from the ocean or the condo's swimming pool.

It features all the comforts, including high-speed internet, cable TV and a fully equipped kitchen.

3 bedroom / 3.5 bath - 3 story townhome

Now furnished & price reduced

Fully detached home is part of an established, well managed townhome community. (total 12 units) with swimming pool.

This well-built 270 m2 = 2,700 square feet home has three stories and a large sundeck
Find more places on the PoMo real estate section of our website: http://www.almalibrebooks.com/realestate.htm
---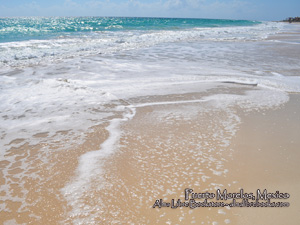 Free Gift From Alma Libre Updated for March @& April
For those of you still stuck up North, bring a small piece of Puerto Morelos to your home or office with our new Puerto Morelos Wallpaper. Beautiful of course, and practical too with March & April calendars built right in. This month's wallpaper is a new view of the lighthouses and beach off our town square.
We'll have new pictures available for download every month! Wallpaper is also available on our website at www.almalibrebooks.com.
Pick your wallpaper size:
1280 x 1024 1024 x 768 800 x 600 1600 x 900 CLICK HERE FOR WALLPAPER INSTALLATION INSTRUCTIONS
---
New Restaurants: At least three new places to eat have sprung up since last month and another is on the way!
Comida Casera just opened in the old Peskayito location across from Cantina Habanero. Their menu features Mayan cuisine. Recently they were advertising Pibil wrapped in banana leaves. If you are unfamiliar with Mayan food, Pibil is a slow-roasted pork dish. The pork is marinated in citrus juice. We had some recently in Merida and it was yummy. Give them a try and if you want to learn more about Mayan cuisine, we have an excellent cookbook in the bookstore. Details later in this newsletter.
A new fish place has opened too. It's called Pesquero and it's on the beach road just north of the lighthouse. It features a large palapa bar and dining al fresco.
Almost missed this one, a cafe has now opened at Posada El Moro called (oddly enough) Cafe El Moro. Their posted menu was fairly simple, things like hamburgers, tacos and fajitas.
A new restaurant is also moving into the old Spaghettino location on Rojo Gomez. Our spies tell us it will be a Jamaican place and the colour scheme of black and green
seems to back that up. We'll let you know when it opens mon!
Our recent Casa de los Viajeros guests made a point of trying every restaurant they could find during their trip to PoMo. Anne, Edith, Allan and Bob found a lamb place in the Colonia that they raved about. It's called El Borrego Loco (the crazy lamb) and their specialty is lamb tacos. They don't speak English there, but the language of fresh tacos is universal. They're only open until 3:00 pm though, so go early. The restaurant is on the highway just south of the Pemex. I rode by today and noticed they have a full meal deal with tacos and a coke for 50 pesos. That's less than four bucks US. Not a baaaaaaaad deal! (Photo & tasting by Anne Elliott)
The 5th Annual Festival of Music in Puerto Morelos is back again! It will be held every second Friday in the town square. The next show is March 5 and the season finale will be on the 19th of March. This popular (and free) event will be held in the square beginning at 7:00 pm. The event showcases the talent of the citizens of Puerto Morelos. You will hear all different kinds of music played by musicians of all ages. You can be part of the show too, just contact the organizers at the Casa de la Cultura. If you are not familiar with the Casa de la Cultura, it is a fantastic local resource for citizens and visitors to Puerto Morelos. They hold classes of all kinds for all ages and sponsor cultural events like films and lectures. Well worth checking out and very worthy of your support. Check out their brand new website at: http://www.casaculturapuertomorelos.com/
He shoots, he scores...another beer! Don Pepe's scored some major points with hockey lovers during the Olympics from Vancouver, showing the round-robin and gold medal hockey games. Canada won the gold, but the real winner was Pepe's, who must have had their biggest day ever with puckheads cheering on their countries and swilling beer into overtime. (Needless to say, the bookstore opened a little late that Sunday!)
Chef John Gray recently represented Mexico at the annual South Beach Food and Wine Festival in Florida last month. The show is a pretty big deal, it's sponsored by The Food Network and attracted celebrity chefs like Rachael Ray, Bobby Flay, Guy Fieri, Paula Deen, and Emeril Lagasse. The ever expanding John Gray Restaurant Group now includes John Gray's Kitchen and La Suegra in Puerto Morelos, John Gray's Place and The Den in Playa del Carmen and John Gray's Downtown in Cancun.
Visa Changes: In order to work legally down here in Mexico, we get an annual visa called an FM3. Some retirees have them too and long-time residents often upgrade to an FM2 so that they can eventually apply for citizenship. Visitors to Mexico get a tourist visa called an FMT which you fill out on the plane and turn in when you leave. The process of getting your FM3 or FM2 renewed each year is a long and complicated one. We used to hire a lawyer to handle it for us, then we decided to try doing it ourselves. Now we have the hang of it, and our last renewal was easy.
Starting May 1 however, the whole thing is changing. Gone will be the FM3 and FM2 booklets, they will be replaced by a swipeable card. The renewal process, which we finally understand, is going to be "streamlined" and "made easier" according to officials. Their goal is to make the process easy enough that most people will be able to handle it themselves. The cards will obviously be more efficient for Immigration and make foreigners easier to track. Perhaps the biggest change is that you will need to get your visa in Mexico, consulates will no longer issue them.
The FMT is going to change to an FMN. If I understand correctly, the FMN will allow tourists to stay up to 180 days without need for renewal. I am not positive about this though.
As said, the changes are all supposed to take place on May 1. I assume it will be a slow-roll out of changes though. Already there are concerns there won't be enough card readers to have one at every border entry point. Stay tuned!
Car Permit Changes: My recent visit to Puerto Juarez to renew my car permit had a surprising twist. (Holders of FM3 immigration visas in Mexico are allowed to import a foreign plated vehicle for their use while in the country.) Christian, the Banjercito guy, told me I was no longer required to renew my car permit as long as my FM3 was up to date and in order. There has long been a debate about this among ex-pats, but this is the first time I heard this from someone in authority. He even printed off a copy of the law for me with the good bits highlighted in case I get pulled over. The joke is that I am still going to renew my permit because I drive out of the country every year. Having a valid permit in place makes for an easier day at the border. If I and my vehicle stayed here, I would probably not bother. Here's a copy of the law that Christian gave me. Part 7.2 is the bit he highlighted. Print it out and carry it in your vehicle.
Big Break for Bosses: Leaders from 32 Latin American nations recently took a spring break in our area. Presidentes' in attendance included Venezuela's Hugo Chavez, Cuba's Raul Castro and Mexico's Felipe Calderon. Topics discussed included a new trading block for western hemisphere nations minus the U.S. and Canada, the ownership of the Falkland Islands and what leader would win a beer-chugging contest. (I may have made up that last one, but if it were true my money would be on Chavaz.) The summit was held at Paya del Carmen's Grand Velas Hotel. We noticed a definite increase in security on the highway, but none of the leaders made it into the bookstore.
Shout Out to our friend and Lamar-tist Marguerite. We miss you! Hope to see you soon.
Bunch O' Booths: A lot of booths have sprung up around the square and even in restaurants. Most of these booths are selling snorkel and fishing trips. Some are selling tours. Some are selling time-share or vacation clubs. Make sure you know the difference when you are talking to the person at these booths. If the price seems to good to be true, there may be strings attached. Check out our Puerto Morelos Services page for good local businesses.
Road Warrior: Road paving appears to be off again. Some of the roads could use a pothole repair too. A survey crew was spotted on the completely unpaved Avenue Lazaro Cardenas. Will asphalt follow? Stay tuned.
New ATMS: A couple of new bank machines have sprung up on the square. One is at the OXXO and the other is at the mall near the fish co-op. Convenient yes, but since they are not affiliated with a Mexican bank, their fees can be outrageous. A friend of ours used one and the fees came out to almost 10% of what she was able to take out! The HSBC machine should cost less than half of that (we get charged a total of $5 by HSBC and our Canadian bank) and will allow you to take out more cash. The bank's machine does run out of money on occasion, especially on weekends, so to avoid the high-fee independent machines don't let yourself get too low on pesos.
As we reported before, The Miami Herald Cancun Edition is no more. Look for a copy of the USA Today Cancun Edition at your hotel or convenience store. It's being put together by the same local staff.
Did I miss any local news? Let me know!
This Newsletter is being sent to you on a new server. It charges us for each individual email that it sends out, so if you are receiving this email more than once, please unsubscribe the extra addresses. Because it charges us for each email, it is very careful to ensure all the addresses are valid. If it has trouble getting the email to you, it will delete your name and never send you another email. If you were receiving our email, but now you are not, try signing up again using the form on our web page. This "double-opt-in" system is much more accurate and should ensure you continue to receive this newsletter. You can try adding our email address to your contact list too, so that your spam blocker doesn't delete us. Gracias!
Don't hate us, we've added Google Ads to the newsletter in an attempt to cover some of its costs. We have no control over the ads that pop up, Google decides that, and we are in no position to tell them what to do! Please let us know though if anything odd shows up. Please note, these ads don't begin to cover our costs for this newsletter. If you like this newsletter, please support it by buying books at Alma Libre. Gracias!
Current Exchange Rates (At the exchange in Puerto Morelos)


USA Dollar 12.10


CDN Dollar 10.95 (this is a low exchange for the Loon. Best to use the ATM to get closer to the real rate, which is just under 12)
---
This Just In! Books & Products at Alma Libre
Read all about it!
We love to keep you up to date with the town, but it's books that pay the bills. Have a look at some of the titles we're most excited about...
Yucatecan Cuisine from Hacienda Teya

The cuisine of the Yucatan is a fusion of the ancient foods of the indigenous Maya and European culinary tradition. Now the chef of the elegant Hacienda Teya restaurant in Merida shares his secrets in this book. Recipes include lime soup, poc-chuc and panuchos. Also includes desserts (flan and more) and sauces & relishes. An excellent gift or keepsake. Only available in Mexico, and at a very low price!

Crosswords & Sudoku Puzzles

For some, there is nothing better than sitting under a lovely palm tree and fracturing their brain over a puzzle. For those of you who like to solve, we have a great selection of crossword puzzle and Sudoku puzzle books. Some are tough (like the game show Jeopardy) and some are easy (like celebrity Jeopardy) and some are made specifically for the beach. Many of our selection of puzzle books are from the New York Times.

Madrigal's Magic Key to Spanish by Margarita Madrigal

The truth is, there is no easy way to learn Spanish or any other language. It takes study and practice. There are ways to make learning Spanish more pleasant however, and this is the best book we've found. The Madrigal's method allows the reader to learn Spanish through this unique and proven method, which completely eliminates rote memorization and boring drills. Features illustrations by Andy Warhol. We know a lot of people who learned to speak Spanish well using this book.

Thor Janson

Wildlife photographer Thor Janson dropped by the bookstore the other day and brought some of newest books. Thor is the author of our popular "Maya Nature" book, which has been an Alma Libre bestseller since we opened. Thor's new titles include "Mundo Maya" an excellent book of photographs that Thor has allowed us to sell at a lower price, "Guatemala" which features some of Thor's favourite photographs of Guatemala and "In the Land of Green Lightning: The World of the Maya" a gorgeous, full size picture book exploring the people, places and flora and fauna of the land of the Maya.

On Mexican Time by Tony Cohan

One of the books that inspired us to move to Mexico. Writer Tony Cohan and his wife, decided they had had enough of the hectic pace of Los Angeles and made tracks for the historic town of San Miguel de Allende. Where they eventually found themselves buying a 250-year-old hacienda on the verge of collapse. What followed was a love affair with Mexico


Latin Style - We are very excited to have this new decorating book in our shop. It's big and glossy and features lots of pictures to inspire you to bring Latin style into your home. Juan Carlos Arcila-Duque is a Columbian born interior designer with notable clients throughout the world. He has designed everything from private residences to trendsetting restaurants. This book also includes a Latin music CD! "This is a charming book full of color, and the quirky style of what the author calls "Latin Style". This is much more than just a decorating book. The author chooses pictures that give you a sense of what it would be like to experience Latin style." - Amazon Reviewer

Birds & Fish - We share our beautiful area with some of the world's most interesting creatures. Every day we see wildlife in and around the town, from big birds to slithering reptiles and everything in between. To help you get to know your neighbours better, we offer several guides. For an overall view, you can't beat this book, the Traveller's Wildlife Guide to Southern Mexico by Les Beletsky. A gorgeous book packed with information and pictures. Covers fish, mammals, reptiles, birds and a little about the plant life here.

For more detail, we offer a choice of bird guides and our popular snorkel guide.


Spanish Language Learning Software- Now available for the Mac! - Since moving to Mexico, Joanne and I have struggled with our Spanish, especially those nasty verbs. Now our friend Jacky has invented a fun way to learn your verbs. Her Amigos Spanish program has full conjugation for 700 verbs and helps you learn with tests and puzzles. The program is totally customizable, allowing you to focus on the verbs you need to know. Plus it's fun, so you will stick with it and learn those verbs. To expand your vocabulary, try Amigos Spanish Puzzles a program featuring word games with English clues and Spanish answers (or vice versa). The program comes loaded with 2500 words, and you can even add your own words if you like! Both programs are available on CD at Alma Libre Bookstore or download it at Amigos Spanish.

Secrets of the Talking Jaguar is the story of the author's physical and spiritual journey from the Southwestern US to the highlands of central America. There he becomes apprenticed to a local shaman who teaches Pretchel much about indigenous Mayan life, and about life in general. We sold out of these last year in hardcover, this year we were lucky enough to get some soft cover editions. If you missed this book last year, don't miss it this time.
SPECIAL OFFER for Alma Libre Bookstore Customers

Cenotes of the Riviera Maya is the best book ever written about the cenotes in our area. Beautifully photographed, it could easily be called a coffee table book, but it is also has all the practical information you need to explore the cenotes whether you are swimming or diving. Many have drooled over this book, but the hefty (500 peso) price tag kept some people away. Now author Steve Gerrard has authorized us to lower the price. At 300 pesos, this book is an incredible bargain and it has been flying off our shelves...in fact we ran out for a while around Christmas, but we're stocked again.

Maps!

If you drive in our area, you need a map! We have excellent and detailed maps of the Yucatan, the country of Mexico, Cancun city, Merida as well as Belize, Guatemala, Cuba and Central America. We also have souvenir-quality maps you can hang on the wall.

This year we also have a good supply of "Map Chick" Mayan Riviera maps. These incredibly detailed maps will lead you to the best of the Mayan Riviera including restaurant and accommodation recommendations. This map has the most detailed map of Puerto Morelos ever made, as well as Puerto Adventuras, Akumal and the entire Mayan Riviera corridor.

Maps are usually difficult to find in Mexico, but only if you are looking in the wrong place! Plot a course to the bookstore...if you get lost...ask for directions...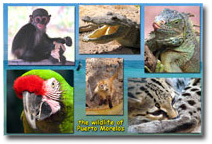 Postcards! We've added a lot of new postcards to our collection, including more underwater shots by "Dive Diva." We have the largest selection of Puerto Morelos postcards, and they are all exclusive to Alma Libre. We know because we make 'em! We also have blank greeting cards to cover any occasion you may wish to celebrate while you are in paradise.
Gift Certificates! A nice gift idea for someone who lives here is an Alma Libre Gift certificate. Available in any amount and can be used for new or used merchandise. We can accept payments from up north via Paypal.
---
Photos of the Month
| | |
| --- | --- |
| | |
| La Colonia: To really know Puerto Morelos you've got to spend some time on the other side. On the opposite side of the highway you will find all kinds of casas like this one, restaurants and shops. The best way to explore is on a bike. Ride slowly through the streets or sit in the square and watch the world go by. Be careful on the roads, most of the intersections have no signs, so the biggest or most motivated vehicle usually gets right of way. | Guest photographer: Normally I take the pictures around here, but when a newsletter reader sent this lovely shot, I had to put it in Beach Reads. Eleanor Andres from Winnipeg captured this scene the hard way...she got up really early. She points out she used no filters and did not retouch the photo in any way. In other words, those colours come with the town. I guess I need to get up earlier! |
| | |
| Road Trip: It's been a while since we visited Izamal. This small city near Merida is now considered a "Pueblo Magico" by the government for its beauty and historical significance. Today it is known as "The Yellow City" as most of the town's buildings are yellow by law. Pope John Paul visited here in 1993, and they still talk about it. Take a carriage ride and a step back in time. An excellent day trip, or stay the night at the Macan Ché Bed & Breakfast. | Night Gallery: It's become an annual trip for us to take in the Carnival Celebrations in Merida. The city hands over one of its busiest streets to revelers and there are sometimes two parades a day, including the spectacular night parade. The parade snakes through Paseo Montejo to the town square. Free stages dot the parade route cranking out music until the wee hours. There is plenty of cervesa, but this is definitely a family event. The food is the highlight for me. It's tasty, incredibly bad for you and inexpensive. |
Palapa Fire
In late February there was an explosion and fire at a palapa home in Puerto Morelos. The fire swept through the palapa home severely injuring two people. Danny Rippe suffered serious burns to 90% of his body. He passed away in a Cancun hospital two days after the accident leaving behind a young son. Danny was well known in town and will be missed.
Cecilia León who owns and operates the restaurant "Pizza and Love" was also severely burned. She remains in hospital in Cancun. She has already endured three operations and needs three more. Her recovery will be a long and painful process.
Already at least three benefits have been staged to help the victims and their families. Cantina Habanero is accepting donations and you may give via PayPal through this website set up for Cecilia.
---
Advertising:
---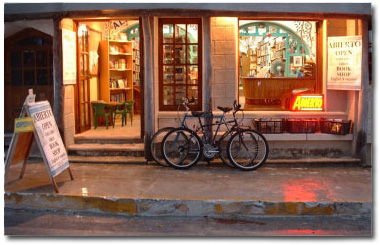 Just a reminder that we are open 7 days a week for the season. Our hours are Monday through Saturday from 10:00am to 3:00pm and 6:00pm to 9:00pm. We are closed between 3:00pm and 6:00pm for siesta. Sunday we are open 4:00pm to 9:00pm.
Our hours are always posted on the front page of our website at www.almalibrebooks.com.
We take trades every day, so our selection is constantly changing. If you are planning a trip down, why not bring some recent bestsellers to trade and check out our store, or plan to buy all your reading material at Alma Libre. We got you covered!
We look forward to seeing you in Puerto Morelos!
---
Beach Reads is the official newsletter of Alma Libre Bookstore in Puerto Morelos Mexico. It is mailed directly to your mailbox if you request it. Beach Reads is published on a sporadic, seemingly random basis...but it is supposed to be approximately monthly during the season at Puerto Morelos. The season is November until after Easter. We do our best to publish it regularly...but we are easily distracted...
Our website is located at www.almalibrebooks.com Our store hours are always on the home page.
If you do not wish to receive this newsletter, please Click Here To Unsubscribe
This is Year #8, Issue #4. March 2010
To subscribe or make comments or suggestions or advertise your local event, please Contact Us
Retransmission & Redistribution of this newsletter without express written consent is just fine by us! Send this newsletter to a friend! (or get them to sign up for their own copy) If you like the newsletter, please support it by buying a book at Alma Libre Bookstore.
Text & Photos ©2002-2010 Alma Libre Bookstore. Please do not use our content on your website without our specific permission.