---
Advertising:
---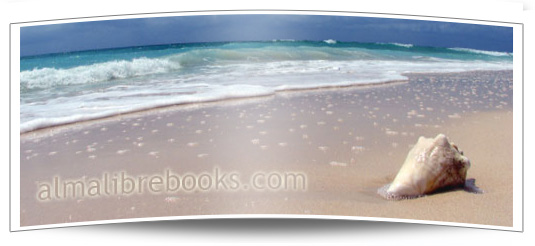 News from Alma Libre Bookstore - Puerto Morelos, Mexico
In this issue:
---
"Best of Puerto Morelos" Survey Results
The voting is complete and the results are in. For six years now we have been asking our readers what they like best about Puerto Morelos. We ask this because we are curious of course, but we like to compare notes with our visitors to see what they have discovered in our town in case we're missing something! As always, we were delighted to get a lot of responses and we thank you for taking the time. Now, without further ado, here are the results of our 2010 survey.

Favourite Restaurant

1. Hola Asia - A wide open race this year, but the result is the same. For the past six years Hola Asia has topped our poll.
2. Pelicanos - On the square and on the water. Popular with tourists and Cancuneses.
3. David Lau's - Chinese food, pizza and Valorie.
4. Cantina Habanero / El Pirata (tie) - A first ever tie for two places with loyal followers.
5. L'Oazis - Consistently good food and service.
6. Posada Amor - As old and as popular as the town itself
7. Las Palmeras/Old Fisherman - Has been at several locations and has at least two names, but people love it.
8. Terazza - Top choice for healthy and vegetarian food.
9. Spaghettino's - New location this year across from the Handicraft Market
10. John Gray's Kitchen/Al Chimichurri - The original in the Gray restaurant empire & PoMo's favourite empanada place.

Here's a look at all the restaurant lists since we began this survey in 2005.
| | | | | | |
| --- | --- | --- | --- | --- | --- |
| 2010 | 2009 | 2008 | 2007 | 2006 | 2005 |
| Hola Asia | Hola Asia | Hola Asia | Hola Asia | Hola Asia | Hola Asia |
| Pelicanos | Bodo's (RIP) | Bodo's | Bodo's | Pelicanos | Pelicanos |
| David Lau's | Pelicanos | Pelicanos | Pelicanos | Bodo's | Caffe del Puerto |
| Cantina Habanero/El Pirata (TIE) | David Lau's | El Pirata | El Marlin Bleu | John Gray's Kitchen | John Gray's Kitchen |
| L'Oazis | El Pirata | David Lau's | John Gray's Kitchen | Caffe del Puerto (RIP) | |
| Posada Amor | Cantina Habanero | El Marlin Bleu (RIP) | El Pirata | El Pirata | |
| Las Palmeras/Old Fisherman | John Gray's Kitchen | John Gray's Kitchen | Old Fisherman | El Marlin Bleu | |
| Terazza | L'Oazis | Dona Triny's | | | |
| Spaghettino's | La Suegra | Los Gauchos | | | |
| John Gray's Kitchen/Al Chimichurri (tie) | Posada Amor | L'Oazis | | | |
With the popular Bodos serving its last schnitzel last year, we thought the list might change a little for 2010, but people still love their favourites. Some new places got a lot of votes too, like T@cos.com, which just opened it's doors around Christmas and La Panza es Primero. Also bubbling under the list were La Suegra, Mama's Bakery & Cafe de Amancia.
You can use this list to find your new favourite, but the truth is you can't go very wrong in Puerto Morelos. Considering our size, we have an astounding number of very good restaurants. More than 25 places received votes in the survey...meaning virtually EVERY place was somebody's favourite. Drop by the bookstore and we'll tell you ours. Drop by our website to see our constantly updated list: www.almalibrebooks.com/restaurants.htm
We enjoy collecting the results of the survey and it involves quite a bit of detective work. We often get responses like, "the place on top of the supermarket" or "the place near the corner on the square near the palm tree". Often people don't seem to know the name of the place, but they know the owner. Sometimes they know the name of the place, but have no idea how to spell it. Our policy is, if we can understand it...we'll count it.

Favourite Place to Get a Drink - We had a wide variety of answers on this, but here's the top 6 (or eight)

1. Cantina Habanero
2. Pelicanos
3. Ojo de Agua
4. Hola Asia / Bar Ixchel
5. El Pirata
6. Cafe de Amancia / David Lau's

Cantina Habanero led the pack on this one, which is pretty good considering they do not have an ocean view. There is always lots to entertain you at Habanero's though and you'll always find a local or two here. Most of the other top choices feature ocean views, happy hours or both.


Biggest Attraction of Puerto Morelos

This one was pretty easy to answer. Most people mentioned the beach, the ocean and the reef. They also like the laid-back feel of the town and the people. Here's a sample of what we got:
-we loved it, how small and quaint it was, and it felt very home like quickly to us!
-The entire town!!! Everything is walking distance. It is small and friendly. The Jungle Market and Spa, if I had to narrow it down to one thing. Or the margaritas at Posada Amor. Or the soft sandy beaches that are not overcrowded. Or the nice mix of tourist and natives.
-the reef! the lifestyle! the people! the reef again!
-The people, very friendly and we always felt welcomed where ever we went. The "safe" feeling of walking down the streets at night.
-Laid back atmosphere, not touristy, still appears to be a real Mexican town, but with enough restaurants and attractions to appeal to someone on vacation.
Favourite Shop in Puerto Morelos

We write the newsletter and we write the survey, so it's pretty obvious that we want to win this category! Luckily, as with every other year, you said Alma Libre Bookstore was your favourite shop in Puerto Morelos. Anyone that didn't vote for Alma Libre was hunted down and fed habanero peppers until they agreed that they "really should have voted for the bookstore".

Also mentioned were the popular Mayan Handicraft Centre, the Jungle Market and Mauricio's Hammock Shop.

Preferred Accommodation in Puerto Morelos

We asked at what type of place do you like to stay in PM. Most people said they preferred to stay in condos or houses for their PoMo vacation. An answer we like to see since we have quite a few of these on our website. People also like to stay in small hotels and all-inclusives.

Favourite Book to Read in Puerto Morelos

We ask this question every year to make sure we are bringing in the correct books and to get ideas of what we should read next. As usual we had a wide variety including: "anything" or anything by James Patterson, Vince Flynn, Nora Roberts, Ken Follett. Our favourite answers: "Anything at Alma Libre" and "Restaurant menus". Most disturbing answer was "Don't read." Hmmm.

Favourite Place to visit in the Yucatan other than Puerto Morelos

Hate to encourage anyone to leave, but we like to explore too. Top answers were Tulum, cenotes, Puerto Adventuras, Xel-Ha, Akumal, Merida, Xcalak, Coba, Valladolid, Isla Mujeras and the Jungle Market. Our favourite answer, "anywhere as long as I can be back in PM by 5:00." (We have some daytrip ideas on our website here)


How many times have you visited Puerto Morelos?

Be careful if you visit us, seems to be very difficult to come here just once! More than 50% of our responders have been here five times or more. 15% live here.

Where Are You From?

We may be in a tiny town, but our newsletter gets around! Most of our responders were from directly north of us. 66% are from the US and 30% are from Canada. The other 4% are from Europe and South America. Bienvenidos!

Favourite Cheap or Free Thing to do?
Some of the best things you can do in Puerto Morelos are absolutely free (or cheap). Our readers like to walk on the beach, or just walk aimlessly around the town. A lot like to watch the fishermen and some like the simple thrill of a book and a hammock. Some like to go to one of the local churches. For cheap thrills, many mentioned getting a book at the bookstore, or pursuing the thrill of happy hour. One responder said they like to "walk & read"...hopefully not at the same time!
Favourite splurge?
Turns out that even the "big splurges' in Puerto Morelos are pretty affordable. Many mentioned going out to dinner, getting a massage, going scuba diving, taking a cooking class, having a catered dinner, taking a tour, going on a zip-line or buying a nice piece of jewelry. Looking at the list, most of those things can easily be had for less than $100. Not really a big splurge at all!

*Thank you for taking our survey again this year and congratulations to all those places you picked as your favourites.
Help the Bookstore on Trip Advisor

Our town and bookstore have been discovered by a lot of visitors to TripAdvisor.com. We lurk at the site ourselves and try to help visitors discover Puerto Morelos and correct some of the misinformation that often comes up on the site. If you like Alma Libre Bookstore, please write a review for us on Trip Advisor. Any review will move us up in the "Puerto Morelos Things To Do" list, and a positive review might help bring more folks into the bookstore!

Visit our profile and give us your honest review here or use the box to the left. We appreciate your support!
Seeing Spots?
We've changed our pricing system on used books at Alma Libre Bookstore. Instead of penciling in the price on the first page of the book, we've switched to a "dot system". Each used book will have a brightly coloured dot on the spine. The dot represents the price of the book, we have price guides all over the store. The dot system allows us to keep up with the fluctuating peso. We used the opportunity to lower our prices on hundreds of books all over the store. Check us out!
Bookstore Hours - We're open 7 days a week!
Once again Alma Libre Bookstore is open seven days a week. Monday through Saturday we are open 10am to 3pm and 6pm to 9pm. Sunday we are open 4pm-9pm. Hope to see you at the bookstore this season!
Jungle Market and Spa
The beach is big, but the jungle is the place to be again this season. The popular spa is in full swing and has been running all summer. Curious clients from the big all-inclusives are being lured out of their overpriced spas and into the jungle. A much more genuine experience and much better prices!
The spa has been so popular, they have expanded the days that it is open and are requesting that people make appointments, either by telephone or email. This will ensure you don't waste any time waiting for your treatment.
To make an appointment, contact Sandra at (998) 208 9148 or Cell 044 998 180-5424 or by email through her website. Appointments are available Tuesday-Saturday and limited appointments are available on Sunday. The spa is closed on Monday.
Many treatments are available, from manicures and pedicures to a luxurious aloe vera and banana leaf wrap and massage! (or a chocolate massage...does it get any better??) For men, there is the "Mayan Macho" massage. You've never had a massage like this!
Spa prices are much lower than you will find at your resort or in town and proceeds go directly to the Mayan families that work at the spa and Jungle Market.
The Jungle Market has also begun. Sandra and the Mayan ladies spent the whole summer working on a new show with new dances, including the intricate "Ribbon Dance" which you can participate in! The show begins at 11:30, but get there earlier so that you can sample some of the food and check out their unique souvenirs and gifts at the market.
It's easy to get out to the jungle by car, taxi or collectivo. It's on Calle Dos (kie-yay dose) in the Zona Urbana, which is right behind the Colonia. Here's a map you can print out. Taxi to the jungle from the town square is 50 pesos. A taxi from nearby hotels is 150 pesos or $12 US each way. Tell driver you want to go to: Jungle Spa - Sandra (important to mention her name) Zona Urbana. The easiest way to get to the Jungle Market is catch the bus at the Mayan Handicraft Centre at 10:30 Sunday morning. Cost is just 5 pesos.
Remember, when you pamper yourself at the Jungle Spa or buy a unique gift at the Mayan Market, you are directly supporting Mayan families! This is a very worthwhile venture and we hope you will support it.

Money Matters
Just a reminder to visitors that there is no place to cash traveler's cheques in Puerto Morelos. The easiest way to get pesos is at the HSBC ATM (ABM) beside the supermarket on the square. If it is out of money, there is another machine at the intersection of the road to Puerto Morelos and the federal highway. There are also two ATMs in town that are not affiliated with banks. One is at the mall across the square from the bookstore and another is at OXXO. Since these are not affiliated with a bank, the fees are much higher than the HSBC machine.
If you wish to cash a traveler's cheque, you can do it at the airport or in Cancun or Playa del Carmen.
---
Home and Condo Rentals
How about a spring fling? We still have some homes and condo rentals available for the season. If you have never stayed in a private home or condo, you are in for a wonderful experience. You have all the comforts of home on your vacation. All you have to do is bring your clothes and toothbrush. Everything else is included from towels and linens to hammocks and blenders.
Many ex-pats have built their dream homes here in PM and are willing to rent it to you! Renting a place makes you feel more like a local and offers the convenience of cooking for yourself and much more privacy.
Regular Beach Readers know that we feature some of these properties on our website. There are a gazillion property rental sites out there, but our site is unique because these are properties we know, owned and run by people we know and trust. We like to think we take the guesswork and risk out of renting.
We're always adding new properties to the site. Here are some examples...
*By the way, it is not too early to start thinking about 2011. We are already booking February & Christmas 2011. Don't miss out!
Check out our new, easier to navigate rentals page here.
Owners! Contact us to get your FREE listing on our website.
---
Home and Condo Sales
If you have ever thought about owning a piece of paradise, this may be your opportunity. Some prices have actually come down, something we have not seen in eight years of living here.
Here are a couple of places we are featuring:
Price Reduced!

2 bedroom / 2bath oceanfront condo on quiet beach

This one has just come onto the market. It's on the beach and is being sold fully furnished, ready for your next vacation or to generate rental income. The ground floor suite is steps away from the ocean or the condo's swimming pool.

It features all the comforts, including high-speed internet, cable TV and a fully equipped kitchen.

3 bedroom / 3.5 bath - 3 story townhome

Now furnished & price reduced

Fully detached home is part of an established, well managed townhome community. (total 12 units) with swimming pool.

This well-built 270 m2 = 2,700 square feet home has three stories and a large sundeck
Find more places on the PoMo real estate section of our website: http://www.almalibrebooks.com/realestate.htm
---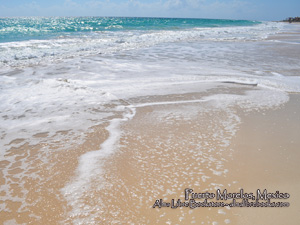 Free Gift From Alma Libre Updated for February & March
For those of you still stuck up North, bring a small piece of Puerto Morelos to your home or office with our new Puerto Morelos Wallpaper. Beautiful of course, and practical too with February & March calendars built right in. This month's wallpaper is a new view of the lighthouses and beach off our town square.
We'll have new pictures available for download every month! Wallpaper is also available on our website at www.almalibrebooks.com.
Pick your wallpaper size:
1280 x 1024 1024 x 768 800 x 600 1600 x 900 CLICK HERE FOR WALLPAPER INSTALLATION INSTRUCTIONS
---
Hotel News: Villas Latinas is back under old management. Carmen Hotels is no longer running the hotel as Carmen Beach. They are still running Hacienda Morelos as Carmen Hacienda. If you have reservations with Carmen Beach, you can contact Carmen Hotels who will offer you accommodation at Carmen Hacienda. The hotel changed management suddenly and without warning on January 11, 2011.
The 5th Annual Festival of Music in Puerto Morelos is back again! It will be held every second Friday in the town square. The next show is February 5. (Then Feb 19 and the 5th and 19th of March.) This popular (and free) event will be held in the square beginning at 7:00 pm. The event showcases the talent of the citizens of Puerto Morelos. You will hear all different kinds of music played by musicians of all ages. You can be part of the show too, just contact the organizers at the Casa de la Cultura. If you are not familiar with the Casa de la Cultura, it is a fantastic local resource for citizens and visitors to Puerto Morelos. They hold classes of all kinds for all ages and sponsor cultural events like films and lectures. Well worth checking out and very worthy of your support. Check out their brand new website at: http://www.casaculturapuertomorelos.com/
Spanish Lessons: At long last the Casa de la Cultura is offering lessons in espanol! They will have classes Mondays and Wednesdays from 6:00 to 7:00. Classes start February 8. Vamos!
Music of the Night: The sixth annual Night Of Music will be held at the Aldolfo Lopez Mateos Primary School on February 15. This wonderful evening of music and food is an important fundraiser for the school. Musicians range from children at the school to professional musicians from the Riviera Maya. The music starts at 5:00. The school is located right beside Hotel Villas Latinas.
Super Bowl: For our Canadian friends, this is the U.S. version of the Grey Cup. It doesn't have quite the history of Canada's 97-year-old Cup, but the 44-year-old Bowl should be a good game this year. A few places around PoMo should have it on the tube, the one we have heard most about is David Lau's, who will be offering a free drink every time your team scores! We'll be pulling for the Saints, as we fell under the spell of the "Who Dat?" nation when we visited the Big Easy earlier this year...but we'll be watching the commercials too.
Restaurant News: The good folks at The Biergarten in Puerto Morelos like to keep things fresh. This applies to their cooking for sure and also their management and menu! The new manager is Armando, who actually is their old manager. He made the Biergarten a popular place for locals & visitors in the summer. The menu is still being tinkered with, but Armando promises it will definitely be German and definitely tasty. He also promises a special every evening at a good price. We noticed that they have a happy hour in the afternoon too. Check them out!
La Aldea is open again. They probably have the best location in town, right on the square and right on the water behind Mayan Riviera Properties. They are open 9-9 and have healthy meals and snacks.
"The French Kiss" is open again, but now is an internet cafe. They have lots of machines and offer inexpensive long-distance calls as well as copy services. Not sure what led to the change.
Las Boleadoras, the steak restaurant that opened last May is closed and is now for sale.
Also for sale is Computips, the papelaria and internet cafe next to OXXO.
Life in Puerto Morelos: We are having a great time this season just living the Puerto Morelos lifestyle. There are so many restaurants in town now, we can't possibly keep up. We finally made it to La Panza es Primero (the stomach is first) the other evening and loved the food, the beautiful location and the value. This is actually a chain restaurant from Spain, but they specialize in Mexican food. Old favourites are hard to resist too. We are loving the fresh fish at La Petita, one of the town's oldest restaurants and the lunch buffet at Hola Asia is a great value at 65 pesos. The shrimp tacos and special sauces at Peskayitos are so good we never have to make a trip to Playa for our shrimp taco fix and of course the Roquefort empanadas at Al Chimichurri are something that should not be missed.
Music is a big part of the season this year too. One recent evening at Cantina Habanero we heard a singer belting out a song about an evening at Cantina Habanero! Very funny and clever songster. Another evening there we saw a jam with a rock band and a bagpipe player! A most unusual combo...especially for Mexico...but it just worked. Peskayitos and David Lau's are sharing The Men in Blues, a big blues band from Quebec that prefers to spend their winters in PoMo. They also recently played in a benefit for earthquake victims in Haiti. For more blues, check out regular visitor Cooker John. He's playing Roots in Cancun and I'm sure we'll see him around town.
Bunch O' Booths: A lot of booths have sprung up around the square and even in restaurants. Most of these booths are selling snorkel and fishing trips. Some are selling tours. Some are selling time-share or vacation clubs. Make sure you know the difference when you are talking to the person at these booths. If the price seems to good to be true, there may be strings attached. Check out our Puerto Morelos Services page for good local businesses.
Feel Better: Reminder that Mauro Jaramillo is back in town and has re-opened his Centre for Corrective Myotherapy in a new spot. It's now close to the square and ocean on the same street as La Suegra restaurant. Look for his familiar blue and white "AQUI" sign, easy to spot.
Road Warrior: Road paving appears to be on again after being off for a few weeks. Still a few of the roads need a little black stuff.
Basura: Our fun-loving garbage guys have discovered that their jobs are much easier and the route goes quicker if they just skip half the houses! Our service has gone seriously downhill since they handed the service over to a private company last year. I thought it was just our street, but lately they have started missing the bookstore's building downtown and other homes on both sides of the highway. I see trash piling up all over town. If you have a problem with the boys in the basura, let them know at tierra@grupodomos.com or contacto@grupodomos.com. Make sure they know where you are complaining from. Their office is in Monterrey. I have not had any luck yet, but maybe volume will help.
New ATMS: A couple of new bank machines have sprung up on the square. One is at the OXXO and the other is at the mall near the fish co-op. Convenient yes, but since they are not affiliated with a Mexican bank, their fees can be outrageous. A friend of ours used one and the fees came out to almost 10% of what she was able to take out! The HSBC machine should cost less than half of that (we get charged a total of $5 by HSBC and our Canadian bank) and will allow you to take out more cash. The bank's machine does run out of money on occasion, especially on weekends, so to avoid the high-fee independent machines don't let yourself get too low on pesos.
As we reported before, The Miami Herald Cancun Edition is no more. Look for a copy of the USA Today Cancun Edition at your hotel or convenience store. It's being put together by the same local staff.
Did I miss any local news? Let me know!
This Newsletter is being sent to you on a new server. It charges us for each individual email that it sends out, so if you are receiving this email more than once, please unsubscribe the extra addresses. Because it charges us for each email, it is very careful to ensure all the addresses are valid. If it has trouble getting the email to you, it will delete your name and never send you another email. If you were receiving our email, but now you are not, try signing up again using the form on our web page. This "double-opt-in" system is much more accurate and should ensure you continue to receive this newsletter. You can try adding our email address to your contact list too, so that your spam blocker doesn't delete us. Gracias!
Don't hate us, we've added Google Ads to the newsletter in an attempt to cover some of its costs. We have no control over the ads that pop up, Google decides that, and we are in no position to tell them what to do! Please let us know though if anything odd shows up. Please note, these ads don't begin to cover our costs for this newsletter. If you like this newsletter, please support it by buying books at Alma Libre. Gracias!
Current Exchange Rates (At the exchange in Puerto Morelos)
USA Dollar 12.20
CDN Dollar 10.80 (this is a low exchange for the Canadian buck. Best to use the ATM to get closer to the real rate, which is just under 12)
---
This Just In! Books & Products at Alma Libre
Read all about it!
We love to keep you up to date with the town, but it's books that pay the bills. Have a look at some of the titles we're most excited about...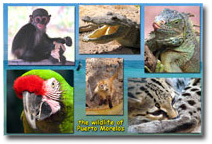 Postcards! We've added a lot of new postcards to our collection, including more underwater shots by "Dive Diva." We have the largest selection of Puerto Morelos postcards, and they are all exclusive to Alma Libre. We know because we make 'em! We also have blank greeting cards to cover any occasion you may wish to celebrate while you are in paradise.
Gift Certificates! A nice gift idea for someone who lives here is an Alma Libre Gift certificate. Available in any amount and can be used for new or used merchandise. We can accept payments from up north via Paypal.
---
Photos of the Month
| | |
| --- | --- |
| | |
| Dali Dock: We noticed the dock by Pelicanos has been rearranged slightly giving it a surrealist tilt. Fun to walk on...but do not attempt after too many margaritas! | Soul & Sol: Saw this beer truck parked in front of the church the other morning. For the record, it was the OXXO getting the delivery, not the church. |
| | |
| Mayan Princess: Our friends Lloyd and Lisanne from exotic Edmonton visited the popular Jungle Spa recently and captured a shot of this little cutie. | Desolate Dock: The main dock in town is a beehive of activity during the day with fishermen, divers and snorkelers. At night it's just a nice place to sit with your sweetie and enjoy the breeze. |
---
Advertising:
---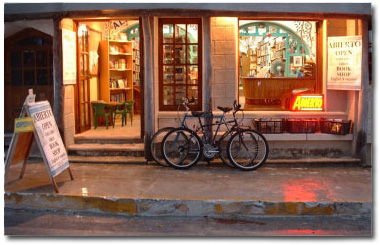 Just a reminder that we are open 7 days a week for the season. Our hours are Monday through Saturday from 10:00am to 3:00pm and 6:00pm to 9:00pm. We are closed between 3:00pm and 6:00pm for siesta. Sunday we are open 4:00pm to 9:00pm.
Our hours are always posted on the front page of our website at www.almalibrebooks.com.
We take trades every day, so our selection is constantly changing. If you are planning a trip down, why not bring some recent bestsellers to trade and check out our store, or plan to buy all your reading material at Alma Libre. We got you covered!
We look forward to seeing you in Puerto Morelos!
---
Beach Reads is the official newsletter of Alma Libre Bookstore in Puerto Morelos Mexico. It is mailed directly to your mailbox if you request it. Beach Reads is published on a sporadic, seemingly random basis...but it is supposed to be approximately monthly during the season at Puerto Morelos. The season is November until after Easter. We do our best to publish it regularly...but we are easily distracted...
Our website is located at www.almalibrebooks.com Our store hours are always on the home page.
If you do not wish to receive this newsletter, please Click Here To Unsubscribe
This is Year #8, Issue #3. February 2010
To subscribe or make comments or suggestions or advertise your local event, please Contact Us
Retransmission & Redistribution of this newsletter without express written consent is just fine by us! Send this newsletter to a friend! (or get them to sign up for their own copy) If you like the newsletter, please support it by buying a book at Alma Libre Bookstore.
Text & Photos ©2009/2010 Alma Libre Bookstore. Please do not use our content on your website without our specific permission.