---
Advertising:
---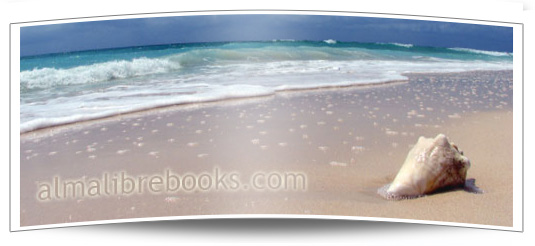 News from Alma Libre Bookstore - Puerto Morelos, Mexico
In this issue:
---
Happy New Year! Feliz Año Nuevo!
Hope you and yours had an excellent holiday season. For those of us in Puerto Morelos, it was a fun and busy time. After a long off-season, we were all delighted to have visitors in town again! The square was decorated with an elaborate Christmas Nativity scene, which seemed to encompass every possible seasonal icon in one place. Lots of lights and a shiny Christmas tree added to the festive mood. About all we were missing was snow...and we weren't missing that one bit!
This photo is from the annual Christmas Posada, where Mary and Joseph go around the square looking for a place to spend the night. Mary was riding a real donkey and there were no shortage of angels...and one devil.
Puerto Morelos welcomed the New Year with parties all over town, in the square, on the beach and in restaurants and bars. People burned effigies representing the old year and ushered in the new one with noise and music.
We hope that your 2010 includes plans for a visit to Puerto Morelos!
Our Ship Has Come In!
Our bookstore is literally bursting at the seams right now as our shipment of new books is finally in our hands. We ship books in every year from the United States and Canada to make sure we always have good stuff on the shelves for you!
This year we brought in books more than ever! We have a good selection of travel guides, bird books, fish books, books on the Maya (including 2012) and books to help you with your Spanish.
We also brought in a good supply of new cookbooks and biographies. All this plus several thousand gently used fiction & non-fiction books. Come check us out. we have never had such a good selection! Look for more details on specific titles later in this newsletter.
Seeing Spots?
We've changed our pricing system on used books at Alma Libre Bookstore. Instead of penciling in the price on the first page of the book, we've switched to a "dot system". Each used book will have a brightly coloured dot on the spine. The dot represents the price of the book, we have price guides all over the store. The dot system allows us to keep up with the fluctuating peso. We used the opportunity to lower our prices on hundreds of books all over the store. Check us out!
Alma Libre Bookstore/Puerto Morelos Annual Survey (6th Annual!)
Time again for our annual Puerto Morelos survey, where we try to find out what you like best about Puerto Morelos. Your favourite places to eat, hang out or have fun.
The purpose of the survey is to find out what your fellow newsletter readers love most about Puerto Morelos. Perhaps you have been missing something, and you can use the survey results to plan your next trip. The most popular question we ask is for your favourite restaurant. We're expecting this one to be extra popular this year. For a reminder of all the restaurants in Puerto Morelos, see our complete restaurant list. (opens in a new window)

We've made it easier to fill out our survey this year, it appears in a separate box below. Use the scroll bar on the right to see all the questions. Click finished when you are done, then you can go on with the newsletter...we'll wait for you....


*Note: If you are unable to scroll the survey and see all the questions, sometimes happens to Firefox users, click the link below and the survey will open in a new window.
Click here to take the survey if you are unable to see all the survey questions above.

Please only fill out one survey per person. "Stuffing the ballot box" will not be tolerated and those responses will be deleted. Survey will close at the end of January.

To get you in the mood, here are some of the results of last year's survey:

Favourite things to do in Puerto Morelos: Here's a partial list in alphabetical order: be on the water, beach, bicycle, browse the bookstore, chat, chill, daytrip, dive, drink, eat, fish, hammock, hang out, nothing, people watch, read a book, relax, shop, snorkel, stroll, swim, veg, walk.

Favourite Restaurants: Hola Asia was number one again last year followed by Bodo's, Pelicanos, El Pirata and David Lau's.

Favourite Place to get a drink: Top three were Pelicanos, Hola Asia and Ojo de Agua.

Favourite Shop: Alma Libre Bookstore (whew!) also the Sunday Jungle Market, the Mayan Handicraft Centre and Mauricio's Hammock Shop.
Bookstore Hours - We're open 7 days a week!
Once again Alma Libre Bookstore is open seven days a week. Monday through Saturday we are open 10am to 3pm and 6pm to 9pm. Sunday we are open 4pm-9pm. Hope to see you at the bookstore this season!
Shock Treatment
We had a chance to try out a new service being offered in Puerto Morelos and area. The Green Zone can rid your home of viruses, bacteria, mildew or mold without chemicals or mess and remove powerful odors in the process. They use ozone, which is simply three molecules of oxygen linked together. The company generates ozone in your home or business using machines imported from the US. The ozone kills harmful organisms by oxidizing them. The ozone then reverts back to oxygen leaving behind a pleasant fresh scent. (kind of like after a thunder storm)
The Green Zone offered to test their process in our bookstore. This is a pretty tough test since our store, for lack of a better term, always smells like a bookstore! Several thousand books on the shelves will do that! Two technicians set up three ozone machines in our bookstore at the front, back and middle. Next they placed fans around to move the ozone around. We closed up the bookstore and let the machines work for about three hours. We then opened up all the doors and windows and used the fans to blow fresh air into the bookstore. There was no residue on anything and no mess.
The results were noticeable right away. Our normal "bookstore smell" was gone. It was replaced with a clean, fresh and generic scent. The surprising part is that the fresh scent remained, even days & weeks later when we had the bookstore closed up again.
The obvious use for this technology is for your house here in paradise. Homes near the beach can get a musty smell from being closed up and from our high humidity. The process freshens everything in the house including furniture and mattresses without having to move anything and without chemicals. They can also treat cars or boats. It also gives you a good feeling knowing that the air you are breathing is fresh and free of viruses, bacteria, mold and mildew.
This same technology is being used up north in houses and hotels. They even use it to remove the smoke smell after a fire and to clean up after floods.
Check out The Green Zone's website for more information...and come into the bookstore and take a sniff!
Jungle Market and Spa
The beach is big, but the jungle is the place to be again this season. The popular spa is in full swing and has been running all summer. Curious clients from the big all-inclusives are being lured out of their overpriced spas and into the jungle. A much more genuine experience and much better prices!
Market and Spa founder Sandra has come up with a new way to attract men to the massage table. It's called "The Mayan Massage" (also known as "The Mayan Macho".) Are you tough enough for the massage of your life? They have also installed a post so the masseuse can walk on your back (if you like). This is a very old Mayan tradition.

The Jungle Spa is open every Wednesday & Friday. You can make an appointment for Tuesday, Thursday or Saturday. Pamper yourself for less! Many treatments are available, from manicures and pedicures to a luxurious aloe vera and banana leaf wrap and massage! (or a chocolate massage...does it get any better??)

Spa prices are much, much lower than you will find at your resort or in town. To get pampered, just show up Wednesday or Friday between 10am and 4pm. If you can't make it on those days, try making an appointment for another day. Call Sandra (998) 208 9148 or Cell 044 998 180-5424

.

Closed Monday.

The Jungle Market has also begun. Sandra and the Mayan ladies spent the whole summer working on a new show with new dances, including the intricate "Ribbon Dance" which you can participate in! The show begins at 11:30, but get there earlier so that you can sample some of the food and check out their unique souvenirs and gifts at the market.

It's easy to get out to the jungle by car, taxi or collectivo. It's on Calle Dos (kie-yay dose) in the Zona Urbana, which is right behind the Colonia. Here's a map you can print out. Taxi to the jungle from the town square is 50 pesos. A taxi from nearby hotels is 150 pesos or $12 US each way. Tell driver you want to go to: Jungle Spa - Sandra (important to mention her name) Zona Urbana. The easiest way to get to the Jungle Market is catch the bus at the Mayan Handicraft Centre at 10:30 Sunday morning. Cost is just 5 pesos.

Remember, when you pamper yourself at the Jungle Spa or buy a unique gift at the Mayan Market, you are directly supporting Mayan families! This is a very worthwhile venture and we hope you will support it.

Money Matters
Just a reminder to visitors that there is no place to cash traveler's cheques in Puerto Morelos. The easiest way to get pesos is at the HSBC ATM (ABM) beside the supermarket on the square. If it is out of money, there is another machine at the intersection of the road to Puerto Morelos and the federal highway. There are also two ATMs in town that are not affiliated with banks. One is at the mall across the square from the bookstore and another is at OXXO. Since these are not affiliated with a bank, the fees are much higher than the HSBC machine.
If you wish to cash a traveler's cheque, you can do it at the airport or in Cancun or Playa del Carmen.
Facebook & Twitter

Are you on Facebook? If so, look for our Facebook groups. Friends of Puerto Morelos & Alma Libre Bookstore. You can also buck up your friends list by making Alma Libre Bookstore your friend.

You can also be a fan of Alma Libre Bookstore.

The groups have grown very quickly! Friends of Puerto Morelos just passed 625 members! If you are on Facebook, please join our groups. We'll use them to keep you up to date with town news between newsletters. Check out the group for new photos of Puerto Morelos, taken by fellow visitors!

And if that is not enough for you...you can also follow us on Twitter. This is our twitter home page. You can follow us throughout the day.
---
Home and Condo Rentals
It's not too late to make plans for this winter! We still have some homes and condo rentals available for the season. It you have never stayed in a private home or condo, you are in for a wonderful experience. You have all the comforts of home on your vacation. All you have to do is bring your clothes and toothbrush. Everything else is included from towels and linens to hammocks and blenders.
Many ex-pats have built their dream homes here in PM and are willing to rent it to you! Renting a place makes you feel more like a local and offers the convenience of cooking for yourself and much more privacy.
Regular Beach Readers know that we feature some of these properties on our website. There are a gazillion property rental sites out there, but our site is unique because these are properties we know, owned and run by people we know and trust. We like to think we take the guesswork and risk out of renting.
We're always adding new properties to the site.
OPEN JAN 27 to FEB 1 - Here's one we've just renovated, this can be rented as a one bedroom/one bath with a fold out couch, or as a two bedroom two bath. Each bedroom has it's own outside door to allow entry or exit without disturbing others.
It has a full kitchen with pots and pans, dishes and cutlery, plus appliances like coffee maker, toaster and juicer. Dinking water is included as well as cable TV and wireless internet in season. The suite features a huge terrace with table and chairs and two comfy hammocks. All this from $600 a week in season, $450 starting in May!
Click here for more information and pictures!
Here's a new place - A big one bedroom, two bath with a loft. The loft has a fold out couch and curtains for privacy. The couch in the living room also folds out into a bed.
Off the bedroom and the living room is a HUGE balcony with table and chairs for four and a comfy hammock.
Of course there is a full kitchen with pots and pans, dishes and cutlery, plus appliances like coffee maker, toaster and juicer. Dinking water is included as well as cable TV and wireless internet in season. $650 a week in season, $499 starting in May!
Click here for more information and pictures!
*By the way, it is not too early to start thinking about 2011. February & Christmas often book a year in advance here. Don't miss out!
Check out our new, easier to navigate rentals page here.
Owners! Contact us to get your FREE listing on our website.
---
Home and Condo Sales
If you have ever thought about owning a piece of paradise, this may be your opportunity. Some prices have actually come down, something we have not seen in eight years of living here.
Here are a couple of places we are featuring:
New Listing!

2 bedroom / 2bath oceanfront condo on quiet beach

This one has just come onto the market. It's on the beach and is being sold fully furnished, ready for your next vacation or to generate rental income. The ground floor suite is steps away from the ocean or the condo's swimming pool.

It features all the comforts, including high-speed internet, cable TV and a fully equipped kitchen.

3 bedroom / 3.5 bath - 3 story townhome

Now furnished & price reduced

Fully detached home is part of an established, well managed townhome community. (total 12 units) with swimming pool.

This well-built 270 m2 = 2,700 square feet home has three stories and a large sundeck
Find more places on the PoMo real estate section of our website: http://www.almalibrebooks.com/realestate.htm
---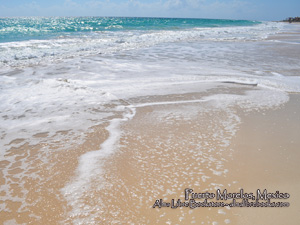 Free Gift From Alma Libre Updated for January & February
For those of you still stuck up North, bring a small piece of Puerto Morelos to your home or office with our new Puerto Morelos Wallpaper. Beautiful of course, and practical too with January & February calendars built right in. This month's wallpaper is a view of the lighthouses and beach off our town square.
We'll have new pictures available for download every month! Wallpaper is also available on our website at www.almalibrebooks.com.
Pick your wallpaper size:
1280 x 1024 1024 x 768 800 x 600 1600 x 900 CLICK HERE FOR WALLPAPER INSTALLATION INSTRUCTIONS
---
Breaking News: As of January 11, 2010 Carmen Beach group will no longer be running the Carmen Beach Hotel, formerly known as Villas Latinas. They sent this note to people who made reservations:
With this letter we inform you that from this date, CARMEN HOTELS will quit the operation and administration of the property commercially known until today as CARMEN BEACH HOTEL located in Puerto Morelos, Q. Roo.

This decision has been taken to follow the interests of the owners and of our Hotel's Group, so from this date on, we will NOT be responsible anymore for reservations (without any previous deposit or guarantee), nor for services offered and/or future lodging of guests in this hotel; nevertheless, if your event would not find an agreement with the new administration (of which at the moment unfortunately we don't have information at all) and if you would be interested, it would be a pleasure for CARMEN HOTELS to offer you to respect the special rates agreed for the reservations of the group, now in the CARMEN HACIENDA HOTEL OF PUERTO MORELOS, that is located at a few steps from the one you are reserving through us...

We apologize for the inconvenient caused by this notice, we thank you for your comprehension.
More breaking news! The 5th Annual Festival of Music in Puerto Morelos will be held every second Friday beginning on January 22. (That's Jan 22, 5 & 19 of February and the 5th and 19th of March. This popular (and free) event will be held in the square beginning at 7:00 pm. The event showcases the talent of the citizens of Puerto Morelos. You will hear all different kinds of music played by musicians of all ages. You can be part of the show too, just contact the organizers at the Casa de la Cultura. If you are not familiar with the Casa de la Cultura, it is a fantastic local resource for citizens and visitors to Puerto Morelos. They hold classes of all kinds for all ages and sponsor cultural events like films and lectures. Well worth checking out and very worthy of your support. Check out their website at: http://www.casaculturapuertomorelos.com/

This nativity scene decorated the square during the Christmas season.
Restaurant News: Lots of restaurant news once again in Puerto Morelos. Yodi's Eatery is now The Biergarten. With a name like that, you know we are talking German cuisine. The place stars one of the former waiters from Bodo's who is managing the restaurant. We've already been once and we were treated royally. It's just south of John Gray's Kitchen on Avenue Ninos Heroes.
A new restaurant sprung up where Taqcho used to be on the upper level of the mall on the square. It's called La Fragata, which is the Spanish word for those great big Frigate birds you often see near the docks when the fisherman are back. They have a varied menu they call "international cuisine". A fairly reliable source, Perry & Laura of Can-Do Maps & Guides gave the new place an enthusiastic thumbs up for food and service.
Another new place has popped up on the main road near Juicy Rosie's. It's called T@cos.com, it's not a real internet site, so don't even try it, but it is a new taco place. Looks good, and we can always use more tacos in our lives!
Still have yet to see "The French Kiss" open, also can confirm that Caktuz will not re-open. I'm suspicious Gato Azul is closed as well, but I have no proof.
A new women's fashion store called Sofia's has opened on the square, right below Hola Asia. They specialize in high-end beach wear which owner Sharon designs herself. They also have a lovely variety of shoes and accessories. The boutique recently shot fashion photos in our bookstore using Joanne, Daphni and Miki as models. The girls looked great. Photos were by our friend Adair of A2 Communication Arts. (Big news for him too as he has relocated his business to Puerto Morelos including his Riviera Maya Grip company, which has been busy working on films and commercials in our area and Belize.)
Our Daily Bread: Chef Dieter, formerly of the New England Pub in Puerto Morelos is now baking real German bread in our town. His main clientele are the big hotels in Cancun, but he is also baking for the good people of PoMo. The easiest way to get his bread, either Rye or Swiss Five Grain Bread is to pick it up at the supermarket Casa Martin right on the square. Orders from his bakery in Puerto Morelos can be placed at 998-251-1467, Cellular: 998-238-2433 or by e-mail: bayernbrot@yahoo.de. We've been fortunate enough to try his bread, and his special Christmas Stollen. You won't be disappointed. Of course, the locals know Mama's Bakery has always been the place to get good bread and her famous cinnamon buns. You can pick those right up at her bakery/restaurant on Rojo Gomez. There's more to life than Bimbo! Get yourself some real bread!
Mauro Jaramillo is back in town and has re-opened his Centre for Corrective Myotherapy in a new spot. It's now close to the square and ocean on the same street as La Suegra restaurant. Look for his familiar blue and white "AQUI" sign, easy to spot. Ginny will be town in March with Ricardo, whom many of you will remember as the owner of the internet cafe on Rojo Gomez. He has been studying at the Scherer Institute of Natural Healing in Santa Fe, NM, sponsored by Ginny & Mauro. He will return to Puerto Morelos to open a private practice and continue his training with Mauro. Bright future for a very good guy!
The Men In Blues are back in Puerto Morelos this season. They will have regular gigs at in the garden area at David Lau's on Saturday nights and at Peskayitos every Wednesday night. These guys pack the house wherever they go, so arrive early to avoid the blues! Also look for their DVD, it's an unedited recorded performance of their last gig at Caktuz. Great souvenir of Puerto Morelos, available at Alma Libre Bookstore.
Underwater statues: Last month we told you about something new underwater. Artist Jason de Caires Taylor is creating 400 statues, mostly of human forms which will be placed underwater near Cancun. The statues will quickly attract sea life and take some of the visitors away from the corals, allowing them a chance to recover. It should be quite a sight. What we didn't know is that the artist is creating these underwater artworks right here in Puerto Morelos, and a least two PoMo citizens are being used as models! Snorkel guide Joaquín Sutter is one of them. The artist visited our book shop, but did not ask to use me as a model...fears of scaring the fish perhaps? Check out the website for this unique venture here.
Road Warrior: Unbelievably I may have to retire this column as the paving crews returned to the former "poster-boy for Swiss cheese", also know as Avenue Ninos Heroes...and paved the heck out of it. It is now pristine. Smooth as glass and black as coal. It has not even been polluted with any topes yet, so travel is smooth, quiet and safe. Hopefully everyone can be mature enough to NOT turn this section into a Nascar track and the speed bumps will be unnecessary (taxis...I'm looking at you.)
The pavers continue to work, and it is conceivable that every road in the main part of Puerto Morelos will be paved this season (with the likely omission of Avenue Lazaro Cardenas) In other road repair news, a pothole crew showed up recently, filling the craters all over town. The roads in Puerto Morelos may no longer be a punch line!
The paved roads make it much easier to ride a bicycle in town now. You can actually get a decent long ride, and of course, there are no hills. Try heading south past the new hotels and check out the old "Magic Beach". (see photo below) When we rode down recently, the security guards at the end of the road offered to watch our bikes for us so we could stroll. You can rent a bike at the Travel Agency around the corner from the square, across from the OXXO.
The new overpass at the entrance to Puerto Morelos is virtually complete. It is a huge monster which effectively blocks any view of the entrance to the town, but it will no doubt be safer for drivers and the lack of a traffic light is always welcome anywhere. Hopefully people will continue to make a detour off the busy highway and find the tranquility of Puerto Morelos. To enter town from the north or south you just need to bear right at the overpass, then you will pass through a simple traffic circle under the bridge and enter town. The lanes have topes to slow traffic down and allow you to cross the road safely. There are pedestrian tunnels too at either end of the bridge with topes. Pedestrians "in theory" have the right away at these topes, but I would not test that theory. Make sure traffic stops before you cross.
A new overpass is also being built at the highway and Juarez in Playa del Carmen, making traffic just a little worse there. They have a few months to go before it will be done. Better news is that they are apparently working on a real bypass (Periferico) around Playa. This would greatly improve traffic and take the heavy trucks off the main road. My sources say the bypass is still a couple of years away.
The Ruta de Cenotes road is now beautifully paved all the way to the "Cancun to Valladolid" free road at Leona Vicario. We've been waiting a long time for this. Good shortcut for anyone wanting to take the free road to Valladolid, Ek Balam, Chichen Itza or Merida. Visitors with limited time should still take the expensive toll road as it is much faster.
Film Break: There have been big changes at Plaza Las Americas in Cancun, which is the biggest mall in our area. New stores have opened, including some familiar chains from the US. Even a new technology store has opened, which looks suspiciously like an Apple store. The best change in our opinion is that they have completely renovated the VIP theatres. This is the greatest way to see a movie in Mexico. The seats are now full recliners with a small table along side. You reserve your seat when you buy your ticket and of course, full restaurant service is available in your seat, including beer, wine and the usual theatre snacks. You can also get sushi! The theatres also feature big sound, and if the movie is a dud, you could probably get some decent sleep in that recliner. The same theatres also feature a couple of digital/3D screens. Not a bad thing to do on a non-beach day in the Mayan Riviera. Ticket prices are lower than a regular movie ticket at home.
No more free parking? We noticed Costco in Cancun is installing barricades and a collection machine in their parking lot. Do they aim to collect cash from their membership or is this aimed at the many new restaurants opening across from the store? Malls in Cancun and Playa have tried pay parking before, only to pull the gates out after shoppers revolted. (On the other hand we spotted real English muffins at Costco last week!)
Elton John will be performing at Chichen Itza on April 3rd. Tickets range from "expensive" to "Holy cow, that's expensive". (1000 to 10,000 pesos) Support Elton's shopping addiction by purchasing your tickets at Ticketmaster here. Sarah Brightman recently performed at the ruin.
New ATMS: A couple of new bank machines have sprung up on the square. One is at the OXXO and the other is at the mall near the fish co-op. Convenient yes, but since they are not affiliated with a Mexican bank, their fees can be outrageous. A friend of ours used one and the fees came out to almost 10% of what she was able to take out! The HSBC machine should cost less than half of that (we get charged a total of $5 by HSBC and our Canadian bank) and will allow you to take out more cash. The bank's machine does run out of money on occasion, especially on weekends, so to avoid the high-fee independent machines don't let yourself get too low on pesos.
As we reported before, The Miami Herald Cancun Edition is no more. Look for a copy of the USA Today Cancun Edition at your hotel or convenience store. It's being put together by the same local staff.
Did I miss any local news? Let me know!
This Newsletter is being sent to you on a new server. It charges us for each individual email that it sends out, so if you are receiving this email more than once, please unsubscribe the extra addresses. Because it charges us for each email, it is very careful to ensure all the addresses are valid. If it has trouble getting the email to you, it will delete your name and never send you another email. If you were receiving our email, but now you are not, try signing up again using the form on our web page. This "double-opt-in" system is much more accurate and should ensure you continue to receive this newsletter. You can try adding our email address to your contact list too, so that your spam blocker doesn't delete us. Gracias!
Don't hate us, we've added Google Ads to the newsletter in an attempt to cover some of its costs. We have no control over the ads that pop up, Google decides that, and we are in no position to tell them what to do! Please let us know though if anything odd shows up. Please note, these ads don't begin to cover our costs for this newsletter. If you like this newsletter, please support it by buying books at Alma Libre. Gracias!
Current Exchange Rates (At the exchange in Puerto Morelos)
USA Dollar 12.25
CDN Dollar 11.10
---
This Just In! Books & Products at Alma Libre
Read all about it!
We love to keep you up to date with the town, but it's books that pay the bills. Have a look at some of the titles we're most excited about...
Yucatecan Cuisine: The cuisine of the Yucatan is a fusion of the ancient foods of the indigenous Maya and European culinary tradition. Now the chef of the elegant Hacienda Teya restaurant in Merida shares his secrets in this book. Recipes include lime soup, poc-chuc and panuchos. Also includes desserts (flan and more) and sauces & relishes. Published in Merida, this book is not available anywhere but Mexico. At $5 US or $65 pesos, it is a bargain and a great souvenir.

2012: The Return of Quetzalcoatl - We are going to be hearing a lot about 2012 in the next couple of years. Depending on what you believe, it either means the end of the world, the beginning of a new spiritual shift in the world, or absolutely nothing. Author Daniel Pinchbeck offers his view based on his experiences around the globe. "In my book, 2012: The Return of Quetzalcoatl, I proposed that what happens in "2012" depends on what humanity decides to make of it. We might see global famines and wars and increasing misery, or we might decide to institute a new planetary culture based on empathy, alternative economic systems, sustainable design, and an equitable sharing of wealth. Rather than "doomsday," 2012 could be a time of positive transformation and the opening to a new way of life." - Daniel Pinchbeck.

Mexican Slang 101 - This book is the phrase book for those who want to really "talk the talk" and speak the way the locals speak. You'll find hip expressions like the proper way to say "cool" or "bummer", right down to the nastiest insults you can imagine. There is enough information in this book to be the life of the party, or get beaten up. Be careful how you use this book! Cover price is only 50 pesos or 5 bucks. Makes a great gift or gives you some training that Berlitz just is not going to give you! This book has quickly become a bestseller. Makes a great souvenir or gift.

Latin Style - We are very excited to have this new decorating book in our shop. It's big and glossy and features lots of pictures to inspire you to bring Latin style into your home. Juan Carlos Arcila-Duque is a Columbian born interior designer with notable clients throughout the world. He has designed everything from private residences to trendsetting restaurants. This book also includes a Latin music CD! "This is a charming book full of color, and the quirky style of what the author calls "Latin Style". This is much more than just a decorating book. The author chooses pictures that give you a sense of what it would be like to experience Latin style." - Amazon Reviewer

Forking Fantastic - This is not your standard title for a cookbook, which is good because this is not your standard cookbook, it is in fact a "kick-ass guide to entertaining". Friend of the bookstore and Rough Guide author Zora O'Neill and her kitchen partner Tamara Reynolds have created a one stop guide to holding a fun dinner party in your home. While the "Martha Stewarts" of the world would have you spending hours making little doily favours for your guests, these chefs offer practical advice and recipes on making your next dinner party fun, fab & facil. Isn't that what food with friends is supposed to be? Learn from the best (and learn from their mistakes) and make your next dinner party Forking Fantastic!

Birds & Fish - We share our beautiful area with some of the world's most interesting creatures. Every day we see wildlife in and around the town, from big birds to slithering reptiles and everything in between. To help you get to know your neighbours better, we offer several guides. For an overall view, you can't beat this book, the Traveller's Wildlife Guide to Southern Mexico by Les Beletsky. A gorgeous book packed with information and pictures. Covers fish, mammals, reptiles, birds and a little about the plant life here.

For more detail, we offer a choice of bird guides and our popular snorkel guide.


Spanish Language Learning Software- Now available for the Mac! - Since moving to Mexico, Joanne and I have struggled with our Spanish, especially those nasty verbs. Now our friend Jacky has invented a fun way to learn your verbs. Her Amigos Spanish program has full conjugation for 700 verbs and helps you learn with tests and puzzles. The program is totally customizable, allowing you to focus on the verbs you need to know. Plus it's fun, so you will stick with it and learn those verbs. To expand your vocabulary, try Amigos Spanish Puzzles a program featuring word games with English clues and Spanish answers (or vice versa). The program comes loaded with 2500 words, and you can even add your own words if you like! Both programs are available on CD at Alma Libre Bookstore or download it at Amigos Spanish.

Secrets of the Talking Jaguar is the story of the author's physical and spiritual journey from the Southwestern US to the highlands of central America. There he becomes apprenticed to a local shaman who teaches Pretchel much about indigenous Mayan life, and about life in general. We sold out of these last year in hardcover, this year we were lucky enough to get some soft cover editions. If you missed this book last year, don't miss it this time.
SPECIAL OFFER for Alma Libre Bookstore Customers

Cenotes of the Riviera Maya is the best book ever written about the cenotes in our area. Beautifully photographed, it could easily be called a coffee table book, but it is also has all the practical information you need to explore the cenotes whether you are swimming or diving. Many have drooled over this book, but the hefty (500 peso) price tag kept some people away. Now author Steve Gerrard has authorized us to lower the price. At 300 pesos, this book is an incredible bargain and it has been flying off our shelves...in fact we ran out for a while around Christmas, but we're stocked again.

Maps!

If you drive in our area, you need a map! We have excellent and detailed maps of the Yucatan, the country of Mexico, Cancun city, Merida as well as Belize, Guatemala, Cuba and Central America. We also have souvenir-quality maps you can hang on the wall.

This year we also have a good supply of "Map Chick" Mayan Riviera maps. These incredibly detailed maps will lead you to the best of the Mayan Riviera including restaurant and accommodation recommendations. This map has the most detailed map of Puerto Morelos ever made, as well as Puerto Adventuras, Akumal and the entire Mayan Riviera corridor.

Maps are usually difficult to find in Mexico, but only if you are looking in the wrong place! Plot a course to the bookstore...if you get lost...ask for directions...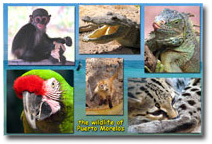 Postcards! We've added a lot of new postcards to our collection, including more underwater shots by "Dive Diva." We have the largest selection of Puerto Morelos postcards, and they are all exclusive to Alma Libre. We know because we make 'em! We also have blank greeting cards to cover any occasion you may wish to celebrate while you are in paradise.
Gift Certificates! A nice gift idea for someone who lives here is an Alma Libre Gift certificate. Available in any amount and can be used for new or used merchandise. We can accept payments from up north via Paypal.
---
Photos of the Month
| | |
| --- | --- |
| | |
| Beauty Shot: The beach south of town is still a very special place. We rode our bikes out a few weeks ago and were happy to find a nice quiet deserted beach, just as we remembered it. The reef is a little further out here too, so you will get waves and maybe find some shells. | Street Legal: This pedicab in Leona Vicario is fully equipped with lights for night trips and notice too it is officially licensed by the town. |
| | |
| Horsie Set: Here in Mexico we tend to be more fascinated with pollo rather than polo, but that may change thanks to El Ray Polo Club which is just 11 kilometres down the road from Puerto Morelos. Here's a shot of crews readying the giant field carved out of the jungle on the Ruta de Cenotes. The next tournament is January 16 & 17, with Mexico facing Argentina. | Location, location, location - This clever feline knows the value of a good neighbourhood. He's located himself in the wall around "La Petita" fish restaurant, where he can beg for high quality scraps. Here she's enjoying a little ceviche courtesy of a visiting family. |
---
Mexico Fun Facts
Our almalibrebooks.com website is getting more hits than ever. We keep track of where in the world the visitors to our website come from.

Here's a look at the people that stop by:

47% are from the United States

25% are from Canada

4.5% are from Mexico

the rest of the countries making up our top 12 are (in order) The United Kingdom, France, Germany, Belgium, Switzerland, Finland, Netherlands, Spain and Italy.

We've had hits from at least 93 countries.
Send your friends to Almalibrebooks.com for all the latest PoMo news!
---
Advertising:
---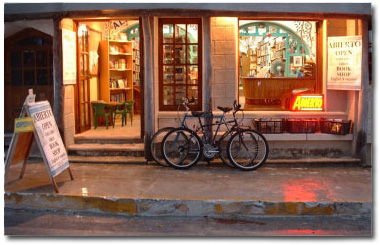 Just a reminder that we are open 7 days a week for the season. Our hours are Monday through Saturday from 10:00am to 3:00pm and 6:00pm to 9:00pm. We are closed between 3:00pm and 6:00pm for siesta. Sunday we are open 4:00pm to 9:00pm.
Our hours are always posted on the front page of our website at www.almalibrebooks.com.
We take trades every day, so our selection is constantly changing. If you are planning a trip down, why not bring some recent bestsellers to trade and check out our store, or plan to buy all your reading material at Alma Libre. We got you covered!
We look forward to seeing you in Puerto Morelos!
---
Beach Reads is the official newsletter of Alma Libre Bookstore in Puerto Morelos Mexico. It is mailed directly to your mailbox if you request it. Beach Reads is published on a sporadic, seemingly random basis...but it is supposed to be approximately monthly during the season at Puerto Morelos. The season is November until after Easter. We do our best to publish it regularly...but we are easily distracted...
Our website is located at www.almalibrebooks.com Our store hours are always on the home page.
If you do not wish to receive this newsletter, please Click Here To Unsubscribe
This is Year #8, Issue #2. January 2010
To subscribe or make comments or suggestions or advertise your local event, please Contact Us
Retransmission & Redistribution of this newsletter without express written consent is just fine by us! Send this newsletter to a friend! (or get them to sign up for their own copy) If you like the newsletter, please support it by buying a book at Alma Libre Bookstore.
Text & Photos ©2009/2010 Alma Libre Bookstore. Please do not use our content on your website without our specific permission.