---
Advertising:
---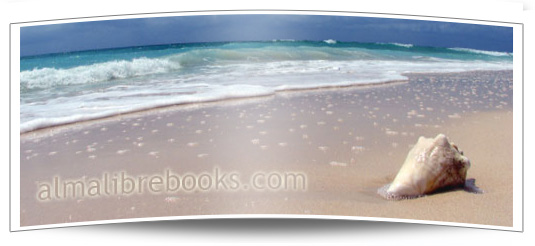 News from Alma Libre Bookstore - Puerto Morelos, Mexico

Year 08 Issue #1 - December 2009

Click here to go to our website: www.almalibrebooks.com
In this issue:
---
Hola! We're Back!
At long last we are back in Puerto Morelos and the Bookstore is open! We had quite a summer with a month of driving to Canada, a few months of work there, and then a long two-month meander back south through the US. We drove a total of 11,833 kilometres (7,353 miles) through 12 US states including a long sojourn through the South, including Tennessee, Alabama, Georgia and Louisiana. Most of this area was brand new to us and the friendliness, the sights and the history of the South blew us away. We also loved the Barbeque! More about our journey later in this newsletter, but let's get back to Puerto Morelos.
It was a pretty tough summer for your favourite town as the H1N1/Swine Flu drama played out. Planes simply stopped coming to our area in May because of the flu fears, which was ironic (or moronic?) as it never was a problem here and it likely was a problem in your home town!
For people that were able to spend some time down here, it must have seemed like an undiscovered paradise as they enjoyed un-crowded beaches, hotels and attractions at rock-bottom prices.
Now at last, H1N1 fears seem to be calming down and it is starting to get colder up north, so make your plans to join us in PoMo!
Those good deals are still available if you come before December 15, but after that the prices return more to normal. There are still some deals in early January and into March and beyond. Check out our rentals web page for some ideas on accommodations.
At the bookstore we have thousands of new books on the shelf and thousands more at the dock awaiting customs clearance. (We should set them free soon). Come check out our new selection.
Everyone in your town is excited about the upcoming season and we are looking forward to seeing you here!
The new addition to the square is completed and is a popular place to listen to the waves and people watch.
This Newsletter
This is newsletter 8-01, which means this newsletter is in its eighth year! For eight long years we have been giving you all the news and views of Puerto Morelos with a bit of humour and reasonably good spelling.
If you enjoy the newsletter, and according to the letters we get, many of you do, all we ask is that you support the town by buying a meal, a drink, a hammock or some other treasure and a book or two at Alma Libre Bookstore. You may also consider bringing some supplies for the schools in town.
Our mail distribution list grows every year and you can also keep up with us on Facebook and Twitter. So much technology for such a little town!
When we started all this back in 2002, there was very little information available on the town of Puerto Morelos. We thought such a special spot deserved a little more attention, and if more travelers knew about it, they would include the PoMo in their vacations.
People are coming and more websites have sprung up with information about Puerto Morelos. Guide books like Lonely Planet, Frommer's, Rough Guide, Moon and Fodor's all sing the praises of our little town by the sea.
I know there is a temptation to try to keep Puerto Morelos a secret, but doing that will not help all the people in the town who rely on tourism to feed their families! So please tell everyone you know about Puerto Morelos and send them a copy of this newsletter...okay just tell the nice people you know!
Gracias!
Bookstore Hours - We're open 7 days a week!
Once again Alma Libre Bookstore will be open seven days a week. Monday through Saturday we will be open 10am to 3pm and 6pm to 9pm. Sunday we will be open 4pm-9pm. Hope to see you at the bookstore this season!
Fresh Ink
Alma Libre Bookstore and their plucky owners were featured in the September issue of International Living Magazine. International Living is a great magazine for people looking to live in other countries. Joanne wrote the article about Puerto Morelos and the bookstore. We will have a link to it on our website soon.
Cooking Schools
In Puerto Morelos, the question isn't "What's Cooking?" it's "Who's Cooking?"...and the answer could be you. There are now two options help you recreate your Mexican vacation when you are up north.
Chef Miguel who you may know as the co-owner of Hola Asia is offering to share his vast knowledge of Mayan and Mexican Caribbean cooking. Chef Miguel has cooked all over Mexico and the Caribbean and is constantly searching the world for new flavours. It's a fun and festive afternoon learning about the unique flavours of our area...then you get to sit down and enjoy the results! Miguel will teach you how to bring a taste of Mexico back to your home. Click here for more information. (Miguel is also available for catering to Playa Secreto and Puerto Morelos)
The Little Mexican Cooking School begins classes on December 8 and will hold classes every Tuesday and Thursday until the end of April. It's a great way to spend a day, starting with breakfast, an introduction to Mexican ingredients and cuisine followed by a demonstration of 5-7 dishes. You can learn hands-on from Chef Claudia and then eat the results! The cooking school is owned by Patti Murphy and Catriona Brown. For more information check out their website.
Mexico 2010
Mexico has a lot to celebrate (no, not Lou Dobbs leaving CNN...that's just a bonus). 2010 will mark a double anniversary for Mexico. It is the bicentennial of its independence and the centennial of its revolution. The entire year has been proclaimed by President Felipe Calderón as "Año de la Patria," or "Year of the Nation."
September 15th, 1810 is the day of the "Grito de Dolores" or Miguel Hidalgo's call to take up arms against Spanish colonial government. The start of the Mexican Revolution is celebrated November 20th, 1910, when Francisco "Pancho" Villa and Pascual Orozco led the first insurrectionist attack.
In the Zocalo (main square) in Mexico City a large digital clock is counting down to the 15 September 2010 and 20 November 2010 dates. Similar countdown clocks are located in the cities of Cuernavaca, Tlaxcala, Chilpancingo, Tepic, Nayarit and all the capital cities of the 31 states.
Many celebrations are planned and some important buildings are being restored for the celebrations. if you travel off the peninsula you will see signs along the road marking "Ruta 2010", roads linking important historical sites and recreating routes used during the battles for independence and the revolution.
More info can be found on this Wikipedia website. Mexico has a fascinating history, get to know it in 2010. Stop by the bookstore for some historic books.
Tours
Our friend Eric "The Retired Shrimp-Taco King of Puerto Morelos" closed his restaurant last year in order to go back to his first love, providing services for tourists. He has started his own tour company called Ecab Explorer. His company is an excellent alternative to the large tour companies with their big buses and predictable tours...which always seem to end up in a bad souvenir store. Ecab Explorer works only with small groups. These are special tours with unusual itineraries created by Eric himself, inspired by many years of exploring our area. Tours are available to Coba, Ek Balam and Chichen Itza. He also has adventure tours with snorkeling, cenotes, ATV jungle tours and zip-lines. Tours are available in English, French and Spanish. No shrimp taco tours yet, but we're working on it. Check out Ecab Explorer online here.
Jungle Market and Spa
The jungle is the place to be again this season. The popular spa is in full swing and has been running all summer. Curious clients from the big all-inclusives are being lured out of their overpriced spas and into the jungle. A much more genuine experience and much better prices!
Market and Spa founder Sandra has come up with a new way to attract men to the massage table. It's called "The Mayan Massage" (also known as "The Mayan Macho".) Are you tough enough for the massage of your life? They have also installed a post so the masseuse can walk on your back (if you like). This is a very old Mayan tradition.

The Jungle Spa is open every Wednesday, Friday & Sunday. (Spa will not be open Sunday once the Jungle Market starts December 20) You can make an appointment for Tuesday, Thursday or Saturday. Pamper yourself for less! Many treatments are available, from manicures and pedicures to a luxurious aloe vera and banana leaf wrap and massage! (or a chocolate massage...does it get any better??)

Spa prices are much, much lower than you will find at your resort or in town. To get pampered, just show up Wednesday, Friday or Sunday between 10am and 4pm. If you can't make it on those days, try making an appointment for another day. Call Sandra (998) 208 9148 or Cell 044 998 180-5424

.

Closed Monday.

The Jungle Market will begin again on December 20. Sandra and the Mayan ladies spent the whole summer working on a new show with new dances, including the intricate "Ribbon Dance" which you can participate in! The show begins at 11:30, but get there earlier so that you can sample some of the food and check out their unique souvenirs and gifts at the market.

It's easy to get out to the jungle by car, taxi or collectivo. It's on Calle Dos (kie-yay dose) in the Zona Urbana, which is right behind the Colonia. Here's a map you can print out. Taxi to the jungle from the town square is 50 pesos. A taxi from nearby hotels is 150 pesos or $12 US each way. Tell driver you want to go to: Jungle Spa - Sandra (important to mention her name) Zona Urbana.

Remember, when you pamper yourself at the Jungle Spa or buy a unique gift at the Mayan Market, you are directly supporting Mayan families! This is a very worthwhile venture and we hope you will support it.

Money Matters
Just a reminder to visitors that there is no place to cash traveler's cheques in Puerto Morelos. The easiest way to get pesos is at the HSBC ATM (ABM) beside the supermarket on the square. If it is out of money, there is another machine at the intersection of the road to Puerto Morelos and the federal highway. There are also two ATMs in town that are not affiliated with banks. One is at the mall across the square from the bookstore and another is at OXXO. Since these are not affiliated with a bank, the fees are much higher than the HSBC machine.
If you wish to cash a traveler's cheque, you can do it at the airport or in Cancun or Playa del Carmen.
---
Facebook
Are you on Facebook? If so, look for our Facebook groups. Friends of Puerto Morelos & Alma Libre Bookstore. You can also be a fan of Alma Libre Bookstore.
The groups have grown very quickly! Friends of Puerto Morelos just passed 565 members! If you are on Facebook, please join our groups. We'll use them to keep you up to date with town news between newsletters. Check out the group for new photos of Puerto Morelos, taken by visitors.
And if that is not enough for you...you can also follow us on Twitter.
This is our twitter home page. You can follow us throughout the day.
Home and Condo Rentals
It's not too late to make plans for this winter! We still have some homes and condo rentals available for Christmas and early January. It you have never stayed in a private home or condo, you are in for a wonderful experience. You have all the comforts of home on your vacation. All you have to do is bring your clothes and toothbrush. Everything else is included from towels and linens to hammocks and blenders.
Many ex-pats have built their dream homes here in PM and are willing to rent it to you! Renting a place makes you feel more like a local and offers the convenience of cooking for yourself and much more privacy.
Regular Beach Readers know that we feature some of these properties on our website. There are a gazillion property rental sites out there, but our site is unique because these are properties we know, owned and run by people we know and trust. We like to think we take the guesswork and risk out of renting.
We're always adding new properties to the site.
OPEN JAN 27 to FEB 1 - Here's one we've just renovated, this can be rented as a one bedroom/one bath with a fold out couch, or as a two bedroom two bath. Each bedroom has it's own outside door to allow entry or exit without disturbing others.
It has a full kitchen with pots and pans, dishes and cutlery, plus appliances like coffee maker, toaster and juicer. Dinking water is included as well as cable TV and wireless internet in season. The suite features a huge terrace with table and chairs and a comfy hammock. All this from $600 a week in season, $550 starting in May!
Click here for more information and pictures!
Here's a new place - OPEN DEC 31 to JAN 17. A one bedroom two bath with a loft. The loft has a fold out couch and curtains for privacy. The couch in the living room also folds out into a bed.
Off the bedroom and the living room is a HUGE balcony with table and chairs for four and a comfy hammock.
Of course there is a full kitchen with pots and pans, dishes and cutlery, plus appliances like coffee maker, toaster and juicer. Dinking water is included as well as cable TV and wireless internet in season. $650 a week in season, $550 starting in May!
Click here for more information and pictures!
Check out our new, easier to navigate rentals page here.
Owners! Contact us to get your FREE listing on our website.
---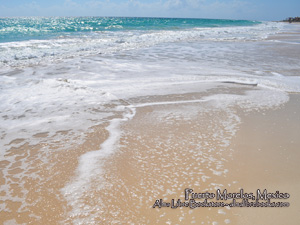 Free Gift From Alma Libre Updated for December & January
For those of you still stuck up North, bring a small piece of Puerto Morelos to your home or office with our new Puerto Morelos Wallpaper. Beautiful of course, and practical too with December and January calendara built right in. This month's wallpaper is a view of the lighthouses and beach off our town square.
We'll have new pictures available for download every month! Wallpaper is also available on our website at www.almalibrebooks.com.
Pick your wallpaper size:
1280 x 1024 1024 x 768 800 x 600 1600 x 900 CLICK HERE FOR WALLPAPER INSTALLATION INSTRUCTIONS
---
Restaurant News: Very sorry to report that Bodo's Restaurant has closed. We were big fans of their menu, their wine and their endless supply of bread and pâté. Of course the real star of the show was the service, which was perfect. We can only hope they will return one day! Update: The chef and one of the former waiters have resurfaced at Yoidi's Eatery, ironically in the original Bodo's location on Av Ninos Heroes.
Taqcho the taco place in the mall on the square appears to be closed.
Of course, new places have opened or moved around in the off season. Ed from Cantina Habanero took over the chicken place around the corner (north) from his place. He has renamed it El Rancho. Barbeque chicken every day and ribs once the season kicks into gear.
As we reported last May, a new place opened where T2 was south of the square on the main road. It's called Las Boleadoras and it's menu is all about the grill. I haven't tried it yet, but have read some pretty good reviews. I see they have a lot of 2X1 specials, which is always a good sign.
A tiny new place called "The French Kiss" has opened across from Don Pepe's on the main road. It looks like it is a place for coffee and baguettes, but I have yet to see it open!
A new place has also opened on the beach in front of Carmen Beach (Villas Latinas). According to the sign (and I think they need a new sign painter) it's called "Cokctelria Chayito" and serves typical Mexican beach grub like ceviches, shrimp cocktails and fried fish.
Pescayitos has moved south of the square beside Al Chimichurri. Their new space is a little bigger and of course is superbly decorated. This past weekend they started a new venture beside them, an open air place called La Cantine Bistro, which will feature live music. What a great spot to spend an evening in Puerto Morelos!
Spaghettino is moving to a new space. It will now be south of the square across from the Mayan Handicraft Centre. It will seat the same number of people it did before and will feature a nice bar. Renovations continue, but they should be open soon.
New Shops: A new art shop has opened in the space where Galleria restaurant used to be. It's called Boutique Arte Rosa Mexicano. They have some nice things, better quality than you often see. Another has popped up in the old Mama's Bakery location on Rojo Gomez. There are also a lot of new shops around the corner from Hola Asia. A new one moved into the old Taninos space and several further down the road towards Hacienda Morelos. Our sources tell us that a new fashion shop called Sofia's will be moving in below Hola Asia.
Road Warrior: I was all set to launch into my usual habit of whining about the roads in Puerto Morelos, especially the bone-jarring rattle-factory we call Avenue Ninos Heroes when something unbelievable happened. Some heavy equipment moved in and dug the darn thing up. Ironically even in the midst of construction with rubble all around, it is a smoother ride than it was before. Will asphalt be next? Stay tuned. I feel the road is headed for better times...but I have been burned in the past. Update: The road, after being prepared for about a week, received a thin layer of cold asphalt, which will likely not last long. Hoping for a layer of hot asphalt.
Our entire house would vibrate every time this lady in her roller would chug by. The road is asphalt-ready now, but so far no asphalt. We should start a pool on how many topes will be added to the final road!
The other big road news is that a new overpass is being built at the entrance to Puerto Morelos. This will make it easier for people traveling north or south who want to avoid our town, and more difficult for those who would like to visit. While construction goes on, to enter the town you must drive past the entrance and then do a quick hairpin returno. It is not as difficult as it sounds, though the returno comes up fast. When completed, to enter Puerto Morelos you will bear right and enter PM under the bridge. It is the exact same design as the bridge they built at Puerto Adventuras. The thing is going up quickly. It is supposed to be completed by Christmas. I doubt that, though parts of it should be open by then. Update: The overpass is pretty much open. Look for lane closures as they finish.
A new overpass is also being built at the highway and Juarez in Playa del Carmen, making traffic just a little worse there. They have a few months to go before it will be done. Better news is that they are apparently working on a bypass (Periferico) around Playa. This would greatly improve traffic and take the heavy trucks off the main road. My sources say the bypass is still a couple of years away.
Movie Night: Plenty of excitement in town the last few days as they are shooting a movie in town. It's a Mexican movie and must have a much higher budget than the soap operas that sometimes film in our town. There are trucks and equipment everywhere! They shot right off the town square for several nights and also at the marina. We were delighted to see how similar Mexican movie shoots are to the ones we often see in Canada and the United States. They all involve lots of lights, expensive equipment, trucks blocking roads and lots of people standing around (or hitting the lunch table). We'll watch for the release.
New ATMS: A couple of new bank machines have sprung up on the square. One is at the OXXO and the other is at the mall near the fish co-op. Convenient yes, but since they are not affiliated with a Mexican bank, their fees can be outrageous. A friend of ours used one and the fees came out to almost 10% of what she was able to take out! The HSBC machine should cost less than half of that (we get charged a total of $5 by HSBC and our Canadian bank) and will allow you to take out more cash. The bank's machine does run out of money on occasion, especially on weekends, so to avoid the high-fee independent machines don't let yourself get too low on pesos.
New Bills: The Bank of Mexico is celebrating Mexico 2010. They redesigned the 100 and 200 peso bills to celebrate 200 years of Mexican independence and 100 years since the Revolution. The new bills are smaller and are made of the same waterproof/crumple proof material that the 50's and 20's are. The new notes are really quite stunning (and they spend well at Alma Libre Bookstore). In other peso news, Bloomberg is reporting that the Mexican peso is undervalued and could rise against the U.S. dollar as much as 20% this year.
Beer Night-Good Night: It's that time of year again. While you up north can swill egg nog at this special time, we in Mexico can switch to the Noche Buena, a special cervesa only available around Christmas. It's bock, so a little darker than most Mexican beers. Give it a try before they take it away again in January. It's made by the same folks who bring you Dos Equis and Sol.
Amber at Mayan Riviera Properties has started a blog about life in Puerto Morelos. Check it out here.
Dive In: Divers in our area will soon have a new place to play. 400 sculptures, mostly life-sized human forms will be placed underwater in barren areas of the seabed. These statues are made of special concrete and will quickly act as an artificial reef. It is hoped that this unusual habitat will attract divers and lower the number of visitors to the real reef, giving it a chance to recover. The first statues were sunk this month. They hope to have 250 statues by April, and more will be placed after that. For more information or sponsorship opportunities, check out their website.
Cancun is restoring their beach again. For some shocking before and after shots, check out Cancun Canuck's blog here.
Here's an article on dental tourism, people taking trips to our area specifically to have dental work done. Dental work is much cheaper here and we know several people who have done this. You can save enough to pay for the vacation many times over. Read the article here.
Taxman: Taxes are going up in Mexico on January 1. It will have little effect on visitors. Liquor & cigarette prices will increase slightly and the sales tax, which is included in prices here will raise 1% from 10 to 11%. Other states will increase from 15 to 16%.
If you can read this: For the first time in more than 25 years, American adults are reading more literature, according to a new study by the National Endowment for the Arts. Reading on the Rise documents a definitive increase in rates and numbers of American adults who read literature, with the biggest increases among young adults, ages 18-24. This new growth reverses two decades of downward trends cited previously in NEA reports such as Reading at Risk and To Read or Not To Read. (Let's hope, we need more readers in Puerto Morelos!)
Big shout out to our friend Marguerite who is spending some extra time in Lamar, CO this winter. The famous artist, or "Lamartist" as I like to call her is well known in town for her art and her shop "Sorpresas." We saw her in Denver and she was looking good (and totally hip of course). We can't wait to see her back in Puerto Morelos.
As we reported before, The Miami Herald Cancun Edition is no more. Look for a copy of the USA Today Cancun Edition at your hotel or convenience store. It's being put together by the same local staff.
Did I miss any local news? Let me know!
This Newsletter is being sent to you on a new server. It charges us for each individual email that it sends out, so if you are receiving this email more than once, please unsubscribe the extra addresses. Because it charges us for each email, it is very careful to ensure all the addresses are valid. If it has trouble getting the email to you, it will delete your name and never send you another email. If you were receiving our email, but now you are not, try signing up again using the form on our web page. This "double-opt-in" system is much more accurate and should ensure you continue to receive this newsletter. You can try adding our email address to your contact list too, so that your spam blocker doesn't delete us. Gracias!
Don't hate us, we've added Google Ads to the newsletter in an attempt to cover some of its costs. We have no control over the ads that pop up, Google decides that, and we are in no position to tell them what to do! Please let us know though if anything odd shows up. Please note, these ads don't begin to cover our costs for this newsletter. If you like this newsletter, please support it by buying books at Alma Libre. Gracias!
Current Exchange Rates (In Puerto Morelos)
USA Dollar 12.45
CDN Dollar 11.45
Your Place in the Sun for $40,000
Our friend Shawn of One Stop Real Estate in Playa del Carmen has made it possible to own a beautiful place in Mexico for less money than you ever thought possible.
This is an opportunity to pick your lot in a new community on Lake Bacalar. Shawn has sold real estate for years in our area and wanted to create a place that was made with the residents in mind. Lots are big, more than 8200 square feet, meaning everyone can build a big house with a big garden and a pool and still not be on top of their neighbour. Each lot will have access to top-notch infrastructure like buried services, paved streets, parks, tennis courts, and a special private park access to the lake.
They have put a lot of thought into the project, even into such details as a special entrance for service vehicles so that nothing will disturb the tranquility of the neigbourhood. The community will have old world charm with modern conveniences and easy access to the town of Bacalar and our state capital, Chetumal and its airport.
Bacalar is a special place, and this is one of the smartest and best-planned communities we have seen anywhere. Buy your lot now, and build your house when you are ready. You've never had a better opportunity for a place in the sun! For more information, check out their website.
If you contact Shawn, please mention you saw this in the Alma Libre Bookstore newsletter.
---
This Just In! Books & Products at Alma Libre
Read all about it!
We love to keep you up to date with the town, but it's books that pay the bills. Have a look at some of the titles we're most excited about...
Cocina de la Famila - Foodies know that what passes for Mexican food up North is not the same thing as they are cooking down here. That's why we are very proud to have this book. They author visited hundreds of Mexican families and collected their best recipes and compiled them in this book. This ain't no Taco Bell...this is the real thing.

"We had friends over for dinner last night and I made, among other things, this book's chiles rellenos, racy red salsa, pickled vegetables, and sangria. Everything was quite tasty and really quick to make." Amazon.com Review


Mexican Cuisine - At only $6 USD or $75 MXP this great little cookbook makes an excellent stocking stuffer. Filled with bright pictures and yummy recipes, this will get you started cooking quick and simple Mexican staples.

This cook book is part of a series of books featuring Vegetarian, Indian & Mediterranean cuisine, which we also carry in our store.

Mexican Slang 101 - This book is the phrase book for those who want to really "talk the talk" and speak the way the locals speak. You'll find hip expressions like the proper way to say "cool" or "bummer", right down to the nastiest insults you can imagine. There is enough information in this book to be the life of the party, or get beaten up. Be careful how you use this book! Cover price is only 50 pesos or 5 bucks. Makes a great gift or gives you some training that Berlitz just is not going to give you! This book has quickly become a bestseller. Makes a great souvenir or gift.

Birds & Fish - We share our beautiful area with some of the world's most interesting creatures. Every day we see wildlife in and around the town, from big birds to slithering reptiles and everything in between. To help you get to know your neighbours better, we offer several guides. For an overall view, you can't beat this book, the Traveller's Wildlife Guide to Southern Mexico by Les Beletsky. A gorgeous book packed with information and pictures. Covers fish, ,mammals, reptiles, birds and a little about the plant life here.

For more detail, we offer a choice of bird guides and our popular snorkel guide.

Spanish Language Learning Software- Now available for the Mac! - Since moving to Mexico, Joanne and I have struggled with our Spanish, especially those nasty verbs. Now our friend Jacky has invented a fun way to learn your verbs. Her Amigos Spanish program has full conjugation for 700 verbs and helps you learn with tests and puzzles. The program is totally customizable, allowing you to focus on the verbs you need to know. Plus it's fun, so you will stick with it and learn those verbs. To expand your vocabulary, try Amigos Spanish Puzzles a program featuring word games with English clues and Spanish answers (or vice versa). The program comes loaded with 2500 words, and you can even add your own words if you like! Both programs are available on CD exclusively at Alma Libre Bookstore.

Secrets of the Talking Jaguar is the story of the author's physical and spiritual journey from the Southwestern US to the highlands of central America. There he becomes apprenticed to a local shaman who teaches Pretchel much about indigenous Mayan life, and about life in general. We sold out of these last year in hardcover, this year we were lucky enough to get some soft cover editions. If you missed this book last year, don't miss it this time.
SPECIAL OFFER for Alma Libre Bookstore Customers

Cenotes of the Riviera Maya is the best book ever written about the cenotes in our area. Beautifully photographed, it could easily be called a coffee table book, but it is also has all the practical information you need to explore the cenotes whether you are swimming or diving. Many have drooled over this book, but the hefty (500 peso) price tag kept some people away. Now author Steve Gerrard has authorized us to lower the price. At 300 pesos, this book is an incredible bargain and it has been flying off our shelves...in fact we ran out for a while around Christmas, but we're stocked again.

Maps!

If you drive in our area, you need a map! We have excellent and detailed maps of the Yucatan, the country of Mexico, Cancun city, Merida as well as Belize, Guatemala, Cuba and Central America. We also have souvenir-quality maps you can hang on the wall.

This year we also have a good supply of "Map Chick" Mayan Riviera maps. These incredibly detailed maps will lead you to the best of the Mayan Riviera including restaurant and accommodation recommendations. This map has the most detailed map of Puerto Morelos ever made, as well as Puerto Adventuras, Akumal and the entire Mayan Riviera corridor.

Maps are usually difficult to find in Mexico, but only if you are looking in the wrong place! Plot a course to the bookstore...if you get lost...ask for directions...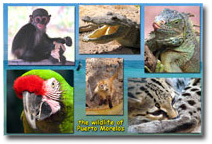 Postcards! We've added a lot of new postcards to our collection, including more underwater shots by "Dive Diva." We have the largest selection of Puerto Morelos postcards, and they are all exclusive to Alma Libre. We know because we make 'em! We also have blank greeting cards to cover any occasion you may wish to celebrate while you are in paradise. We even have some Christmas cards this year!
Gift Certificates! A nice gift idea for someone who lives here is an Alma Libre Gift certificate. Available in any amount and can be used for new or used merchandise. We can accept payments from up north via Paypal.
---
Photos of the Month
| | |
| --- | --- |
| | |
| Beauty Shot: Caught this picture of the town the other morning. The water was particularity good looking on this morning, and the beach was deserted. Need a winter break? We're ready for you! | Don't let this happen to you! We spotted this poor cowboy trying to read a Kindle poolside. We obviously prefer the tactile experience of a "real" book in your hands for a variety of reasons...but a Kindle poolside is just crazy. Leave the gadget at home and get yourself a nice beach read from Alma Libre. |
| | |
| New Faces: Get yourself a new look this year at one of the many gift shops in Puerto Morelos! These Mexican wrestler masks are very popular up north! | Love A Parade - On November 20th, Puerto Morelos hosted the largest parade I have ever seen in our town to celebrate Revolution Day. The parade stretched for blocks (and held up traffic for two hours!) The highlight for me is always the little guys dressed as Pancho Villa, complete with wooden guns and bandoliers. |
---
In Memory
With regret we have to tell you about four special people we lost over the summer.
Rosemarie Ragsdale - Rosie was our friend and our neighbour. Rosie loved Puerto Morelos and PM loved her back. She was so well known in the town that when we take a taxi, the official address we give the taxi driver is "in front of Rosie's place". Rosie moved from Puerto Morelos back to Canada a few years ago where she finished her education and graduated at the age of 65. Not surprisingly, she was elected class valedictorian. Rosie was a great neighbour, a good friend and a true character. She will be missed.
Elaine Loven - We met Elaine in the bookstore a few years back. She had fallen in love with Puerto Morelos and wanted to make it her home. We hear this all the time, but Elaine had a lot more tenacity than most. Only a short time later her and her husband Justin Carder owned a home in Puerto Morelos. Unfortunately illness got in the way of their plans to move here, but Elaine & Justin visited whenever they could. Elaine's intelligence, wit and her great laugh made her a delight to talk to. We will miss her and our thoughts are with Justin.
Carolanne Kingston - Carol and her husband Bill were well known in Puerto Morelos. They lived in Puerto Morelos from 2000 to 2007. Carol had a great smile, and she wore it often. We will miss Carol and our thoughts are will Bill, who is living in Seattle.
Wilbert (Bill) Butcher - Bill passed away in Puerto Morelos in August at the age of 78 after a long illness. Bill and Coni moved to Puerto Morelos in 1987 and were the original owners of Cabanas Puerto Morelos. Bill and Coni traveled extensively all over Mexico and Latin America back in the day when travel was really an adventure. Cancun only had an airstrip on their first visits! In more recent years Bill was a common sight running around town in his golf cart and blowing his old horn! A memorial service will be held for Bill on Tuesday, December 29 at 10:30 am. His ashes will be scattered over the Puerto Morelos reef he explored so often. Boats will be available at the main dock for anyone who wished to attend. Please contact Coni if you wish to attend so that she can reserve enough boats.
---
Our Travels
Those of you that know us know that we love the open road. This year, rather than taking a cruise, we clicked in our cruise control and pointed our truck and trailer across the continent. By the time we rolled into Puerto Morelos on November 11, we had covered 11,833 kilometers including twelve states in the United States and five in Mexico.
None of this takes into account our the trip north of course which we started in May. We drove pretty much straight north, spending a little extra time in the Hill Country near Austin, Texas. We immediately went to work on the Banff World Television Festival, where we basked in the majestic beauty of the Canadian Rockies and saw snow falling for the first time in seven years. We then spent a week at the Shuswap in the interior of British Columbia before settling down to work in the television business in Calgary.
By September we were itching to hit the road. We had a rough plan that we would like to visit the southern U.S., but had no plan beyond that. We cobbled together our route as we drove.
We ended up doing our regular southern route from Calgary to Great Falls and Billings, Montana. Then we drove straight to Cheyenne and Denver. (Great pizza in Golden, Colorado) From there we headed straight east across Kansas to Kansas City, Missouri. What a gem of a city with the best barbeque sauce ever!
Then it was on to St. Louis, Memphis (Graceland, naturally, and still more barbeque) Nashville and the Grand Ole Opry, Atlanta, Montgomery & Mobile, Alabama.
We then had a whole week in New Orleans (A special city, still feeling the effects of Katrina in 2005. Great food and music...we also saw Dashboard Confessional shoot this music video on the streets.
After that we rolled through Houston and Austin before crossing the border.
Roads in Mexico have improved in most areas, though are still rather rugged south of Tampico to Veracruz. Unfortunately we were caught in a massive traffic jam caused by flooding in Tobasco and had to take a crazy mountain route to get to Villahermosa. It was very scenic...on the times I could see past my white knuckles!
This was our eighth drive south. We were on the road for 62 days. We'll do it all again in six months!
---
Advertising:
---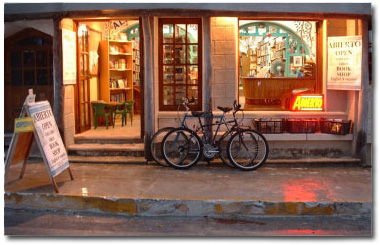 Just a reminder that we are open for the season. Our hours are Monday through Saturday from 10:00am to 3:00pm and 6:00pm to 9:00pm. We are closed between 3:00pm and 6:00pm for siesta. Sunday we are open 4:00pm to 9:00pm.
Our hours are always posted on the front page of our website at www.almalibrebooks.com.
We take trades every day, so our selection is constantly changing. If you are planning a trip down, why not bring some recent bestsellers to trade and check out our store, or plan to buy all your reading material at Alma Libre. We got you covered!
We look forward to seeing you in Puerto Morelos!
---
Beach Reads is the official newsletter of Alma Libre Bookstore in Puerto Morelos Mexico. It is mailed directly to your mailbox if you request it. Beach Reads is published on a sporadic, seemingly random basis...but it is supposed to be approximately monthly during the season at Puerto Morelos. The season is November until after Easter. We do our best to publish it regularly...but we are easily distracted...
Our website is located at www.almalibrebooks.com Our store hours are always on the home page.
If you do not wish to receive this newsletter, please Click Here To Unsubscribe
This is Year #8, Issue #1. December 2009
To subscribe or make comments or suggestions or advertise your local event, please Contact Us
Retransmission & Redistribution of this newsletter without express written consent is just fine by us! Send this newsletter to a friend! (or get them to sign up for their own copy) If you like the newsletter, please support it by buying a book at Alma Libre Bookstore.
Text & Photos ©2009 Alma Libre Bookstore