---
Advertising:
---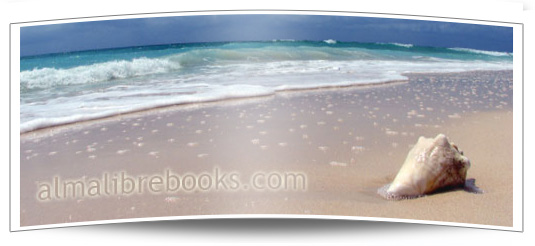 News from Alma Libre Bookstore - Puerto Morelos, Mexico

Year 07 Issue #4 - April/May 2009

Click here to go to our website: www.almalibrebooks.com
In this issue:
---
Nos Vemos!
They say as we get older time seems to go by faster. If that's true, sign me up for my walker because this season just flew by! We honestly feel like we are just getting settled in and now it is time to move on.
Our last day in the bookstore for this season will be Saturday, May 2nd. After that we'll drive north once again to work and collect books for next season.
Special thanks to "the Girls" who helped us out so much this season. We would not have made it without you! (In fact we will be closed this Saturday night to celebrate! We'll still be open Saturday morning and afternoon)
Our plans are to get back quicker this fall. We hope to be back open and selling books by early November at the latest.
Our sincere thanks for your support. We hope to see you next season. This will be the last issue of Beach Reads until the fall. Hope you enjoyed reading this rag this season.
The big lot across from the Handicraft Centre has been cleared for public parking. They are supposedly charging five pesos an hour to park, I've yet to see anyone collecting.
Summer in the Town
Alma Libre will be closed as usual this summer, but the rest of the town will be open and ready for you.
May and June are great months to come to Puerto Morelos. There are still lots of flights, and some very good deals. The real savings though come on accommodations. All the properties we represent on our rentals page drop their rates in the summer and fall.
Summer is a great time to enjoy our area without the high season crowds. It's also a good time to get to know the ocean. As the waves get calmer and the water warms up, the diving and snorkeling get better and better. Diving with the whale-sharks off Isla Holbox is just one of the experiences you can only have in the summer. Fishing is better too.
Never too early to plan for the fall either. November is pretty much our favourite month here, as the crowds are low, the weather is great, but not too hot and prices are low (and that pesky bookstore is open too)
The first two weeks of December are also a great time to come. Everyone else is at the mall trying to get Christmas covered, while you are swinging slowly in a hammock with a fruity drink at your side. Feliz Navidad! The busy season starts just before Christmas and lasts until after Easter.
Is there a bad time to come to Puerto Morelos? I guess not! Start your planning on our rentals web page and we'll see you in PoMo.
Is It Safe?
We had a lot of response to our article in the last newsletter about safety in Mexico. It was our attempt to correct the vast amount of misinformation that was practically spewing out of the US & Canadian media after the State Department updated their travel alert for Mexico. The silliness peaked during spring break when students were warned not to travel to the Mayan Riviera because of problems on the border thousands of miles away. (Apparently geography is not a priority subject at some Colleges). The 24 "news" networks grabbed the story like a dog with a bone and ran crazily with it until they were distracted by another story or a bright shiny object.
Since then a lot of websites have sprung up offering a little more context. These are written by people that actually live here and thus know the difference between downtown Puerto Morelos and Ciudad Juarez.
Have a look and perhaps send them on to friends who have watched too much Fox News and are wondering why you keep wanting to go to Mexico!
The Truth About Mexico - Articles and links to blogs written by foreigners who now live in Mexico.
Mexico Update - Articles and testimonials from actual people that visited Mexico and survived! (They EVEN appear to be having FUN)
An well-written article written by journalist Linda Ellerbee on Puerto Vallarta
Jungle Market and Spa
Big things are still happening in the jungle. The Jungle Market is closed for the season, they wrapped up another successful season with a big show and an Easter egg hunt in the jungle.
The Jungle Spa is still open every Sunday, Wednesday & Friday. Pamper yourself for less! Many treatments are available, from manicures and pedicures to a luxurious aloe vera and banana leaf wrap and massage! (or a chocolate massage...does it get any better??)
Spa prices are much, much lower than you will find at your resort or in town. To get pampered, just show up Wednesday between 10:00 & 4:00 or Friday & Sunday between 10:00 and 2:00. If you can't make it on those days, try making an appointment for another day. Call Sandra (998) 208-9148.
It's easy to get out to the jungle by car, taxi or collectivo. It's on Calle Dos (kie-yay dose) in the Zona Urbana, which is right behind the Colonia. Here's a map you can print out.
Remember, your purchase helps the families of Puerto Morelos!
Money Matters
Just a reminder to visitors that there is no place to cash traveler's cheques in Puerto Morelos. The easiest way to get pesos is at the HSBC ATM (ABM) beside the supermarket on the square. If it is out of money, there is another machine at the intersection of the road to Puerto Morelos and the federal highway. There are also two ATMs in town that are not affiliated with banks. One is at the mall across the square from the bookstore and another is at Ojo de Agua hotel. Since these are not affiliated with a bank, we are not sure what the fees are. They are most likely higher than the HSBC machine.
If you wish to cash a traveler's cheque, you can do it at the airport or in Cancun or Playa del Carmen.
---
Facebook
Are you on Facebook? If so, look for our new Facebook groups. Friends of Puerto Morelos & Alma Libre Bookstore. You can also be a fan of Alma Libre Bookstore.
The groups have grown very quickly! Friends of Puerto Morelos just passed 460 members! If you are on Facebook, please join our groups. We'll use them to keep you up to date with town news between newsletters. Check out the group for new photos of Puerto Morelos, taken by visitors.
And if that is not enough for you...you can also follow us on Twitter.
This is our twitter home page. You can follow us throughout the day.
I like Facebook mainly for the photos. Not sure about Twitter, but we're too young to fight new technology!
Home and Condo Rentals - Prices Drop In May
Many visitors are discovering the comfort and convenience of staying in a private home or condo during their Mexican vacation. Many ex-pats have built their dream homes here in PM and are willing to rent it (or a part of it) to you! Renting a place makes you feel more like a local right away and offers the convenience of cooking for yourself and much more privacy.
Regular Beach Readers know that we feature some of these properties on our website. There are a gazillion property rental sites out there, but our site is unique because these are properties we know, owned and run by people we know and trust. We like to think we take the guesswork and risk out of renting.
We're always adding new properties to the site.
Here's one we've just renovated, this can be rented as a one bedroom/one bath with a fold out couch, or as a two bedroom two bath. Each bedroom has it's own outside door to allow entry or exit without disturbing others.

It has a full kitchen with pots and pans, dishes and cutlery, plus appliances like coffee maker, toaster and juicer. Dinking water is included as well as cable TV and wireless internet in season. The suite features a huge terrace with table and chairs and a comfy hammock. All this from $600 a week in season, $550 starting in May!
Here's a new one. A one bedroom two bath with a loft. The loft has a fold out couch and curtains for privacy. The couch in the living room also folds out into a bed.

Off the bedroom and the living room is a HUGE balcony with table and chairs for four and a comfy hammock.

Of course there is a full kitchen with pots and pans, dishes and cutlery, plus appliances like coffee maker, toaster and juicer. Dinking water is included as well as cable TV and wireless internet in season. $650 a week in season, $550 starting in May!
Check out our new, easier to navigate rentals page here.
Owners! Contact us to get your FREE listing on our website.
---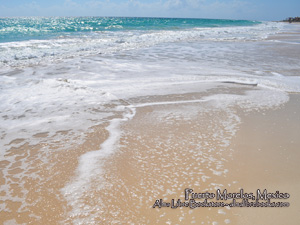 Free Gift From Alma Libre Updated for April & May
For those of you still stuck up North, bring a small piece of Puerto Morelos to your home or office with our new Puerto Morelos Wallpaper. Beautiful of course, and practical too with an April and May calendar built right in. This month's wallpaper is a view of the beach with a really cool-looking sailboat. Looks like a nice way to spend a day!
We'll have new pictures available for download every month! Wallpaper is also available on our website at www.almalibrebooks.com.
Pick your wallpaper size:
1024 x 768 800 x 600 1280x800 CLICK HERE FOR WALLPAPER INSTALLATION INSTRUCTIONS
---
Fishing Tournament: The twentieth annual Cesar Martin Rosado Fishing Tournament will be held this weekend in Puerto Morelos. It's part of a "Grand Slam" of fishing tournaments held all over the Riviera Maya. Tournaments will be held in Mahahual, Cozumel, Isla Mujeres, Playa del Carmen, Cozumel, Punta Allen, Puerto Aventuras, with the final being held in Cozumel in November. Prizes include cars and motorbikes. More info here.
The Miami Herald Cancun Edition is no more. Look for a copy of the USA Today Cancun Edition at your hotel or convenience store. It's being put together by the same local staff.
In other media news, Alma Libre Bookstore made the Huffington Post along with many other area attractions as part of a horoscope column. Read it here. (will open in a new window)
The New York Times is knocking at the door of Puerto Morelos again. Local UNAM scientist Paul Blanchon was featured in the paper talking about a study he is working on for the journal Nature. Blanchon has found (by studying coral fossils at Xcaret) that ocean levels can rise very quickly. Oceans rose between 6.5 to 10 feet within 50-100 years about 121,000 years ago at the end of the last warm interval between ice ages. The article in the Times made Paul a busy celebrity, doing loads of media interviews and a live radio show in Australia. Here's a link to the article. You may recall the paper visited Puerto Morelos last summer, here is that article.
Restaurants: Normally by this time of year I am having trouble finding news to fill this section. Not this month! We've had a plethora of changes in the always volatile restaurant scene in Puerto Morelos. First off, we reported last month that a new tea place had opened in the Mayan Riviera Properties building on the square. Well, that place closed after only a few days, but this week a new place opened in the space. It's called La Aldea del Mar (the village by the sea) and they specialize in healthy snacks and organic teas, coffee and other drinks. They could not ask for a better location as workers are just finishing the new malecon area right beside it with benches, shade, trees and lights.
Another place has changed its name. Paradise Pier is now "La Panza es Primero", which I translate as "the stomach comes first". Looks like it is going to be a bit more of a "fun" place.
A new restaurant is opening in the old T2 location south of the square on the main road. They are still renovating the space, which looks great. I got a peek at the menu and it will be a place with steaks, chorizo and other treats off the grill. If I got the name right, it is Llanero, which means "cowboy".
Gourmet Galleria is definitely gone. The space is being converted to two retail spaces. One will be a jewellery store. You won't recognize it! Long time visitors will remember it as Chip's bar, Loco's.
As the time we are publishing this, there are a lot of reports of swine flu in Mexico. Most reported cases have been in Mexico City. There have been no reports of the influenza here or in Cancun. Unfortunately media reports in Canada especially have been very vague about where the cases have been reported, saying only "central and southern Mexico"...which covers quite a large area. Health officials here are monitoring the situation closely and issuing vaccinations.
Polo: The tournament of "La Copa Del Ray Polo" will take place at the El Ray Polo grounds May 8 to 15th. The polo grounds are on the Ruta de Cenotes 11 kms west of Puerto Morelos. For more information, contact the organizers through their website.
From The New Yorker Magazine
Recycle - The last Saturday of every month is recycling day in Puerto Morelos. Bring your glass, paper, aluminum cans, cardboard, plastic, batteries, electronic appliances etc. to the taxi center near the plaza or in the plaza in the Colonia.
More things to do: We recently revised our popular "10 things to do in Puerto Morelos" list on our website to "12 things to do in Puerto Morelos". Check it out here. Features a printer-friendly list you can give to new visitors to our town.
Did I miss any local news? Let me know!
This Newsletter is being sent to you on a new server. It charges us for each individual email that it sends out, so if you are receiving this email more than once, please unsubscribe the extra addresses. Because it charges us for each email, it is very careful to ensure all the addresses are valid. If it has trouble getting the email to you, it will delete your name and never send you another email. If you were receiving our email, but now you are not, try signing up again using the form on our web page. This "double-opt-in" system is much more accurate and should ensure you continue to receive this newsletter. You can try adding our email address to your contact list too, so that your spam blocker doesn't delete us. Gracias!
Don't hate us, we've added Google Ads to the newsletter in an attempt to cover some of its costs. We have no control over the ads that pop up, Google decides that, and we are in no position to tell them what to do! Please let us know though if anything odd shows up. Please note, these ads don't begin to cover our costs for this newsletter. If you like this newsletter, please support it by buying books at Alma Libre. Gracias!
Current Exchange Rates (In Puerto Morelos)
USA Dollar 12.50
CDN Dollar 9.50
Your Place in the Sun for $40,000
Our friend Shawn of One Stop Real Estate in Playa del Carmen has made it possible to own a beautiful place in Mexico for less money than you ever thought possible.
This is an opportunity to pick your lot in a new community on Lake Bacalar. Shawn has sold real estate for years in our area and wanted to create a place that was made with the residents in mind. Lots are big, more than 8200 square feet, meaning everyone can build a big house with a big garden and a pool and still not be on top of their neighbour. Each lot will have access to top-notch infrastructure like buried services, paved streets, parks, tennis courts, and a special private park access to the lake.
They have put a lot of thought into the project, even into such details as a special entrance for service vehicles so that nothing will disturb the tranquility of the neigbourhood. The community will have old world charm with modern conveniences and easy access to the town of Bacalar and our state capital, Chetumal and its airport.
Bacalar is a special place, and this is one of the smartest and best-planned communities we have seen anywhere. Buy your lot now, and build your house when you are ready. You've never had a better opportunity for a place in the sun! For more information, check out their website.
If you contact Shawn, please mention you saw this in the Alma Libre Bookstore newsletter.
---
This Just In! Books & Products at Alma Libre
Read all about it!
We love to keep you up to date with the town, but it's books that pay the bills. Have a look at some of the titles we're most excited about...
Cocina de la Famila - Foodies know that what passes for Mexican food up North is not the same thing as they are cooking down here. That's why we are very proud to have this book. They author visited hundreds of Mexican families and collected their best recipes and compiled them in this book. This ain't no Taco Bell...this is the real thing.

"We had friends over for dinner last night and I made, among other things, this book's chiles rellenos, racy red salsa, pickled vegetables, and sangria. Everything was quite tasty and really quick to make." Amazon.com Review

Traveler's Guide to Mexican Camping - If you are contemplating driving down here with your RV, you need this book. Traveling in Mexico by RV is an excellent option, but to enjoy your trip you need this book. I even recommend it to people who are just driving down here from Canada or the US as the border crossing and big city bypass information alone is worth the price of it.

This book and a Gui Roji Road Atlas (2009 version available at Alma Libre) are your best bets for a safe and happy driving holiday in Mexico.




Cortes and Montezuma - The incredible chain of events that led to the conquest of an entire culture in Mexico by a handful of Spaniards is an amazing story. This retelling by Maurice Collis is well written, factual and very readable.

The complex characters and motivations of both central figures are explained in detail. According to Collis, Montezuma was a generous, devout and able ruler, but at the same time he was a tyrannical monster who indulged in endless orgies of ritual murder; Cortes was a civilized and enterprising explorer who brought enlightenment to a oppressed land but he was also the bringer of death and destruction to a complex and fascinating civilization. The author also explains the amazing astrological-magical religion of the Mexicans and how it made the conquest possible. - Amazon.com

Mexican Slang 101 - This book is the phrase book for those who want to really "talk the talk" and speak the way the locals speak. You'll find hip expressions like the proper way to say "cool" or "bummer", right down to the nastiest insults you can imagine. There is enough information in this book to be the life of the party, or get beaten up. Be careful how you use this book! Cover price is only 50 pesos or 5 bucks. Makes a great gift or gives you some training that Berlitz just is not going to give you! This book has quickly become a bestseller. Makes a great souvenir or gift.

Birds & Fish - We share our beautiful area with some of the world's most interesting creatures. Every day we see wildlife in and around the town, from big birds to slithering reptiles and everything in between. To help you get to know your neighbours better, we offer several guides. For an overall view, you can't beat this book, the Traveller's Wildlife Guide to Southern Mexico by Les Beletsky. A gorgeous book packed with information and pictures. Covers fish, ,mammals, reptiles, birds and a little about the plant life here.

For more detail, we offer a choice of bird guides and our popular snorkel guide.

Spanish Language Learning Software- Now available for the Mac! - Since moving to Mexico, Joanne and I have struggled with our Spanish, especially those nasty verbs. Now our friend Jacky has invented a fun way to learn your verbs. Her Amigos Spanish program has full conjugation for 700 verbs and helps you learn with tests and puzzles. The program is totally customizable, allowing you to focus on the verbs you need to know. Plus it's fun, so you will stick with it and learn those verbs. To expand your vocabulary, try Amigos Spanish Puzzles a program featuring word games with English clues and Spanish answers (or vice versa). The program comes loaded with 2500 words, and you can even add your own words if you like! Both programs are available on CD exclusively at Alma Libre Bookstore.

Secrets of the Talking Jaguar is the story of the author's physical and spiritual journey from the Southwestern US to the highlands of central America. There he becomes apprenticed to a local shaman who teaches Pretchel much about indigenous Mayan life, and about life in general. We sold out of these last year in hardcover, this year we were lucky enough to get some soft cover editions. If you missed this book last year, don't miss it this time.
SPECIAL OFFER for Alma Libre Bookstore Customers

Cenotes of the Riviera Maya is the best book ever written about the cenotes in our area. Beautifully photographed, it could easily be called a coffee table book, but it is also has all the practical information you need to explore the cenotes whether you are swimming or diving. Many have drooled over this book, but the hefty (500 peso) price tag kept some people away. Now author Steve Gerrard has authorized us to lower the price. At 300 pesos, this book is an incredible bargain and it has been flying off our shelves...in fact we ran out for a while around Christmas, but we're stocked again.

Maps!

If you drive in our area, you need a map! We have excellent and detailed maps of the Yucatan, the country of Mexico, Cancun city, Merida as well as Belize, Guatemala, Cuba and Central America. We also have souvenir-quality maps you can hang on the wall.

This year we also have a good supply of "Map Chick" Mayan Riviera maps. These incredibly detailed maps will lead you to the best of the Mayan Riviera including restaurant and accommodation recommendations. This map has the most detailed map of Puerto Morelos ever made, as well as Puerto Adventuras, Akumal and the entire Mayan Riviera corridor.

Maps are usually difficult to find in Mexico, but only if you are looking in the wrong place! Plot a course to the bookstore...if you get lost...ask for directions...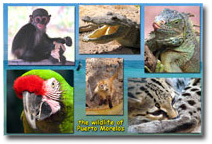 Postcards! We've added a lot of new postcards to our collection, including more underwater shots by "Dive Diva." We have the largest selection of Puerto Morelos postcards, and they are all exclusive to Alma Libre. We know because we make 'em! We also have blank greeting cards to cover any occasion you may wish to celebrate while you are in paradise. We even have some Christmas cards this year!
Gift Certificates! A nice gift idea for someone who lives here is an Alma Libre Gift certificate. Available in any amount and can be used for new or used merchandise. We can accept payments from up north via Paypal.
---
Photos of the Month
| | |
| --- | --- |
| | |
| Birds of a Feather: It's a little hard to see here as it is pushing the limits of my telephoto lens, but these hundreds of birds were spotted early one recent morning in the middle of the mangrove. The birds are enjoying an early morning dip & drink. | Swinging on the Beach: Local Glen has found a way to improve his golf game while on his beach walk. He tees up on the big seeds that float up on the beach, hitting out of the world's biggest and best looking sand trap. |
| | |
| Furniture: This buffet custom-built for us by a local carpenter. The design is based on a picture we found in a magazine, this guy can copy anything or build to your drawing. The price was much less than we could find in stores and the quality much higher. The only problem is that he must have built the wine rack wrong...as the bottles keep disappearing out of it. We continue to investigate. | Merida Market Colours: Fresh produce artfully displayed at the municipal market in Merida, three hours from Puerto Morelos. |
---
Advertising:
---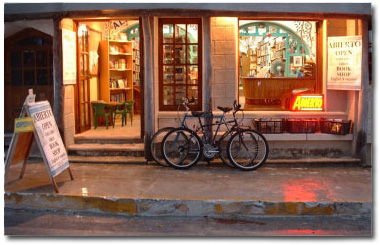 Just a reminder that we are open until May 2. Our hours are Tuesday through Saturday from 10:00am to 3:00pm and 6:00pm to 9:00pm. We are closed between 3:00pm and 6:00pm for siesta. Sunday we are open 4:00pm to 9:00pm.
Our hours are always posted on the front page of our website at www.almalibrebooks.com.
We take trades every day, so our selection is constantly changing. If you are planning a trip down, why not bring some recent bestsellers to trade and check out our store, or plan to buy all your reading material at Alma Libre. We got you covered!
If you live here, we can special order books for you. It is not a quick process, it usually takes a month, but our prices are much better than Amazon's. Let us know what title you would like and we'll provide a quote.
We look forward to seeing you in Puerto Morelos!
---
Beach Reads is the official newsletter of Alma Libre Bookstore in Puerto Morelos Mexico. It is mailed directly to your mailbox if you request it. Beach Reads is published on a sporadic, seemingly random basis...but it is supposed to be approximately monthly during the season at Puerto Morelos. The season is November until after Easter. We do our best to publish it regularly...but we are easily distracted...
Our website is located at www.almalibrebooks.com Our store hours are always on the home page.
If you do not wish to receive this newsletter, please Click Here To Unsubscribe
This is Year #7, Issue #4. April/May 2009
To subscribe or make comments or suggestions or advertise your local event, please Contact Us
Retransmission & Redistribution of this newsletter without express written consent is just fine by us! Send this newsletter to a friend! (or get them to sign up for their own copy) If you like the newsletter, please support it by buying a book at Alma Libre Bookstore.
Text & Photos ©2009 Alma Libre Bookstore