---
Advertising:
---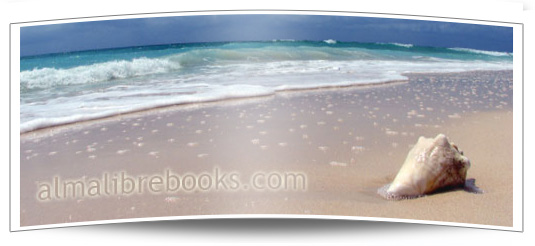 News from Alma Libre Bookstore - Puerto Morelos, Mexico

Year 07 Issue #2 - January/February 2009

Click here to go to our website: www.almalibrebooks.com
In this issue:
---
Happy New Year / Feliz Ano! / Where did January go?

Happy 2009! Welcome to yet another edition of Beach Reads the newsletter for Alma Libre Bookstore and Puerto Morelos. Puerto Morelos celebrated the New Year with various small, but lively celebrations. The town is still full of "real world" refugees anxious to escape the intense over-coverage of the economic meltdown and the intense cold and snow that the rest of North America is being subjected to. I hope you will join us! Puerto Morelos has what you need. We import stressed-out folks from up north and export relaxed and happy beach lovers.

For the first time in our history we missed a January issue. The truth is we have been too busy with the bookstore, finding accommodation for people and finishing some home renovations. (for a simulation of what home renovations are like here, have a friend get a hammer and chisel. Next, have the friend pound the chisel directly into your forehead while you tear up $100 bills. Repeat for 6-12 months) So, our apologies, but as a result this issue is overflowing with two months worth of information. Some of it is even useful and/or true.

Please remember, if you love the newsletter, please support it by buying books at Alma Libre!

Enjoy the issue!
Our ship has come in! We've Got New Books!
It wasn't a quick process, but we finally managed to import our big order of books into Mexico. Unfortunately they arrived at the dock in Puerto Morelos over Christmas, so the delay in getting them out of customs was longer than usual. It was very frustrating to have to tell customers that, "yes we do have that book, but it is locked up a half a mile away at the federal dock."
We are still opening the boxes, but we have some very exciting stuff. We have the new Lonely Planet Mexican Phrase Book, which has been totally revised. Also from Lonely Planet we have the new Yucatan guide, which they are now calling "Cancun, Cozumel & the Yucatan".
We also have lots of big glossy Mexican picture books featuring Mexican art and homes.
If you are trying to learn the Spanish language, we have new books for you and a dizzying selection of Spanish/English dictionaries.
We'll have more details about our new books a little later in this newsletter.
Bookstore Hours - We're open 7 days a week!
Just a reminder that we have expanded our hours this year. We are open seven days a week. Monday through Saturday we will are open 10am to 3pm and 6pm to 9pm. Sunday we are be open 4pm-9pm. Hope to see you at the bookstore this season!
Our Annual "Best Of Puerto Morelos Survey"
It's time once again for our annual "Best of Puerto Morelos" Survey. (Our fifth annual!)
The purpose of the survey is to find out what your fellow newsletter readers love most about Puerto Morelos. Perhaps you have been missing something, and you can use the survey results to plan your next trip. The most popular question we ask is for your favourite restaurant. We're expecting this one to be extra popular this year. For a reminder of all the restaurants in Puerto Morelos, see our complete restaurant list. (opens in a new window)
Our survey has a little different layout this year, and it appears on a different site. It's an easy 10 quick questions about your favourite town. We're also asking this year what you would like to see in or change about PM. Please click the link below to go to the survey...
Please only fill out one survey per person. "Stuffing the ballot box" will not be tolerated and those responses will be deleted. Survey will close at the end of February.
To get you in the mood, here are some of the results of last year's survey:
Favourite things to do in Puerto Morelos: Here's a partial list in alphabetical order: be on the water, beach, bicycle, browse the bookstore, chat, chill, daytrip, dive, drink, eat, fish, hammock, hang out, nothing, people watch, read a book, relax, shop, snorkel, stroll, swim, veg, walk.
Favourite Restaurants: Hola Asia was number one again last year followed by Bodo's, Pelicanos, El Pirata and David Lau's.
Favourite Place to get a drink: Top three were Pelicanos, Hola Asia and Ojo de Agua.
Favourite Shop: Alma Libre Bookstore (whew!) also the Sunday Jungle Market, the Mayan Handicraft Centre and Mauricio's Hammock Shop.
Music in the Park
Once again there will be music in the Central plaza every second Friday throughout the season. This is the fourth annual festival in Puerto Morelos.
This is a favourite for visitors and residents as the centre square is filled with music. The next show will be February 20th. The festival, put on by the excellent Casa de la Cultura of Puerto Morelos, is meant to promote music and give artists, both professional and amateur, a stage to express their art. For us, it means a nice evening in the square under the stars listening to music.
The festival is not just for spectators though, the stage is open to you too, whether you are a resident or tourist. They are looking for musicians to perform as well as artists (painters, sculptors etc.) who would like to display their work during the festival.
If you would like to be a part of the festival, drop us an email and we will put you in touch with the organizers.
The first show went January 23 and will continue every second Friday through February and March, that's February 6 & 20 and March 6 and 20.
There are lots of great things going on at the Cultural Centre, why not take a class while on vacation? Dance classes, yoga, palates, aikido and more! Classes for kids, teens and adults.
Music in the Schoolyard
For the fifth straight year, there will be A Night of Music on Valentine's Day at the Aldolfo Lopez Mateos Primary School. This is a great evening with a variety of music acts, from very young performers to seasoned professionals. We were lucky enough to be able to attend last year and were delighted with the entertainment. Lots of treats are available as well. (Foods, drinks and dessert)
This has become an important fund raiser for the school. Funds raised go to improve conditions at the school, and living here over the years, we have seen the school get better and better each year. A little goes a long way here in Mexico!
So if you are here on Valentine's Day, take your Valentine to the school, located on the main road Rojo Gomez - right across from Hotel Carmen Beach (formerly Villas Latinas) and enjoy a nice early evening of music before you go to dinner. Music starts at 5:00.
Developing Ambitions
Once again the residents of Puerto Morelos are fighting development. A new plan calls for adding 151,000 residents by building 23,000 homes in environmentally sensitive areas like flood plains.
This is not new, you may remember that last year a plan was forwarded that would see the population density of Puerto Morelos explode.
That plan, which residents thought was shelved last year, called for building 43,000 homes in Puerto Morelos for 174,000 people. To achieve such a population gain on relatively little new land, the plan called for allowing extreme density.
Naturally the residents of Puerto Morelos were horrified by this plan. Residents know the infrastructure of Puerto Morelos is strained with the population it has. The plan does not add any infrastructure to the town. No new schools, water plants, squares...just more people.
Scientists and environmentalists have said the proposed growth would endanger the mangrove and the reef, which violates the protections placed on it and of course is the pride of the town.
After a series of town meetings and a large protest on the highway, plus a letter writing campaign from residents and visitors the plan was shelved. Now it appears to be back.
Luckily, Puerto Morelos has an army of experienced fighters who have valiantly defended our town in past years. They are already mobilizing.
Organizers are asking you to fill out a short survey and write to political leaders to ask that the plan be stopped until proper studies can be done. For a copy of the survey go to this web page. Funds will be needed for legal action, flyers and to collect depositions. They are working to set up a PayPal account to accept donations.
For more information on the plan. Read this article by Miami Herald Cancun editor Kathy Loretta.
We know that Beach Readers have serious concerns about the future of Puerto Morelos and would like to help. We will keep you as informed as we can via this newsletter and our "Friends of Puerto Morelos" Facebook group. (If you are on Facebook, look for our group and join it!)
Jungle Market and Spa
Big things are happening in the jungle once again. The Jungle Market is back again with an all new show. The show combines pre-Hispanic and traditional Mayan dances. The dancers wear dresses they have created themselves. It's a great show and you are guaranteed to enjoy it.
The show is the highlight, but this is a Market after all! Look for handmade treasures you will not find elsewhere on the Mayan Riviera. There are a variety of homemade treats available as well and a vegetable market with locally grown fruit and vegetables.
Profits from the sale of souvenirs and food go directly to the families who created them.
The Jungle Market runs every Sunday during the season. The market runs 9:30-2:00 with the dance show at 11:30.
The Jungle Spa is open every Wednesday & Friday. Pamper yourself for less! Many treatments are available, from manicures and pedicures to a luxurious aloe vera and banana leaf wrap and massage! (or a chocolate massage...does it get any better??)
Spa prices are much, much lower than you will find at your resort or in town. To get pampered, just show up Wednesday between 10:00 & 4:00 or Friday between 10:00 and 2:00. If you can't make it on Wednesday or Friday, try making an appointment for another day. Call Sandra (998) 208-9148.
It's easy to get out to the jungle by car, taxi or collectivo. It's on Calle Dos (kie-yay dose) in the Zona Urbana, which is right behind the Colonia. We have little maps to it in the bookstore.
Remember, your purchase helps the families of Puerto Morelos!
Money Matters
Just a reminder to visitors that there is no place to cash traveler's cheques in Puerto Morelos. The easiest way to get pesos is at the HSBC ATM (ABM) beside the supermarket on the square. If it is out of money, there is another machine at the intersection of the road to Puerto Morelos and the federal highway. There are also two ATMs in town that are not affiliated with banks. One is at the mall across the square from the bookstore and another is at Ojo de Agua hotel. Since these are not affiliated with a bank, we are not sure what the fees are. They are most likely higher than the HSBC machine.
If you wish to cash a traveler's cheque, you can do it at the airport or in Cancun or Playa del Carmen.
---
Facebook
Are you on Facebook? If so, look for our new Facebook groups. Friends of Puerto Morelos & Alma Libre Bookstore. You can also be a fan of Alma Libre Bookstore.
The groups have grown very quickly! If you are on Facebook, please join our groups. We'll use them to keep you up to date with town news between newsletters. Check out the group for new photos of Puerto Morelos, taken by visitors.
Home and Condo Rentals
Many visitors are discovering the comfort and convenience of staying in a private home or condo during their Mexican vacation. Many ex-pats have built their dream homes here in PM and are willing to rent it (or a part of it) to you! Renting a place makes you feel more like a local right away and offers the convenience of cooking for yourself and much more privacy.
Regular Beach Readers know that we feature some of these properties on our website. There are a gazillion property rental sites out there, but our site is unique because these are properties we know, owned and run by people we know and trust. We like to think we take the guesswork and risk out of renting.
We're always adding new properties to the site.
Here's one we've just added, a one bedroom, 2 bath unit with a loft. This place was just renovated and enlarged and has all new furniture. Big balcony, Living room with TV and DVD player, dining room and fully equipped kitchen. It also has a private loft with a fold out bed and the couch in the living room also folds out. It's bright, breezy and very convenient to the beach or the town square. It's also a bargain at $650 a week for two persons. Check out more details here.
Check out our new, easier to navigate rentals page here.
Owners! Contact us to get your FREE listing on our website.
---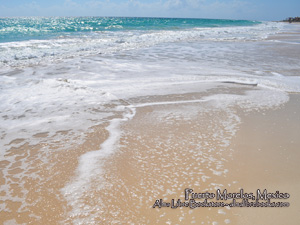 Free Gift From Alma Libre Updated for
February and March
For those of you still stuck up North, bring a small piece of Puerto Morelos to your home or office with our new Puerto Morelos Wallpaper. Beautiful of course, and practical too with an December and January calendar built right in. This month's wallpaper is a view of the beach...it appears someone abandoned their flip flops to enjoy the Caribbean!
We'll have new pictures available for download every month! Wallpaper is also available on our website at www.almalibrebooks.com.
Pick your wallpaper size:
1024 x 768 800 x 600 1280x800 CLICK HERE FOR WALLPAPER INSTALLATION INSTRUCTIONS
---
A few new restaurants to tell you about. A new taco place has sprung up on Rojo Gomez. La Piccolina is brought to you by Dona Triny and is already very popular with locals. They are open afternoons and evenings. Another taco restaurant, Octopus has opened beside Dive Puerto Morelos. It used to be a barbecue chicken place.
The Mexican Pub reopened as part of our restaurant row south of the square.
As we predicted last issue, Casa Pescador, Spaghettino, Taninos and Giocondo have now opened for the season. Giocondo bar has new management.
Taqcho, across the square from the bookstore on the upper level of the mall has opened with tacos and more. Early reviews are good.
Juicy Rosies on Rojo Gomez near the square is open at night now, serving aracherra and other dinners.
Music is easy to find in Puerto Morelos these days. David Lau's has music in the newly re-opened back garden on Friday and Saturday nights. Cantina Habaneros also has music Friday and Saturday nights. Caktus has a blues band on Saturday nights and Giocondo hosts Cooker John on Saturday nights. Cooker, a local favourite plays David Lau's on Friday nights.
As we told you in our last issue, Eric, the former shrimp taco king of Puerto Morelos is now offering high-quality tours of our area. He just added some more tour options, including tours to Ek Balam and Coba. We've already sent a few visitors on Eric's tours and reviews are very good. For more details, click here and Eric's website will open in another window.
Big Press: Little tiny Puerto Morelos has been gaining attention of late. The New York Times just featured Puerto Morelos in its prestigious Sunday travel section. The article was very positive and captured the spirit of the town well and featured a big colour picture of Bar Ixchel. Unfortunately they never mentioned the bookstore as the scribe visited in August, when the bookstore is shut tight. PM was also featured in Caribbean Travel & Life magazine as part of "A Beach Lover's Guide to the Riviera Maya". Here are links to the two articles:
Some heavy construction is happening beside the town square. We're relieved to see that it's a new park that will compliment our town square and make a nice tranquil place to stroll or sit and watch the ocean. In past years they allowed parking on this piece of land and before that they wanted to build giant public bathrooms on the site. A new park will be great, and selfishly, will preserve our view of the ocean from our bookstore window.
A new public access (pictured to the right) is also being constructed alongside Amar Inn. Looks like it is going to include a raised wooden walking path. The existing sandy road caused a few problems for beach goers. Part of our Sunday entertainment at our house is watching car after car get stuck in the sand every week.
Ceiba del Mar Beach & Spa Resort has been recognized as one of the world's best places to stay as part of Conde Nast Traveler's 2009 Gold List. The 2009 Gold List appears in the January issue of the magazine and is derived from the Conde Nast Traveler Readers Choice Survey, the largest independent poll of consumers' preferences in the United States. Ceiba has 88 rooms, including 37 suites and 7 penthouses. Rates start at around $300 a night.
Mauro Jaramillo is back in town and has re-opened his Centre for Corrective Myotherapy in a new spot. It's now at the north end of Avenue Niños Héroes at number #802. Addresses don't mean a whole lot in our town, but look for his familiar blue and white "AQUI" sign.
There are two new doctors in town! Dr Ernesto Ramirez Esparza's office is at the top of the road in the white building across from the water plant. He has office hours and also does house calls. He speaks English and has equipment, even an x-ray. He's been getting great reviews. Also, Dr. Javier Olea has set up an office on Rojo Gomez just north of Spaghetino. He also speaks English and will make emergency house calls.
The garbage guys in Puerto Morelos have a shiny new truck and a whole new attitude. They are coming to my casa every day...sometimes twice! I'm throwing away stuff I wanted to save just to keep up with them. Remember to separate out your aluminum cans and put them in a bag beside the can. The garbage guys (or some other entrepreneurial person) will recycle them for cash.
Not sure how new they are, but I just noticed them. There is a big hardware store on the highway, just south of the turn into Puerto Morelos on the west side. They have a pretty good selection of stuff. Might save a long trip to Cancun. There is also a big lumberyard on the same road, just a little further south.
Big shout out to our friend Joan, who should have been in Puerto Morelos months ago, but was stuck in Long Island. We're delighted to report she just arrived this week for an all too brief visit...but we're very happy to see her. Another shout out to Uber-Server Valorie, who (gasp) missed a few days of work at David Lau's to take care of her health. We impatiently await her return, but are glad she is taking some time off!
In the closing days of 2008 a mysterious group of strangers were seen hanging around Puerto Morelos. it took a long time to identify them because nobody had seen them in so many years. Finally they were identified as a "pothole repair crew". For several days these guys were on fire, filling holes including the swiss-cheese-esque Avenue Ninos Heroes. They made some great strides and there was much rejoicing. Of course, the good times had to end sometime, and they disappeared along with the old year, leaving hundreds of holes unfilled. Before they left though, they left a parting gift. They made the tope beside our house bigger, to the point that a fully-laden taxi cannot get over it without mauling his muffler. This picture to the left is a truck that stalled out halfway past the enlarged tope and could not be restarted until the occupants pushed it over the tope. No easy feat!

This just in, the paving crew is back and is working in and around downtown. Hooray! (Kudos to the local Delgado for getting the pothole crew in, and for fixing the street lights, which have not all worked at the same time since Hurricane Wilma)

We are delighted (and more than a little shocked) to report that Cancun's Avenue Tulum is now open at Avenue Kabah. You still can't turn on Kabah, but if you are going straight downtown, it is smooth sailing. You might know Avenue Kabah as the road to Costco. The other way it leads to Av Bonampak. To go to Costco, you will need to do a returno on Avenue Tulum. They are building a traffic circle for people that are turning. Conditions change often on Cancun roads, keep your eyes open when going through. We've lived here seven years and we still refer to our Cancun map. (Did I mention we sell Cancun maps in the bookstore? Worth their weight in gold!)

More things to do: We recently revised our popular "10 things to do in Puerto Morelos" list on our website to "12 things to do in Puerto Morelos". Check it out here. Features a printer-friendly list you can give to new visitors to our town.

Our weather station is offline right now, but will be back online soon.

Sticky Problem: Puerto Morelos owes it's founding to chicle, the resin which gives chewing gum its chew. Ancient Mayans had long collected chicle from the Sapodilla tree. The Mayans chewed unflavoured chicle to clean their teeth.

Modern chewing gum was born in the 1860s when Mexican General Antonio Lopez de Santa Anna brought some Mexican chicle to U.S. inventor Thomas Adams, who first experimented with it as a possible rubber substitute but later added flavourings and sold it as a treat.

Mexico largely forgot its natural, biodegradable gum base and adopted U.S. synthetic gum. Mexicans now chew an average of 1.2 kilograms of gum each year, half what the average American chews but still among the highest rates in Latin America. A lot of that gum winds up stuck on sidewalks across the nation.

Now natural chicle is making a comeback. A new line of organic, Mexican made, chicle gum will soon be on the market. One of the benefits of "real" gum is that it breaks down naturally, and won't stay stuck to sidewalks, park benches and under your desk.

Did I miss any local news? Let me know!

Cambi-Oh!: Once again the bookstore is short of change. We simply cannot get enough 5 and 10 peso coins or 20 peso bills. If you find yourself weighed down or you are always jingling around town...stop by the bookstore and we will lighten your load and exchange your coins for bigger (and lighter) bills. If you are up north, check the dresser drawers for cambio and repatriate those coins! Big thanks to our change specialist Ken for his recent cambio injection! We loved it...but we need more!

This Newsletter is being sent to you on a new server. It charges us for each individual email that it sends out, so if you are receiving this email more than once, please unsubscribe the extra addresses. Because it charges us for each email, it is very careful to ensure all the addresses are valid. If it has trouble getting the email to you, it will delete your name and never send you another email. If you were receiving our email, but now you are not, try signing up again using the form on our web page. This "double-opt-in" system is much more accurate and should ensure you continue to receive this newsletter. You can try adding our email address to your contact list too, so that your spam blocker doesn't delete us. Gracias!

Don't hate us, we've added Google Ads to the newsletter in an attempt to cover some of its costs. We have no control over the ads that pop up, Google decides that, and we are in no position to tell them what to do! Please let us know though if anything odd shows up. Please note, these ads don't begin to cover our costs for this newsletter. If you like this newsletter, please support it by buying books at Alma Libre. Gracias!

Current Exchange Rates (In Puerto Morelos)


USA Dollar 13.40
CDN Dollar 10.30 (this is the highest I have ever seen the Canadian dollar vs. the Peso)
A Place in the Sun for $40,000
Our friend Shawn of One Stop Real Estate in Playa del Carmen has made it possible to own a beautiful place in Mexico for less money than you ever thought possible.
This is an opportunity to pick your lot in a new community on Lake Bacalar. Shawn has sold real estate for years in our area and wanted to create a place that was made with the residents in mind. Lots are big, more than 8200 square feet, meaning everyone can build a big house with a big garden and a pool and still not be on top of their neighbour. Each lot will have access to top-notch infrastructure like buried services, paved streets, parks, tennis courts, and a special private park access to the lake.
They have put a lot of thought into the project, even into such details as a special entrance for service vehicles so that nothing will disturb the tranquility of the neigbourhood. The community will have old world charm with modern conveniences and easy access to the town of Bacalar and our state capital, Chetumal and its airport.
Bacalar is a special place, and this is one of the smartest and best-planned communities we have seen anywhere. Buy your lot now, and build your house when you are ready. You've never had a better opportunity for a place in the sun! For more information, check out their website.
If you contact Shawn, please mention you saw this in the Alma Libre Bookstore newsletter.
---
This Just In! Books & Products at Alma Libre
Read all about it!
We love to keep you up to date with the town, but it's books that pay the bills. Have a look at some of the titles we're most excited about...
Cocina de la Famila - Foodies know that what passes for Mexican food up North is not the same thing as they are cooking down here. That's why we are very proud to have this book. They author visited hundreds of Mexican families and collected their best recipes and compiled them in this book. This ain't no Taco Bell...this is the real thing.

"We had friends over for dinner last night and I made, among other things, this book's chiles rellenos, racy red salsa, pickled vegetables, and sangria. Everything was quite tasty and really quick to make." Amazon.com Review

Traveler's Guide to Mexican Camping - If you are contemplating driving down here with your RV, you need this book. Traveling in Mexico by RV is an excellent option, but to enjoy your trip you need this book. I even recommend it to people who are just driving down here from Canada or the US as the border crossing and big city bypass information alone is worth the price of it.

This book and a Gui Roji Road Atlas (2008 version available at Alma Libre) are your best bets for a safe and happy driving holiday in Mexico.




Cortes and Montezuma - The incredible chain of events that led to the conquest of an entire culture in Mexico by a handful of Spaniards is an amazing story. This retelling by Maurice Collis is well written, factual and very readable.

The complex characters and motivations of both central figures are explained in detail. According to Collis, Montezuma was a generous, devout and able ruler, but at the same time he was a tyrannical monster who indulged in endless orgies of ritual murder; Cortes was a civilized and enterprising explorer who brought enlightenment to a oppressed land but he was also the bringer of death and destruction to a complex and fascinating civilization. The author also explains the amazing astrological-magical religion of the Mexicans and how it made the conquest possible. - Amazon.com

Mexican Slang 101 - This book is the phrase book for those who want to really "talk the talk" and speak the way the locals speak. You'll find hip expressions like the proper way to say "cool" or "bummer", right down to the nastiest insults you can imagine. There is enough information in this book to be the life of the party, or get beaten up. Be careful how you use this book! Cover price is only 50 pesos or 5 bucks. Makes a great gift or gives you some training that Berlitz just is not going to give you! This book has quickly become a bestseller. Makes a great souvenir or gift.

Birds & Fish - We share our beautiful area with some of the world's most interesting creatures. Every day we see wildlife in and around the town, from big birds to slithering reptiles and everything in between. To help you get to know your neighbours better, we offer several guides. For an overall view, you can't beat this book, the Traveller's Wildlife Guide to Southern Mexico by Les Beletsky. A gorgeous book packed with information and pictures. Covers fish, ,mammals, reptiles, birds and a little about the plant life here.

For more detail, we offer a choice of bird guides and our popular snorkel guide.

Spanish Language Learning Software- Now available for the Mac! - Since moving to Mexico, Joanne and I have struggled with our Spanish, especially those nasty verbs. Now our friend Jacky has invented a fun way to learn your verbs. Her Amigos Spanish program has full conjugation for 700 verbs and helps you learn with tests and puzzles. The program is totally customizable, allowing you to focus on the verbs you need to know. Plus it's fun, so you will stick with it and learn those verbs. To expand your vocabulary, try Amigos Spanish Puzzles a program featuring word games with English clues and Spanish answers (or vice versa). The program comes loaded with 2500 words, and you can even add your own words if you like! Both programs are available on CD exclusively at Alma Libre Bookstore.

Secrets of the Talking Jaguar is the story of the author's physical and spiritual journey from the Southwestern US to the highlands of central America. There he becomes apprenticed to a local shaman who teaches Pretchel much about indigenous Mayan life, and about life in general. We sold out of these last year in hardcover, this year we were lucky enough to get some soft cover editions. If you missed this book last year, don't miss it this time.
SPECIAL OFFER for Alma Libre Bookstore Customers

Cenotes of the Riviera Maya is the best book ever written about the cenotes in our area. Beautifully photographed, it could easily be called a coffee table book, but it is also has all the practical information you need to explore the cenotes whether you are swimming or diving. Many have drooled over this book, but the hefty (500 peso) price tag kept some people away. Now author Steve Gerrard has authorized us to lower the price. At 300 pesos, this book is an incredible bargain and it has been flying off our shelves...in fact we ran out for a while around Christmas, but we're stocked again.

Maps!

If you drive in our area, you need a map! We have excellent and detailed maps of the Yucatan, the country of Mexico, Cancun city, Merida as well as Belize, Guatemala, Cuba and Central America. We also have souvenir-quality maps you can hang on the wall.

This year we also have a good supply of "Map Chick" Mayan Riviera maps. These incredibly detailed maps will lead you to the best of the Mayan Riviera including restaurant and accommodation recommendations. This map has the most detailed map of Puerto Morelos ever made, as well as Puerto Adventuras, Akumal and the entire Mayan Riviera corridor.

Maps are usually difficult to find in Mexico, but only if you are looking in the wrong place! Plot a course to the bookstore...if you get lost...ask for directions...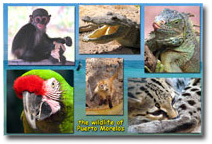 Postcards! We've added a lot of new postcards to our collection, including more underwater shots by "Dive Diva." We have the largest selection of Puerto Morelos postcards, and they are all exclusive to Alma Libre. We know because we make 'em! We also have blank greeting cards to cover any occasion you may wish to celebrate while you are in paradise. We even have some Christmas cards this year!
Gift Certificates! A nice gift idea for someone who lives here is an Alma Libre Gift certificate. Available in any amount and can be used for new or used merchandise. We can accept payments from up north via Paypal.
---
Photos of the Month
| | |
| --- | --- |
| | |
| Only Just Begun: This good-looking young couple decided to start their new lives in our town. Congratulations! | Wedded Bliss: You have to admit, it's a lovely spot to get hitched! |
| | |
| Lawn Boys: This is how we cut the grass in PM. These military men will hack every inch of this city block size lot several times a year...mostly by machete. | Loose Nut: Former bookstore and Marlin Blue official cat Nuez is doing well. Nuez used to hang out on our bookshelves in the mornings until Eric opened and starting serving shrimp and fish. Nuez needed special care, so Eric took him in. Now he lives at Eric's house and greets visitors on their way to the beach. |
---
Advertising:
---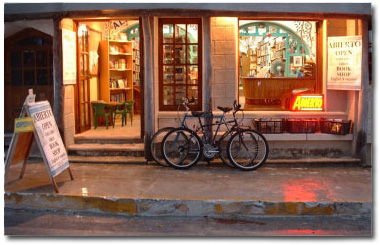 Just a reminder that we are open seven days a week for the season. Our hours are Monday through Saturday from 10:00am to 3:00pm and 6:00pm to 9:00pm. We are closed between 3:00pm and 6:00pm for siesta. Sunday we are open 4:00pm to 9:00pm.
Our hours are always posted on the front page of our website at www.almalibrebooks.com.
We take trades every day, so our selection is constantly changing. If you are planning a trip down, why not bring some recent bestsellers to trade and check out our store, or plan to buy all your reading material at Alma Libre. We got you covered!
If you live here, we can special order books for you. It is not a quick process, it usually takes a month, but our prices are much better than Amazon's. Let us know what title you would like and we'll provide a quote.
We look forward to seeing you in Puerto Morelos!
---
Beach Reads is the official newsletter of Alma Libre Bookstore in Puerto Morelos Mexico. It is mailed directly to your mailbox if you request it. Beach Reads is published on a sporadic, seemingly random basis...but it is supposed to be approximately monthly during the season at Puerto Morelos. The season is November until after Easter. We do our best to publish it regularly...but we are easily distracted...
Our website is located at www.almalibrebooks.com Our store hours are always on the home page.
If you do not wish to receive this newsletter, please Click Here To Unsubscribe
This is Year #7, Issue #2. January/February 2009
To subscribe or make comments or suggestions or advertise your local event, please Contact Us
Retransmission & Redistribution of this newsletter without express written consent is just fine by us! Send this newsletter to a friend! (or get them to sign up for their own copy) If you like the newsletter, please support it by buying a book at Alma Libre Bookstore.
Text & Photos ©2009 Alma Libre Bookstore