---
Advertising:
---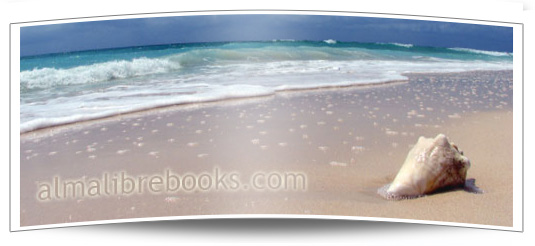 News from Alma Libre Bookstore - Puerto Morelos, Mexico

Year 07 Issue #1 - December 2008

Click here to go to our website: www.almalibrebooks.com
In this issue:
---
We're Back! (and FINALLY have a newsletter out!)
How was your summer? It was certainly a season of variety! For us it was a long drive north, seeing some areas of Mexico we were unable to visit before, then several months of relentless work followed by an extended time driving, flying and floating around North America and the Caribbean.
While we were doing this, the world changed. Markets crashed, dollars tanked and Iceland was put up for sale. Oil went way up, then went way down. Banks, consumers and car companies lined up for bailouts. Canada and the States both went to the polls. Winter came early in some places, and not at all in others. The Phillies won the World Series at last...but it took them a few days to get it all done.
All this has probably left you a little wrung out. Luckily, we have the cure for you. Sun, sand, and surf will fix you right up. While the world changed, Puerto Morelos plodded along like it always does. It remains a laid-back refuge against the real world. Give yourself a big bailout and book your trip!
We'll have more details on our trip and the little changes in town a little later in this newsletter.
Speaking of this newsletter, this is our seventh year of keeping you up to date with the "goings on" of your favourite tropical town. Hope you enjoy Beach Reads, and if you do, please do a little shopping at Alma Libre to keep the issues coming. Gracias!
We're a little late with the newsletter this season, so we get to say hello and Feliz Navidad / Season's Greetings in the same newsletter!
Bookstore Hours - We're open 7 days a week!
We're expanding our hours this year. We'll be open seven days a week. Monday through Saturday we will be open 10am to 3pm and 6pm to 9pm. Sunday we will be open 4pm-9pm. Hope to see you at the bookstore this season!
Touring
One of the things we love best about our area is the incredible variety of things to do...or not do. We have the beautiful beaches, the water and the fish-filled reefs. We have ancient Mayan ruins and colonial cities. We have the jungle and the cenotes. There are many ways to visit these places, on your own or on a tour. Tours can be a nice, stress-free way of seeing the sights, but we've never been fans of going anywhere on one of those giant diesel buses that create their own crowds wherever they go. These giant tour companies rarely stop in Puerto Morelos anyway, so it meant having to find your own way to Cancun or Playa to catch the tour.
At last, we can offer you a better option. Our friend Eric, owner of the popular "Marlin Bleu" restaurant has retired from the shrimp taco business and has launched his own tour company. Eric's tours are well crafted, drawing on his vast knowledge of our area. You'll travel in small groups, enabling you to get off the beaten path and see some of the hidden marvels you would miss on your own or on a big tour.
Half day and full day tours are available. All tours include everything you need and are professionally guided. Eric also makes a donation to the Puerto Morelos Cultural Centre for each tour that is booked.
For more details, click here and Eric's website will open in another window.
As much as we will miss our next-door neighbour (and his shrimp tacos), we are delighted that visitors will now have this new option to see our area. We wish Eric success and know he will bring the reputation for quality and excellence to his tours. We recommend you check them out!
Jungle Market and Spa
The wildly successful Jungle Spa ran all summer and will be bigger and better once the season gets going. The Jungle market will start again December 21 with a completely new dance show. The new show will combine Pre-Hispanic dance with their Mayan Jarana Dance Show. The women in the show have hand-painted their own dresses for the show. Jungle Market boss Sandra Dayton of Maya Echo says the dance show is going to be so big, it will basically put Xcaret out of business!
The Jungle Market runs every Sunday during the season. The market runs 9:30-2:00 with the dance show at 11:30. The market features unique hand-made crafts not available anywhere else on the Mayan Riviera, plus lots of food and new this year, a fresh fruit and vegetable market with produce grown in nearby Mayan villages.
The Jungle Spa is open every Wednesday. Pamper yourself for less! Many treatments are available, from manicures and pedicures to a luxurious aloe vera and banana leaf wrap and massage! One woman who had this treatment said that it changed her life!
Prices are much, much lower than you will find at your resort or in town. If you can't make it on Wednesday, try making an appointment for another day. Call Sandra (998) 208-9148.
It's easy to get out to the jungle by car, taxi or collectivo. It's on Calle Dos (kie-yay dose) in the Zona Urbana, which is right behind the Colonia. We have little maps to it in the bookstore.
Don't miss this and remember the Jungle Market and Spa supports the local Mayan women of Puerto Morelos.
Money Matters
Just a reminder to visitors that there is no place to cash traveler's cheques in Puerto Morelos. The easiest way to get pesos is at the HSBC ATM (ABM) beside the supermarket on the square. If it is out of money, there is another machine at the intersection of the road to Puerto Morelos and the federal highway. There are also two ATMs in town that are not affiliated with banks. One is at the mall across the square from the bookstore and another is at Ojo de Agua hotel. Since these are not affiliated with a bank, we are not sure what the fees are. They are most likely higher than the HSBC machine.
If you wish to cash a traveler's cheque, you can do it at the airport or in Cancun or Playa del Carmen.
---
Facebook
Are you on Facebook? If so, look for our new Facebook groups. Friends of Puerto Morelos & Alma Libre Bookstore. You can also be a fan of Alma Libre Bookstore.
The groups have grown very quickly! If you are on Facebook, please join our groups. We'll use them to keep you up to date with town news between newsletters. Check out the group for new photos of Puerto Morelos, taken by visitors.
Click for a Video Tour!
Rent this place for as little as $500 a week. Separate bedroom with queen size bed, full kitchen, living room, dining room and porch with hammocks. Close to the beach and Centro.
Home and Condo Rentals
Many visitors are discovering the comfort and convenience of staying in a private home or condo during their Mexican vacation. Many ex-pats have built their dream homes here in PM and are willing to rent it (or a part of it) to you! Renting a place makes you feel more like a local right away and offers the convenience of cooking for yourself and much more privacy.
Regular Beach Readers know that we feature some of these properties on our website. There are a gazillion property rental sites out there, but our site is unique because these are properties we know, owned and run by people we know and trust. We like to think we take the guesswork and risk out of renting.
We're always adding new properties to the site.
Check out our new, easier to navigate rentals page here.
Owners! Contact us to get your FREE listing on our website.
---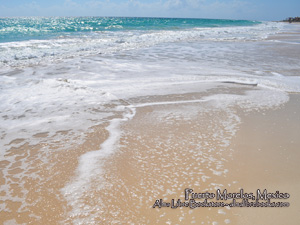 Free Gift From Alma Libre Updated for December/January
For those of you still stuck up North, bring a small piece of Puerto Morelos to your home or office with our new Puerto Morelos Wallpaper. Beautiful of course, and practical too with an December and January calendar built right in. This month's wallpaper is a great beach view off the balcony of one of the places on our home rentals page. Picture yourself right there!
We'll have new pictures available for download every month! Wallpaper is also available on our website at www.almalibrebooks.com.
Pick your wallpaper size:
1024 x 768 800 x 600 1280x800 CLICK HERE FOR WALLPAPER INSTALLATION INSTRUCTIONS
---
As Usual we have lots of news to tell you. We'll start with the restaurants...
First off, as we said earlier in this broadcast, our friend and neighbour Eric has retired from the shrimp taco business and the popular Marlin Blue Restaurant and has started a tour company. Dona Triny, a local legend who has operated several successful restaurants, most recently on the corner in front of city hall, has moved into the space. She has a large and varied menu, all tasty and very reasonably priced.
Another one of our favourites, Bodo's Restaurant was actually closed for a while this summer after they lost their spot at Hotel Hacienda Morelos. The whole hotel was rented to a travel company which left Bodo's homeless. We are very happy and relieved to report that they have found a new home and it's even closer to the bookstore. It's around the corner from the bookstore right between The Mexican Pub and Al Chimichurri. This adds more choice to our "restaurant row" which also has Posada Amor and Barra Barra. Just a little further down the road you will find Caktus Grill.
Just before we closed we reported our other neighbours Martine and Flavio of L'Oazis were selling their restaurant. We're happy to report that they are not selling, so you will see them running the restaurant as usual. We also pass along our congratulations to Martine who got married this summer to Gilles. From the "it's a small world" department, we ran into Flavio as we were walking down the street in Montreal. He was there visiting family, we were visiting the city. We were all very surprised to see each other and it's amazing we all recognized each other, as the crisp Fall day in Montreal has us all wearing far more clothes than we had ever seen each other wearing!
Mama's Bakery has moved again, but not far. You'll find her just a little closer to the square on the same road, beside Dive In Puerto Morelos. Diane is in the space where Pixan gift shop and internet cafe was. Mama's Bakery will now have more space and a large terrace for dining outside. Pixan gift shop is closed, but Mike will still handle any of your satellite television needs.
The DVD rental place has closed, in it's place is a new taco place called Peskayitos. Nice decor and lots of choices for low prices.
Another new restaurant has opened in the tiny building that used to be a shop behind the police station. We love the name, it's called Pizza n' Love. Lots of toppings choices available for an individual or the whole family. The pizza can be delivered...not sure about the love.
The owner of Hacienda Morelos has leased the property to another company who renamed it Hotel Carmen Hacienda. They are running the restaurant as El Coyote Restaurant. The same company has also taken over Villas Latinas, but it has not opened yet.
Also open in the beautiful Baraka space is Paradise Pier, a restaurant specializing in seafood.
A new cafe has opened across from Carmen Hacienda called El Gato Azul.
The owner of Caktus grill, lounge and bar has lots of surprises planned for the season including live blues music.
It appears that there is a new restaurant opening on the top level of the mall across the square from the bookstore. It's still under construction, but they have a sign up. It's called Taqcho and it promises "tacos and more." We'll keep you posted.
Restaurateur John Gray had a busy summer. He opened yet another restaurant, this one in Cancun. John Gray's Downtown is now open. John is also moving his Playa del Carmen restaurant across the street from its current location. The new spot will have more room and dining under the stars.
All your other favourites like Hola Asia, David Lau's, El Faro, La Terraza, El Pirata, Don Pepe's Ole, Cantina Habanero, John Gray's Kitchen, La Suegra de John Gray, Los Gauchos, Ixchel, Las Palmeras, Gourmet Galleria, El Tio, & Pelicanos are open and ready to serve you! (hope I didn't miss anyone) We assume Tanino's, Mexican Pub, Casa Pescador, Spaghetino and Giocondo will open soon.
We did lose a couple of restaurants over the summer. The New England Pub in Hotel Inglaterra closed as did Las Morenas which was on Rojo Gomez, just north of PlayaSol. The deli below Hola Asia has also closed. The former owner even took the sidewalk with her! The convenience store around the corner from El Pirata also closed.
Christmas has arrived in Puerto Morelos. Happy to see that the square is being decorated this year, along with the church and several of the restaurants. Christmas is a pretty big deal here, though the festivities surrounding the Day of the Virgin of Guadalupe on December 12 is even bigger.
Mauro Jaramillo is back in town and has re-opened his Centre for Corrective Myotherapy in a new spot. It's now at the north end of Avenue Niños Héroes at number #802. Addresses don't mean a whole lot in our town, but look for his familiar blue and white "AQUI" sign.
A new Michocan ice cream place has opened in the mall across the square from the bookstore. Vincente's ice cream shop beside our bookstore remains a popular choice for a cold treat as well as the house just off Rojo Gomez, across from Villas Latinas.
The ice cream place is in the space formerly occupied by Mayan Riviera Properties who have remodeled the old Mystic Dive Shop building and made a lovely new home for themselves there.
A new convenience store, OXXO (pronounced ox-sew...no Mayan pronunciations on this one) has opened right on the square where the Morex money exchange used to be. OXXO is owned by the Mexican corporation FEMSA who are best known as the brewers of Sol and Tecate beer. They also have a huge stake in Coca Cola in Mexico, so Pepsi might be difficult to find there. They sell all things you would expect to find in a convenience store, but we hope if you are getting coffee to go, you'll continue to support Cafe de Amancia, who makes the best coffee in town. (Best nickname for "OXXO" that we have heard is "hugs & kisses")
Richard's Travel Agency has now moved to a small space right around the corner from the bookstore, facing the new OXXO.
A new website about Puerto Morelos has hit the net. Emilio Munoz has acquired the puertomorelos.com domain and will offer information about your favourite town in several languages. Some of our content may appear from time to time as well.
Dr. Carlos moved to Quebec for the summer. There are rumours he will return this winter. We hope he will. We always felt very secure having Dr. Carlos in town.
The main town dock has been completely rebuilt. Visitors last year will remember it had a bit of a surrealistic Dali-esque feel to it after being lifted by some high surf.
Big thanks to the Miami Herald Cancun Edition for their recent article on the bookstore's opening. The Herald is your best choice for keeping up with world news while on vacation. Look for it at your hotel and most convenience stores.
Cancun continues to get bigger. Unfortunately they have closed the main road into Cancun, Tulum Avenue at Avenue Kabah, the road to Costco. They are putting in an overpass, which will be wonderful when it's done...but in the meantime it is a pain. They have a crazy detour which involves turning on Avenue Bonampak then doing a U-turn back onto Tulum, then U-turning again to get going the other way on Tulum. After that you can turn right on Kabah. It's just as tough to navigate as it sounds. When it is complete, traffic in and out of Cancun will flow freely and everyone else will be loaded onto a giant traffic circle.
Cancun has a new Sam's Club on the main road into town. It's on the left side as you drive into the city. Beside it is a new supermarket called Superama, which is owned by Wal-Mart...but it's much smaller. We kind of liked the smaller size, as it allowed us to get in and get out quickly. Right now there are acres of parking because nobody knows about it yet.
The big Mega store beside Costco in Cancun burned down over the summer. Not sure what will be done as the chain in having some financial troubles. They are close to opening a new store on Avenue Lopez Portillo.
City Club, which is Soriana's answer to Sam's and Costco is offering a good deal on membership right now. You get a membership for two for two years for 300 pesos. It's like getting one year free. You also get a bonus membership that you can give to a friend. They have locations in Cancun and Playa.
If you go to the mall next to City Club, Paseo Cancun, park your car in the City Club parking lot if you want to save some pesos. They are charging for parking at Paseo Cancun mall, but not at the City Club next door. Very strange.
Playa del Carmen has a brand new, and very large Telebodega store now. It's on the lateral on the west side of the highway, further south than the old one, which is still open. They deliver free to Puerto Morelos on Tuesday and Thursday. For the uninitiated, Telebodega is a Mexican chain that has a wide selection of appliances and furniture. Their appliances are good, you can get any brand name. Their furniture is hit and miss, but you can find some good stuff. If you are furnishing a home here, sooner or later you will end up at Telebodega. Approaching Playa del Carmen from Puerto Morelos, you will find quite a few good furniture stores in a row on the right side of the highway, including a couple of outlets. Some good deals to be had. Stop at La Floresta for shrimp tacos for a day of fun and furniture. We did the bulk of our furniture shopping in Playa del Carmen this time. Much easier than Cancun.
The Banco de Mexico has changed the 200 peso bill. It still features Juana De Asbaja, but the new bill is slightly smaller, a little cleaner looking and features some anti-counterfeiting features. In the picture on the right, the new bill is on the bottom. Look for it in your change. The Mexican government also recently announced that they will be making future coins smaller and from cheaper materials, like stainless steel rather than copper, zinc and nickel.
Tax Man: Property owners here know that if you pay your property taxes early, you can enjoy great savings. Right now, if you pay before December 15, you will get a 20% discount on your property taxes. The discount drops 5% a month after that.
Museum Moving: Cancun's Museo de Arte Popular Mexicano (Mexican Folk Art Museum) will be moving out of its current location in the Hotel Zone to Xcaret park sometime soon. The museum hosts an impressive collection of folk arts and crafts from all over Mexico. It is well worth a visit, but go soon or you will have to go to Xcaret to see it. The museum is located on the second floor of El Embarcadero Marina (near where the pirate ships are) at km 4 on the hotel zone road. Admission is 50 pesos.
More things to do: We recently revised our popular "10 things to do in Puerto Morelos" list on our website to "12 things to do in Puerto Morelos". Check it out here. Features a printer-friendly list you can give to new visitors to our town.
Our weather station is offline right now, but will be back online soon.

Did I miss any local news? Let me know!

Cambi-Oh!: Once again the bookstore is short of change. We simply cannot get enough 5 and 10 peso coins or 20 peso bills. If you find yourself weighed down or you are always jingling around town...stop by the bookstore and we will lighten your load and exchange your coins for bigger (and lighter) bills. If you are up north, check the dresser drawers for cambio and repatriate those coins!

This Newsletter is being sent to you on a new server. It charges us for each individual email that it sends out, so if you are receiving this email more than once, please unsubscribe the extra addresses. Because it charges us for each email, it is very careful to ensure all the addresses are valid. If it has trouble getting the email to you, it will delete your name and never send you another email. If you were receiving our email, but now you are not, try signing up again using the form on our web page. This "double-opt-in" system is much more accurate and should ensure you continue to receive this newsletter. You can try adding our email address to your contact list too, so that your spam blocker doesn't delete us. Gracias!

Don't hate us, we've added Google Ads to the newsletter in an attempt to cover some of its costs. We have no control over the ads that pop up, Google decides that, and we are in no position to tell them what to do! Please let us know though if anything odd shows up. Please note, these ads don't begin to cover our costs for this newsletter. If you like this newsletter, please support it by buying books at Alma Libre. Gracias!

Current Exchange Rates (In Puerto Morelos)


USA Dollar 12.80
CDN Dollar 9.80
---
This Just In! Books & Products at Alma Libre
Read all about it!
We love to keep you up to date with the town, but it's books that pay the bills. Have a look at some of the titles we're most excited about...
Frommer's Cancun, Cozumel & the Yucatan 2009 - Updated every year, Frommer's always brings you the best of our area. This is the most up to date travel guide we have in the shop and it comes with a free area map. This book covers a wide area, all of the Yucatan and into Chiapas and Tobasco. If you want to to go there, Frommer's will show you the way. Has an excellent section on Puerto Morelos too!

Traveler's Guide to Mexican Camping - If you are contemplating driving down here with your RV, you need this book. Traveling in Mexico by RV is an excellent option, but to enjoy your trip you need this book. I even recommend it to people who are just driving down here from Canada or the US as the border crossing and big city bypass information alone is worth the price of it.

This book and a Gui Roji Road Atlas (2008 version available at Alma Libre) are your best bets for a safe and happy driving holiday in Mexico.




Cortes and Montezuma - The incredible chain of events that led to the conquest of an entire culture in Mexico by a handful of Spaniards is an amazing story. This retelling by Maurice Collis is well written, factual and very readable.

The complex characters and motivations of both central figures are explained in detail. According to Collis, Montezuma was a generous, devout and able ruler, but at the same time he was a tyrannical monster who indulged in endless orgies of ritual murder; Cortes was a civilized and enterprising explorer who brought enlightenment to a oppressed land but he was also the bringer of death and destruction to a complex and fascinating civilization. The author also explains the amazing astrological-magical religion of the Mexicans and how it made the conquest possible. - Amazon.com

Culũa - Author Samantha Wood describes her personal journey that leads to the discovery of her "Mexicaness", the part of herself that she didn't know was missing, growing up in Melbourne, Australia. Her account of growing to love Mexico, and discovering the beauty of Mexico City in both its beautiful and ugly corners is heart warming and endearing.

Birds & Fish - We share our beautiful area with some of the world's most interesting creatures. Every day we see wildlife in and around the town, from big birds to slithering reptiles and everything in between. To help you get to know your neighbours better, we offer several guides. For an overall view, you can't beat this book, the Traveller's Wildlife Guide to Southern Mexico by Les Beletsky. A gorgeous book packed with information and pictures. Covers fish, ,mammals, reptiles, birds and a little about the plant life here.

For more detail, we offer a choice of bird guides and our popular snorkel guide.

Spanish Language Learning Software- Now available for the Mac! - Since moving to Mexico, Joanne and I have struggled with our Spanish, especially those nasty verbs. Now our friend Jacky has invented a fun way to learn your verbs. Her Amigos Spanish program has full conjugation for 700 verbs and helps you learn with tests and puzzles. The program is totally customizable, allowing you to focus on the verbs you need to know. Plus it's fun, so you will stick with it and learn those verbs. To expand your vocabulary, try Amigos Spanish Puzzles a program featuring word games with English clues and Spanish answers (or vice versa). The program comes loaded with 2500 words, and you can even add your own words if you like! Both programs are available on CD exclusively at Alma Libre Bookstore.

Secrets of the Talking Jaguar is the story of the author's physical and spiritual journey from the Southwestern US to the highlands of central America. There he becomes apprenticed to a local shaman who teaches Pretchel much about indigenous Mayan life, and about life in general. We sold out of these last year in hardcover, this year we were lucky enough to get some soft cover editions. If you missed this book last year, don't miss it this time.
SPECIAL OFFER for Alma Libre Bookstore Customers

Cenotes of the Riviera Maya is the best book ever written about the cenotes in our area. Beautifully photographed, it could easily be called a coffee table book, but it is also has all the practical information you need to explore the cenotes whether you are swimming or diving. Many have drooled over this book, but the hefty (500 peso) price tag kept some people away. Now author Steve Gerrard has authorized us to lower the price. At 300 pesos, this book is an incredible bargain and it has been flying off our shelves...in fact we ran out for a while around Christmas, but we're stocked again.

Maps!

If you drive in our area, you need a map! We have excellent and detailed maps of the Yucatan, the country of Mexico, Cancun city, Merida as well as Belize, Guatemala, Cuba and Central America. We also have souvenir-quality maps you can hang on the wall.

This year we also have a good supply of "Map Chick" Mayan Riviera maps. These incredibly detailed maps will lead you to the best of the Mayan Riviera including restaurant and accommodation recommendations. This map has the most detailed map of Puerto Morelos ever made, as well as Puerto Adventuras, Akumal and the entire Mayan Riviera corridor.

Maps are usually difficult to find in Mexico, but only if you are looking in the wrong place! Plot a course to the bookstore...if you get lost...ask for directions...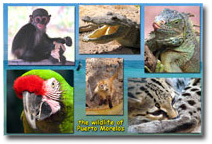 Postcards! We've added a lot of new postcards to our collection, including more underwater shots by "Dive Diva." We have the largest selection of Puerto Morelos postcards, and they are all exclusive to Alma Libre. We know because we make 'em! We also have blank greeting cards to cover any occasion you may wish to celebrate while you are in paradise. We even have some Christmas cards this year!
Gift Certificates! A nice gift idea for someone who lives here is an Alma Libre Gift certificate. Available in any amount and can be used for new or used merchandise. We can accept payments from up north via Paypal.
---
Our Travels
We're never afraid to put some miles on, and this summer was no different. Driving north for us was a little different this year as we were not pulling our trusty trailer. Regular Beach Reads readers may remember that our trailer got "whacked" by a pole hanging off the end of a truck on our last trip south back in November 2007. The insurance company ended up buying the trailer, so it was just us and the truck for the trip north.
Not having the trailer allowed us more maneuverability, so we took advantage by going to some places that we usually miss or gloss over. Our first stop was historic Campeche. The old walled centro is a living museum with beautiful architecture, squares and music.
Next we stopped in Villahermosa, site of the famous Omec heads and terrible flooding in fall of 2007. Most everything has been rebuilt, but you could see evidence of the flooding and giant sandbag walls remain in place. La Venta is an outdoor museum where the Omec heads are presented. These giant faces are truly wonders and should not be missed.
Veracruz was next. We have spent a little time here before, but were never able to stay in the historic downtown. It's a modern port city with loads of history.
We could never get to Xalapa with our trailer. It's straight up into the mountains near Veracruz. The higher elevations mean it is much more temperate than Veracruz. We immediately fell in love with this beautiful city. It's narrow colonial streets are fun to explore on foot. (It was not so fun with the truck as I had to drive on more than one sidewalk to navigate the narrow streets.) Many historic buildings and public art. Xalapa is also home to an excellent museum with more Omec heads. The citizens of this city are very friendly and kept asking us if we liked their town. Nearby is Coatepec, the coffee capital of Mexico.
After that we made a run for the border and picked up a new trailer in Texas. We dawdled a little in Texas and then made a beeline for Calgary. We imported the trailer into Canada and got it licensed, which is a surprisingly easy process.
The trip south was one of contrasts. We started from Calgary in September pulling our new trailer and paying more than $4 a gallon for gas. We parked the unit in Austin, Texas where we caught a flight to Puerto Morelos to check on some renovations we are doing to our house. After that we flew to Montreal, where we spent a few days enjoying the city before boarding a cruise ship. The ship sailed through Atlantic Canada and New England, where we took in the sights and watched the leaves change. Stops included Quebec City, Sydney Nova Scotia, Halifax, Charlottetown PEI and Bar Harbor Maine.
After that the ship sailed for Fort Lauderdale at the Caribbean. Stops included Barbados, St. Lucia, Martinique and the British Virgin Islands. Then we flew back to Austin and continued our drive south. Somehow, between the time we left our truck in Texas and we returned to it, the price of gas dropped below $2.
We took our usual coastal route into Mexico. Road quality was poor south of Tampico as usual, but otherwise it was a pretty typical trip.
I hesitate to add up all the miles we covered, zig-zagging over North America this summer by truck, plane and ship...but suffice to say, it was a lot!
---
Photos of the Month
| | |
| --- | --- |
| | |
| Sunrise at Casita Kin Ha, one of the rental properties on our website. You just know it is going to be a good day when it starts off like this! | Traveling troubadours passing through town. |
| | |
| This big fella flew in the store the other night and promptly landed right in the "sex" section of the bookstore! Bet you didn't know we had a "sex" section. | Our new trailer almost home in Chetumal, Quintana Roo. What a beautiful spot! |
---
In Memory - David Lau
Very sad to report that David Lau passed away this summer at his home in Puerto Morelos. David was the original chef of Hola Asia. Later he left Puerto Morelos to run Mr. Lau's in Cancun before returning to Puerto Morelos to open his own restaurant.
David's talent in the kitchen was incredible and people lined up for his food wherever he was serving it.
We supplied him with the occasional Chinese book and he reciprocated by teaching me the only Chinese phrase I will likely ever know, how to order mixed fried rice (I have no idea how to write it, but it sounds like "young-chow chow-fan")
David was a big part of Puerto Morelos and he will be missed. The good news is that his son David will continue the restaurant in his name and tradition.
(Rest in Peace)
---
Advertising:
---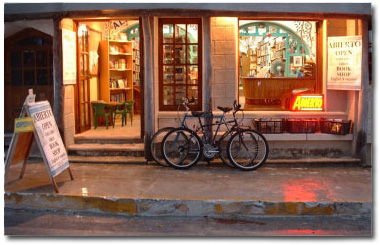 Just a reminder that we are open seven days a week for the season. Our hours are Monday through Saturday from 10:00am to 3:00pm and 6:00pm to 9:00pm. We are closed between 3:00pm and 6:00pm for siesta. Sunday we are open 4:00pm to 9:00pm.
Our hours are always posted on the front page of our website at www.almalibrebooks.com.
We take trades every day, so our selection is constantly changing. If you are planning a trip down, why not bring some recent bestsellers to trade and check out our store, or plan to buy all your reading material at Alma Libre. We got you covered!
If you live here, we can special order books for you. It is not a quick process, it usually takes a month, but our prices are much better than Amazon's. Let us know what title you would like and we'll provide a quote.
We look forward to seeing you in Puerto Morelos!
---
Beach Reads is the official newsletter of Alma Libre Bookstore in Puerto Morelos Mexico. It is mailed directly to your mailbox if you request it. Beach Reads is published on a sporadic, seemingly random basis...but it is supposed to be approximately monthly during the season at Puerto Morelos. The season is November until after Easter. We do our best to publish it regularly...but we are easily distracted...
Our website is located at www.almalibrebooks.com Our store hours are always on the home page.
If you do not wish to receive this newsletter, please Click Here To Unsubscribe
This is Year #7, Issue #1. December 2008
To subscribe or make comments or suggestions or advertise your local event, please Contact Us
Retransmission & Redistribution of this newsletter without express written consent is just fine by us! Send this newsletter to a friend! (or get them to sign up for their own copy) If you like the newsletter, please support it by buying a book at Alma Libre Bookstore.
Text & Photos ©2008 Alma Libre Bookstore