---
Advertising:
---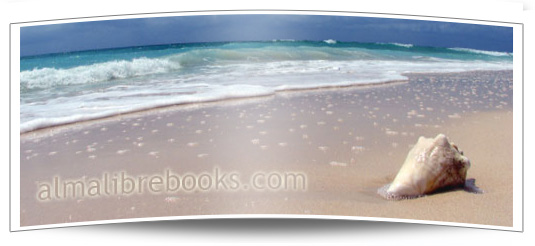 News from Alma Libre Bookstore - Puerto Morelos, Mexico

Year 06 Issue #5 - April 2008

Click here to go to our website: www.almalibrebooks.com
In this issue:
---
Developing Ambitions
It's been a turbulent month for the tiny village of Puerto Morelos. The normally placid Puertoans have been seen speaking out and protesting to protect their piece of paradise. The object of their wrath was a very ambitious development plan. Some would call it an overdevelopment plan.
The new plan, which is the second one presented to the town of Puerto Morelos in a week, calls for building 43,000 homes in Puerto Morelos for 174,000 people. This is down from the first plan, which allowed 60,000 homes and 240,000 people. To achieve such a population gain on relatively little new land, the plan called for allowing extreme density. Many more people allowed per square metre. It also calls for building on known flood plains and in environmentally sensitive areas.
Naturally the residents of Puerto Morelos we horrified by this plan. Already the infrastructure of Puerto Morelos is strained with the population it has. There have been shortages of water this season, the town's schools are bursting at the seams and the roads are crumbling. The plan addresses none of these problems, just adds more people to the mix.
Scientists and environmentalists have stated that the proposed growth would endanger the mangrove and the reef, and violates which is the pride of the town. They have called for a two month delay to allow proper environmental studies.
After a series of town meetings and a large protest on the highway, the plan remains in the hands of Cancun's City Hall. The good news is that the town is united and skilled in the art of blocking overdevelopment.
I know that Beach Readers are nervously watching and awaiting the results of all this and are ready help if necessary. We're watching too and will keep you informed via our "Friends of Puerto Morelos" Facebook group and this newsletter.
It has been suggested that you can write an email to the Governor of the State and let him know your concerns. Letters should be polite, respectful and if possible in Spanish, but better to write in English than not at all. You could write in English and translate it with an online translator such as translate.google.com. They provide rough translations, but your point should be understood. Here is his contact information:
For more information on the plan, read this article by Kathy Loretta of the Miami Herald-Cancun and this page about the town meeting.
April Fool's
It's just an odd coincidence that this newsletter is being released on "All Fool's Day", but if the shoe fits...
We're inclined to think the real fools might be those that don't come visit us in Puerto Morelos in April! Spring is a great time to get away from where you are and get a little taste of paradise before summer.
Some incredible airline deals are out there. We just found a friend a cheap flight from Vancouver on Zoom Airlines. Check out flights with your travel agent or online and plan a little spring break of your own!
We can help you with accommodation, we have lots of openings in April. Check out our places here.
Bookstore Hours & Closing Date
It's that time of year again when we start reducing our hours at the bookstore. We will not be open on Sundays & Mondays in April and we plan to close the store as of April 26. It's been a fun season and we can't believe how quickly the time has passed.
We'd like to thank all our customers and friends for another successful season. We receive many compliments for our newsletter and web site and kudos for the hundreds of questions we answer daily via email and in the bookstore, but we need to sell books to pay for it all.
Thank you for your continued support. If you value this newsletter and our website, please buy books at Alma Libre Bookstore.
We hope to open again sometime in October after a busy summer.
Gracias
Rob y Joanne

---
Puerto Morelos Map
We've been trying for years to come up with a good map of the town that we could post online. At last we've made one. This map is an actual satellite picture of Puerto Morelos, but we can label it, so you can actually find things. We've posted it on our website under the Puerto Morelos tab. The real advantage of the map is that you can move it and zoom in and out to find exactly what you are looking for...in town or outside. Try grabbing the map with your mouse. Cool!
We're working on ones that will have all the restaurants and rental accommodations on it.
Facebook
We launched two new Facebook groups last month. Friends of Puerto Morelos & Alma Libre Bookstore. You can also be a fan of Alma Libre Bookstore.
The groups have grown very quickly! If you are on Facebook, please join our groups. We'll use them to keep you up to date with town news between newsletters. Check out the group for new photos of Puerto Morelos, taken by visitors.
Click for a Video Tour!
Rent this place for as little as $500 a week. Separate bedroom with queen size bed, full kitchen, living room, dining room and porch with hammocks. Close to the beach and Centro.
Home and Condo Rentals
Lots of visitors are discovering the comfort and convenience of staying in a private home or condo during their Mexican vacation. Many ex-pats have built their dream homes here in PM and are willing to rent it (or a part of it) to you! Renting a place makes you feel more like a local right away and offers the convenience of cooking for yourself and much more privacy.
Regular Beach Readers know that we feature some of these properties on our website. There are a gazillion property rental sites out there, but our site is unique because these are properties we know, owned and run by people we know and trust. We like to think we take the guesswork and risk out of renting.
We're always adding new properties to the site.
Check out our new, easier to navigate rentals page here.
Owners! Contact us to get your FREE listing on our website.
---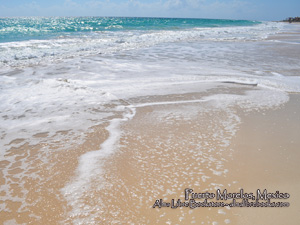 Free Gift From Alma Libre Updated for
April & May
For those of you still stuck up North, bring a small piece of Puerto Morelos to your home or office with our new Puerto Morelos Wallpaper. Beautiful of course, and practical too with an April & May calendar built right in. This month's wallpaper is a gorgeous beach view on a recent early Sunday morning in Puerto Morelos.
We'll have new pictures available for download every month! Wallpaper is also available on our website at www.almalibrebooks.com.
Pick your wallpaper size:
1024 x 768 800 x 600 1280x800 CLICK HERE FOR WALLPAPER INSTALLATION INSTRUCTIONS
---
Spring Forward at last! The rest of North America sprung ahead last month, recognizing the new Daylight Savings Time date promoted by the Bush administration last year. Not being ones to jump on the bandwagon, Mexico has stuck with the old DST format. We will spring ahead on Sunday April 6, 2008 at 2:00 AM. This may cause confusion with airline schedules...it did last year, so confirm your flight time locally if you can.
L'Oazis changing hands: One of Puerto Morelos' favourite restaurants will be under new ownership as of the beginning of May. Bill from New York and Josette from Chile will be taking over L'Oazis. They are not planning to change the menu or the name and have been training for the last month to take over. Current owners Martine and Flavio will be staying in Puerto Morelos. They plan to take some time off and launch new ventures soon. We wish them the best!
New Restaurant & Bar: Happy to report that another new place is opening in Puerto Morelos. Caktus grill, lounge and bar is opening on the south side of the square across from the Mayan Handicraft Centre. Long time visitors will remember it at the former location of the Cavern pub. Since then the building has sat empty and ugly. Now a resident of Puerto Morelos, who lives across from the place and got tired of looking at it every day, is taking over the whole place for a big restaurant and lounge. The place will be open April 11 with a big brick grill in the back and a new palapa in the front. The transformation of this former eyesore is incredible. Check it out!
A new restaurant will be opening soon in the old Baraka location. Paradise Pier will be open all day for breakfast, lunch and dinner. Menu will be seafood of course and steaks.
More things to do: We recently revised our popular "10 things to do in Puerto Morelos" list on our website to "12 things to do in Puerto Morelos". Check it out here. Features a printer-friendly list you can give to new visitors to our town.
Goin' Fishin': The dates for the fishing tournament have been announced. It will be held May 23, 24 and 25. There may be another fishing tournament the following weekend. We're waiting for details on that.
New Mexico artist Judy Asbury spent her winter this year in Puerto Morelos. She wasn't just reading books though (although she read quite a few) she was painting prolifically! Check out some of her work at her new website: www.judyasbury.com
Party on! Suddenly, out of nowhere one recent night in Puerto Morelos, a pulsating bass sound drifted through our windows on the ocean breeze. We shrugged off this warning sign as just another music-loving lothario with a stereo system far too powerful for his diminutive Chevy Geo. As the source of the sound drew closer, the music grew louder. Pictures vibrated on our cement walls. This was no Geo! In fact is was two layers of loudness, a double storied conundrum, a black-lighted enigma. Actually it was a party bus. A completely open-topped double-decker, lined with black light florescent tubes rolling slowly through our town...offering tours to nowhere in particular for a mere 10 pesos. The most bizarre part of the story, is that it has been a complete unmitigated success! People have been lining up every night to board the bus and take a noisy tour through town. Locals report to me that the best part is that the top deck offers a good view over the walls and into the windows of bewildered Puerto Morelians. Hop on the bus while you can. We're assuming this attraction will move on once low season hits.
Cheap Thrills: The best things in life are rarely free, but they don't have to involve parting with a plethora of pesos either. The other night we stayed in and feasted on a great piece of meat off the grill, fresh scallops, crisp salad and a great glass of red wine...or two and the bill for it all was around $15 for the two of us. T-bone steak from Soriana, which has some great steak, 30 pesos each. Scallops for two, also from Soriana, were 40 pesos. Lettuce and stuff for the salad worked out to less than 10 pesos for the two of us and the wine was Seleccion, a Chilean red which is a pretty hearty red and a bargain at less that 50 pesos a bottle when you buy a case of 6 at Costco. (We got turned onto this wine back in the days of Caffe del Puerto which poured it (generously) as their house wine.)
Richard's Travel Agency / Real Estate office (formerly Marand) has moved from it's familiar location across from the church to Villas Latinas.
Unbelievable tales: We rarely drive here, PM is a town that can be (and should be) walked pretty easily, and given the shape of the roads it can be quicker to walk sometimes...but the other day we needed the truck and we found it to be quite dead. Turns out the interior blower for the air conditioning/heater had come on by itself in the night and killed the battery. A quick search on the internet (Motto: more than just porn) showed that this was a fairy common problem with GM trucks. At fault was a simple little resistor relay, but anyone that drives a foreign vehicle here knows that there is no such thing as a simple part in México. The internet (Motto: somewhat more than just porn) told me the part number and that it was available at GM dealers in North America and online for more money than you would expect to pay for such a tiny part (thank you GM).
I was able to bypass the faulty part and get the truck going...though with no air conditioning or no fan. So now driving a glass and steel steamy hot-box to Cancun, almost as a lark I stopped by our friendly GM dealer. I was shocked to discover that knew the part and had it in stock! (at a high price of course...it was a dealership after all...some things are international) Now for the shocking part. It was the right part (shock #1) and I was able to install it (shock #2) with a minimum of swearing and it fixed the problem completely (shock #3). Lesson learned? Perhaps it is easier to get parts here in Mexico? Perhaps life in paradise won't mean jerry-rigging everything we own, from our truck to our computer to our blow dryer? I'm not sure of the answer, but I predict the guy from Cancun I read about who was trying to get a buddy to fly to Cancun with a replacement Saturn windshield on his lap would tell me...we're not quite there yet.
Regresso Pronto: Never doubt the pull of Puerto Morelos. Last year at this time, the town was visited by a TV crew from WCVB Boston's "Chronicle" who produced a whole show on the Mayan Riviera and Puerto Morelos. The show featured a very good segment on the Jungle Spa, an interview with the famous Valorie of David Lau's and featured two intrepid booksellers from Canada. This year, the producer of that show returned to Puerto Morelos with his family...and they have already vowed to come back next year!
Pier Group: Repairs of the "Salvador Dali-esque" pier are underway. The popular pier was given a surrealist touch by waves from Hurricane Dean, which lifted some of the supports out of the sand and gave the pier a unique curve.
Weather Station Back Online

Our new weather station has been very popular. Use it to keep track of our weather when you are here or when you just dream of being here.

It allows you to view weather statistics for any specific day and gives averages temperatures, humidity and wind speed. A short amount of study should tell you that our weather is pretty darn good here! Visit our weather station through our webpage here: almalibrebooks.com/weather.htm
Music in the Park: The Casa de la Cultura sponsored one more night of music in the park recently, this one honouring women for International Women's Day.
There are always lots of interesting things going on at the Cultural Centre, why not take a class while on vacation? Dance classes, yoga, palates, aikido and more! Classes for kids, teens and adults. Click here for their complete schedule.
Welcome to the Jungle! The popular Sunday Jungle Market is still on! Make a trip to the jungle, meet some local families and purchase some unique handmade gifts and food, unavailable anywhere else. Rumour has it they also have the best flan you will ever taste at the Jungle Market.
Proceeds go directly to the women you buy from and help their families.
A new addition this year is a show featuring music and traditional Mayan dancing. Watch out Xcaret! You'll see many traditional dances including the popular beer bottle dance. Show starts at 11:30 sharp. Very entertaining and full of surprises.
The Jungle Spa is open every Wednesday. Pamper yourself for less! Many treatments are available, from manicures and pedicures to an aloe vera and banana leaf wrap! One woman who had this treatment said that it changed her life!
Prices are much, much lower than you will find at your resort or in town. If you can't make it on Wednesday, try making an appointment for another day. Call Sandra (998) 208-9148.
It's easy to get out to the jungle by car, taxi or collectivo. It's on Calle Dos (ki-yay dose) in the Zona Urbana, which is right behind the Colonia. We have little maps to it in the bookstore.
This is a great project and has helped the women of Puerto Morelos and their families immensely.
Did I miss any local news? Let me know!
Cambi-Oh!: Once again the bookstore is short of change. We simply cannot get enough 5 and 10 peso coins or 20 peso bills. If you find yourself weighed down or you are always jingling around town...stop by the bookstore and we will lighten your load and exchange your coins for bigger (and lighter) bills. If you are up north, check the dresser drawers for cambio and repatriate those coins!
This Newsletter is being sent to you on a new server. It charges us for each individual email that it sends out, so if you are receiving this email more than once, please unsubscribe the extra addresses. Because it charges us for each email, it is very careful to ensure all the addresses are valid. If it has trouble getting the email to you, it will delete your name and never send you another email. If you were receiving our email, but now you are not, try signing up again using the form on our web page. This "double-opt-in" system is much more accurate and should ensure you continue to receive this newsletter. You can try adding our email address to your contact list too, so that your spam blocker doesn't delete us. Gracias!

Don't hate us, we've added Google Ads to the newsletter in an attempt to cover some of its costs. We have no control over the ads that pop up, Google decides that, and we are in no position to tell them what to do! Please let us know though if anything odd shows up. Please note, these ads don't begin to cover our costs for this newsletter. If you like this newsletter, please support it by buying books at Alma Libre. Gracias!

Current Exchange Rates (In Puerto Morelos)


USA Dollar 10.50
CDN Dollar 10.00
---
Real Estate in Puerto Morelos
Puerto Morelos is a rare find on the Mayan Riviera. While other towns have exploded with unbridled growth, tranquil Puerto Morelos has quietly grown, gradually developing empty lots. The town remains a mixture of foreign and local homes, all anchored by a real town square with a host of dining and shopping options.
The biggest appeal of Puerto Morelos, it's lack of development, is driving prices up here. While other towns will build a large condo complex on any available piece of land...Puerto Morelos is slowly running out of available opportunities. If you have been considering a purchase here, it may be time to make the leap.
We've added a several brand new listings to our website. Check them out here.
| | | | |
| --- | --- | --- | --- |
| | | | |
| Price Reduced! 3 br 3 bath $495k | 3 br 3.5 bath home $630k | 2 br 1.5 bath condo from $295k | Retreat for sale! $795k |
---
This Just In! Books & Products at Alma Libre
Read all about it!
We love to keep you up to date with the town, but it's books that pay the bills. Have a look at some of the titles we're most excited about...
The Labyrinth of Solitude - Written by the legendary Mexican author Octavio Paz, this book "contains nine beautifully written, deeply felt essays . . . whose concern is the Mexican's solitariness and quest for identity." This book later won the Nobel Prize for Literature. Many say if you truly want to understand the Mexican psyche, you must read this book.

Traveler's Guide to Mexican Camping - If you are contemplating driving down here with your RV, you need this book. Traveling in Mexico by RV is an excellent option, but to enjoy your trip you need this book. I even recommend it to people who are just driving down here from Canada or the US as the border crossing and big city bypass information alone is worth the price of it.

This book and a Gui Roji Road Atlas (2008 version available at Alma Libre) are your best bets for a safe and happy driving holiday in Mexico.




Cortes and Montezuma - The incredible chain of events that led to the conquest of an entire culture in Mexico by a handful of Spaniards is an amazing story. This retelling by Maurice Collis is well written, factual and very readable.

The complex characters and motivations of both central figures are explained in detail. According to Collis, Montezuma was a generous, devout and able ruler, but at the same time he was a tyrannical monster who indulged in endless orgies of ritual murder; Cortes was a civilized and enterprising explorer who brought enlightenment to a oppressed land but he was also the bringer of death and destruction to a complex and fascinating civilization. The author also explains the amazing astrological-magical religion of the Mexicans and how it made the conquest possible. - Amazon.com

Culũa - Author Samantha Wood describes her personal journey that leads to the discovery of her "Mexicaness", the part of herself that she didn't know was missing, growing up in Melbourne, Australia. Her account of growing to love Mexico, and discovering the beauty of Mexico City in both its beautiful and ugly corners is heart warming and endearing.

Mexican Slang 101 - This book is the phrase book for those who want to really "talk the talk" and speak the way the locals speak. You'll find hip expressions like the proper way to say "cool" or "bummer", right down to the nastiest insults you can imagine. There is enough information in this book to be the life of the party, or get beaten up. Be careful how you use this book! Cover price is only 50 pesos or 5 bucks. Makes a great gift or gives you some training that Berlitz just is not going to give you! This book has quickly become a bestseller. Makes a great souvenir or gift.

Spanish Language Learning Software- Now available for the Mac! - Since moving to Mexico, Joanne and I have struggled with our Spanish, especially those nasty verbs. Now our friend Jacky has invented a fun way to learn your verbs. Her Amigos Spanish program has full conjugation for 700 verbs and helps you learn with tests and puzzles. The program is totally customizable, allowing you to focus on the verbs you need to know. Plus it's fun, so you will stick with it and learn those verbs. To expand your vocabulary, try Amigos Spanish Puzzles a program featuring word games with English clues and Spanish answers (or vice versa). The program comes loaded with 2500 words, and you can even add your own words if you like! Both programs are available on CD exclusively at Alma Libre Bookstore.

We like the program so much, we're featuring free monthly Amigos Spanish crossword puzzles in Beach Reads. Click here to see and solve this month's puzzle.

Secrets of the Talking Jaguar is the story of the author's physical and spiritual journey from the Southwestern US to the highlands of central America. There he becomes apprenticed to a local shaman who teaches Pretchel much about indigenous Mayan life, and about life in general. We sold out of these last year in hardcover, this year we were lucky enough to get some soft cover editions. If you missed this book last year, don't miss it this time.
SPECIAL OFFER for Alma Libre Bookstore Customers

Cenotes of the Riviera Maya is the best book ever written about the cenotes in our area. Beautifully photographed, it could easily be called a coffee table book, but it is also has all the practical information you need to explore the cenotes whether you are swimming or diving. Many have drooled over this book, but the hefty (500 peso) price tag kept some people away. Now author Steve Gerrard has authorized us to lower the price. At 300 pesos, this book is an incredible bargain and it has been flying off our shelves...in fact we ran out for a while around Christmas, but we're stocked again.

Maps!

If you drive in our area, you need a map! We have excellent and detailed maps of the Yucatan, the country of Mexico, Cancun city, Merida as well as Belize, Guatemala, Cuba and Central America. We also have souvenir-quality maps you can hang on the wall. Maps are usually difficult to find in Mexico, but only if you are looking in the wrong place! Plot a course to the bookstore...if you get lost...ask for directions...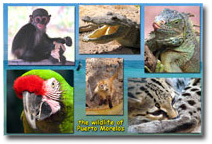 Postcards! We've added a lot of new postcards to our collection, including more by "Dive Diva." We have the largest selection of Puerto Morelos postcards, and they are all exclusive to Alma Libre. We know because we make 'em! We also have blank greeting cards to cover any occasion you may wish to celebrate while you are in paradise.
Gift Certificates! A nice gift idea for someone who lives here is an Alma Libre Gift certificate. Available in any amount and can be used for new or used merchandise. We can accept payments from up north via Paypal.
---
Here is another Amigo Spanish Puzzle. To solve the puzzle, click the picture to the left and a new window will open with the puzzle full screen. Then you must print it out and solve it. Do not attempt to solve the puzzle by writing on your computer screen with a big felt pen.
Please note, this is the easy version of the puzzle, they are available on the program larger and harder. Email us if you like the puzzle as is, or if you want us to publish a more difficult version.
When you finish, click here to view the answers.
These puzzles are a great way to learn Spanish click here to get the program to make your own puzzles!
---
Photos of the Month
| | |
| --- | --- |
| | |
| March was a month full of celebrations. First for Semana Santa, the Holy week around Easter and then a series of celebrations for Saint Joseph. | This guy lives just down the street from us. |
| | |
| There's no such thing as a bad day's fishing, so this intrepid fisher was pretty happy with his catch. As far as we know he stuffed and mounted the thing. It was a great day out on the water though! | Joanne at the Sunday Jungle Market tries the beer bottle dance. There were some tense moments, but both Joanne and the beer came out unscathed. (One woman did drop her beer bottle, but we will not embarrass Sandra by mentioning her name here.) |
---
Advertising:
---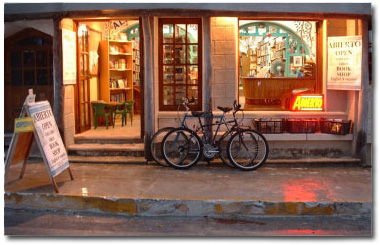 Just a reminder that we are open our regular low season hours now. That is Tuesday through Saturday, 10:00 am until 3:00 pm and 6:00 pm to 9:00 pm. Closed on Sunday & Monday.
Our hours are always posted on the front page of our website at www.almalibrebooks.com.
We take trades every day, so our selection is constantly changing. If you are planning a trip down, why not bring some recent bestsellers to trade and check out our store, or plan to buy all your reading material at Alma Libre. We got you covered!
If you live here, we can special order books for you. It is not a quick process, it usually takes a month, but our prices are much better than Amazon's. Let us know what title you would like and we'll provide a quote.
We look forward to seeing you in Puerto Morelos!
---
Beach Reads is the official newsletter of Alma Libre Bookstore in Puerto Morelos Mexico. It is mailed directly to your mailbox if you request it. Beach Reads is published on a sporadic, seemingly random basis...but it is supposed to be approximately monthly during the season at Puerto Morelos. The season is November until after Easter. We do our best to publish it regularly...but we are easily distracted...
Our website is located at www.almalibrebooks.com Our store hours are always on the home page.
If you do not wish to receive this newsletter, please Click Here To Unsubscribe
This is Year #6, Issue #5. April 2008
To subscribe or make comments or suggestions or advertise your local event, please Contact Us
Retransmission & Redistribution of this newsletter without express written consent is just fine by us! Send this newsletter to a friend! (or get them to sign up for their own copy) If you like the newsletter, please support it by buying a book at Alma Libre Bookstore.
Text & Photos ©2008 Alma Libre Bookstore