---
Advertising:
---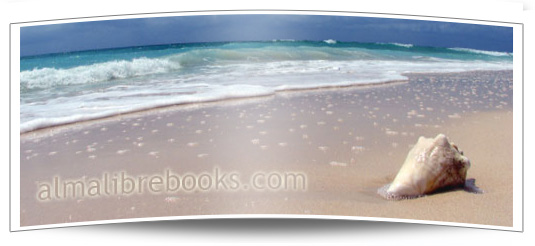 News from Alma Libre Bookstore - Puerto Morelos, Mexico

Year 06 Issue #4 - March 2008

Click here to go to our website: www.almalibrebooks.com
In this issue:
---
Spring Break in Mexico:
Those words conjure up some strong imagery of college kids blowing off steam and trying to consume as much alcohol as possible before hitting the books again up north. Spring Break in Puerto Morelos looks a lot different.
Like everything else we touch, Spring Break in Puerto Morelos is a laid-back, relaxed experience. It involves the beach, a hammock, a great meal and perhaps a book or two to read.
The good news is that even if your college days are way behind you, you can give yourself a Spring Break. You need one too! Winter has been long, traffic has been lousy, stress has been high, and the writer's strike has made the TV season even more blah than usual. Can you think of other reasons? To add fuel to the fire, we've seen some really great airfare deals to Puerto Morelos lately. We can help you find a place to stay on our rentals web page. Lots of availability, especially in April.
Everyone needs a Spring Break!
Traveler's Cheques Warning
There is now no place in Puerto Morelos to cash your traveler's cheques. Due to changing bank rules, it is now very difficult for small cambio houses to accept them, so they no longer do. To cash a traveler's cheque you would need to go to the airport, Cancun or Playa del Carmen. (There is an American Express outlet at the airport, for convenience, go to it before you leave the terminal. Once you leave, they won't let you back in.)
The problem is so bad, two of the three cambio houses in Puerto Morelos are closing. Morexe, operated for many years by Martha and Andres Uscanga will be closing their locations near the church and on the highway. The one cambio house in the mall near the supermarket will stay open, exchanging cash only.
Your best alternative to traveler's cheques is to use the ATM in front of the supermarket or on the highway. There are fees of course, charged by your bank and the Mexican bank, however you will get a much better exchange rate than you could with Traveler's cheques, so it may balance out. You can also only take out $3000 pesos at a time. ATM's in Cancun have higher limits. The other disadvantage of the ATM in town is that it often runs out of cash, so you need to make sure you have enough, especially on weekends when the machines are being used frequently.
10 Weird Things about Puerto Morelos
As you know, we love our town and we ruthlessly promote it to anyone that will listen, but we have to admit, it has its quirks. Here's a list of things that help make Puerto Morelos different than your home town.
Addresses mean nothing - Every house and building has an address of course, but nobody uses them...probably because there are so few street signs. The address for the bookstore that is registered with the tax department on their official form actually includes the direction "next to the ice cream shop". If we are expecting a delivery we usually draw a map to our house and then one of us stands out in the street and looks for the truck. Often people will put a big sign on their gate if they are expecting a delivery, so there is no mystery when one of us gets a new fridge from Telebodega. Many people know houses in town only by their house name (like Casa Rosita) or nickname (Taj Mahal) or characteristics (the building with the big geckos on the side.)
No mail delivery - Essentially we have no mail delivery here. We were away from town for six months and received one piece of mail at the bookstore. Some bills are hand delivered, others we never see. I have not received a bank statement or cable bill in two years. Luckily we do most things online or in person. (You can get a post office box in Cancun to receive mail, but it really isn't that important to us)
Pedestrians have no rights - I never worry about my safety in Puerto Morelos, except when it comes to walking down the street. Aside from on the big topes, which are like crosswalks, whoever weighs the most gets the right of way...in most cases, that's the car. Aside from timid tourists in their rental cars, nobody is going to stop for you, so look both ways and dash across that street.
Soldiers in full uniform walk the beach - I know this makes some people uncomfortable, but it's really not a big deal. Wherever there is a port in Mexico, there is a military presence. Our guys are all young, and I'm sure quite bored guarding the port in a small village. They love driving around in the Hummer though. Smile and nod at them when you see them...just no sudden movements please.
You can buy almost anything from a truck that drives through the village - Just yesterday I saw a truck rolling through town selling beds, but you can also buy fruit, vegetables, water, propane, baked goods, blankets, furniture, shelving units, great big dusters, and art right on the street. Don't even get me started on the door-to-door crucifix salesmen that walk through town.
The police drive around with their flashing lights on - I don't know why they do this, except that they think it looks cool. Very confusing for visitors because they always think they are being pulled over. By the way, if they want you to pull over, they will say something (that you won't be able to understand) through their loudspeaker. They love the loudspeaker almost as much as their lights.
You can't flush the toilet paper - Not just a Puerto Morelos thing, but worth mentioning. If you stay in one of the big resorts you can flush a chihuahua if you want...but in Puerto Morelos and everywhere else in Mexico, don't flush anything unless it says you can.
No schnapps please, we're voting - Mexican election laws prohibit the selling of alcohol during an election. By closing the bars and denying the sale of liquor, they hope to eliminate the threat of anyone buying someone's vote with booze. So on election day, you can't get a drink, whether you are eligible to vote or not. For obvious reasons, these dry laws do not apply in Cancun's hotel zone or the big resorts, but they do apply in the town of Puerto Morelos. This is all quite survivable of course, except that for the second time since we've moved here, the recent election was being held on Superbowl Sunday! These dry laws also interfere with Carnival, which was celebrated weeks early in Cancun so it wouldn't have to be dry.
Our Restaurants - I love the food in Puerto Morelos, we are so lucky to have so many great restaurants in such a small town, there are some quirky things though. How about that we have an English pub owned by a couple from Germany? How about that we have two great Asian places in town, one that serves pizza as well as Asian food, because pizza has always been served there? How about the Parisian who makes great tacos?
Everyone smiles and says hello to you (or waves) - If you did this in your hometown they'd look at you very oddly or perhaps lock you up. We likely wave and yell "hola" to at least 20 people on our daily walk into work.
There is a really big English bookstore in a small Mexican fishing village - Okay, I admit it...we're part of the problem.
---
Puerto Morelos Map
We've been trying for years to come up with a good map of the town that we could post online. At last we've made one. This map is an actual satellite picture of Puerto Morelos, but we can label it, so you can actually find things. We've posted it on our website under the Puerto Morelos tab. The real advantage of the map is that you can move it and zoom in and out to find exactly what you are looking for...in town or outside. Try grabbing the map with your mouse. Cool!
We're working on ones that will have all the restaurants and rental accommodations on it.
Facebook
We launched two new Facebook groups last month. Friends of Puerto Morelos & Alma Libre Bookstore. You can also be a fan of Alma Libre Bookstore.
The groups have grown very quickly! If you are on Facebook, please join our groups. We'll use them to keep you up to date with town news between newsletters. Check out the group for new photos of Puerto Morelos, taken by visitors.
Click for a Video Tour!
Rent this place for as little as $500 a week. Separate bedroom with queen size bed, full kitchen, living room, dining room and porch with hammocks. Close to the beach and Centro.
Home and Condo Rentals
Lots of visitors are discovering the comfort and convenience of staying in a private home or condo during their Mexican vacation. Many ex-pats have built their dream homes here in PM and are willing to rent it (or a part of it) to you! Renting a place makes you feel more like a local right away and offers the convenience of cooking for yourself and much more privacy.
Regular Beach Readers know that we feature some of these properties on our website. There are a gazillion property rental sites out there, but our site is unique because these are properties we know, owned and run by people we know and trust. We like to think we take the guesswork and risk out of renting.
We're always adding new properties to the site.
Check out our new, easier to navigate rentals page here.
Owners! Contact us to get your FREE listing on our website.
---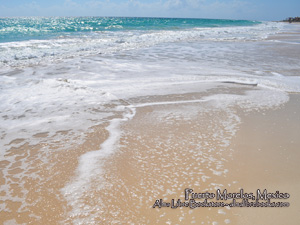 Free Gift From Alma Libre Updated for March & April
For those of you still stuck up North, bring a small piece of Puerto Morelos to your home or office with our new Puerto Morelos Wallpaper. Beautiful of course, and practical too with a December & January calendar built right in. This month's wallpaper is a mini "El Castillo" we found on the beach right near our house on our Sunday morning beach walk.
We'll have new pictures available for download every month! Wallpaper is also available on our website at www.almalibrebooks.com.
Pick your wallpaper size:
1024 x 768 800 x 600 1280x800 CLICK HERE FOR WALLPAPER INSTALLATION INSTRUCTIONS
---
Spring Forward? Not so Fast! The rest of North America will be springing their clocks ahead on Sunday March 9, but we won't be. Mexico will observe daylight savings time, but on the traditional date of Sunday April 6. Last year this caused a lot of confusion at the airport as airlines printed local departure times as if we were on DST. There is likely to be similar confusion this year, so if you can confirm your flight times locally...do it!
Restaurant News: The Mexican Pub which we mentioned last month has opened. It's a nice looking place and early reviews have been very good. They also have a big screen TV which we are hoping will feature some hockey playoffs in the coming month. (Go Flames)
The addition of the Mexican Pub right next door the new Al Chimichurri right across from Posada Amor and Bara Bara has created a little "restaurant row" just off the square, with soft lighting and wonderful smells. It compliments the restaurant row in our mall with Hola Asia, David Lau's, the Ice Cream Shop, El Marlin Bleu, L'Oazis and Cafe de Amancia. Come down to the square and you can feed your mind at the bookstore and your body any place else!
Speaking of El Marlin Bleu, Eric is open for lunch again to satisfy those shrimp taco cravings. Remember he has a location on the highway too, on the east side, right beside the big furniture store.
Also opening recently is La Suegra de John Gray (translated, the Mother in Law of John Gray) in the old Casa Azul location right on the beach. Early reviews are excellent. Join her for breakfast and lunch. John will have some more restaurant news coming soon!
Restaurante El Faro (the lighthouse) has opened on the second floor location on top of the grocery store. It's owned by the same people that brought us the beautiful Baraka which closed over the summer. Right now they have a small menu of Mexican favourites, they promise to expand the menu within a month. The space upstairs has been renovated and painted and looks great.
Cafe Finca recently closed for a few days and re-opened as Gourmet Galleria, a cafe and art space. Antonio, the former owner has sold the cafe to a local woman. She has made it a place to relax with a meal or drink surrounded by art. The menu has not changed, and neither has our favourite, Happy Season, with 2x1 all season long! You'll still see Antonio around town, smiling just a little bigger as he gets to relax a little more!
Uber-Entrepreneur Carlos has a couple of new ventures. He is now doing his famous tours using Harley Davidson motorcycles. Cool! He also has a new fast-food stand on the highway near the bus station serving burgers and other fast meals.
Shout Out!: Special thanks to Pat and her group from Nova Scotia. Pat was kind enough to bring us a Canadian survival kit, that is all the things we miss from Canada when we are down here. While we don't miss the weather at all, we do miss Canadian newspapers, Canadian beer and Tim Horton's Coffee. Pat brought us all three. The beer was Keith's Amber, which is one of Nova Scotia's best exports and happens to be where Pat and her friends work! (my other dream job) Muchos Gracias!
Weather Station Back Online

Our new weather station has been very popular. Use it to keep track of our weather when you are here or when you just dream of being here.

It allows you to view weather statistics for any specific day and gives averages temperatures, humidity and wind speed. A short amount of study should tell you that our weather is pretty darn good here! Visit our weather station through our webpage here: almalibrebooks.com/weather.htm
This Newsletter is being sent to you on a new server. It charges us for each individual email that it sends out, so if you are receiving this email more than once, please unsubscribe the extra addresses. Because it charges us for each email, it is very careful to ensure all the addresses are valid. If it has trouble getting the email to you, it will delete your name and never send you another email. If this has happened to you, in that you were receiving our email and now you are not, try signing up again using the form on our web page. This "double-opt-in" system is much more accurate and should ensure you continue to receive this newsletter. You can try adding our email address to your contact list too, so that your spam blocker doesn't delete us. Gracias!
Be good! The Policia have been spotted all over town looking for minor infractions. Keep your seatbelt on and your speed down and you should be fine. There are a lot of theories of how to handle being pulled over by the police, but the best advice is to avoid being pulled over at all by following the rules. If you do get pulled over stay calm and don't be afraid to "bargain down" if you decide to settle it by the side of the road.
<![if !vml]>
<![endif]>
Music in the Park: The Music Festival of Puerto Morelos is now over for another year and what a success it was. Funds raised will support the Casa de la Cultura.
The festival, which started very small just three years ago is now a very popular feature of Puerto Morelos. We were delighted to see how many people were driving in from Cancun and Playa del Carmen to see the show. The festival has never looked better or sounded better.
There are lots of great things going on at the Cultural Centre, why not take a class while on vacation? Dance classes, yoga, palates, aikido and more! Classes for kids, teens and adults. Click here for their complete schedule.
Welcome to the Jungle! The popular Sunday Jungle Market is on again! Make a trip to the jungle, meet some local families and purchase some unique handmade gifts and food, unavailable anywhere else. Proceeds go directly to the women you buy from and help their families. New this year, every market day the women will demonstrate traditional Mayan dances. Maybe you'll get to try too! Rumour has it they also have the best flan you will ever taste at the Jungle Market.
The Jungle Spa is open every Wednesday. Pamper yourself for less! Many treatments are available, from manicures and pedicures to an aloe vera and banana leaf wrap! Wild! Prices are much, much lower than you will find at your resort or in town. If you can't make it on Wednesday, try making an appointment for another day. Call Sandra (998) 208-9148.
It's easy to get out to the jungle by car, taxi or collectivo. It's on Calle Dos (ki-yay dose) in the Zona Urbana, which is right behind the Colonia. We have little maps to it in the bookstore.
This is a great project and has helped the women of Puerto Morelos and their families immensely.
Cooker John is back in town. Look for him (and listen) at many locations around Puerto Morelos. John is from Minneapolis, but our town would qualify as his second home. You can listen to his music (or buy it) on his website. CookerJohn.com
Tuna's Anna and Toño have opened The Zion Club in Playa del Carmen. It's on Avenue Juarez and Calle 25, in front of Bancomer. We haven't made it yet, but it's sure to be a great place for Reggae until the wee hours...and no noise complaints!

Boxing in Cancun: The first world heavyweight championship ever staged in Mexico will take place in Cancun's Bull Fighting Ring on Saturday, March 8 when World Boxing Council heavyweight champion Oleg Maskaev makes the second defense of his title against WBC interim heavyweight champion Samuel "The Nigerian Nightmare" Peter to determine the sole WBC heavyweight champion. Tickets range from $10 to $1000! The fight will be shown in the US on HBO.

This is a big deal for Cancun, and they are quite excited about it all. Like any big event, you have to take the good with the bad. This big event will undoubtedly bring a lot of cash and attention to Cancun. Unfortunately it will also bring Don King.

Road Warrior: Another chapter in my never-ending rant against the potholed roads of PM. Here's the good news / bad news. We've spotted graders, rollers, cement trucks, lots of guys with shovels and picks working on the roads...unfortunately for us anyway, they ripped the lovely asphalt off a perfectly good road between Ojo de Agua and PlayaSol and are replacing it with a pedestrian walkway. It's been a long project already and some questionable planning led them to block the entire road and the driveway to Ojo, meaning that business owners and (gasp) the garbage trucks could not get in to do their work! The final result will undoubtedly be a lovely walkway to the beach...but we sure could have used a few of those trucks on the back streets.

Bad weather (station): We're having a problem with our weather monitor. We hope to have it back online soon!

Did I miss any local news? Let me know!

Cambi-Oh!: Once again the bookstore is short of change. We simply cannot get enough 5 and 10 peso coins or 20 peso bills. If you find yourself weighed down or you are always jingling around town...stop by the bookstore and we will lighten your load and exchange your coins for bigger (and lighter) bills. If you are up north, check the dresser drawers for cambio and repatriate those coins! (Thanks to Eddie for his recent change drop off)

Don't hate us, we've added Google Ads to the newsletter in an attempt to cover some of its costs. We have no control over the ads that pop up, Google decides that, and we are in no position to tell them what to do! Please let us know though if anything odd shows up. Please note, these ads don't begin to cover our costs for this newsletter. If you like this rag, please support it by buying books at Alma Libre. Gracias!

Current Exchange Rates (In Puerto Morelos)


USA Dollar 10.50
CDN Dollar 10.00
---
Real Estate in Puerto Morelos
Puerto Morelos is a rare find on the Mayan Riviera. While other towns have exploded with unbridled growth, tranquil Puerto Morelos has quietly grown, gradually developing empty lots. The town remains a mixture of foreign and local homes, all anchored by a real town square with a host of dining and shopping options.
The biggest appeal of Puerto Morelos, it's lack of development, is driving prices up here. While other towns will build a large condo complex on any available piece of land...Puerto Morelos is slowly running out of available opportunities. If you have been considering a purchase here, it may be time to make the leap.
We've added a several brand new listings to our website. Check them out here.
| | | | |
| --- | --- | --- | --- |
| | | | |
| Price Reduced! 3 br 3 bath $495k | 3 br 3.5 bath home $630k | 2 br 1.5 bath condo from $295k | Retreat for sale! $795k |
---
This Just In! Books & Products at Alma Libre
Read all about it!
We love to keep you up to date with the town, but it's books that pay the bills. Have a look at some of the titles we're most excited about...
Traveler's Guide to Mexican Camping - If you are contemplating driving down here with your RV, you need this book. Traveling in Mexico is an excellent option, but to enjoy your trip you need the information in this book. I even recommend it to people who are just driving down here from Canada or the US as the border crossing and big city bypass information is worth the price of the book.

This book and a Gui Roji Road Atlas (2008 version available at Alma Libre) are your best bets for a safe and happy driving holiday in Mexico.

Tomando Agua de Pozo, A Guide for the Neophyte Yucatecan - The title means "Drinking Water from the Well", which is what Yucatecans say to describe someone who has come from far away and found happiness here. Happiness is what author Joanna Rosado found when she came to Merida more than 30 years ago. Her book is presented in four parts. Part one is a memoir her life in Merida. The second part is a chronological history of Yucatan which she included in the book so that newcomers could get a better understanding of the Mexico's present by knowing the past. The third part is called, "The Alphabet"; which is anecdotal advice for new residents in Yucatan. In the fourth part are short essays written by her friends about particular aspects of living in Yucatan. A valuable resource for anyone considering living here and a great read too.


Maya For Travelers and Students - This book will allow you to communicate with the Maya in their own language. Gives an excellent background on how the language formed as well as a phrasebook and Maya/English dictionary. Also tips on how to learn the language "in the field". A very unusual book, you will find it only at Alma Libre.

Lonely Planet Mexican Spanish - Our bestselling phrase book. Provides just enough espanol to get along in Mexico. A little Spanish goes a long way here and understanding a little of the language will add enjoyment to your visit. Covers everything from going to a restaurant to dating! Also has a Spanish/English dictionary in the back.

Mexican Slang 101 - This book is the phrase book for those who want to really "talk the talk" and speak the way the locals speak. You'll find hip expressions like the proper way to say "cool" or "bummer", right down to the nastiest insults you can imagine. There is enough information in this book to be the life of the party, or get beaten up. Be careful how you use this book! Cover price is only 50 pesos or 5 bucks. Makes a great gift or gives you some training that Berlitz just is not going to give you! This book has quickly become a bestseller. Makes a great souvenir or gift.

Spanish Language Learning Software- Now available for the Mac! - Since moving to Mexico, Joanne and I have struggled with our Spanish, especially those nasty verbs. Now our friend Jacky has invented a fun way to learn your verbs. Her Amigos Spanish program has full conjugation for 700 verbs and helps you learn with tests and puzzles. The program is totally customizable, allowing you to focus on the verbs you need to know. Plus it's fun, so you will stick with it and learn those verbs. To expand your vocabulary, try Amigos Spanish Puzzles a program featuring word games with English clues and Spanish answers (or vice versa). The program comes loaded with 2500 words, and you can even add your own words if you like! Both programs are available on CD exclusively at Alma Libre Bookstore.

We like the program so much, we're featuring free monthly Amigos Spanish crossword puzzles in Beach Reads. Click here to see and solve this month's puzzle.

Secrets of the Talking Jaguar is the story of the author's physical and spiritual journey from the Southwestern US to the highlands of central America. There he becomes apprenticed to a local shaman who teaches Pretchel much about indigenous Mayan life, and about life in general. We sold out of these last year in hardcover, this year we were lucky enough to get some soft cover editions. If you missed this book last year, don't miss it this time.
SPECIAL OFFER for Alma Libre Bookstore Customers

Cenotes of the Riviera Maya is the best book ever written about the cenotes in our area. Beautifully photographed, it could easily be called a coffee table book, but it is also has all the practical information you need to explore the cenotes whether you are swimming or diving. Many have drooled over this book, but the hefty (500 peso) price tag kept some people away. Now author Steve Gerrard has authorized us to lower the price. At 300 pesos, this book is an incredible bargain and it has been flying off our shelves...in fact we ran out for a while around Christmas, but we're stocked again.

Maps!

If you drive in our area, you need a map! We have excellent and detailed maps of the Yucatan, the country of Mexico, Cancun city, Merida as well as Belize, Guatemala, Cuba and Central America. We also have souvenir-quality maps you can hang on the wall. Maps are usually difficult to find in Mexico, but only if you are looking in the wrong place! Plot a course to the bookstore...if you get lost...ask for directions...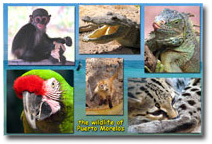 Postcards! We've added a lot of new postcards to our collection, including more by "Dive Diva." We have the largest selection of Puerto Morelos postcards, and they are all exclusive to Alma Libre. We know because we make 'em! We also have blank greeting cards to cover any occasion you may wish to celebrate while you are in paradise.
Gift Certificates! A nice gift idea for someone who lives here is an Alma Libre Gift certificate. Available in any amount and can be used for new or used merchandise. We can accept payments from up north via Paypal.
---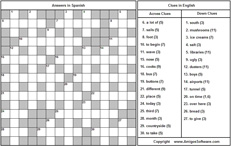 Here is another Amigo Spanish Puzzle. To solve the puzzle, click the picture to the left and a new window will open with the puzzle full screen. Then you must print it out and solve it. Do not attempt to solve the puzzle by writing on your computer screen with a big felt pen.
Please note, this is the easy version of the puzzle, they are available on the program larger and harder. Email us if you like the puzzle as is, or if you want us to publish a more difficult version.
When you finish, click here to view the answers.
These puzzles are a great way to learn Spanish click here to get the program to make your own puzzles!
---
Photos of the Month
| | |
| --- | --- |
| | |
| A Mexican dream come true, a margarita the size of your head! And doesn't young Griffin look happy about it! | We took a few days off at the beginning of February to see Carnival in Merida. It was bigger than we could have imagined! Every day there was a long & loud parade. |
| | |
| Each float on the parade featured dancers and singers throwing gifts to the crowd. This woman is a television star, the spectators were quite excited to see her, but everyone in the parade was beautiful... | ...okay, maybe not everyone... |
---
Advertising:
---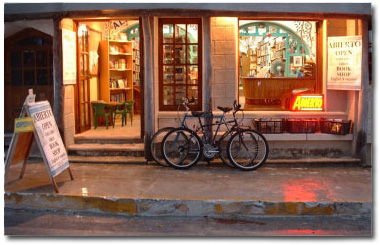 Just a reminder that we are open our regular season hours now. That is Tuesday through Saturday, 10:00 am until 3:00 pm and 6:00 pm to 9:00 pm. Open Sunday 4-9. Closed on Monday.
Our hours are always posted on the front page of our website at www.almalibrebooks.com.
We take trades every day, so our selection is constantly changing. If you are planning a trip down, why not bring some recent bestsellers to trade and check out our store.
If you live here, we can special order books for you. It is not a quick process, it usually takes a month, but our prices are much better than Amazon's. Let us know what title you would like and we'll provide a quote.
We look forward to seeing you in Puerto Morelos!
---
Beach Reads is the official newsletter of Alma Libre Bookstore in Puerto Morelos Mexico. It is mailed directly to your mailbox if you request it. Beach Reads is published on a sporadic, seemingly random basis...but it is supposed to be approximately monthly during the season at Puerto Morelos. The season is November until after Easter. We do our best to publish it regularly...but we are easily distracted...
Our website is located at www.almalibrebooks.com Our store hours are always on the home page.
If you do not wish to receive this newsletter, please Click Here To Unsubscribe
This is Year #6, Issue #4. March 2008
To subscribe or make comments or suggestions or advertise your local event, please Contact Us
Retransmission & Redistribution of this newsletter without express written consent is just fine by us! Send this newsletter to a friend! (or get them to sign up for their own copy) If you like the newsletter, please support it by buying a book at Alma Libre Bookstore.
Text & Photos ©2008 Alma Libre Bookstore