---
Advertising:
---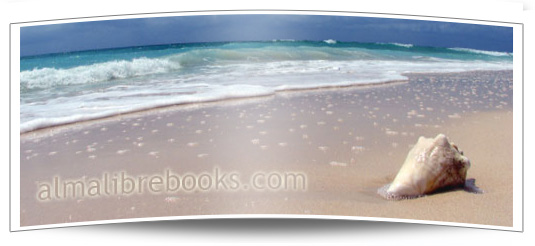 News from Alma Libre Bookstore - Puerto Morelos, Mexico

Year 06 Issue #3 - February 2008

Click here to go to our website: www.almalibrebooks.com
In this issue:
---
Our Annual 2008 Survey Results!
For the fourth year in a row, we surveyed the readers of Beach Reads to find out what they like best about Puerto Morelos. To those who answered the call, we thank you.
The "Best Restaurant" category is always the question everyone checks first. This year there were some changes, but the top three remain the top three.
We dug up our old restaurant survey results so you can see where we've been. I was surprised just how consistent Beach Reader's favourites are, considering how restaurants tend to come and go in this town. Only one favourite restaurant is no longer on the list, the late, great Caffe del Puerto.
| | | | |
| --- | --- | --- | --- |
| 2008 | 2007 | 2006 | 2005 |
| Hola Asia | Hola Asia | Hola Asia | Hola Asia |
| Bodo's | Bodo's | Pelicanos | Pelicanos |
| Pelicanos | Pelicanos | Bodo's | Caffe del Puerto (RIP) |
| El Pirata | El Marlin Bleu | John Gray's Kitchen | John Gray's Kitchen |
| David Lau's | John Gray's Kitchen | Caffe del Puerto (RIP) | |
| El Marlin Bleu | El Pirata | El Pirata | |
| John Gray's Kitchen | Old Fisherman | El Marlin Bleu | |
| Dona Triny's | | | |
| Los Gauchos | | | |
| L'Oazis | | | |
Favourite place to get a drink-does not have to be alcoholic.
Pelicanos

Hola Asia

Ojo de Agua

Cantina Habanero

Cafe de Amancia
We also received a lot of answers like: Under my palapa, on my deck, on the beach and wherever there's a 2x1 happy hour.
The Beach
You like me...you really like me
More Survey Results:
Biggest attraction of Puerto Morelos: A variety of answers here, but most people mentioned the obvious. The reef, the beach and the tranquil small town setting. Many mentioned that they liked the friendliness and the "un-Cancun" feel. Our favourite answer pretty much wrapped it up: "Everything and nothing".
Favourite shop in Puerto Morelos? We don't ask for much. We send out this newsletter for free, we give out free information via email and in our bookstore, we tirelessly promote the town and the businesses that are here...but we do ask that we win this category every year. Luckily, once again Beach Readers voted "Alma Libre" as their favourite shop in Puerto Morelos. Whew. (To those of you that didn't choose Alma Libre Bookstore as the best shop in Puerto Morelos, we have traced your IP address and two guys in serapes will soon appear on your doorstep to "convince" you to change your vote next year.) Other favourite shops were the Mayan Handicraft Centre, the Jungle Market and Mauricio's Hammock Shop.
Favourite book to read in Puerto Morelos: We ask this question every year to make sure we are bringing in the correct books and to get ideas of what we should read next. As usual we had a wide variety including: "anything" or anything by James Patterson, Vince Flynn, Nora Roberts, Dean Koontz, Charles Dickens, Janet Evanovich, Nicholas Sparks and many more. Many liked to read about Mexico, including "On Mexican Time" & "Lost World of Quintana Roo" (available at los bookstore) Our favourite answers: "Anything at Alma Libre" and "Anything that doesn't require much thought".
Favourite place to stay in Puerto Morelos? We had a wide variety of answers here, all sorts of places mentioned. Many of our readers own their own places here, but many hotels and private condos were mentioned. Check out our places here!
Outside of Puerto Morelos, favourite place to visit in the Yucatan: We had a good variety of answers here. Most popular were Playa del Carmen, Merida, Tulum, Akumal, Valladolid, Ek Balam, Coba, Isla Mujeres and Bacalar. Many found no good reason to leave Puerto Morelos, but we do have some daytrip ideas on our website here.
How many times have you visited Puerto Morelos? Bet you can't visit just once! 39% of our readers have been here more than 5 times. 10% have visited 3 times, 9% have been here 4 times. 21% of survey respondents live in Puerto Morelos. Just 2% have been here once. 6% have been here twice.

Where are you from? Our newsletter pollutes email inboxes around the world. Here are some random cities where people are from: Calgary, Canton, Chicago, Clearwater, Great Barrington, Houston, Mexico City, New York, Niagara Falls, Red Deer, Reston, Santa Fe, Sarnia, Saskatoon, Wayzata and YYC (also Calgary) We also had survey answerers from Europe, but they didn't give more details of where they were from aside from one that is from France.

What would you like to change or add to the town of Puerto Morelos? We think of this place as paradise of course, and the most common response was to change nothing about the place. In reality though, there are always places to improve. Below is a general list:

Things to add: Another grocery store, ATM, beach bar, butcher shop, vegetable market, a boardwalk into the mangrove, bank, post office, recycling depot & local music. Our favourite answers to what would you add to Puerto Morelos: "Me and my husband" and ""About six tons of road paving materials." (A good start)

Things to change: Continue to oppose big development in and around Puerto Morelos, move the boats out of the swimming areas and clean up the town in general.

Thank you very much for filling out the survey. We always love to hear what you are thinking and why you love this special place.

Surprises at Sorpresas

Lamar Colorado's coolest export Marguerite Broyles is back in Puerto Morelos and has re-opened her gallery "Sorpresas". The name means

Surprises in espanol, and accurately describes what you will find here.

Her wonderful gallery filled with original treasures created or collected by local artist/owner Marguerite. Her unique pieces, many made with natural materials touched by the ocean, are whimsical and inspiring.

Using wood, shells, sea glass, wire, metal and more she has created wonderful window and wall hangings. Her small framed original artworks carry words of wisdom and beauty (We have two of these in our shop). Marguerite's jewellery are one-of-a-kind pieces that are a delight to admire and to wear. Living near the ocean, she is constantly inspired to create more unique works of art so you never know what you will find in her shop.
Marguerite's artistic streak practically radiates from her. Everything in her gallery home is art, from floor to ceiling. Even the exterior of her home has been "Margeurited" which makes the place very easy to find. Look for the house of many, many colours in Avenue Ninos Heros across from Letty's.
Regular gallery hours are 10:00 - 2:00 Tuesday through Saturday. Other hours by appointment.
---
Puerto Morelos Map

We've been trying for years to come up with a good map of the town that we could post online. At last we've made one. This map is an actual satellite picture of Puerto Morelos, but we can label it, so you can actually find things. We've posted it on our website under the Puerto Morelos tab. The real advantage of the map is that you can move it and zoom in and out to find exactly what you are looking for...in town or outside. Try grabbing the map with your mouse. Cool!

We're working on ones that will have all the restaurants and rental accommodations on it.
Facebook
We launched two new Facebook groups last month. Friends of Puerto Morelos & Alma Libre Bookstore. You can also be a fan of Alma Libre Bookstore.
The groups have grown very quickly! If you are on Facebook, please join our groups. We'll use them to keep you up to date with town news between newsletters. Please upload your favourite pictures or videos of the town.
Weather Station

Our new weather station has been very popular. Use it to keep track of our weather when you are here or when you just dream of being here.

It allows you to view weather statistics for any specific day and gives averages temperatures, humidity and wind speed. A short amount of study should tell you that our weather is pretty darn good here! Visit our weather station through our webpage here: almalibrebooks.com/weather.htm
Home and Condo Rentals

Lots of visitors are discovering the comfort and convenience of staying in a private home or condo during their Mexican vacation. Many ex-pats have built their dream homes here in PM and are willing to rent it (or a part of it) to you! Renting a place makes you feel more like a local right away and offers the convenience of cooking for yourself and much more privacy.

Regular Beach Readers know that we feature some of these properties on our website. There are a gazillion property rental sites out there, but our site is unique because these are properties we know, owned and run by people we know and trust. We like to think we take the guesswork and risk out of renting.

We're always adding new properties to the site.

Check out our new, easier to navigate rentals page here.

Owners! Contact us to get your FREE listing on our website.

Click for a Video Tour!

Rent this place for as little as $500 a week. Separate bedroom with queen size bed, full kitchen, living room, dining room and porch with hammocks. Close to the beach and Centro.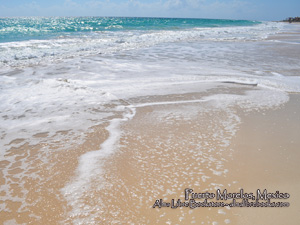 Free Gift From Alma Libre Updated for February & March
For those of you still stuck up North, bring a small piece of Puerto Morelos to your home or office with our new Puerto Morelos Wallpaper. Beautiful of course, and practical too with a December & January calendar built right in. This month's wallpaper is a mini "El Castillo" we found on the beach right near our house on our Sunday morning beach walk.
We'll have new pictures available for download every month! Wallpaper is also available on our website at www.almalibrebooks.com.
Pick your wallpaper size:
1024 x 768 800 x 600 1280x800 CLICK HERE FOR WALLPAPER INSTALLATION INSTRUCTIONS
---
Restaurant News: It just wouldn't be an issue of Beach Reads without announcing another new restaurant. Al Chimichurri is a new place with a familiar face under the chef's hat. Eduardo, formerly of Los Gauchos has opened his own new place. He's sticking with what he knows best, empanadas, pizza and pasta and also meat on his new brick grill. The restaurant is located in the small space across from Posada Amor that was briefly home to a car rental company. Get there early, it's a popular place with a limited number of tables.
Coming Soon: A sign has gone up on the gate of the little plaza behind the bookstore advertising a new pub about to open. "The Mexican Pub" is the name and it's opening will give us three places in close proximity to get a drink, along with Posada Amor's patio and Bara Bara.
Dry Bowl: Mexican election law prohibits the sale of alcohol around election day. Our local election happens to be this weekend, just in time to mess up Carnival and Superbowl. Cancun has already held their Carnival to avoid conflict. Booze sales will stop after Friday night and the taps won't be turned on again until Superbowl Sunday at 6:00. That means you might have to suffer through the first quarter without a drink.
Our Puerto Morelos local cable TV will likely carry the game, as they carried all the playoff games, but you will miss the droll commentary in English and of course, the famous commercials.
A few local places will have the game on. I know Don Pepe's, Cantina Habaneros and David Lau's will have it on for sure.
<![if !vml]>
<![endif]>
Music in the Park: The Music Festival of Puerto Morelos is back again for the third year. This is a favourite for visitors and residents as the centre square is filled with music every second Thursday throughout the season. The next show will be February 7. The festival, put on by the excellent Casa de la Cultura of Puerto Morelos, is meant to promote music and give artists, both professional and amateur, a stage to express their art. For us, it means a nice evening in the square under the stars listening to music. (The show has a much improved sound system thanks to the generous donation of the use of equipment by a local resident. Everybody sounds great now!)
The festival is not just for spectators though, the stage is open to you too, whether you are a resident or tourist. They are looking for musicians to perform as well as artists (painters, sculptors etc.) who would like to display their work during the festival.
If you would like to be a part of the festival, drop us an email and we will put you in touch with the organizers.
There are lots of great things going on at the Cultural Centre, why not take a class while on vacation? Dance classes, yoga, palates, aikido and more! Classes for kids, teens and adults. Click here for their complete schedule.
Cheap Thrills: Cancun and Playa del Carmen have always had discount cards that save cardholders 10% or more on meals, tours and souvenirs, but they've never included places in Puerto Morelos until now. Company Card boast discounts all over the Riviera Maya, including several restaurants and shops in Puerto Morelos. With discounts on restaurants, bars, stores, car rentals and even medical services, the card could pay for itself quickly. Check out the card online here. Cards will soon be available at the bookstore for around $150 pesos, that's a saving off the regular card price of $200 pesos..check that out, you're saving money already!
Cheap Flights: Good news for our friends from Austin, Texas. A new discount airline is starting there offering incredibly cheap flights to Cancun. Flights start at $10, and even when you add all the taxes, you are looking at a return flight for less than $140. The airline is called VivaAerobus and they start the flights on May 1. It's no frills, passengers won't find free drinks or meals onboard, you can only check one bag for free and you'll have to board the plane in Austin without a fancy jetway...but if you are looking to save some money, this may be the way to go. Check their prices online here. (Their webpage is available in Spanish or English.)
Election: We've heard quite a lot of the upcoming elections in the United States of course (and speculation of one to come in Canada) but the noisiest campaign I have seen in a while is right here in our own town. These are local elections to find someone to lead Cancun (and Puerto Morelos.) We can't vote or run in the elections of course (too bad, my passionate paving platform would be popular with the people!) so we just observe the excitement. The town has seen many parades, big and small, and heard plenty of political broadcasts on the radio and from the announcement guy's Volkswagen bug (which now sports two giant speakers for more efficient eardrum splitting)
The big event so far was a big political rally for the conveniently named PRI candidate "Victor". His giant rally in the square featured music, masked wrestlers on bicycles, a kid's playground and free t-shirts...which a lot of confused tourists ended up wearing.
Sac-Be: We're sad to report that the newspaper Sac-Be will no longer be published. We were big fans of this newspaper from day one and our articles appeared in the Puerto Morelos section. The good news is that the online version of Sac-Be will continue, and we'll continue writing for them. Check them out here.
A new business has caught our eye. Mi Casa in Mexico is a Santa Fe based business that is offering educational tours to people interested in purchasing real estate in Mexico. We've heard of real estate tours before, but this company is using a different approach; they are not affiliated with any real estate company or development project in Mexico. The tours will be a combination of sightseeing and seminars. The seminars will be conducted by a hand-picked group of experts and will cover real estate laws and markets, immigration issues, construction and renovation techniques, entertainment, cultural attractions, and health care. Sounds like a good idea for the many that are considering purchasing property in Mexico for investment or retirement. Their next tours are in March (Merida) and April (Playa del Carmen). Check them out online at their web page Mi Casa in Mexico.
Watch for a new Tourist Guide booklet available in town. It's a glossy handout promoting the town. The cover story has an interesting story of the history of Puerto Morelos and the centrefold features a map of the town.
Welcome to the Jungle! The popular Sunday Jungle Market is on again! Make a trip to the jungle, meet some local families and purchase some unique handmade gifts and food, unavailable anywhere else. Proceeds go directly to the women you buy from and help their families. New this year, every market day the women will demonstrate traditional Mayan dances. Maybe you'll get to try too! Rumour has it they also have the best flan you will ever taste at the Jungle Market.

The Jungle Spa is open every Wednesday. Pamper yourself for less! Many treatments are available, from manicures and pedicures to an aloe vera and banana leaf wrap! Wild!

It's easy to get out to the jungle by car, taxi or collectivo. It's on Calle Dos (ki-yay dose) in the Zona Urbana, which is right behind the Colonia. We have little maps to it in the bookstore.

This is a great project and has helped the women of Puerto Morelos and their families immensely.
Road Warrior: My regular railing of the roads continues. Some January rains made the asphalt-deprived Avenue Ninos Heroes even worse. Graders and rollers have been spotted in town, but they seem to be focusing their attention on the beach roads near Playa Sol and Villas Latinas. Ironically, with the election coming up, a lot of candidate parades have been rolling through the town. Hopefully the winning candidate will remember the bone rattling ride he had through town during the parade and will get the asphalt flowing!
Meanwhile, our little street has been home to two giant water leaks in the past two weeks. The leaks are in the "main" in the middle of our street. The water gushes out for most of the day, to the point where it looks like we are trying to build our own Cenote. Calls and visits to the water company have so far been fruitless and it's been over a week. These are the guys who once showed up at our house to fix a leak six months after the original call. We obviously had repaired the leak ourselves months before, but hey...they showed up right?
Jet-setter Mauro has been spotted in Puerto Morelos!

Better Late Than...Right after I sent out last month's newsletter, we heard from AWOL residents Mauro and Ginny. They are getting here a little late this year but they are on their way. Good excuse though, they have been all over the world. They've spent time in Greece, New York and Santa Fe since we last saw them in the spring. They will be re-opening their Centre for Corrective Myotherapy on February 2nd. Mauro will be seeing clients from then until the end of April. More details can be found on their website: thyselfbehealed.com

Home at last: We checked out the new Home Depot in Cancun. It's unbelievable! They are very well stocked with tons of stuff I have never seen at any store in Mexico for any price. We're a little concerned whether they will stay well stocked, but for now it's a beautiful thing. The store is located in Cancun at Kabah and Coba (be careful, this possibly the worst-designed intersection in the history of the planet) beside our favourite grocery store, Soriana. (Lost? We have good Cancun maps in the bookstore)

Did I miss any local news? Let me know!

Cambi-Oh!: Once again the bookstore is short of change. We simply cannot get enough 5 and 10 peso coins or 20 peso bills. If you find yourself weighed down or you are always jingling around town...stop by the bookstore and we will lighten your load and exchange your coins for bigger (and lighter) bills. If you are up north, check the dresser drawers for cambio and repatriate those coins! (Special thanks to our change angel Valorie and to locals Ken & Kathy for coming up with copious coins...we can always use more!)

Don't hate us, we've added Google Ads to the newsletter in an attempt to cover some of its costs. We have no control over the ads that pop up, Google decides that, and we are in no position to tell them what to do! Please let us know though if anything odd shows up. Please note, these ads don't begin to cover our costs for this newsletter. If you like this rag, please support it by buying a book at Alma Libre. Gracias!

Current Exchange Rates (In Puerto Morelos)


USA Dollar 10.50
CDN Dollar 10.00
---
Real Estate in Puerto Morelos
The local papers all full of stories about Puerto Morelos being the hot real estate market of the moment. It is true that there is no spot like it on the Mayan Riviera. Playa del Carmen has already exploded and Tulum is following suit. We only have a limited amount of land, so there are only a handful of properties available.
We've added a bunch more to our website. Check them out here.
| | | | |
| --- | --- | --- | --- |
| | | | |
| Condos for sale from $217,000 | Retreat for sale | Oceanfront Villas from $620,000 | Duplex in town $220,000 |
---
This Just In! Books & Products at Alma Libre
Read all about it!
We love to keep you up to date with the town, but it's books that pay the bills. Have a look at some of the titles we're most excited about...
Yucatecan Cuisine: The cuisine of the Yucatan is a fusion of the ancient foods of the indigenous Maya and European culinary tradition. Now the chef of the elegant Hacienda Teya restaurant in Merida shares his secrets in this book. Recipes include lime soup, poc-chuc and panuchos. Also includes desserts (flan and more) and sauces & relishes. A great value and excellent gift or keepsake. Only available in Mexico.

The Birds of Mexico and Adjacent Areas by Ernest Preston Edwards
Okay, we admit it is not a very catchy title for a book, but it is the best book to identify all the birds in the Yucatan.

Features more than 850 species in a convenient, easy to carry guide. Covers the birds that live here and the ones that migrate here. If it' here and it can fly...it's in the book.
Yucatan Before & After the Conquest - It is more than ironic that the best source of information we have about how the ancient Maya lived is given to us by the man who tried wipe their culture off the face of the earth. Friar Diego de Landa destroyed the idols and hieroglyphic rolls of the Maya, but also wrote about what he ruined. From this text comes ninety-nine percent of what we know of the Maya today. The book he wrote has now been translated into English, unabridged and complete with illustrations and maps.
Spanish Language Learning Software- Now available for the Mac! - Since moving to Mexico, Joanne and I have struggled with our Spanish, especially those nasty verbs. Now our friend Jacky has invented a fun way to learn your verbs. Her Amigos Spanish program has full conjugation for 700 verbs and helps you learn with tests and puzzles. The program is totally customizable, allowing you to focus on the verbs you need to know. Plus it's fun, so you will stick with it and learn those verbs. To expand your vocabulary, try Amigos Spanish Puzzles a program featuring word games with English clues and Spanish answers (or vice versa). The program comes loaded with 2500 words, and you can even add your own words if you like! Both programs are available on CD exclusively at Alma Libre Bookstore.
We like the program so much, we're featuring free monthly Amigos Spanish crossword puzzles in Beach Reads. Click here to see and solve this month's puzzle.
Other books...

Secrets of the Talking Jaguar is the story of the author's physical and spiritual journey from the Southwestern US to the highlands of central America. There he becomes apprenticed to a local shaman who teaches Pretchel much about indigenous Mayan life, and about life in general. We sold out of these last year in hardcover, this year we were lucky enough to get some soft cover editions. If you missed this book last year, don't miss it this time.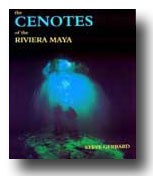 SPECIAL OFFER for Alma Libre Bookstore Customers
Cenotes of the Riviera Maya is the best book ever written about the cenotes in our area. Beautifully photographed, it could easily be called a coffee table book, but it is also has all the practical information you need to explore the cenotes whether you are swimming or diving. Many have drooled over this book, but the hefty (500 peso) price tag kept some people away. Now author Steve Gerrard has authorized us to lower the price. At 300 pesos, this book is an incredible bargain and it has been flying off our shelves...in fact we ran out for a while around Christmas, but we're stocked again.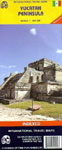 Maps!
If you drive in our area, you need a map! We have excellent and detailed maps of the Yucatan, the country of Mexico, Cancun city, Merida as well as Belize, Guatemala, Cuba and Central America. We also have souvenir-quality maps you can hang on the wall. Maps are usually difficult to find in Mexico, but only if you are looking in the wrong place! Plot a course to the bookstore.
Gibt es einen Buchladen hier in der Nähe? Ja! - I hope I wrote that correctly. I was attempting to report to our German friends that we now have a whole new selection of books en Aleman. Come take a look! Danke!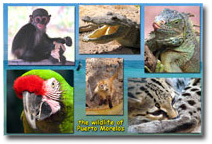 Postcards! We've added a lot of new postcards to our collection, including more by "Dive Diva." We have the largest selection of Puerto Morelos postcards, and they are all exclusive to Alma Libre. We know because we make 'em! We also have blank greeting cards to cover any occasion you may wish to celebrate while you are in paradise.
Gift Certificates! A nice gift idea for someone who lives here is an Alma Libre Gift certificate. Available in any amount and can be used for new or used merchandise. We can accept payments from up north via Paypal.
---
Here is another Amigo Spanish Puzzle. To solve the puzzle, click the picture to the left and a new window will open with the puzzle full screen. Then you must print it out and solve it. Do not attempt to solve the puzzle by writing on your computer screen with a big felt pen.
Please note, this is the easy version of the puzzle, they are available on the program larger and harder. Email us if you like the puzzle as is, or if you want us to publish a more difficult version.
When you finish, click here to view the answers.
These puzzles are a great way to learn Spanish click here to get the program to make your own puzzles!
---
Photos of the Month
| | |
| --- | --- |
| | |
| One of the nameless cats that live behind our bookstore waiting for Eric to open up Marlin Bleu Restaurant. (Poor cat, it's Sunday...no fish today) | The busy ice cream shop, next door to the bookstore |
---
In Memory
It is with regret that we must report that our friend Mac McCollar passed away in Minnesota. Up north, he was known for his many roles...chiropractor, multiple board member, member of the state legislature, member of the public utilities commission...but in Puerto Morelos, he was just known as "Dr. Mac".
A frequent visitor to the bookstore (and Mama's Bakery) we knew Mac for his vivacious personality. He simply couldn't pass anyone without greeting them!
I'll always be grateful to Mac for his frequent "through the front window of the bookstore" examinations of my knee when I sprained it in our first year in Puerto Morelos. His kindness and concern over my injury told me that I had moved into a very special community, where people take care of each other. We'll miss Mac. Our deepest sympathy to Claudette.
---
Advertising:
---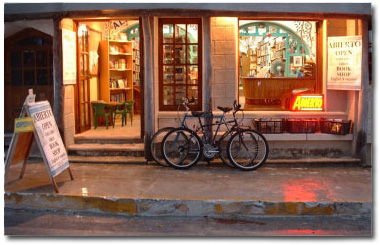 Just a reminder that we are open our regular season hours now. That is Tuesday through Saturday, 10:00 am until 3:00 pm and 6:00 pm to 9:00 pm. Open Sunday 4-9 . Closed on Monday.
Our hours are always posted on the front page of our website at www.almalibrebooks.com.
We take trades every day, so our selection is constantly changing. If you are planning a trip down, why not bring some recent bestsellers to trade and check out our store.
If you live here, we can special order books for you. It is not a quick process, it usually takes a month, but our prices are much better than Amazon's. Let us know what title you would like and we'll provide a quote.
We look forward to seeing you in Puerto Morelos!
---
Beach Reads is the official newsletter of Alma Libre Bookstore in Puerto Morelos Mexico. It is mailed directly to your mailbox if you request it. Beach Reads is published on a sporadic, seemingly random basis...but it is supposed to be approximately monthly during the season at Puerto Morelos. The season is November until after Easter. We do our best to publish it regularly...but we are easily distracted...
Our website is located at www.almalibrebooks.com Our store hours are always on the home page.
If you do not wish to receive this newsletter, please Click Here To Unsubscribe
This is Year #6, Issue #3. February 2008
To subscribe or make comments or suggestions or advertise your local event, please Contact Us
Retransmission & Redistribution of this newsletter without express written consent is just fine by us! Send this newsletter to a friend! (or get them to sign up for their own copy) If you like the newsletter, please support it by buying a book at Alma Libre Bookstore.
Text & Photos ©2008 Alma Libre Bookstore