---
Advertising:
---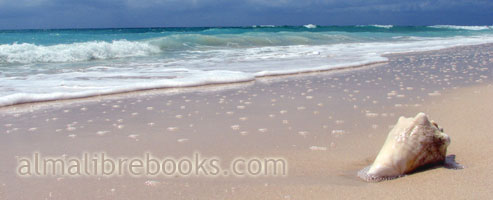 News from Alma Libre Bookstore - Puerto Morelos, Mexico

Year 06 Issue #2 - January 2008

Click here to go to our website: www.almalibrebooks.com
In this issue:
---
Happy New Year!
2008 blew into Puerto Morelos with a bang! A big bang from the fireworks that were heard around town and the bang of the drum, particularly the big "Farewell Tuna" party on the beach. Anyone trying to get a good night's sleep that night was missing the point! Despite our nickname of "Muerto Morelos", residents and visitors showed that they only needed a good excuse to party.
The bookstore people even managed to stay up a little bit late and shot some video of the town celebrations. Look for the video a little later in this newsletter.
We hope one of your New Year's resolutions was to visit Puerto Morelos and we hope to see you in 2008. Salud!
Our Annual Survey
It's time once again for our annual "Best of Puerto Morelos" Survey. (Our fourth annual!) The purpose of the survey is to find out what your fellow newsletter readers love most about Puerto Morelos. Perhaps you have been missing something, and you can use the survey results to plan your next trip. The most popular question we ask is for your favourite restaurant. We're expecting this one to be extra popular this year. For a reminder of all the restaurants in Puerto Morelos, see our complete restaurant list.
Our survey has a little different layout this year, and it appears on a different site. It's an easy 10 quick questions about your favourite town. We're also asking this year what you would like to see in or change about PM. Please click the link below to go to the survey...
Please only fill out one survey per person. "Stuffing the ballot box" will not be tolerated and those responses will be deleted. Survey will close at the end of the month.
Here are some of the results of last year's survey:
Favourite things to do in Puerto Morelos: Here's a partial list in alphabetical order: be on the water, beach, bicycle, browse the bookstore, chat, chill, daytrip, dive, drink, eat, fish, hammock, hang out, nothing, people watch, read a book, relax, shop, snorkel, stroll, swim, veg, walk.
Favourite Restaurants: Hola Asia was number one again last year followed by Bodo's, Pelicanos, Le Marlin Bleu, John Gray's Kitchen, El Pirata and the Old Fisherman.
Favourite Place to get a drink: Top three were Pelicanos, Ojo de Agua & Cafe de Amancia.
Favourite Shop: Alma Libre Bookstore (whew!) also the Sunday Jungle Market, the Mayan Handicraft Centre and the Ice Cream Shop.
Facebook
Are you on Facebook? If you haven't been asked this question yet, you will be soon. It's the latest internet phenomenon. Facebook is a "social network" webpage where you post information about yourself and share that information will millions of other Facebookers.
As with all things on the net, it is good and bad. The bad is it is like a smorgasbord for identity thieves. I shudder when I see how much personal information some people share with anyone who happens to view their page. It can also be an incredible time waster and yet another forum to forward bad information and urban myths.
On the good side, it can be used to rapidly share information with literally millions of like-minded individuals. If you join, you will likely find old friends and classmates you haven't heard from in years. You will also find people who have similar interests and ideas.
It is in this spirit that we have created two Facebook Groups. Friends of Puerto Morelos & Alma Libre Bookstore. If you are on Facebook, please join our groups. We'll use them to keep you up to date with town news between newsletters. Please upload your favourite pictures or videos of the town.
Alma Libre Weather Station
Weather forecasts and current conditions for Puerto Morelos are infamously inaccurate. I can't tell you how many times "accu-weather" (an oxymoron if I ever heard one) has told me that it's raining in Puerto Morelos a glance outside tells me it is bright and sunny. (I'm not just picking on accu-weather, they are all bad) Part of the problem is probably because the "Puerto Morelos" weather station is likely located in Cancun. I can't help with the forecasts much, but current conditions are now more accurate thanks to our Alma Libre's new weather station. It automatically uploads current weather data for Puerto Morelos recorded in Puerto Morelos.
It allows you to view weather statistics for any specific day and gives averages temperatures, humidity and wind speed. A short amount of study should tell you that our weather is pretty darn good here! Visit our weather station through our webpage here: almalibrebooks.com/weather.htm
Click for a Video Tour!
Rent this place for as little as $500 a week. Separate bedroom with queen size bed, full kitchen, living room, dining room and porch with hammocks. Close to the beach and Centro.
Home and Condo Rentals
Lots of visitors are discovering the comfort and convenience of staying in a private home or condo during their Mexican vacation. Many ex-pats have built their dream homes here in PM and are willing to rent it (or a part of it) to you! Renting a place makes you feel more like a local right away and offers the convenience of cooking for yourself and much more privacy.
Regular Beach Readers know that we feature some of these properties on our website. There are a gazillion property rental sites out there, but our site is unique because these are properties we know, owned and run by people we know and trust. We like to think we take the guesswork and risk out of renting.
We're always adding new properties to the site.
Check out our new, easier to navigate rentals page here.
Owners! Contact us to get your FREE listing on our website.
---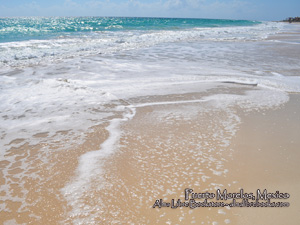 Free Gift From Alma Libre Updated for January & February
For those of you still stuck up North, bring a small piece of Puerto Morelos to your home or office with our new Puerto Morelos Wallpaper. Beautiful of course, and practical too with a December & January calendar built right in. This month's wallpaper is a whole pile of palapas on the beach just north of town.
We'll have new pictures available for download every month! Wallpaper is also available on our website at www.almalibrebooks.com.
Pick your wallpaper size:
1024 x 768 800 x 600 1280x800 CLICK HERE FOR WALLPAPER INSTALLATION INSTRUCTIONS
---
Money News: Money exchanges in Puerto Morelos are suddenly not accepting traveler's cheques. This means you cannot cash them in Puerto Morelos. Most people withdraw funds from the bank machine in town these days, but many like to bring traveler's cheques as a backup. We hope this is only temporary. Traveler's cheques can still be cashed at banks and cambio houses in Playa del Carmen and Cancun or the airport.
<![if !vml]>
<![endif]>
Music in the Parque: The Music Festival of Puerto Morelos is back again for the third year. This is a favourite for visitors and residents as the centre square is filled with music every second Thursday throughout the season starting January 10. The festival, put on by the excellent Casa de la Cultura of Puerto Morelos, is meant to promote music and give artists, both professional and amateur, a stage to express their art. For us, it means a nice evening in the square under the stars listening to music.
The festival is not just for spectators though, the stage is open to you too, whether you are a resident or tourist. They are looking for musicians to perform as well as artists (painters, sculptors etc.) who would like to display their work during the festival.
If you would like to be a part of the festival, drop us an email and we will put you in touch with the organizers.
There are lots of great things going on at the Cultural Centre, why not take a class while on vacation? Dance classes, yoga, palates, aikido and more! Classes for kids, teens and adults. Click here for their complete schedule.
Restaurant News: The rumours of the closing of Terazza were greatly exaggerated! The owners were actually on an extended vacation in India and have now returned and expanded their business. Terazza is a great place for healthy food and vegetarian choices. They are going to be open all day, from 7am to 10pm.
In the same neighbourhood, A new restaurant has opened right above the fish co-op. They're serving fish, so they won't have to go far for supplies! The restaurant is called "The House of the Fisherman". They bravely opened on New Year's Eve, even though they were still painting the sign on the place. The new restaurant is actually a second location of the popular "Old Fisherman" restaurant that has been in business here for so many years.
It is always interesting to learn how our residents and business owners ended up in Puerto Morelos. Dieter and Martina of the New England Pub in the Hotel Inglaterra ended up in Puerto Morelos after cooking everywhere from Holbox to Hollywood. Check out Dieter's wall of fame in the pub to see the famous faces he has fed. Feed your own face while you're at it, the food is excellent.
Speaking of the Hotel Inglaterra, if you haven't seen it lately, you won't recognize the place. Manager Mario and owner Michael have renovated and brightened the hotel and added a lovely outdoor patio with a pool. The pub plans to expand into the patio, which will be a relaxing oasis to enjoy chef Dieter's food.
Tuna's New Year's Eve Farewell Party was a big event and a big success. Tuna's Ana and Antonio are building a new club in Playa del Carmen. Tuna had a lot of fans in Puerto Morelos, so they will be missed. We wish them much success in 2008 in Playa. (We'll let you know when their new place is open)
Better Late Than...We've been missing Mauro and Ginny this year, but they are on their way! They will be re-opening their Centre for Corrective Myotherapy on February 2nd. Mauro will be seeing clients from then until the end of April. More details can be found on their website: thyselfbehealed.com
Hollywood in PM: A new DVD rental place has opened in town. It's on Rojo Gomez across from Habaneros. A good selection, and the big advantage of renting DVD's is that they are in at least two languages. Prices are good too, 29 pesos for a rental with specials on Tuesday and Thursday.
Welcome to the Jungle! The popular Sunday Jungle Market is on again! Make a trip to the jungle, meet some local families and purchase some unique handmade gifts and food, unavailable anywhere else. Proceeds go directly to the women you buy from and help their families. New this year, every market day the women will demonstrate traditional Mayan dances. Maybe you'll get to try too! Rumour has it they also have the best flan you will ever taste at the Jungle Market.
The Jungle Spa is open every Wednesday. Pamper yourself for less! Many treatments are available, from manicures and pedicures to an aloe vera and banana leaf wrap! Wild!
It's easy to get out to the jungle by car, taxi or collectivo. It's on Calle Dos (ki-yay dose) in the Zona Urbana, which is right behind the Colonia. We have little maps to it in the bookstore.
This is a great project and has helped the women of Puerto Morelos and their families immensely.
New Money: The Bank of Mexico has re-designed the popular plastico 20 peso bill. It's very similar to the old one in design, it still features Benito Juarez, but it's a much more vibrant blue and also a little smaller than its predecessor. Look for it in your change.
Benito Juarez is also the name of the "county" that Puerto Morelos and Cancun are in. In fact as you travel around Mexico, you'll discover that many things are named after Juarez. For resisting the French occupation, overthrowing the Empire, and restoring the Republic, as well as his efforts to modernize the country, Juárez is often regarded as Mexico's greatest and most beloved leader. He was also the first Mexican leader who did not have a military background, and the first full-blooded indigenous national to serve as President of Mexico. He was also responsible for great reforms while in office, such as the separation of Church and State and raising the standard of living for the people of Mexico. He died in office, working at his desk in the National Palace in Mexico City. Unfortunately, nobody could fill his shoes and much of the progress he made was lost in the following years.
A new all-inclusive has opened up the beach from Puerto Morelos. H10 Punta Coral / Turquesa opened around Christmas day. I have never received so much email regarding a resort. The resort seems nice, and best of all, a fair number of guests are escaping the all-inclusive for a little taste of Mexico by walking or cabbing into Puerto Morelos. The hotel is a joint venture with Canada's Air Transat, so the place seems to be filled to the rim with Canadians. We've met a bunch of them in the bookstore. Bienvenidos eh?
Mexico On Ice: We like to think it's our Canadian influence, but for some reason Mexico City has just built a huge ice rink on it's famous zocalo. The rink was installed by the city's leftist mayor who wanted to make the city a more pleasant place to be. It sounds bizarre, but the huge rink (35,000 square feet) is a hit for residents, not the least because admission is free. (Look for Mexico's hockey team in the next Olympics.) This is not the first scheme by this mayor, last spring he shipped in tons of sand to build urban beaches in the overcrowded city.
Helmeted workers are always at the rink to rush in to help if a would-be skater falls down on the ice. The City urges residents not to skate and talk on the cell phone at the same time "for their own safety".
Road Warrior: My diatribe on the new tope on the pothole-ridden Ninos Heroes generated a lot of reaction from readers. Avenue Ninos Heroes, which could be used to train astronauts because of it's heavily cratered surface, now has a brand new speed bump! One local resident wonders what would happen if the tope develops a pothole! (I think it could mean the end of the world as we know it.) I have also received a report from a fellow troubled tope'er that there are now five new topes on the bumpy road to El Cid. (Assuming this tope tipster can count as high as five, consider yourself warned!)
New Ferry: A new way to get to Isla Mujeres from the Cancun hotel zone. Look for the Venture Star Ferry operating from the Caribbean Carnaval Dock in the north end of the hotel zone (km 6.5) At $15 US it's a little more expensive than the one operating out of Puerto Juarez and priced similarly to ones already operating out of the hotel zone. Website here
Powerful Tips for Locals: I've written about these before, but I think it bears repeating. Did you know you can check your electric bill online at CFE's website? You need to register, but it's easy to do. Usually by the time we get our electric bill, it's almost due.
We like to monitor our electricity to see how much juice we are getting. We have discovered a couple of times that our current has dropped very low, which is tough on our appliances, especially the fridge and the water pressure pump. Joanne picked up this little device in Canada that allows us to monitor our current, plus you can plug an appliance into it and see exactly how much power it is using (and how much it is costing you). It's built by UPM (website here). We bought ours at Canadian Tire for about $25 CDN. In the States, it's available at Ace. To learn more about your power bill, charge on back to the Cancun Assist website for an explanation here.
FM3 until further notice: Looks like we'll be stuck waiting in line at Immigration for the foreseeable future. For a while, the Mexican Government was allowing FM3 visa holders to apply for Mexican citizenship, without having to get an FM2 and waiting five years. Now they are enforcing the old rules. Becoming a Mexican citizen allows you more rights and less visits to Immigration. You don't have to give up your other citizenship.
Did I miss any local news? Let me know!
Cambi-Oh!: Once again the bookstore is short of change. We simply cannot get enough 5 and 10 peso coins or 20 peso bills. If you find yourself weighed down or you are always jingling around town...stop by the bookstore and we will lighten your load and exchange your coins for bigger (and lighter) bills. If you are up north, check the dresser drawers for cambio and repatriate those coins!
Don't hate us, we've added Google Ads to the newsletter in an attempt to cover its costs. We have no control over the ads that pop up, Google decides that, and we are in no position to tell them what to do! Please let us know though if anything odd shows up.
Current Exchange Rates (In Puerto Morelos)
USA Dollar 10.40
CDN Dollar 10.05
---
Real Estate in Puerto Morelos
The local papers all full of stories about Puerto Morelos being the hot real estate market of the moment. It is true that there is no spot like it on the Mayan Riviera. Playa del Carmen has already exploded and Tulum is following suit. We only have a limited amount of land, so there are only a handful of properties available.
We've added a bunch more to our website. Check them out here.
| | | | |
| --- | --- | --- | --- |
| | | | |
| Condos for sale from $217,000 | Retreat for sale | Oceanfront Villas from $620,000 | Duplex in town $220,000 |
---
This Just In! Books & Products at Alma Libre
Read all about it!
We love to keep you up to date with the town, but it's books that pay the bills. Have a look at some of the titles we're most excited about...
Mexican Slang 101 - This book is the phrase book for those who want to really "talk the talk" and speak the way the locals speak. You'll find hip expressions like the proper way to say "cool" or "bummer", right down to the nastiest insults you can imagine. There is enough information in this book to be the life of the party, or get beaten up. Be careful how you use this book! Cover price is only 50 pesos or 5 bucks. Makes a great gift or gives you some training that Berlitz just is not going to give you! We are delighted to finally have this book in our shop.
Where the Sky is Born by Jeanine Kitchel
A first-hand account of a couple who moved to Puerto Morelos and built their beautiful home, Casa Maya. Details their exploration of the Yucatan and how they discovered Puerto Morelos.
Choose Mexico by John Howells & Don Merwin
Constantly updated, this book will help you live in Mexico, either with a similar lifestyle you enjoyed in your home country or a more "Mexican lifestyle". Descriptions of scenic, vibrant places, as well as essential information about the resources and activities, allow you to make an informed decision about selecting Mexico as your ideal location to live or retire. This is the "nuts & bolts" book that will help you live in Mexico, it was invaluable to us!
Spanish Language Learning Software- Now available for the Mac! - Since moving to Mexico, Joanne and I have struggled with our Spanish, especially those nasty verbs. Now our friend Jacky has invented a fun way to learn your verbs. Her Amigos Spanish program has full conjugation for 700 verbs and helps you learn with tests and puzzles. The program is totally customizable, allowing you to focus on the verbs you need to know. Plus it's fun, so you will stick with it and learn those verbs. To expand your vocabulary, try Amigos Spanish Puzzles a program featuring word games with English clues and Spanish answers (or vice versa). The program comes loaded with 2500 words, and you can even add your own words if you like! Both programs are available on CD exclusively at Alma Libre Bookstore.
We like the program so much, we're featuring free monthly Amigos Spanish crossword puzzles in Beach Reads. Click here to see and solve this month's puzzle.
Other books...

Secrets of the Talking Jaguar is the story of the author's physical and spiritual journey from the Southwestern US to the highlands of central America. There he becomes apprenticed to a local shaman who teaches Pretchel much about indigenous Mayan life, and about life in general. We sold out of these last year in hardcover, this year we were lucky enough to get some soft cover editions. If you missed this book last year, don't miss it this time.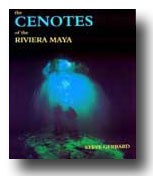 SPECIAL OFFER for Alma Libre Bookstore Customers
Cenotes of the Riviera Maya is the best book ever written about the cenotes in our area. Beautifully photographed, it could easily be called a coffee table book, but it is also has all the practical information you need to explore the cenotes whether you are swimming or diving. Many have drooled over this book, but the hefty (500 peso) price tag kept some people away. Now author Steve Gerrard has authorized us to lower the price. At 300 pesos, this book is an incredible bargain and it has been flying off our shelves. Supplies are limited. Don't miss this opportunity.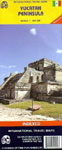 Maps!
If you drive in our area, you need a map! We have excellent and detailed maps of the Yucatan, the country of Mexico, Cancun city, Merida as well as Belize, Guatemala, Cuba and Central America. We also have souvenir-quality maps you can hang on the wall. Maps are usually difficult to find in Mexico, but only if you are looking in the wrong place! Plot a course to the bookstore.
Gibt es einen Buchladen hier in der Nähe? Ja! - I hope I wrote that correctly. I was attempting to report to our German friends that we now have a whole new selection of books en Aleman. Come take a look! Danke!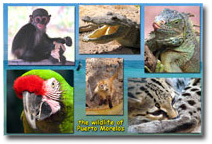 Postcards! We've added a lot of new postcards to our collection, including more by "Dive Diva." We have the largest selection of Puerto Morelos postcards, and they are all exclusive to Alma Libre. We know because we make 'em! We also have blank greeting cards to cover any occasion you may wish to celebrate while you are in paradise.
Gift Certificates! A nice gift idea for someone who lives here is an Alma Libre Gift certificate. Available in any amount and can be used for new or used merchandise. We can accept payments from up north via Paypal.
---
Here is another Amigo Spanish Puzzle. To solve the puzzle, click the picture to the left and a new window will open with the puzzle full screen. Then you must print it out and solve it. Do not attempt to solve the puzzle by writing on your computer screen with a big felt pen.
Please note, this is the easy version of the puzzle, they are available on the program larger and harder. Email us if you like the puzzle as is, or if you want us to publish a more difficult version.
When you finish, click here to view the answers.
These puzzles are a great way to learn Spanish click here to get the program to make your own puzzles!
---
We made this video on New Year's Eve to show a little of the celebration for 2008. Enjoy!
What did you wear when the year changed over? It's traditional here for women to wear special underwear to greet the New Year. If you wear red underwear, you will attract love in the New Year. If you wear yellow underwear, you will attract riches. The local department store advertising flyers are full of ads showing red & yellow underwear. By the way, if you wear no underwear, you may attract men offering to buy you a drink or automobile.
---
Survey Reminder:
Now that you've made it through the whole newsletter, why not fill out the survey!
Please only fill out one survey per person.
---
Advertising:
---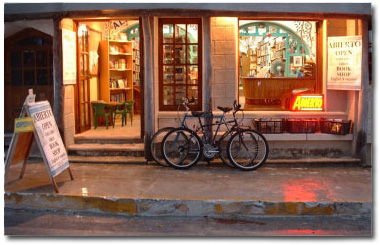 Just a reminder that we are open our regular season hours now. That is Tuesday through Saturday, 10:00 am until 3:00 pm and 6:00 pm to 9:00 pm. We're closed on Sunday right now, but we'll be open 4-9 once the season gets going. Closed on Monday.
Our hours are always posted on the front page of our website at www.almalibrebooks.com.
We take trades every day, so our selection is constantly changing. If you are planning a trip down, why not bring some recent bestsellers to trade and check out our store.
If you live here, we can special order books for you. It is not a quick process, it usually takes a month, but our prices are much better than Amazon's. Let us know what title you would like and we'll provide a quote.
We look forward to seeing you in Puerto Morelos!
---
Beach Reads is the official newsletter of Alma Libre Bookstore in Puerto Morelos Mexico. It is mailed directly to your mailbox if you request it. Beach Reads is published on a sporadic, seemingly random basis...but it is supposed to be approximately monthly during the season at Puerto Morelos. The season is November until after Easter. We do our best to publish it regularly...but we are easily distracted...
Our website is located at www.almalibrebooks.com Our store hours are always on the home page.
If you do not wish to receive this newsletter, please Click Here To Unsubscribe
This is Year #6, Issue #2. January 2008
To subscribe or make comments or suggestions or advertise your local event, please Contact Us
Retransmission & Redistribution of this newsletter without express written consent is just fine by us! Send this newsletter to a friend! (or get them to sign up for their own copy) If you like the newsletter, please support it by buying a book at Alma Libre Bookstore.
Text & Photos ©2008 Alma Libre Bookstore