---
Advertising:
---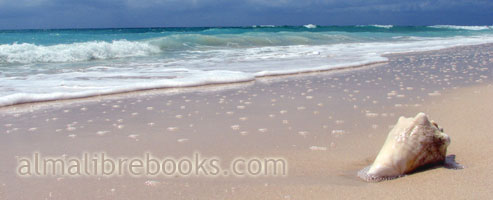 News from Alma Libre Bookstore - Puerto Morelos, Mexico

Year 06 Issue #1 - December 2007

Click here to go to our website: www.almalibrebooks.com
In this issue:
---
We're Back!
It's that time of year again. Football appears on the TV, leaves appear on the lawn, and junk mail from a certain bookstore in Puerto Morelos appears in your inbox. Ahh the fall. A time of wonder for some, a time of trepidation for many and a time to get the heck out of the North for us.
Yes friends, after a very long annual sojourn, (47 days on the road, covering most of North America and into Central & South America too) Rob & Joanne are back in our Puerto Morelos and ready to work (more or less).
There are a great many changes in your town to tell you about, check out our changes section below for more details. What hasn't changed is the laid-back atmosphere of our town and the overwhelming friendliness of its people.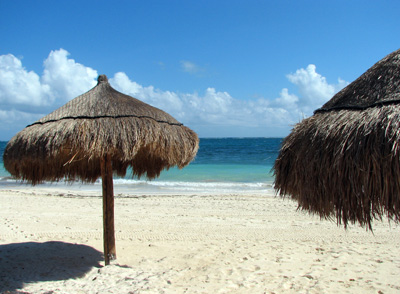 Puerto Morelos is the kind of place where you can't get anything done, because you spend all your time greeting friends and chatting with visitors. Sometimes it takes us half an hour just to get out of our caul-de-sac, or half a day to unpack one box of books. What a wonderful problem to have! We feel so anonymous up north, here everyone gets to feel like a celebrity!
Puerto Morelos is looking good. The hurricane season was not a factor here, there was no damage from Hurricane Dean aside from our beleaguered town dock which got bent, but it is still operational. The beaches are looking very good, especially the beach near our house, just north of Amar Inn. I don't think I've ever seen it so wide and the beach cleaner is making regular appearances keeping it all looking pristine. The leaning lighthouse is still leaning and the "new" lighthouse has finally been completed and is looking sharp with a new red cap.
You can read more details about what we did this summer below, but for right now, welcome back to Beach Reads and the season. Have you made your plans to visit us yet?
Facebook: For those on Facebook, the CB radio of the new millennium, we now have a Facebook group you can join. Search out "Friends of Puerto Morelos" and join up. We'll try to keep you up with the news between newsletters. We also have a group for the bookstore called "Alma Libre Bookstore". Please join up and encourage other PM Facebook fans to do it too.
Weatherman Predicts Cold Winter Coming
I am not making this up, though I am fairly delighted by this news. Environment Canada is predicting the coldest winter in 15 years is coming. They are saying that because of La Nina, more cold air will be working it's way south. That means most of Canada and a lot of the US is in for a good old-fashioned frozen winter. Now instead of running off and burning an effigy of Al Gore to stay warm, why not book that trip to Puerto Morelos! This news and the fact that the Canadian dollar is no longer an international punch line tells us we are likely to see more Canucks in town this year. Here's a link to the story in case you don't believe me.
Rent this place for as little as $500 a week. Separate bedroom with queen size bed, full kitchen, living room, dining room and porch with hammocks. Close to the beach and Centro.
Home and Condo Rentals
Lots of visitors are discovering the comfort and convenience of staying in a private home or condo during their Mexican vacation. Many ex-pats have built their dream homes here in PM and are willing to rent it (or a part of it) to you! Renting a place makes you feel more like a local right away and offers the convenience of cooking for yourself and much more privacy.
Regular Beach Readers know that we feature some of these properties on our website. There are a zillion property rental sites out there, but our site is unique because these are properties we know, owned and run by people we know and trust. We like to think we take the guesswork and risk out of renting.
We're always adding new properties to the site.
Check out our new, easier to navigate rentals page here.
Owners! Contact us to get your FREE listing on our website.
Free Gift From Alma Libre Updated for November & December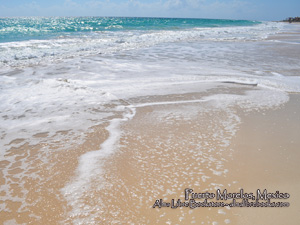 For those of you still stuck up North, bring a small piece of Puerto Morelos to your home or office with our new Puerto Morelos Wallpaper. Beautiful of course, and practical too with a December & January calendar built right in. This month's wallpaper is a whole pile of palapas on the beach just north of town.
We'll have new pictures available for download every month! Wallpaper is also available on our website at www.almalibrebooks.com.
Pick your wallpaper size:
1024 x 768 800 x 600 1280x800 CLICK HERE FOR WALLPAPER INSTALLATION INSTRUCTIONS
---
Changes: It might be easier to make a list of all the places in town that haven't changed, but here goes.
In with the new: The big food news is the return of David Lau to Puerto Morelos. David was the original chef of perennial town favourite, Hola Asia. He has built his new restaurant (called David Lau's) into the space formerly occupied by Portabello (and Palapa Pizza before that) The menu has all the Italian selections on the old Portabello menu, plus Asian fare, including his famous General Tsao's Chicken and more exotic delights like Duck and Cornish Hen. As an added bonus, everyone's favourite server and snorkel guide Valorie Gallagher is on board. This gives Puerto Morelos two top-notch Asian restaurants. I am sensing a big rivalry in our annual restaurant survey this year!
Our next door neighbour Eric from Le Marlin Bleu has expanded and has a new place on the highway. El Taco Azul is perfect to fill those shrimp taco cravings while you are on the road or when Marlin Bleu is closed. A bargain too at 12 pesos. It's on the east side of the highway beside the big furniture store.
Another new place is The New England Pub which just opened in the newly-renovated Hotel Inglaterra. They are open for breakfast, lunch and dinner. Early reviews say good food and good prices.
A new Pozole place has opened near the Handicraft Market. Pozole is a traditional dish that is very popular in Mexico. It's like a soup or stew made with hominy and meat (usually pork). In some parts of the country it is served for lunch every Thursday and basically all business the whole area stops for it. It is often also served on Christmas Eve.
John Gray kept himself busy this summer by opening a new restaurant. It's called Grill 14 and it's easy to find at kilometre 14, dead centre in the Cancun hotel zone. It's a beautiful spot on the lagoon and features a larger menu and impressive wine list. Also coming, a flower shop in what used to be the parking area for John Gray's Kitchen in PM.
The popular juice bar on Rojo Gomez has expanded and has a menu and seating.
Out with the old: Unfortunately a few good places closed during the summer. Local favourite for music and drink on the beach, Tuna has closed. We hear the owners have rented the site right on the square where Bacabs and Mystic Diving used to be. That would be a good spot for them and would certainly liven up the square. Owners Ana and Antonio say they're not sure what they are going to do, but for sure they are going to throw a party! It's going to be on the beach on New Year's Eve. Details here.
Also closed are Portabello, Casa Azul, El Faro, Baraka, Teraza & Bacab's.
UPDATE: Turns out the story of the demise of Teraza was incorrect. It will be back, and bigger to boot. The owners just returned from an extended holiday and are now working to re-open.
Caracol closed at the end of November. The owners are off to Switzerland for another opportunity.
While that does seem like a long list of closings, there is no shortage of places to dine in Puerto Morelos, and more will open as the season goes on. Have you tried all these? Bodo's, Café de Amancia, Café Finca la Chiquilla, Cantina Habanero, David Lau's, Dona Triny's, Don Pepe's Ole, El Pirata, El Tio, Gioconda, Hola Asia, John Gray's Kitchen, La Oazis, La Petita, Los Gauchos, Mama's Bakery, Marlin Blue, Ojo de Agua Restaurant, Old England Pub, Old Fisherman, Pelicanos, Posada Amor, Spaghettino & on and on.
Mama's Day: Diane of Mama's Bakery is closed right now for renovations. She'll re-open soon, with more room for hungry customers.
For Sale: Speaking of Cafe Finca, it's for sale. Do you really want to spend winter up north? Can you make a cuppa coffee?
Award Winner: Ronda Furlan, aka Dive Diva is a great photographer. We carry some of her cards, posters and matted photographs in the bookstore. Now she's an award winner too, winning the Conde Nast "Diet Coke Moment" contest. This is the winning shot, taken in British Columbia. Her entry was picked from more than 30,000 entries. Ronda takes the pictures we all wish we could get!
Dive, Dive, Dive: Lots of dive news this month! Brett Nielsen, our favourite dive instructor finally has his own shop! He and Kris will be the new owners of Dive Puerto Morelos. We like diving with Brett because he is safe but still a lot of fun. No doubt that Brett will put his personal touches on the shop, (including a name change) but they are booking dives now. If you have thought about learning to dive, contact Brett. Scuba diving is easier and more fun than you can imagine and diving in Puerto Morelos is especially easy because the sites are all so close to shore. Less boat time, more bottom time.
Also a brand new dive shop has opened in the Hacienda Morelos Hotel. Aquanauts Dive Adventures just opened a month ago, owned and operated by Master Scuba Diver Trainer William Martin Avila. These two shops, plus Almost Heaven (on Rojo Gomez) and Wet Set (in the Ojo de Agua Hotel) mean we have some great dive operations to go with our world-class dive sites.
The former owners of Dive Puerto Morelos, Sonvya and Joe are selling the shop because of a family illness. We wish them the best, and we hope we'll still see Sonvya around town.
A new place to stay on the beach will be open soon. Cabanas Ixchel offers "simple luxury on the beach", spacious cabin tents with queen size beds. Reminiscent of old Tulum. Check out their website here. The property will also feature a beach bar, run by Sarah (formerly of Tuna). Ixchel is a Mayan goddess.
The popular Sunday Jungle Market will start up again on December 16 at 10:30am. Meet some local families and purchase some unique handmade gifts and food, unavailable anywhere else. Proceeds go directly to the women you buy from and help their families. The women, led by the energetic Sandra Dayton have been working on a special event for the December 23rd market day. They will feature the jarana, which is a traditional Mayan dance. The women have been practicing all summer & fall!
The Jungle Spa is open every Wednesday and there is talk of expanding to another day.
It's easy to get out to the jungle by car, taxi or collectivo. It's on Calle Dos (ki-yay dose) in the Zona Urbana, which is right behind the Colonia. We have little maps to it in the bookstore.
This is a great project and has helped the women of Puerto Morelos and their families immensely.
A couple of stores disappeared out of the mall on the square, but new jewellery stores have appeared on Rojo Gomez and in Hacienda Morelos.
Shopping for locals: New big stores have opened in Playa del Carmen and Cancun since last season. Playa especially is exploding with a new warehouse store; Bodega Aurrera and another, City Club on the way. We've been impressed with Sam's Club lately too. On a recent trip to the Playa version, we found fresh real English Muffins, fresh mini bagels, mint Bailey's Irish Cream and the new Simpson's Movie, which is not even available yet in Canada or the USA!
Home Depot in Cancun is clearing everything out to open their new store near Soriana. They are now selling everything at 50% off. According to our friend T.J., there is lots of good stuff left, but you should bring your own parking spot!
Insult to Injury: My never-ending fascination with the rough roads of Puerto Morelos continues. The good news is they added some asphalt to the crater-ridden Avenue Ninos Heroes. The bad news is that the asphalt they added is in the form of a speed bump! Can you believe it? Someone added a tope to a road that is so potholed it is impossible to go more than 10 miles an hour in anything less than a Sherman Tank! Let us hope the next asphalt they add will be used to fill in some of the potholes so we can get enough speed up to make it over the tope!
Tremendous Topes: Sticking will "all news that is tope", there is a new tope on the way to Cancun now, right at the Moon Palace turnoff (for Northbound traffic only). It's a big one, so slow down or it will launch you so high into the air you will need to land at Cancun International.
Futbol: Speaking of Cancun, they now have a Mexican league soccer team...and they're good. They moved this season from Mexico City and found love in the resort town. They recently advanced to the finals beating the legendary Guadalajara Chivas. The Chivas were concerned about whether the heat and humidity would affect their play. Not sure if it was the heat or humidity...or whether the visitors were up too late doing tequila shots at La Boom the night before, but Cancun's Atlante won the game. They now advance to the finals vs the Pumas. So now Cancun has a major futbol and baseball team. For a totally different cultural experience, you should try to see a game.
Update: The idea of getting a ticket to the finals was pretty naive. People literally camped out for days outside the stadium for a chance to buy a ticket. The big game sold out immediately and the people were not disappointed. After tying the opening game 0-0, the home team won the championship final game 2-1 over the Pumas of Mexico City. What a great story for a team that left Mexico City just a few months ago because they couldn't sell enough tickets. Now they are the champs!
Update: Here's a newspaper article about this Cinderella team. Click here.
Health Food: The health centre in Puerto Morelos has a giant vending machine in front selling Bimbo bakery products. Hmmm.
H10: The new resort just north of us is madly trying to get ready to open by Christmas. It's an enormous resort and I'm sure that at least part of it will be open on time. Here are some recent pictures of H10 Punta Turquesa
Noche Buena: You may call it Christmas or Navidad or Hannukkah...but I call it the season of Noche Buena. Noche Buena really refers to Christmas Eve, The Good Night, when families get together to celebrate the season. To me, Noche Buena is a dark beer that is only available around Christmas. It comes it brightly coloured packs of 12. Best price is at Costco, but it ranges from 103 pesos to 110 pesos at any of the grocery stores. Salud!
Did I miss any local news? Let me know!
Property Tax: A reminder to Puerto Morelos home owners to pay your property taxes in December. Paying early means a 25% discount. You'll get a 15% discount in January and a 10% discount in February. I paid ours at city hall in Puerto Morelos. It took less than five minutes and my taxes went up a frightful $50 pesos (5 bucks) from last year. I wish Canada was so kind to us!
Don't hate us, we've added Google Ads to the newsletter in an attempt to cover its costs. We have no control over the ads that pop up, Google decides that, and we are in no position to tell them what to do! Please let us know though if anything odd shows up.
Current Exchange Rates (In Puerto Morelos)
USA Dollar 10.60
CDN Dollar 10.45 (It makes no sense that the CDN exchange is less of course. Another reason to use the bank machine)
---
Real Estate in Puerto Morelos
The local papers all full of stories about Puerto Morelos being the hot real estate market of the moment. It is true that there is no spot like it on the Mayan Riviera. Playa del Carmen has already exploded and Tulum is following suit. We only have a limited amount of land, so there are only a handful of properties available. Here are some that we like...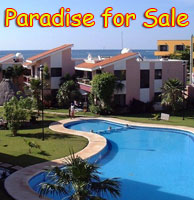 Beachfront condo for sale! Two Bedroom Condo For Sale: Here's a new opportunity to own a piece of paradise! A two bedroom condo is now available in the best located condominium project in Puerto Morelos. It is a 2 bedroom, 1.5 bath condo with living room, dining area and kitchen. Condo is furnished and ready to rent and use. Excellent for investment & rental income. These condos have a proven track record of appreciating and generating rental income for their owners.

The owner of this unit is selling because he is buying one of the villas in the same complex.

For more information on this property click here...
Own This View!

Brand New Beachfront House For Sale: This 3 bedroom, 2.5 bath house sits right on a quiet beach just north of Puerto Morelos. It's about 2200 square feet and features everything you would expect in a quality beach home. Full kitchen, living room, dining room, private rooftop sundeck and a large main floor sitting porch and patio. Master bedroom upstairs has balcony with ocean view and breeze. Oh did we mention there is a pool? All this and an opportunity to own the lot next door too. This is a rare opportunity and a great investment. More details here...
---
This Just In! Books & Products at Alma Libre
Read all about it!
We love to keep you up to date with the town, but it's books that pay the bills. Have a look at some of the titles we're most excited about...
Gringos in Paradise - Another entry in the "couple builds their dream home in paradise" genre. This boomer couple builds on the opposite coast of Mexico and encounters a number of "adventures". A must-read if you are thinking of following in their footsteps, along with other memoirs we stock, Where the Sky is Born and Embarking on the Mariposa Trail, not to mention On Mexican Time and Mexican Days by Tony Cohan.
In the Casa Azul - We brought this novel about Leon Trotsky's Mexican Exile and his affair with artist Frida Kahlo into the shop last year. We sold out almost instantly, especially after a local reading group made it their selection. A great read with fascinating characters pulled right out of history.

Birds & Fish - You can't tell the players without a program, and when in Puerto Morelos, these books are your programs: The Birds of Mexico and Adjacent Areas and the Snorkeling Guide to Marine Life. A must for any resident or visitor to our area, these books cover anything you'll see flying above or swimming below. We have a waterproof version of the fish book too which you can literally take underwater with you.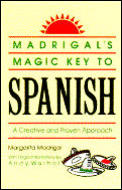 Hablo espanol? - If you are ready to learn Spanish, we have lots of help for you. Our bestseller is Madrigal's Magic Key to Spanish but we have lots of others too. Check out our huge selection of Spanish learning tools, grammar guides, dictionaries and phrase books. (If you're really keen to fit in, we have a Mayan phrase book too!)
Spanish Language Learning Software- Now available for the Mac! - Since moving to Mexico, Joanne and I have struggled with our Spanish, especially those nasty verbs. Now our friend Jacky has invented a fun way to learn your verbs. Her Amigos Spanish program has full conjugation for 700 verbs and helps you learn with tests and puzzles. The program is totally customizable, allowing you to focus on the verbs you need to know. Plus it's fun, so you will stick with it and learn those verbs. To expand your vocabulary, try Amigos Spanish Puzzles a program featuring word games with English clues and Spanish answers (or vice versa). The program comes loaded with 2500 words, and you can even add your own words if you like! Both programs are available on CD exclusively at Alma Libre Bookstore.
We like the program so much, we're featuring free monthly Amigos Spanish crossword puzzles in Beach Reads. Click here to see and solve this month's puzzle.
Other books...

Secrets of the Talking Jaguar is the story of the author's physical and spiritual journey from the Southwestern US to the highlands of central America. There he becomes apprenticed to a local shaman who teaches Pretchel much about indigenous Mayan life, and about life in general. We sold out of these last year in hardcover, this year we were lucky enough to get some soft cover editions. If you missed this book last year, don't miss it this time.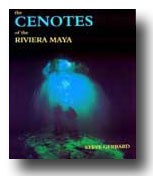 SPECIAL OFFER for Alma Libre Bookstore Customers
Cenotes of the Riviera Maya is the best book ever written about the cenotes in our area. Beautifully photographed, it could easily be called a coffee table book, but it is also has all the practical information you need to explore the cenotes whether you are swimming or diving. Many have drooled over this book, but the hefty (500 peso) price tag kept some people away. Now author Steve Gerrard has authorized us to lower the price. At 300 pesos, this book is an incredible bargain and it has been flying off our shelves. Supplies are limited. Don't miss this opportunity.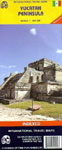 Maps!
If you drive in our area, you need a map! We have excellent and detailed maps of the Yucatan, the country of Mexico, Cancun city, Merida as well as Belize, Guatemala, Cuba and Central America. We also have souvenir-quality maps you can hang on the wall. Maps are usually difficult to find in Mexico, but only if you are looking in the wrong place! Plot a course to the bookstore.
Gibt es einen Buchladen hier in der Nähe? Ja! - I hope I wrote that correctly. I was attempting to report to our German friends that we now have a whole new selection of books en Aleman. Come take a look! Danke!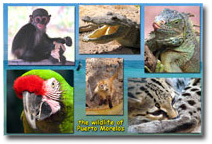 Postcards! We've added a lot of new postcards to our collection, including more by "Dive Diva." We have the largest selection of Puerto Morelos postcards, and they are all exclusive to Alma Libre. We know because we make 'em! We also have blank greeting cards to cover any occasion you may wish to celebrate while you are in paradise.
Gift Certificates! A nice gift idea for someone who lives here is an Alma Libre Gift certificate. Available in any amount and can be used for new or used merchandise. We can accept payments from up north via Paypal.
---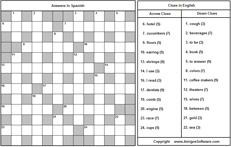 Here is another Amigo Spanish Puzzle. To solve the puzzle, click the picture to the left and a new window will open with the puzzle full screen. Then you must print it out and solve it. Do not attempt to solve the puzzle by writing on your computer screen with a big felt pen.
Please note, this is the easy version of the puzzle, they are available on the program larger and harder. Email us if you like the puzzle as is, or if you want us to publish a more difficult version.
When you finish, click here to view the answers.
These puzzles are a great way to learn Spanish click here to get the program to make your own puzzles!
---
Here are some highlights from our recent beach walk...
---
Off the Road Again
Once again we covered a lot of miles in 2007. We closed the bookstore at the end of April and hit the long road north soon after. We took a pretty much direct route up the coast again, stopping in Chetumal, Palenque, Veracruz, Costa Esmeralda and Tampico before crossing the border into Texas. We parked for a week and put our feet up in Corpus Christie before heading back to Calgary.
Summer was beautiful in Calgary. They actually had heat! A lot of the locals were complaining it was too hot! (Since our normal room temperature now is about 28˚C/82˚F we just found it comfortable.)
Our first assignment was in bonita Banff, Alberta to work on the Banff Television Festival. Bigwigs from all the major studios gather at the Banff Springs Hotel each year looking for new ideas and sharing their vast knowledge of the biz. Good place for hobnobbing and hiking too. You can find snow in Alberta in June if you are willing to climb a bit!
Then it was back in Calgary for our usual business. Rob directed news at CTV Calgary and Joanne made commercials and wrote websites, after her usual gig doing the rodeo coverage at the Calgary Stampede.
After a very busy summer it was time to hit the road again. We parked in our favourite spot in Texas, Austin and caught a plane to San Diego to catch a Panama Canal Cruise.
This cruise was similar to one we took last year, but almost completely different ports. The Norwegian Sun ship stopped in Manzanillo & Acapulco in Mexico plus a stop in Costa Rica. Then we traversed the Panama Canal and stopped in two spots in Columbia, including the beautiful Cartagena.
Then we sailed on to Belize, Cozumel and Nassau before they tossed us off the ship on Miami. The ship was originally supposed to stop in the Costa Maya, but was moved because of the damage sustained in Hurricane Dean. Ironically, when we left Cozumel we sailed right past Puerto Morelos' front door. We were less than 12 kilometres from our house at one point. Of course we sailed on, flew back to Austin and suddenly we were thousands of kilometres away again. Doh!
One of the highlights of our time in Florida was seeing former residents Kathy and Shelly Levin. They are doing (and looking) great, though they claim they miss us all back in PM.
We were delayed a little by the awful flooding in the state of Tabasco. The main highway was open when we passed through, but we could see areas of town where the water was still up to the top of doorways. In spite of all the troubles they had been through, the people there were so kind, asking us if we liked Mexico. It was amazing too how much clean up they had accomplished in just a week.
The only bad part of the trip for us happened just 25 kilometres from our town. Our trailer was struck by a power pole being carried by a truck. It punched a hole in the wall. We have insurance, but trying to find someone to handle the repair is proving difficult. Any ideas? Any trailer repair experts up north want a project in the south this year? :)
---
Advertising:
---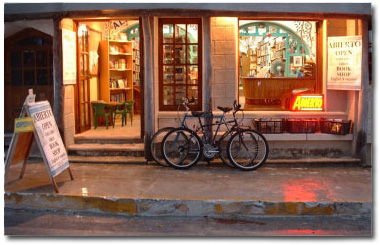 Just a reminder that we are open our regular season hours now. That is Tuesday through Saturday, 10:00 am until 3:00 pm and 6:00 pm to 9:00 pm. We're closed on Sunday right now, but we'll be open 4-9 once the season gets going. Closed on Monday.
Our hours are always posted on the front page of our website at www.almalibrebooks.com.
We take trades every day, so our selection is constantly changing. If you are planning a trip down, why not bring some recent bestsellers to trade and check out our store.
If you live here, we can special order books for you. It is not a quick process, it usually takes a month, but our prices are much better than Amazon's. Let us know what title you would like and we'll provide a quote.
We look forward to seeing you in Puerto Morelos!
---
Beach Reads is the official newsletter of Alma Libre Bookstore in Puerto Morelos Mexico. It is mailed directly to your mailbox if you request it. Beach Reads is published on a sporadic, seemingly random basis...but it is supposed to be approximately monthly during the season at Puerto Morelos. The season is November until after Easter. We do our best to publish it regularly...but we are easily distracted...

Our website is located at www.almalibrebooks.com Our store hours are always on the home page.

If you do not wish to receive this newsletter, please Click Here To Unsubscribe
This is Year #6, Issue #1. December 2007.
To subscribe or make comments or suggestions or advertise your local event, please Contact Us
Retransmission & Redistribution of this newsletter without express written consent is just fine by us! Send this newsletter to a friend! (or get them to sign up for their own copy) If you like the newsletter, please support it by buying a book at Alma Libre Bookstore.
Text & Photos ©2007 Alma Libre Bookstore