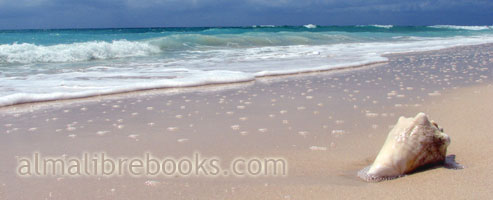 News from Alma Libre Bookstore - Puerto Morelos, Mexico

Year 05 Issue #6 - April 2007

Click here to go to our website: www.almalibrebooks.com
In this issue:
---
Hola, Gracias and Nos Vemos
Our apologies to anyone who tried to visit us in the final two weeks of March 2007. You may have found the store closed or operating unusual hours. Due to a family emergency, both Joanne and I had to quickly return to Canada. It was only thanks to our good friends here in Puerto Morelos that our home and business were well taken care of in our absence. We are back in our town now and will operate the bookstore as usual in April. We regret if we missed your visit to Puerto Morelos and hope we will see you on the sandy streets sometime in the near future.
So that takes care of "Hola" and "Gracias", Nos Vemos means "see you". We will close the store for the summer on April 29. We plan to drive back to Calgary as usual and re-open sometime in October for the 2007/08 season.
Another Gracias to those of you that visited Puerto Morelos and Alma Libre Bookstore this past year. We appreciate your support, and it is that support that will keep Beach Reads churning out for another year. If you didn't make it to Puerto Morelos this year, perhaps it's time to do a little planning! Check us out for rentals and of course your literary needs.
We constantly check our email wherever we are in the world and can help you with your travel plans whenever you are coming to Puerto Morelos.
Saludos, Rob & Joanne
Chains
An American pastime that we had managed to avoid here in Mexico up until now has landed in the Riviera Maya. Starbucks has arrived. Of course, like ants or roaches, you never see just one Starbucks. At least couple have popped up in both Cancun and Playa del Carmen. While some people are pointing to this as proof that the sky is indeed falling, I doubt that is the case.
Many argue that the big foreign chains are good for Mexico. They provide jobs and funny-looking smocks for Mexicans to wear. It's true that they are not all bad. The arrival of Wal-Mart for example forced Mexican supermarket chains to smarten up, stock up, clean up and get rid of that funny smell that all Mexican grocery stores used to have. Mexican consumers now have more choice. But there is a dark side too. Foreign multi-nationals will crush the mom & pop places and replace them with the stark, the cookie-cutter, the generic. The arrival of 7-11 and Mexican "C" stores for example will destroy the tiny mini-supers that dot every town in this country and provide a small income for the families that operate them.
While I would never deny anyone in any country the thrill of paying far too much for a cup of coffee at Starbucks, I would strongly encourage visitors to our area to "think outside the strip mall" and support the small independent places, rather than the large familiar multi-national chains.

Try the small, the quaint, the one-of-a-kind, and the weird and you will create the experiences and memories that will make your trip.
Reach the Beach...Cheap!
With Spring Break just over, the deals are out again for the Riviera Maya. For example the Star Tribune newspaper in Minnesota just published an an article that featured airfares to Cancun for $99 and $150 dollars. We've heard of good deals in Canada as well. Most of the accommodations we represent have openings in April, so a place to stay should be a snap. Give yourself a late Spring Break! Have some fun and save a ton!
Rent this place for as little as $500 a week. Separate bedroom with queen size bed, full kitchen, living room, dining room and porch with hammocks. Close to the beach and Centro.
QwQ Available after April 11! QwQ
Home and Condo Rentals
Lots of visitors are discovering the comfort and convenience of staying in a private home or condo during their Mexican vacation. Many ex-pats have built their dream homes here in PM and are willing to rent it (or a part of it) to you! Renting a place makes you feel more like a local right away and offers the convenience of cooking for yourself and much more privacy.
Regular Beach Readers know that we feature some of these properties on our website. There are a zillion property rental sites out there, but our site is unique because these are properties we know, owned and run by people we know and trust. We like to think we take the guesswork and risk out of renting.
We're always adding new properties to the site, in fact I have several waiting to be listed right now. We have lots of availability in April and beyond. We are already taking bookings for 2008.
Check out our new, easier to navigate rentals page here.
Owners! Contact us to get your FREE listing on our website.
Free Gift From Alma Libre Updated for April & May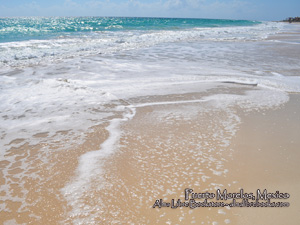 For those of you still stuck up North, bring a small piece of Puerto Morelos to your home or office with our new Puerto Morelos Wallpaper. Beautiful of course, and practical too with an April and May calendar built right in. This month's wallpaper is a view of a some Pelicano Pescas.
We'll have new pictures available for download every month! Wallpaper is also available on our website at www.almalibrebooks.com.
Pick your wallpaper size:
1024 x 768 800 x 600 1280x800 CLICK HERE FOR WALLPAPER INSTALLATION INSTRUCTIONS
---
Two More Restaurants: Still more places to eat in Puerto Morelos! Terraza has opened upstairs on the square where Nisha's used to be. It's a place that offers healthy options and early reviews are very good, especially their healthy drinks. A couple of bookstore customers told us that they had eaten there every day of their vacation so far! The other new restaurant is a place that opened in the Old Fisherman's former location on top of the supermarket. It's called Restaurant El Faro del Puerto. The rumour was that this space was going to be occupied by a new restaurant by the same people that brought you "Senor Frogs" and "Carlos and Charlie's", but that is not the case. It's locally owned and features Mexican fare.
Gone Fishin': At the end of the day, Puerto Morelos is a fishing town. Kathy Loretta of Diving Dog Tours, who knows about these things, reports that the Dorado have come!...and in a big way. This means we are going to have a great fishing season. Book your trip! Also, the official dates for the big annual fishing tournament have changed, they are now June 1, 2 & 3rd.
Survey: Thanks to all of you that filled out the survey that we sent out recently. We at Alma Libre are not involved in the survey but felt that our readers would like a chance to fill it out. The special email address we set up started receiving surveys immediately and some are still trickling in. Hundreds of surveys in all. The response was overwhelmingly in favour of a future Puerto Morelos looking very similar to what we have now. There was no support for filling in the mangrove or building a cruise ship dock. Thank you for caring about the future of Puerto Morelos. We will keep you posted.
Developing Ambitions: There is no shortage of big development near us though. South of town a new all-inclusive hotel is taking shape near El Cid and north of town there are two under construction (beyond Paradisus) and one more (at least) to come. While these hotels are enormous, most all-inclusive guests do not wander far off the property, so there is very little impact on the town, positive or negative.
The El Cid hotel south of us does have an "opt in-opt out" all inclusive option, so we do see a few of their guests in town. They can save big by opting out and taking their meals in our town. El Cid charges $100 per person per day for the all-inclusive option. As I pointed out on Tripadvisor.com, if you allowed yourself a generous food budget to eat in Puerto Morelos, you might spend 60 pesos on breakfast, 80 on lunch and 120 on dinner...that leaves you 740 pesos (a day) to spend on booze. Beer in town is 20 pesos (or less), wine is 40 pesos, a blender drink might be 50-70 pesos on the high side. So in order to spend the entire $100 a day in town you would need to buy at least 37 beers, 18.5 glasses of wine or about 12 blender drinks a day. What a way to spend your vacation!
Halach Winik, the custom tour company owned by Puerto Morelos resident Bush has just taken delivery of more Mercedes Benz Sprinters. These vehicles offer more comfort and bigger windows than standard tour vehicles and can go places that tour buses could not dream of going...plus they look pretty cool.
Late Breaking Airport News: We've heard that Terminal 3 will open on April 26. According to our info, all US flights will use the new terminal. Not sure about Canada or Europe.
Road Warriors: I have an intense fascination about the roads these days, so here is another paving update! The machines have now done most of the road leading into town from the highway. Smoooooth. They built a new tope in front of the town hall, but it is not as brutal as the old one. Will the pavers continue into town? Perhaps onto the moon-like surface of Av. Ninos Heroes? We'll keep you posted. A new and nasty speed bump has also been added near the beginning of Ninos Heroes where there just used to be a rope tope. They painted the tope yellow so you might see it before you hit it (like I did recently).
Current Exchange Rates (In Puerto Morelos)
USA Dollar 10.70
CDN Dollar 8.95
---
Real Estate in Puerto Morelos
The local papers all full of stories about Puerto Morelos being the hot real estate market of the moment. It is true that there is no spot like it on the Mayan Riviera. Playa del Carmen has already exploded and Tulum is following suit. We only have a limited amount of land, so there are only a handful of properties available. Here are some that we like...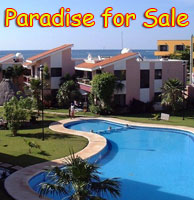 Beachfront condo for sale! Two Bedroom Condo For Sale: Here's a new opportunity to own a piece of paradise! A two bedroom condo is now available in the best located condominium project in Puerto Morelos. It is a 2 bedroom, 1.5 bath condo with living room, dining area and kitchen. Condo is furnished and ready to rent and use. Excellent for investment & rental income. These condos have a proven track record of appreciating and generating rental income for their owners.

The owner of this unit is selling because he is buying one of the villas in the same complex.

For more information on this property click here... Brand New Beachfront condo for sale!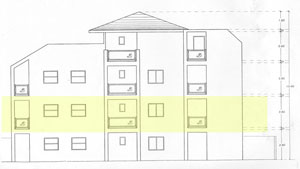 Pick your own colours with this brand new condominium on the beach. This two bedroom, two bath condo has been designed to take advantage of the best beach views and breezes. Complete with full size living room, dining room, kitchen and terraces.
Condo is located on a quiet beach just north of Puerto Morelos, about a 25 minute walk on the beach.
Construction of this condominium will begin in May 2007. Only this unit on the first floor will be sold. Special pre-construction price available now. See the floor plan and get more details here.
Beachfront condos for sale!

Two Bedroom Condos For Sale: Here's an opportunity to own a piece of paradise. Two 2 bedroom condos are available on the beach in a small locally-run complex. Each condo has an ocean and beach view. They are 2 bedroom, 2 bath with living room, dining area and kitchen. Front patio overlooks pool, beach and ocean. 25 minute walk to "downtown" Puerto Morelos. Condos are furnished and ready to rent and use. Excellent for investment & rental income. More details here...

Own This View!

Brand New Beachfront House For Sale: This 3 bedroom, 2.5 bath house sits right on a quiet beach just north of Puerto Morelos. It's about 2200 square feet and features everything you would expect in a quality beach home. Full kitchen, living room, dining room, private rooftop sundeck and a large main floor sitting porch and patio. Master bedroom upstairs has balcony with ocean view and breeze. Oh did we mention there is a pool? All this and an opportunity to own the lot next door too. This is a rare opportunity and a great investment. More details here...
---
This Just In! Books & Products at Alma Libre
Read all about it!
We love to keep you up to date with the town, but it's books that pay the bills. Have a look at some of the titles we're most excited about...
- Sale! - The Travelers' Guide to Latin American Customs and Manners - Customs and manners differ greatly as you travel throughout Latin America and are very different that up North. This book could save you from making some embarrassing moves in your travels and it makes for interesting reading. For example, did you know that making the "Okay" sign with your fingers here in Mexico has a completely different...and rather obscene meaning? Or that giving a Chilean a yellow rose signifies scorn or contempt for the recipient?

On Mexican Time by Tony Cohan
The imagery in this book will make you (almost) feel like you are in Mexico. The true story of a couple who try to escape the hectic life of LA in San Miguel de Allende. One of our personal favourites. We have just a few copies left.
The Birds of Mexico and Adjacent Areas by Ernest Preston Edwards
The birds have come back to our area and you can't tell the players without a program. This book is your program. A must for any resident or visitor to our area, this book covers all the birds you are likely to see in one guide, both those that live here and those that just visit.
Spanish Language Learning Software-Since moving to Mexico, Joanne and I have struggled with our Spanish, especially those nasty verbs. Now our friend Jacky has invented a fun way to learn your verbs. Her Amigos Spanish program has full conjugation for 700 verbs and helps you learn with tests and puzzles. The program is totally customizable, allowing you to focus on the verbs you need to know. Plus it's fun, so you will stick with it and learn those verbs. To expand your vocabulary, try Amigos Spanish Puzzles a program featuring word games with English clues and Spanish answers (or vice versa). The program comes loaded with 2500 words, and you can even add your own words if you like! Both programs are available on CD exclusively at Alma Libre Bookstore.
We like the program so much, we're featuring free monthly Amigos Spanish crossword puzzles in Beach Reads. Click here to see and solve this month's puzzle.
Other books...

Secrets of the Talking Jaguar is the story of the author's physical and spiritual journey from the Southwestern US to the highlands of central America. There he becomes apprenticed to a local shaman who teaches Pretchel much about indigenous Mayan life, and about life in general. We sold out of these last year in hardcover, this year we were lucky enough to get some soft cover editions. If you missed this book last year, don't miss it this time.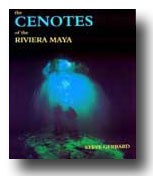 SPECIAL OFFER for Alma Libre Bookstore Customers
Cenotes of the Riviera Maya is the best book ever written about the cenotes in our area. Beautifully photographed, it could easily be called a coffee table book, but it is also has all the practical information you need to explore the cenotes whether you are swimming or diving. Many have drooled over this book, but the hefty (500 peso) price tag kept some people away. Now author Steve Gerrard has authorized us to lower the price. At 300 pesos, this book is an incredible bargain and it has been flying off our shelves. Supplies are limited. Don't miss this opportunity.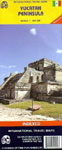 Maps!
If you drive in our area, you need a map! We have excellent and detailed maps of the Yucatan, the country of Mexico, Cancun city, Merida as well as Belize, Guatemala, Cuba and Central America. We also have souvenir-quality maps you can hang on the wall. Maps are usually difficult to find in Mexico, but only if you are looking in the wrong place! Plot a course to the bookstore.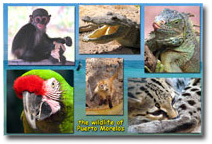 Postcards! We've added a lot of new postcards to our collection, including more by "Dive Diva." We have the largest selection of Puerto Morelos postcards, and they are all exclusive to Alma Libre. We know because we make 'em! We also have blank greeting cards to cover any occasion you may wish to celebrate while you are in paradise.
Gift Certificates! A nice gift idea for someone who lives here is an Alma Libre Gift certificate. Available in any amount and can be used for new or used merchandise. We can accept payments from up north via Paypal.
---
Here is another Amigo Spanish Puzzle. To solve the puzzle, click the picture to the left and a new window will open with the puzzle full screen. Then you must print it out and solve it. Do not attempt to solve the puzzle by writing on your computer screen with a felt pen.
Please note, this is the easy version of the puzzle, they are available on the program larger and harder. Email us if you like the puzzle as is, or if you want us to publish a more difficult version.
When you finish, click here to view the answers.
These puzzles are a great way to learn Spanish click here to get the program to make your own puzzles!
---
In Memory
It is with great sadness that we must report the passing of Joanne's mother Betty Miller. Betty passed away March 15th in Sydney, Nova Scotia after a long and difficult battle with cancer. Betty was a frequent visitor to Puerto Morelos. Born within sight of the ocean, she loved walking the long beaches of Puerto Morelos and enjoyed the many fine restaurants here. Though we know she would have rather had us live closer to her, she was a big supporter of our dream of moving to Mexico and never stood in our way. Joanne and her mother were very close and the hole in our lives that she leaves will never be filled.
Earlier in the month we lost our dear friend Wes Kent. Wes never actually set foot in Puerto Morelos, but his graphic arts talents appear on our web page and an Alma Libre Bookstore t-shirt that will be released soon. Wes touched our lives in so many ways, from his graphic arts talents to the fact that he dutifully recorded each episode of "The Simpson's" for us so that we would not miss any while we were out of Canada. He was one of those guys that everyone loved. He was a pleasure to work with and be with. Wes was just 42 years old when he suddenly passed away just six days before Betty on March 9 in Calgary. The TV industry in Canada will miss his talent. We will miss our friend and compadre.
---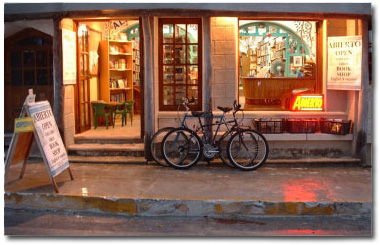 Just a reminder that we are open our regular season hours now. That is Tuesday through Saturday, 10:00 am until 3:00 pm and 6:00 pm to 9:00 pm. On Sunday we are open 4:00pm to 9:00pm. We are sometimes open on Monday, call ahead to find out if we are open!
We are closing for the season on April 29, 2007
Our hours are always posted on the front page of our website at www.almalibrebooks.com.
We take trades every day, so our selection is constantly changing. If you are planning a trip down, why not bring some recent bestsellers to trade and check out our store.
If you live here, we can special order books for you. It is not a quick process, it usually takes a month, but our prices are much better than Amazon's. Let us know what title you would like and we'll provide a quote.
We look forward to seeing you in Puerto Morelos!
---
Beach Reads is the official newsletter of Alma Libre Bookstore in Puerto Morelos Mexico. It is mailed directly to your mailbox if you request it. Beach Reads is published on a sporadic, seemingly random basis...but it is supposed to be approximately monthly during the season at Puerto Morelos. The season is November until after Easter. We do our best to publish it regularly...but we are easily distracted...

Our website is located at www.almalibrebooks.com Our store hours are always on the home page.

If you do not wish to receive this newsletter, please Click Here To Unsubscribe
This is Year #5, Issue #5. March 2007.
To subscribe or make comments or suggestions or advertise your local event, please Contact Us
Retransmission & Redistribution of this newsletter without express written consent is just fine by us! Send this newsletter to a friend! (or get them to sign up for their own copy) If you like the newsletter, please support it by buying a book at Alma Libre Bookstore.
Text & Photos ©2007 Alma Libre Bookstore