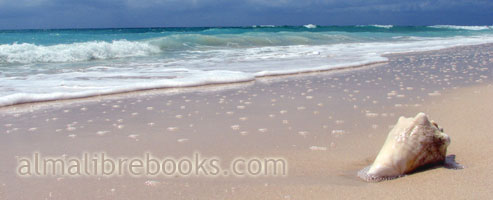 News from Alma Libre Bookstore - Puerto Morelos, Mexico

Year 05 Issue #5 - March 2007

Click here to go to our website: www.almalibrebooks.com
In this issue:
---
Spring Break!
Spring Break in Mexico. Those words conjure up some strong imagery of college kids blowing off steam and trying to consume as much alcohol as possible before hitting the books again up north. Spring Break in Puerto Morelos looks a lot different. Like everything else we touch, Spring Break in Puerto Morelos is a laid-back, relaxed experience. It involves the beach, a hammock, a great meal and perhaps a book or two to read. The good news is that even if your college days are way behind you, you can give yourself a Spring Break. You need one too! Winter has been long, traffic has been lousy, stress has been high, and the TV season has been blah. Can you think of other reasons? To add fuel to the fire, we've seen some really great airfare deals to Puerto Morelos lately. We can help you find a place to stay on our rentals web page. Lots of availability, especially in April. Get thee to Puerto Morelos and have yourself a Spring Break.
Joanne, Gordo and the Shark
Shark Girl!
This is not a fish story or a camera trick. Joanne caught this Tiger Shark, which is almost as tall as Joanne and our boat Captain, Gordo, off the coast of Puerto Morelos in February. The real shocker is that it was caught and landed without a rod and reel, just a piece of fishing line and a hook! (and a lot of help from the crew) The shark weighed in at around 30 pounds and must have been about 4 ½ feet long, judging by the heights of Joanne and Gordo. The boat was the Nauti K-9, owned and operated by Kathy Loretta's Diving Dog Tours. By the way for all you "seasoned" fishers out there...this was Joanne's first time out fishing!
Spring Cleaning
A little time at the beach renews the soul and somehow just makes problems disappear. Now here is a chance to give a little back to the beach. On March 21 (which happens to be the Spring Equinox) there will
be a big beach cleanup. Certified divers can dive for free, cleaning up any rubble still left over after Wilma. Snorkelers can get in on it too, and if you don't want to get your feet wet, there will be a beach cleanup as well. If you are not diving, no registration is required, just be at the square at 8:00am on March 21. If you would like to dive please pre-register by clicking here. This is a great idea, and it is just a part of a month-long focus on area sustainability. Our area is undergoing tremendous growth and we must make sure we do not destroy what we love so much. There is a lot going on with this festival, lots of information, art and music. More information is available here.
Circus in the Jungle?
Sandra Dayton, the woman who brought us the Sunday Jungle Market and the Wednesday Jungle Spa Day is now trying to get help for a special program for the kids. Around Christmas, some acrobats from Canada visited the children at the Jungle Market. The Mayan children were fascinated with the acrobats and Sandra saw an opportunity. She would like visitors to train the children in some acrobatic skills. The performers love the idea and are willing to donate their time and come back to Mexico in the summer to work with the children. The children could put on shows in the square next season. Sandra is now trying to get the performers airfare. (There are only three of them and they are quite small) If you can help (or have some pull with an airline) please contact us and we'll put you in touch with Sandra. This is a real grass-roots opportunity to help some Mayan children see what possibilities are available to them in the world.
By the way, the Sunday Jungle Market keeps getting bigger and better. It's a must-do on a Sunday morning in Puerto Morelos. Spa day is popular too, best to book in advance. More info and maps to the jungle available at Alma Libre.
Rent this place for as little as $500 a week. Separate bedroom with queen size bed, full kitchen, living room, dining room and porch with hammocks. Close to the beach and Centro.
Home and Condo Rentals
Lots of visitors are discovering the comfort and convenience of staying in a private home or condo during their Mexican vacation. Many ex-pats have built their dream homes here in PM and are willing to rent it (or a part of it) to you! Renting a place makes you feel more like a local right away and offers the convenience of cooking for yourself and much more privacy.
Regular Beach Readers know that we feature some of these properties on our website. There are a zillion property rental sites out there, but our site is unique because these are properties we know, owned and run by people we know and trust. We like to think we take the guesswork and risk out of renting.
We're always adding new properties to the site, in fact I have several waiting to be listed right now. We have lots of availability in April and some in March too.
Check out our new, easier to navigate rentals page here.
Owners! Contact us to get your FREE listing on our website.
Free Gift From Alma Libre Updated for March & April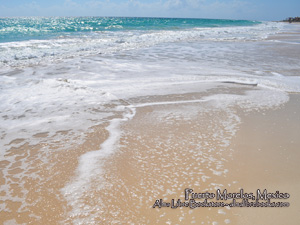 For those of you still stuck up North, bring a small piece of Puerto Morelos to your home or office with our new Puerto Morelos Wallpaper. Beautiful of course, and practical too with a March and April calendar built right in. This month's wallpaper is a view of a very, very good place to sit.
We'll have new pictures available for download every month! Wallpaper is also available on our website at www.almalibrebooks.com.
Pick your wallpaper size:
1024 x 768 800 x 600 1280x800 CLICK HERE FOR WALLPAPER INSTALLATION INSTRUCTIONS
---
Party Time at Tuna
Restaurant News: Habaneros is now back to serving dinner, drinks and music in the evenings. Not content to be open 7 days a week, owner Ed advertises that he is open "8 Days". Happy hour 12-5. - Another place that features a lot of live music is Tuna. They just celebrated their anniversary and have music most weekends. - We're lovin' Cafe Finca these days, especially their giant baguette "Especial" which is enough food for two people, or one hungry bookseller. While many places have "happy hour", Finca has "Happy Season" with two for one beer, margaritas and pina coladas all day everyday. - Bodo's has a wonderful salad bar now every evening. Their handmade dressings are the best part, the last salad I built for myself there was 10 parts dressing to one part lettuce. Of course Bodo's has the great location on the water, top notch service and those funky light-em-up palm trees that must be seen to be believed. - The Shrimp Tacos at Eric's Le Marlin Blue continue to wow visitors. If you have never had a shrimp taco, I dare say...you have never been to the Riviera Maya! Go get one now!
Restaurant Rumours: A man came into the bookstore the other day and identified himself as the chef of a new restaurant to be opened above the supermarket where "The Old Fisherman" used to be. What really got our attention though is that he told us the restaurant is being opened by the same group that owns "Senor Frogs" and "Carlos and Charlie's". The new restaurant is to be called "La Cantina del Puerto". We see a lot of renovations going on, so this rumour may have some truth to it. We'll wait and see before judging the new place, but in general we are suspicious of any restaurant that makes more money selling t-shirts than it does selling food.
Carnival starts this weekend in Puerto Morelos. We often celebrate it a little late as we are lower on the pecking order for the attractions and amusements. Not sure what the implications are for Lent, but this reporter is always up for a churro.
Beantown TV: Chronicle, the WCVB magazine show in Boston aired the segment they shot in Puerto Morelos on February 26. While we missed it, a lot of PM fans in New England did manage to catch the popular show. The segment featured Sandra Dayton's Jungle Market, Valorie from Hola Asia and a couple of plucky bookstore owners from Canada. Hopefully we all came off looking relatively intelligent. The segment did mistakenly identify us as being from Toronto. We can get over that, but if they had identified us as Toronto Maple Leaf hockey fans...we would have sued!
Dig It: One of the big changes we have noticed in our area is that we are seeing more heavy construction equipment being used. Cement pumps and mixing trucks were unheard of here just a few years ago. Now they are common sights in PM construction zones. Not always though. This new (and rather large) swimming pool being built in our neighbourhood is being completely dug by hand. Picks, shovels and a whole lot of sweat will build this pool.
Get a Grip: Our friend Adair from A2 Communication Arts has just added two new grip trucks to his fleet. Grip trucks are the backbone of any film or video production. They contain everything you need for a shoot including lights, stands and miles and miles of duct tape. Adair is responsible for a lot of the photography and design you see in our area (including Le Marlin Bleu's website) If you are griping for a grip, visit his new website at rivieramayagrip.com
Phone Home: If you find yourself in Puerto Morelos and feel the need to share (or rub it in) with the folks back home in Canada or the USA, the best way to call home is to get yourself to Pixan and use their long distance service. It is so much easier than dealing with phone cards and a much more quiet and comfortable location to make a call from than a phone booth, which always seem to feature a muffler-challenged truck going by at the crux of the conversation. It's less expensive than Telmex too. While at Pixan, check out their unique crafts and gifts. (Pixan is located on the main road right beside Dive Puerto Morelos)
PGA in Mexico - The PGA tour made its way into our neighbourhood at the end of February for the first ever Mayakoba Classic. This tournament marked the first time the tour has come to Mexico. Golf veteran Fred Funk won the tournament after a playoff with Jose Coceres. The tournament was played at the brand new El Camaleon Golf Course designed by Greg Norman. The course layout is unique, going through three distinct landscapes. A canal system allows golfers to step out of their rooms onto a boat that takes them to the first tee. You can play it too, green fees are $186 US.
Car Permits - Late last year, the Banjercito that was located at the dock in Puerto Morelos moved to Puerto Juarez just north of Cancun. This is where you go to get your annual car permit for your foreign plated vehicle. The good news is that they run regular office hours, so it is a much quicker process to get your car permit than it was before. I used to blow most of a day waiting for mine. It was a good opportunity to catch up on my reading...
New Airport - Much ado has been made about a new airport on the way in the Mayan Riviera. The truth is that no decisions have been made. Airport operator Asur, which runs the Cancun airport has stated that it would like to build an airport...should the Government want to build one. The Government has only said the possibility of an airport is still being studied. Most analysts think that Asur just wants to make sure no other operator doesn't come into the area. Asur operates nine airports in Mexico, but 70% of the traffic it handles comes through Cancun. Asur has also floated the idea of a high speed rail link between the Cancun airport and the Mayan Riviera. A high speed rail link? Why not issue every arriving passenger a jet pack to get them to their resort quicker? Also in terminal news, construction continues around the airport. As part of its "Never come to the airport the same way twice" policy, lanes are being closed and moved around, so watch where you are going. They have also removed the sign that told you where to bear right to go to Puerto Morelos. Also, parking rates have risen, so you will be paying a minimum of 24 pesos to park now. By the way the old charter terminal, Terminal One is open again, but they appear to only be using it on weekends.
News from the Street: Road crews opened up a new stretch of highway south of Playa del Carmen. The road is now beautiful 4 lane concrete all the way to Pamuul. Construction continues south of there. Crews are also FINALLY fixing up the road into Cancun. It has been more pothole than asphalt lately. When (if?) work is completed, it will be a six lane road. Pavers continue to work in our area too on the road to Central Vallarta and in the Pescador's village just east of the highway. We're hoping the paving bug will extend into the well-holed Puerto Morelos too. There are rumours the pavers will start work again this month...but we've been burned by rumours before (see our special edition Beach Reads from a few years back entitled "Elvis spotted in Puerto Morelos - plans concert with reunited Beatles".)
Current Exchange Rates (In Puerto Morelos)
USA Dollar 10.85
CDN Dollar 8.95
---
Real Estate in Puerto Morelos
The local papers all full of stories about Puerto Morelos being the hot real estate market of the moment. It is true that there is no spot like it on the Mayan Riviera. Playa del Carmen has already exploded and Tulum is following suit. We only have a limited amount of land, so there are only a handful of properties available. Here are some that we like...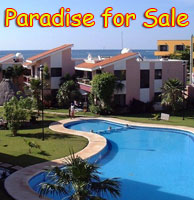 Beachfront condo for sale! Two Bedroom Condo For Sale: Here's a new opportunity to own a piece of paradise! A two bedroom condo is now available in the best located condominium project in Puerto Morelos. It is a 2 bedroom, 1.5 bath condo with living room, dining area and kitchen. Condo is furnished and ready to rent and use. Excellent for investment & rental income. These condos have a proven track record of appreciating and generating rental income for their owners.

The owner of this unit is selling because he is buying one of the villas in the same complex.

For more information on this property click here... Brand New Beachfront condo for sale!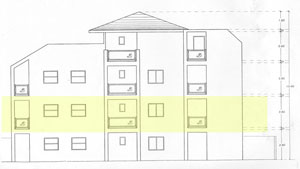 Pick your own colours with this brand new condominium on the beach. This two bedroom, two bath condo has been designed to take advantage of the best beach views and breezes. Complete with full size living room, dining room, kitchen and terraces.
Condo is located on a quiet beach just north of Puerto Morelos, about a 25 minute walk on the beach.
Construction of this condominium will begin in May 2007. Only this unit on the first floor will be sold. Special pre-construction price available now. See the floor plan and get more details here.
Beachfront condos for sale!

Two Bedroom Condos For Sale: Here's an opportunity to own a piece of paradise. Two 2 bedroom condos are available on the beach in a small locally-run complex. Each condo has an ocean and beach view. They are 2 bedroom, 2 bath with living room, dining area and kitchen. Front patio overlooks pool, beach and ocean. 25 minute walk to "downtown" Puerto Morelos. Condos are furnished and ready to rent and use. Excellent for investment & rental income. More details here...

Own This View!

Brand New Beachfront House For Sale: This 3 bedroom, 2.5 bath house sits right on a quiet beach just north of Puerto Morelos. It's about 2200 square feet and features everything you would expect in a quality beach home. Full kitchen, living room, dining room, private rooftop sundeck and a large main floor sitting porch and patio. Master bedroom upstairs has balcony with ocean view and breeze. Oh did we mention there is a pool? All this and an opportunity to own the lot next door too. This is a rare opportunity and a great investment. More details here...
---
This Just In! Books & Products at Alma Libre
Read all about it!
We love to keep you up to date with the town, but it's books that pay the bills. Have a look at some of the titles we're most excited about...
Maya for Travelers and Students
This unique book not only gives the reader the ability to communicate with the Maya in their own language, it also offers invaluable tips on learning the language "in the field". Most helpful is the author's discussion of the cultural and material worlds of the Maya, accompanied by the most essential words and expressions for the most common objects and experiences.

Mexican Camping
This is the book you must have if you are bringing your RV to Mexico. Teaches you everything you need to know about camping in Mexico, from crossing the border to where to sleep. This latest edition adds lots of new places to camp and updated information you need to know. We're even listed in the acknowledgements!
Me Oh Maya
A group of kids (The Time Warp Trio) accidentally go back in time to Chichen Itza in Mayan times. Kids will love this irreverent adventure. This is not a history book, it is meant for fun and maybe just a little learning. (Grades 3-5)
Spanish Language Learning Software-Since moving to Mexico, Joanne and I have struggled with our Spanish, especially those nasty verbs. Now our friend Jacky has invented a fun way to learn your verbs. Her Amigos Spanish program has full conjugation for 700 verbs and helps you learn with tests and puzzles. The program is totally customizable, allowing you to focus on the verbs you need to know. Plus it's fun, so you will stick with it and learn those verbs. To expand your vocabulary, try Amigos Spanish Puzzles a program featuring word games with English clues and Spanish answers (or vice versa). The program comes loaded with 2500 words, and you can even add your own words if you like! Both programs are available on CD exclusively at Alma Libre Bookstore.
We like the program so much, we're featuring free monthly Amigos Spanish crossword puzzles in Beach Reads. Click here to see and solve this month's puzzle.
Other books...

Secrets of the Talking Jaguar is the story of the author's physical and spiritual journey from the Southwestern US to the highlands of central America. There he becomes apprenticed to a local shaman who teaches Pretchel much about indigenous Mayan life, and about life in general. We sold out of these last year in hardcover, this year we were lucky enough to get some soft cover editions. If you missed this book last year, don't miss it this time.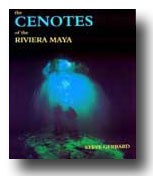 SPECIAL OFFER for Alma Libre Bookstore Customers
Cenotes of the Riviera Maya is the best book ever written about the cenotes in our area. Beautifully photographed, it could easily be called a coffee table book, but it is also has all the practical information you need to explore the cenotes whether you are swimming or diving. Many have drooled over this book, but the hefty (500 peso) price tag kept some people away. Now author Steve Gerrard has authorized us to lower the price. At 300 pesos, this book is an incredible bargain and it has been flying off our shelves. Supplies are limited. Don't miss this opportunity.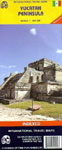 Maps!
If you drive in our area, you need a map! We have excellent and detailed maps of the Yucatan, the country of Mexico, Cancun city, Merida as well as Belize, Guatemala, Cuba and Central America. We also have souvenir-quality maps you can hang on the wall. Maps are usually difficult to find in Mexico, but only if you are looking in the wrong place! Plot a course to the bookstore.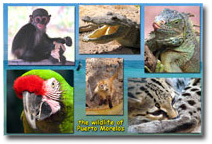 Postcards! We've added a lot of new postcards to our collection, including more by "Dive Diva." We have the largest selection of Puerto Morelos postcards, and they are all exclusive to Alma Libre. We know because we make 'em! We also have blank greeting cards to cover any occasion you may wish to celebrate while you are in paradise.
Gift Certificates! A nice gift idea for someone who lives here is an Alma Libre Gift certificate. Available in any amount and can be used for new or used merchandise. We can accept payments from up north via Paypal.
---
Here is another Amigo Spanish Puzzle. To solve the puzzle, click the picture to the left and a new window will open with the puzzle full screen. Then you must print it out and solve it. Do not attempt to solve the puzzle by writing on your computer screen with a felt pen.
Please note, this is the easy version of the puzzle, they are available on the program larger and harder. Email us if you like the puzzle as is, or if you want us to publish a more difficult version.
When you finish, click here to view the answers.
These puzzles are a great way to learn Spanish click here to get the program to make your own puzzles!
---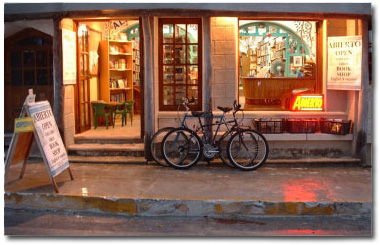 Just a reminder that we are open our regular season hours now. That is Tuesday through Saturday, 10:00 am until 3:00 pm and 6:00 pm to 9:00 pm. On Sunday we are open 4:00pm to 9:00pm. We are sometimes open on Monday, call ahead to find out if we are open!
Our hours are always posted on the front page of our website at www.almalibrebooks.com.
We take trades every day, so our selection is constantly changing. If you are planning a trip down, why not bring some recent bestsellers to trade and check out our store.
If you live here, we can special order books for you. It is not a quick process, it usually takes a month, but our prices are much better than Amazon's. Let us know what title you would like and we'll provide a quote.
We look forward to seeing you in Puerto Morelos!
---
Beach Reads is the official newsletter of Alma Libre Bookstore in Puerto Morelos Mexico. It is mailed directly to your mailbox if you request it. Beach Reads is published on a sporadic, seemingly random basis...but it is supposed to be approximately monthly during the season at Puerto Morelos. The season is November until after Easter. We do our best to publish it regularly...but we are easily distracted...

Our website is located at www.almalibrebooks.com Our store hours are always on the home page.

If you do not wish to receive this newsletter, please Click Here To Unsubscribe
This is Year #5, Issue #5. March 2007.
To subscribe or make comments or suggestions or advertise your local event, please Contact Us
Retransmission & Redistribution of this newsletter without express written consent is just fine by us! Send this newsletter to a friend! (or get them to sign up for their own copy) If you like the newsletter, please support it by buying a book at Alma Libre Bookstore.
Text & Photos ©2007 Alma Libre Bookstore