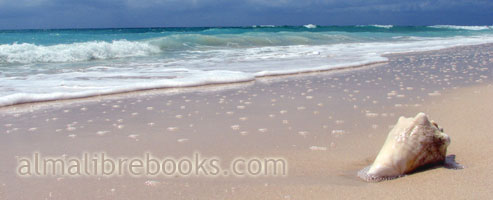 News from Alma Libre Bookstore - Puerto Morelos, Mexico

Year 05 Issue #2 - December 2006

Click here to go to our website: www.almalibrebooks.com
In this issue:
---
Feliz Navidad! December is a festive time in Puerto Morelos. First we have the celebration of Guadalupe in early December followed by Christmas and New Year's. Christmas is similar to up north in that the stores all get crowded and there seems to be more traffic...but we don't have the snow to contend with. The town is in the spirit though. A number of homes have elaborate shrines to Guadalupe and many more have a brightly lit tree or lights on the outside of the house.
Everyone is looking forward to a busy season and all the businesses have spent the last couple of months preparing. Hopefully, you have a trip planned to Puerto Morelos. If not...why not? Winter is long and the flight is short. Call your travel agent, we'll get a hammock ready for you!
Los Bookstore will have slightly different hours during Christmas week. We'll be open every day except Christmas. Christmas Eve we'll close at 3:00. We'll be open on December 26 (Boxing Day for some. International Shopping Day for most). New Year's Eve we'll be open 10:00-3:00 and we'll be open New Year's Day...though possibly moving a little slower than usual.
If we don't see you before then, Feliz Navidad to you and yours!
Hungry? I have just completed a list of all the restaurants in Puerto Morelos...and I came up with 27 places. Not bad for a sleepy little fishing village eh? Please note that the 27 does not include at least two more that are under construction right now near the square, they don't include any of the chicken places, any of the many restaurants in the Colonia...and they don't include whichever places I inevitably forgot. See the list here.
Air-ahead: Traffic last month at Quintana Roo's airports was up substantially over last year, as one might expect. Last November we were suffering with the after effects of Wilma. This November, flights were up almost 300% in Cancun and 450% at Cozumel over 2005. Overall air traffic in Mexico was up 109%, which shows how important Cancun is to Mexico. A better air comparison is November of 2004 to November of 2006. November Cancun air traffic is up just over 5% over the same month two years ago.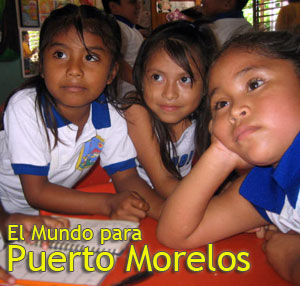 The World for Puerto Morelos Response to the formation of El Mundo Para Puerto Morelos has been great. Donations are coming in through the town and through the mail to their address in Texas. A couple of fundraisers have already been held in Mexico and in the US. Earlier this month the "1st Annual Give Something Back to Puerto Morelos" party was held in Minneapolis where more than $2500 was raised. PM favourite Cooker John performed at the party hosted by Kathy Kosnoff.
Another fundraiser is a Domino Tournament to be held in Puerto Morelos at Baraka restaurant, December 15-20. A minimum 100 peso donation gets you in. You can win a trophy and a prize and drinks are dos por uno! For more info, you can call 998-202-3657.
If you don't play dominos or you won't be here in Puerto Morelos, you can still help out. See the Foundation's wish list and find out how you can get an IRS tax receipt for your donation at their webpage here.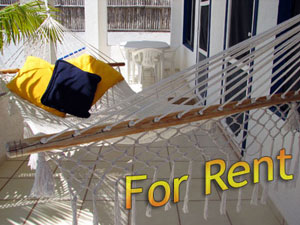 Sleeping around
No matter where you stay in Puerto Morelos, you'll feel like a local...it's just that kind of town. If I were more of a smarmy kind of writer...I'd say the whole town gives you a hug when you arrive. Luckily I'm not that kind of writer. (Yech!)
To get the full Puerto Morelos effect though, trying staying in a home or condo in Puerto Morelos. We have places on the beach or tucked away in PM neighbourhoods. We have studios right up to mansions. Places with pools or high-speed internet.
We know the places and the owners. Why rent from strangers? Places are booking quickly but we still have availability.
We're always adding new places. Check out our rentals here.
To Your Health
Are you planning on traveling to Cancun, Puerto Vallarta or Central Mexico in December or January? Here is a unique opportunity to help further medical understanding of a common traveler's problem...and be handsomely compensated for it.
A friend in San Miguel de Allende is the Mexican contact for a health study. They are looking for people to take part in a clinical study for the prevention of travelers' diarrhea. To be eligible you must travel to Mexico for at least a week, some time before January 15th, 2007. You will be compensated between US$500 and US$900 per person for participation in this study. (Not bad!)

To find out more about this, please visit www.insanmiguel.com/healthstudy.htm for answers to frequently asked questions and instructions on how to participate in this study. If you have any further questions which are not answered in the web site, there is a toll free phone number 1-866-289-1359.

Free Gift From Alma Libre Updated for December & January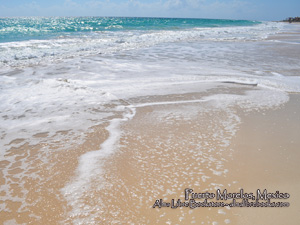 For those of you still stuck up North, bring a small piece of Puerto Morelos to your home or office with our new Puerto Morelos Wallpaper. Beautiful of course, and practical too with a December and January calendar built right in. This month's wallpaper is a shot of the beach just south of Puerto Morelos.
We'll have new pictures available for download every month! Wallpaper is also available on our website at www.almalibrebooks.com.
Pick your wallpaper size:
1024 x 768 800 x 600 1280x800 CLICK HERE FOR WALLPAPER INSTALLATION INSTRUCTIONS
---
Big News on Rojo Gomez: Lots of news on Puerto Morelos' main street. Mama's Bakery is moving there this month. We'll miss Diane on Ninos Heroes, but we know that moving to the busy Rojo Gomez will lead to more people discovering Mama's. She hopes to complete the move by the 20th. The location is north of the square, near the end of the first block. A few steps from Mama's towards the square you'll find the new home of Almost Heaven Adventures. It's a new shop, but owner Enrique is not new to Puerto Morelos. He's been running dive and snorkel trips for at least 13 years. Also on Rojo Gomez, Spaghettino restaurant and Gioconda restaurant and bar have both re-opened for the season.
Goyo tells me that Nisha's restaurant on the square will not reopen. The space will be used to promote his unique tours and eventually he'll have a shop there.
Fabulous 50's: I was surprised to see the Central Bank of Mexico has issued new 50 peso notes. The new bills are polymer, like the 20 peso bills, which are nice as they won't crumple and resist tearing and spills. They also are more difficult to counterfeit. The Bank says the old 50's were popular targets for phony bill makers, as people pay less attention to smaller bills. The new bills still feature Jose Maria Morelos, a hero of the Revolution who the town was named for (and who's statue adorns the square) The reverse features a picture of (I believe) the city of Morelia, which was also named after Morelos.
Nuevo Presidente: Mexico inaugurated a new president on December 1. Felipe Calderon won in a very tight election back in July. Calderon, a former Secretary of Energy in President Vicente Fox's cabinet, will be hold the job until November 30, 2012. He is just 44 years old. Mexican Presidents serve a six year term with no re-election. Everyone gets the day off on inauguration day.
Noche Buena: You may call it Christmas or Navidad or Hannukkah...but I call it the season of Noche Buena. Noche Buena really refers to Christmas Eve, The Good Night, when families get together to celebrate the season. To me, Noche Buena is a dark beer that is only available around Christmas. It comes it brightly coloured packs of 12. Salud!
Tuna Restaurant is wishing you "Una Navidad Rasta", a Christmas celebration to a Rasta beat. There will be special concerts on all the Saturdays in December and they are also planning something big for New Years.
Sac-Be our favourite local newspaper will have a new issue out in time for Christmas. Look for new maps and a book review by Joanne. Sac-Be is a great place to advertise your business. They are the only publication which covers Puerto Morelos well and they have a huge and dedicated readership. Contact them for details at Sac-Be.com
What's Cooker-ing: Mentioned Bluesman Cooker John earlier in this newsletter. John plays frequently around town when he visits, so you likely have heard him play. If you haven't, or you need to hear a little more, check out his fantastic website CookerJohn.com which has music clips and lots of other goodies. You can even buy an album online.
TV Tips for locals: We subscribe to basic Cablemas, it's all the TV we want (no reality shows please) but we could never figure out what was on and when. Now we have discovered that TV Guide has a schedule for Cablemas here. Más fácil!
Property Taxes: If you owe Puerto Morelos property taxes, or Predial, pay them before December 15 and get a handsome 25% discount. I paid ours the other day at City Hall right in Puerto Morelos. It was quick and painless. Perhaps the money will go to adding some asphalt to the roads? Let's hope!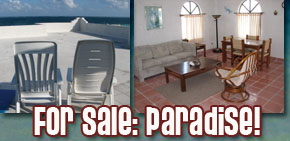 Beachfront condos for sale!
Two Bedroom Condos For Sale: Here's an opportunity to own a piece of paradise. Two 2 bedroom condos are available on the beach in a small locally-run complex. Each condo has an ocean and beach view. They are 2 bedroom, 2 bath with living room, dining area and kitchen. Front patio overlooks pool, beach and ocean. 25 minute walk to "downtown" Puerto Morelos. Condos are furnished and ready to rent and use. Excellent for investment & rental income. Contact us for details. More details here...
Current Exchange Rates (In Puerto Morelos)
USA Dollar 10.55
CDN Dollar 9.10
---
This Just In! Books & Products at Alma Libre
Read Local!
When in Mexico, read Mexico! Here are some real local reads...
Embarking on the Mariposa Trail We just received copies of this in the bookstore and we are delighted to have it. A MUST READ for anyone thinking of living down here, especially if they want to build a house. It's the story of a couple who follow their dreams to the Mayan Riviera. The Mariposa Trail, like any road in Mexico has a few potholes and topes along the way...and a lot of surprises. Written by Mari Pintkowski...also known as Moe Mulroney.
Where The Sky Is Born is also about a couple who are drawn to the land of the Maya live and build their home. Author Jeanine Kitchel follows a path that eventually leads her right to Puerto Morelos. Join them on their travels through the Yucatan and meet some of the characters, some helpful...some not...that they meet on the way. We have copies currently in the bookstore.
Only in Mexico You Say Author Suzanne Bandick didn't want to wait for her kids to grow up to make the big move to Mexico...she wanted to move here now and bring her kids. Her travel memoir is a fun read full of adventure and laughter. "Only in Mexico You Say" is available for download on her website: SuzanneMarieBandick.com It's a quick, safe and easy download. This book will be available in book form soon, along with her new book about buying real estate in Mexico.
Spanish Language Learning Software-Since moving to Mexico, Joanne and I have struggled with our Spanish, especially those nasty verbs. Now our friend Jacky has invented a fun way to learn your verbs. Her Amigos Spanish program has full conjugation for 700 verbs and helps you learn with tests and puzzles. The program is totally customizable, allowing you to focus on the verbs you need to know. Plus it's fun, so you will stick with it and learn those verbs. To expand your vocabulary, try Amigos Spanish Puzzles a program featuring word games with English clues and Spanish answers (or vice versa). The program comes loaded with 2500 words, and you can even add your own words if you like! Both programs are available on CD exclusively at Alma Libre Bookstore.
We like the program so much, we're featuring free monthly Amigos Spanish crossword puzzles in Beach Reads. Click here to see and solve this month's puzzle.
Other books...

Secrets of the Talking Jaguar is the story of the author's physical and spiritual journey from the Southwestern US to the highlands of central America. There he becomes apprenticed to a local shaman who teaches Pretchel much about indigenous Mayan life, and about life in general. We sold out of these last year in hardcover, this year we were lucky enough to get some soft cover editions. If you missed this book last year, don't miss it this time.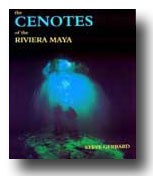 SPECIAL OFFER for Alma Libre Bookstore Customers
Cenotes of the Riviera Maya is the best book ever written about the cenotes in our area. Beautifully photographed, it could easily be called a coffee table book, but it is also has all the practical information you need to explore the cenotes whether you are swimming or diving. Many have drooled over this book, but the hefty (500 peso) price tag kept some people away. Now author Steve Gerrard has authorized us to lower the price. At 300 pesos, this book is an incredible bargain and it has been flying off our shelves. Supplies are limited. Don't miss this opportunity.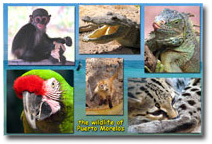 Postcards! We've added a few new photos to our postcard collection. We have the largest selection of postcards of Puerto Morelos, and they are all exclusive to Alma Libre. We know because we make 'em! We also have blank greeting cards to cover any occasion you may wish to celebrate while you are in paradise.
---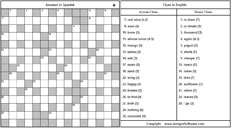 Here is another Amigo Spanish Puzzle. To solve the puzzle, click the picture to the left and a new window will open with the puzzle full screen. Then you must print it out and solve it. Do not attempt to solve the puzzle by writing on your computer screen with a felt pen.
Please note, this is the easy version of the puzzle, they are available on the program larger and harder. Email us if you like the puzzle as is, or if you want us to publish a more difficult version.
When you finish, click here to view the answers.
You can make your own puzzles to help you learn Spanish click here to learn more!
---
Sad news this month as Abbey, the diving dog of Kathy Loretta's Diving Dog Tours passed away. Abbey spent 10 years on the beaches and boats of Puerto Morelos.
For anyone that went fishing with Kathy, Abbey was a familiar friend and boat mate. She loved being out on a boat for a day of fishing almost as much as Kathy.
We'll miss her.
---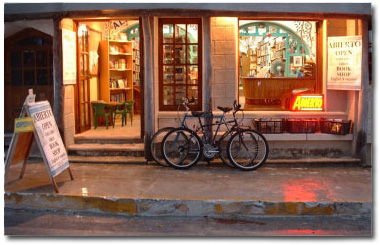 Just a reminder that we are open our regular season hours now. That is Tuesday through Saturday, 10:00 am until 3:00 pm and 6:00 pm to 9:00 pm. On Sunday we are open 4:00pm to 9:00pm. We are closed on Monday.
Our hours are always posted on the front page of our website at www.almalibrebooks.com.
We take trades every day, so our selection is constantly changing. If you are planning a trip down, why not bring some recent bestsellers to trade and check out our store.
If you live here, we can special order books for you. It is not a quick process, it usually takes a month, but our prices are much better than Amazon's. Let us know what title you would like and we'll provide a quote.
We look forward to seeing you in Puerto Morelos!
---
Beach Reads is the official newsletter of Alma Libre Bookstore in Puerto Morelos Mexico. It is mailed directly to your mailbox if you request it. Beach Reads is published on a sporadic, seemingly random basis...but it is supposed to be approximately monthly during the season at Puerto Morelos. The season is November until after Easter. We do our best to publish it regularly...but the beach is so pretty...

Our website is located at www.almalibrebooks.com Our store hours are always on the home page.

If you do not wish to receive this newsletter, please Click Here To Unsubscribe
This is Year #5, Issue #2. December 2006.
To subscribe or make comments or suggestions, please Contact Us
Retransmission & Redistribution of this newsletter without express written consent is just fine by us! Send this newsletter to a friend! (or get them to sign up for their own copy)
Text & Photos ©2006 Alma Libre Bookstore