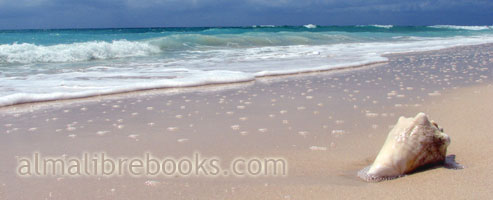 News from Alma Libre Bookstore - Puerto Morelos, Mexico

Year 05 Issue #1 - November 2006

Click here to go to our website: www.almalibrebooks.com
In this issue:
---
We're Back!
Back in paradise again after half a year on the road, on the ocean and chained to a desk. How did you spend your summer? Ours was spent driving back up to Calgary, working too much, taking a long vacation that brought us less than 100 kilometres from home and finally, a long drive south from Calgary to Puerto Morelos. More details about our travel later in this issue, let's get to the good stuff.
Puerto Morelos is looking great. There are so many changes in your town. More places to eat, drink, shop and sleep, but the flavour of the town is the same. Friendly and laid back are our best exports. September and October rains have made everything green up and grow up. Wilma is a distant memory.
The bookstore is looking good too. We have a lot of new books and we are trying to find room on the shelves for them.
If you haven't started planning your trip south this year...start. Winter is long and the flight is short!
Los Newsletter
This issue is the 25th edition of Beach Reads. Now in it's fifth year, this cheesy newsletter is polluting mailboxes all over the world. We have received lots of fan mail and kudos, particularly for our coverage immediately after Hurricane Wilma. Many people tell us it is the only news they hear from Puerto Morelos between visits. We try to ruthlessly promote the town and it's many attractions and local businesses in our unique sardonic and silly writing style. We have a lot of fun putting the newsletter together, but it does take a good deal of time and a fair bit of money every month to get it out. We accept no advertising so if you like Beach Reads, please support it by buying a book at Alma Libre Bookstore or booking your vacation rental through this website. Gracias!
Helping Out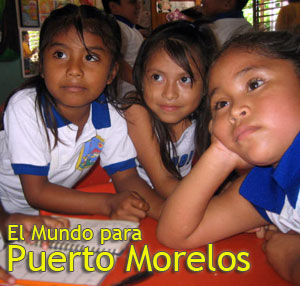 Over the years we have been asked dozens of times if there is a way to help the people of Puerto Morelos. We knew there was a need, but we were never sure where to send people. Now a local organization has been founded to help the schools and people of PM. El Mundo Para Puerto Morelos is a registered charity in Mexico, and though they were just formed they are already doing good. One of the local schools damaged by Hurricane Wilma is getting some much needed repairs. There is so much more to do though. All the schools in town need first aid kits, visual aids & sporting equipment. The library needs windows installed, the town needs emergency medical equipment and resources for children with special needs.
You can help with cash or by bringing needed supplies down with you on your next visit. You can receive a US tax receipt for your cash donation.
Two fundraisers are on the horizon to benefit this charity. If you live in Minneapolis, the First Annual "Give Something Back to Puerto Morelos Party" will be held on December 2. Here's a chance to party with fans of Puerto Morelos and help out the people of the town. There will be a silent auction, Mexican food and music. If you are interested in attending or helping out (they are looking for more silent auction items) send us an email and we'll send you the info or you can call Kathy at 612-926-2175
The other fundraiser is a Domino Tournament to be held in Puerto Morelos at Baraka restaurant, December 15-20. A minimum 100 peso donation gets you in. You can win a trophy and drinks are 2 for 1! For more info, you can call 998-202-3657.
For more information about El Mundo para Puerto Morelos and how you can help, check out our webpage here.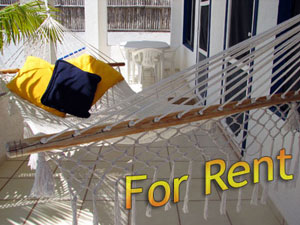 Room for You
There are as many different ways to vacation as their are vacationers. Nowhere is that more obvious than in our area. In the Mayan Riviera, we have something for everyone. Which type of vacationer are you? Identify yourself by reading these statements...
1. Vacations are for relaxing. I want to lay in my hammock and only move to mix another drink.
2. I want to see everything. The Yucatan Peninsula is loaded with ancient Mayan ruins, Colonial cities, Mayan villages, hidden beaches, snorkelling, cenote & reef diving, fishing and countless places to eat and drink. Sign me up for all of it.
3. I want something between the two thanks so much.
The good news is that Puerto Morelos can make all these people happy. If you want laid back and relaxing, we have it in buckets. For active travellers, PM makes a great base, close to Tulum, Valladolid, Chichen Itza, Playa del Carmen, Cancun and more.
A great way to stay in Puerto Morelos is to rent a house, condo or apartment. This give you the flexibility to see it all, or a comfortable place to hang your hammock. You can prepare your own quick or gourmet meals depending on your plans. Some places have great extras like swimming pools and wireless internet.
We represent some of the best of these places on our website. We have places in all sizes and all price ranges, on or off the beach. These homes make a great alternative to a hotel and provide a vacation that is like more relaxing. Kind of like being at home...except all that white stuff is sand...not snow.
Check out our new places on our rentals page...
To Your Health
Are you planning on traveling to Cancun, Puerto Vallarta or Central Mexico in December or January? Here is a unique opportunity to help further medical understanding of a common traveler's problem...and be handsomely compensated for it.
A friend in San Miguel de Allende is the Mexican contact for a health study. They are looking for people to take part in a clinical study for the prevention of travelers' diarrhea. To be eligible you must travel to Mexico for at least a week, some time before January 15th, 2007. You will be compensated between US$500 and US$900 per person for participation in this study.

To find out more about this, please visit www.insanmiguel.com/healthstudy.htm for answers to frequently asked questions and instructions on how to participate in this study. If you have any further questions which are not answered in the web site, there is a toll free phone number 1-866-289-1359.

Moving to Mexico...with kids!
We often get people in the bookstore or writing to us saying they would love to move to Mexico, but they can't because they have kids. When they tell us that, we tell them about the Bandicks. Shawn and Suzanne Bandick shrugged off their old lives in British Columbia, packed up a truck and pointed it south just like we did...but they brought kids!
In Mexico they found a new life and they are now living the dream in the Riviera Maya. Now you can go along for the ride and share their adventures. "Only In Mexico You Say" is available for download on Suzanne's website www.suzannemariebandick.com It's a fun and humourous read...highly recommended if you are considering moving to Mexico or even if you just want to dream a little.
Suzanne also has a free newsletter you can sign up for...a little sunshine in your inbox every month.
Free Gift From Alma Libre Updated for November & December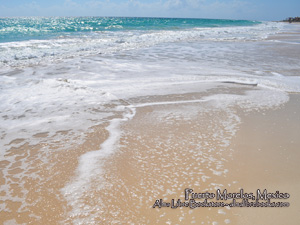 For those of you still stuck up North, bring a small piece of Puerto Morelos to your home or office with our new Puerto Morelos Wallpaper. Beautiful of course, and practical too with a November and December calendar built right in. This month's wallpaper is shot of the beach just south of Puerto Morelos.
We'll have new pictures available for download every month! Wallpaper is also available on our website at www.almalibrebooks.com.
Pick your wallpaper size:
1024 x 768 800 x 600 1280x800 CLICK HERE FOR WALLPAPER INSTALLATION INSTRUCTIONS
---
Changes!
There are so many changes to tell you about, it would almost be more efficient to tell you just about what has stayed the same, but here goes...
Restaurants: Starting in the square, Pelicanos has reopened in it's old location. They did a spectacular job and the entire place has been built much stronger. Pay special attention to the giant support pole in the centre of the restaurant...it is solid cement and poured by hand! If you go, ask for our friend Lucio...he will take good care of you. A new Argentinean beef place has opened in the building just north of Pelicanos where Mystic Diving used to be. It's called Bacabs. A whole new mall has opened on the far side of the square from the bookstore. It boasts a new restaurant called "Cesar Martin". Caffetto has sold out to a pair of Canadians from Quebec (actually a couple who visited last year and fell in love with Puerto Morelos) who have renamed the restaurant "La Oazis". They have a wide variety of dishes on the menu and will be open early for breakfast and late for dinner.
Other favourites on the square, our next door neighbour, El Marlin Bleu is still serving the best shrimp tacos in town. Chef/Owner Eric always likes to change a few things on his menu for the new season. We got a sneak peek. Look for more vegetarian choices and a kid's menu...plus a little bit more French flair. Cafe de Amancia is still serving coffee and treats from her perfect location on the corner of the square. Amancia's Cafe Americano is the only elixir that gives us the strength to unload and shelve all those new books every year! Hola Asia, winner of our restaurant survey every year, is open after taking the month of September off. Sit upstairs for the view, the breeze, and the nicest server in the world, Valorie. Have a cold draft beer for only 10 pesos! Portabello is still serving their Italian specialties and big healthy salads. The Old Fisherman is back with it's commanding view and seafood. El Tio, just around the corner from the square is a chance to eat where the locals eat...and pay local prices. El Pireta is one of our favourites and features a big menu, perfect for families. Dona Triny has taken over the little restaurant across from the Police station. She has lots of Mexican specialties for little dinero. Nisha's is closed right now, but we expect it to open within a month or so.
So, that takes care of the square! Now, off the square. Big news is that Bodo's has moved to Hotel Hacienda Morelos. It's a beautiful spot where you can sit inside or outside with an ocean view. Next door, Baraka has rebuilt and reopened. It is spectacular with it's giant palapa and jungle hardwood floors. Restaurant T2 is closed and is for sale. Spaghettinos and Gioconda are closed right now, but we assume they will reopen next month. Tuna Restaurant and Beach Bar is packing them in with lots of live music. They have a concert featuring the band "Ganja" on November 25. Cafe Finca is looking good and now has sushi. Our favourite waiter Roy is back at Don Pepe's, where they have the grill going every night. Mama's Bakery just opened to the relief of a lot of locals who need Dianne's baked goodies to start the day. Los Gauchos is a favourite of locals serving South American specialties and pizza.
There are a few new shops and stores too, selling clothing and sundries.
If I missed any changes, my apologies...
Oh Good Heavens: It's 7-11. We got our first chain-store ever in Puerto Morelos...a new 7-11 has opened on the highway near the Pemex station. Unlike their Northern cousins though...no slurpees. They did learn to overprice things though! We suggest you stick with your local tienda in town.
Come Fly With Us: Somehow someway, we got a very nice mention in a big ad in Air Canada's enRoute magazine. We were listed as one of the top attractions of Puerto Morelos, which was listed as one of the top attractions of the Riviera Maya. We never saw it at the time, but luckily we have a lot of frequent flying friends who snagged us a copy. Thanks to whomever got us in there. We also got a nice mention in the Miami Herald Cancun Edition recently.
Joanne also made an appearance on JACK-FM radio in Calgary with our friend Beesley, telling Calgarians how great Mexico is to visit.
Road Improvements and Declinations: Good news, they are improving the road to Central Vallarta which will make it much easier to get out there and to the cenotes. They are claiming that they will pave it all the way to Leona Vicario, which would cut 50 kilometres (31 miles) off the free-road trip to Valladolid and beyond. We'll keep you posted. Bad news: They have added a bunch of new topes (speed bumps) to the main highway between Puerto Adventuras and Tulum. They have also added more traffic lights around Playa del Carmen. Also lots of construction south of Playa and at the airport turnoff is causing problems.
Sac-Be Newspaper has beefed up their web presence with a brand new site. Check it out
Diving Dog Tours just added a new boat to their fleet. A really big boat so we're told. They definitely have the nicest vessels in town. Try them out for snorkeling or fishing trips. I happen to know the two guys on the right didn't have a clue what they were doing, but thanks to the skilled crew, were able to catch this very nice fish.
Using the Google: President Bush shared earlier this month that he likes to use "The Google" to check out his favourite place when he is away in Washington, that being his ranch in Texas. Now you can use "The Google" to check out your favourite place too. Google Earth (as the rest of us call it) has greatly improved the resolution of the satellite photos of Puerto Morelos. To see PM from outer space, download Google Earth at earth.google.com or just have a look at the satellite photos on maps.google.com We're going to paint a big blue blob in our backyard so everyone will think we have a big swimming pool.
How small and friendly is Puerto Morelos? My garbage man enthusiastically greeted me upon our return to Puerto Morelos and asked where I had been. That never happens in up North!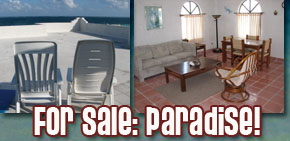 Beachfront condos for sale!
Two Bedroom Condos For Sale: Here's an opportunity to own a piece of paradise. Two 2 bedroom condos are available on the beach in a small locally-run complex. Each condo has an ocean and beach view. They are 2 bedroom, 2 bath with living room, dining area and kitchen. Front patio overlooks pool, beach and ocean. 25 minute walk to "downtown" Puerto Morelos. Condos are furnished and ready to rent and use. Excellent for investment & rental income. Contact us for details. More details here...
Current Exchange Rates (In Puerto Morelos)
USA Dollar 10.65
CDN Dollar 9.10
---
This Just In! Books & Products at Alma Libre
Books & Stuff!
Here's a look at some new products at Alma Libre...
Spanish Language Learning Software-Since moving to Mexico, Joanne and I have struggled with our Spanish, especially those nasty verbs. Now our friend Jacky has invented a fun way to learn your verbs. Her Amigos Spanish program has full conjugation for 700 verbs and helps you learn with tests and puzzles. The program is totally customizable, allowing you to focus on the verbs you need to know. Plus it's fun, so you will stick with it and learn those verbs. To expand your vocabulary, try Amigos Spanish Puzzles a program featuring word games with English clues and Spanish answers (or vice versa). The program comes loaded with 2500 words, and you can even add your own words if you like! Both programs are available on CD exclusively at Alma Libre Bookstore.
We like the program so much, we're featuring free monthly Amigos Spanish crossword puzzles in Beach Reads. Click here to see and solve this month's puzzle.

Secrets of the Talking Jaguar is the story of the author's physical and spiritual journey from the Southwestern US to the highlands of central America. There he becomes apprenticed to a local shaman who teaches Pretchel much about indigenous Mayan life, and about life in general. We sold out of these last year in hardcover, this year we were lucky enough to get some soft cover editions. If you missed this book last year, don't miss it this time.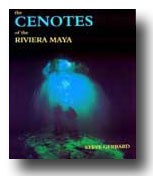 SPECIAL OFFER for Alma Libre Bookstore Customers
Cenotes of the Riviera Maya is the best book ever written about the cenotes in our area. Beautifully photographed, it could easily be called a coffee table book, but it is also has all the practical information you need to explore the cenotes whether you are swimming or diving. Many have drooled over this book, but the hefty (500 peso) price tag kept some people away. Now author Steve Gerrard has authorized us to lower the price. At 300 pesos, this book is an incredible bargain and it has been flying off our shelves. Supplies are limited. Don't miss this opportunity.
Cheap Reads: We are still holding our Hardcover Book Sale. Buy any hardcover priced at 99 pesos or less and get another free!
Postcards! We've added a few new photos to our postcard collection. We have the largest selection of postcards of Puerto Morelos, and they are all exclusive to Alma Libre. We know because we make 'em! We also have blank greeting cards to cover any occasion you may wish to celebrate while you are in paradise.
---
Here is another Amigo Spanish Puzzle. To solve the puzzle, click the picture to the left and a new window will open with the puzzle full screen. Then you must print it out and solve it. Do not attempt to solve the puzzle by writing on your computer screen with a felt pen.
Please note, this is the easy version of the puzzle, they are available on the program larger and harder. Email us if you like the puzzle as is, or if you want us to publish a more difficult version.
When you finish, click here to view the answers.
You can make your own puzzles to help you learn Spanish click here to learn more!
---
Our Travels...or how we spent our summer vacation
Okay, now time for our virtual slide show. Some readers like to hear about our travels in the summer. For those who do, read on. For those who don't...hit page up or down really quickly.
After a very tough year last year thanks to that storm called Wilma, we decided to close the shop early (the beginning of May) and head to Calgary. Normally we meander back through historic central Mexico, but this time we decided to hurry. We weren't all business though, we stopped in wonderful Palenque for a little while and a few other spots.
After a painless crossing of the US/Mexico border, we decided to take a week off just north of our favourite Texas town, Austin. We spent a week at Lake Travis. It's a very nice area and so quiet. We saw more deer than people.
After that we headed north, stopping at Lamar, Colorado to visit the famous artist Marguerite at her northern hangout. We also spent a little time in our favourite bookshop in Boulder and our favourite pizza place in Golden, Colorado where they also make all that Coors beer.
Back in Canada we reacquainted ourselves with the Rockies in Banff...truly one of the most spectacular places in the world...and so close to Calgary. Actually, Joanne worked at the famous Banff Film Festival while Rob reacquainted himself with the mountains. Good deal.
Then it was all work in Calgary. The city is growing at a phenomenal rate, due mainly to rising oil and gas prices. There was so much work, we just leapt in and never looked back. We worked full time hours plus for the entire summer.
Deciding we needed a break and an effortless vacation, we jumped at the chance to take a repositioning cruise down the West Coast of North America and through the Panama Canal. Every spring and fall, cruise lines need to move their ships from Alaska to the Caribbean and back. Rather than run them empty, they run them full and you can get some really good deals.
Ports included three in Mexico that we had never been to. Cabo, Acapulco and Huatulco. Unbelievably, we ran into former PM resident, Gabriel on the street in Huatulco. Gabriel was a long-time waiter at Don Pepe's a few years ago. He was very popular not only because he was a good waiter, but also because he could sing very well and often delighted diners with dinner music. He's doing well by the way, and now has three children!
Other ports included San Diego, Costa Rica, Aruba and the incredible Panama Canal.
We docked in Fort Lauderdale, where we spent a little time in one of our favourite spots, Key West. While there, we were only a few hundred miles from our home in Puerto Morelos...however we had to fly all the way back to Calgary to load up and make the big drive south again.
So we covered a lot of kilometres this summer. We drove North for about 6000, took a ship for about 6000, flew about 4000 and finally drove another 6000. That's a summer of 22,000 kilometres (about 13,670 miles)...I think I'll go stretch my legs...
---
In Memory
Puerto Morelos lost some good citizens this summer.
Albert Beach To us, Al Beach was as much a part of this town as the leaning lighthouse. The undisputed head of the Burns Lake gang passed away in June. Always upbeat and positive, Al was our neighbour and friend. We had to pass his house on our way to and from the bookstore at least four times a day and he always greeted us with enthusiasm and sometimes made fun of us too by counting the number of trips we had made since we moved here. We will miss Al very much, but we're very glad that we were able to get to know him.
Phillip Cason Just 21 years old, Phillip passed away this summer while exploring the ocean he loved so much. Phillip was training to be a Dive Master and his friends at Dive Puerto Morelos and other members of the diving and snorkeling community dedicated a reef that Phillip had found and explored to him.
Long time resident Wolf Schlenger passed away this summer in Germany after a battle with cancer.
---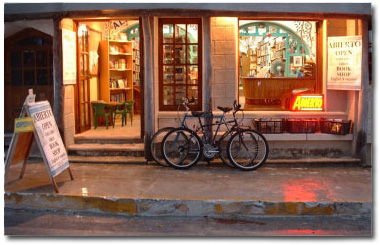 Just a reminder that we are open our regular season hours now. That is Tuesday through Saturday, 10:00 am until 3:00 pm and 6:00 pm to 9:00 pm. On Sunday we are open 4:00pm to 9:00pm. We are closed on Monday.
Our hours are always posted on the front page of our website at www.almalibrebooks.com.
We take trades every day, so our selection is constantly changing. If you are planning a trip down, why not bring some recent bestsellers to trade and check out our store.
If you live here, we can special order books for you. It is not a quick process, it usually takes a month, but our prices are much better than Amazon's. Let us know what title you would like and we'll provide a quote.
We look forward to seeing you in Puerto Morelos!
---
Beach Reads is the official newsletter of Alma Libre Bookstore in Puerto Morelos Mexico. It is mailed directly to your mailbox if you request it. Beach Reads is published on a sporadic, seemingly random basis...but it is supposed to be approximately monthly during the season at Puerto Morelos. The season is November until after Easter. We do our best to publish it regularly...but the beach is so pretty...

Our website is located at www.almalibrebooks.com Our store hours are always on the home page.

If you do not wish to receive this newsletter, please UNsubscribe newsletter
This is Year #5, Issue #1. November 2006.
We love to hear your comments or suggestions, please Contact Us
Retransmission & Redistribution of this newsletter without express written consent is just fine by us! Send this newsletter to a friend! (or get them to sign up for their own copy)
Text & Photos ©2006 Alma Libre Bookstore